4 Queens is known as a place that doles out a good value. Whether you're planning to stay in their hotel, gamble in the casino, grab a drink, or dine, you're safe to assume that it's going to be a bit cheaper than it would be at mega-resorts on the Strip.
One of their restaurants, Magnolia's Veranda, has been a go-to breakfast destination of mine for some time and is located just off the gaming floor.
A no-frills dining experience, Magnolia's is known for the combination of low prices and solid quality.
I thought it would be helpful to provide an idea of what to expect at Magnolia's Veranda within 4 Queens to help you determine if it would be a good fit!
The Menu at Magnolia's Veranda
This is a restaurant known for its basic and fairly priced menu.
On the all-day breakfast menu, you'll struggle to find many meals over $15, with only the ribeye steak & eggs, and New York steak and eggs coming in above that price point.
In fact, numerous meals, such as a buttermilk pancake stack, classic French toast, biscuits & gravy, and their "simply royal" meal can be had for under $10.
Lunch options are similarly priced and include a selection of burgers, hot sandwiches, pizzas, and steaks.
Below, are pictures I snapped of the menu – You can also view the menu on 4 Queens' website, here.
My Recent Visit to Magnolia's
During my most recent visit, only half the restaurant's tables were open due to staffing shortages, but Vernon, the only gentleman working the room did an impeccable job of tending to everyone and keeping my coffee topped off.
I went with my "old reliable" order of New York steak & eggs cooked medium rare.
Below, is a picture of what I was served. Nothing fancy. Basic. Cost-effective. Pretty darn good for the price.
The steak was a smidge chewy, but cooked correctly, and tasty as heck. Not the best I've ever had, but for the price, it certainly qualifies as a good value.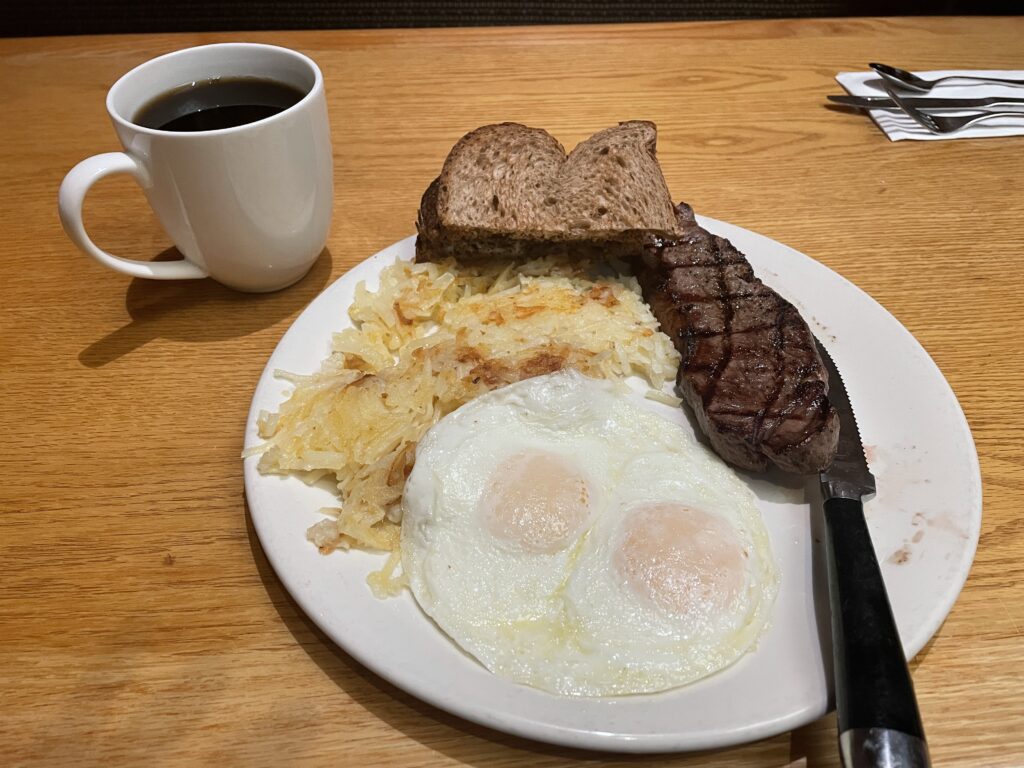 While I typically order the New York steak & eggs, I've ordered the country-fried steak and eggs a number of times and have been impressed with it.
My dad and brother always opt for the "regal court" which consists of 2 eggs, 2 pancakes, and a choice of bacon, sausage, or turkey sausage. For $11.99, it's a great deal.
Although I'm not personally a member of the 4 Queens casino players club, I frequently see people using buy-one-get-one meal coupons when paying, extending the value proposition for members.
Is Magnolia's Veranda Worth Visiting?
There are few inexpensive breakfast options in Las Vegas that I enjoy more than Magnolia's at 4 Queens.
The price is right, and I leave stuffed. I also appreciate the fact that I'm able to polish off about 7 cups of coffee during my meal, never needing to ask for a refill.
That being said, if you fancy yourself a foodie and are looking for an upscale meal, this ain't it. The food isn't going to blow your socks off. It's solid, but certainly not extraordinary. Magnolia's is not a "culinary experience".
If, however, you're the type that happens to be on the hunt for a solid, big, tasty meal for less, then Magnolia's will be right up your alley.
Related Articles:
I'm a former software salesman turned Vegas aficionado. While the craps table is my preferred habitat, I pull myself away to explore new attractions, shows, restaurants, and outdoor activities around Las Vegas with the intent of sharing my experiences.
Ultimately, I just want to help folks plan a better trip and save a few bucks in the process.