Key Points:
Common areas at Circus Circus (elevators, lobbies, hallways) were in a state of disrepair with graffiti, peeling wallpaper, etc.
The West Tower room was "fine" albeit unimpressive for the $62 price I paid. I'd describe it as having "budget motel vibes".
At a similar pricepoint, I'd rather stay at resorts like LINQ, Flamingo, Excalibur, Park MGM, or Luxor. All of which offer a better location and resort experience.
A popular resort for families, Circus Circus boasts numerous kid-friendly things to do that include the Adventuredome theme park, midway & arcade, and even a waterpark.
In addition to kid-friendly amenities, Circus Circus's buffet ranks as one of the cheapest in Las Vegas, and The Steakhouse is widely regarded as one of the best in town.
Old School gamblers will also enjoy their selection of 25-cent, $1, and $5 real coin and token slot machines – The only offering of its kind on the Las Vegas Strip.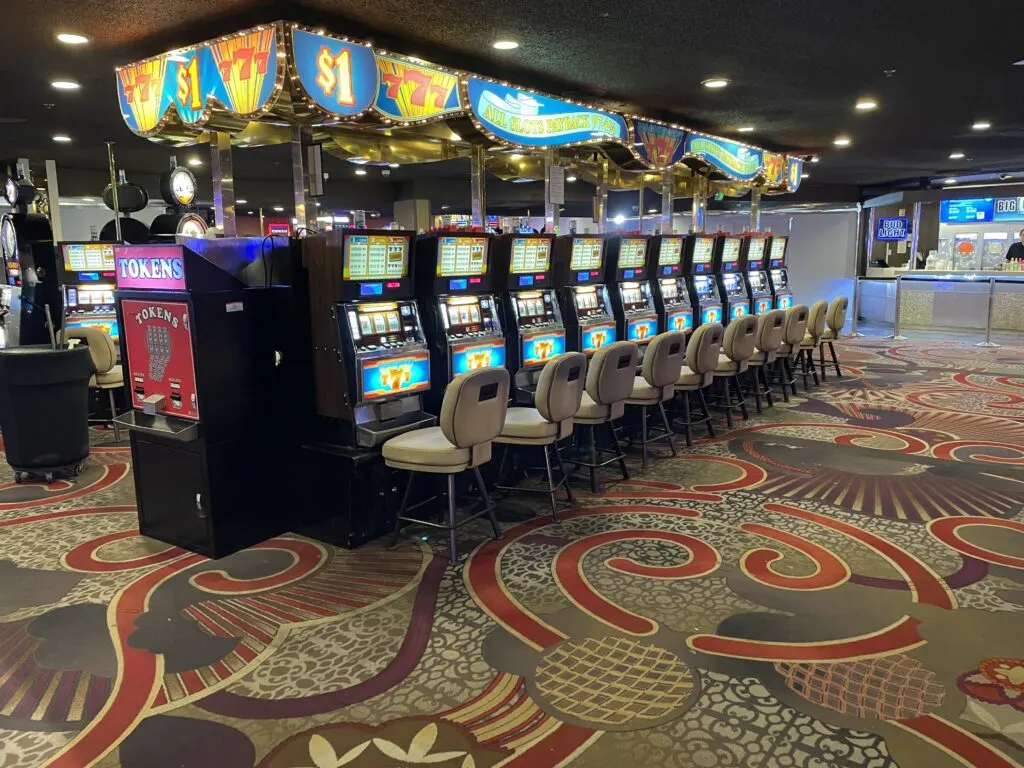 While I've made a habit of stopping by Circus Circus over the years, I had yet to stay in their hotel. With that in mind, I figured it would be fun to book their cheapest room for the night with the intent of sharing my experience with you.
My room in the resort's West Tower cost $22.45 plus the resort fee and taxes, bringing the total to $62.87.
Let's take a peek, shall we?
Circus Circus Check-In Experience
Unlike most other resorts on the Strip, Circus Circus doesn't offer online check-in or automated kiosks. They still like to do their business face-to-face.
While their standard check-in time is 3 pm, I arrived a few hours early and attempted early check-in. A room was available, and I was charged a reasonable $15 early check-in fee.
The hotel lobby sported a circus theme that just felt dated, old, and haphazardly maintained. It's a very different vibe than that given by other hotel lobbies in Las Vegas, I can tell you that.
I made my way over to the elevator lobby to catch a lift to my room, which was also poorly maintained. Take a look at how beat up the walls are.
That "neglected" feel carried into the elevator, which had worn-out button panels and plenty of pocket knife engravings.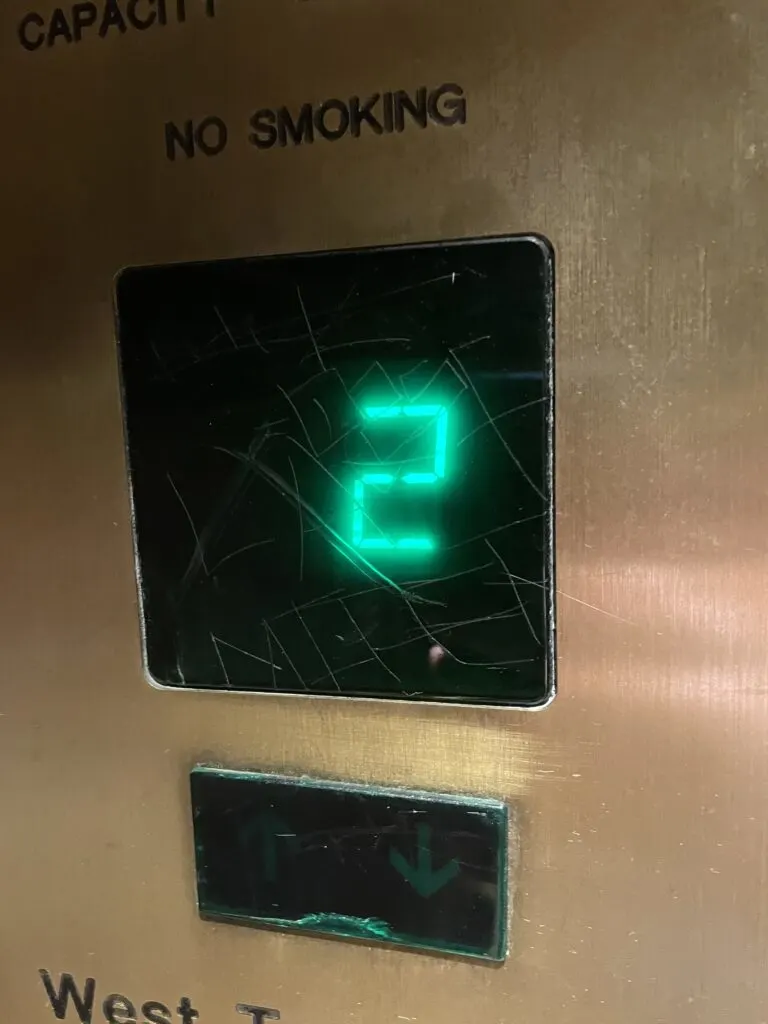 When I arrived on my floor, the first thing I noticed was this peeling wallpaper in the elevator lobby.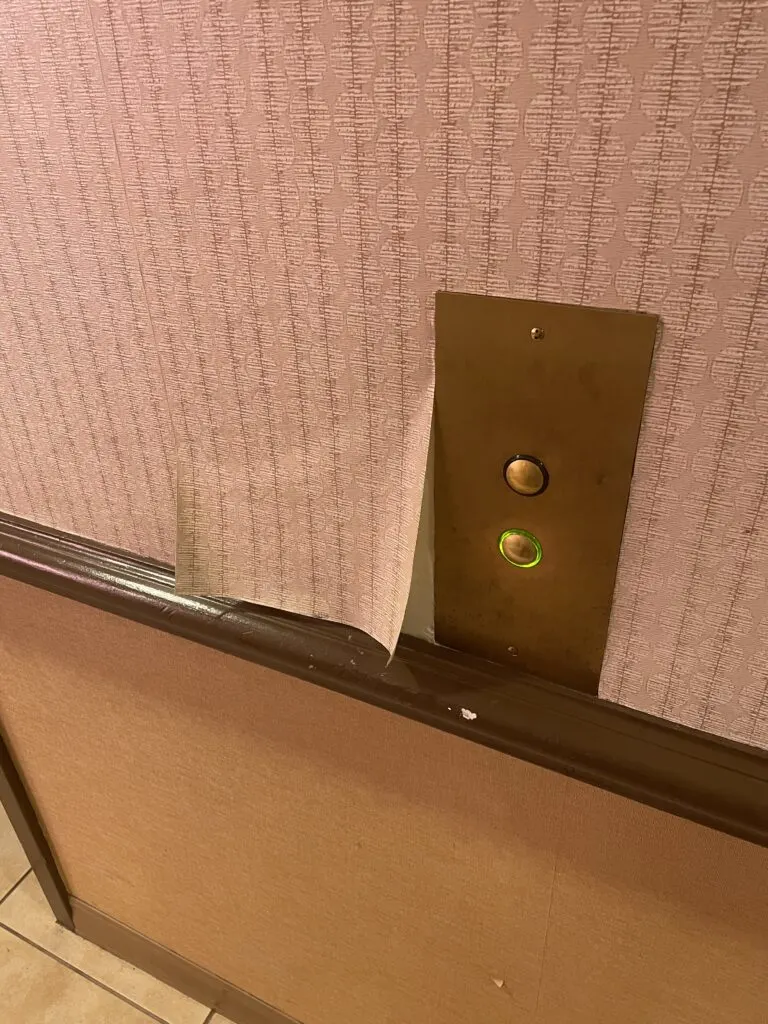 Stepping out of the elevator lobby, the hotel hallway was uninspiring, albeit much cleaner than the elevator I just arrived on.
Inside Circus Circus' West Tower King Room
Upon walking into the room, I was blasted by hot, humid, stale air.
I immediately made my way over to the thermostat and cranked it down as low as I could, terrified that the room would stay "jungle-like" for the remainder of my stay.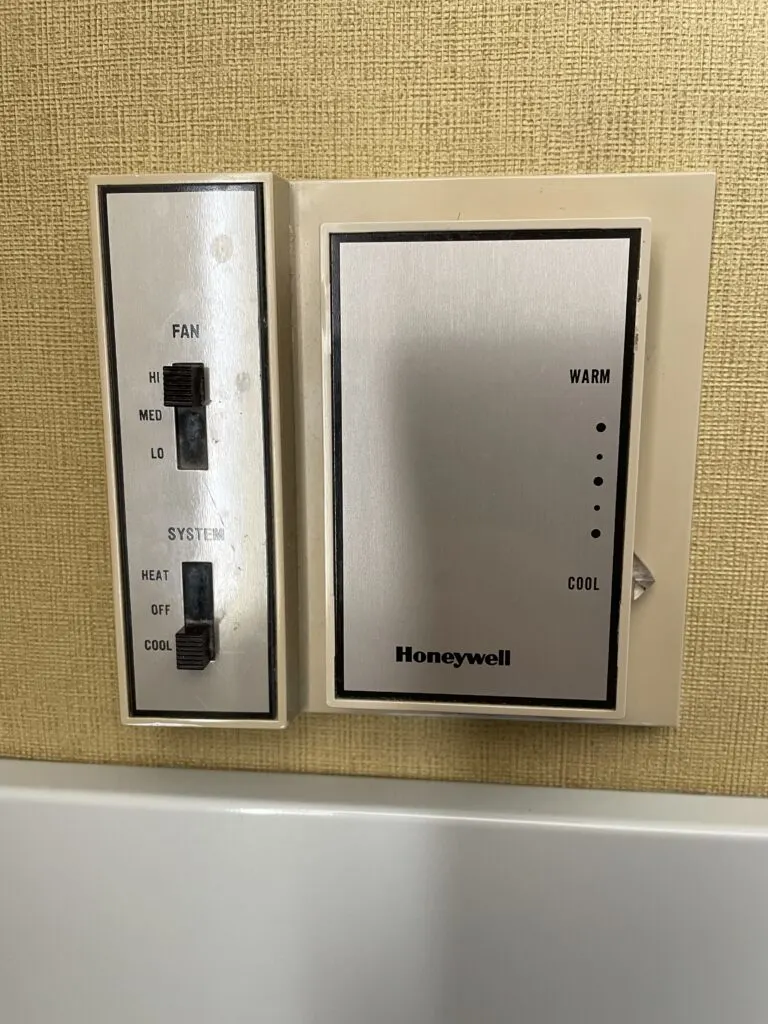 Fortunately, the A/C kicked on, and was able to successfully bring my room down to a comfortable temperature and humidity level.
Aside from the temperature, I noticed that certain aspects of the room had been refreshed recently, while others had not.
On the updated side of the spectrum was the carpet, which was clean, pretty cushy, and in good shape.
Additionally, the artwork in the room seemed new and had what I'd describe as a "minimalist circus theme".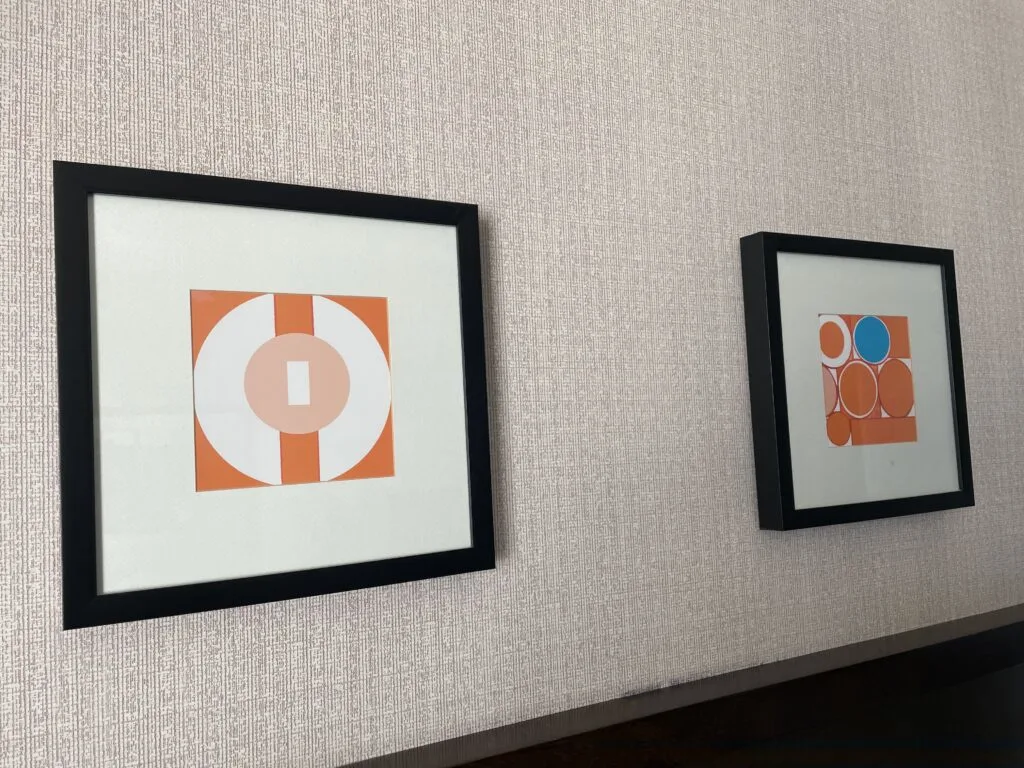 Furniture items in the room including headboards, the workdesk, TV stand, and wall mirror seemed new but were relatively dinged up.
Unfortunately, there wasn't a fridge available for personal use.
"Technology" in the room was limited to the small TV pictured below and an alarm clock which is identical to one I owned about 27 years ago.
When was the last time you saw a radio dial like that? Vintage stuff.
The TV easily ranks as the smallest that I've had in a Las Vegas hotel room.
The TV remote didn't have a battery cover. One of the batteries was unable to stay in the battery well, so every time I needed to use the remote, I needed to physically push and hold the battery in before pressing a button on the remote.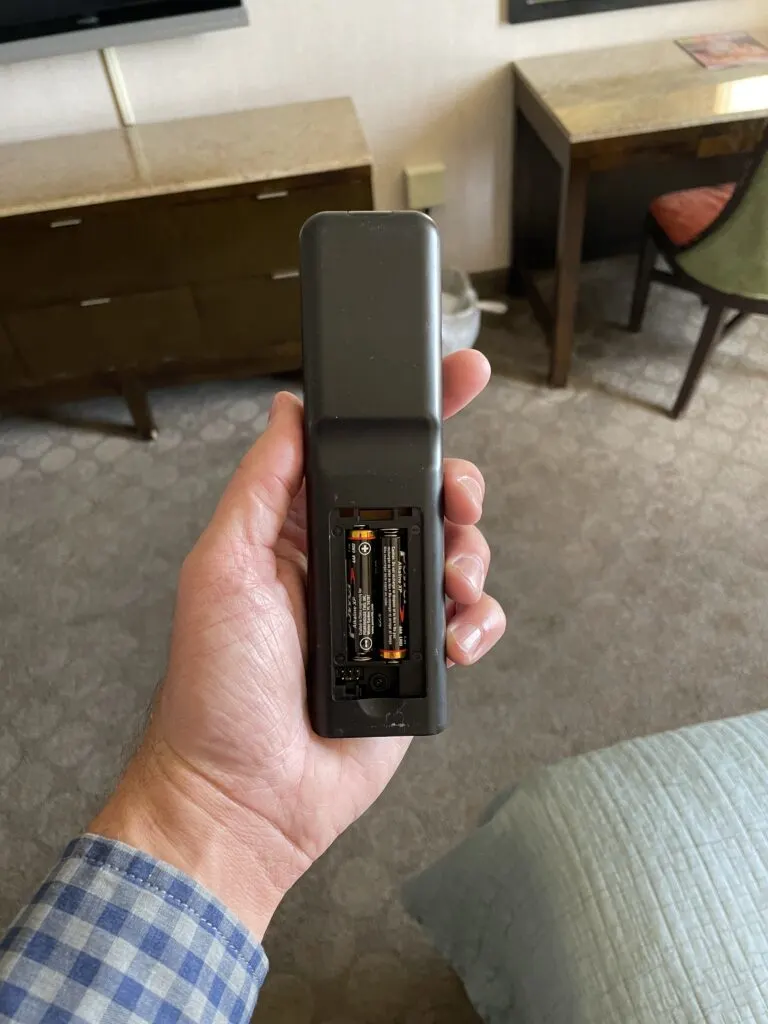 The room had 2 queen beds that were both comfortable enough and were clean.
A workdesk with chair was also provided.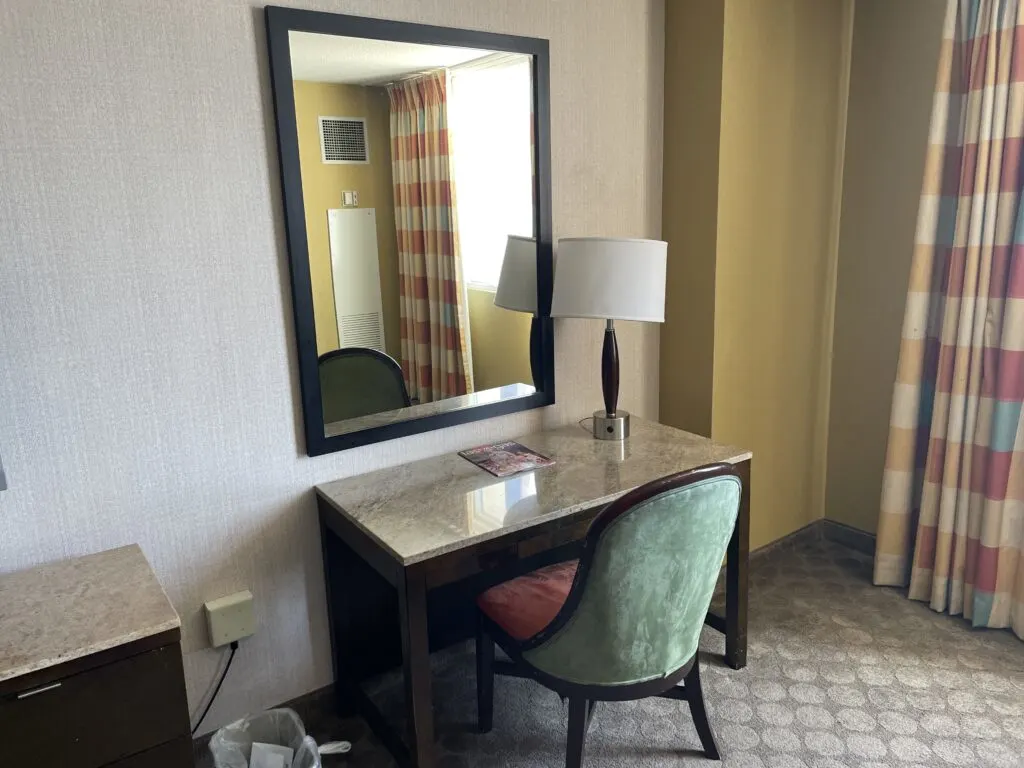 In the closet was a safe, several hangers, an iron, and an ironing board and across the hallway was a full-length mirror.
Overall, this was a pretty clean room and was much better than the elevator, lobbies, and common areas that I had previously experienced.
With that being said, there were some deficiencies, like this rusted sprinkler, and a mystery stain on the work desk.
The bathroom seemed to have newer countertops and shower surround material and was clean as well.
I typically am able to find a rogue hair or two in most Las Vegas hotels, but was unable to in this case.
The vanity mirror did have a few odd brown splotches that looked like stains, however, the discoloration was under the glass.
I'd describe the bathroom as functional and clean, but unexciting with an "institutional" feel.
The Verdict: Is Circus Circus' West Tower Room Worth the Money?
The room was fine, albeit unimpressive.
When conducting hotel room reviews, I typically focus on what you're getting for the money, knowing that cheaper rooms will have fewer amenities and less "wow factor". That's to be expected. Essentially, I try to determine if the room is a good VALUE for the PRICE.
In my opinion, there isn't much value here at $62 per night.
While I can understand why someone would want to visit Circus Circus to gamble, eat, have a fun day with their kids, etc., the resort's hotel is one I plan to avoid going forward.
When you go to Vegas, you want to feel some excitement. For me, peeling wallpaper, elevator graffiti, and a poorly appointed room with a clock from 1991 make that excitement disappear. Quickly.
Although the room was clean enough, it definitely still had a "budget motel vibe". This was a no-frills room that wasn't helped by the poor condition of the resort as a whole.
Instead, I'd suggest upgrading slightly to a budget-friendly room at a resort like Harrah's, Park MGM, Linq, Flamingo, Luxor, or Excalibur. They'll be a tad more expensive but offer both a better room product and a more advantageous location. They aren't luxury, but they're a better value for your hard-earned buck.
Additionally, low rollers in the MGM or Caesars Rewards programs are likely to get free, or heavily discounted rooms at those resorts, adding to their comparative appeal. If you've done any gambling with either of those two chains, make sure to check your personalized rates – They may be cheaper than Circus Circus to begin with.
Of course, if money's tight, you "gotta do what you gotta do" and Circus Circus is "fine", but if there's room in your travel budget, I'd certainly recommend upgrading and staying elsewhere.
Circus Circus has a lot to offer from an entertainment perspective and I look forward to stopping back to play token slots soon. I'll pass on the hotel, however.
See Also: Related Las Vegas Hotel Reviews: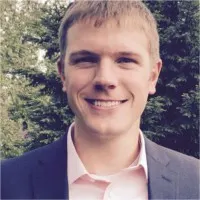 I'm a former software salesman turned Vegas aficionado. While the craps table is my preferred habitat, I pull myself away to explore new attractions, shows, restaurants, and outdoor activities around Las Vegas with the intent of sharing my experiences.
Ultimately, I just want to help folks plan a better trip and save a few bucks in the process.