When putting money on the line in Las Vegas, we obviously want to give ourselves the best chance to win. Luckily for us, casinos must report their win rates for table games (and slot machine hold rates) to the Nevada Gaming Control Board, giving us a window into where the house is taking more of our money and where the player has a fighting chance to score a payout.
A quick housekeeping note: The casino win percentage on table games refers to the percentage of the player's buy-in that was eventually won by the house. For instance, if a player bought into a blackjack game for $40, played for an hour, and cashed out for $20 the house win rate would be 50% because they took half of the buy-in.
We will be looking at the 2018 data from all statewide non-restricted casinos (essentially the big casinos).
What Are the Worst Table Games?
We'll start with the ugly. What table games took the largest percentage of player money in 2018?
Referencing the chart below, you can see that 3-Card Poker beat up its fair share of bankrolls as the house tallied a healthy 31.62% win rate. Let it Ride (25.84%), Pai Gow Poker (20.76%), and Ultimate Texas Hold'em (25.13%) were also unfriendly to players.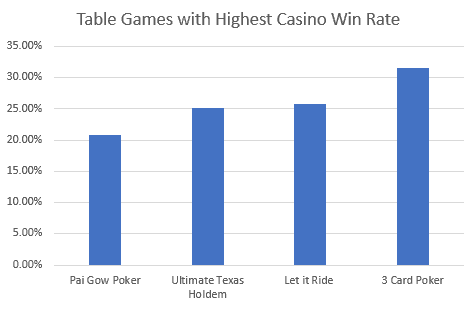 What Are the Best Table Games?
Now onto the good stuff. Table games that gave gamblers the best chance of winning some money (or losing less) in 2018.
In the chart below, you can see that Mini Baccarat (11.83%), Baccarat (12.35%), Craps (14.86%), and Blackjack (13.70%) are games players found the most success playing based on the percentage of customer money the house held as profit.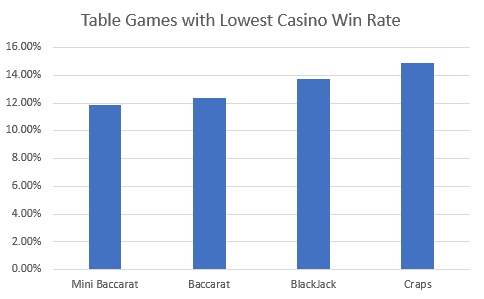 You can increase your odds on table games by staying away from side bets that generally feature a bloated house edge.
When playing craps, focus your efforts on the free odds behind the pass line and shy away from playing the more exotic bets in the middle of the table.
Casinos, primarily on the Strip and downtown, have been adding variations of classic games that offer an increased house edge – Stay away! Add games like Crapless Craps, 6/5 BlackJack, and Triple Zero Roulette to your "do not play list" if keeping your cash is a priority.
Now, we'll shift our focus away from the slots and take a peek at sports betting. Football, basketball, and baseball all gave the house a small win rate of between 4%-7% of the total handle (cumulative dollars wagered). The book capitalizes on parlay cards, however, where they kept a whopping 24.08% of wagers over the past year as a profit.
Make sure you also take a peek at where to find the loosest slots in Las Vegas, based on last year's data!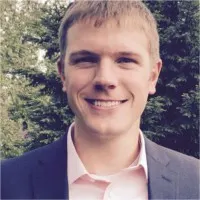 I'm a former software salesman turned Vegas aficionado. While the craps table is my preferred habitat, I pull myself away to explore new attractions, shows, restaurants, and outdoor activities around Las Vegas with the intent of sharing my experiences.
Ultimately, I just want to help folks plan a better trip and save a few bucks in the process.