A Victorian era themed property located in Downtown Las Vegas, Main Street offers more than just gaming and a place to lay your head. Artifacts of historic significance are on display, to include a section of the Berlin Wall, a chandelier from the Coca Cola building and a Bronzed Wild Boar statue. There is also a brewery on site and we are always appreciative of beer options at a good price that are differentiated from traditional domestic options.
What is the pool like at Main Street Station?
There isn't a pool on site at Main Street Station, however, guests have access to the roof top pool at the California which is Main Street's sister property connected via elevated walkway. The pool at California is clean and straight to the point. A great place to cool off without the madness found at larger pools on the Las Vegas Strip.
Are there any shows at Main Street Station?
Fremont Street Experience: While there are no shows running on site at Main Street Station, the hotel itself is situated just blocks away from the Fremont Street Experience which offers free live entertainment and light shows nightly. Check out the calendar of events here.
What are the notable dining options at Main Street Station?
Triple 7 Restaurant and Microbrewery ($)(Menu) Specializing in quality microbrews at a great price ($5.75 for a 23oz. pour) Triple 7 also offers inexpensive meals averaging $10-$15.
Garden Court Buffet ($) A respected value category buffet that will not leave visitors looking for a quality meal disappointed. Breakfast runs $8.99, Champagne Brunch $13.99 and Dinner will set you back $12.99.P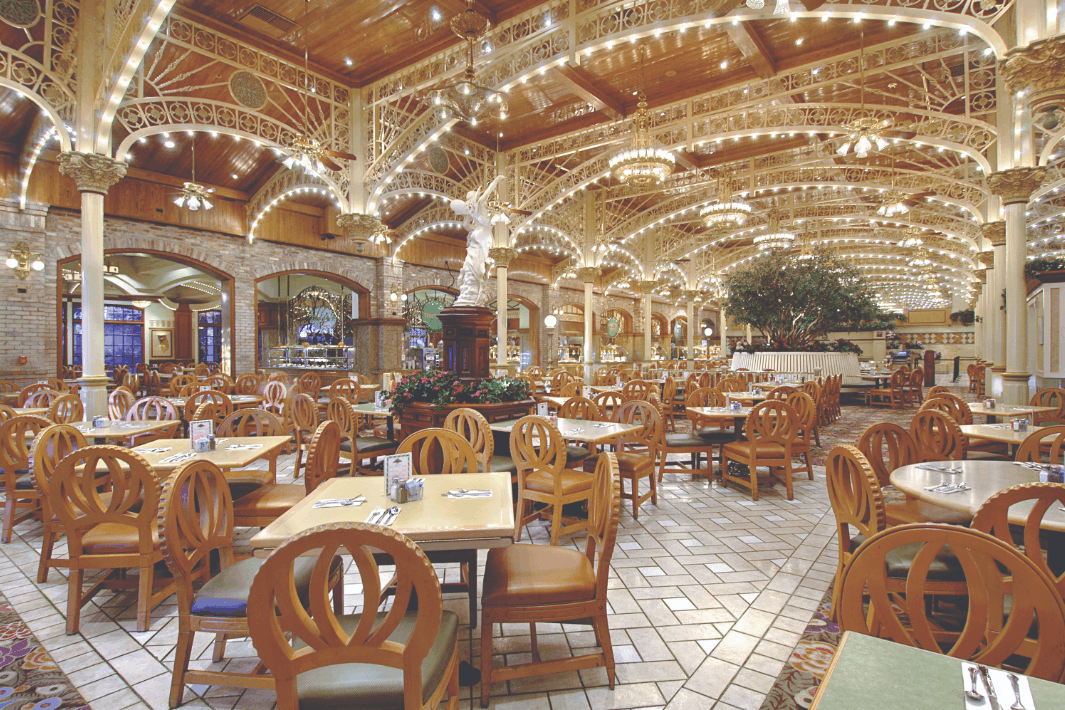 What is the casino like at Main Street Station?
If you are tired of the bland, sterile looking casinos popping up on the strip, you will love the character of Main Street's gaming floor. Sporting an old time Victorian theme, the 26,918 sq. ft. casino floor is an authentic throwback to another era showcasing antique items like Winston Churchill's oversize pool table, old time slot machines and so much more. You wont find another gambling hall like it in Las Vegas.
In addition to unique decor, there is also some good gambling to be had at Main Street. The property fits 19 table games and 835 slots into its small footprint and is known in part for $5 minimum, 20x odds craps.
There isn't a sportsbook at Main Street Station, however, California which is connected by elevated walkway to Main Street does.
Main Street Station is part of the Boyd Gaming B Connected loyalty program.
How is the Hotel at Main Street Station?
While those looking for extreme luxury should look elsewhere, Main Street's hotel rooms are clean, comfortable and deliver value for the price. The hotel itself is in a great location for those looking to walk the Fremont Street Experience and surrounding attractions.
Rooms at Main Street come in variations of 1 king, 2 doubles. All room options offer 400 sq. ft. of room with a hairdryer, safe and ironing board/iron.
*Smoking vs. Non available upon request.
*Hotel check in at Main Street Station starts at 3pm and guests are expected to be checked out by noon.
What are others saying about the Main Street Station Hotel?
Positive Traveler Review Themes: Location/Proximity to other Fremont Street properties; Beautiful casino; Affordable casino minimum bets; Buffet Value; Brewery on site; Hotel room was a good value; Clean, comfortable rooms.
Negative Traveler Review Themes: Dated decor in hotel rooms; Not many options for dining/coffee; Maintenance issues in room; Smoke smell on gaming floor.
Price Range:
Weekday room rates at Main Street tend to run between $40-$60 and around $100-$130 for reservations on Friday and Saturday. A 10% discount is offered to members of the military, senior citizens and AAA members.
The nightly resort fee is $16.99 + Tax and is charged at the time of check in. The resort fee at Main Street Station covers wireless internet, local calls, safe and self parking.
What are the things I NEED to do at Main Street Station?
Enjoy a Beer at Triple 7: Happy hour at Triple 7 runs from 3-6pm Monday-Friday and then again from 11pm-3am. During happy hour, enjoy 16 oz craft beers for $2 and 23 oz beers for $3. Hell of a deal.
Check out the Antiques: When you think of Vegas Antiquing doesn't really come to mind but this stuff is legitimately cool. Check out a piece of the Berlin Wall, Doors from the Pullman Mansion, Stained Glass from the Lillian Russell Mansion and so much more. Hey, its something to do when you blow your craps budget.
Enjoy Fremont Street Experience: From people watching to experiencing the SlotZilla Zipline, there is so much to do and see on Fremont Street. Grab a drink at one of the convenience stores and stroll through the canyon of Neon.
Is Main Street Station in a good location?
For those looking to explore the casinos and attractions on Fremont Street, there really isn't a better location. Main Street Station is within walking distance of the Fremont Street Experience but far enough to muffle some of the noise that is created by it.
Note that an UBER/Lyft to Strip properties will cost $15-$30.
Unique Transportation Options at Main Street Station:
Sam's Town/Strip Shuttle: A free service that originates from sister property California and runs to Sam's Town and subsequently the Las Vegas Strip. You can download an app to track the shuttle that runs to Sam's Town and then subsequently the Strip here.
Our take on the Main Street Station Hotel and Casino property:
Main Street Station has all the character that newer mega resorts on the Strip lack. The Victorian themed interior of the property offers so much to see from the antique collection to the woodwork and decor of the casino floor. Best yet, Main Street is in a great location just blocks away from the array of entertainment options waiting for you in Downtown Las Vegas.
The accommodations at Main Street Station are clean, comfortable and will make budget minded visitors feel right at home. Hotel guests and gamblers visiting the property are able to find value in the Garden Court Buffet and follow the meal up with a competitively priced beer at Triple 7.
Main Street Station is a property that's worth a visit even if you wont be staying at the hotel.