Key Points:
Omega Mart is set up to look like a simple supermarket but has several "portals" that transport guests to a psychedelic wonderland.
Even in the store, there's more than meets the eye, with hilarious products that are worth perusing.
I was skeptical going into my visit but was shocked at how much I enjoyed exploring the attraction and found it to be well worth the money.
Area15 is an entertainment complex in Las Vegas, located just off the Strip.
While entry is free, Area15 offers numerous attractions that carry an additional cost including ax throwing, thrill rides, artistic displays, mind-bending artistic displays, and virtual reality experiences.
To say there are a diversity of things to do would be a drastic understatement.
The complex is also home to food & drink establishments that include The Beast by Todd English, an ice cream parlor, a candy store, and the popular Oddwood Bar which can be found under an illuminated tree.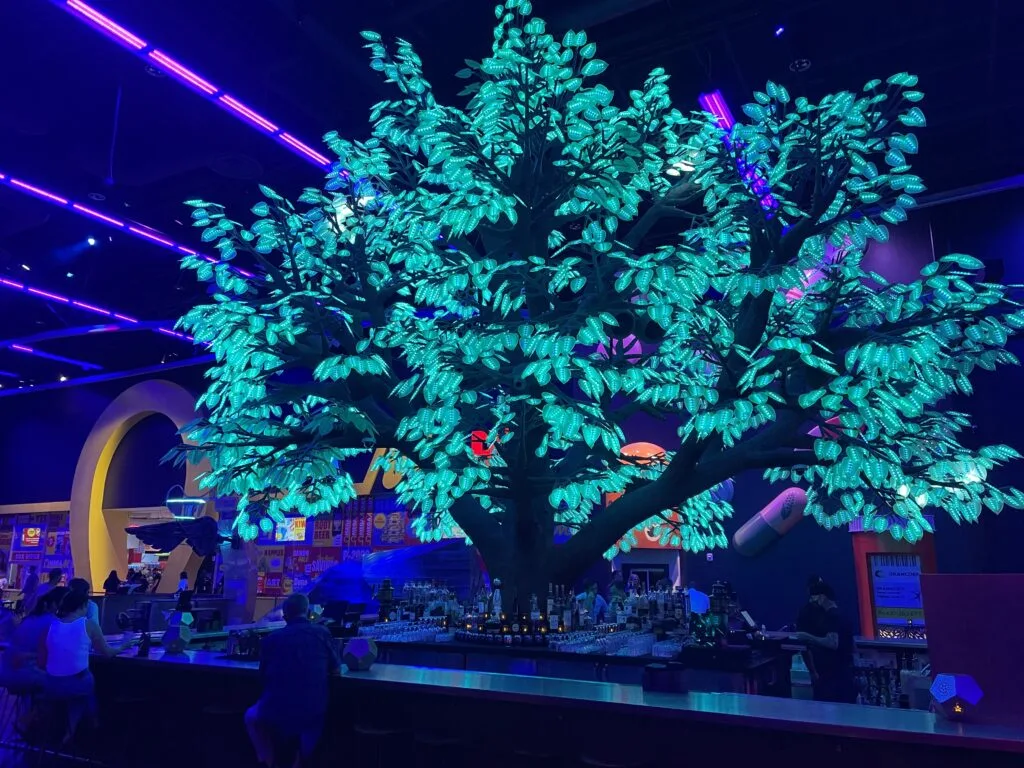 Among the top attractions at Area15, however, is Omega Mart, a supermarket that has a mysterious psychedelic twist.

The attraction, which is a creation of the folks at Meow Wolf, is one that I've wanted to check out since opening in 2021.
Below, I'll take you into the attraction to share what you can expect at Omega Mart at Area15!
So, What IS Omega Mart at Area15?
From the outside looking in, Omega Mart appears to be a typical supermarket or convenience store. Once inside, however, you realize there's so much more to the story.
For starters, products sitting on the shelves are… unique… and hilarious. Items like 'Nut Free Salted Peanuts", "Tattooed Chicken", "Symbiotic Shrimp" soda, and cans of "Dehydrated Water" are examples of the eccentric product assortment offered.
Almost everything you see on the shelves at Omega Mart is for sale. Essentially, if it has a price tag, you can take it home with you. While prices are inflated when compared to your local grocery store, your purchase helps compensate the artists responsible for creating that particular product.
Below, are a few product shots we snapped. Zoom in and check out the names. Some funny stuff mixed in.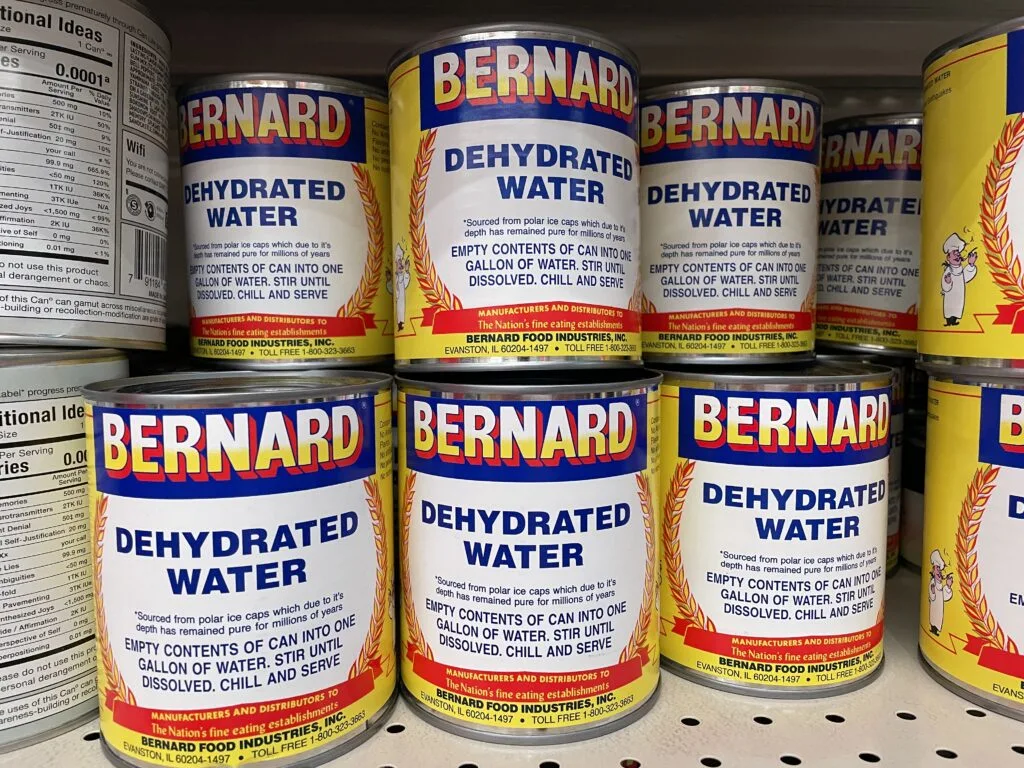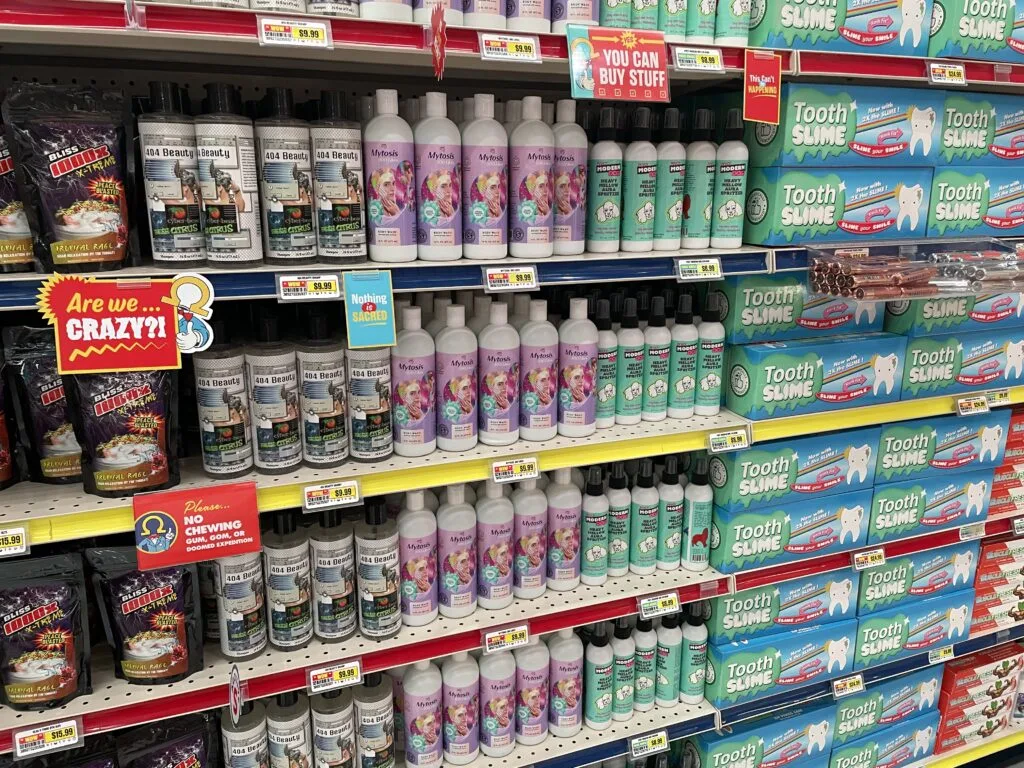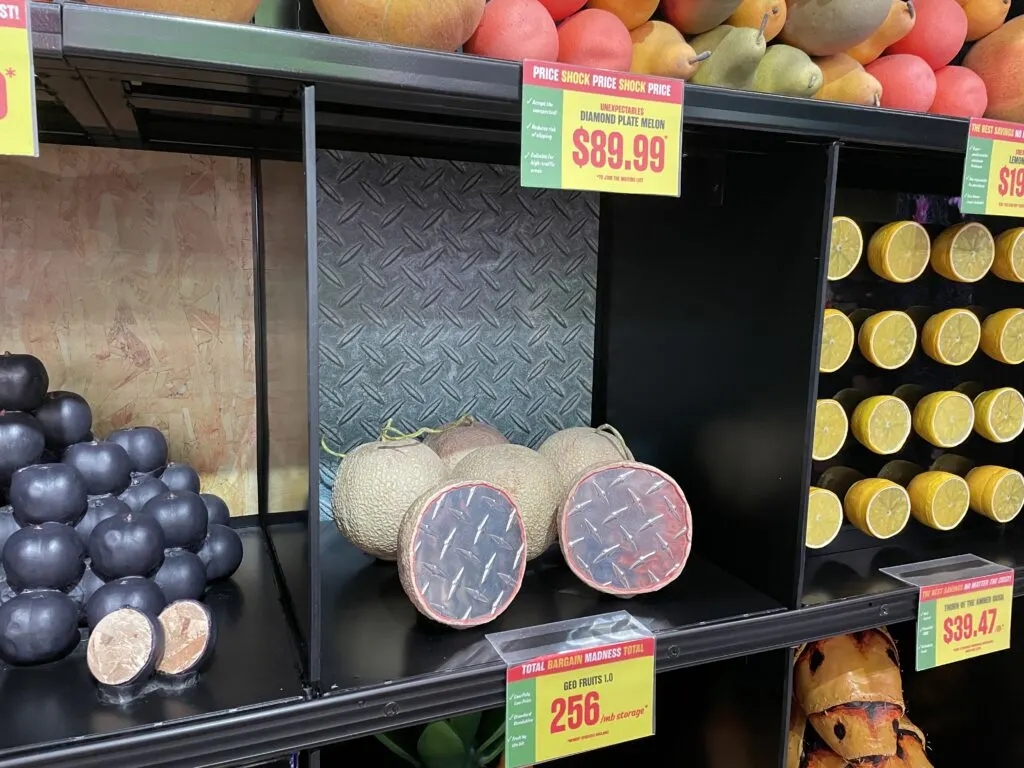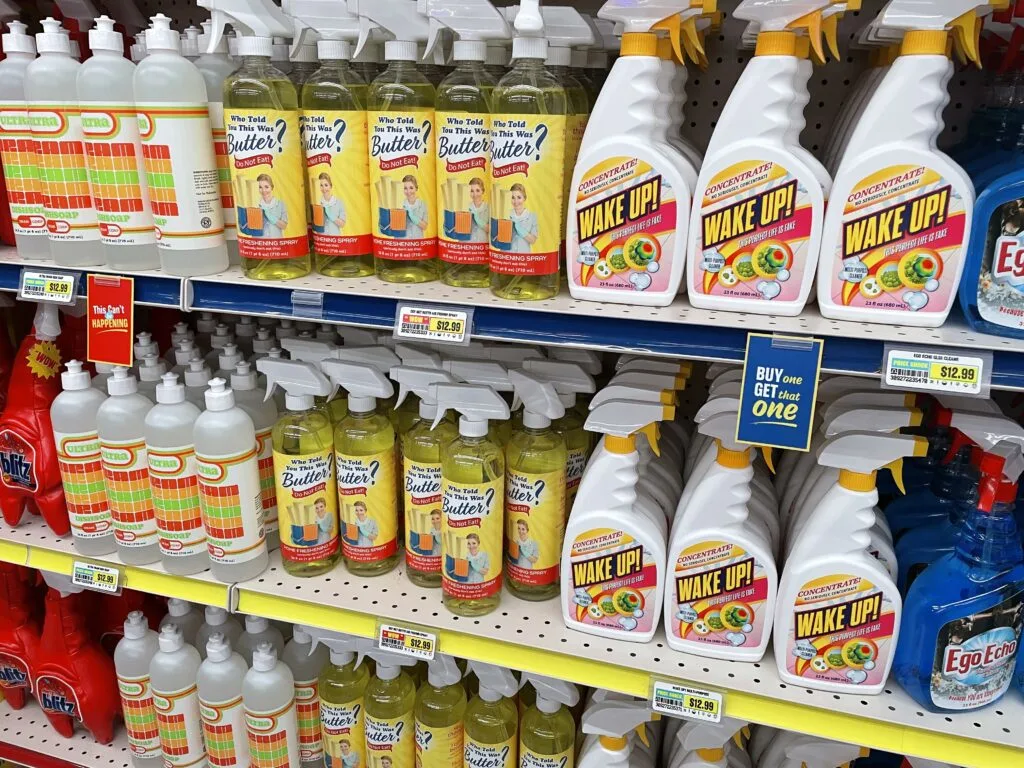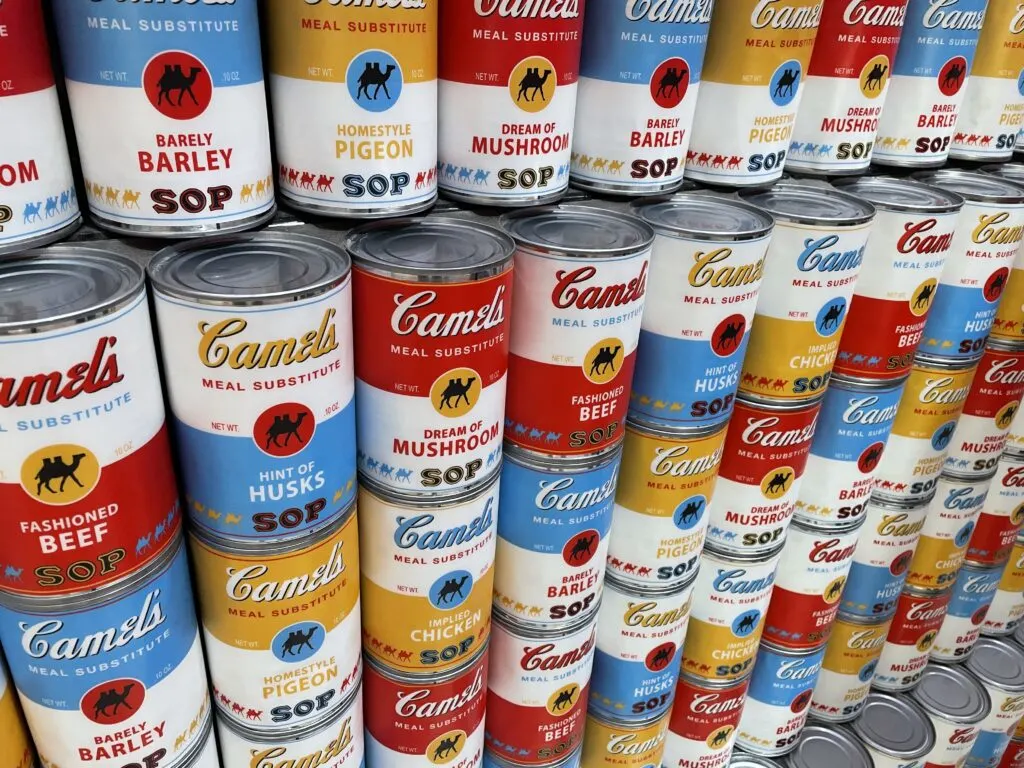 The next step of your journey at Omega Mart is finding the "portals" that transport you to "another world". There, you'll find more clues about Dramcorp, Omega Mart's mysterious parent company.
Once you make your way through a portal, you'll discover giant slides, stunning visual effects, and room after room after room to explore. Look for the portals pictured below: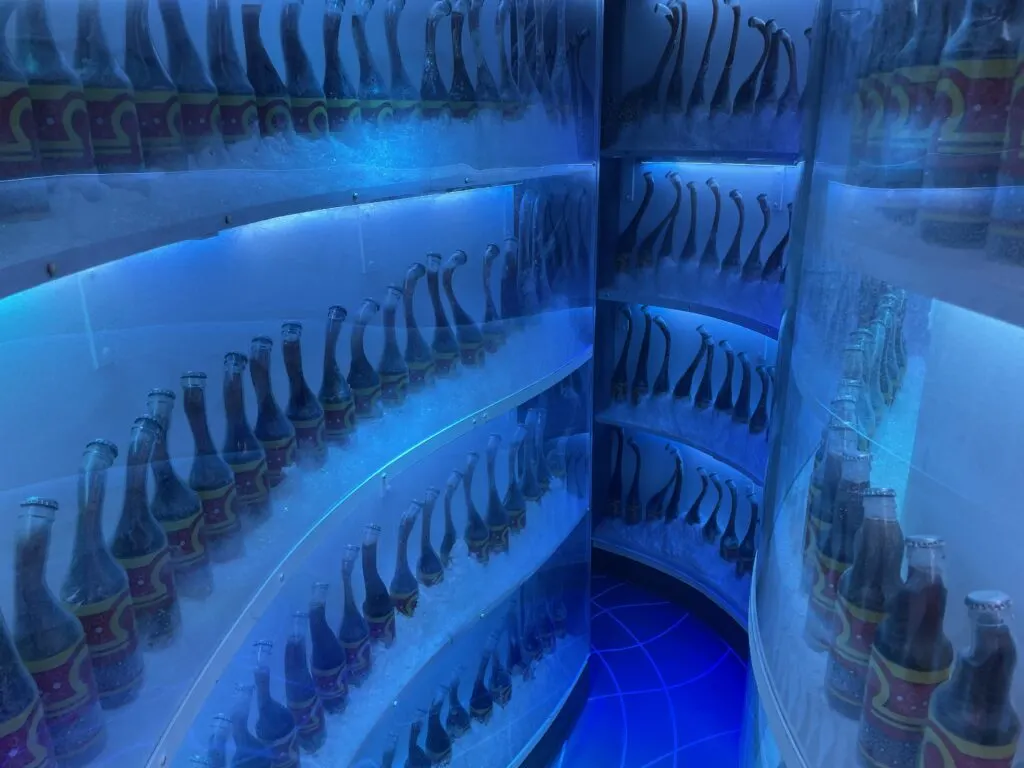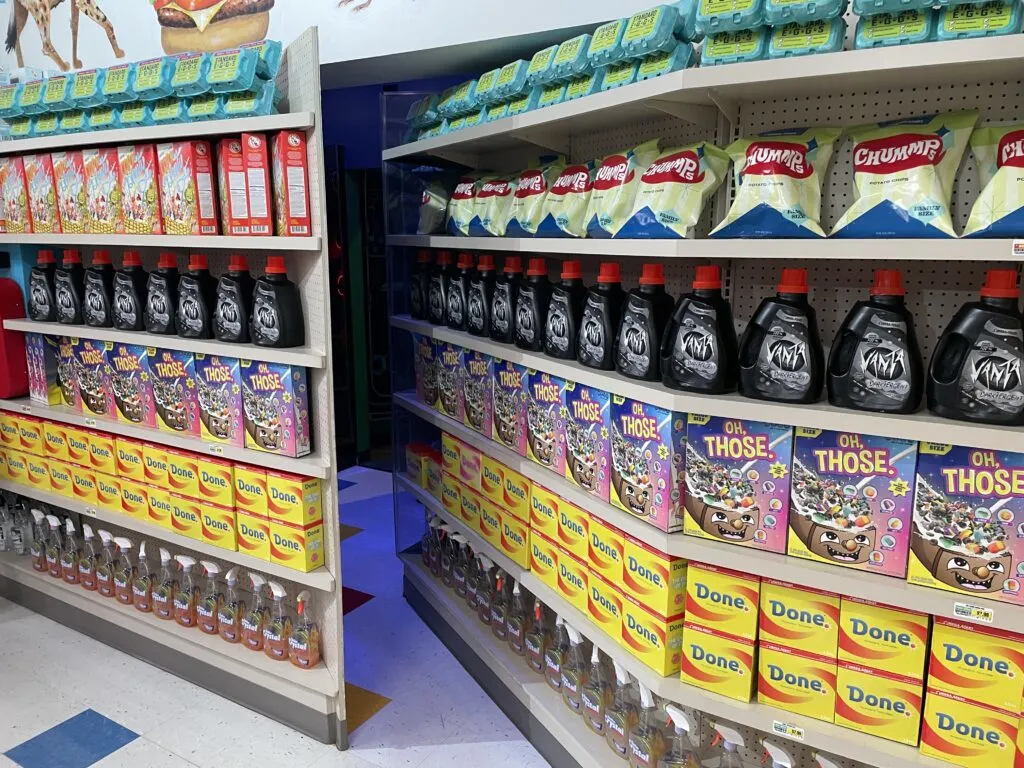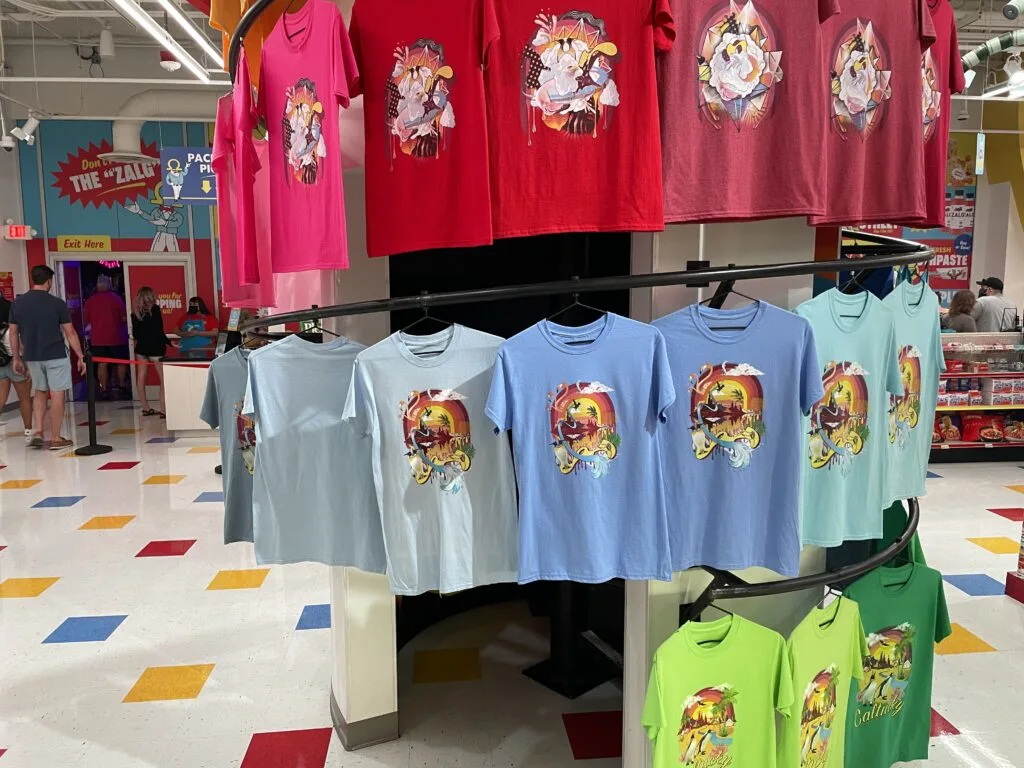 Note that passageways at Omega Mart come in all shapes and sizes, not all of which are easy for a 6-foot 5-inch tall guy (me) to get through.
If you prefer not to squeeze through, rest assured that there's always a separate "normal-sized" entrance to each room and attraction.
Once you transport through a portal, a collection of art, unique landscapes, amazing visual effects, and even giant slides await you.
It's a maze behind the supermarket and it took me a good hour or so to see everything "behind the scenes". Surprises wait behind every door, and no two rooms are the same. Here are a bunch of images, albeit a small sampling, of things I stumbled across behind the portals at Omega Mart: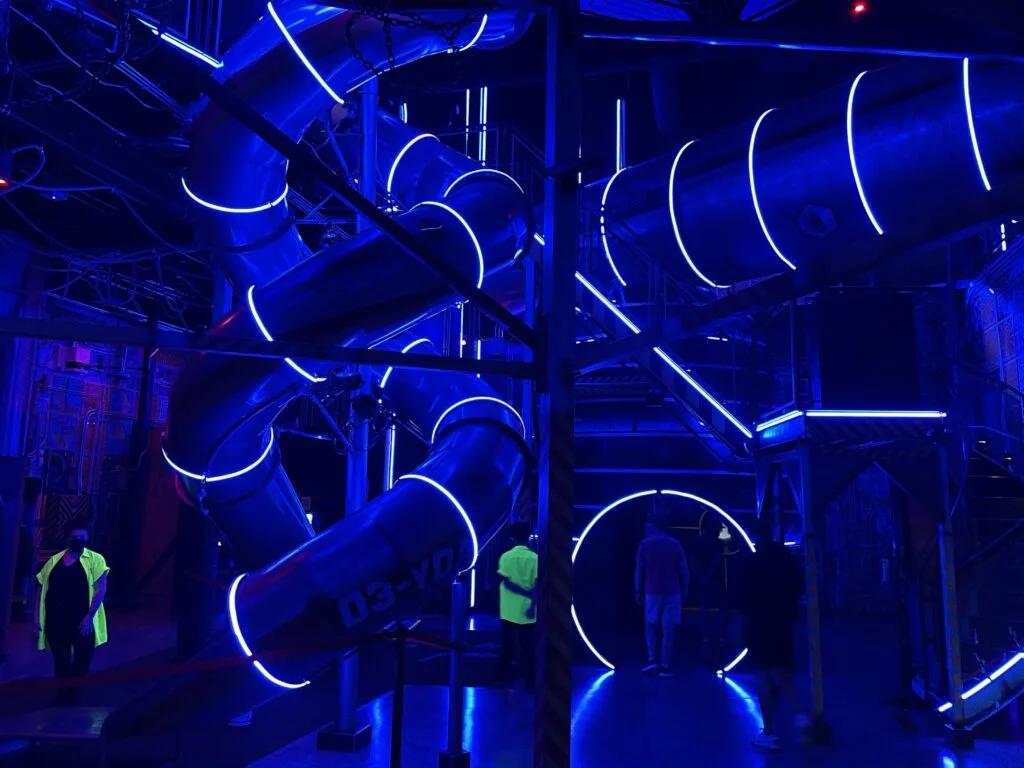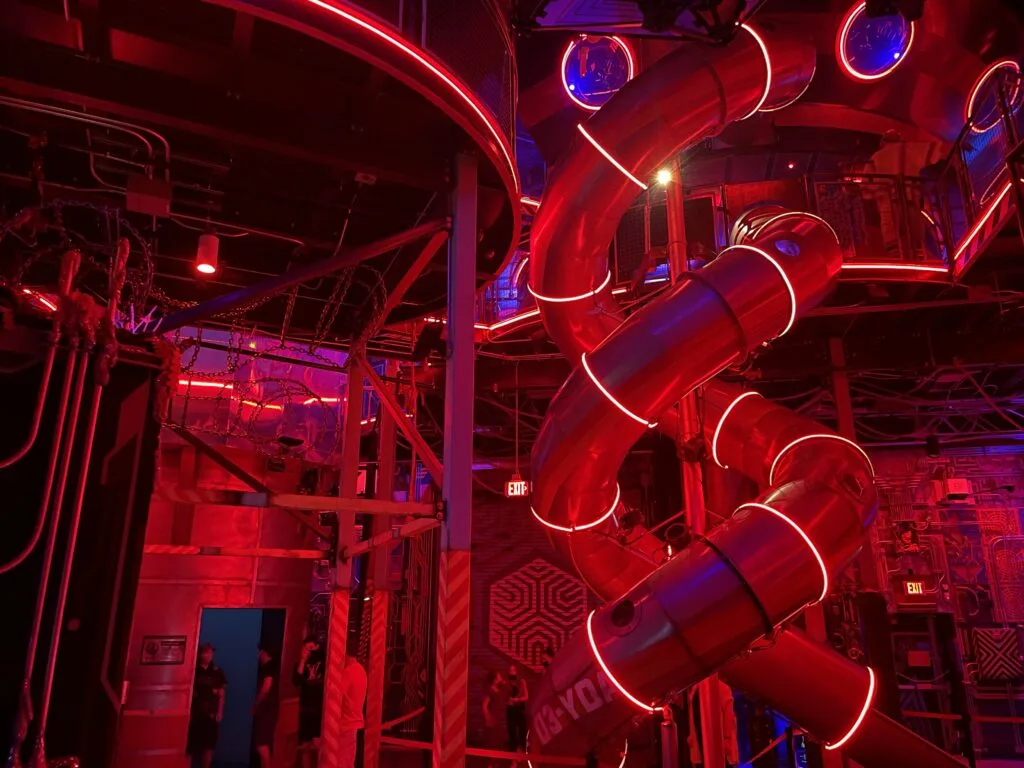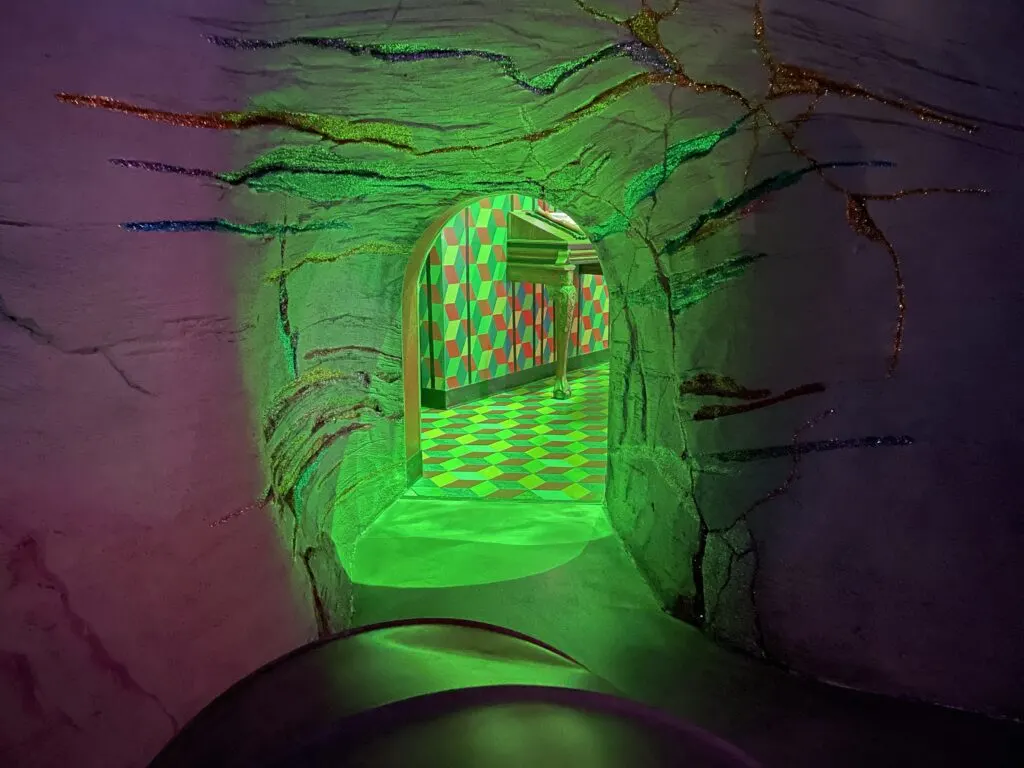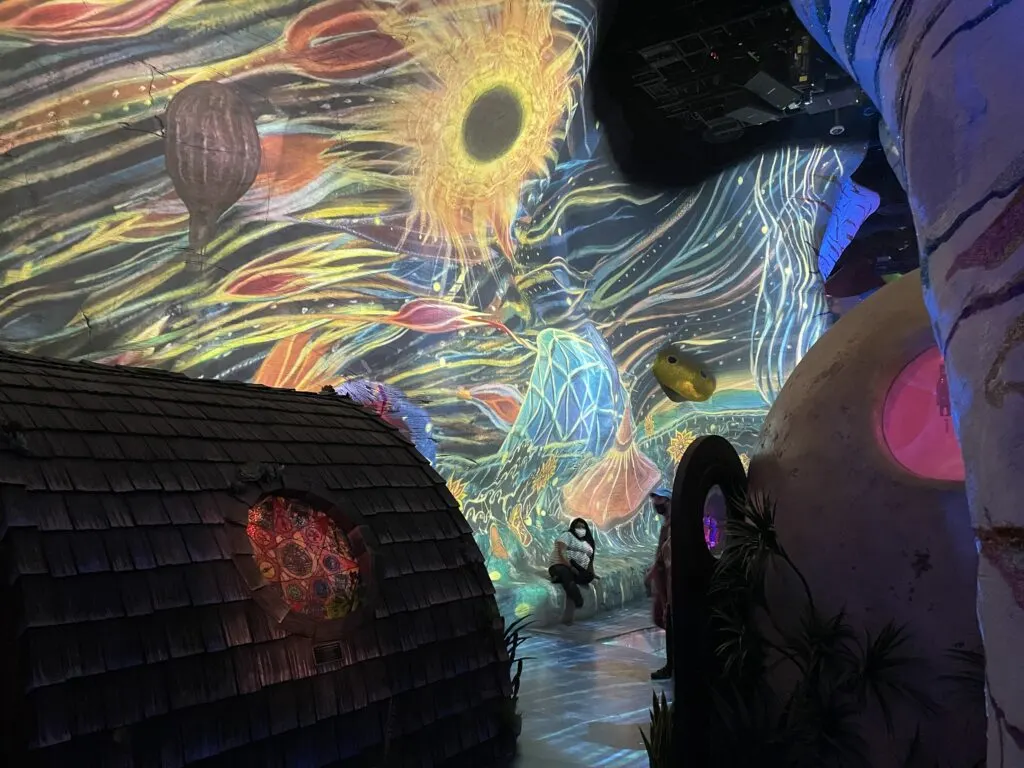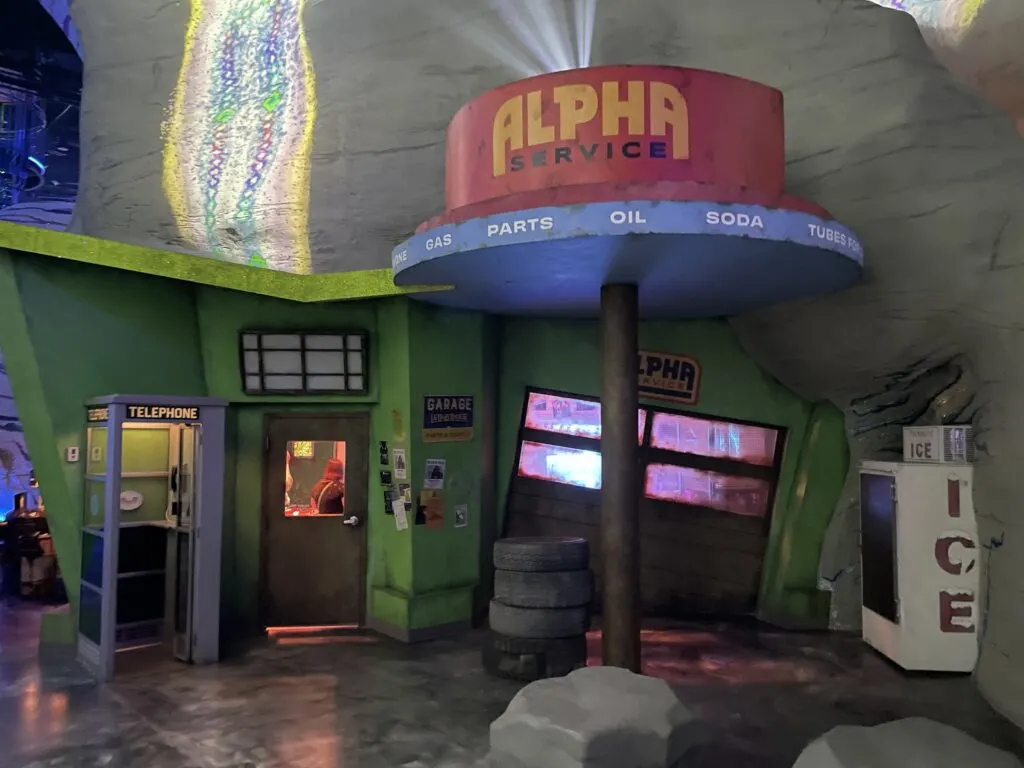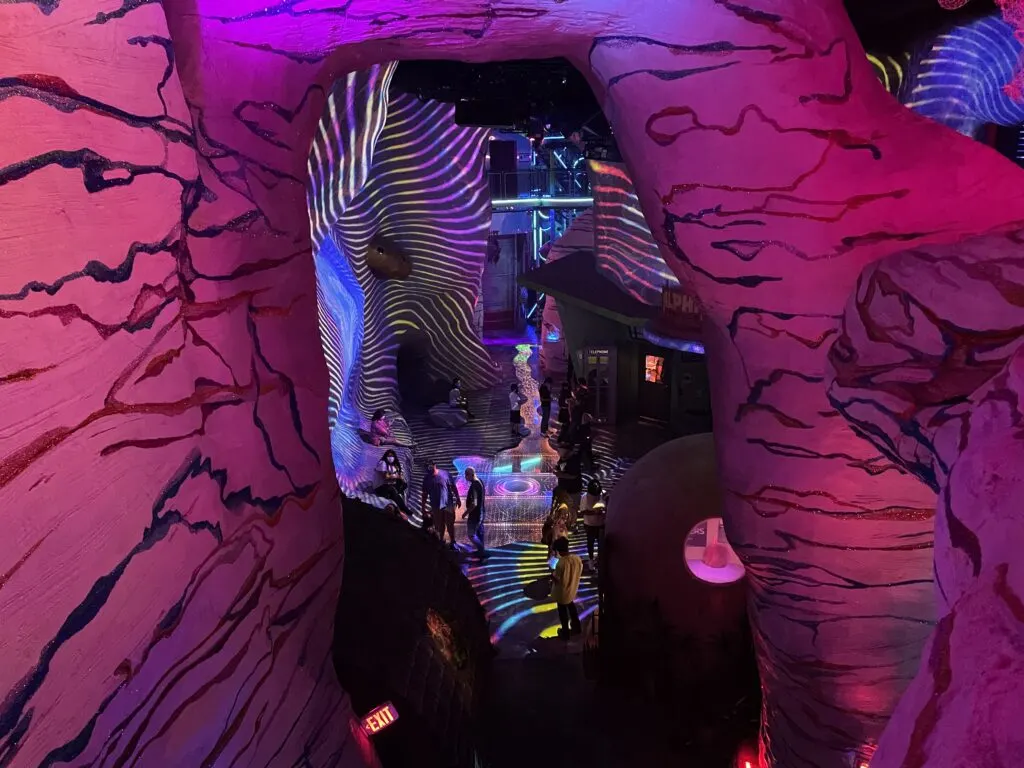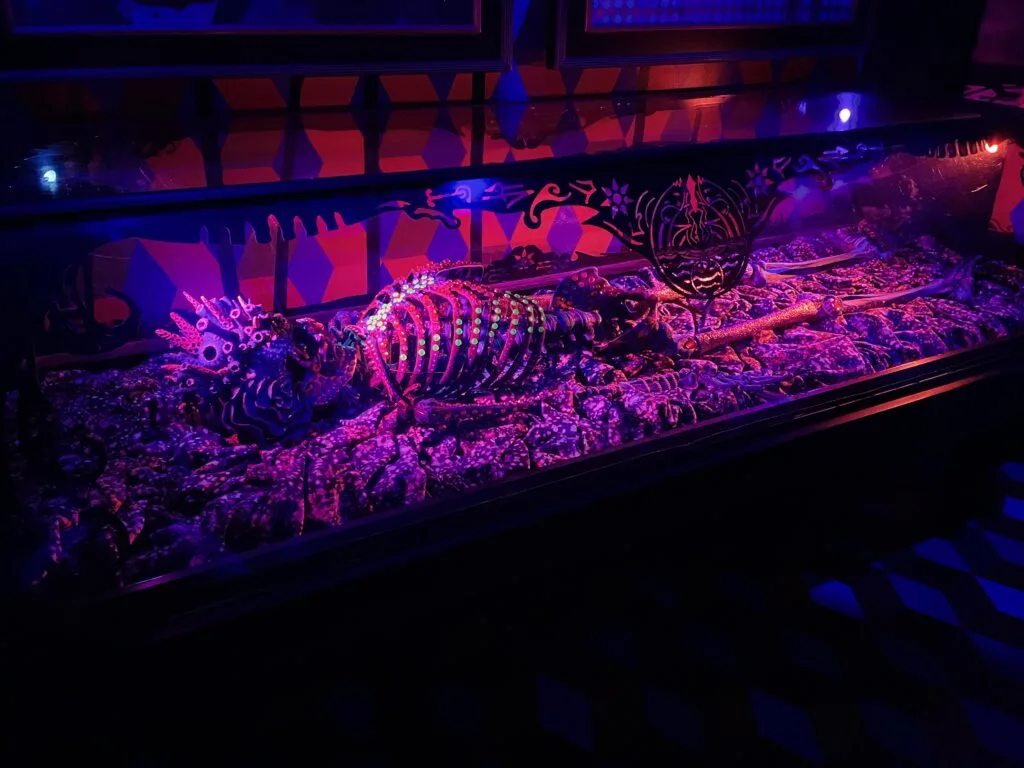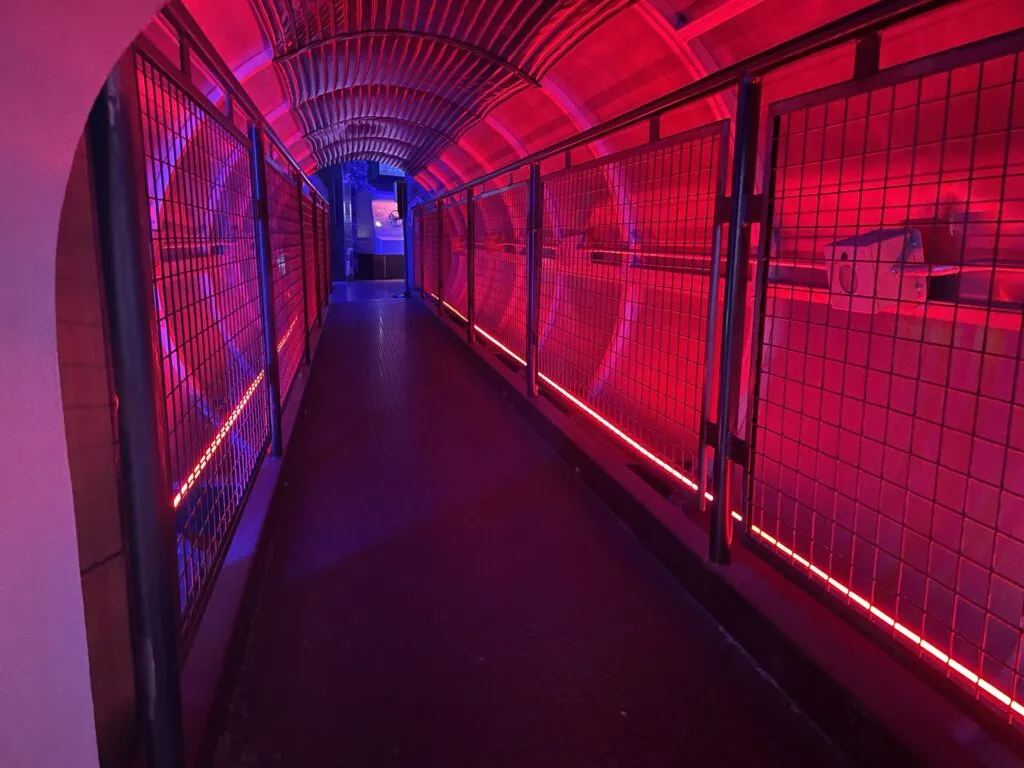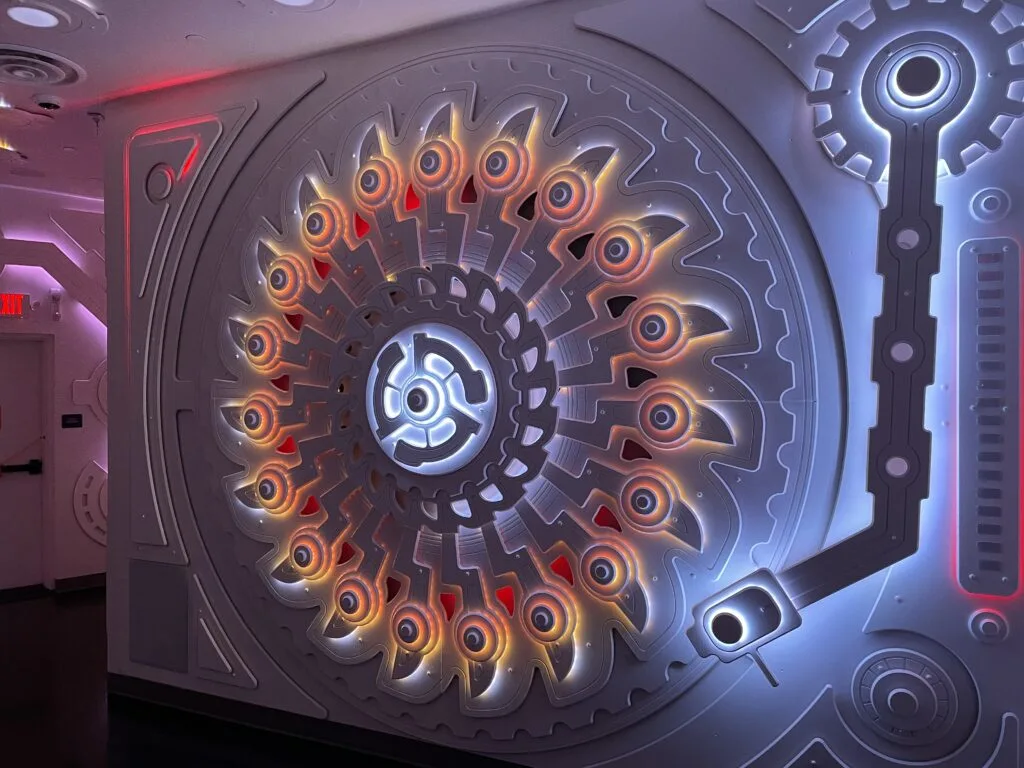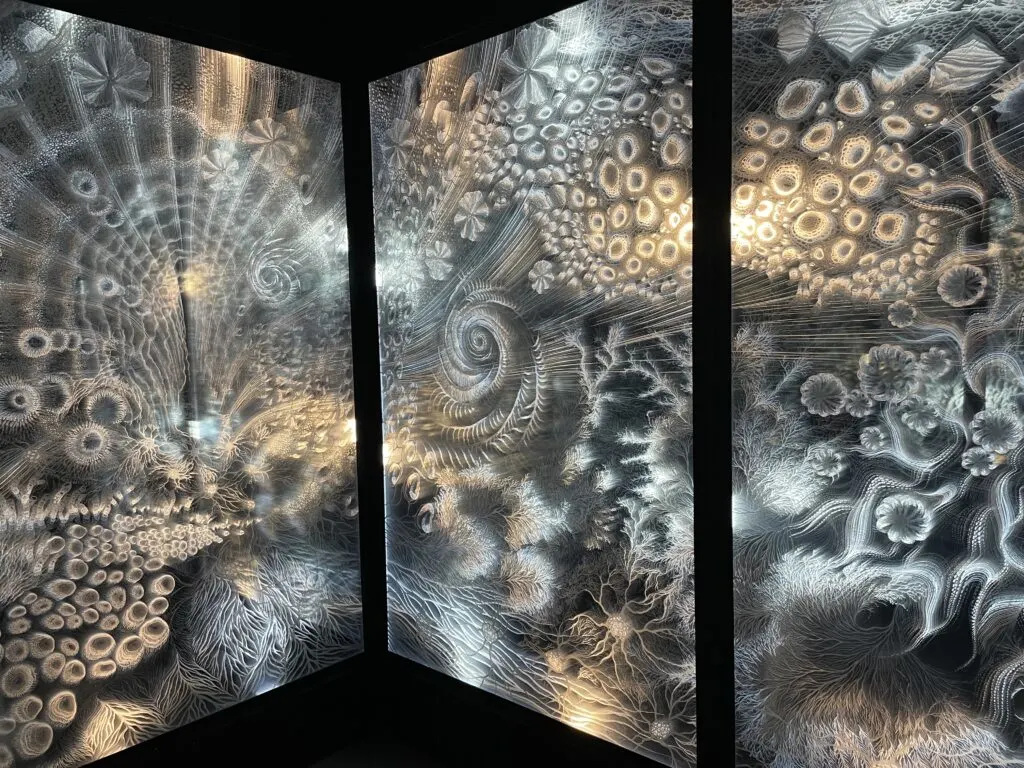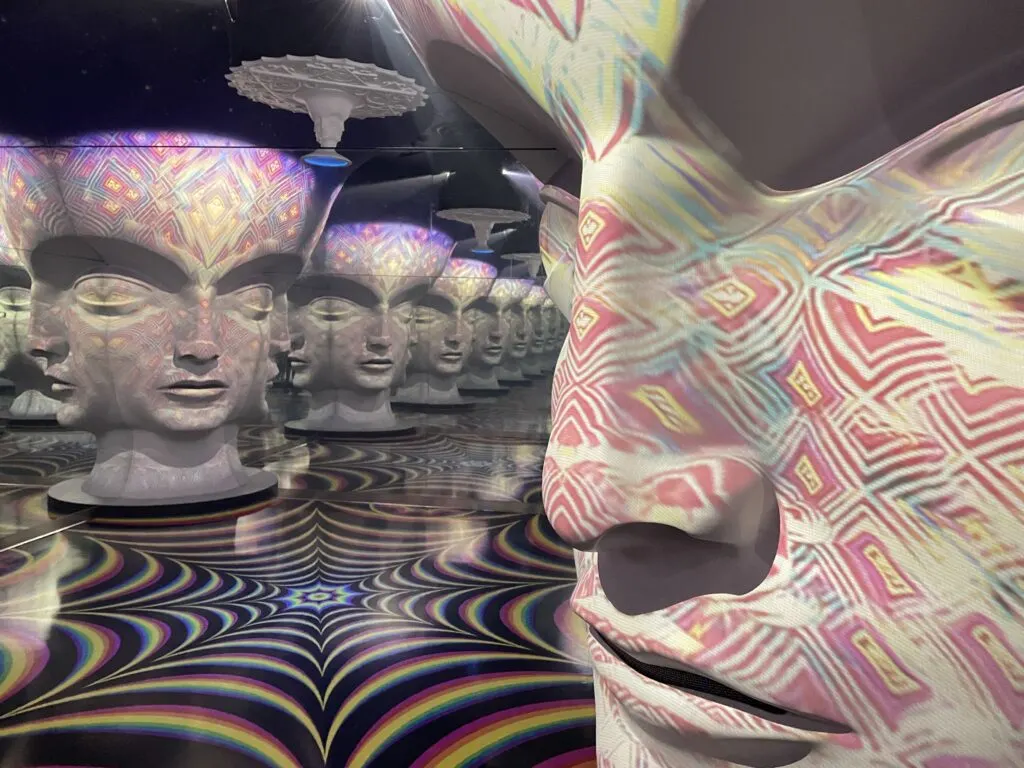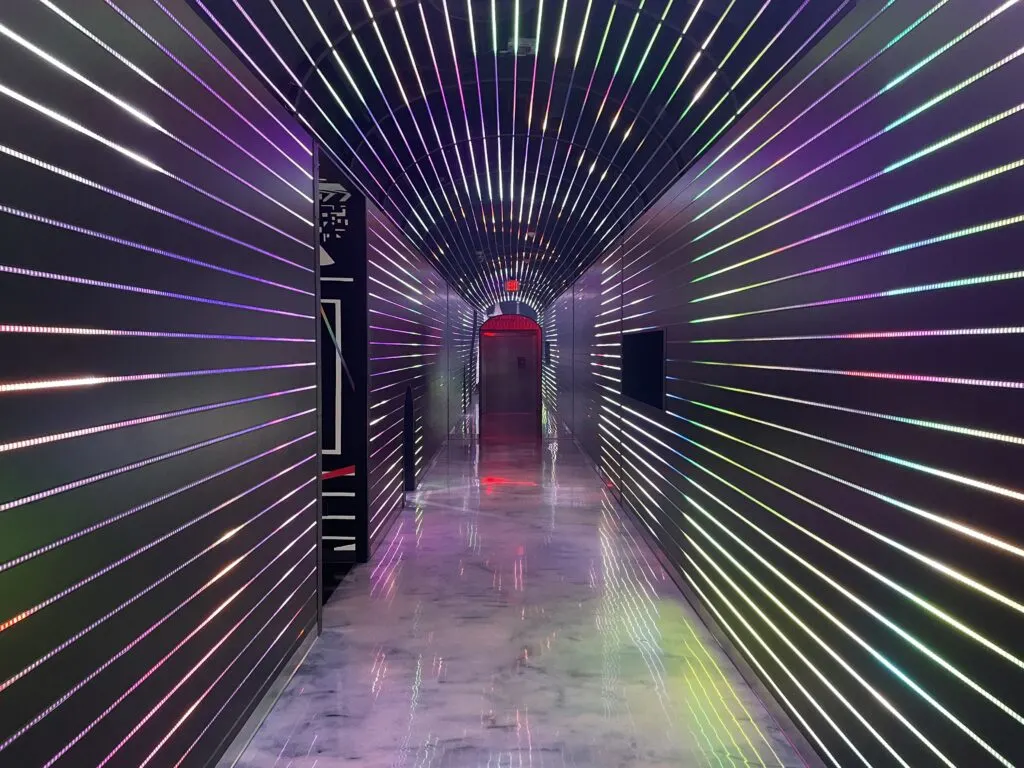 It's More than Art – It's a Story
Upon entering Omega Mart, you'll be issued an RFID badge. You can scan that badge at any of the numerous stations positioned around the complex to uncover what's actually going on at Dramcorp, Omega Mart's parent company.
While I was satisfied to simply stroll, look, and discover, the majority of visitors were having a blast uncovering the clues behind the Omega Mart mystery.
If you're looking for things to do with kids in Las Vegas, solving the mystery of Omega Mart at Area15 should be at the top of your list.
Tips for Getting The Most Out of Your Trip to Omega Mart
Pay attention to what people are discovering around you. Secret doors, portals, and unique products are hidden EVERYWHERE. I wouldn't have found half of what I did if not for observing those around me.
Take your time. If you're in a rush to get to the next thing, you're bound to miss something cool.
Take an Uber or Lyft as parking is limited. There's a dedicated drop-off/pick-up location right out front and it won't cost you more than $10-$15.
Is Omega Mart Worth The Money?
Admission to Meow Wolf's Omega Mart ranges from $54 – $64 for adults depending on the day and demand. Kids and members of the military are eligible for a slight discount as well.
If you're into this type of attraction, then Omega Mart is certainly worth the price of admission.
If I'm being honest, creating content for this website occasionally pushes me to pursue activities that wouldn't normally be atop my list of things to do in Vegas. This is one of those occasions.
My preferred habitat is bellied up to a craps table with a Coors Light in hand, and while Omega Mart looked unique, I didn't expect to spend over 2 hours there.
Needless to say, I was sucked into the unique products, amazing visual effects, portals, and artwork that Meow Wolf has put together. My point being, I didn't think I'd enjoy Omega Mart nearly as much as I did. If you're on the fence about going, you should do it.
Understandably, if you're bringing kids, this could get expensive quickly. Just know that this isn't a quick "in and out" attraction. If you take the time to see everything and "follow the clues" to learn more about Dramcorp then Omega Mart could keep your attention for hours.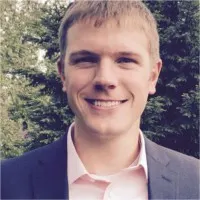 I'm a former software salesman turned Vegas aficionado. While the craps table is my preferred habitat, I pull myself away to explore new attractions, shows, restaurants, and outdoor activities around Las Vegas with the intent of sharing my experiences.
Ultimately, I just want to help folks plan a better trip and save a few bucks in the process.