What is Area15, and what is there to do there? It's a common question posed by Las Vegas visitors, and frankly, one that we shared until our recent visit. Area15 is housed in a massive warehouse-like building just off I-15, and the structure doesn't give too many hints as to what goes on within its walls.
So, What is Area15?
Even after stopping by, summing up Area15 is somewhat difficult. Think of Area15 as a feast for your eyes. While not really an "art person" per se, I found Area15 to be captivating. The show starts with art on display out in front of the building. Among the items on display are a giant owl in flight, a glass prism sculpture, a different take on the "Welcome to Fabulous Las Vegas" sign, and my favorite, the "Infinity Ship" perception tunnel. Infinity ship was a simple glass tunnel but gave the perception of having much more depth.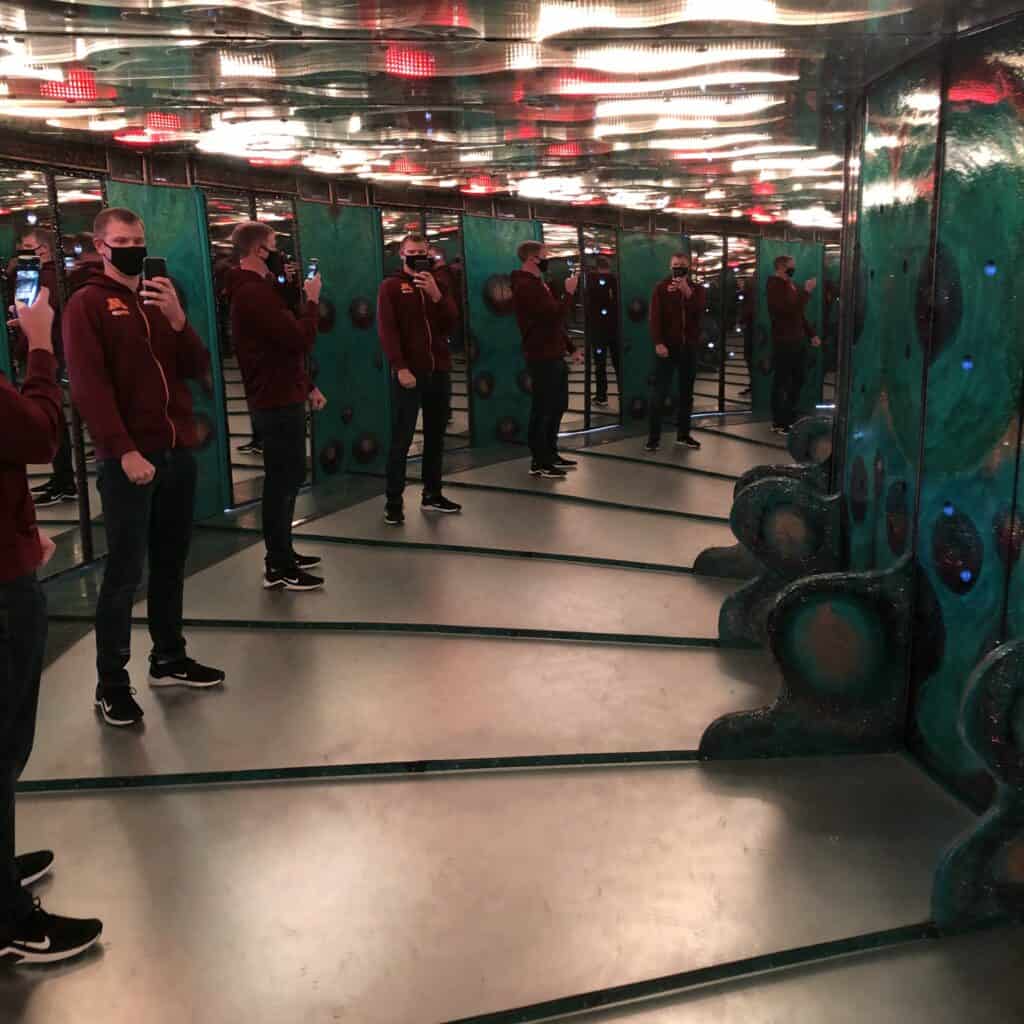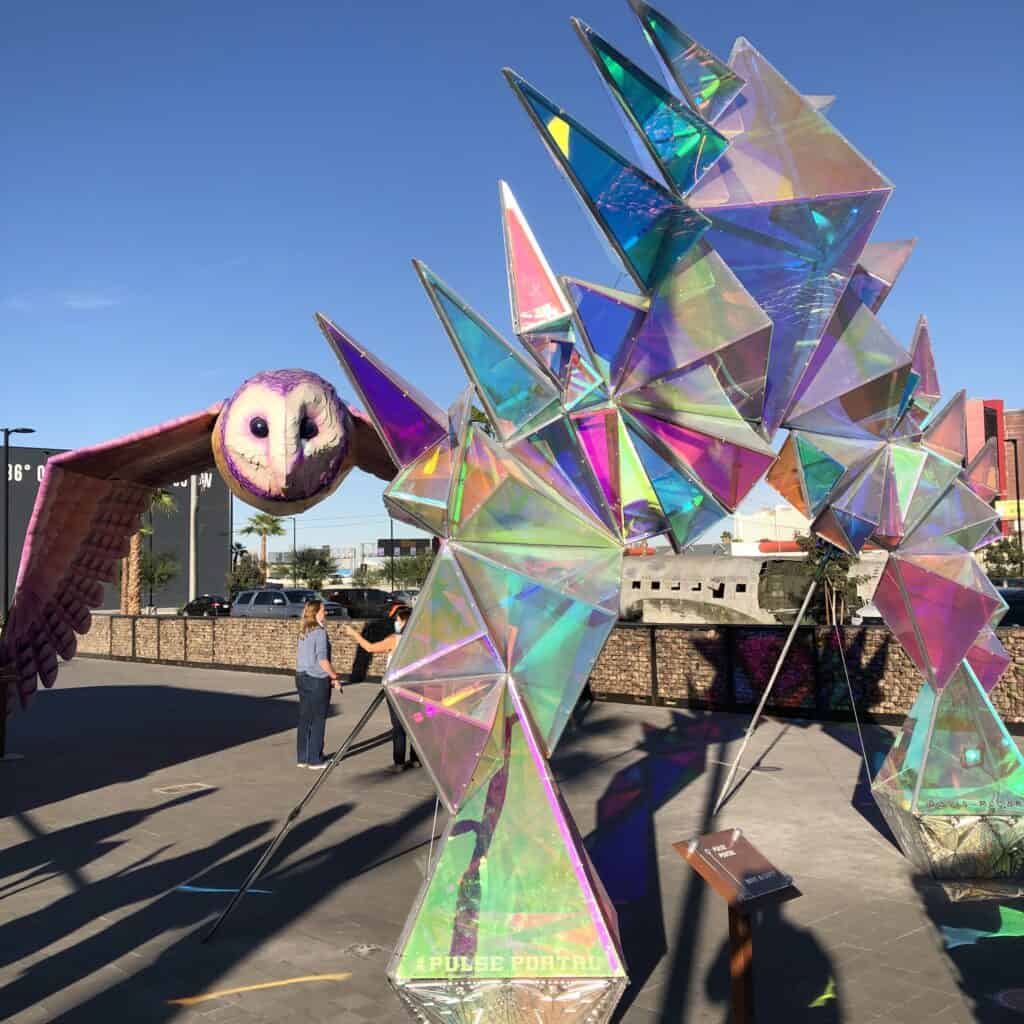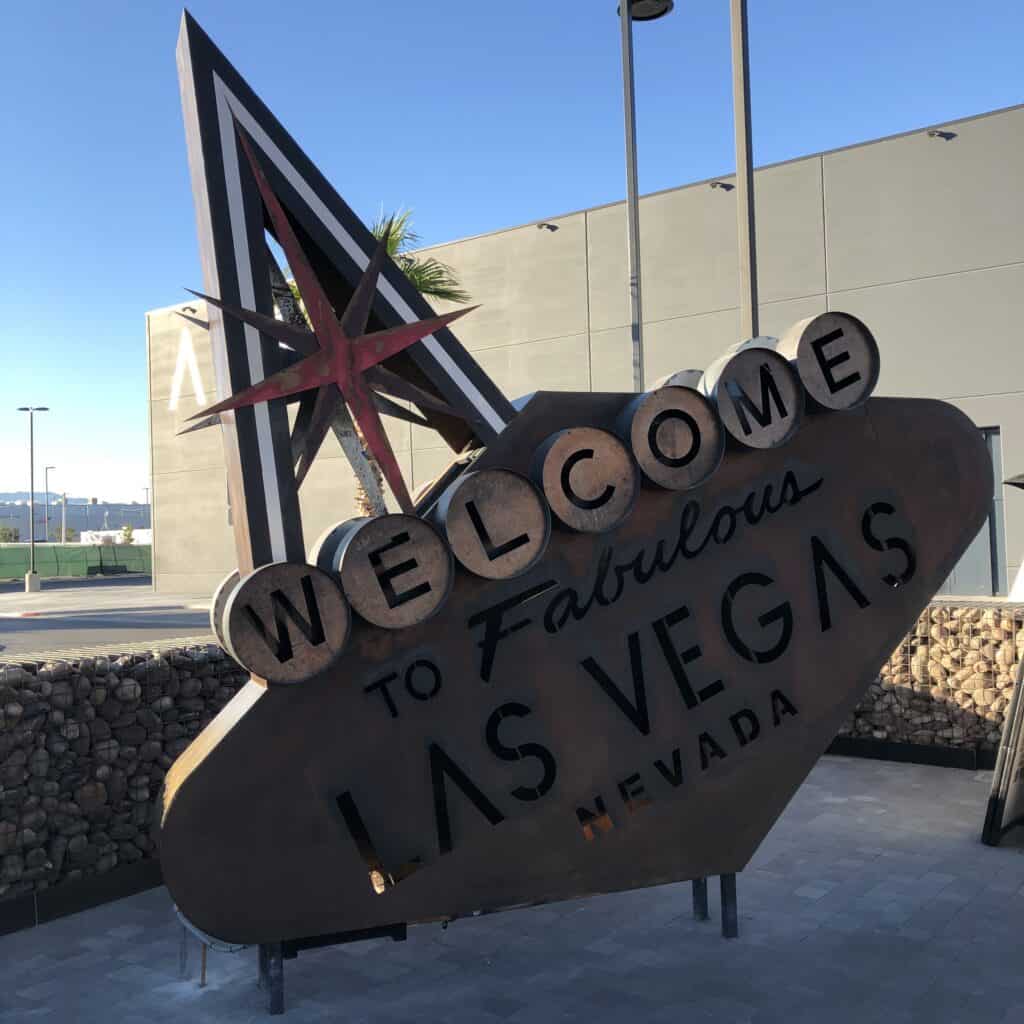 Once inside Area15, things turn a bit more "Ravey". While dabbling in psychedelic drugs has never been a hobby of mine, I can imagine Area15 as being something those that do would enjoy. Guests are immediately welcomed by a giant 3D skull that is brought to life via projector technology.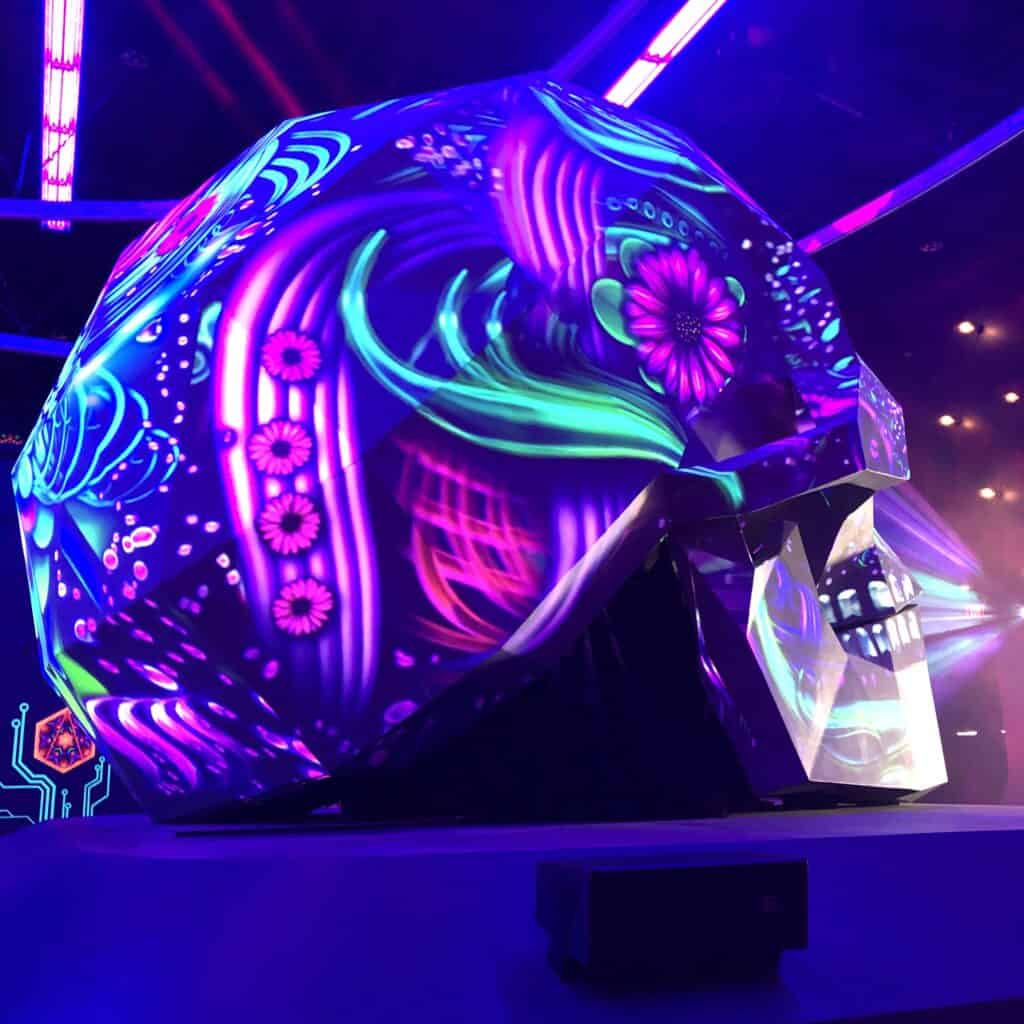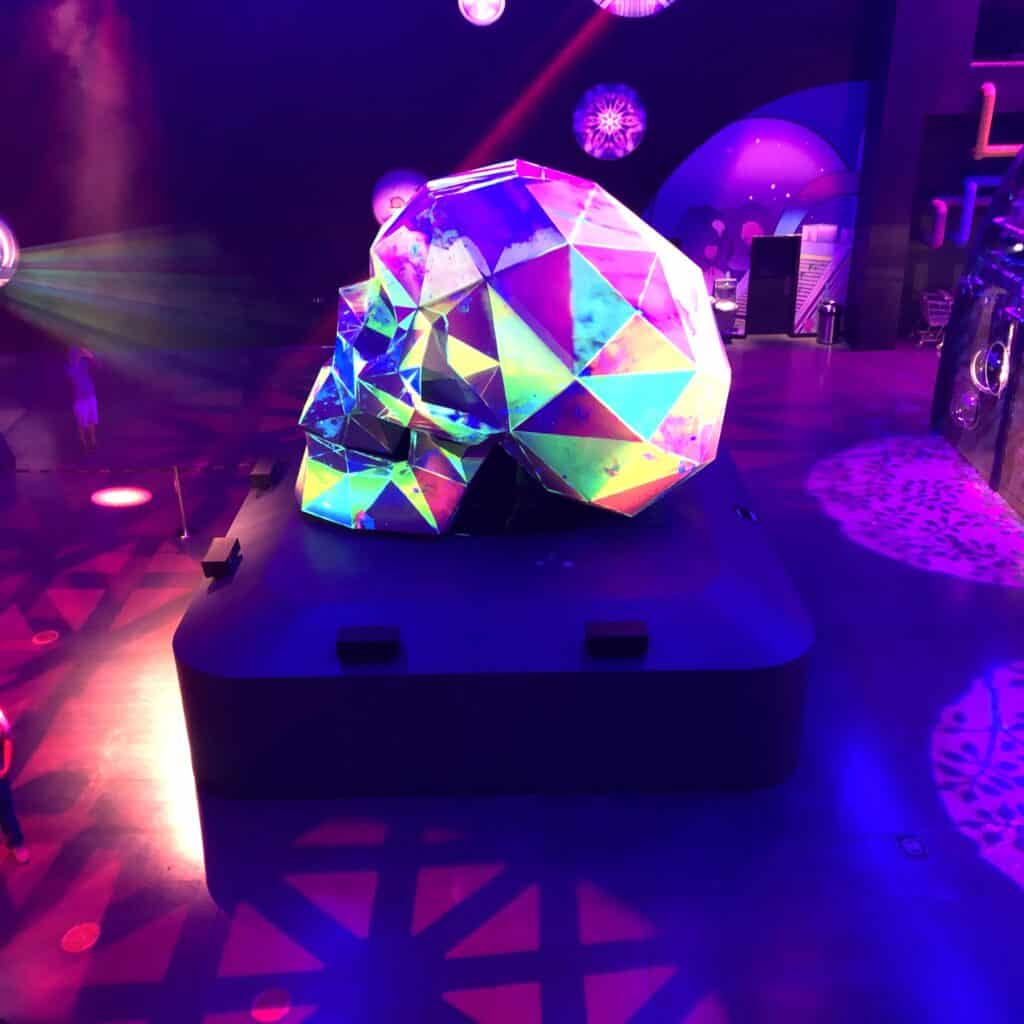 After making it past the illuminated skull, guests come across a bar with an illuminated tree that is synchronized to Area15's music (pictured below). There is seemingly a new, visually stimulating, piece of art on display at almost every turn.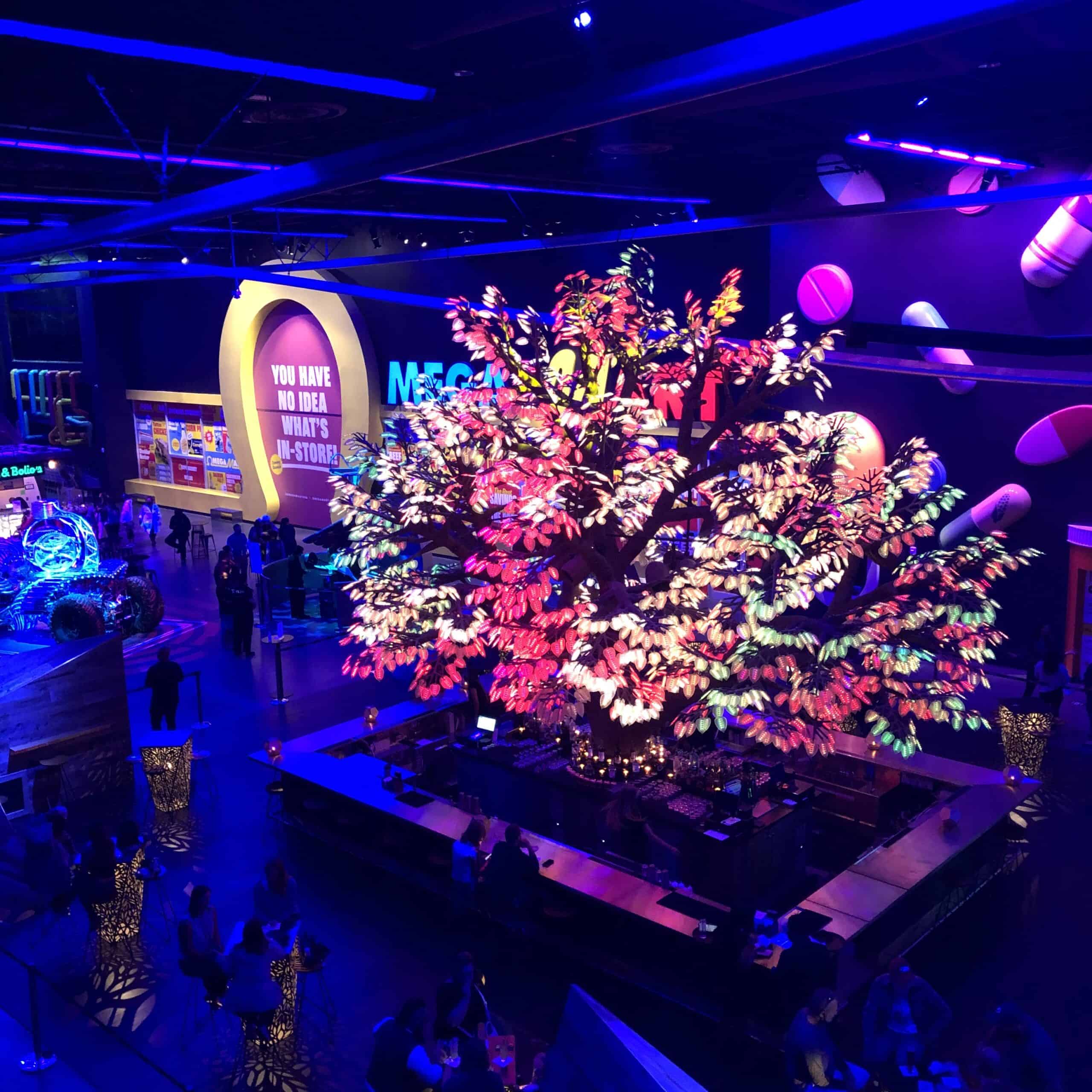 How Much Does Area15 Cost?
Admission to Area 15 is free, and tickets to get in can be reserved here. Free admission allows you to walk around the complex and enjoy the art on display, play yard games on the back patio, and gain access to dining options on-site.
Additional activities and experiences at Area15, which we'll dive into next, can be added to your itinerary for an additional fee. Most add on experiences at Area15 cost between $8.50 – $25 for adults, depending on the activity.
Things To Do at Area15 in Las Vegas
There is certainly a lot to see at Area15 and the "seeing" part is free. Area15 also offers a lot of other add-on activities that guests can reserve a ticket for in advance or purchase at the attraction provided there is availability. Here is a quick rundown of things to do at Area15.
Walk the campus and take it all in: As mentioned, this is free. Just reserve a ticket in advance, and gain access to explore the various displays out front and in the building. Area15 could be worth a visit based on the Art alone if you are into that type of thing.
Birdly: A virtual reality experience, riders on birdly are strapped to what can only be described as a mechanical skeleton that moves like, and positions the rider like a bird. VR glasses are strapped on, and a fan in front of the rider simulates the wind generated by their simulated flight. Riders choose where they want to fly and options include New York City, or prehistoric worlds. Birdly costs $13.50 for adults.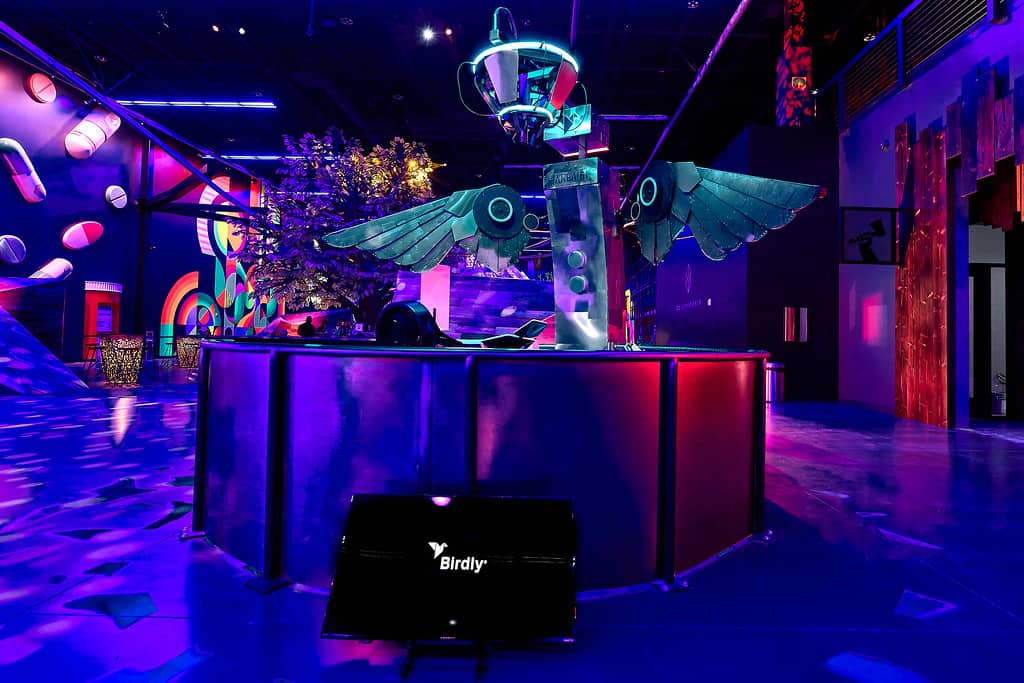 Haley's Comet: Riders take a spin on a "roller glider" which is essentially like a zipline/rollercoaster hybrid that is suspended from the roof and takes the rider on an aerial tour of the property. Haley's Comet costs $18 for adults.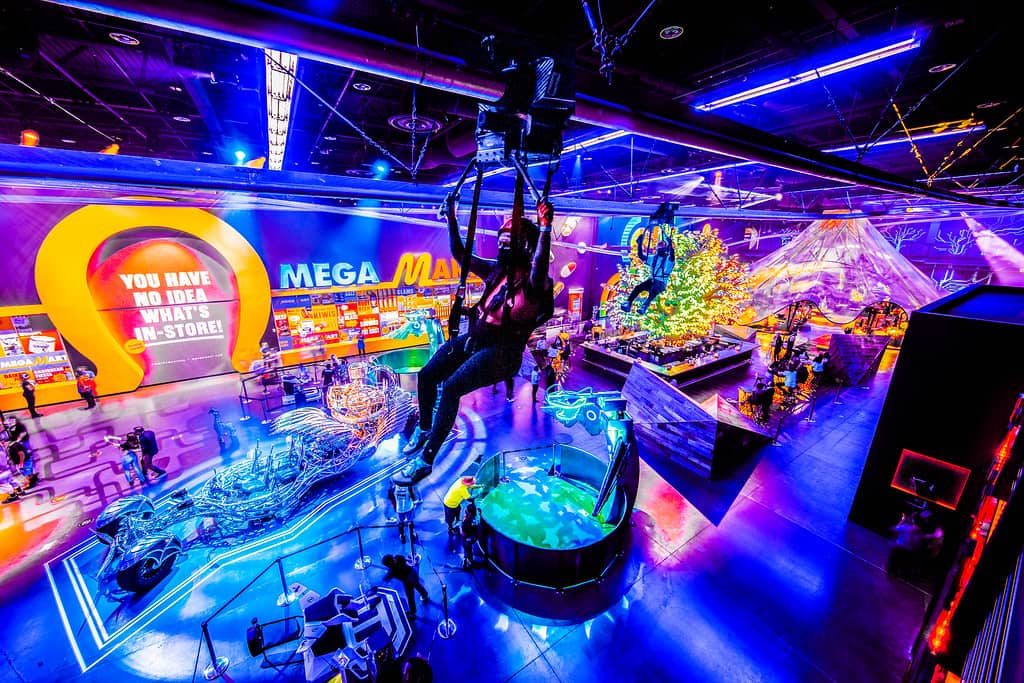 Gallerie 360: Housed in a 7,600 square foot room that acts as a 360-degree theatre, Gallerie 360 is a 30-minute presentation of artistic displays that take audiences to "colorful new dreamlike worlds". An adult ticket costs $20 and includes a free cocktail.
Cluster: While Cluster had yet to open when I stopped in, it looks to be one of the coolest things to do at Area15 yet. Like Gallerie 360, Cluster is an immersive experience that will stimulate your senses. Think of it as an expertly synchronized sound and light show in a cavernous warehouse in which the artist has used the columns and depth of the space spectacularly. Tickets are $25 for adults and appear to be worth every penny.
Coming Soon: Other experiences coming soon include ax throwing, a distillery, the "Emporium" which is a bar/arcade concept, and the "Omega Mart" which is described as the "#1 Supermarket in the Worlds". Yes, "worlds" with an "S".
In addition to the Experiences you can buy tickets to at Area15, there is also an outdoor patio with yard games like cornhole, oversized cornhole, giant Jenga, giant Connect 4, and some wild "Mad Max" looking vehicles on display. Access to the patio and yard games are free.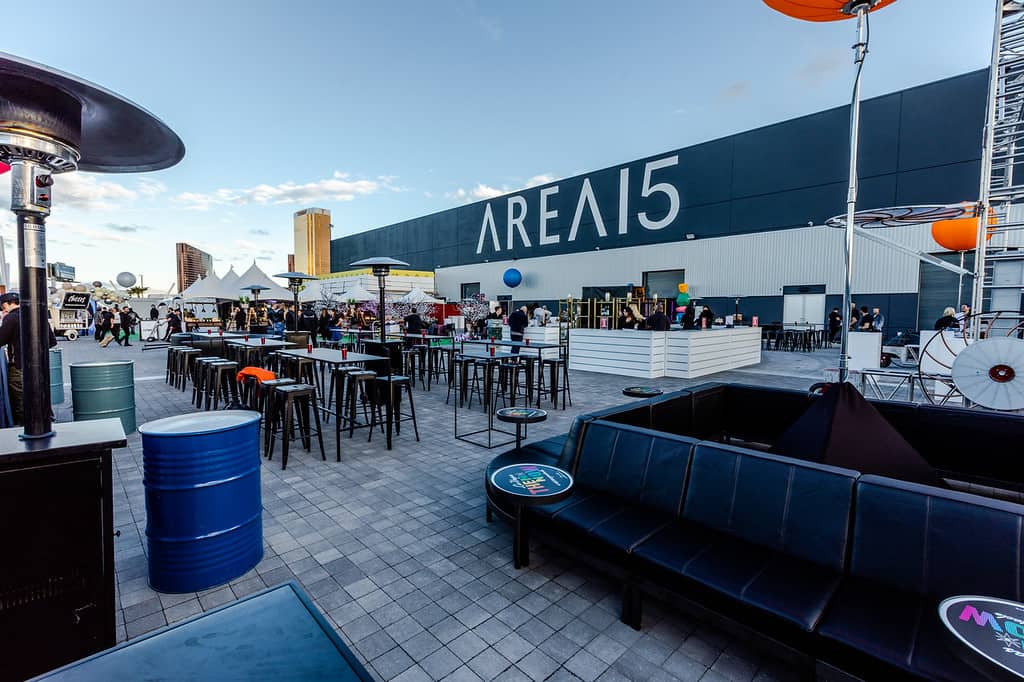 What's the Best Way to Get to Area15?
Area15 is a short drive from the Las Vegas Strip, and free parking is provided. There is also a dedicated rideshare dropoff and pickup location, and an Uber from the Strip only cost me $12 plus tip.
Visiting Area15 could be a great option for Vegas visitors that are sick of gambling, have blown their bankroll, or are traveling with kids. It can be done as inexpensively, or grandiose as your budget will allow and is honestly pretty cool, even if artistic displays aren't typically your thing. Below are some additional photos we snapped of the complex!
Related: A complete list of things to do with kids in Las Vegas.