Key Points:
Haley's Comet is a hang glider-like ride that gently flys passengers around the ceiling of the Area15 complex.
While a fun diversion, Haley's Comet doesn't compare to the thrill provided by the other 2 ziplines in Vegas (FlyLINQ & SlotZilla).
That being said, Haley's Comet's low price point makes it a compelling value.
Haley's Comet is one of many attractions found within the sprawling Area15 entertainment complex, and is self-described as "Hang-gliding meets free-falling".
Offering a seated zipline-like experience, Haley's Comet's track runs in a giant loop around Area15's ceiling and serves up a few dips and dives, changing elevation a couple of times during the ride.
While I've visited Area15 numerous times, I had yet to tackle Haley's Comet… likely due to my fear of heights.
That all changed recently when I put on my big boy pants and hopped aboard with the intent of sharing my experience and whether or not it's worth doing.
Haley's Comet Cost
First off, Admission to Area15 is completely free. You just need to score a free ticket on their website before visiting.
Once inside, every activity has a cost, and tickets to your preferred attractions can be purchased in advance.
Pricing for Haley's Comet starts at $18 for adults and $14 for kids.
Uniquely, riders can have their experience filmed for an additional $10. After the ride, links to view the video and multiple still photos are delivered to your email inbox.
My Experience on Haley's Comet
I arrived at Area15 the moment it opened hoping to avoid an extended wait to board Haley's Comet as I heard the wait for the ride can be substantial.
I purchased both a ride ticket and the $10 add-on camera so that I could share a video of the experience (which you'll find embedded in this post).
Once inside, I was able to walk right up and board. There was no wait, and even as I de-boarded, there were no takers. All of the early risers seemingly were headed to the popular Omega Mart by Meow Wolf (which is extremely cool).
The ride operators efficiently strapped me in, secured a GoPro-like device on my seat, explained how to accelerate my seat if desired, and had me on my way in no time.
The seat itself hangs from the track above and has two handlebars, one of which operates like the acceleration grip of a motorcycle which makes you go faster if twisted back towards you.
Once the ride started, I ripped that handlebar back to hit max speed, although I'd still describe the pace of the ride as leisurely. The only real "rushes" occurred during the turns, when the hanging swing veered out at a 45-degree angle.
Although I have a moderate fear of heights, I never felt any anxiety and wondered where the "Free falling" in their website's self-description of "Hang-gliding meets free-falling" came into the equation, as there was nothing extreme about Haley's Comet.
The ride itself is quick, lasting about 30 seconds.
I'd describe Haley's Comet as a chill spin around the roof of Area15, offering a good view of the whole complex which has plenty of visual appeal.
Is Haley's Comet Worth the Money & Time?
It depends on what you're looking for.
Compared to other ziplines in Las Vegas like FlyLINQ and SlotZilla, this is easily the least thrilling by a mile, however, for $14-$18, it's also the cheapest by a good margin.
As long as you're looking for a short casual spin around Area15 and not a thrill ride, then this could be a good option.
My personal opinion: Haley's Comet was a bit of a snooze fest. While it was probably worth $18 to do once, I doubt I'd go out of my way to do it again.
On the flip side, I can see how Haley's Comet may appeal to kids that aren't quite up to the challenge of the big ziplines on the Strip and Downtown.
As for the $10 camera add-on… skip it. As you can see from the video embedded in this post, they try to spice things up by adding a lot of b-roll of the venue and of riders that aren't you.
This ride just isn't thrilling enough to justify a rider-facing video camera.
Ultimately, Haley's Comet is likely a solid attraction for those looking for a relaxing ride with a view or inexpensive things to do with kids in Las Vegas. Thrill seekers should steer clear, however.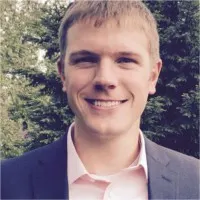 I'm a former software salesman turned Vegas aficionado. While the craps table is my preferred habitat, I pull myself away to explore new attractions, shows, restaurants, and outdoor activities around Las Vegas with the intent of sharing my experiences.
Ultimately, I just want to help folks plan a better trip and save a few bucks in the process.