Nothing is better than arriving in Las Vegas with pockets full of cash and hope in your heart.
On the flip side, there is nothing worse than blowing a chunk of your bankroll immediately by overpaying for transportation to your hotel downtown on Fremont Street. After all, an Uber can cost almost $20-$30!
Don't eat into your gambling budget though, follow our lead and utilize the Centennial Express Bus (CX).
It's easy to use, easy to find, and at only $2, the CX bus is easily the cheapest way to get from the airport to Fremont Street.
CX Bus Route in Las Vegas
The CX bus route picks up at both Terminal 1 and Terminal 3.
If catching the bus at Terminal 1, you will want to navigate to level zero by taking the escalator down one level at baggage claim and then exit the terminal and cross the street.
If you're in Terminal 3, the bus stop is on the departures level which can be found by taking the escalator up one level at baggage claim. Head outside, cross the street and the stop is well marked by RTC signage.
Paying for your ride is also straightforward. The easiest way is to have 2 crisp one-dollar bills to feed the machine as you enter the bus. Alternatively, there is a ticket machine located at Terminal 1 where you can pre-purchase fares from, however, there isn't a machine at Terminal 3.
RTC does have an app that allows for fares to be purchased in advance, however, the app only allows you to buy a $3 local fare as opposed to the CX's typical $2 rate. It works, but you'll be overpaying. Plan ahead and bring a couple of bucks.
The bus takes 30-40 minutes to get from the Airport to Fremont Street which is a bit longer than other means of transportation, but not by much. If you are in a rush this may not be the best option. Note that the CX bus also has a luggage rack, although I found it easier to set it on the floor in front of where I was sitting.
Route-wise, the CX runs down Flamingo to I-15, past the North Premium Outlets, and then downtown Las Vegas. As a visitor, what's important is you'll board, ride for a while, and get dropped off on Fremont Street for next to nothing. Get off at the 4th and Carson stop and you'll get off the bus right next to The D.
Here is the CX bus route map and schedule:
And there you go, the cheapest way to get from the airport to Downtown Las Vegas hotels like Plaza, Binion's, The D, 4 Queens, California, Main Street Station, Fremont, Golden Nugget, El Cortez, Downtown Grand, Circa, and Golden Gate.
Now take the money you saved and blow it at the tables.
Related: Las Vegas Airport transportation options.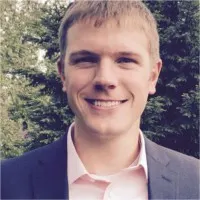 I'm a former software salesman turned Vegas aficionado. While the craps table is my preferred habitat, I pull myself away to explore new attractions, shows, restaurants, and outdoor activities around Las Vegas with the intent of sharing my experiences.
Ultimately, I just want to help folks plan a better trip and save a few bucks in the process.