Located at the far south end of the Las Vegas Strip, Delano ranks among the more upscale offerings in the MGM Resorts portfolio of properties.
Delano's 1,100+ suites offer relative quiet and solitude while still being steps away from the Mandalay Bay casino floor and all the amenities you'd expect at a Las Vegas mega-resort.
Considering how much I enjoyed my stay in a Penthouse Sky View Suite at Mandalay Bay a few months back, staying at Delano was a no-brainer.
Based on my play within the MGM Rewards loyalty program, I was able to book a King Suite at Delano for a total of $122.45, which includes the $39 resort fee and taxes.
Below, I'll give you a look inside and provide insight into my experience in one of Delano's King suites!
Delano Check-In Experience
One of the top perks of staying at higher-end MGM properties is the seamless check-in experience.
The day before my stay, I was able to check into my room on the MGM Rewards phone app, which involved entering payment information, number of guests, etc. MGM then alerted me when my digital key was ready via email and within the app.
No standing in line. No kiosks. No time wasted.
After checking in, I was able to use my cell phone to access resort amenities and my hotel room.
The check-in process at Delano allowed me to walk off the gaming floor at Mandalay Bay, right up to my room. I absolutely love this aspect of the MGM experience.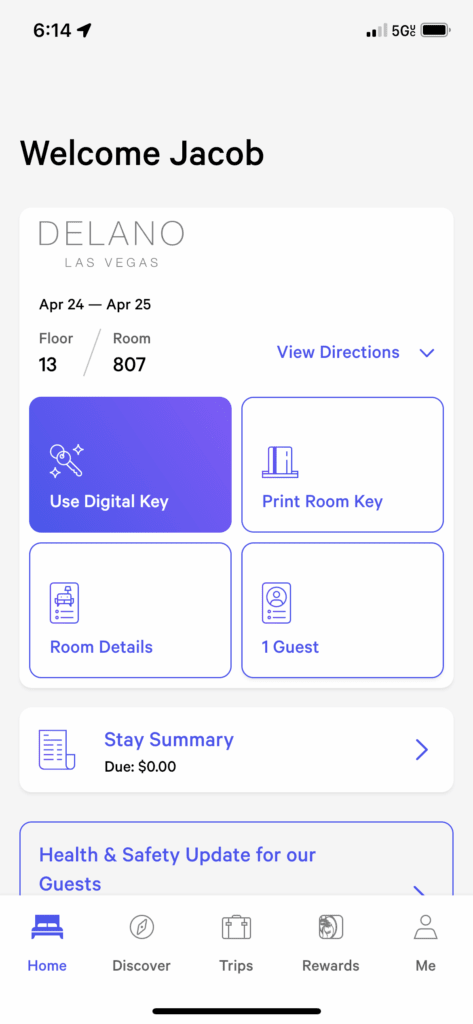 Inside Delano's Stay Well King Suite
My room was located on the 13th floor and it was a bit of adventure getting up there as several of Delano's elevators had malfunctioning digital key readers.
Annoyingly, I'd get in an elevator, oftentimes with another person, and neither of us were able to get our room key to work. As we'd emerge, an employee would say something like "Yea, that one doesn't work. Try this one (pointing to a different elevator)".
While that happened a few times, I got a feel for which elevators worked with the digital keys, and which to avoid.
No biggie. Onto the room.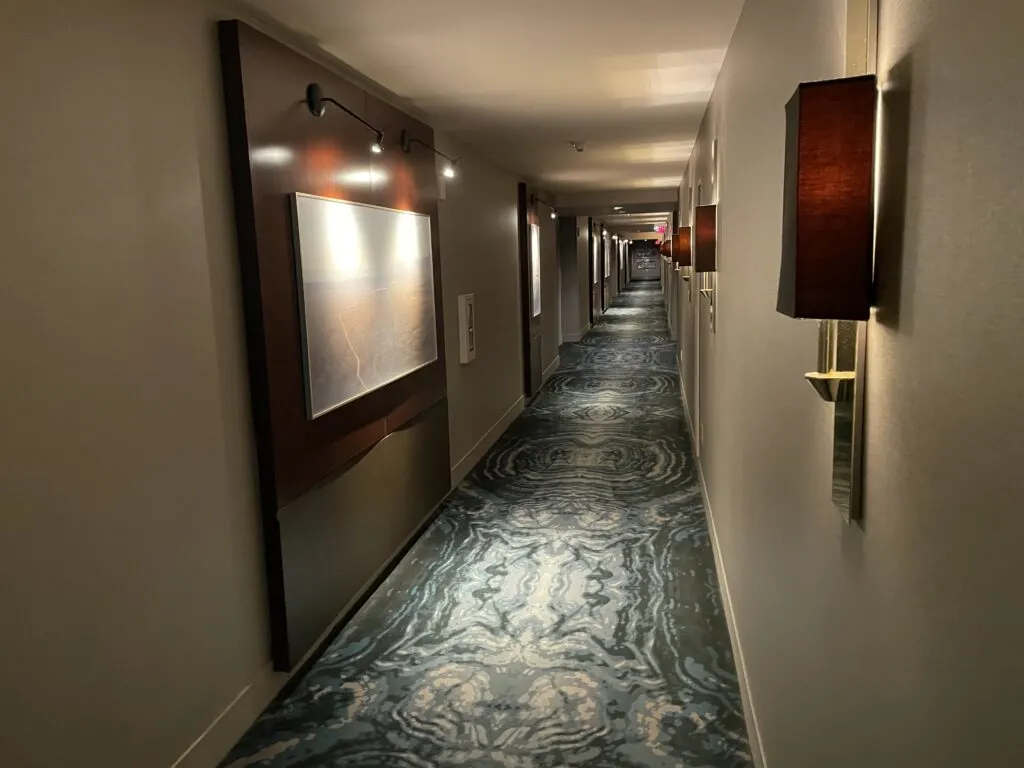 I was surprised to learn my room was one of Delano's "Stay Well" options, which wasn't something that I selected when reserving.
For those unfamiliar, Stay Well rooms at MGM properties offer wellness amenities like air purification, additional shower filtration that reduces chlorine, and advanced cleaning.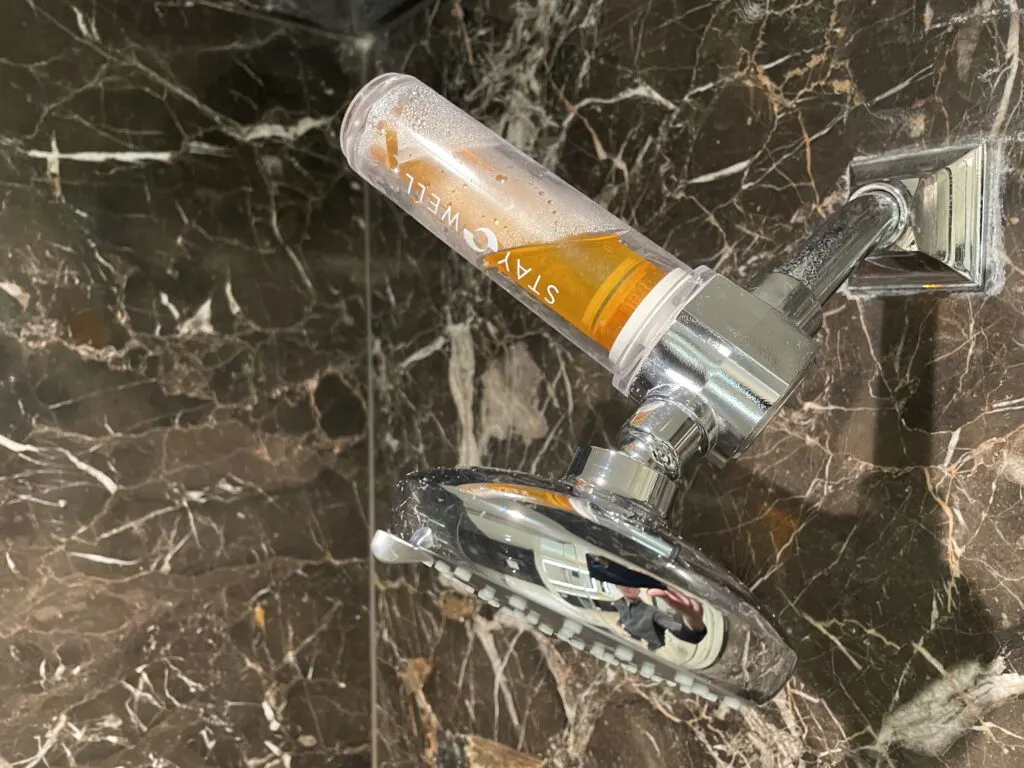 I'm not exactly a "health nut" so the Stay Well features were more of a novelty than something I felt I benefited from. Nice touch, however.
King Suite Living Area
The living area within the suite was separate from the bedroom and had a couch, chair, and small coffee table.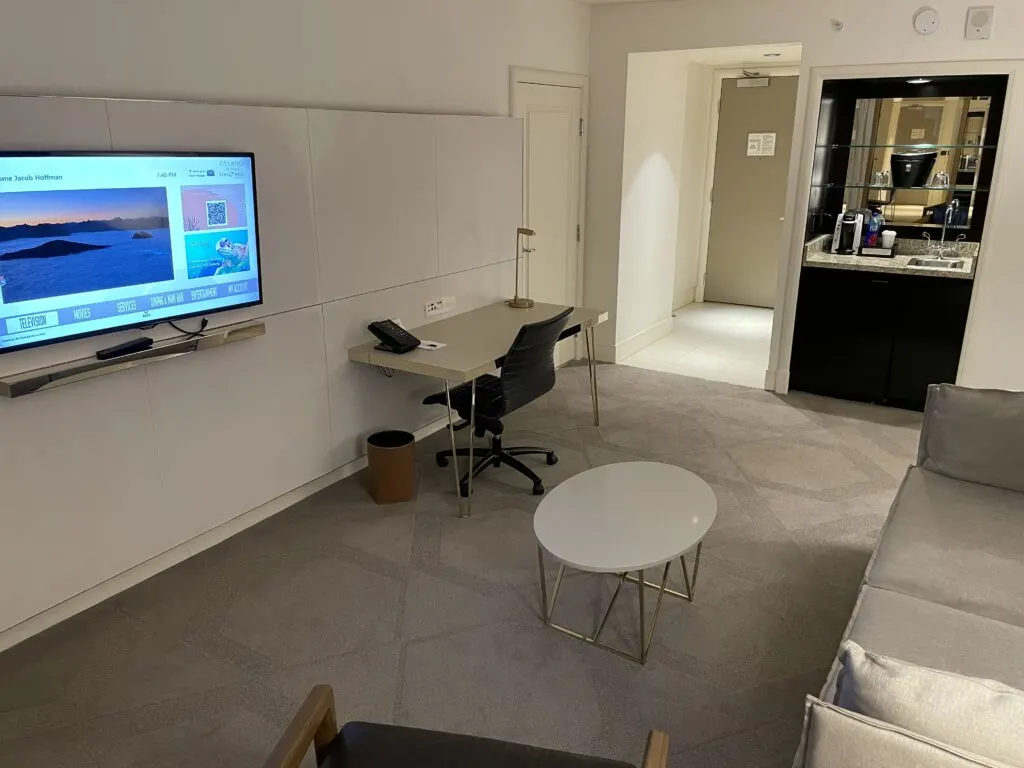 Just inside the entrance to the room was a basic bathroom with a sink and toilet.
Floor-to-ceiling windows provided views of the Strip to the north, with Luxor looming large next door.
A work desk was also present for those that need to take care of a bit of business.
The wet bar wasn't exactly impressive and consisted of a sink, ice bucket, 2 cups, and a mini-bar below in the fridge. While a Keurig was available for use, the cups were on the pressure-sensitive countertop mini-bar and surely overpriced.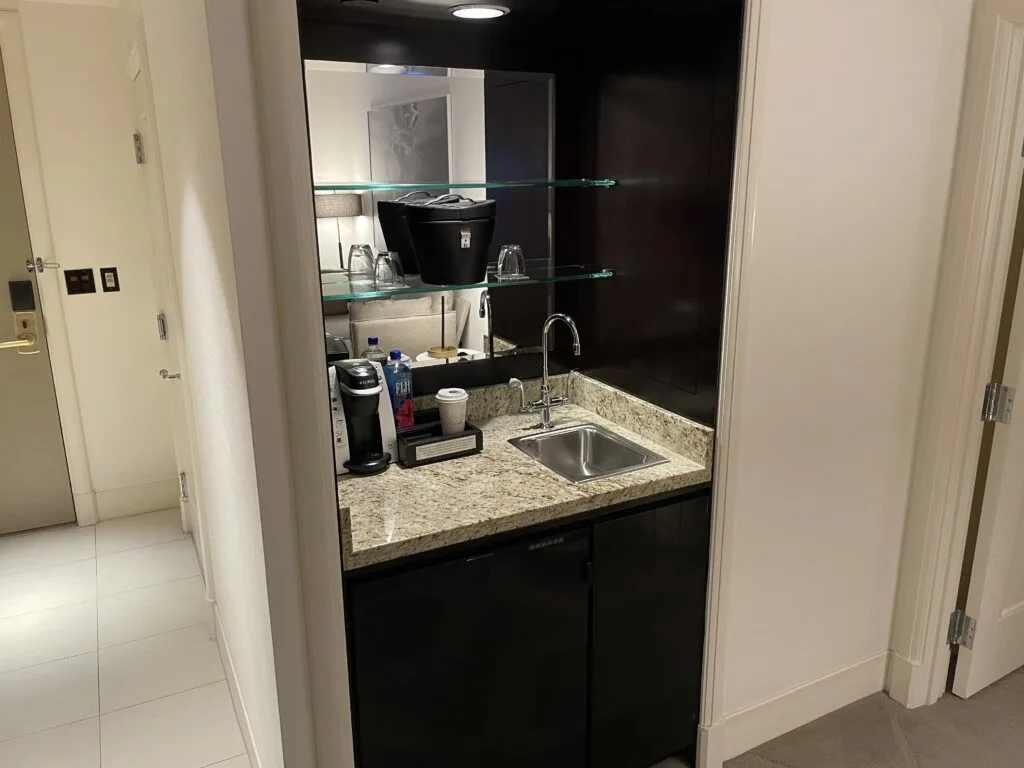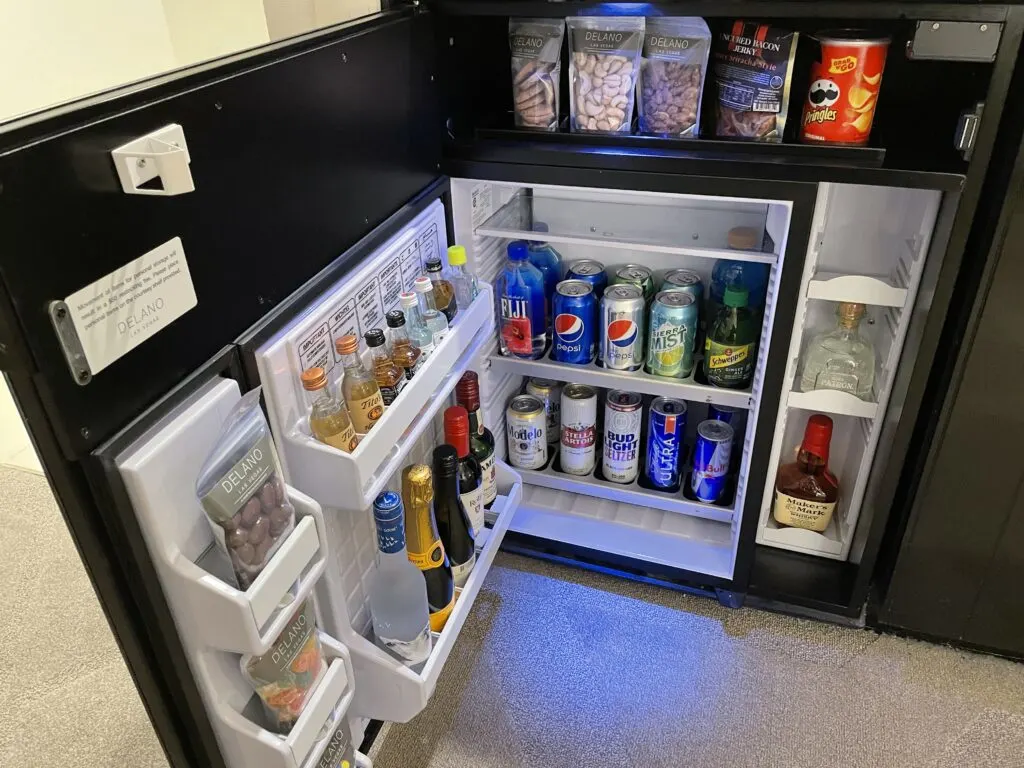 Disappointingly, there wasn't an empty fridge for guest use, which in my opinion should be a standard suite amenity.
While the living area was adequate, it just felt like it was lacking something from a decor perspective. While I can't put my finger on it, the room just felt blandish. Perhaps it needed a bigger TV to fill out that specific wall?
King Suite Bedroom
I loved the bedroom.
For the weirdos among us that unpack and store their clothing in the room, there was an abundance of storage space surrounding a mounted TV.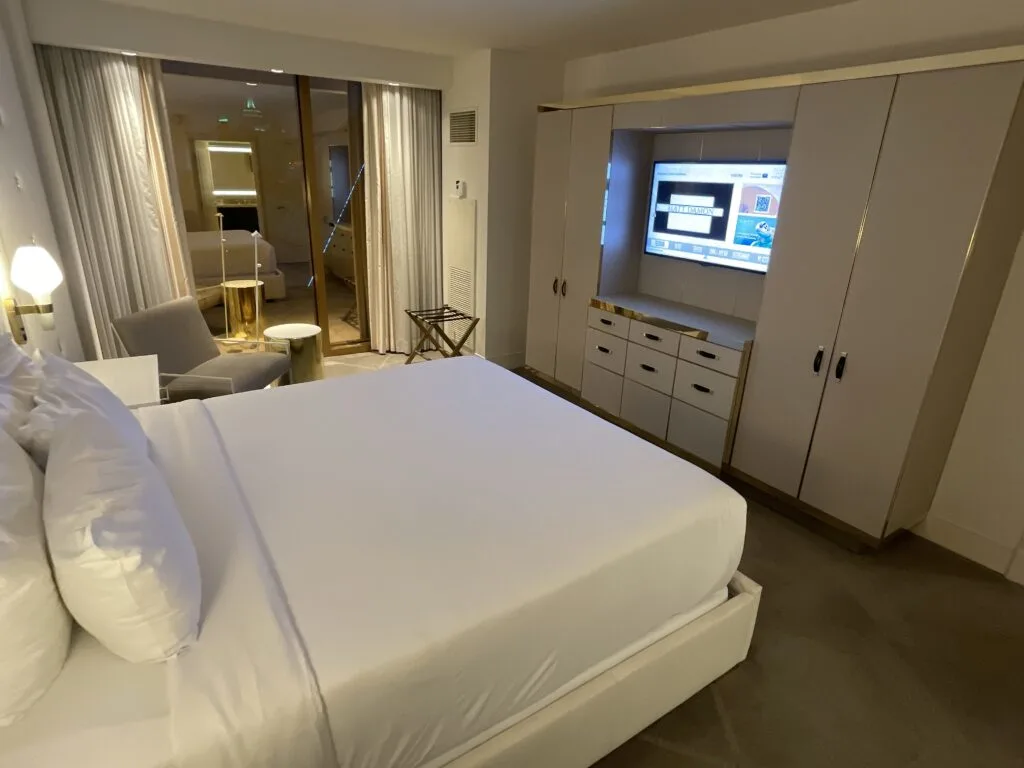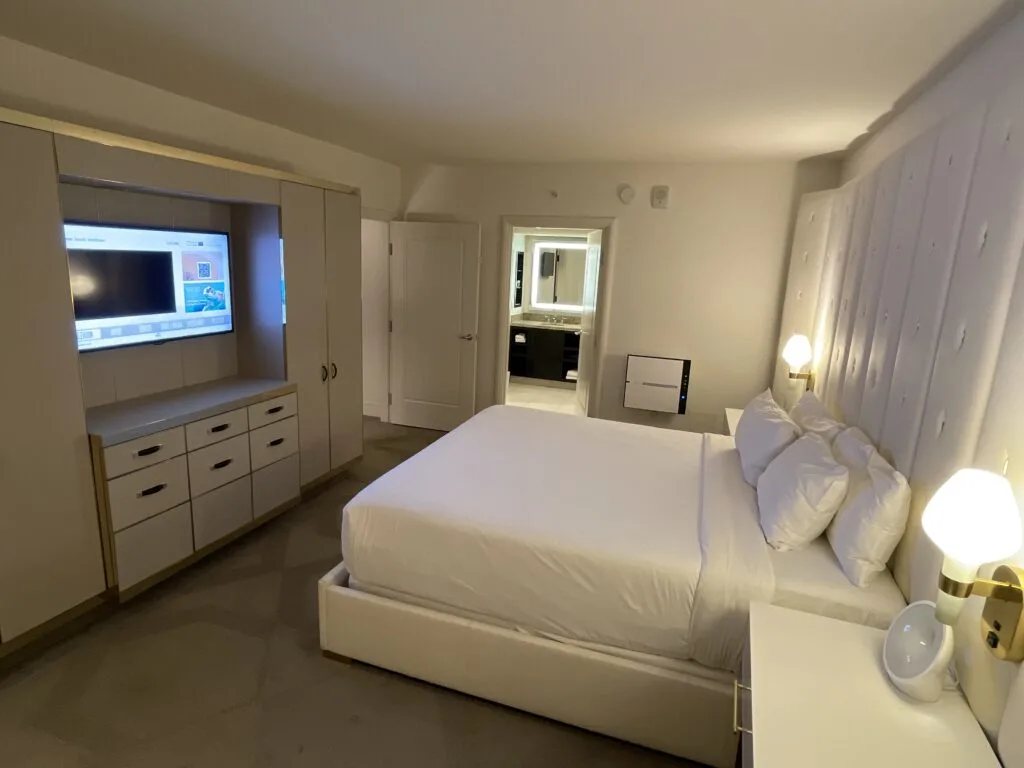 In the closest adjacent to the TV was a safe, iron, and ironing board.
The padded headboard was unique in that was massive, extending well beyond the sides of the bed, and nearly to the ceiling. I personally appreciate that Delano is putting the safety of their guests first :).
The bed was comfortable, however, sounds from the hallway were quite audible throughout the night. Doors opening, closing, and conversations were pretty common and hardly muffled.
There were also loud "clicks" coming from various places in the bedroom throughout the night that were loud enough to startle me, but I was never able to identify the source. Not a deal-breaker by any stretch, but an oddity to be aware of.
Like the living room, the bedroom also had floor-to-ceiling windows with views of Luxor and resorts to the north.
Of course, the bedroom had its own separate bathroom.
King Suite's Master Bathroom
The bathroom had a 2 sink vanity with a beautifully lit mirror. A wall-mounted TV was a nice touch for those, like my wife, that take forever to get ready, or for those lounging in the tub.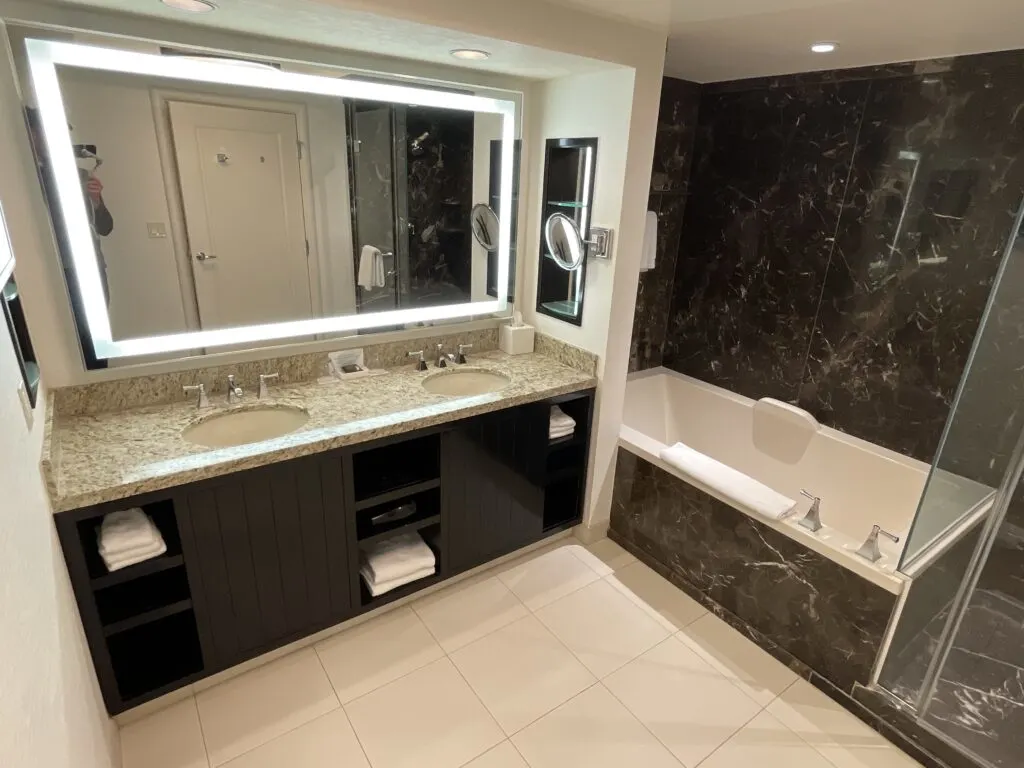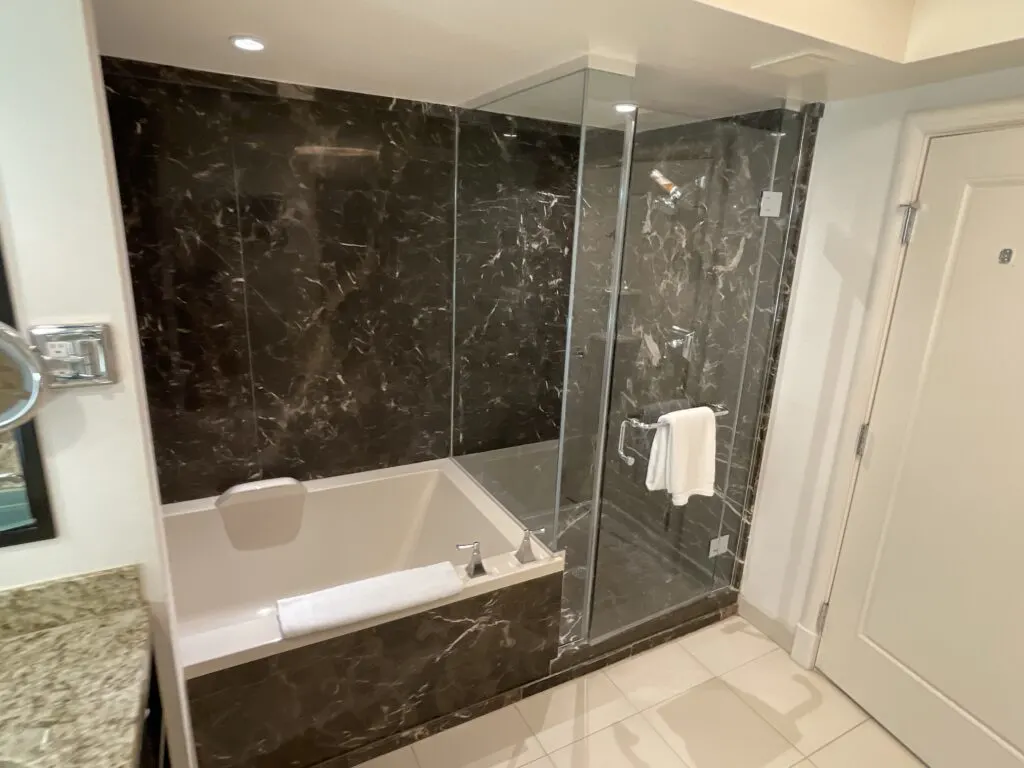 Speaking of the tub, it was deep and big enough for two skinnier people to fit into.
The shower had dark marble walls and a showerhead high enough for a 6′ 4″ guy to get underneath.
The toilet was in its own little room connected to the main bathroom.
A Couple of Dings
While this was an exceptionally clean room, it's only fair to point out that there were a couple of rare imperfections.
Specifically, there was a grimy corner in the bathroom and a scuffed-up door frame corner. Nothing major, and to be honest, I had to search pretty hard to identify these spots.
They didn't affect my experience, but I know others can be pickier.
Delano Resort Highlights
Mandalay Bay Beach: Regrettably, I didn't have the chance to visit Mandalay's sprawling pool complex as I had too much going on, but as one of the best pools in Vegas, it has plenty to offer all. Popular features of Mandalay Bay's Beach include a wave pool, a real sand beach, and a lazy river.
A Lobby Coffee Shop: Conveniently, there was a coffee shop at the base of the Delano tower that was rarely crowded.
Dining Options: In addition to the coffee shop, there are a number of dining options at the base of the Delano tower including Della's, a restaurant that serves affordable breakfast dishes for around $20 or less. Because I was planning to hike Valley of Fire that day, I ordered 2 breakfasts to ensure adequate calorie consumption.
The French toast was good around the edges but was literal mush in the center. Perhaps I'm simply not cultured enough to understand, and that's the way it's supposed to be, but I legitimately needed a spoon to eat the middle of the French toast.
The Eggs, sausage, and hashbrowns were fine, although I found it nearly impossible to cut the sausage. I pushed so hard on one link that it shot across the floor of the restaurant in lieu of allowing itself to be split in half by my fork. Fortunately, I was the only one eating at that time.
Is Delano's King Suite Worth the Money
I've grown to love the relative quiet of Mandalay Bay, and now Delano. Located at the far south end of the Strip, the resort lacks much of the chaos you'd find mid-strip.
Additionally, and likely thanks to the slick mobile check-in process, a hotel employee was never hard to access. I had a question about my folio and was able to walk right up to Delano's hotel desk to get it settled.
While there were some minor quirks about the room that I wasn't in love with (like hallway noise, nighttime clicks, and the absence of an empty fridge), they were pretty inconsequential. I found Delano's Stay Well King Suite to be easily worth the $122.45 spent and I look forward to staying again in the future.
The flexibility of a 1 bedroom suite with a separate living area, bathroom, and wet bar (even if small and somewhat unimpressive) is great for pre-gaming before heading out for the night or winding down with friends after an eventful day.
If you haven't tried Delano or Mandalay Bay yet, I'd encourage you to do so. While the resort's location isn't in the thick of the action, you benefit from less foot traffic and are a cheap $10-$15 Uber/Lyft from the middle of the Strip.
The room product at Mandalay Bay and Delano is also in the top echelon of the MGM portfolio, often offered at a slight discount to similar offerings mid-Strip.
I'm a former software salesman turned Vegas aficionado. While the craps table is my preferred habitat, I pull myself away to explore new attractions, shows, restaurants, and outdoor activities around Las Vegas with the intent of sharing my experiences.
Ultimately, I just want to help folks plan a better trip and save a few bucks in the process.