There are few things worse than getting put up in a grungy, beat-up, or dated hotel room in Las Vegas.
Many resorts have been around for years and in some cases decades. Style and decor preferences obviously change over time and many Las Vegas hotels attempt to stay ahead of the curve with renovations intended to keep things fresh.
In addition to simple styling preferences, years of wear and tear can take a toll on a hotel room.
With that in mind, I wanted to highlight which Las Vegas hotels have recently invested in room renovations to bring their inventory up to date.
There are also situations where hotels have refurbished only a portion of their rooms. I'll be sure to point out what room type, or tower, has received recent renovation work.
Of course, I'll be sure to link directly to each property so that you can check rates and view options for your dates of travel.
See Also: Cheap suites in Las Vegas – On the Strip and Downtown!
Recent Strip Renovation Projects
Rooms in Caesars Palace's Forum Tower are their most dated (although still a solid value option for many), last receiving updates in 2009.
I recently stayed in both a Julius Tower Suite and an Octavius Premium Room and enjoyed both experiences.
TI: The north Strip resort took advantage of the 2020 shutdown to complete a renovation project that touched all 2,884 rooms.
Plaza: A 2019 project saw Plaza renovate 100+ rooms. The all-new "Luxe" rooms and suites were stripped down to the studs before being rebuilt with a modernized feel that has received rave reviews from guests.
Golden Nugget: Rooms in Golden Nugget's Gold Tower were renovated in 2015 and is centrally located offering easy access to the gaming floor. Additionally, the resort's Carson Tower was renovated in 2018.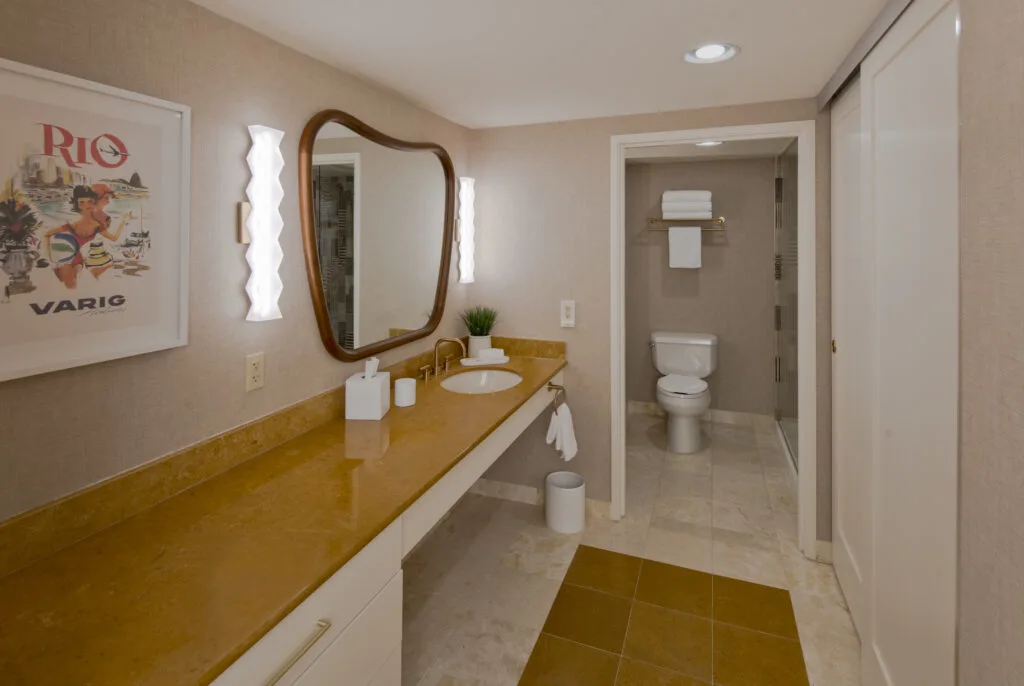 Virgin Las Vegas: The former Hard Rock is receiving a complete overhaul. Virgin Hotels purchased the property and has completely renovated the resort's 1,504 guestrooms in addition to all common areas prior to opening in 2021.
Ellis Island: Located just off the Strip behind Horseshoe, Ellis renovated 301 guest rooms/suites in their hotel as part of a 2017 project which swapped out flooring, tile, and furnishings. All rooms come standard with USB ports and a mini-fridge.
Fortunately for visitors, most hotels in Las Vegas make significant investments to keep their room inventory up to date. Hopefully, I was able to help you find a renovated room and avoid the dreaded dated accommodation.
Related: 90+ FREE Things to do in Las Vegas.