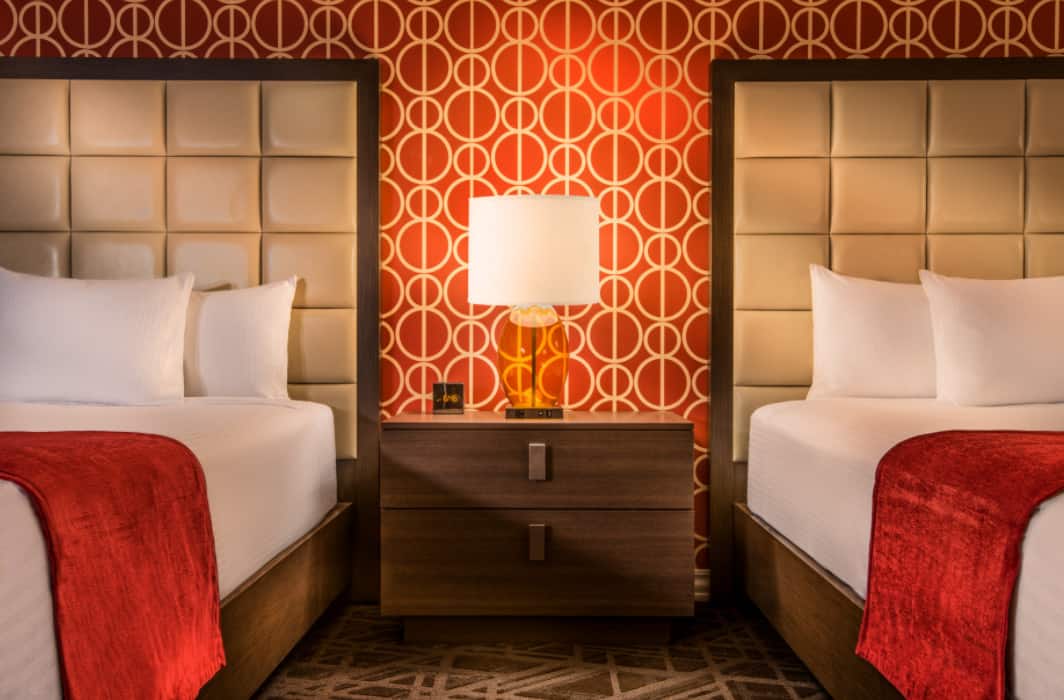 There are few things worse than getting put up in a grungy, beat up, or dated hotel room in glamorous Las Vegas. Many resorts have been around for years, and in some cases decades. Style and decor preferences obviously change over time and many Las Vegas hotels attempt to stay ahead of the curve with renovations intended to keep things fresh. In addition to simple styling preferences, years of wear and tear can take a toll on a Las Vegas hotel room.
With that in mind, we wanted to highlight Las Vegas hotels that have recently invested in room renovations to bring their inventory up to date. There are also situations where hotels have refurbished only a portion of their rooms. We'll make sure to point out what room type, or tower, has received recent renovation work.
See Also: Buy the exact fragrances used by Las Vegas casinos for home use!
Hotels with Renovated Rooms on the Las Vegas Strip
Caesars Palace: Almost every tower at Caesars have been the beneficiary of recent renovation activity within the past decade as detailed below:
Caesars' Palace Tower, the largest by room count, weighing in at 1,181 rooms, was refreshed in 2017.
Caesars' Augustus Tower, centrally located near the Garden of the Gods pool and hotel lobby, was refurbished in 2016.
Caesars' Julius Tower, formerly known as the Roman Tower, was renovated in 2015.
Rooms in Caesars Forum Tower are among their most dated (although still a solid option for many), last receiving updates in 2009.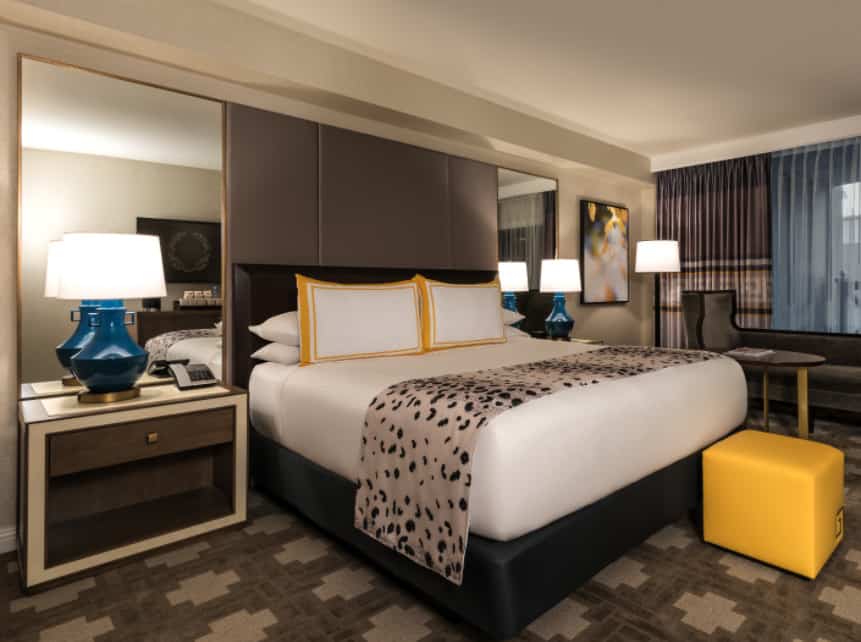 Cromwell: The property formerly known as Barbary Coast and Bill's Gambling Hall and Saloon was renovated and re-branded by Caesars Entertainment in 2014 and the 188 guest rooms still have a modern and fresh feel. Cromwell's rooms are unique featuring Parisian inspired design elements to include distressed hardwood floors, vintage furniture, and mosaic tiled showers.
Bally's: Fresh off the 2018 renovation of rooms in their Resort Tower, nearly every room at Bally's has now been recently overhauled. Rooms in Bally's Jubilee Tower were previously remodeled in 2014. Although the resort's exterior has a dated appearance, guestrooms pop with red accent walls, and modern furnishings.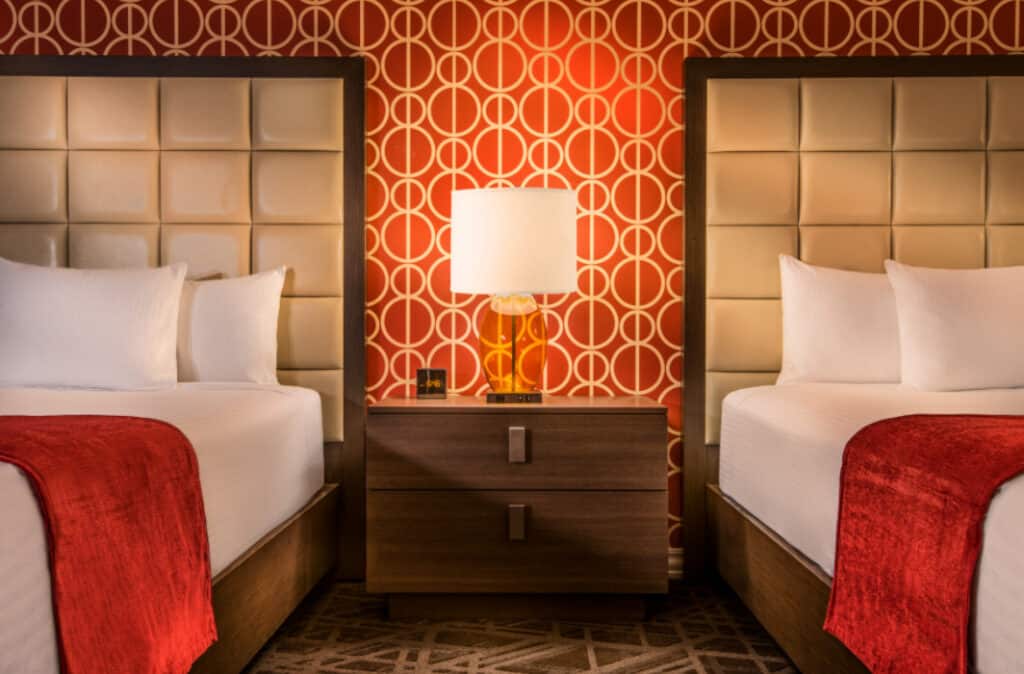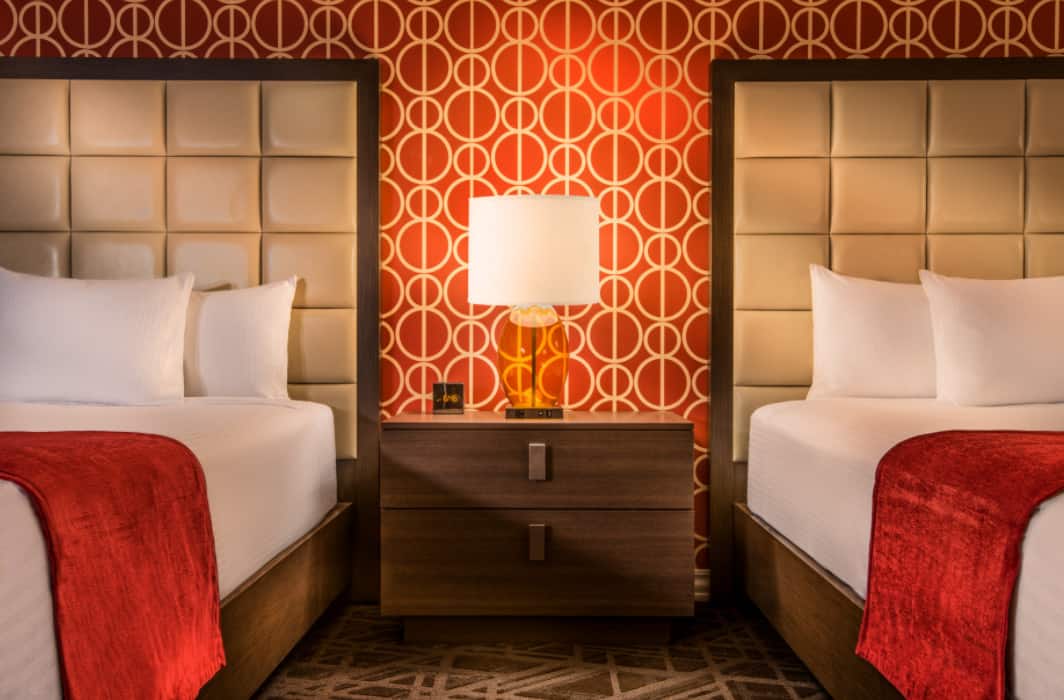 Flamingo: Over 2/3 (or 2,246 out of 3,460 rooms) of the rooms at Flamingo were renovated in 2018 at a cost of $156 million. Flamingo's Fab rooms are the most dated option at this point while their Go and Flamingo rooms have a more modern feel. Renovated room options offer minimalist design elements, sophisticated bathroom fixtures, and modern furnishings.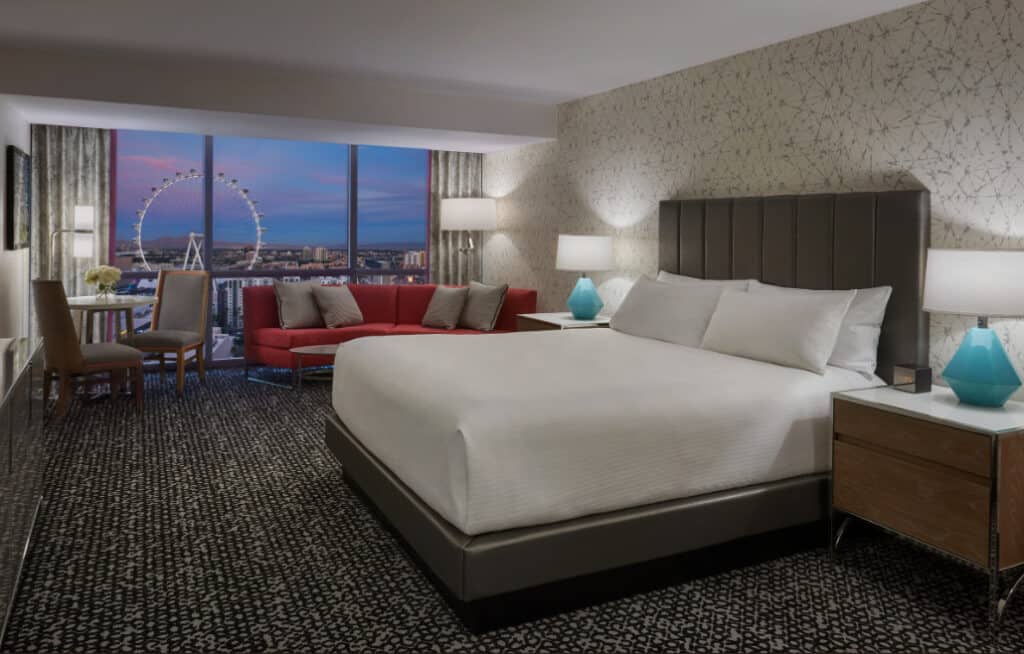 Harrah's: A renovation of Harrah's Valley Tower transformed 1,622 rooms and suites and was completed in 2017. The refurbished rooms feature lighter tones, stylish lighting fixtures/furnishings, and an overall modern feel. Harrah's Mardi Gras Tower is currently closed for renovations.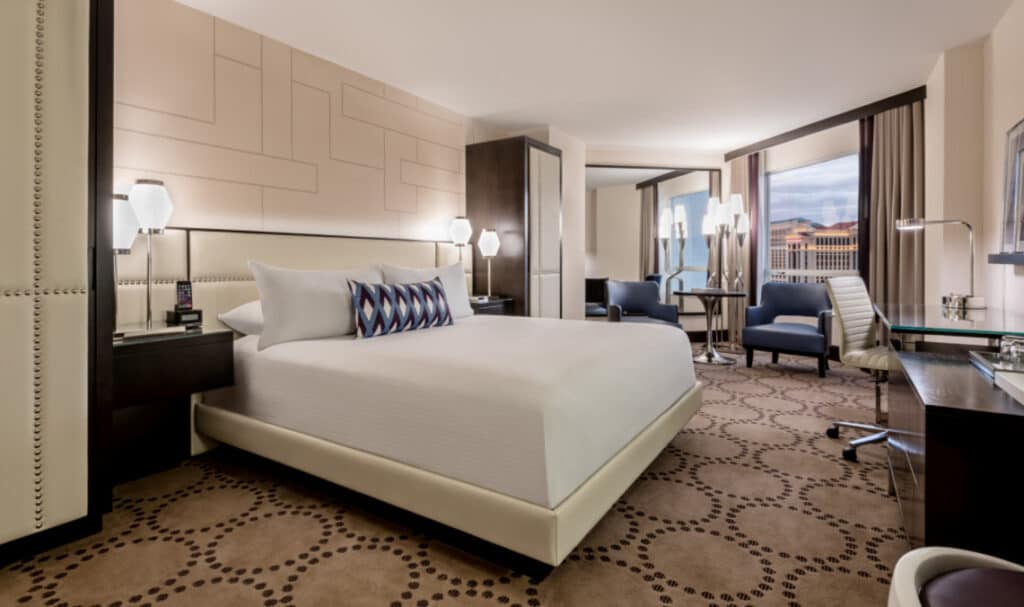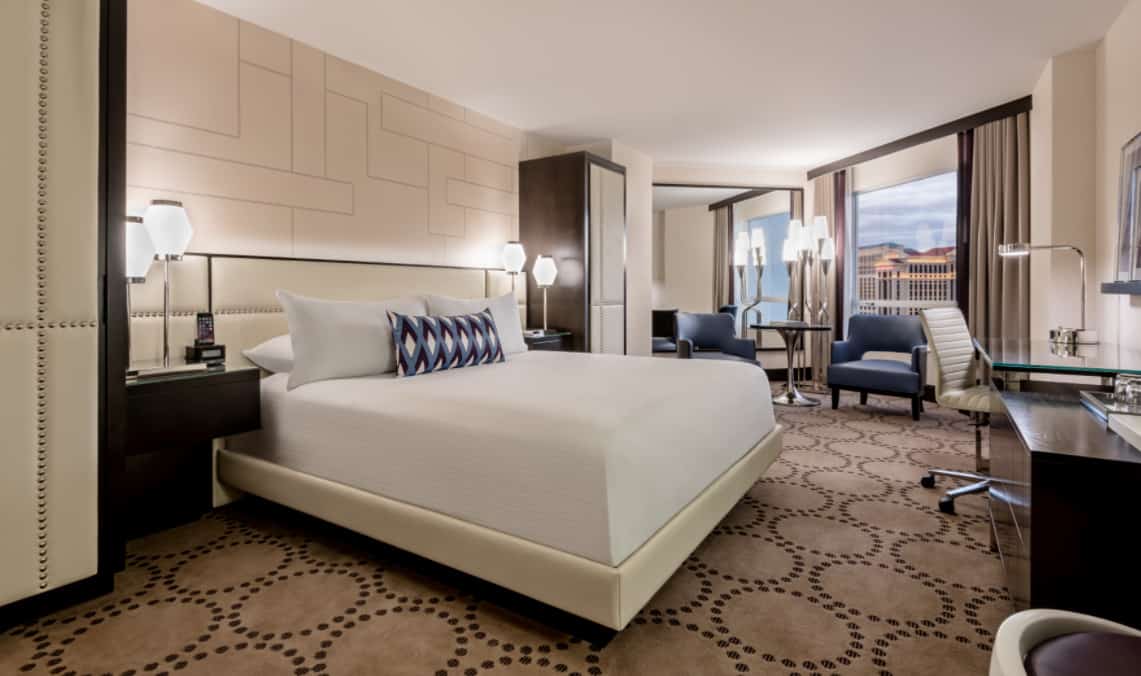 Linq Hotel + Experience: All of Linq's 2,253 guest rooms have been renovated as of 2015 when Caesars Entertainment spent $223 million to transform the Quad (formerly Imperial Palace) into the Linq. Although the hotel's odd green/blue exterior paint scheme is a bit funky, the renovated guestrooms feel fresh, with new furnishings and design elements.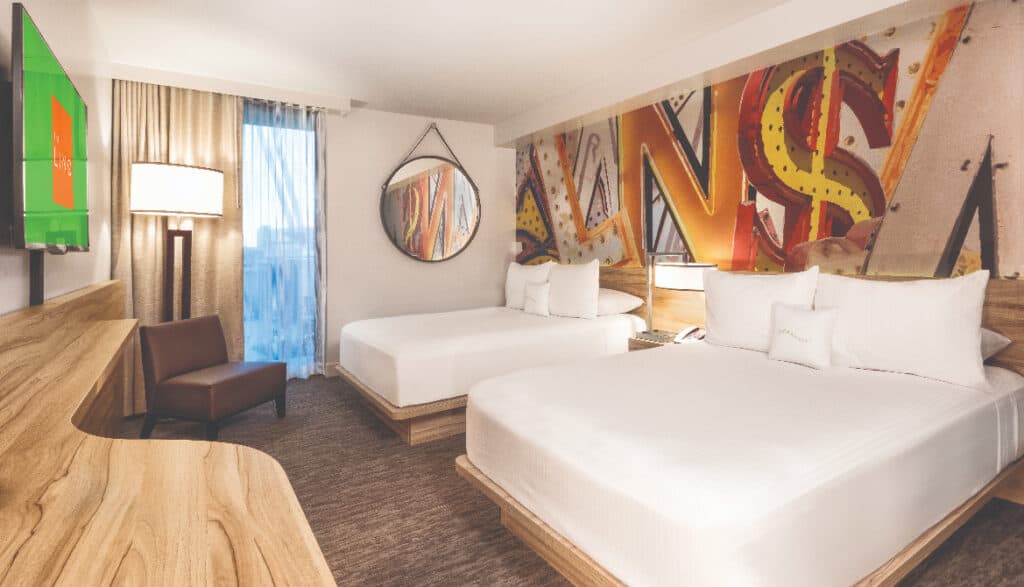 Paris: All 2,914 hotel rooms at Paris have been recently remodeled. The first batch of 1,300 rooms were completed in 2016 and the second batch of 1,600 were wrapped up in 2019. Renovated rooms at Paris incorporate a brown and white color palette and furnishings reminiscent of the French countryside.
Planet Hollywood: A room renovation project was completed in 2017 which touched all 2,496 rooms at Planet Hollywood. Renovated rooms feature modern wall art, pops of vibrant color, and even mini-fridges. A rare find in a Las Vegas Strip hotel!
MGM Grand: In 2012, MGM Grand renovated all 3,570 guest rooms and 642 suites in the hotel's main tower at a cost of $160 million. Rooms in the hotel's West Wing have not been recently refurbished.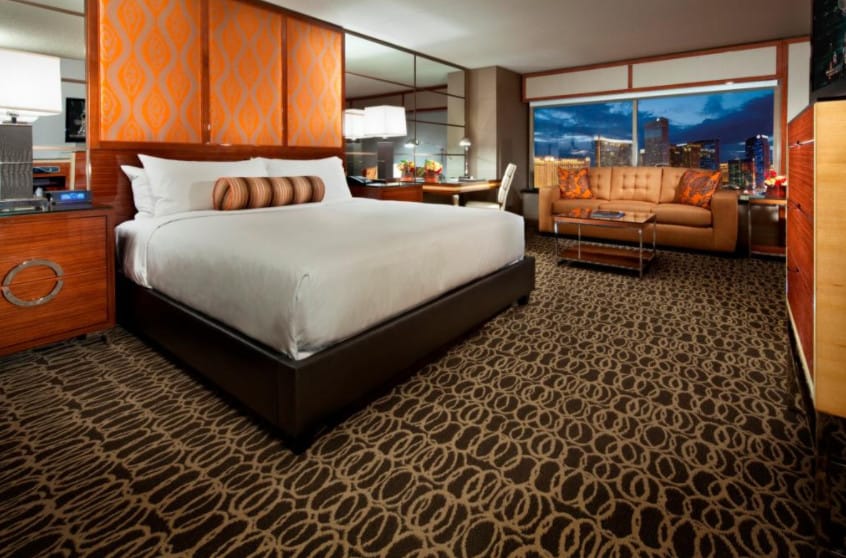 Bellagio: All of the resort's 3,933 guest rooms were renovated as part of a $165 million 2015 project.
Park MGM: 2,700 guest rooms at Park MGM were remodeled as part of the resort's recent transformation from it's previous identity as Monte Carlo. 293 rooms at Nomad at Park MGM were also remodeled as part of that metamorphosis.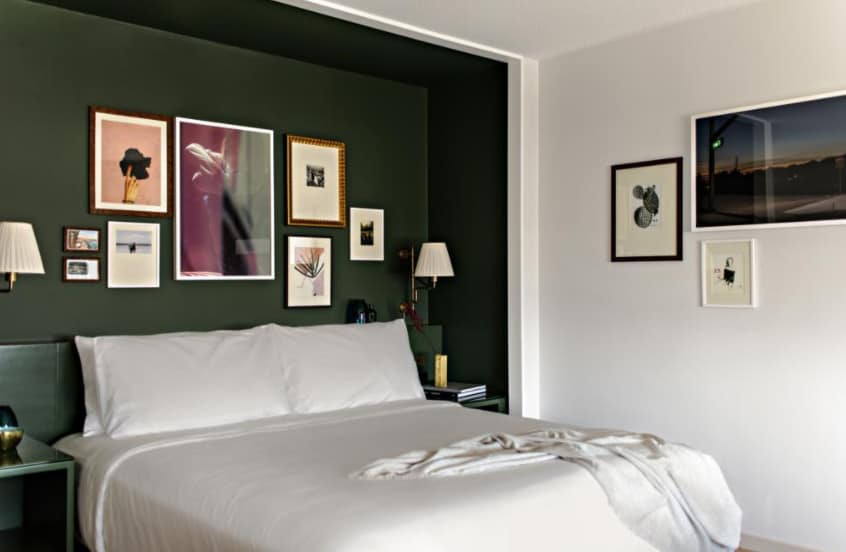 Mandalay Bay: All 3,209 guestrooms and suites were renovated as part of a $100 million, 2015 project.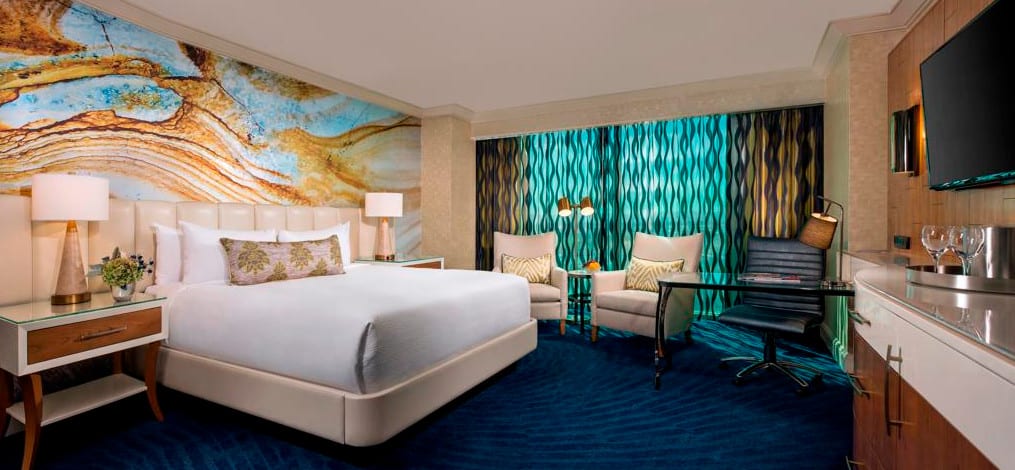 Excalibur: 1,995 rooms in Excalibur's Royal Tower were renovated as part of a 2016 project. Rooms in Excalibur's Resort Tower have not been renovated.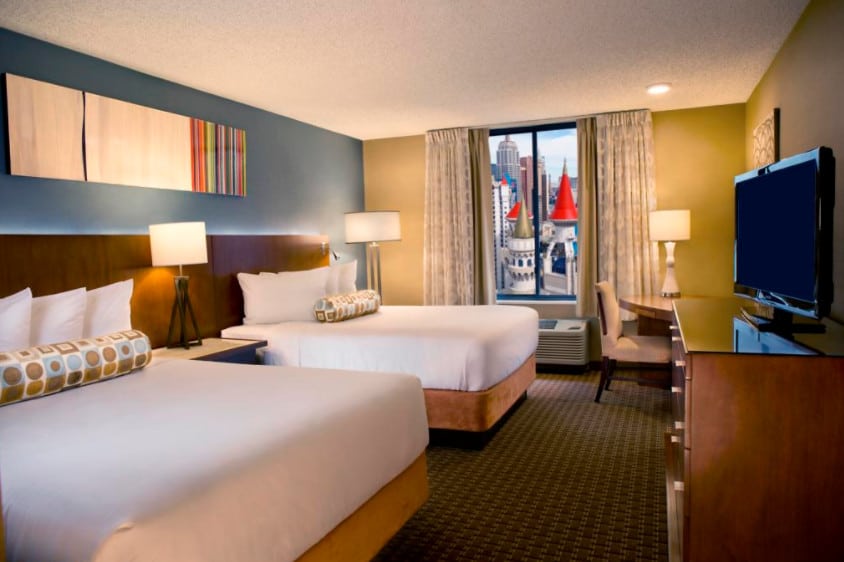 Luxor: A 2018 project saw Luxor renovate 1,700 of their 4,400 rooms in the east and west hotel towers. Luxor has also renovated a number of rooms in their iconic pyramid, although many remain untouched.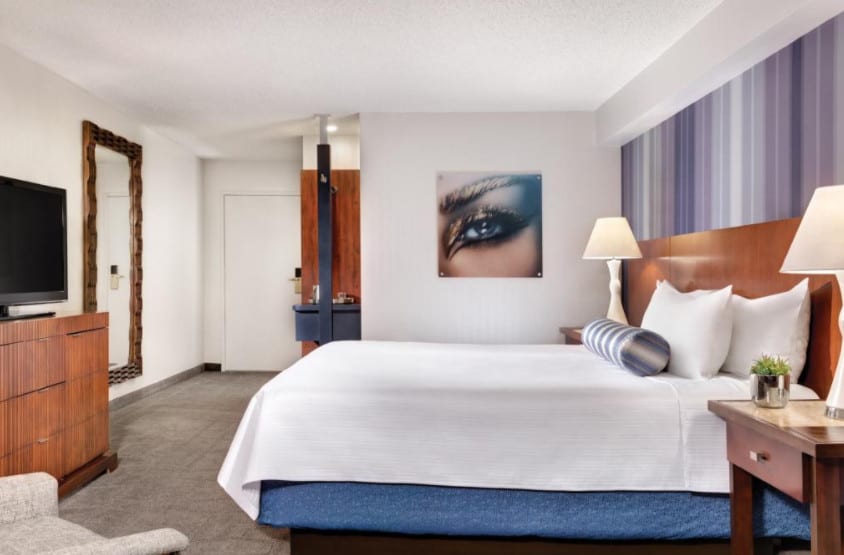 Cosmopolitan: The ritzy, luxurious, mid-Strip resort completed renovations of the 3,033 rooms that comprise both the Chelsea and Boulevard Towers in 2018. Did rooms need renovations? Probably not. But constant improvement is what makes elite properties elite.
Venetian: A 2015 project saw Venetian upgrade all 3,000 suites at their Las Vegas resort.
Palazzo: All of Palazzo's 2,872 suites were refurbished as part of a 2018 project which refreshed wall coverings, flooring, and furnishings.
Wynn: Wynn Resorts, like other top tier operations on the Strip, wouldn't dream of letting their rooms fall into disrepair. Last renovated in 2011, Wynn's rooms are still luxurious and fresh. You won't be disappointed. Wynn is in the process of refreshing their rooms again in 2019/2020.
Encore: All 2,034 suites at Encore were refurbished in 2015 with new flooring and technology. Like Wynn, a premier hotel experience you won't regret.
TI: The north Strip resort took advantage of the 2020 shutdown to complete a renovation project that touched all 2,884 rooms.
Strat: Although many of Strat's 2,427 hotel rooms have not been renovated, their "Elevate" rooms have. Strat's refurbished Elevate rooms feature amenities such as USB ports, a halo lit headboard, and modern decor. They're sharp.
Sahara: A property that has seen a significant amount of change over the past few years transitioning from Sahara to SLS, then back to Sahara, all guest rooms have been recently renovated.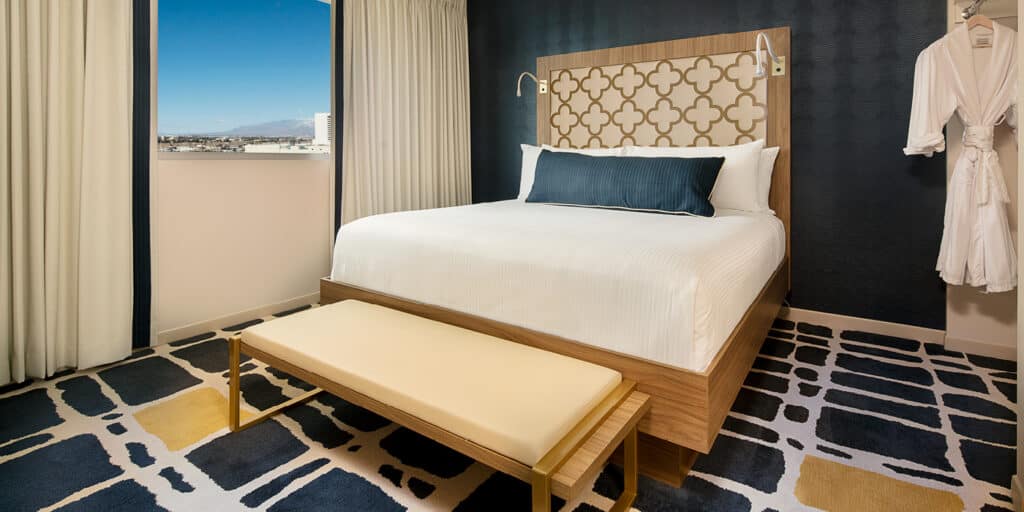 Hotels with Renovated Rooms Downtown Las Vegas
El Cortez: The vintage Fremont Street property has renovated a total of 134 rooms in it's hotel tower in 2018/2019. Renovated rooms dubbed by El Cortez as their "Premium Tower" rooms sport freshly tiled bathrooms, new furnishings, and artwork that celebrates Las Vegas.
Plaza: A 2019 project saw Plaza renovate 100+ rooms. The all new "Luxe" rooms and suites were stripped down to the studs before being rebuilt with a modernized feel that has received rave reviews from guests.
Golden Nugget: While Golden Nugget's Rush Tower is the newest, opening in 2009, the resort has recently refreshed rooms in other towers as well. Rooms in Golden Nugget's Gold Tower were renovated in 2015 and is centrally located offering easy access to the gaming floor. Additionally, the resort's Carson Tower was renovated in 2018.
Binion's: Recently, Binion's re-opened 81 rooms which were originally part of the former Hotel Apache which hide behind the resort's neon facade. The rooms were refurbished in a vintage theme which is intended to celebrate the historic nature of the property. Check out our review of Binion's renovated Hotel Apache rooms here.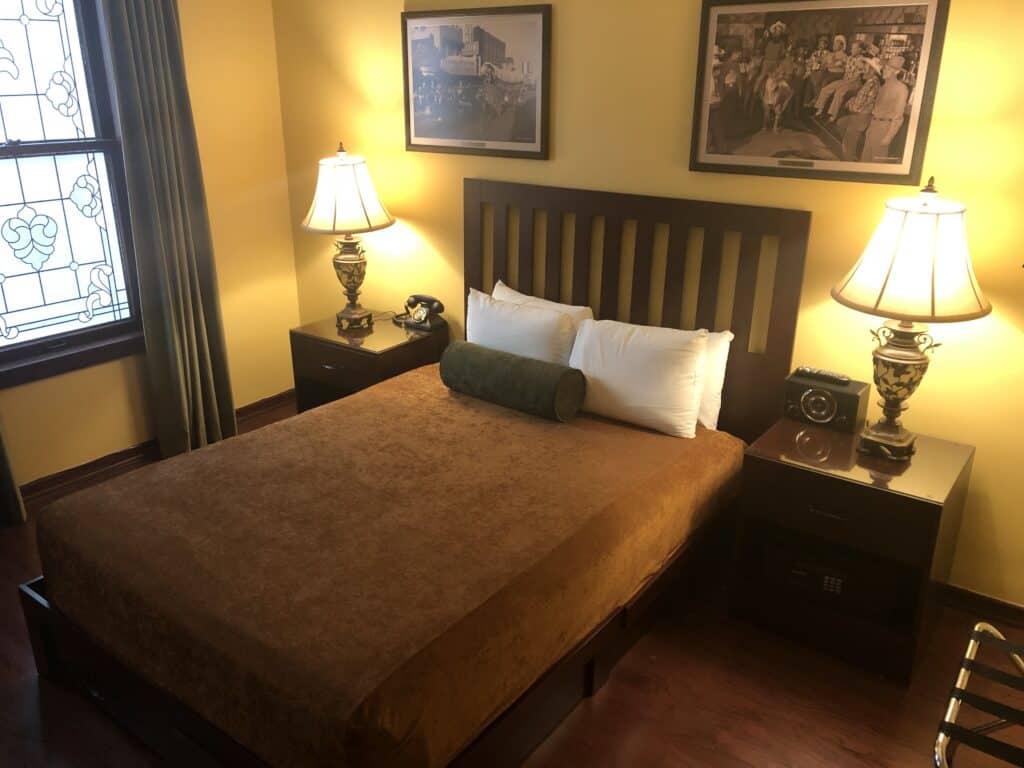 Downtown Grand: Formerly Lady Luck, the downtown Las Vegas property reopened as Downtown Grand in 2013 after remodeling all 629 guest rooms. Check out our review of a Downtown Grand Premium King room here. Downtown Grand also opened a new 495 room tower in the fall of 2020.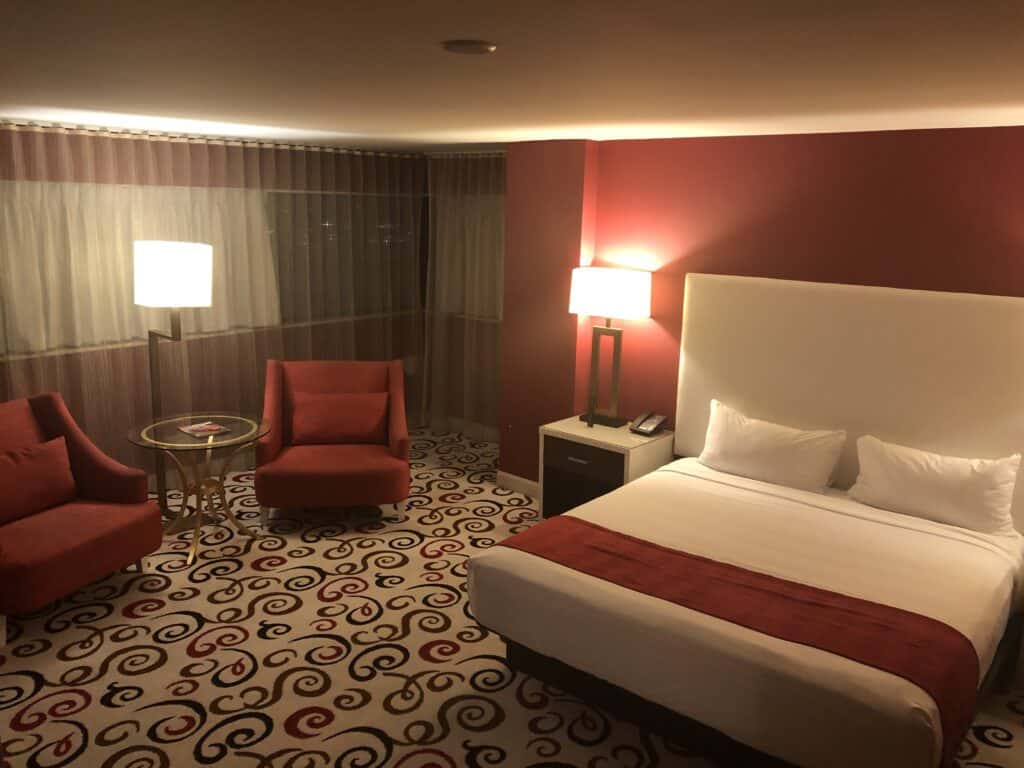 The D: Formerly Sundance and Fitzgeralds, the downtown property was purchased by Derek Stevens who updated all 600+ rooms as part of its 2012 transformation into The D. Rooms at The D still retain a relatively modern feel compared to other room inventory on Fremont Street.
California: Rooms at Cal, popular with Hawaiian visitors, were refreshed as part of a project that wrapped up in 2017.
Additional Las Vegas Hotels With Remodeled Rooms
Virgin Las Vegas: The former Hard Rock is recieving a complete overhaul. Virgin Hotels purchased the property and is completely renovating the resort's 1,504 guestrooms in addition to all common areas. Virgin is slated to open to the public in early 2021.
Palms: As part of Palms' $690 million renovation, all hotel guest rooms were renovated.
Palace Station: As part of a recent renovation project, all 575 hotel rooms at Palace Station have been renovated. The older, "courtyard rooms", to include the infamous OJ Simpson room, have been demolished.
Ellis Island: Located just off the Strip behind Bally's, Ellis renovated 301 guest rooms/suites in their hotel as part of a 2017 project which swapped out flooring, tile, and furnishings. All rooms come standard with USB ports and a mini fridge.
South Point: As part of a 3 year, $40 million project, South Point is renovating all 2,163 of their hotel rooms. Remodeled rooms started coming online in 2018 and the final rooms are to be complete in 2020. Refurbished rooms will have all new furniture, USB charging ports, and a more modern feel.
Luckily for visitors, Las Vegas casinos, especially on the Strip try to keep their room inventory refreshed and up to date. Hopefully we were able to help you find a renovated room and avoid the dreaded dated accommodation.
Related: A complete list of free activities, things to see, and services in Las Vegas.