We may earn money from the companies and products mentioned in this post.
Could Las Vegas Casinos Go Smoke-Free?  
The rest of the nation has already done the obvious – Banned smoking of cigarettes indoors to preserve the health of guests and employees on the job. Smoking in casinos has been a target of governing bodies in a growing number of states to include Delaware, Illinois, and even the gambling mecca of Macau.  
According to the Centers for Disease Control and Prevention, only 15.5% of American adults identified as smokers in 2016, down from 20.9% in 2005. With a clear trend downward in smoking, how much longer will Las Vegas Casinos allow smoking? How much longer will employees that don't smoke put up with the risks associated with the job? Will the non-smoking public continue to tolerate the habit indoors? 
See Also: Las Vegas packing list items that are frequently overlooked. 
Currently, the Nevada Clean Air Act bans smoking in all indoor establishments excluding Casinos, tobacco retail stores, strip clubs, brothels, private residences, and stand-alone bars prohibiting patrons under the age of 21. Smoking is not allowed in certain areas of the casino/resort though – Las Vegas restaurants, theaters, arcades, etc. are all required to be smoke-free. 
Although only 15.5% of the population still smokes, casinos are resistant to changing the status quo and the reason is the immediate shot to revenue that has resulted from bans in other parts of the country. In NOLA.Com article, Caesars Entertainment claimed Harrah's New Orleans suffered a loss of $70 million in revenue over a 2-year period after a smoking ban was implemented. Gaming revenue decreases have also been seen in other jurisdictions that have banned smoking. Clearly not a favorable situation for casino operators in Las Vegas.  
The reason Las Vegas casinos want you to keep lighting up is clear – Smokers are more loyal gamblers than non-smokers statistically. A study from the University of Connecticut showed that "daily smokers gambled on more days and spent more money gambling; they also 'craved' gambling more and had lower perceived control over their gambling". I'd want more smokers in my casino too!  
While the public may have a choice to gamble or not at a casino that allows smoking, employees and dealers are often held hostage, exposed to a steady dose of carcinogens. A 2009 Centers for Disease Control and Prevention study looked took urine samples from non-smoking casino dealers at 3 separate Las Vegas properties. The results showed that "Casino dealers were found to have increasing levels of NNAL (a cigarette carcinogen) in their urine over an 8-hour work shift showing that the cigarette smoke and a carcinogen are being taken up into their bodies".
Dealers have even taken to the picket line to protest smoking in Las Vegas casinos arguing that a state-wide ban would be the best way to protect employees.
On our Facebook page, we ran the most unscientific, unofficial, and likely unreliable poll ever. But hell, it's likely just as accurate as the polls leading up to the 2016 Presidential Election.
We asked the question "Should Las Vegas Casinos be smoke-free?" With the options being "yes" or "no". The poll received 735 votes with 55% of respondents saying that no, they would not want Vegas casinos to ban lighting up.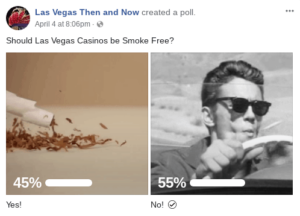 There is an anti-smoking tide sweeping the world driven by fewer people smoking and increased concern for health and wellness. As much as some Vegas visitors will dislike it, eventually corporations and governments alike will move to protect the majority from the smoking minority. Eventually, the health of many will be put ahead of profits and a dip in revenue.
If you can ban smoking in Macau, you can ban it anywhere.  
Smoke 'em while you got 'em. It may not be tomorrow. It may not be next week or even next year, but you'll eventually have to step outside, or into a special "smoking area" to burn in Las Vegas. 
October 2020 Update: Park MGM has reopened following the shutdown as a completely smoke-free casino. Although it is the first smokeless casino in Vegas, it could represent the first domino to fall, leading to widespread adoption of the new rule.
See Also: Buy the same fragrances used on Las Vegas casino floors!