Looking for non-gambling things to do on and near Fremont Street in downtown Las Vegas? You're not alone.
According to a visitor profile survey from the Las Vegas Convention and Visitor's Authority (LVCVA) 53% of Las Vegas visitors visited downtown in 2021. Among those that visited downtown, only 12% did so to gamble with the rest coming to sightsee, dine, and see the Fremont Street Experience light show.
First things first, we know you came here for things to do on Fremont Street besides gambling, however, we would be remiss if we didn't point out that the gambling downtown is better than the Strip in a number of ways. The slots are slightly looser, with some games still using real coins and tokens. Table game minimum bets are lower and rules more player-friendly than peer games at Strip casinos. If you plan to do so some gambling in Vegas, save some action for downtown.
Now that we got that out of the way, let's dive into a comprehensive list of things to do on and near Fremont Street besides gambling.
Related: Free activities in Las Vegas, both on the Strip and downtown.
Live Entertainment Under the Canopy: In addition to the canopy light show, the Fremont Street Experience is known for its live music, offered free of charge on 3 separate stages. Check the entertainment calendar and plan your visit to downtown around your preferred musical acts.
Explore The Movie Prop Experience: A museum of sorts in Neonopolis, The Movie Prop Experience is a museum dedicated to showcasing props from hit movies that span the spectrum of genres from horror to sci-fi.
Eat a great steak: Downtown Las Vegas is home to a number of quality dining options with a more "vintage" vibe than those found on the Strip. Among our favorite places to eat a great steak on Fremont Street are Hugo's Cellar at 4 Queens, Andiamo at The D, Top of Binion's Steakhouse at Binion's, and Triple George at Downtown Grand.
Or, eat cheap: Downtown Las Vegas has numerous cheap food options that range from sit-down options to fast food. Check out our breakdown of cheap food on Fremont Street here.
See a show: Although shows on Fremont Street lack the grandeur of their peers on the Strip, there are some quality comedy performances and magic show options downtown that deliver value. A couple of our favorites include Mike Hammer Comedy Magic at 4 Queens and The Comedy Works at Plaza.
"Unleash your inner Viking": Looking for unique activities on Fremont Street? Look no further than Axehole. The venue serves up drinks while allowing guests to throw axes, ninja stars, tomahawks, and spears at wooden targets. They also have a "smash room" where you can destroy an assortment of items including printers, plates, and other fragile items. Could be a good spot to take de-stress after a bad beat on the tables.
Drink cheap: Among our favorite non-gambling things to do on Fremont Street is taking advantage of cheap drink and happy hour deals, and there are plenty of them! Check out our full list of downtown Las Vegas happy hour deals here!
Don't Tell Mama: A New York style piano bar in Neonopolis, Don't Tell Mama showcases world-class piano talent nightly. Additionally, the waitstaff are aspiring performers and take the stage themselves. Where else does the staff serve AND entertain? While there are a plethora of bar options downtown, Don't Tell Mama ranks among the most unique.
Enjoy a free meal if you're huge: Heart Attack Grill offers free meals to those weighing in at 350 lbs. or more. Even if not eating, taking a peek inside HAG is a Vegas oddity we can't resist. Guests wear surgical gowns, and the wait staff spanks customers that don't finish their food with a wooden paddle.
View Poker History: Check out the names and pictures of the poker legends that comprise the Poker Hall of Fame at Binion's.
Drink a Scorpion: One of the more unique, and disgusting, things to do on Fremont Street is the "Scorpion Shot" at Nacho Daddy. Apparently, 55,000 people have been crazy enough to try one since 2010. Don't stress the scorpion, they are already deceased and the stinger has been removed.
Karaoke: Whether you are singing, or just like watching people make a fool of themselves, Karaoke is offered at the Cat's Meow in Neonopolis nightly.
Street Performances: Street performers and buskers on Fremont Street come in all shapes, sizes, and talent levels. One of my favorite non-gambling activities is watching the more talented acts do their thing. While most aren't worth your time, and could even be described as an eye/earsore, there is occasionally some legitimately cool talent on display.
Go-karts: Located in Neonopolis, Gene Woods Racing "Drift" Experiences will have you ripping around an indoor track on all-electric go-karts.
Sigma Derby: While we promised a list of things to do besides gamble, Sigma Derby can be done cheap, and hardly counts as gambling in our opinion.
Located upstairs at The D, Sigma Derby is a mechanical horse racing game that can be played for as little as a quarter per race. Plug the quarters into the machine, pick the horses you think will win, then watch them go! It's a legit blast. Think of it as an old-school arcade game in which you can win some money.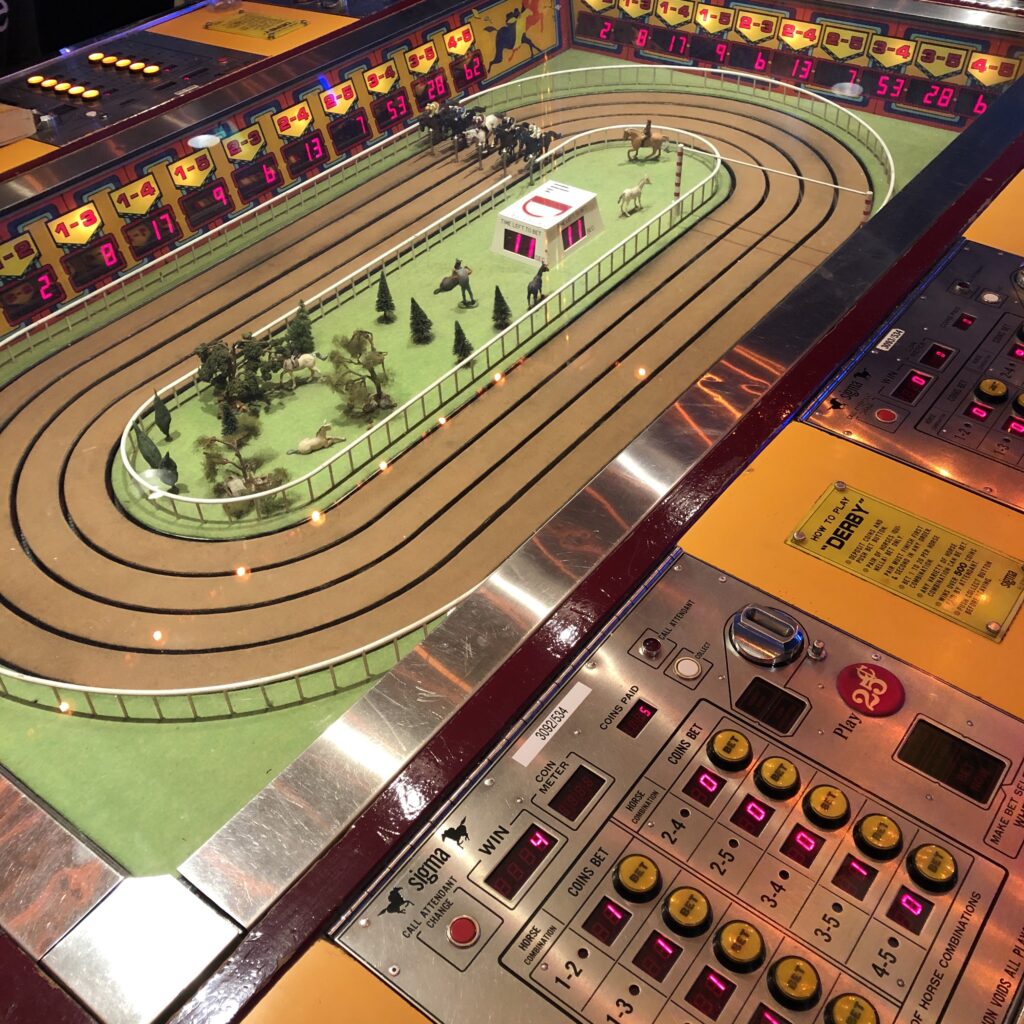 Catch a free ride to STRAT: While STRAT and the resort's SkyPod aren't downtown per se, the property is easily accessible from Fremont Street via the Downtown Loop Shuttle. We recommend taking the free ride to enjoy the numerous unique things to do at STRAT, and then either continuing south to the Strip or take the free shuttle back downtown.
Hit the North Premium Outlets: If shopping is what you seek, the North Premium Outlets may be the answer. An outdoor mall with over 180 luxury brands including Dolce & Gabbana, Versace, and Armani among others, the shops are a short Uber ride from Fremont Street (under $10). Check here for all your shopping options in Las Vegas!
As evidenced by the robust list above, there are a ton of things to do on Fremont Street besides gambling! Hopefully, we were able to help you add a few non-gambling activities to your Las Vegas itinerary!
See Also: Our ideal 3-day Las Vegas Itinerary to include non-gambling activities!
Featured Image: ©crackerclips/123RF.COM