There are few hotels in Las Vegas that I have yet to experience, but Wynn has sat atop the to-do list for some time. While I stay on the Strip frequently, it's difficult to pull the trigger on a high end resort when you have discounted or comp room offers from other chains.
To book Wynn at a discount, I leveraged the Wynn Slots phone app. While it's now impossible to get a free room without in-app purchases, booking through the game was still a solid deal. I spent about $250 for a 2-night stay that would have cost me over $600 if booking directly through Wynn. Notably, the $45/night resort fee is waived when booking through the Wynn Slots app adding to the value proposition.
It should come as no surprise that my stay in a Wynn Resort King Room was impressive. Below, I'll share my experience along with plenty of photos and video to help you get a feel for the room!
Wynn Check-In Experience
Wynn emailed me at 5:30 am the day I was supposed to check in encouraging me to do so online, noting they would then let me know when the room is ready. I did so and received an email at 11 am that my room was ready and that I could pick up my keys either at the front desk or an automated kiosk.
I opted for an automated kiosk as there was no line, and I had no intention of requesting an upgrade or attempting the $20 trick. Within 5 minutes, the kiosk spit out my room keys and off to the elevator I went to check out my room.
While many resorts now charge for early check-in, it was refreshing to be offered that small luxury for free. Off to a great start.
Inside the Wynn Resort King Room
The room I was assigned was on the 14th floor overlooking the Strip. It was also right outside the elevator room which had me apprehensive. There's nothing worse than hearing the "ding" of the elevator arriving at all hours of the night when you need some sleep. Surprisingly, I never heard a ding… or noise at all besides the occasional neighbor's door opening or closing.
Needless to say, first impressions of the room were strong.
Wynn Resort King Bathroom
The Resort King bathroom had a deep soaking tub that I suspect is big enough for two people. I'm personally a 6′ 5″ giant, but I was able to cram my lanky frame in with room to spare. The shower is large, glass-encased, and fully enclosed. Inside is a bench and a detachable showerhead.
As you would also expect, there is a dual vanity and premium bath products stocked both in the shower and upon the vanity. I'm not a bath product expert per se, but this was stuff I actually used. Seriously, forgetting body wash, shampoo, etc. shouldn't be a concern if staying at Wynn.
The Room
Man, it's nice. Like a piece of art. From the distinct checkered carpet to the illuminated flower murals on the walls, the Resort King room was nothing short of a feast for the eyes. Hell, even the minibar (that I am altogether too cheap to even consider touching) was visually appealing.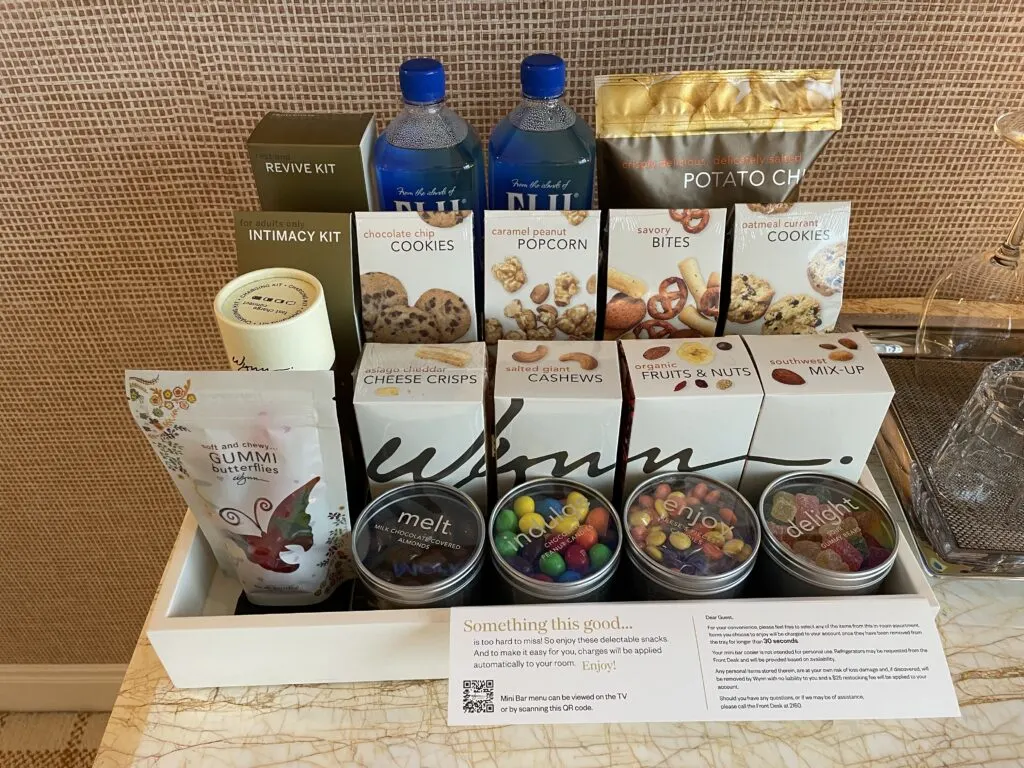 The TV isn't visible from the bed in its retracted position, but the wall mount allows it to be angled so that it's viewable from wherever you are in the room.
Other amenities in the room included a small table with 2 chairs, a couch with an ottoman, and a work desk with a chair that is too short to make ergonomic sense, but I made it work.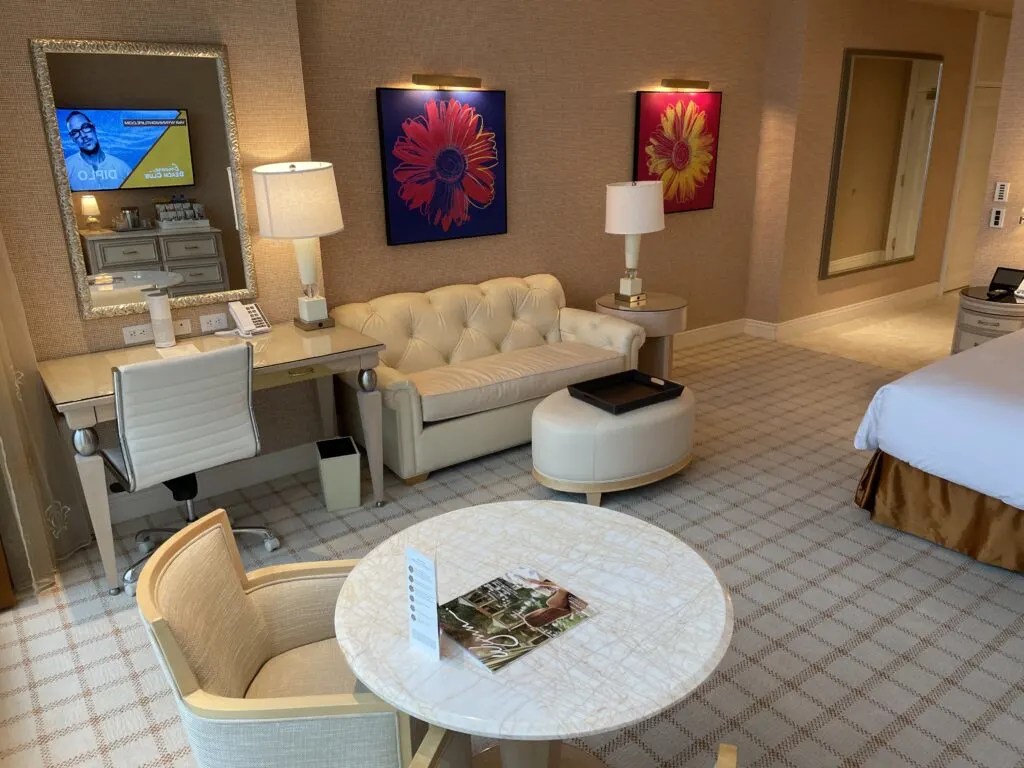 The bed, as you would expect, was absurdly comfortable as were the pillows. A fun side note: If you love the mattress at Wynn, or nearly anywhere in Vegas, you can buy that model for use at home. More on Las Vegas hotel mattress purchases here. My favorite aspect of the room, however, was the layout which has the bed facing the window, providing a view of the Strip.
It wasn't a huge issue, but cell phone reception (T-Mobile in my case) was non-existent in my room. Although wireless internet is included in the resort fee, I had mine waived, meaning I had to pony up $19.99 per device per day for wireless.
Renovations Upcoming
While Wynn's hotel product is already among the best in Las Vegas, they recently announced a $200 million renovation project that will start in the summer of 2021 and be complete by early 2022. The best just get better.
In-Room Technology
The icing on the cake at Wynn is the technology that gives you options for controlling aspects of the room and the ability to get information about the resort.
While there are touchpads on the wall that allow you to adjust lighting and open/close the drapes, there is also a tablet-like device that allows you to do the same from bed. The tablet also provides the ability to illuminate the privacy light, get weather information, and set an alarm.
Taking it one step further, each hotel room at Wynn is equipped with an Alexa device that allows you to play music, get restaurant/amenity hours of operation, adjust lighting, adjust the drapes, adjust the temperature, and turn on/off the privacy light. Your personal device can also easily be paired with your room's Alexa.
The Pool At Wynn
The luxury amenities at Wynn extend beyond your hotel room. We absolutely loved taking advantage of the pool every morning before hitting the town. Shaped like an elongated barbell, the main pool is comprised of two large pools connected by a long, narrow section in between. There is plenty of loungers scattered across the complex and we were able to find both shade and sun. Of course, a poolside bar is available, as are several table games.
Surrounded by plant life and beautiful cabanas, Wynn's pool deck is a can't miss aspect of the resort experience.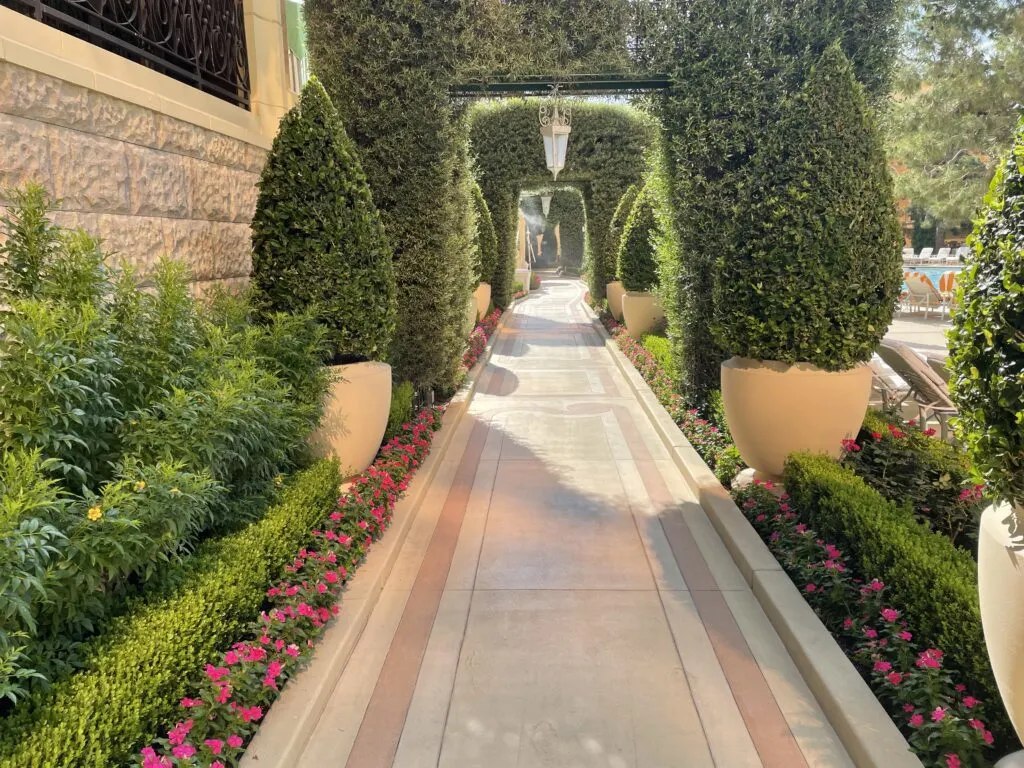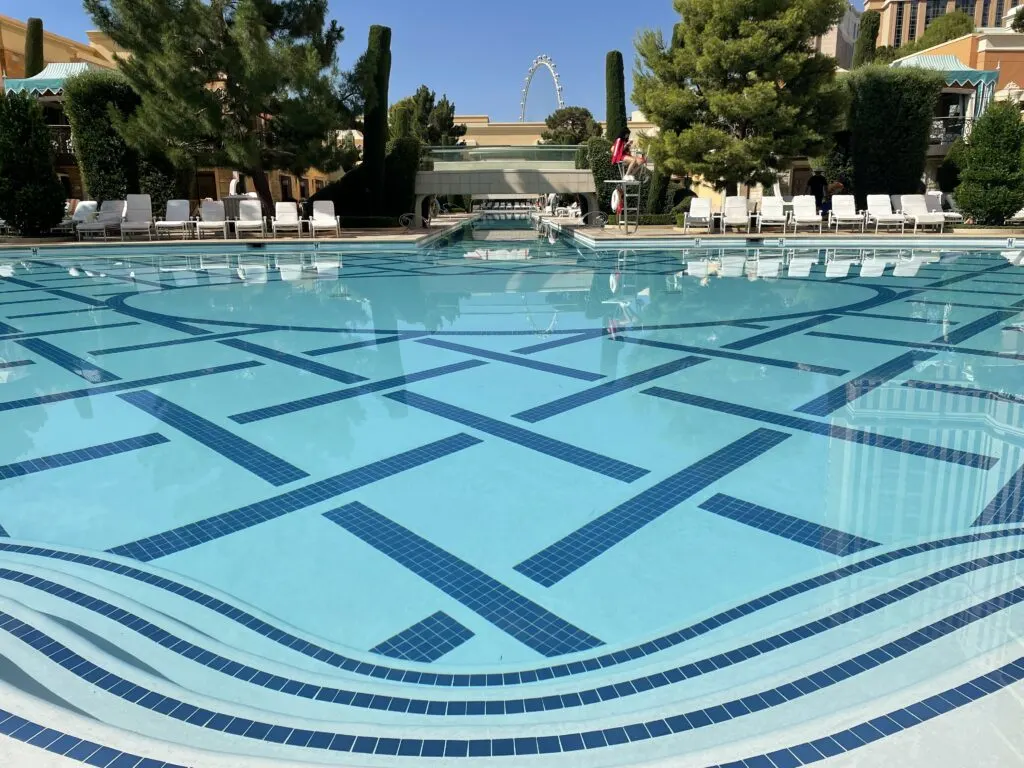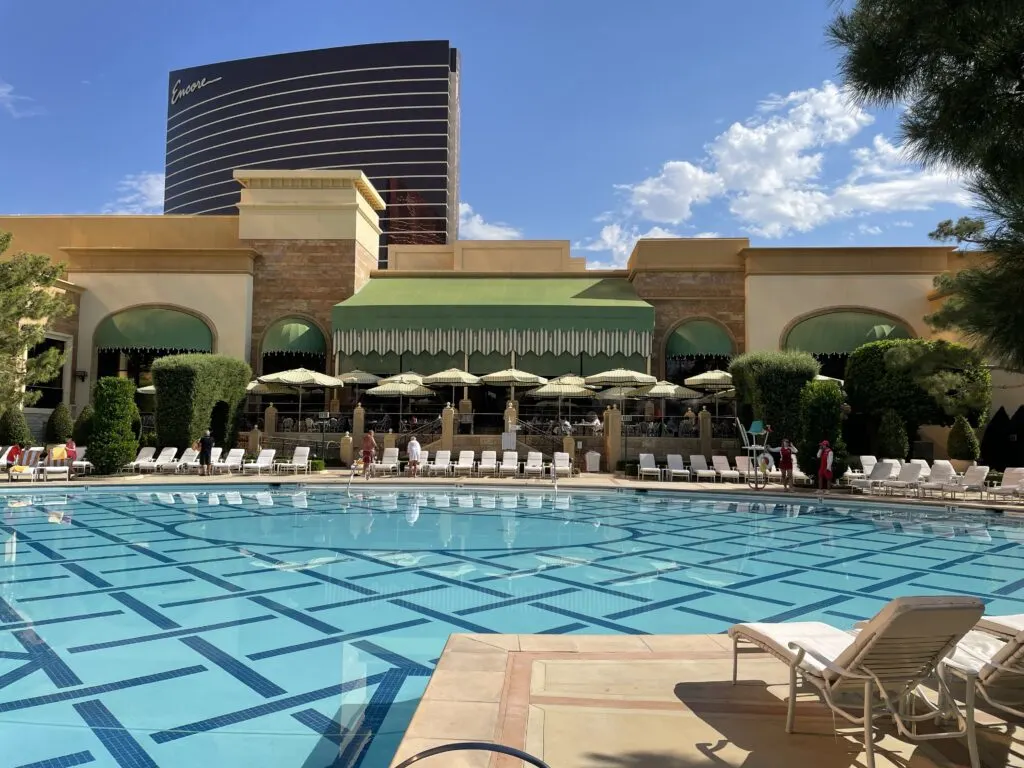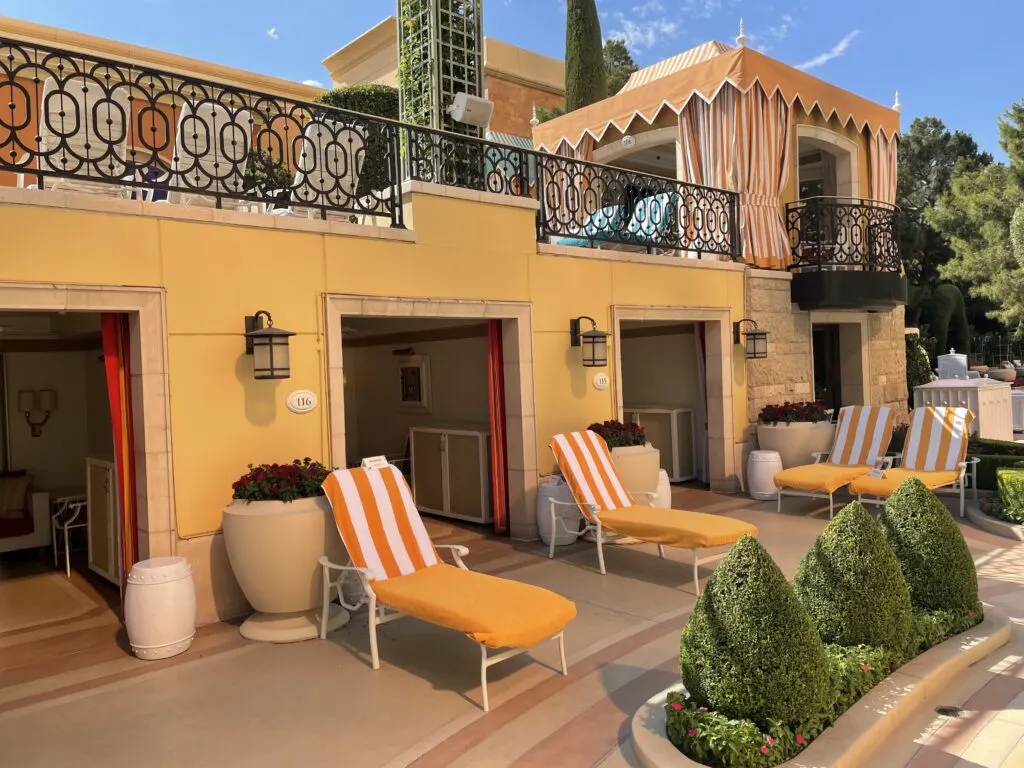 Wynn Plaza Shops
Not a shopping person myself, malls are usually a huge "nope" when planning travel itineraries. Wynn's Plaza Shops are a notable exception though, ranking among the best shopping experiences in Las Vegas. While there are luxury shops, and Urth Cafe is a great place to grab a cup of coffee, the reason you make time to visit is the aesthetic beauty. In addition to the shops themselves being easy on the eyes, there is always intriguing art on display.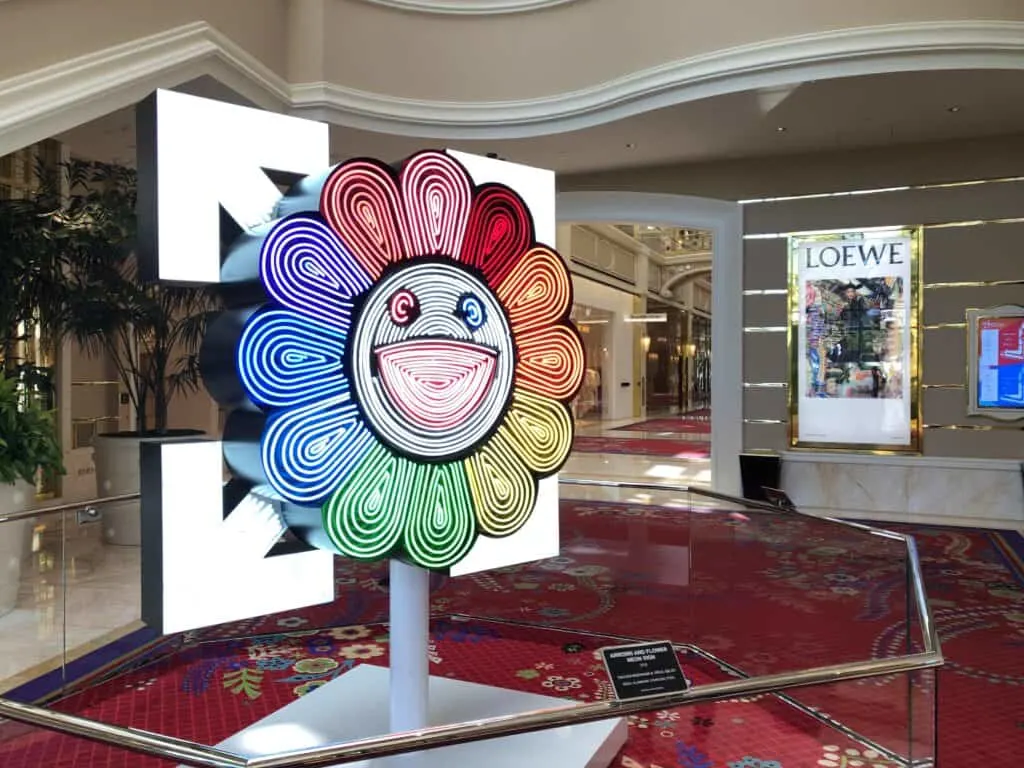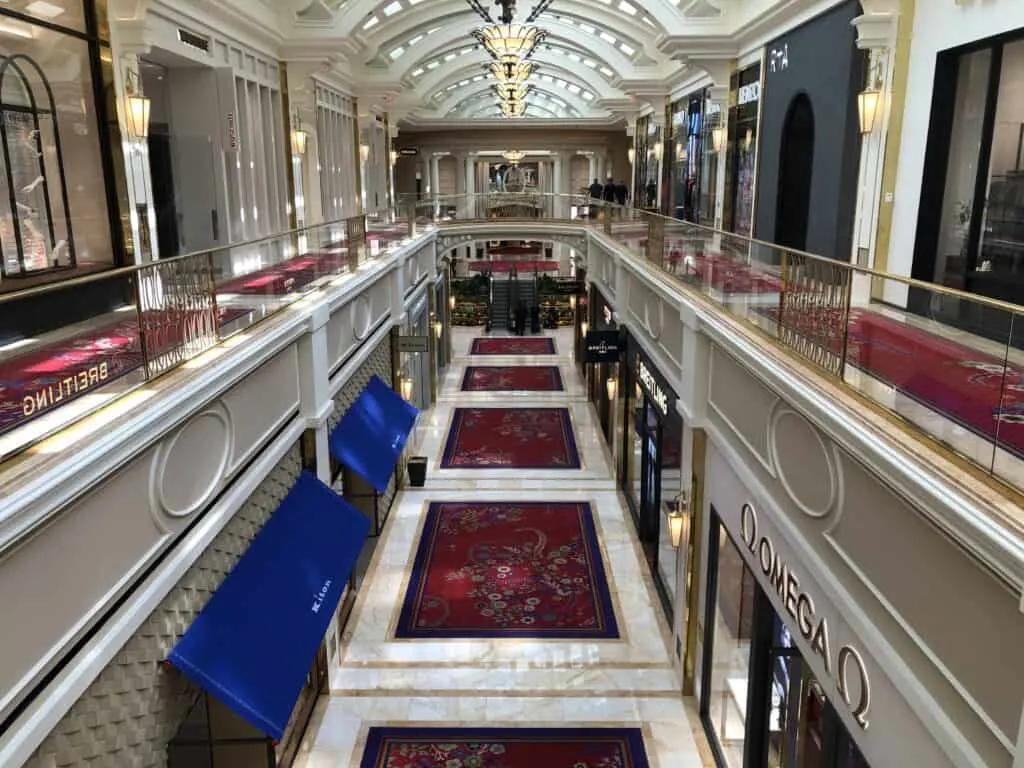 Other Tips to Employ at Wynn
The Cafe, just off the casino floor and near the hotel elevators is a great spot to grab a coffee in the morning, however, the line tends to be substantial. We got around this by ordering online in advance then walking up to the counter to pick it up. Slick.
Wynn is currently tier matching status earned through other loyalty programs. Take advantage of it if it makes sense!
The Buffet at Wynn is recognized as being among the best in Las Vegas for a reason. Check out our review of Wynn's buffet, here, to gauge if adding it to your itinerary could make sense!
Explore the conservatory. You can't miss it. Located near both the main entrance and hotel check-in, you would be nuts to miss this photo opportunity. It can be challenging to get a pic without strangers in the shot, but if you give it some time, you can usually snag a person-free photo.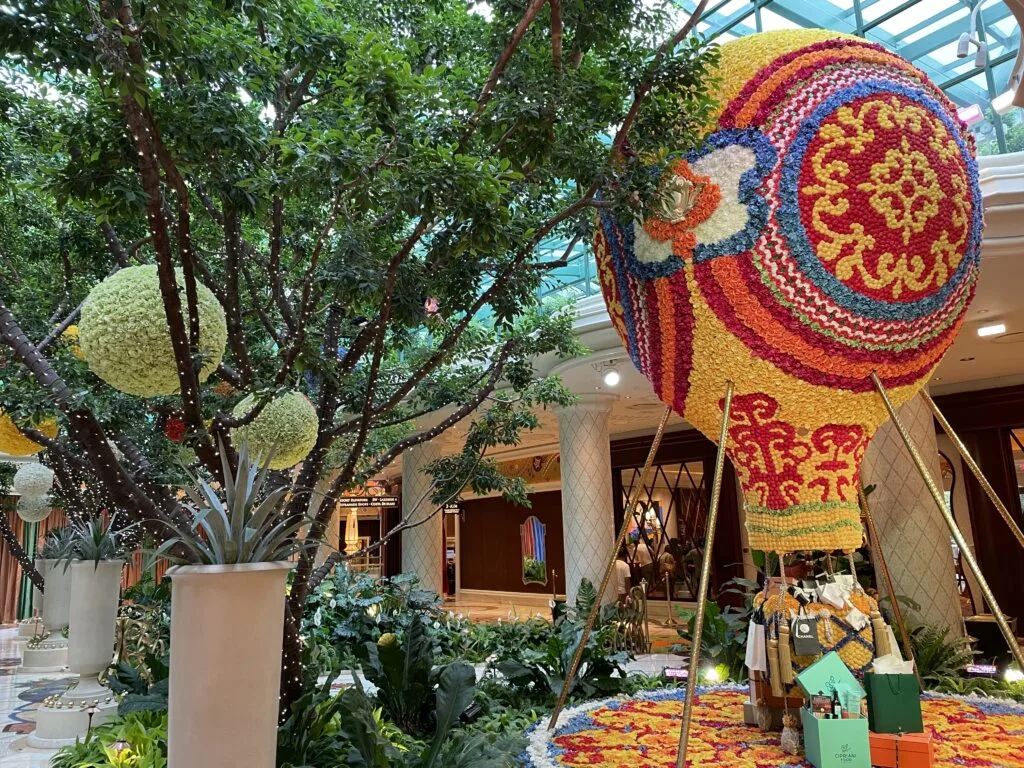 If you haven't yet had the opportunity to stay at Wynn, do it. The rooms are among the most luxurious on the Strip, and that stamp of quality is reflected across the resort. From the pool, to dining options and common areas, Wynn is among the most beautiful properties in Las Vegas.
See Also: Take a look at our reviews of similar hotel rooms:
I'm a former software salesman turned Vegas aficionado. While the craps table is my preferred habitat, I pull myself away to explore new attractions, shows, restaurants, and outdoor activities around Las Vegas with the intent of sharing my experiences.
Ultimately, I just want to help folks plan a better trip and save a few bucks in the process.