Plaza is on a tear, adding fresh amenities left and right that are intended to increase the resort's appeal and draw in the masses.
Examples of this include a Brian Christopher branded smoke-free casino, a new outdoor Carousel Bar, an outdoor seating area at Oscar's Steakhouse, The Sand Dollar live music venue, and of course, Pinkbox Doughnuts.
Pinkbox Doughnuts was integrated into Plaza's front facade, which allows for easy access for guests staying at the resort in addition to those staying elsewhere on Fremont Street.
If you're unfamiliar with the Pinkbox brand, the 24-hour chain of doughnut shops is known for unique pastries that break the mold and redefine expectations.
According to their story, the product is meant to have a "fun personality" and make people say "WOW".
While they offer the classics like glazed doughnuts, apple fritters, cake doughnuts, and cinnamon rolls, the real draw are the pastries that fall into their "Show Off" category which includes "Pooh" and "Pinkey" which are…. Poo emoji-shaped cake donuts filled with buttercream.
Their display case is unlike anything you've seen, bursting with colors, textures, and shapes not typical in a bakery. It's art.
Given the uniqueness of the offering, I thought it would be fun to stop in and check out the baked goods to help you determine if Pinkbox deserves a slot in your Las Vegas itinerary.
It's hard to miss.
Inside Pinkbox Doughnuts at Plaza
Inside, the color scheme is unsurprisingly… Pink.
The pink and white striped floor, graffiti accent wall, coffee spilling behind the counter, and illuminated 3D sprinkles make this place just as visually distinctive as the baked goods in the display case.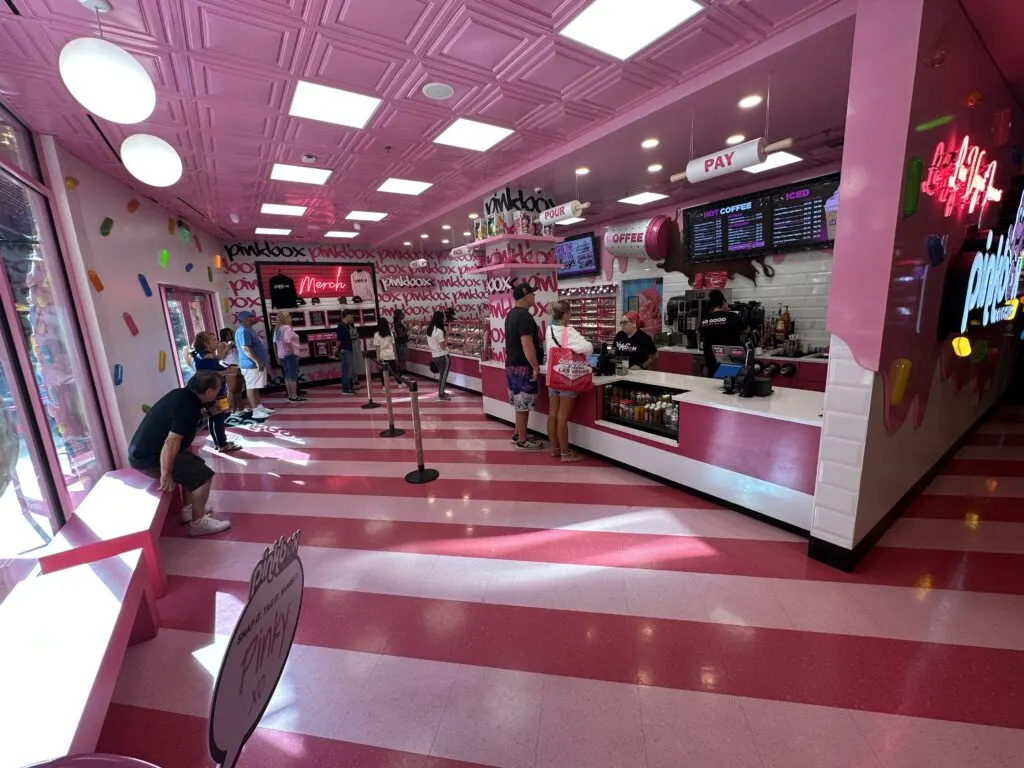 My visit occurred first thing in the morning at about 8 am, and crowds were relatively light. Just know that mid-morning lines can be a little bit more intimidating.
The doughnut selection at Pinkbox is insane, with options ranging from basic to over-the-top pastries that are designed to impress.
According to Pinkbox's website, everything is baked fresh daily. Pricing is based on what category they fall into based on their complexity and fanciness.
Obviously, these prices are subject to change, but during my visit, they were as follows:
"OG Classic": $1.95 each
"Good Fellas": $2.75 each
"Fancy Pancy": $ 3.85 each
"Show Offs": $4.55 each
"Doughcro": $4.50 each
Vegan: $4.50 each
Raiders and Golden Knights: $5.25 each
Each doughnut's tag in the display case clearly calls out its pricing category on the label.
Just look at this eye candy.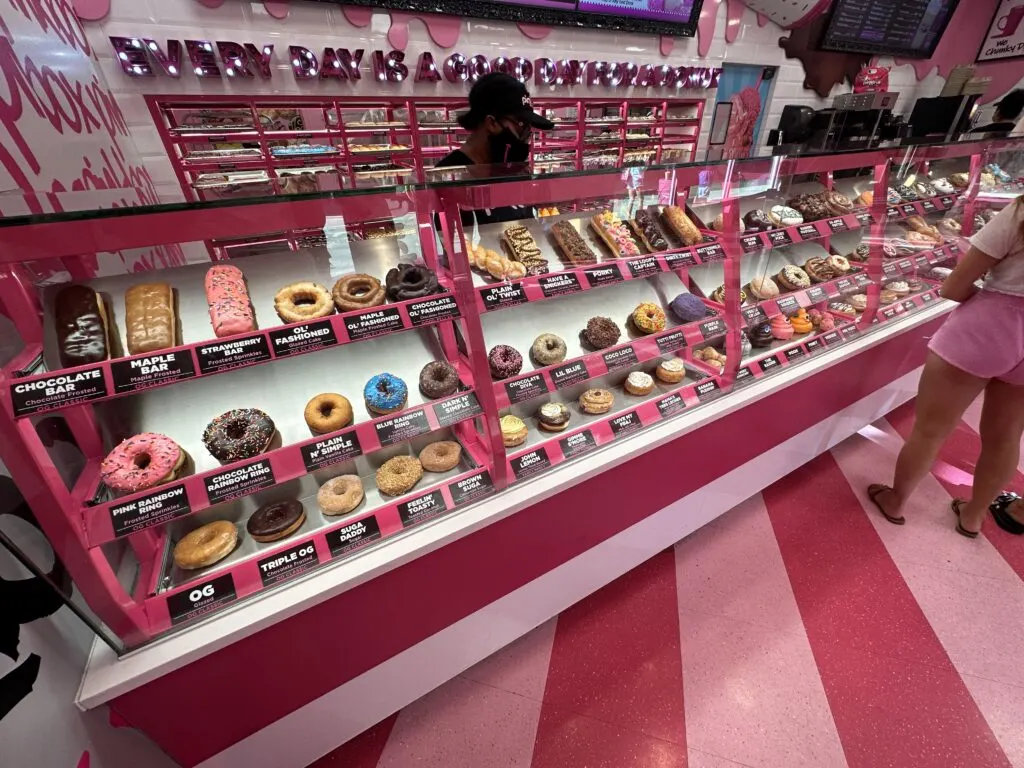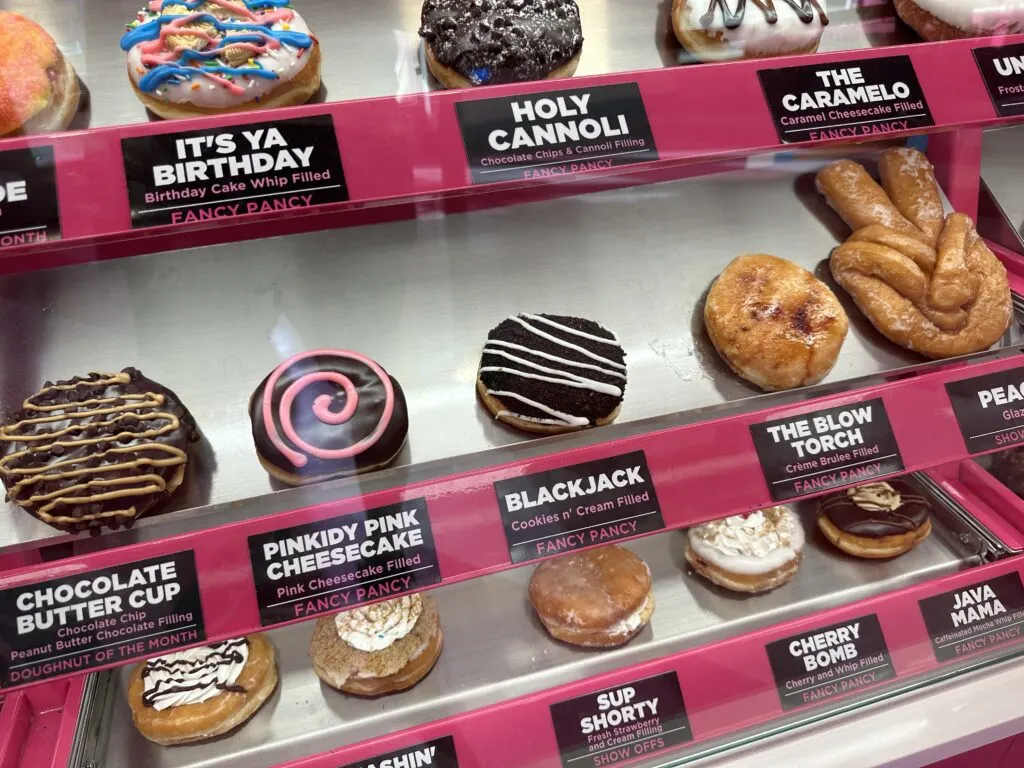 In addition to pastries, coffee, and food items, Pinkbox Doughnuts also had a merchandise section that was getting a good amount of attention.
After all, risque is fun!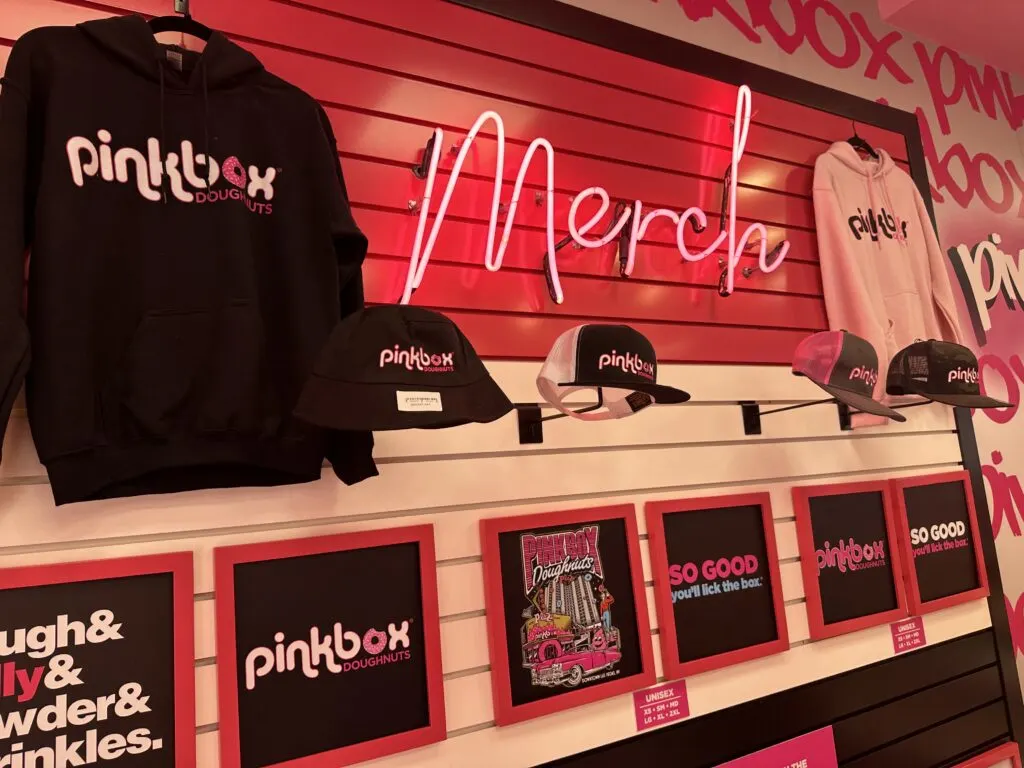 Although I didn't order a doughnut due to a huge meal I just devoured at Hash House a Go Go, it's clear that Pinkbox Doughnuts is a solid addition to downtown Las Vegas.
I recommend you check it out the next time you're on Fremont Street!
I'm a former software salesman turned Vegas aficionado. While the craps table is my preferred habitat, I pull myself away to explore new attractions, shows, restaurants, and outdoor activities around Las Vegas with the intent of sharing my experiences.
Ultimately, I just want to help folks plan a better trip and save a few bucks in the process.