A visual feast for the eyes, KISS by Monster Mini Golf is located within Rio, a hotel and casino located a short drive from the Strip.
The 18-hole KISS-themed mini golf course is known for its colorful blacklight glow, KISS-themed obstacles, small arcade, KISS World Museum, wedding chapel, and, of course, music by the legendary band blasting overhead.
As I recently played Monster's other psychedelic Twilight Zone-themed mini-golf course at Horseshoe, I figured it would be fun to swing into Rio to experience their KISS-themed option as well.
Of course, I stopped in with the intent of sharing my experience with you here with plenty of pictures to help you determine if it's itinerary-worthy.
KISS By Monster Mini Golf Pricing
Mini Golf costs $11.95 per person and tickets can be purchased in person, or by reserving a tee time on Kiss by Monster's website. If you have a specific time you want to play, a tee time is recommended.
Access to the KISS World Museum costs $12.95 per person, however, a package exists that combines a tee time with museum access for $20.
On this visit, I opted for mini golf only and paid at the counter, which was quick and painless as the course was far from crowded.
My Experience at Rio's KISS Mini Golf Course
It's been a while since I stepped foot into Rio… There just hasn't been much of a reason to. The resort just doesn't offer much that you can't find on the Strip or Fremont Street, although, parking is still free – A nice perk.
As I meandered through the gaming floor towards the KISS mini golf course, I couldn't help but notice the resort's state of disrepair. Rotting doorframes, fraying carpet, deserted retail space, cracked bathroom tiles, stained ceilings and so much more just jumped out at me.
It's crazy to recall that Rio was once a popular hangout.
In addition to the casino floor being uninspiring from an upkeep perspective, it was a ghost town and almost eerie walking through.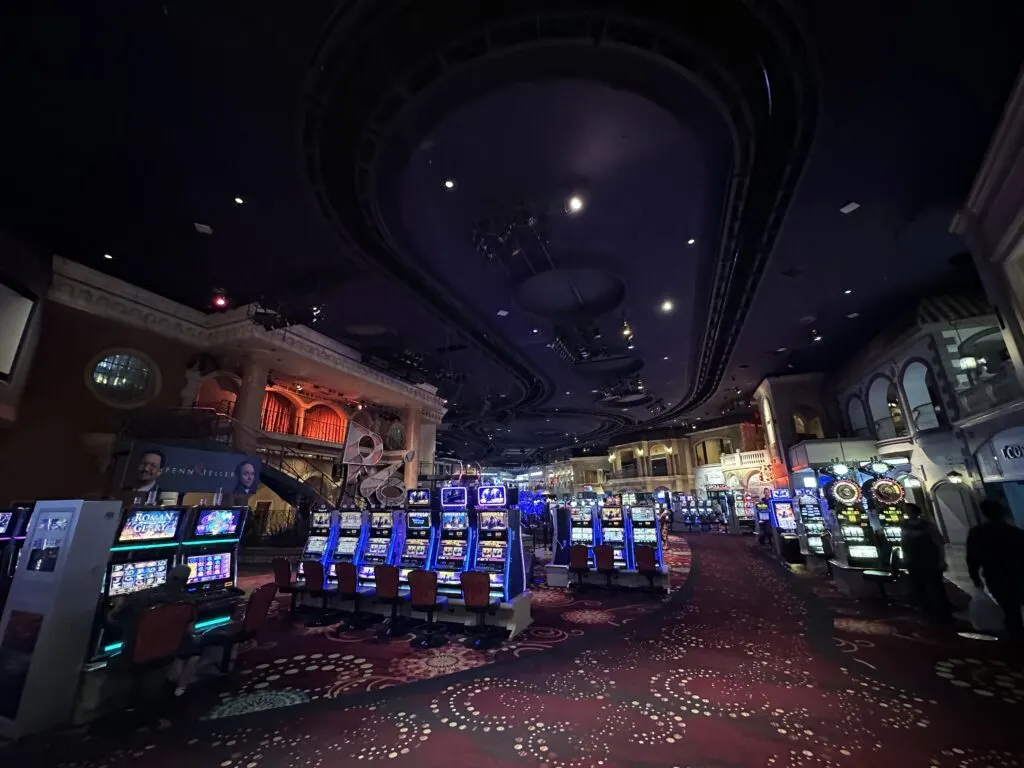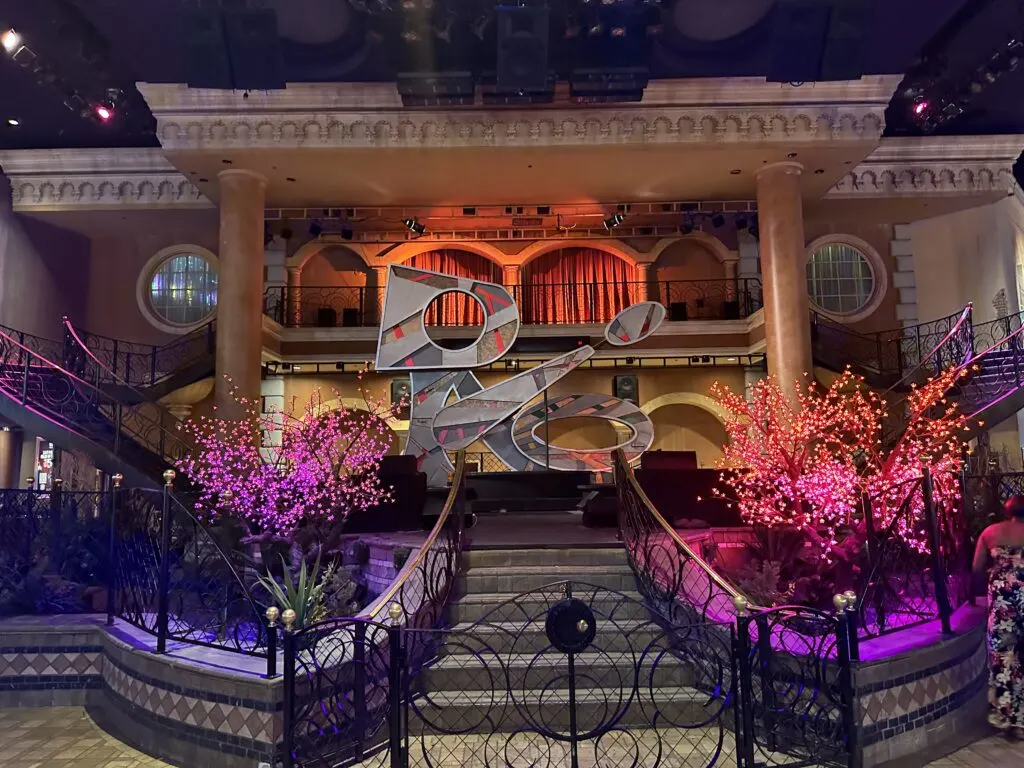 Fortunately for Rio's future prospects, the resort is now owned by Dreamscape Entertainment Properties, which plans to make significant investments in the property – I hope they're up to the challenge.
In fact, they've already started renovating the hotel rooms, although work on the casino floor has yet to commence.
When I stumbled across this jarring "KISSmobile", I knew I was in the right place.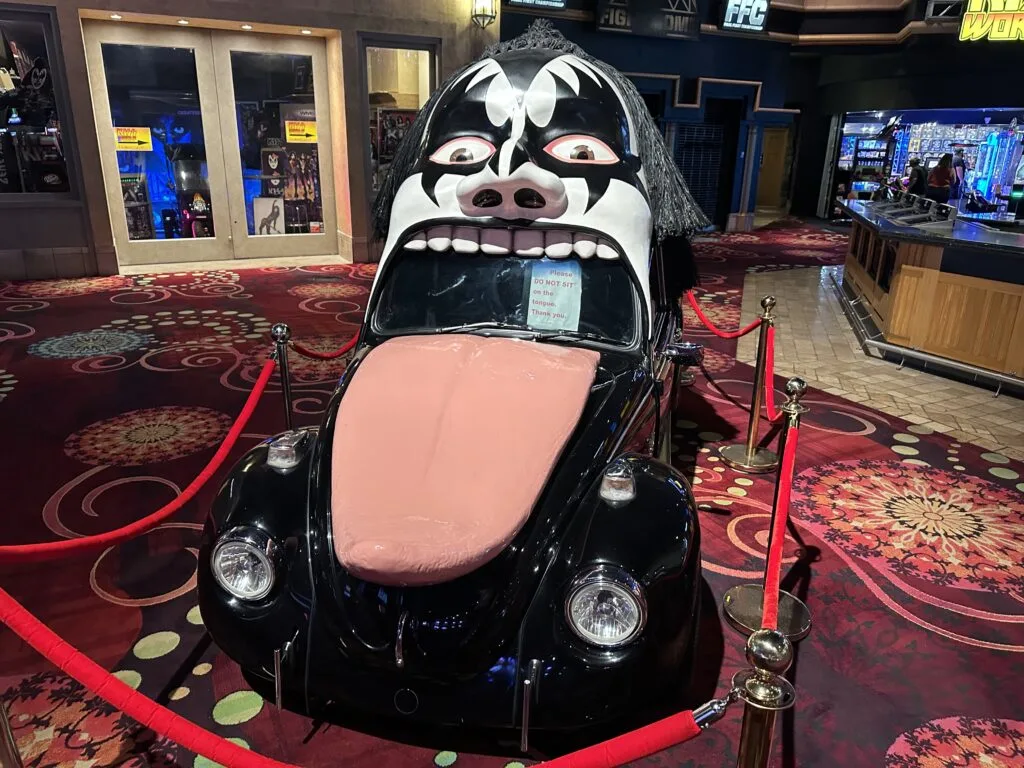 In addition to mini golf, the reception area was home to the KISS World Museum, which carries an additional fee and boasts artifacts from Gene Simmons' personal collection.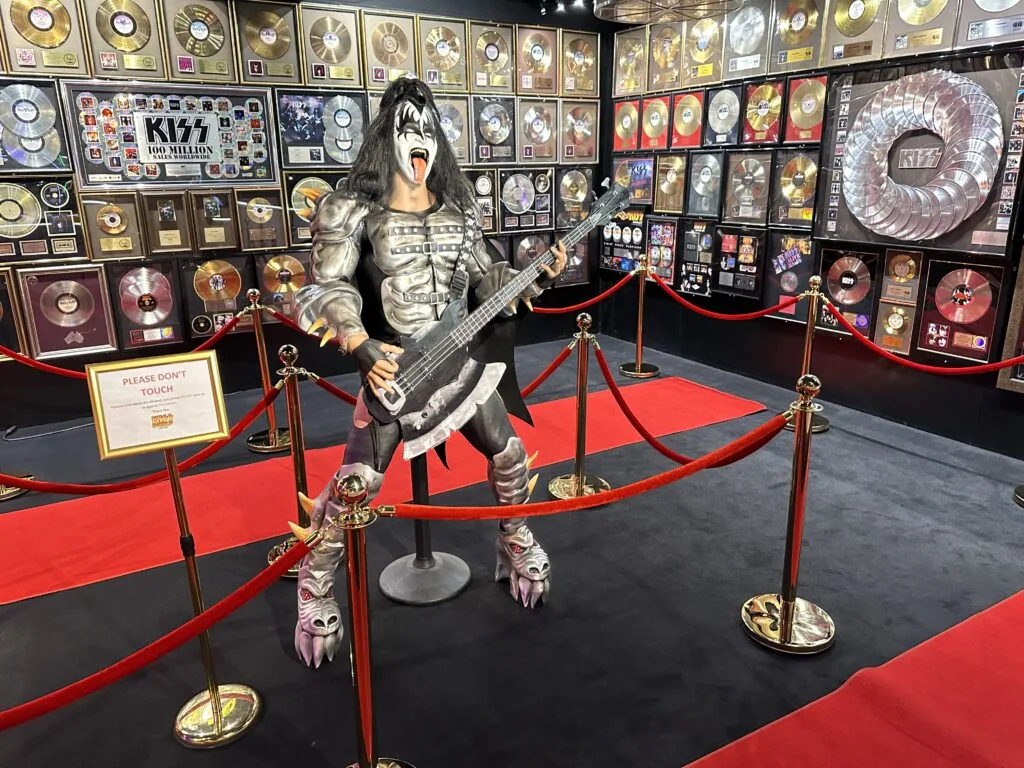 There's also a small arcade, which is more of an "add-on" activity than it is a destination arcade as there were 10 or so total games.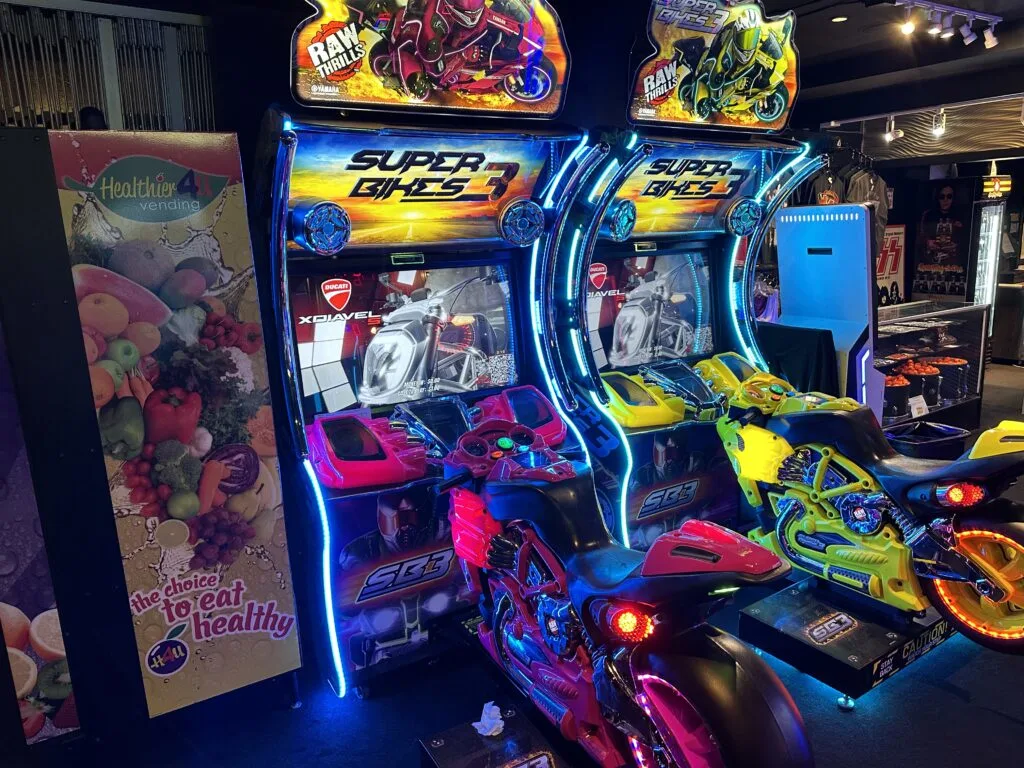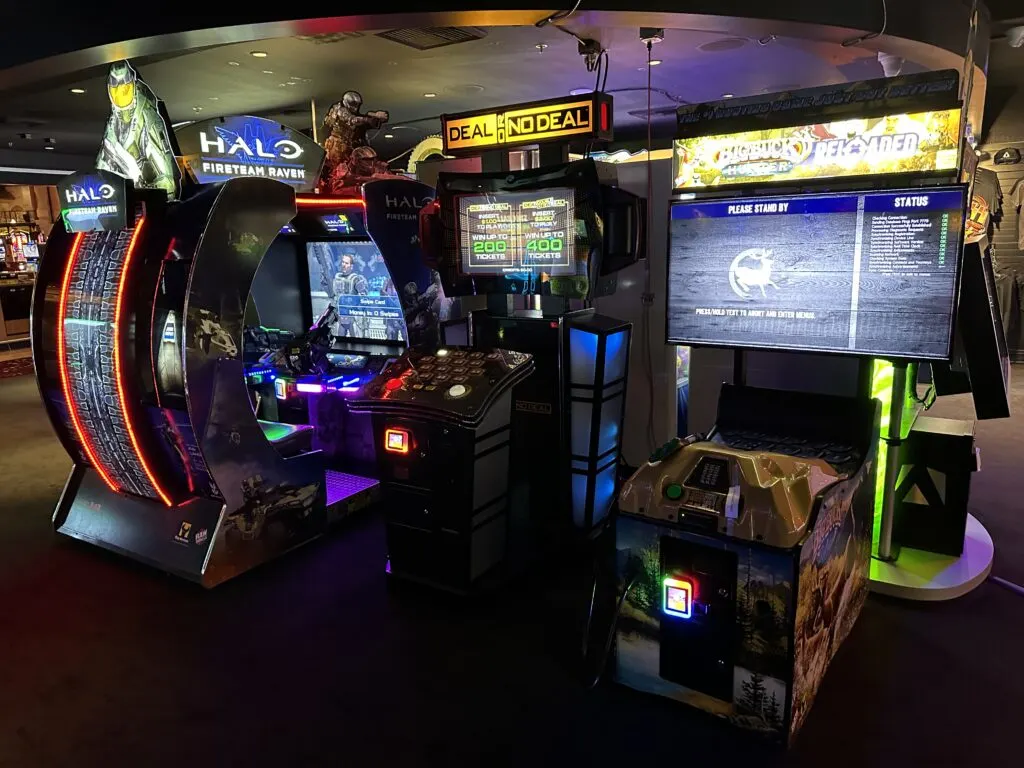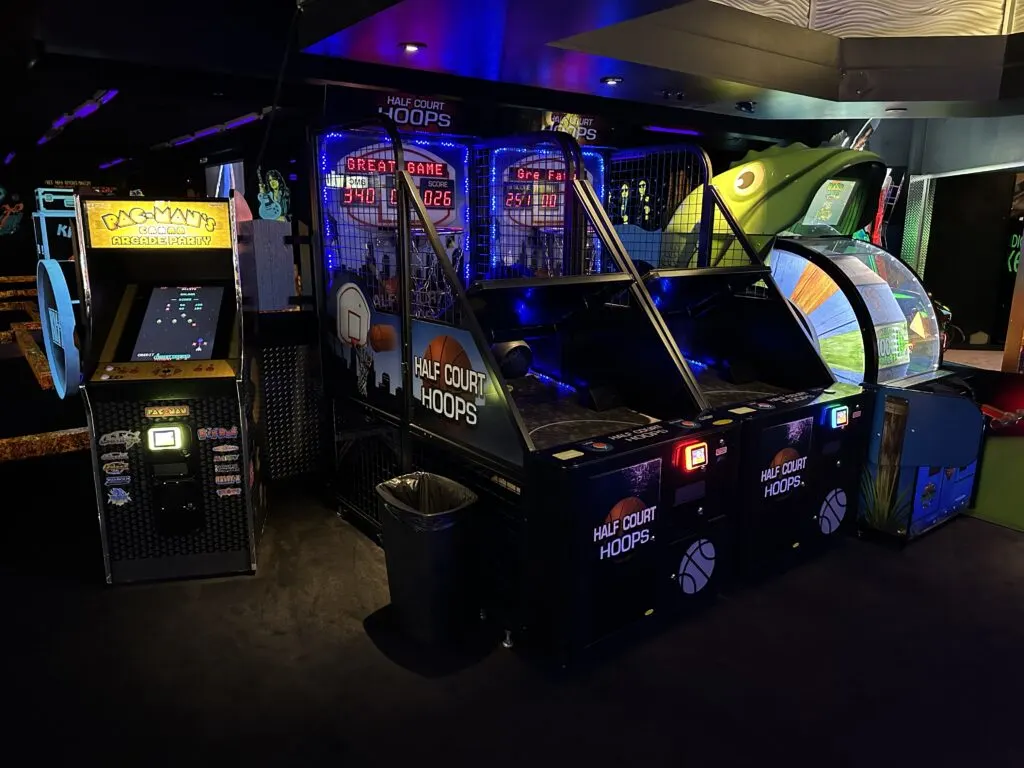 Now that I've covered some of the ancillary things to do at Rio's KISS by Monster Mini Golf Course, let's dive into the meat – The course itself.
In reviews like this, it's often most helpful to share both what I liked and what was lacking – Let's start with the good.
What I Liked
Aesthetics: Illuminated by blacklight, the hole boundaries, wall art, balls, putters, and decor all glow, creating a stunning visual.
Throughout the course are several HUGE guitars and other props that glow under the black lighting, and the round concludes with players returning their ball by putting it up Gene Simmons' extended tongue.
Simply put, the course and theming are built to impress and succeed in that quest.
In my opinion, this is the main reason to visit. Just look at these pictures I took: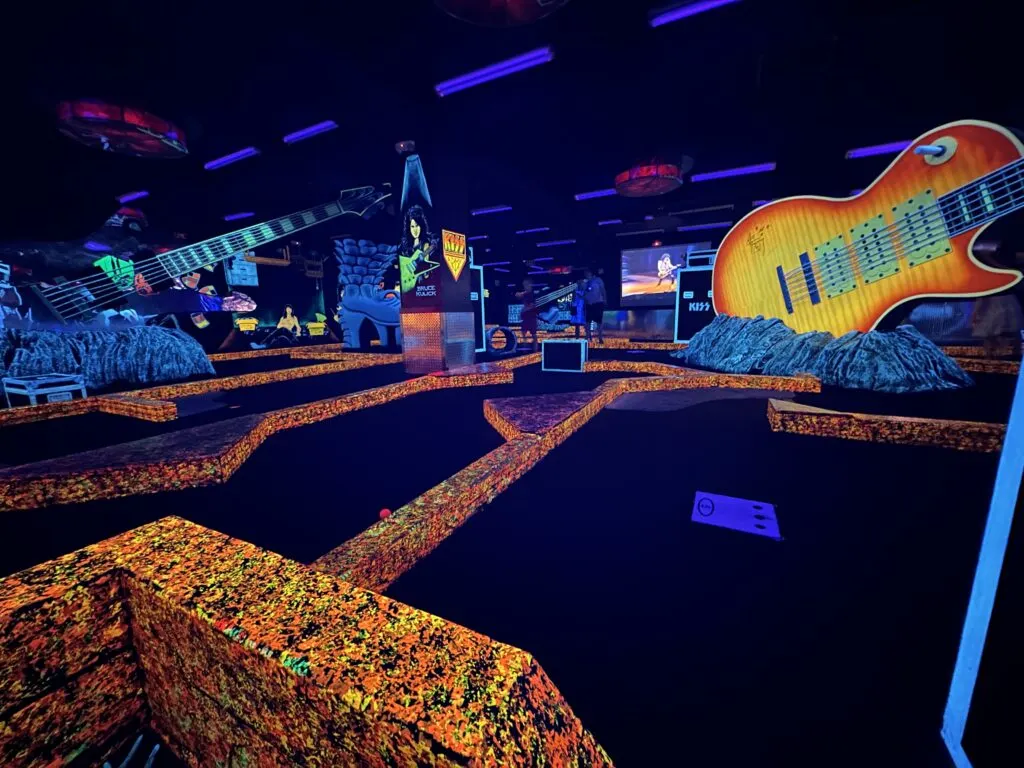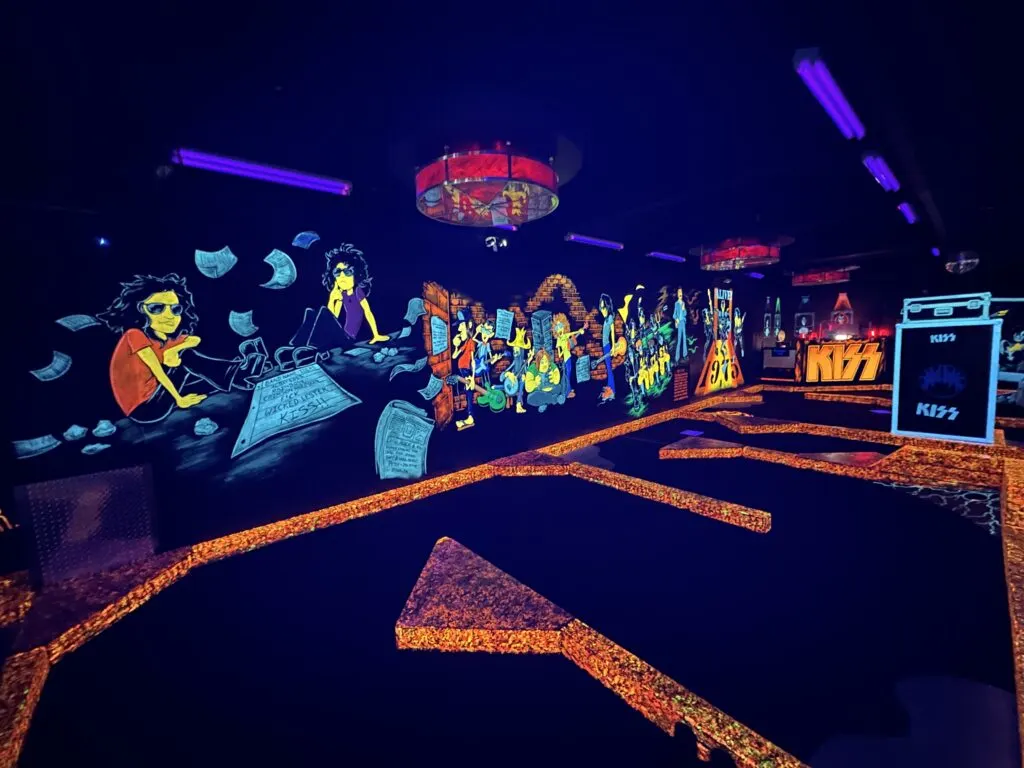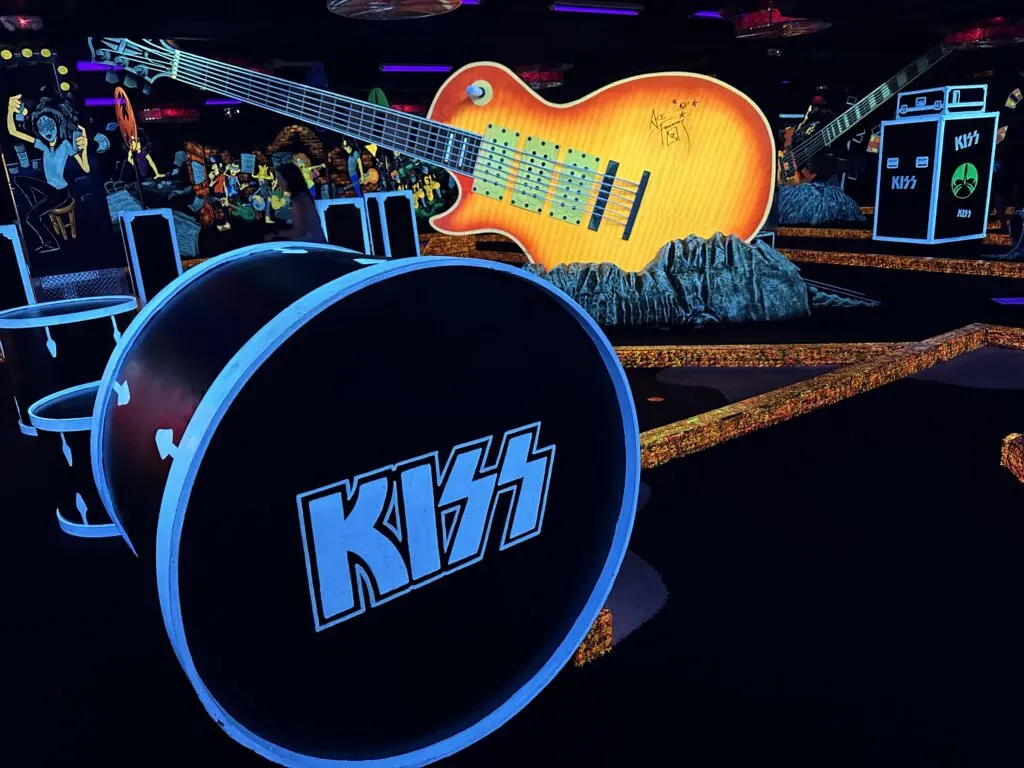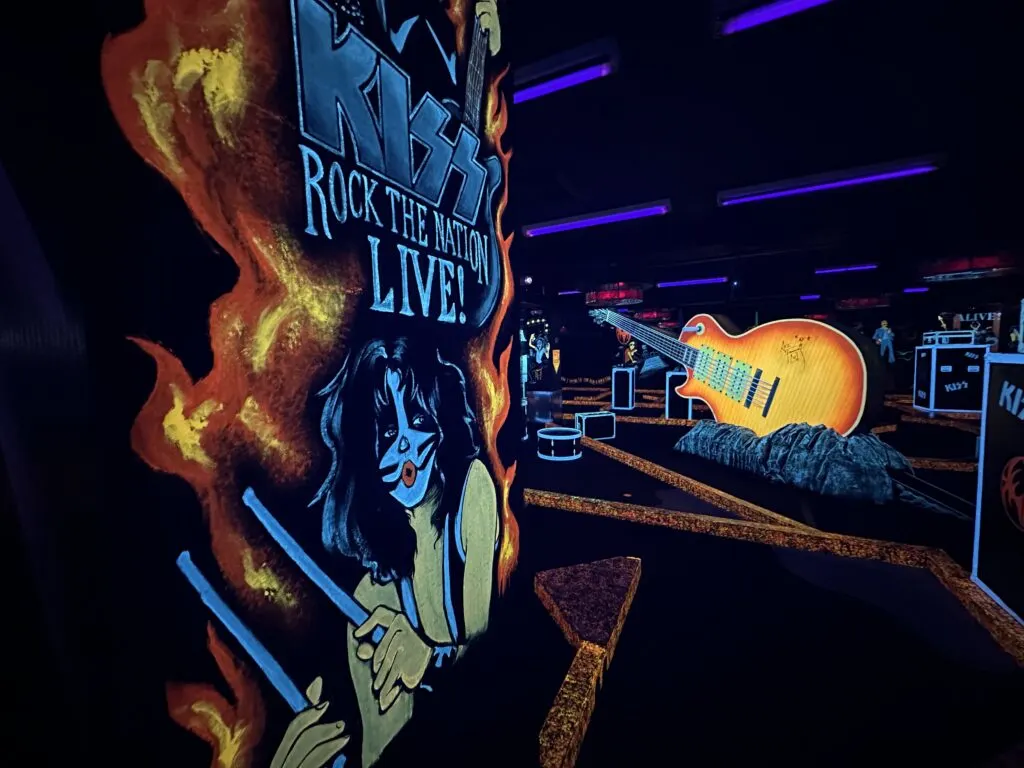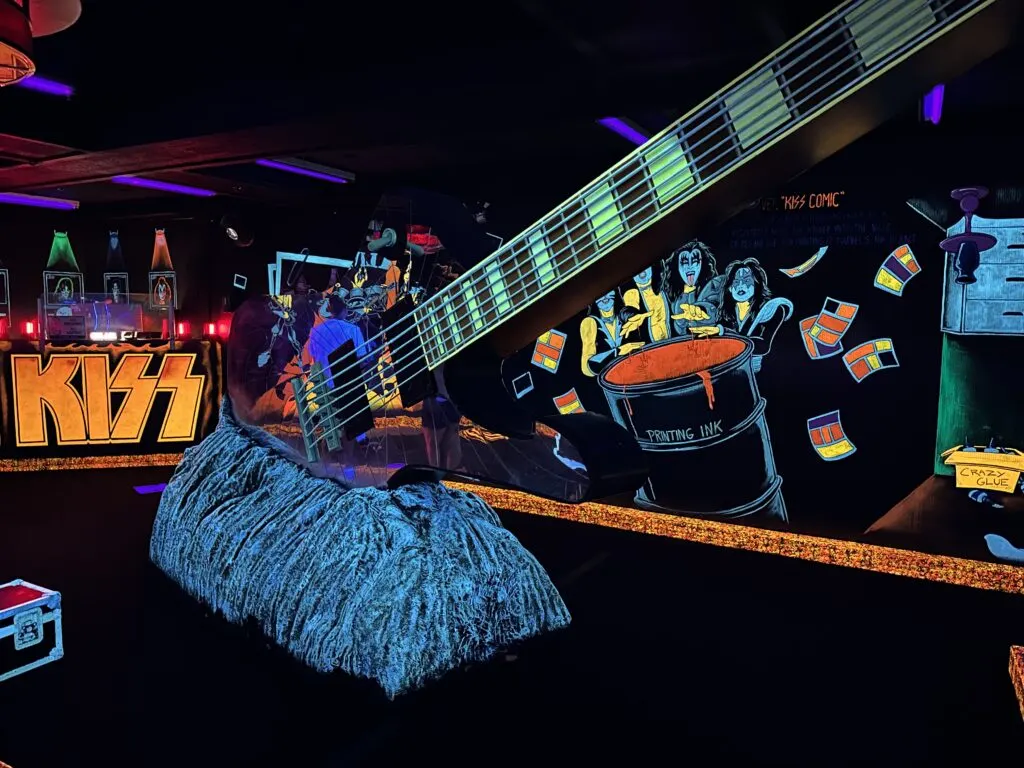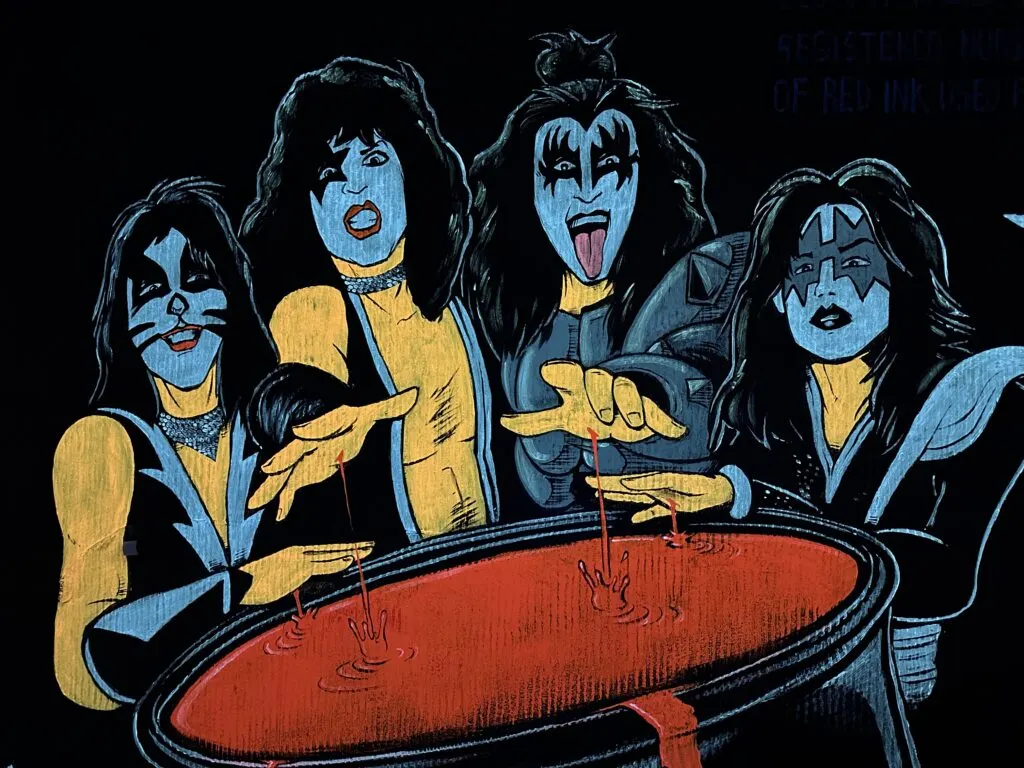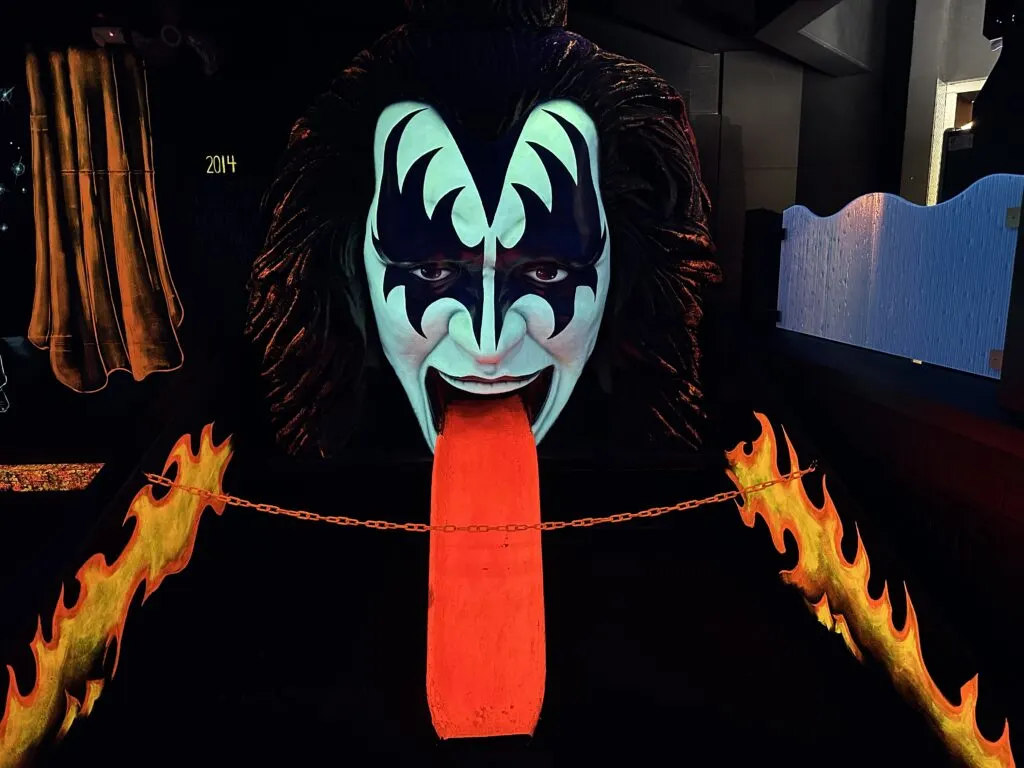 KISS Immersion: Obviously, the decor is KISS-themed, but a KISS playlist is also played (at an elevated volume) and is controlled by an employee manning a DJ booth in the corner.
On 2 big TV screens visible from the majority of the venue is concert footage of the band in action.
Along the walls are KISS-inspired murals and band fun facts, many of which I wasn't aware of.
Did you know that a high school football team used to get psyched up to KISS music in the locker room before games, only to have the band find out and play at their homecoming dance? Neither did I. Pretty cool!
What was Lacking
Course Complexity: While visually appealing, the course itself is a tad boring. Most holes are entirely flat, featuring thin carpet on concrete and there are minimal obstacles, which are what make mini golf fun in my opinion.
It's fine. Just don't expect to be thrilled with the actual gameplay.
This was about as complex as things got: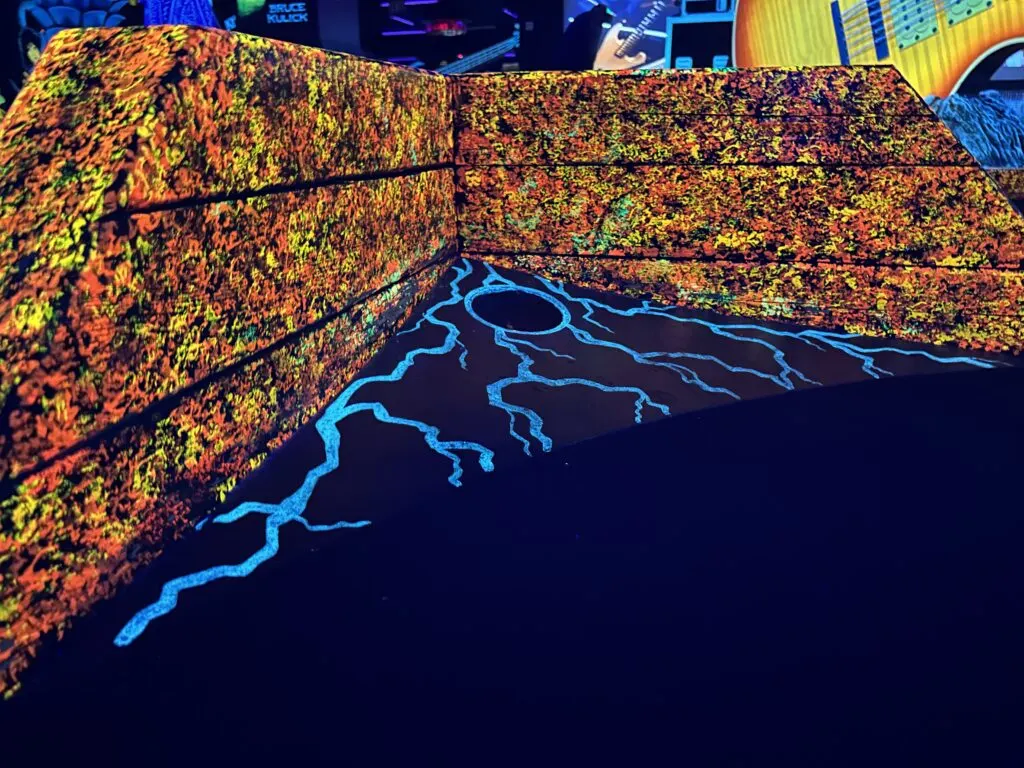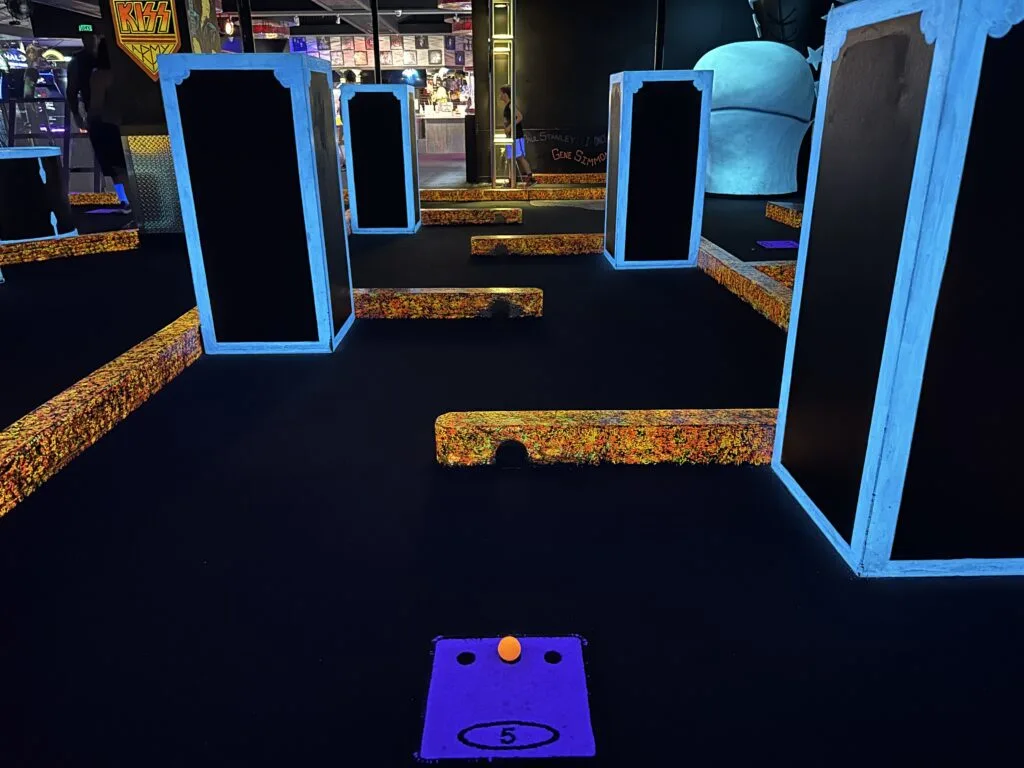 Beat Up Feel: Like Rio itself, the course felt a bit dated and beat up when you got up close to it. It's not like it was egregious… Just a little bit of a grimy, faded, rough around the edges feel.
She's probably due for a refurbishment.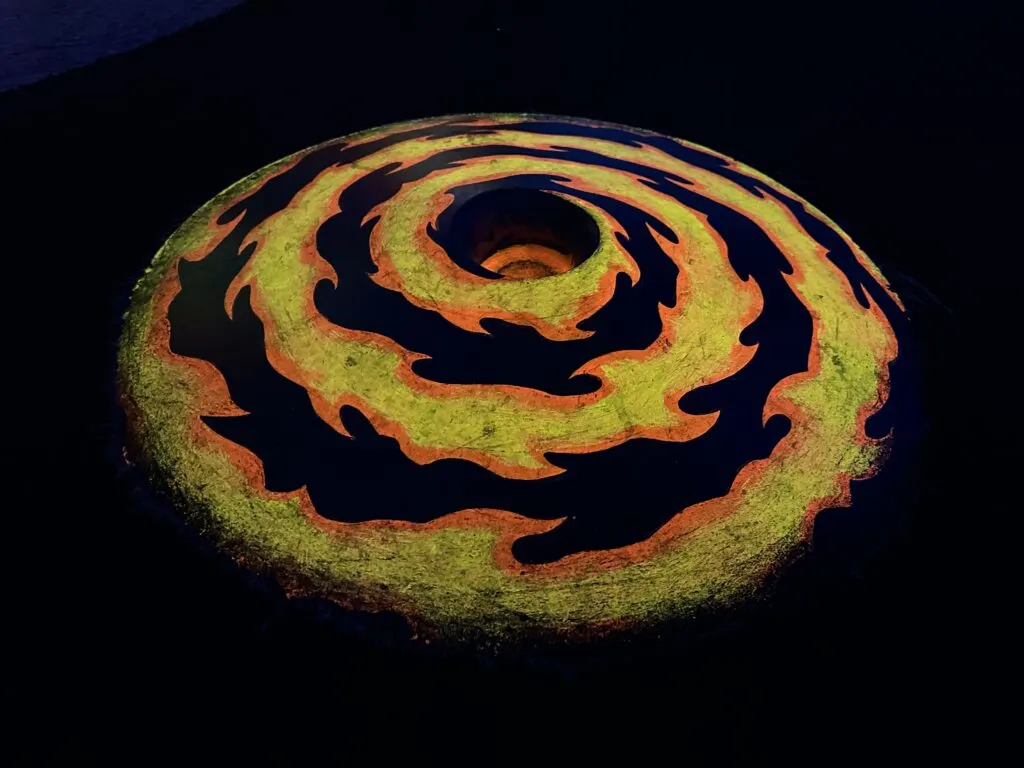 Is KISS by Monster Mini Golf at Rio Worth Doing?
If you like the band KISS, cool visuals, unique photo opportunities, and a fun social activity, then this course is a great deal at $11.95. By Vegas standards, that's pretty darn cheap.
While the mini golf course itself lacks complexity, the visuals, music, and overall vibe make up for it.
While I didn't have a chance to walk through the KISS museum, most reviews on sites like TripAdvisor rave about that aspect of the experience – I think it's a must for hardcore KISS fans.
Especially if you are looking for family-friendly activities in Las Vegas, slot either Kiss by Monster Mini Golf, or their sister Twilight Zone course at Horseshoe into your itinerary.
Related Las Vegas Attraction Reviews:
I'm a former software salesman turned Vegas aficionado. While the craps table is my preferred habitat, I pull myself away to explore new attractions, shows, restaurants, and outdoor activities around Las Vegas with the intent of sharing my experiences.
Ultimately, I just want to help folks plan a better trip and save a few bucks in the process.