Circus Circus is located on the north end of the Las Vegas Strip and is known for its kid-friendly attractions and things to do that include an arcade, water park, circus acts, and of course, The Adventuredome.
The Adventuredome is a 5-acre indoor amusement park that's home to 25 rides that range from low-key to thrilling.
Considering the attraction's popularity, I thought it would be helpful to stop in and give you a look inside The Adventuredome so that you can determine whether or not it's worth slotting into your itinerary!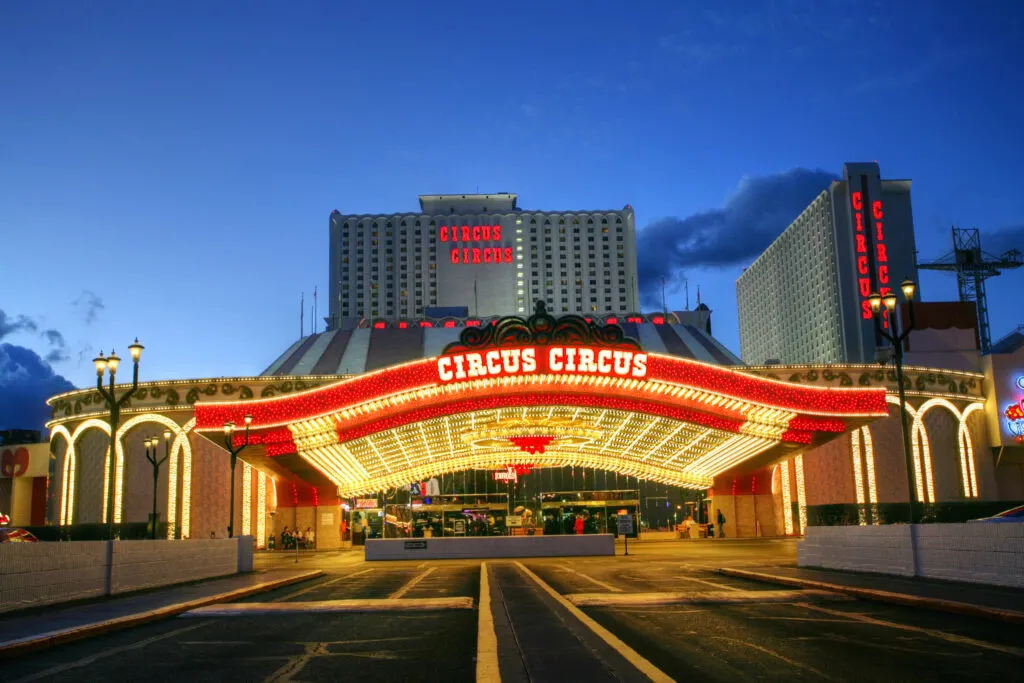 Adventuredome Ticketing & Prices
All-Day Passes are available on Circus Circus' website and cost $60 for an all-day wristband for those over 48″ tall.
If your kid is under 48″ tall, their all-day wristband will cost just $30.
Wristbands are also available for purchase at the venue, and the easiest way to procure them is at the automated kiosks near the Adventuredome entrance which rarely had a wait.
My Experience at Circus Circus' Adventuredome
Let me start this review by pointing out that I've historically been plenty critical of Circus Circus.
From my stay in their hotel to my experience at the buffet, the resort has left me feeling underwhelmed for some time.
That's not to say there's no reason to visit, however.
Circus Circus is the only Strip casino that still offers old-school token slots, is home to one of the best steakhouses in Vegas, and even offers free circus act shows.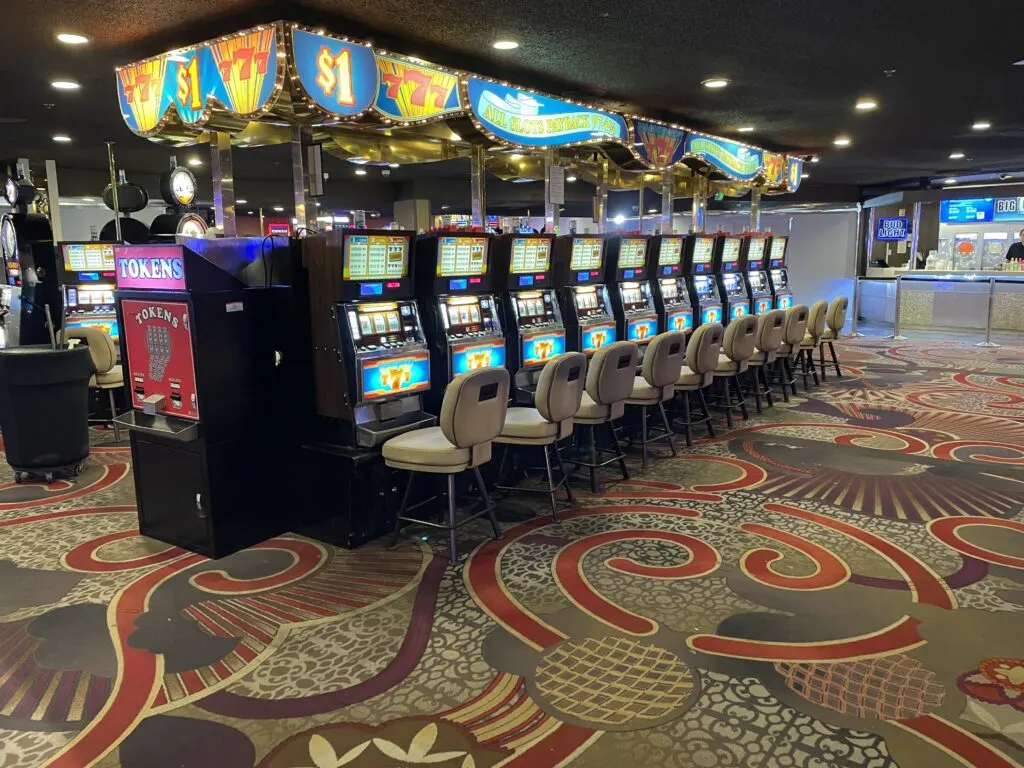 The truth is though, the resort's overall state of disrepair, tougher clientele, and abundance of kids usually have me steering clear.
Stepping Into The Adventuredome
Before this visit, it had been a while since I stopped by The Adventuredome, however, my first impressions of the indoor theme park were solid.
The sight of rides spinning, lights twinkling, and the sounds of a lively amusement park instantly got the endorphins flowing and generated a feeling of excitement, even in a middle-aged curmudgeon like myself.
Bucking the trend of the broader resort, The Adventuredome was in pretty darn good shape from a maintenance perspective. No "run down" vibes here whatsoever.
Rides at The Adventuredome
Rides span the age spectrum and range from tame and leisurely to adrenaline-inducing.
Tamer options that little kids will be drawn to include a merry-go-round, swings, a carousel, a hopper, bumper cars, a Ferris wheel, and spinning teacups.
Here are some images of your options: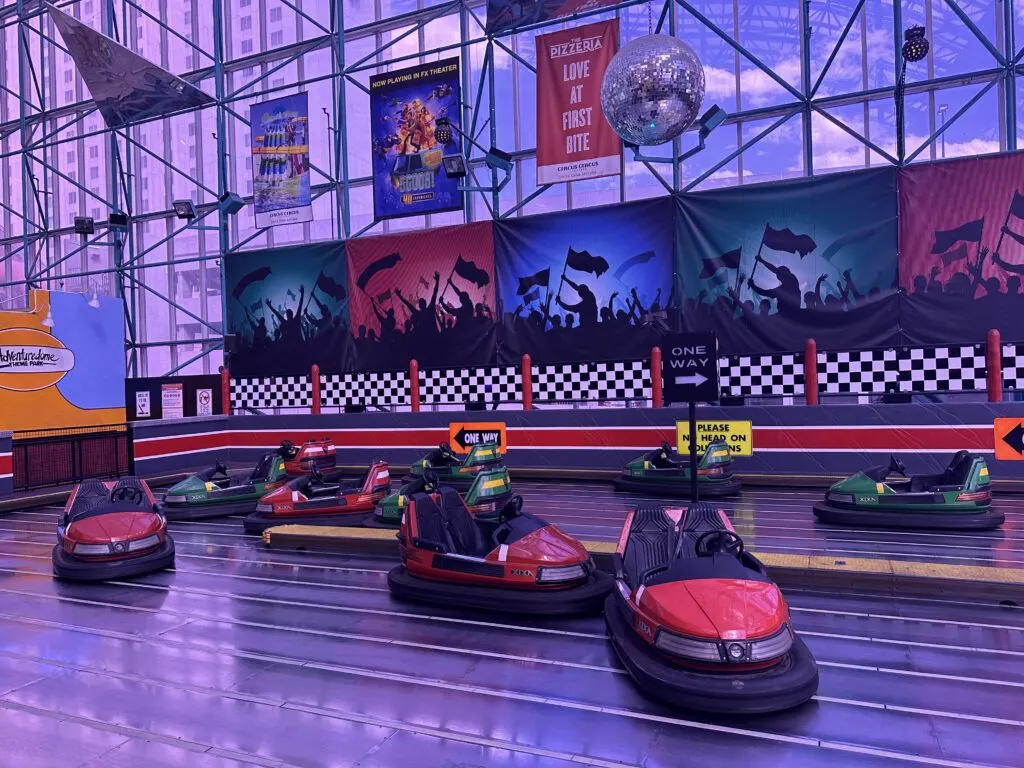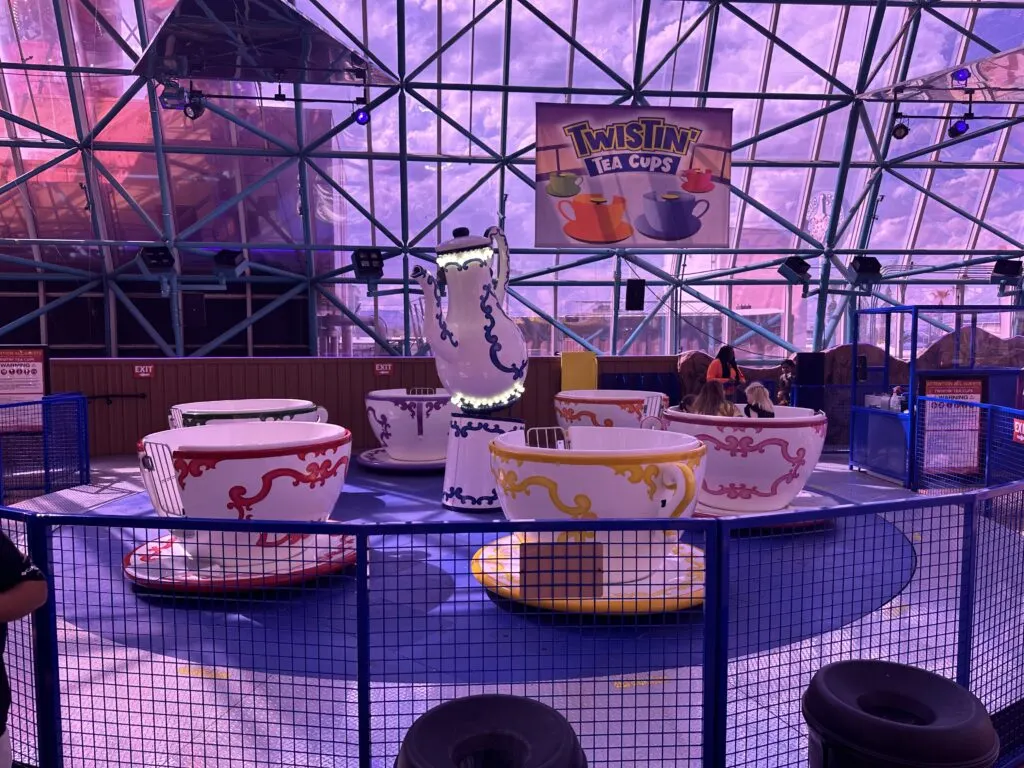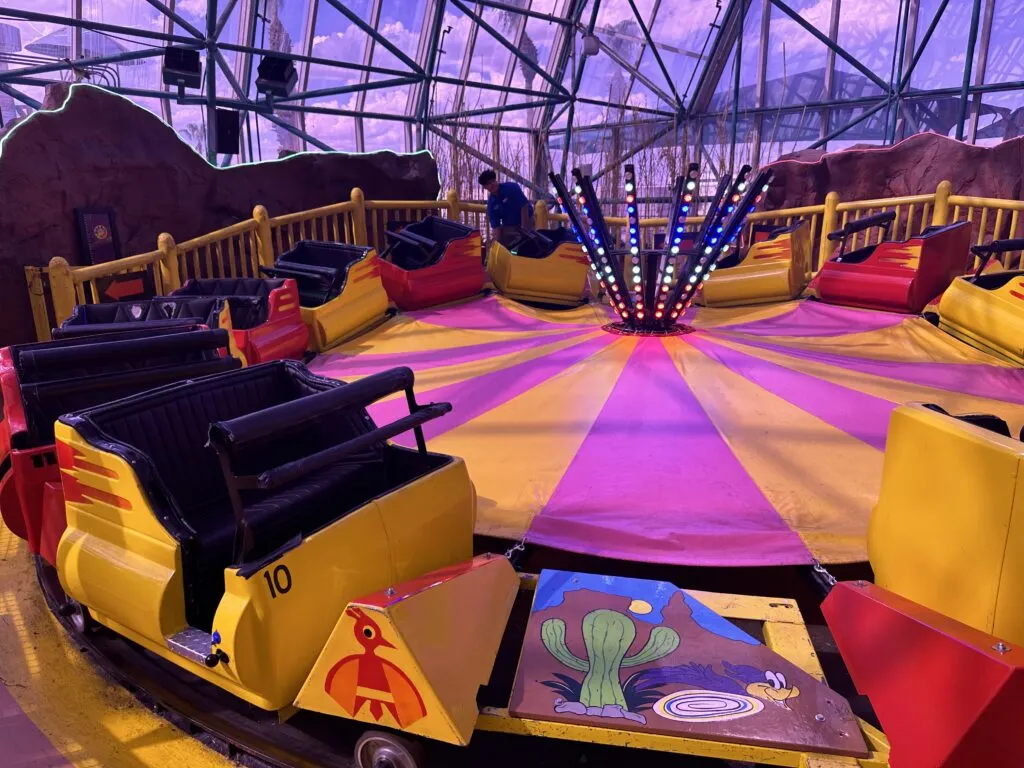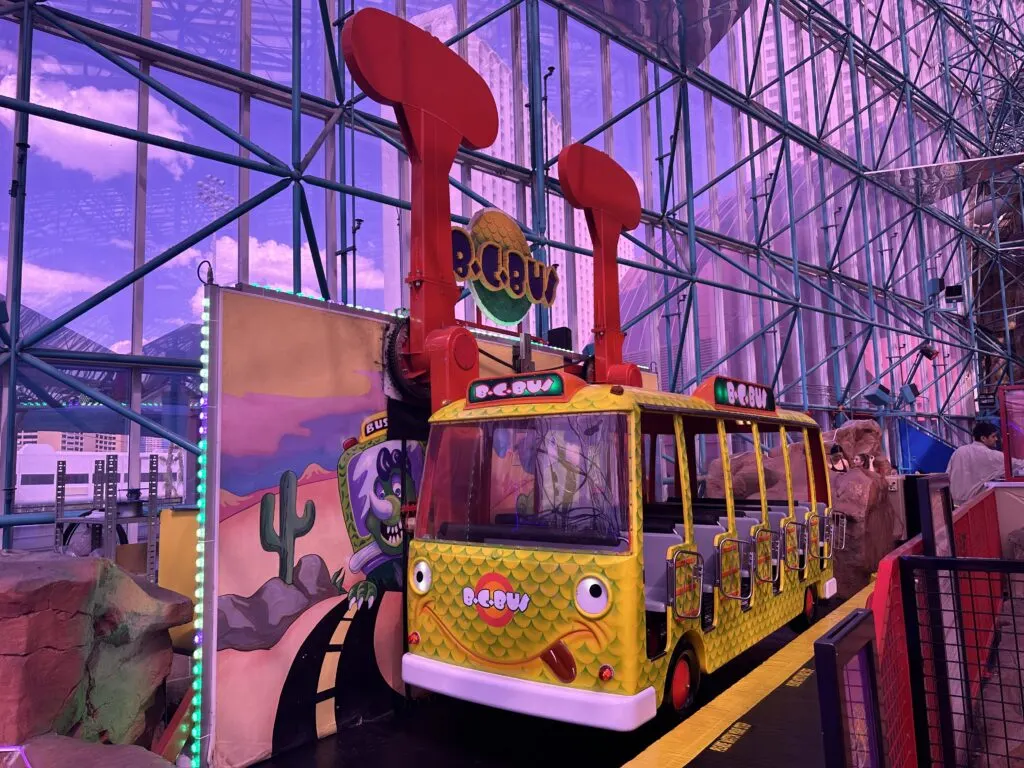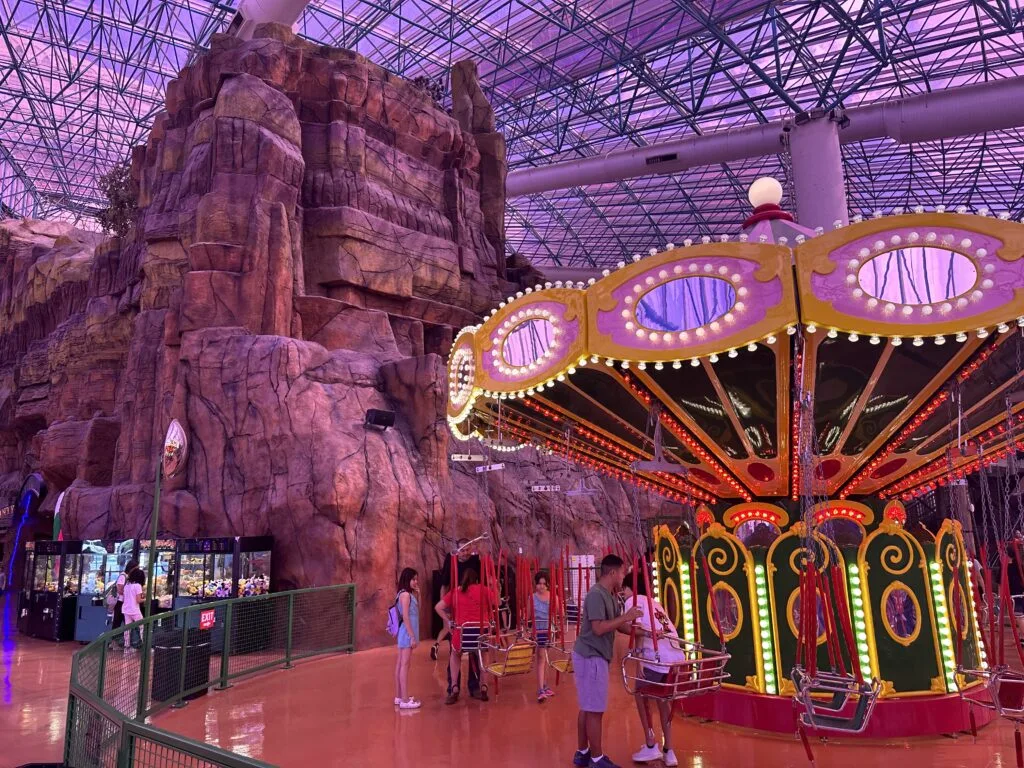 The real draw of the Adventuredome in my opinion is their selection of more extreme and thrilling rides.
Every time I stop in, I'm amazed at how many different rides they've been able to squeeze into the relatively small footprint by amusement park standards.
Examples of more adventurous rides include:
Canyon Blaster & El Loco Rollercoasters: Both "Canyon Blaster and "El Loco" incorporate drops, twists, speed, and upside-down sections of track to thrill riders.
Although the Adventuredome is billed as a "kid-friendly attraction", rest assured, there's plenty here for older teens and even adults.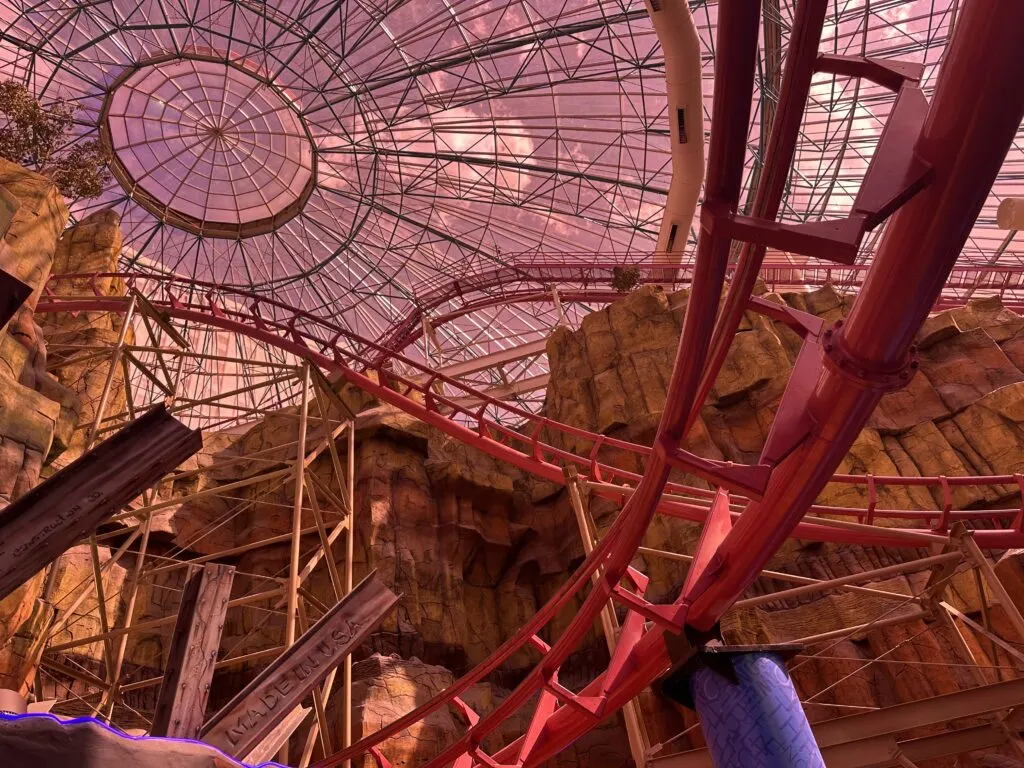 Sand Pirates: A ship that swings back and forth like a pendulum, Sand Pirates packs a bunch of "drops" into one ride.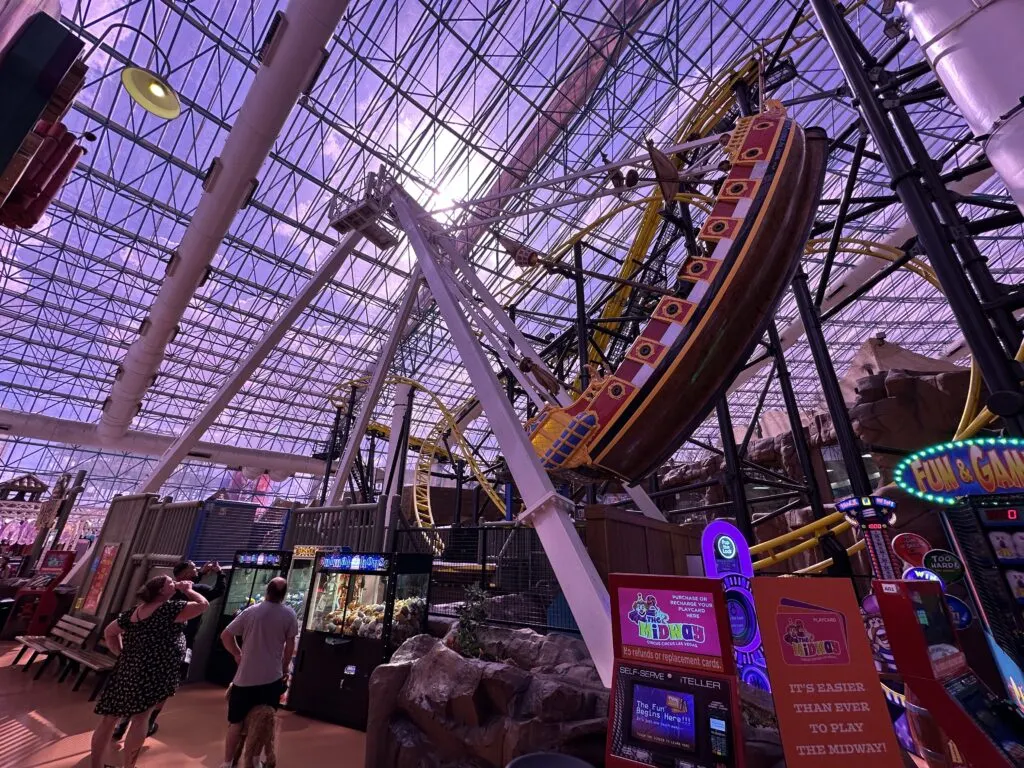 Disk'O: Akin to a snowboard half pipe, Disk'O seats riders on a circular disk that spins as it rides the track back and forth.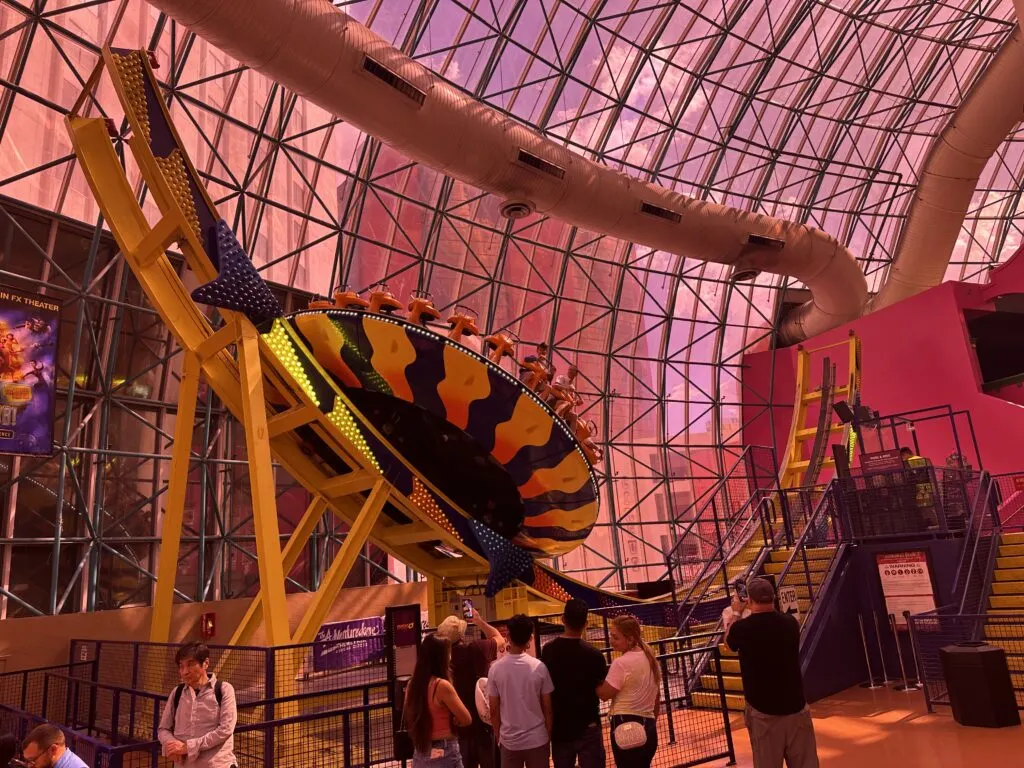 Inverter: Passengers are strapped into a platform that's then swung like a pendulum back and forth until it finally reaches a full circle, flipping riders upside down at the top.
Make sure you empty out your pockets!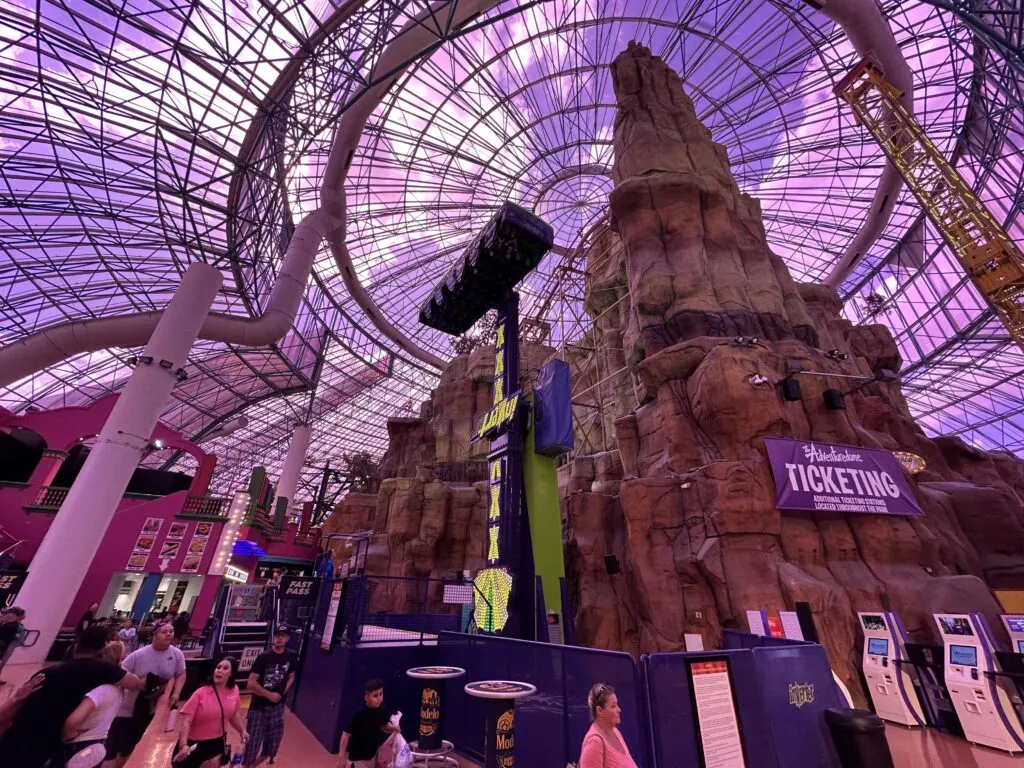 Nebula Z: A newer addition, Nebula Z gives riders the opportunity to sit at the end of one of 4 "arms" that then flail in unison, giving the illusion that you're coming close to crashing into your fellow riders.
It's chaotic in the best way.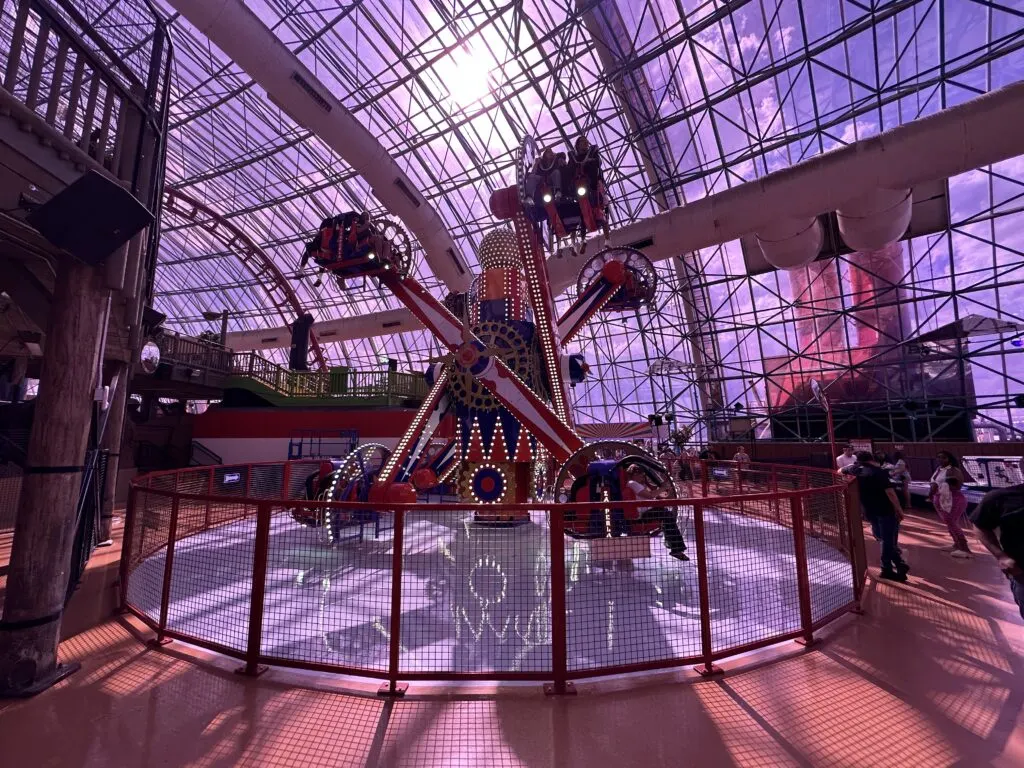 Sling Shot: A ride that is similar to the Big Shot atop STRAT's SkyPod Tower, Sling Shot fires riders straight up with 4Gs of acceleration, transitioning into a drop after you hit max height.
There's More Than Rides
Other things to do within The Adventuredome include arcade & carnival-style games scattered about everywhere, plenty of air hockey tables, a mini golf course, laser tag, face painting, virtual reality experiences, and an FX 4D Theater that features Scooby Doo and Ice Age short films.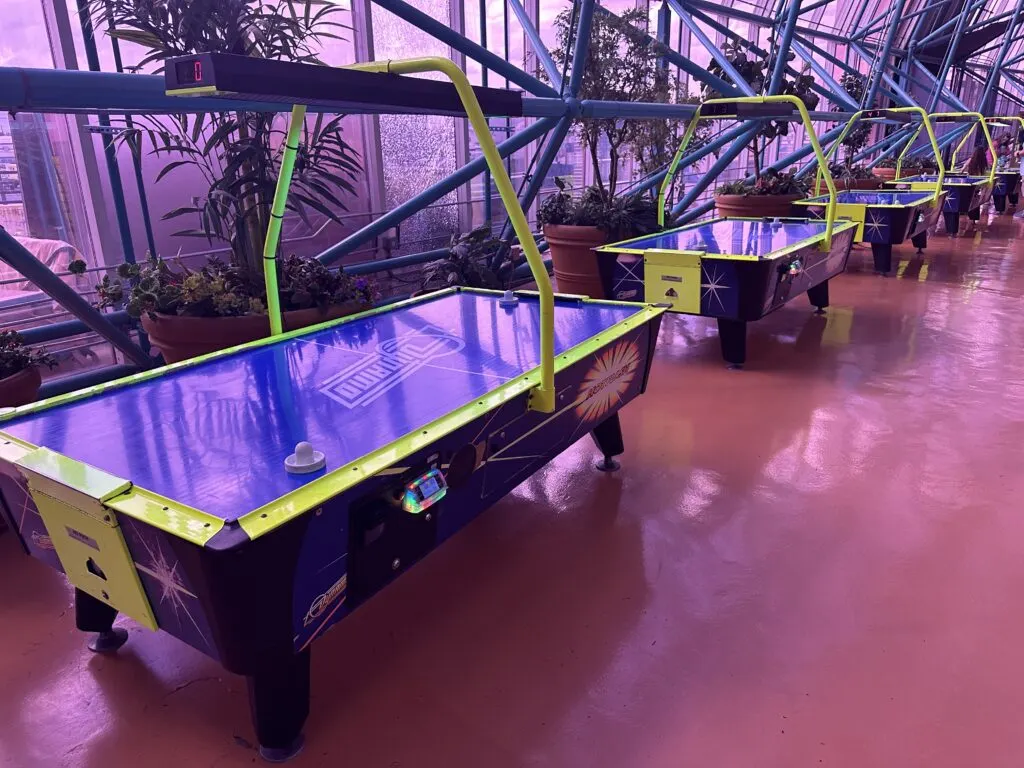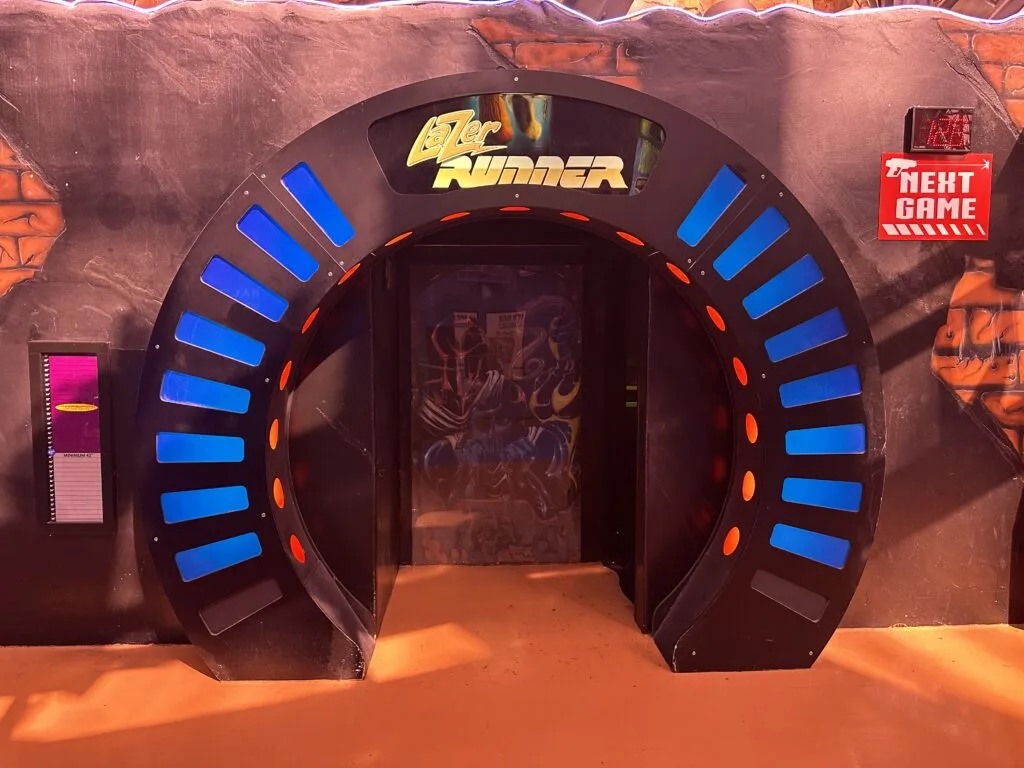 Food & Drink Options
Those who get hit with hunger won't need to leave the amusement park as there are quick-serve options serving kid-friendly food like pizza, hot dogs, and ice cream.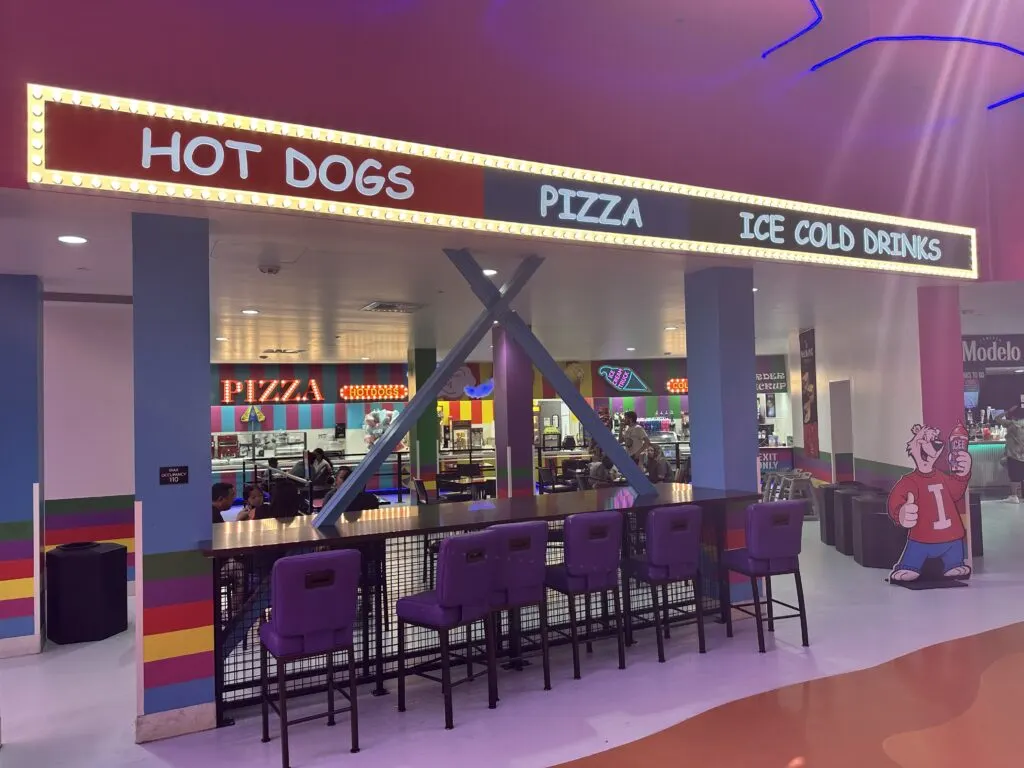 Parents, I know the idea of spending a day dodging other people's kids can be a daunting thought. Fortunately, you can get a drink or seven at the Cactus Bar.
Whew. Crisis averted.
Overall Condition of The Adventuredome
As I mentioned above, I don't hold back when it comes to criticizing Circus Circus for the resort's deteriorating condition. On the whole, words I'd use to describe Circus Circus include "neglected", "divey", and even "depressing".
I'm happy to report that the Adventuredome was none of those things. The venue was in great shape and genuinely created excitement with the abundance of rides, noises, lights, and atmosphere.
I was impressed.
The Verdict: Is the Adventuredome at Circus Circus Worth Doing?
If you're looking for things to do in Las Vegas with kids, The Adventuredome at Circus Circus needs to be atop your list.
Although I feel the attraction is a bit overpriced at $30/$60 per person, your kids are guaranteed to love it. The rides are legitimately cool, and there are options that span the spectrum from tame to adventurous.
The fact that you're buying an all-day pass could also help you get your money's worth provided you stick around a while.
Of course, I recommend parlaying this trip with a stop at Circus Circus' sprawling arcade, which is home to an abundance of arcade and carnival games. It's the biggest, best, and most chaotic arcade in Las Vegas.
If you're lugging the whole family to Las Vegas, make sure you prioritize a trip to The Adventuredome at Circus Circus. You'll make a memory that'll last a lifetime.
I'm a former software salesman turned Vegas aficionado. While the craps table is my preferred habitat, I pull myself away to explore new attractions, shows, restaurants, and outdoor activities around Las Vegas with the intent of sharing my experiences.
Ultimately, I just want to help folks plan a better trip and save a few bucks in the process.