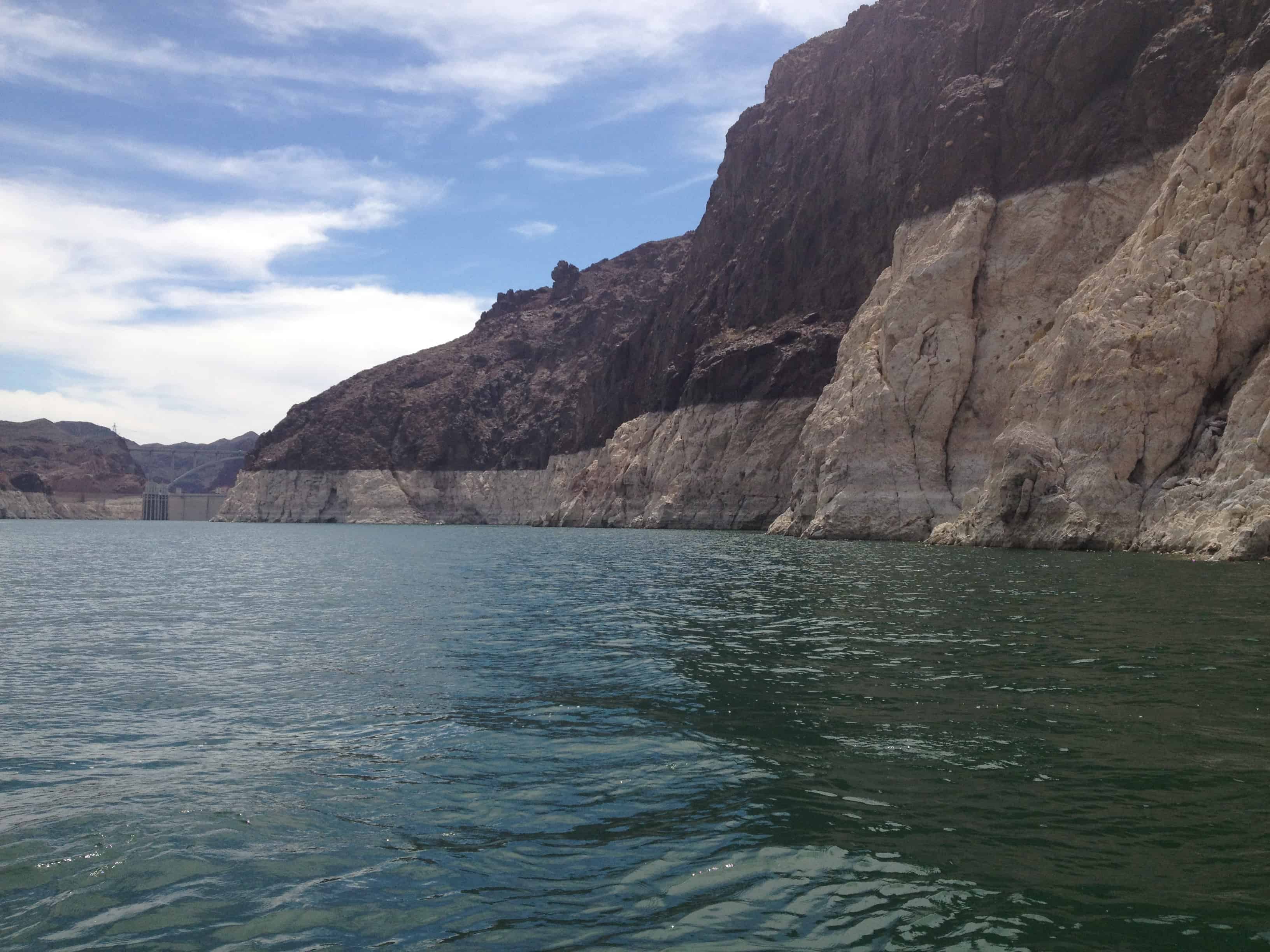 Are Las Vegas Casinos responsible for the declining water levels in Lake Mead?
It's not a secret that Lake Mead's water level has been on a concerning decline for some time. The lake's water level has fallen significantly from its peak reached in 1983 as evidenced by the white "bathtub ring" visible around the reservoir marking where the water level has been historically. According to NASA, the Lake Mead reservoir was only 37% full as of 2016.
The obvious culprit to most casual observers would be the gargantuan Las Vegas resorts that line the strip, often comprised of thousands of guest rooms. It makes sense that all those showers, toilets, sinks and laundry operations would be the culprit behind the declining water levels. As it turns out, however, that may not be the case.
While water use in the resorts from use of sinks, toilets, showers, drinking fountains, etc. is significant, casinos have taken positive steps to curb use by installing high efficiency fixtures. Most importantly, water that finds its way into a drain is reused either directly (for things like irrigation, building cooling, etc.) or treated and returned to Lake Mead via the Las Vegas Wash. The wash serves as a waterway that moves reclaimed water, storm and urban runoff back to Lake Mead. The wetland like properties of the wash also helps to filter and clean the water in which it transports before depositing it back into the reservoir.
Wasteful water use resulting in permanent loss at Las Vegas casinos typically occurs outdoors. While water used indoors can be recycled back into Lake Mead, water used outside for irrigation and at the pool is lost to the environment permanently. A UNLV research paper estimated that a typical Las Vegas resort pool loses 8.32 feet per year to evaporation. Additionally, the study estimated that irrigation of landscaping on resort properties consumes around 79 gallons per square foot annually. Xeriscaping, which is landscaping leveraging plants with a lesser need for water uses around 54 gallons per square foot annually.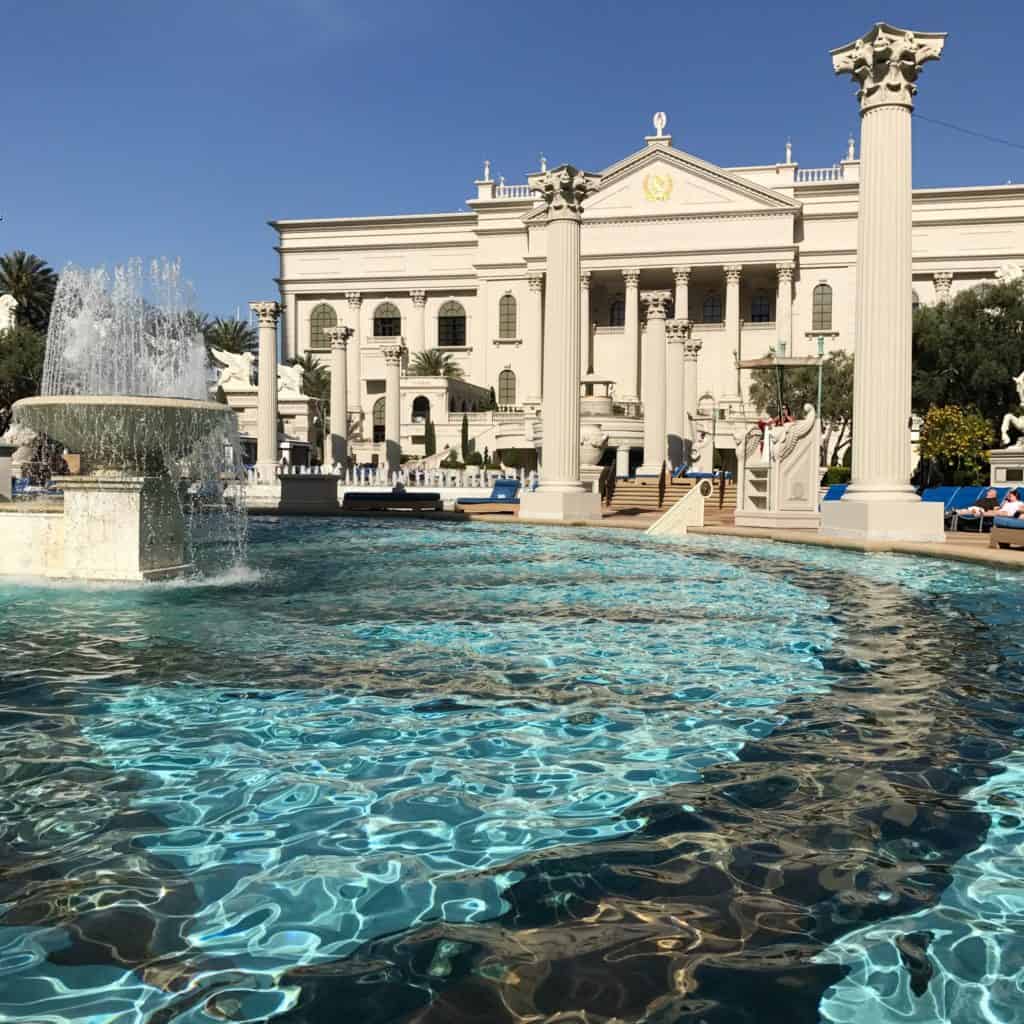 On a separate but related note, the Fountains of Bellagio are not fed by Lake Mead, instead, the source of the water is a well located on site. Contrary to popular belief, the fountains of Bellagio are also not fed with gray water, or waste water reclaimed from use at the resort.
To combat the ill effects of exterior water use on Lake Mead's level, major resort operators are stepping up. MGM Resorts spoke to members of the US Senate about their commitment to conserving Lake Mead pointing out that "At MGM Grand Las Vegas, 100 percent of the property exterior irrigation and 60 percent of property cooling tower water needs are provided by well water sources. Just south of the MGM Grand, at the Mandalay Bay Shark Reef Aquarium, 90 percent of the Shark Reef water is reused and recycled, resulting in over 2.1 million gallons of reclaimed water annually."
See Also: MGM Resorts is also making strides to use solar energy.
On that same note, Caesars Entertainment "saved an estimated 1 Million gallons of water by switching to drought-tolerant landscaping at Caesars Palace". As part of the transformation, 20,000 square feet of living grass in front of Caesars was swapped out for artificial turf conserving an estimated 1 million gallons of water annually. Since 2008, Caesars has decreased their water withdrawal from Lake Mead by 11%.
While there is still work to do in preventing permanent water loss outdoors at casino resorts, it is comforting to know that your daily shower, bathroom break and water consumption is minimally impacting Lake Mead. While we keep our fingers crossed for heavy snow in the Rockies to feed the reservoir, it's comforting to know that resorts are increasingly conscious of their water use to minimize their impact on Lake Mead.
On the topic of Lake Mead, ensure you make the day trip at some point! It's worth the drive.