Disclaimer: I am frugal to a fault. Generally, you'll find me eating on the low end of the Vegas buffet spectrum making tough choices between blue and yellow slop. I am not an elite food critic. I couldn't tell you the difference between McDonald's BBQ and a reduction sauce nor am I the type to dine at fancy restaurants serving tiny food.
Recently, however, I traversed to the other end of the spectrum to tackle the difficult assignment of comparing Cosmopolitan's Wicked Spoon and Bacchanal Buffet at Caesars Palace. The objective is clear – to determine the best high-end buffet in Las Vegas. To clarify, we aren't looking for the best buffet value in Las Vegas, we're just looking at the best buffet options regardless of price.
See Also: What is the $20 trick and should you attempt it when checking into your Vegas hotel?
While I may not be a food expert, I know a fat snow crab leg when I see one and I sure as hell know good taste. Let's eat!
Bacchanal Buffet at Caesars Palace
We dropped in for the dinner buffet at Bacchanal, which runs from 3 pm – 10 pm and will cost $54.99 on weekdays and $64.99 on weekends. The 600-seat buffet overlooks the beautiful Garden of the Gods Oasis Pool Complex at Caesars which we think of as one of the finest pool complexes in Las Vegas.
We didn't opt for it, however, Bacchanal offers you the option to upgrade your meal to include all you can drink beer, wine, and mimosas for $15.
One of our favorite aspects of Bacchanal was the live-action taco station. Your choice of marinated pork, chicken, or steak is cooked while you wait and placed on a heated tortilla. Next to the grill you'll find all necessary toppings you would consider placing on a taco. Absolutely delicious.
Bacchanal offered many options in single-serve dishes which not only gives a "classy" more personalized feel to the buffet experience but it drastically aided in the presentation of food options.
If seafood is your jam, Caesars has you covered with options ranging from sea snails, shrimp, tiger prawns, crab claws, and snow crab legs.
Some of our favorite food items were the desserts. First, they are gorgeous. I almost felt guilty destroying them for my own short term culinary enjoyment. Below are some of our favorite dessert items at Bacchanal Buffet.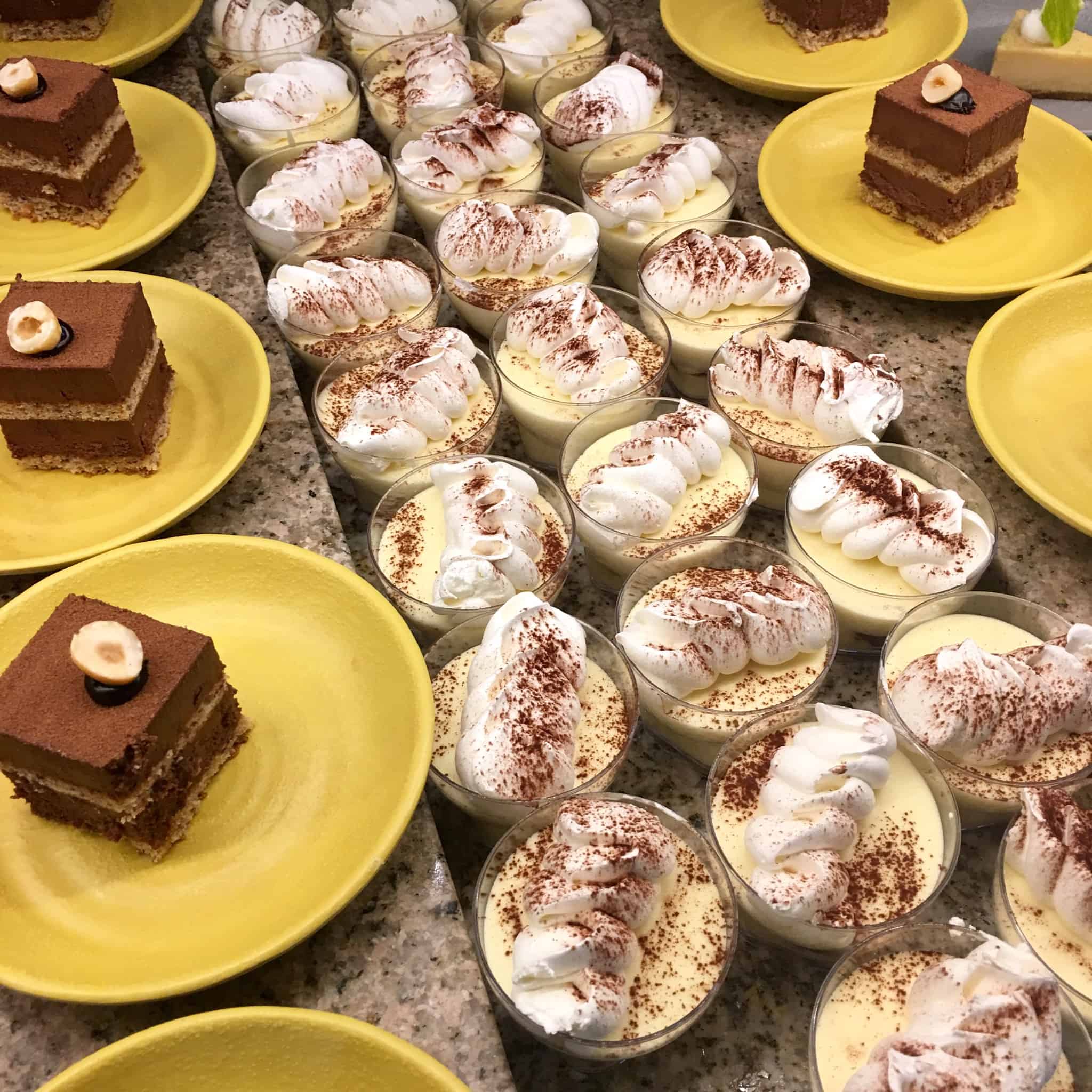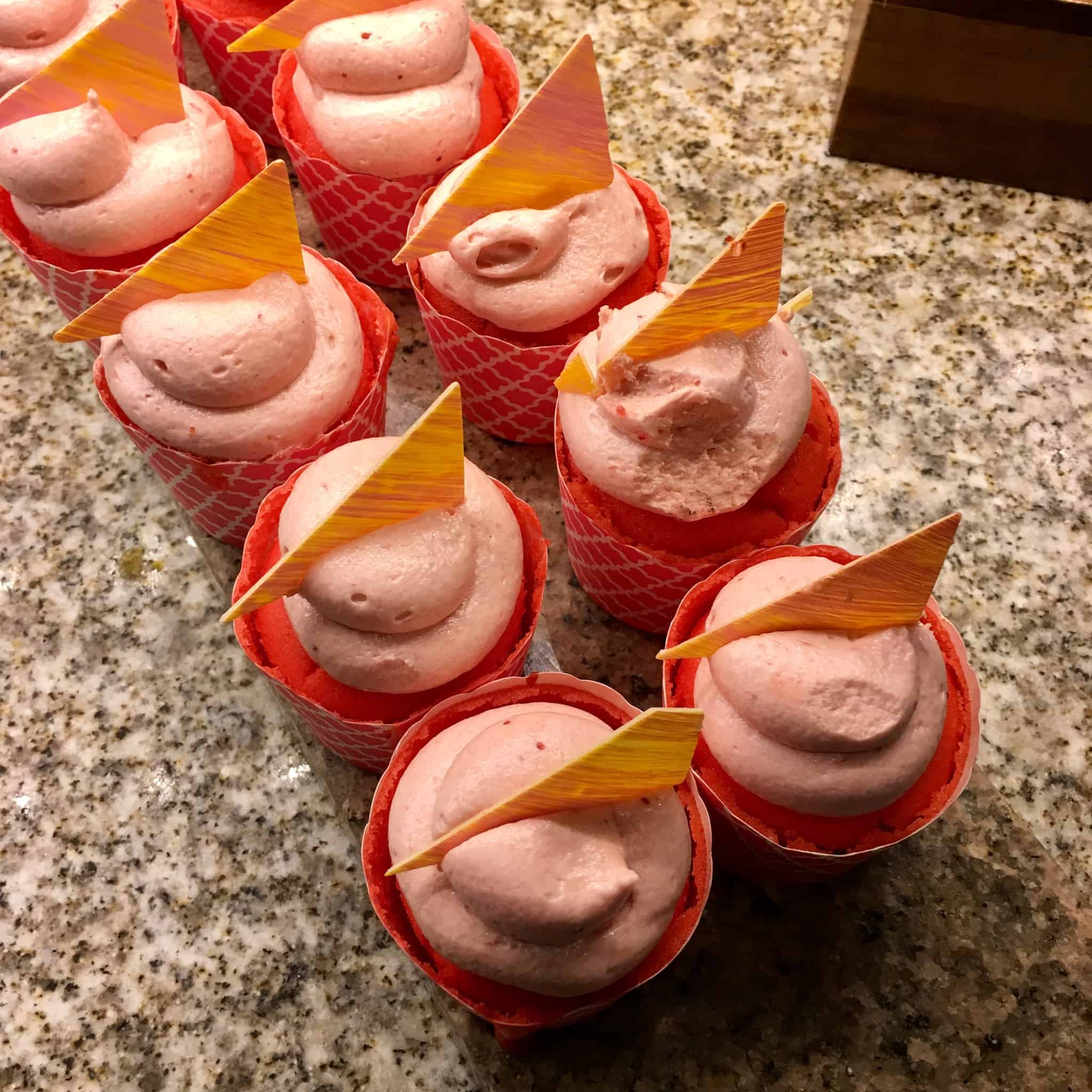 Another highlight was the surprisingly flavorful bone marrow (pictured below) which is difficult to find at lesser Las Vegas buffet options.
Is Bacchanal worth the money?
No doubt. When compared to a "mid-tier" option on the strip (Think Harrah's, Paris, or other similar properties) there is no comparison. Bacchanal is well worth the additional $20 or so dollars.
Wicked Spoon at Cosmopolitan
Also regarded as one of the premier buffets in Las Vegas, Wicked Spoon is known for its upscale offerings you won't find at just any buffet. While you will find the staples like snow crab legs, prime rib, and even pizza, you'll also have the opportunity to try bone marrow, squid ink pasta, duck wings, and even wild boar. Wicked spoon represents a Las Vegas buffet experience that is in a tier of its own.
Wicked Spoon also offers an all you can drink package. The add on will set you back $17 and includes Bloody Marys, house wine, or Bud Light. Drink quickly as there is a 2-hour limit imposed on the bottomless option.
Dinner at Wicked Spoon runs from 5 pm-9 pm Monday – Thursday and from 3 pm–9 pm Friday – Sunday The dinner buffet will set you back $42 on weekdays and $49 on weekends. Kids 5-10 years of age are always $20.
As with Bacchanal, we really enjoyed the impeccably garnished individual servings at Wicked Spoon. Small, individualized portions give a more upscale buffet feel as compared to large trays found at lower end destinations which are reminiscent of a high school cafeteria.
Our favorite food item at Wicked Spoon by a mile and a half was the Shrimp & Grits with Bacon, Chives and "Beer Blanc". The combination of flavors popped and I consumed 8 of the individual servings.
If you are a macaroni and cheese fan, which I'm forced to be as a father, you'll love the more "grown up" variations of this classic dish. Wicked Spoon's Angry Mac and Cheese kicks the heat up a notch and is spectacular. The four cheese truffle mac, pictured below, may also be up your ally if spice doesn't agree with you.
Also impressive was Wicked Spoons more exotic dishes such as Squid Ink Pasta and Wild Boar.
And of course, if you are looking to get your seafood fix, Wicked Spoon has you covered.
If your tastes are more bland or traditional, Cosmo has you covered with a variety of bread, cheese, and meat options to include a fantastic prime rib and even french fries.
Save room, because Wicked Spoon has an array of dessert options ranging from traditional cakes, cookies and ice cream all the way to chocolate-dipped strawberries.
Is Wicked Spoon worth the money? An unequivocal yes. Between the unique food offerings found nowhere else and fresh takes on traditional dishes, our opinion is that Cosmopolitan's Wicked Spoon is the best top-end buffet option in Las Vegas, edging out even Bacchanal at Caesars.
Both of these top Las Vegas buffet options are worth your time, money, and represent a striking upgrade from their mid-tier competition. Make time for both, but if you only have time to hit one, make it Wicked Spoon – a can't miss Vegas buffet experience.
Related: What items should be on your Las Vegas packing list? We discuss some commonly overlooked items.