The lights and promise of Las Vegas attract some… interesting people (to put it lightly).
With over 40 million visitors flocking to Sin City every year, there's a LOT of "weirdness" to see.
In fact, stting back to watch people from every walk of life mill past has easily become one of my favorite free things to do in Vegas.
Odd things you can see while people watching include individuals under the influence of various chemicals, outrageous outfits, couples feuding over gambling losses, street performers, and so much more. It's endless entertainment.
Over the years, I've stumbled across some prime places to people watch in Las Vegas – Here are some of my favorite restaurants & bars to kick back and let the world pass by in front of me.
Best Places to People Watch on the Strip
Bar Outside of Flamingo: Located on the south side of Flamingo (near Cromwell), this outdoor bar is perfectly positioned for people watching, as it overlooks a main walkway along the Strip.
Here, you'll have a great view of passers-by and street performers that post up along the busy walkway.
My wife and I once watched a prostitution sting operation bust John after John, resetting after each.
On another occasion, we watched a gentleman with a sign that said "Kick me in the nuts for $20" repeatedly get kicked in the gonads. Not that amusing to be honest. Just painful to watch.
Margaritaville Outdoor Bar: Also at Flamingo, Margaritaville offers outdoor seating overlooking the Strip that serves as a great people watching perch.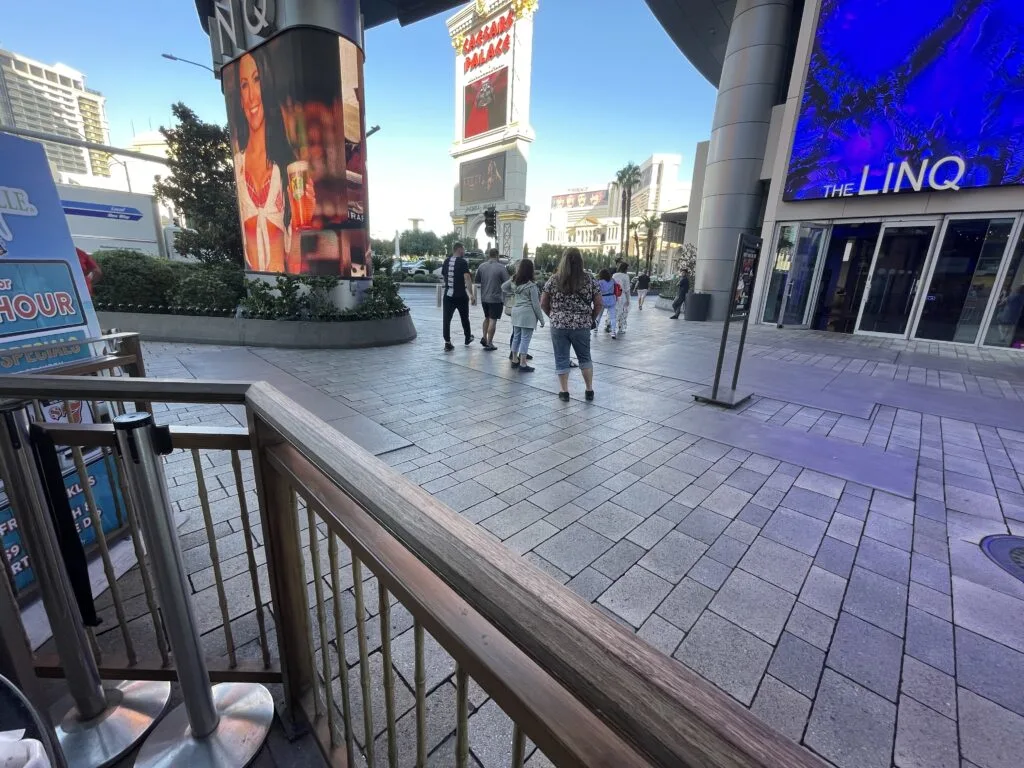 Beer Park at Paris: Found on the rooftop at Paris, getting a seat on Beer Park's front railing will give you a great people watching vantage point of the Strip below.
As a bonus, you'll also have a great view of the Fountains of Bellagio across the street.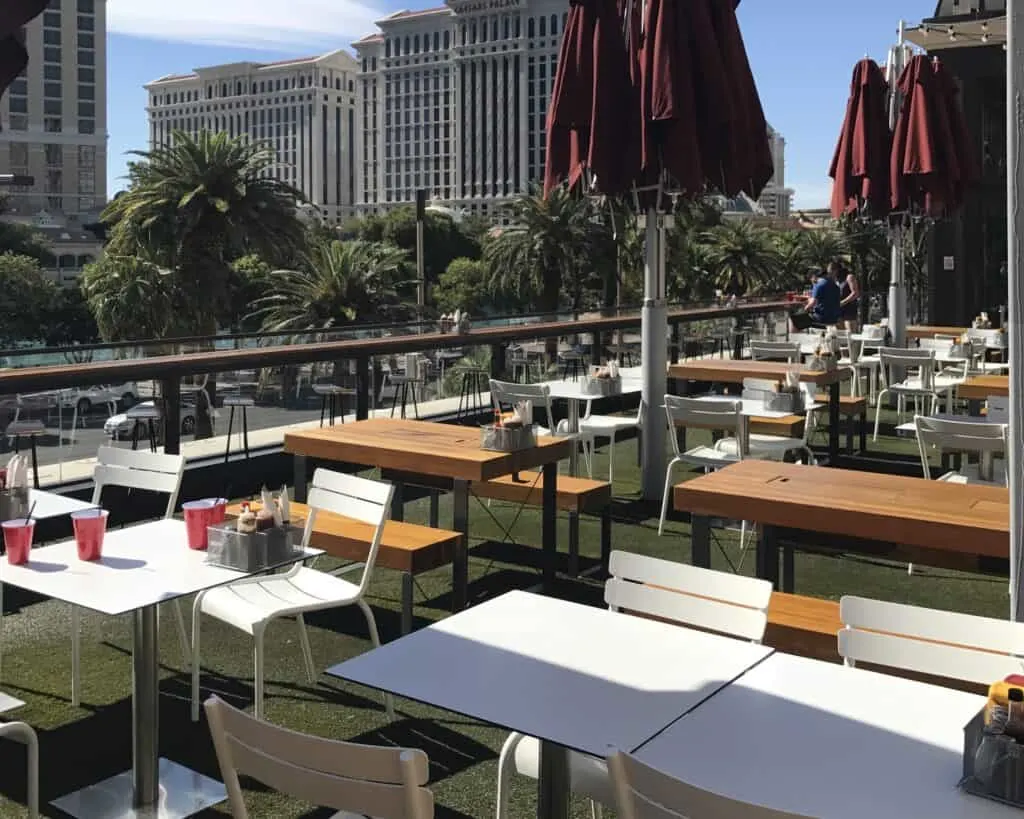 Mon Ami Gabi and Hexx at Paris: Both restaurants offer outdoor seating RIGHT along the Strip, and you'll have the opportunity to see the throngs pass by as you dine and/or drink.
Stop into Alexxa's for brunch and enjoy bottomless mimosas for a small upcharge!
AmeriCAN at LINQ: The outdoor seating area at AmeriCAN, a bar specializing in canned beer, is prime people watching real estate.
Other bars along the LINQ promenade like Virgil's BBQ and Chayo Mexicano also offer outdoor seating with a view of folks walking by.
Both Virgil's and AmeriCAN offer solid happy hour deals.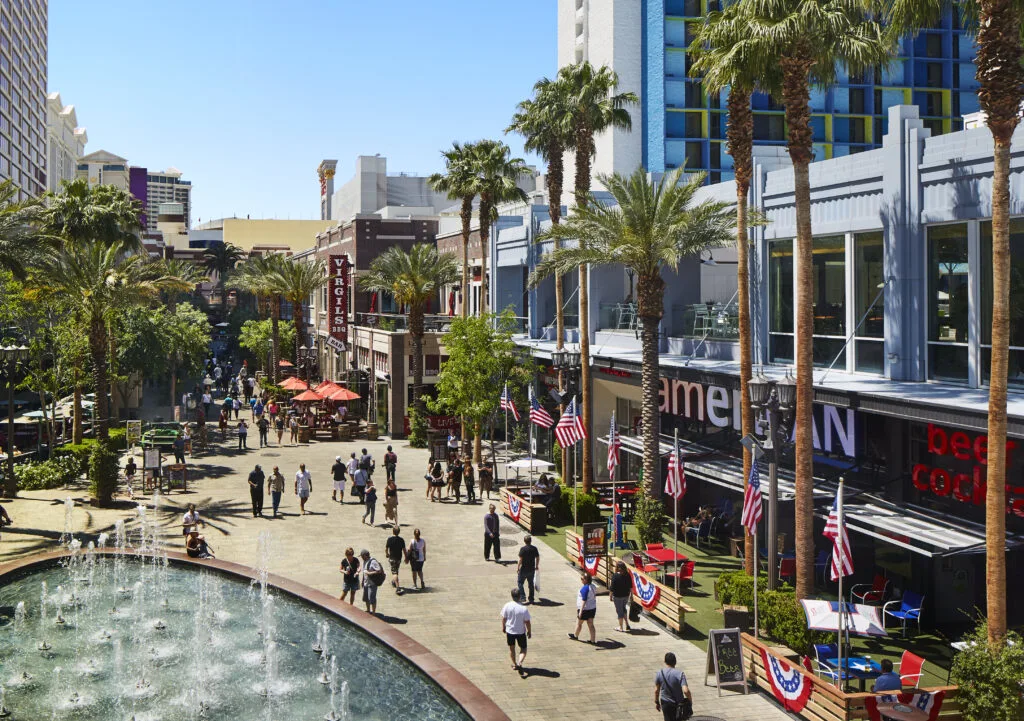 El Segundo Sol at the Fashion Show Mall: A recent discovery of mine, El Segundo Sol is a Mexican restaurant located in front of the Fashion Show Mall overlooking the Strip.
While most seats at the restaurant don't offer good people watching, a number of seats found in the bar area do. Grab a table right along the railing to watch the world pass by.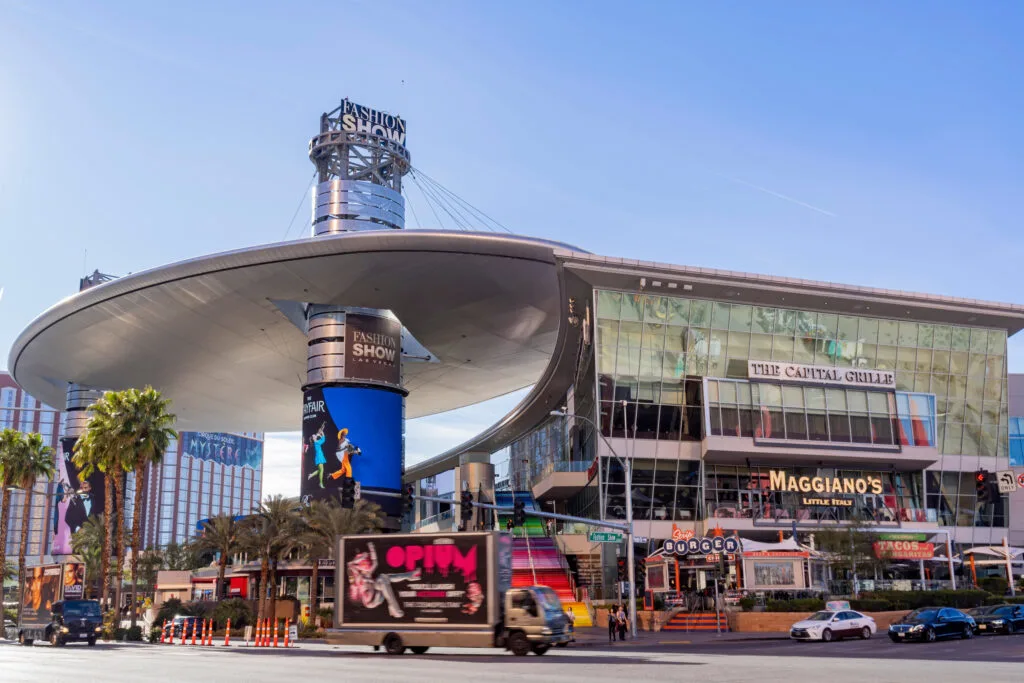 Guy Fieri's Patio at LINQ: Nestled between LINQ and Harrah's, the walkway outside of Guy Fieri's is among the busiest in Las Vegas.
In addition to throngs of people, there are commonly a number of street performers (of varying talent and costume quality) that'll be visible. Ensure you request outdoor seating, as you won't have a view if stuck inside.
Margaritaville at Flamingo: The outdoor bar at Margaritaville is on the street level and overlooks both the Strip and LINQ promenade, which is a pedestrianized walkway between LINQ and Flamingo. There, you'll see throngs of people passing by in addition to street performers and buskers.
The outdoor bar is physically separate from the rest of the Margaritaville restaurant. The entrance can be found on the north side of Flamingo facing LINQ.
I grabbed breakfast there recently – You're guaranteed to see something interesting.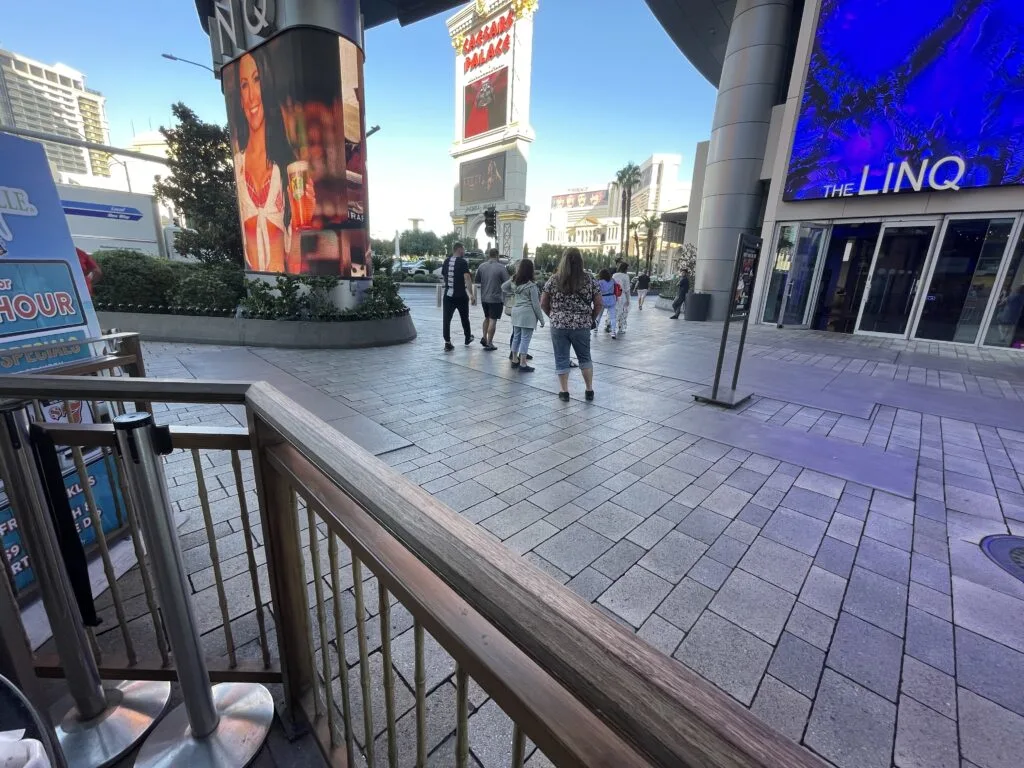 Re:Match at LINQ: Found in the front facade of LINQ, Re:Match is a video game-themed bar with a line of outdoor bar seating right on the Strip. You'll be so close to the people you're watching that you can reach out and touch 'em (not recommended).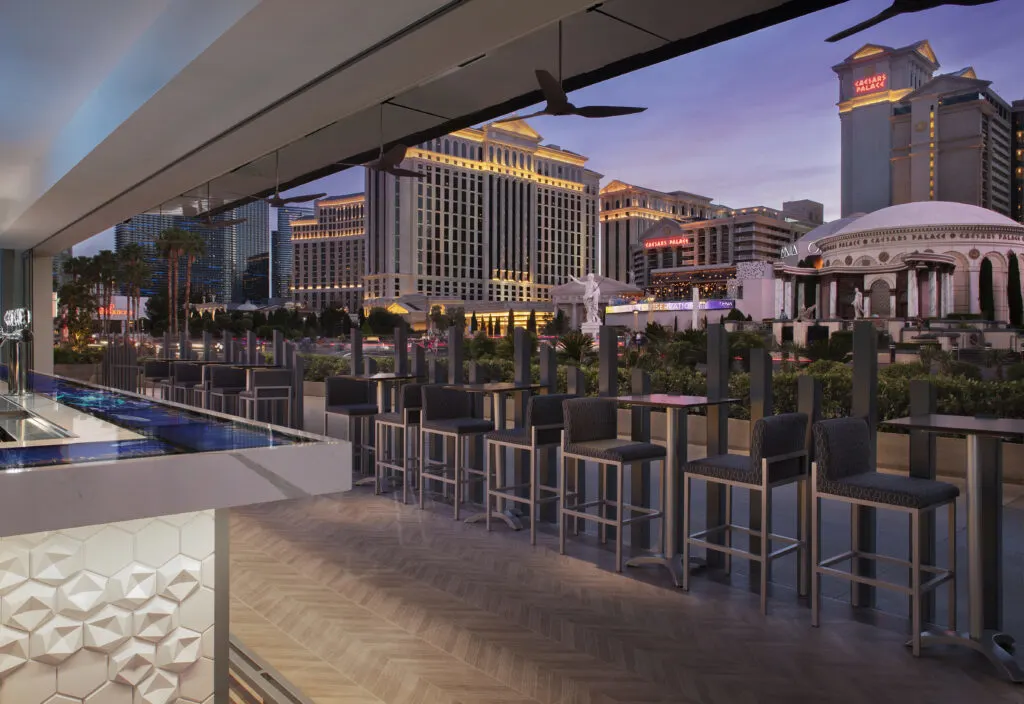 Best Places to People Watch on Fremont Street
If you've been to Las Vegas in the past, you know that while people watching on the Strip is great, Fremont Street dials it up a notch.
That difference is mainly due to the subset of society that downtown Las Vegas attracts vs. the Strip.
It's a bit grimier and rough around the edges… which makes for great people watching.
Whiskey Licker Up at Binion's: Easily qualifying as my top people watching spot on Fremont Street, the second-floor bar has seating along the windows that overlook the Fremont Street Experience below.
You're guaranteed to see some weirdness.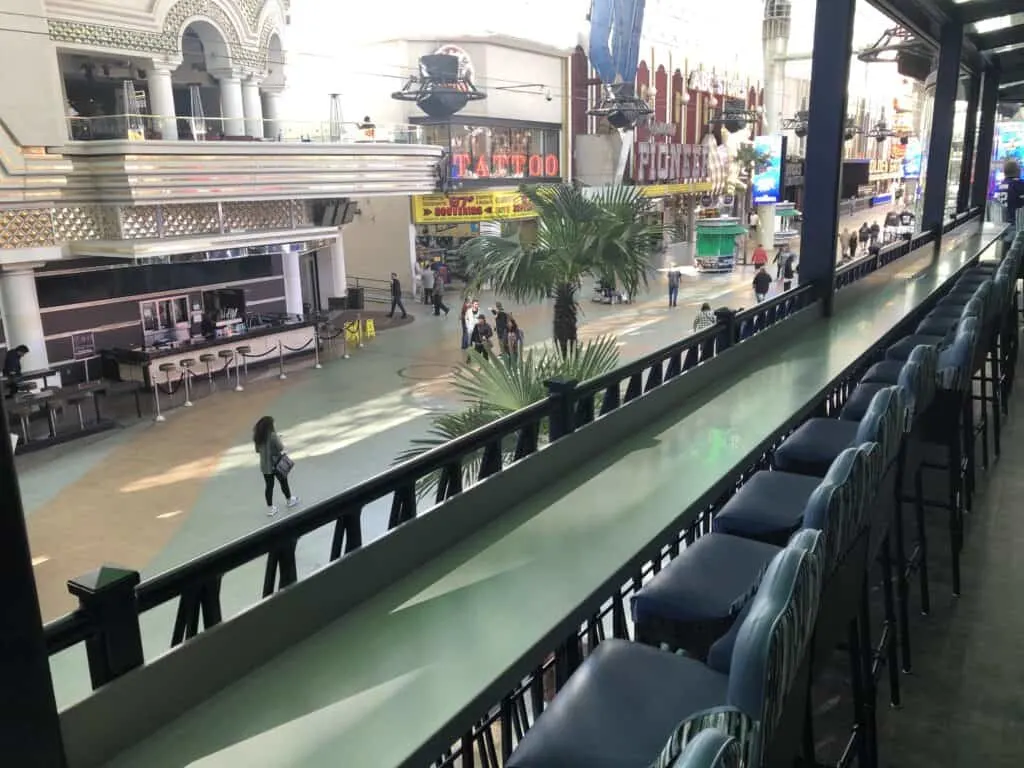 Hennessey's Tavern on Fremont Street: A number of tables are available on an outdoor patio at Hennessey's, which serves a selection of Irish and American food in addition to drinks. The patio overlooks Fremont Street and the people walking along it.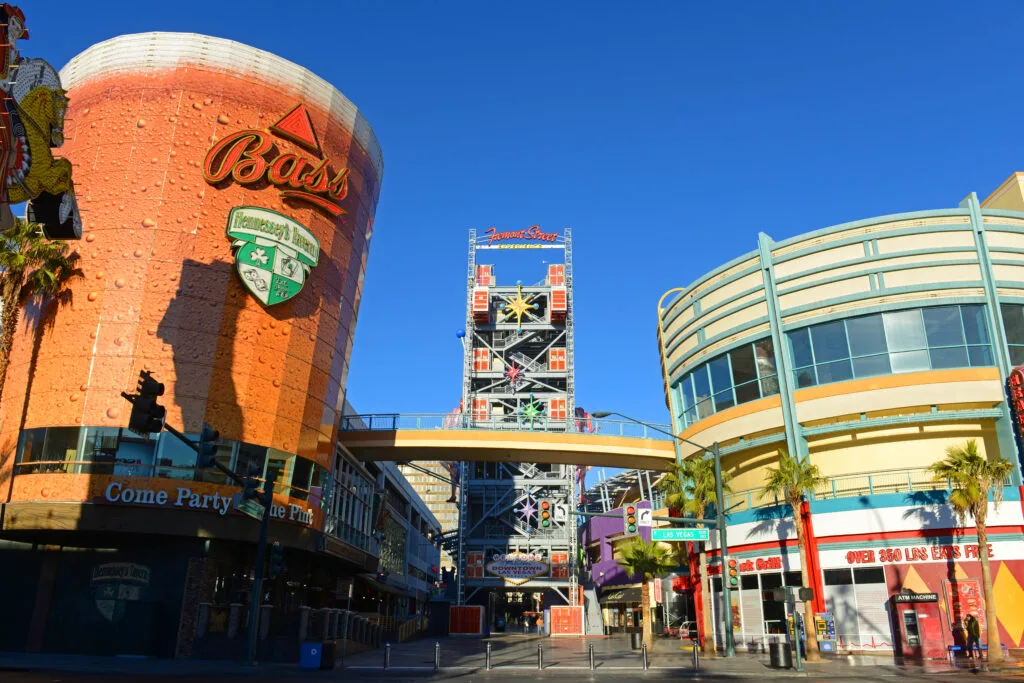 Outdoor Bars Along Fremont Street: Ground-level bars outdoors along Fremont Street like the Patio Bar at 4 Queens, Whiskey Licker at Binion's, Stage Bar at Golden Nugget, and Cowgirl Up Catina at Binion's all offer some of the best people watching in Las Vegas.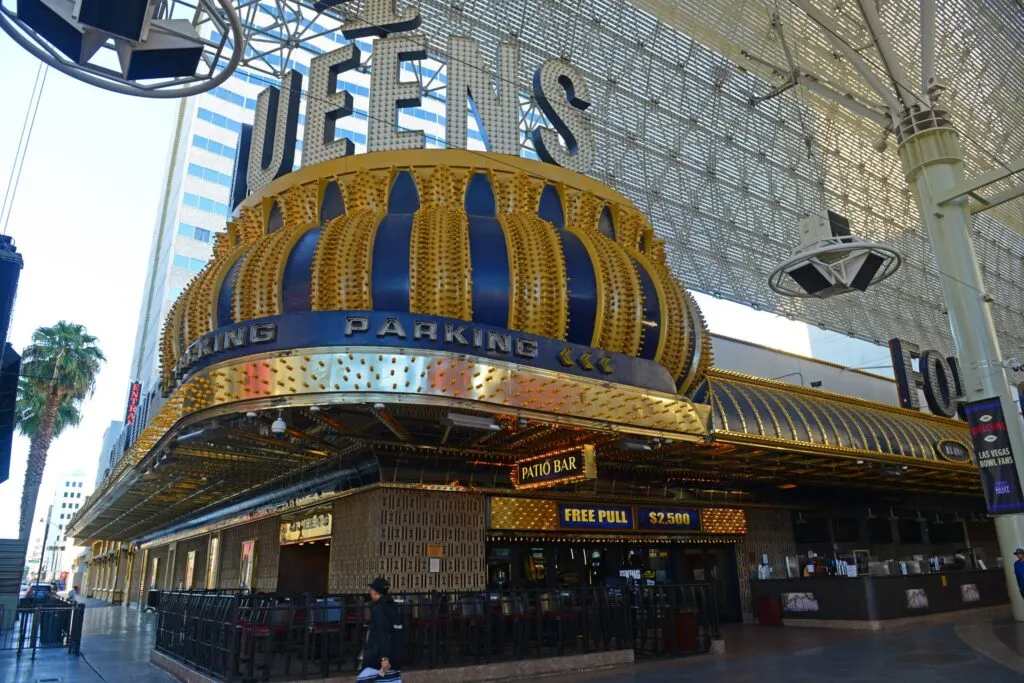 The only knock on the outdoor bars is that they can be LOUD. Both the noise from the Fremont Street Experience's speakers and street performers can make conversation difficult if not impossible.
Carousel Bar at Plaza: A new bar located under Plaza's dome, Carousel Bar allows you to take in the madness of Fremont Street with a cocktail in hand.
My favorite aspect of Plaza's Carousel Bar is that the deafening noise present at other bars along Fremont Street isn't present – You can actually have a conversation.
Hopefully, I was able to help you identify a spot to people watch in Las Vegas that works for you and your group!
Do you have a "Best people watching spot in Las Vegas" that I missed? Make sure to leave it in the comments!
Related: Looking for more itinerary inspiration? Check out the following:
Feature Image Credit:©ivantagan/123RF
I'm a former software salesman turned Vegas aficionado. While the craps table is my preferred habitat, I pull myself away to explore new attractions, shows, restaurants, and outdoor activities around Las Vegas with the intent of sharing my experiences.
Ultimately, I just want to help folks plan a better trip and save a few bucks in the process.