What is a Stay Well room? It's a question commonly posed in Vegas-focused social media groups with many wondering if they're worth spending up for.
Stay Well rooms are offered by hotels under the MGM Resorts umbrella in Las Vegas and offer wellness amenities that your typical hotel room wouldn't.
The offering is intended to appeal to guests that are focused on physical well-being, something I applaud as most visitors to Las Vegas are looking to partake in more self-destructive activities.
Seriously, give yourself a pat on the back if you're one of the few that intend to focus on your health while in town.
I recently had the opportunity to stay in a Stay Well Suite at Delano and figured it would be helpful to detail what those additional wellness features are so you can decide if a Stay Well room is worth the extra cash outlay (typically an additional $15 – $30/ngiht depending on the resort and travel dates).
Typical Unique Stay Well Room Amenities
While some of the features and amenities listed below are incorporated into all Las Vegas Stay Well rooms, some are only available at select resorts.
Check the room details thoroughly before booking to ensure your desired amenities will be available.
As a general rule, Stay Well rooms at high-end resorts like Aria, Vdara, and Bellagio offer more wellness amenities than lower-rung options like Excalibur and Luxor.
Air purification, Vitamin C shower infusion, enhanced cleaning, aromatherapy, and the Cleveland Clinic newsletter appear to make it into every room in the market, however.
Air Purification
As we emerge from the pandemic, there's never been more emphasis on the importance of indoor air quality.
Stay Well rooms are equipped with an air purification device that helps filter out pollutants like allergens, microbes, and viruses.
Related: Speaking of clean air, here are your smoke-free casino options in Las Vegas.
Vitamin C-Infused Showerhead
Shower water is infused with vitamin C, which counters the chlorine in the water and promotes healthy hair and skin.
Unfortunately, an inquiry submitted to MGM Resorts about whether this could slow the expansion of my bald spot has gone unanswered. I kid, I kid.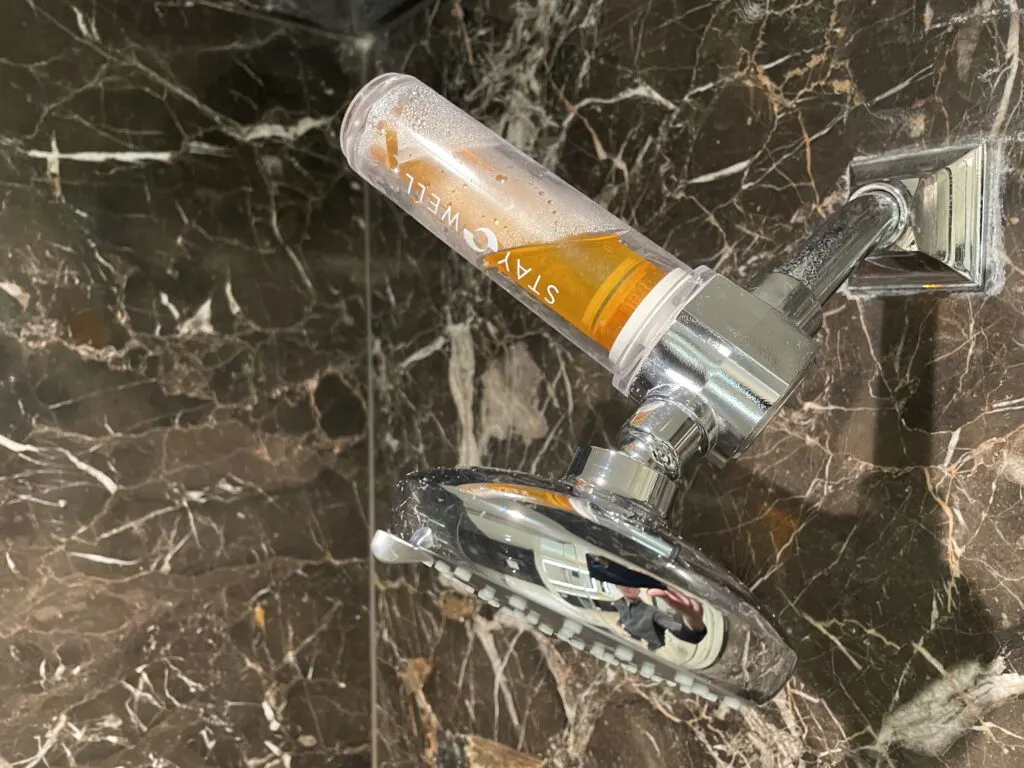 Stay Well Mattress
Mattresses in Stay Well rooms are differentiated from those used in the rest of the resort.
Absent are "Harmful VOCs, toxic chemicals and off-gasses" according to a press release. I don't know what most of those are, but assume it's good that they aren't hanging out in your mattress.
The mattress also aims to provide additional posture support and reduce pressure points to provide more restful sleep.
While I certainly enjoyed my experience in a Stay Well suite at Delano, I can't say that I noticed a huge difference in mattress comfort level when compared to other rooms I've stayed in.
Water Purification
Pretty self-explanatory, but rooms are equipped with a system that reduces water contaminants such as chlorine, pesticides, etc.
Enhanced Cleaning Methods
In a post-pandemic world, effective cleaning practices are essential. Stay Well rooms are uniquely cleaned with non-toxic chemicals and UV lighting that eliminates bacteria and viruses.
Cleveland Clinic Newsletter Access
Study up on topics like Stress management, sleep, nutrition, and dietary wellness courtesy of the Cleveland Clinic.
A Light That Simulates Dawn
A dawn simulator is commonly located on the nightstand next to the bed giving you the ability to naturally and gradually wake from sleep.
Aromatherapy
Found in both guestrooms and hotel hallways, soothing scents are intended to put you in a state of relaxation.
Soundscape Machine
Some Stay Well rooms are equipped with a Soundscape white noise machine that is intended to aid in sleep.
Night Lighting
Some rooms offer LED night lights to illuminate pathways without interfering with melatonin levels.
Are Stay Well Rooms Worth the Money?
Depends on how passionate about wellness you are.
Personally, I doubt that a Vitamin C-infused shower and air purification are going to cancel out the 12 Coors Lights that I plan to drink before noon. For me, the amenities aren't worth the upcharge. I'm just not enough of a health nut.
During my recent stay, I found the big perks offered as part of the Stay Well room like air purification, water filtration, and vitamin C water infusion to be unnoticeable.
That's not to say they weren't working in the background to improve my health… It just consciously didn't affect my stay.
With that being said, I understand that there's a large segment of the population that takes wellness and health extremely seriously.
Especially with the pandemic lingering, things like enhanced cleaning and air purification could be an attractive perk. If you fall into that bucket, then upgrade away!
Which Hotels Offer Stay Well Rooms
All of MGM's Las Vegas resorts listed below currently offer a selection of Stay Well rooms.
I'll link out to each resort's Stay Well offerings so that you are able to quickly compare options and pricing.
Related articles for the health conscious:
I'm a former software salesman turned Vegas aficionado. While the craps table is my preferred habitat, I pull myself away to explore new attractions, shows, restaurants, and outdoor activities around Las Vegas with the intent of sharing my experiences.
Ultimately, I just want to help folks plan a better trip and save a few bucks in the process.