FlyOver Las Vegas is among the newest things to do on the Strip and can be found across the street from Park MGM, just north of MGM Grand.
The attraction gives riders the ability to "fly over" various landscapes and parts of the world, which includes the Canadian Rockies, Iceland, and the American west.
In an effort to enhance the experience, and make things more realistic, FlyOver Las Vegas stimulates all 5 senses with simulated wind, mist, and even scents.
Of course, the massive video screen is the star of the show, measuring 52.5 feet wide. Spherical in shape, the screen wraps around and below the riders, who are seated in a bank of seats that tilt left, right, up, and down along with the direction of the flight.
I finally had the chance to swing by to experience FlyOver and look forward to sharing my thoughts!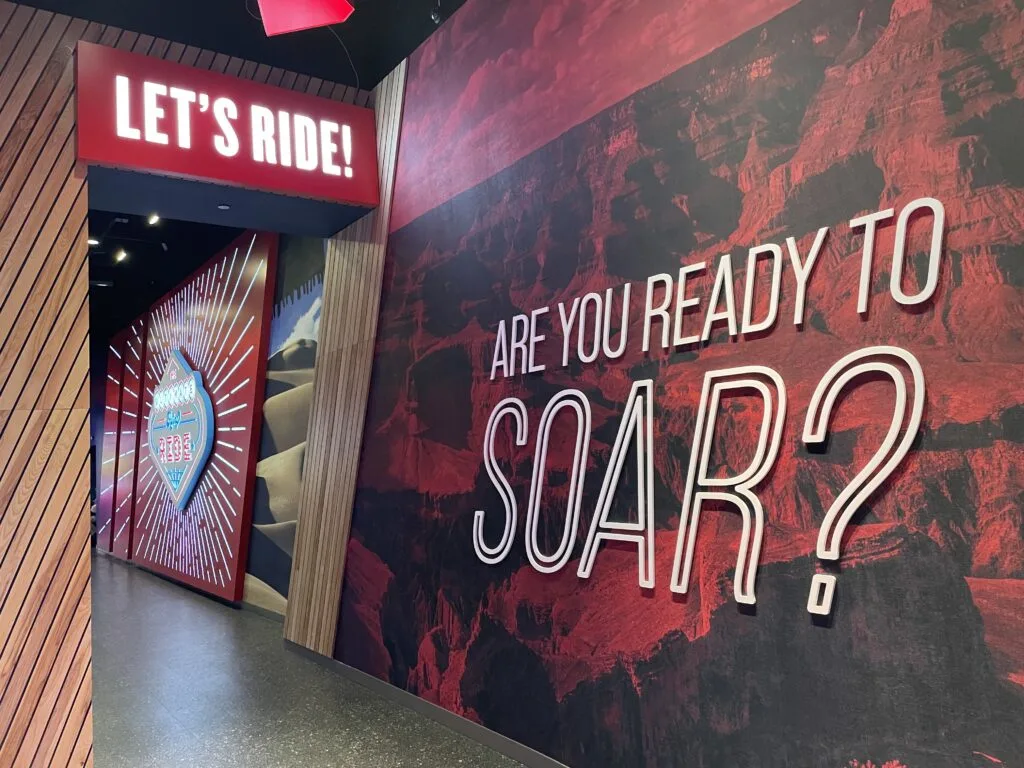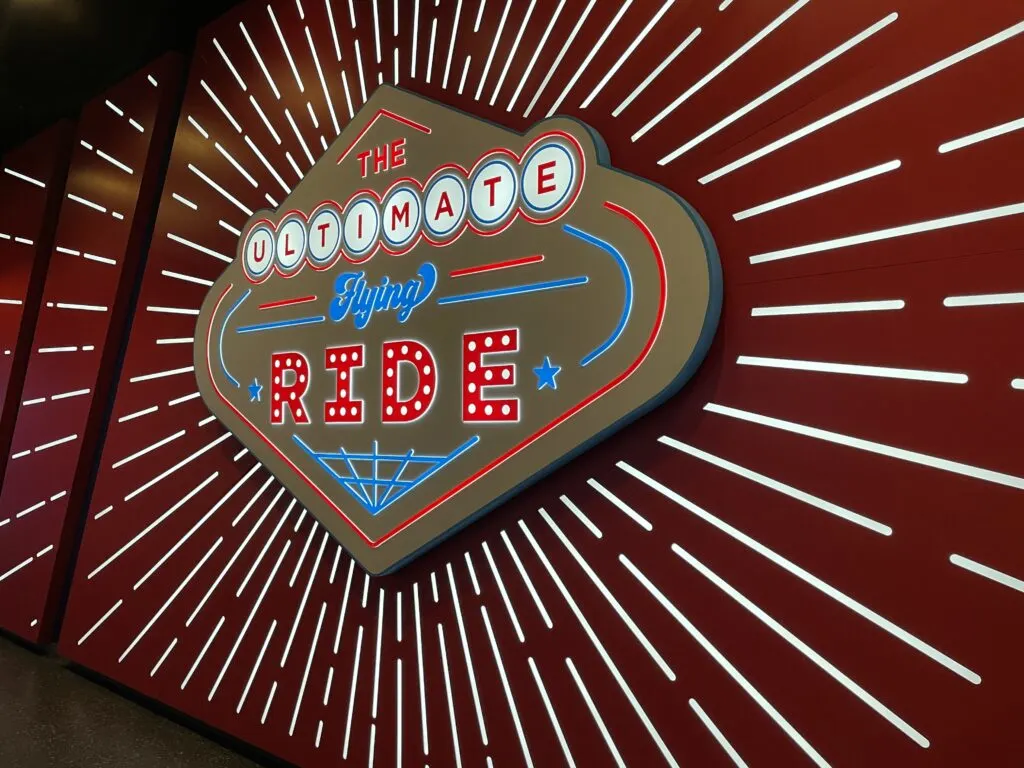 FlyOver Las Vegas Experiences
FlyOver Las Vegas offers 3 distinct flight experiences that explore different parts of the world.
Iceland: Known for other-worldly scenery, FlyOver's trip over Iceland will allow you to explore volcanoes, fjords, mountains, glaciers, and more.
The Real Wild West: Take flight over the Las Vegas Strip, Lake Tahoe, desert landscapes, mountainous terrain, the Hoover Dam, and the Golden Gate Bridge among other landmarks.
Windborne – Call of the Canadian Rockies: "Soar above the storms" in the Canadian Rockey Mountains which are breathtakingly beautiful. There, you'll navigate mountainous peaks, tranquil bodies of water, and icy chasms.
My Experience at FlyOver Las Vegas
I arrived at FlyOver Las Vegas at 9:45 am, 15-minutes before their first flight of the day.
I was surprised to find the line to buy tickets vacant, stepped right up, and asked the employee which show she would recommend. She told me that Windborne: Call of the Canadian Rockies, their newest production was her favorite.
She let me know that we'd be seated about 5 minutes prior to our flight's scheduled start time, so I made my way back to where the show would take place.
In the waiting area was a bar, which was empty at 10 am, but looked like it could be a fun way to kill time before your show. FlyOver even sells a ticket deal that includes a pre-flight cocktail if that interests you.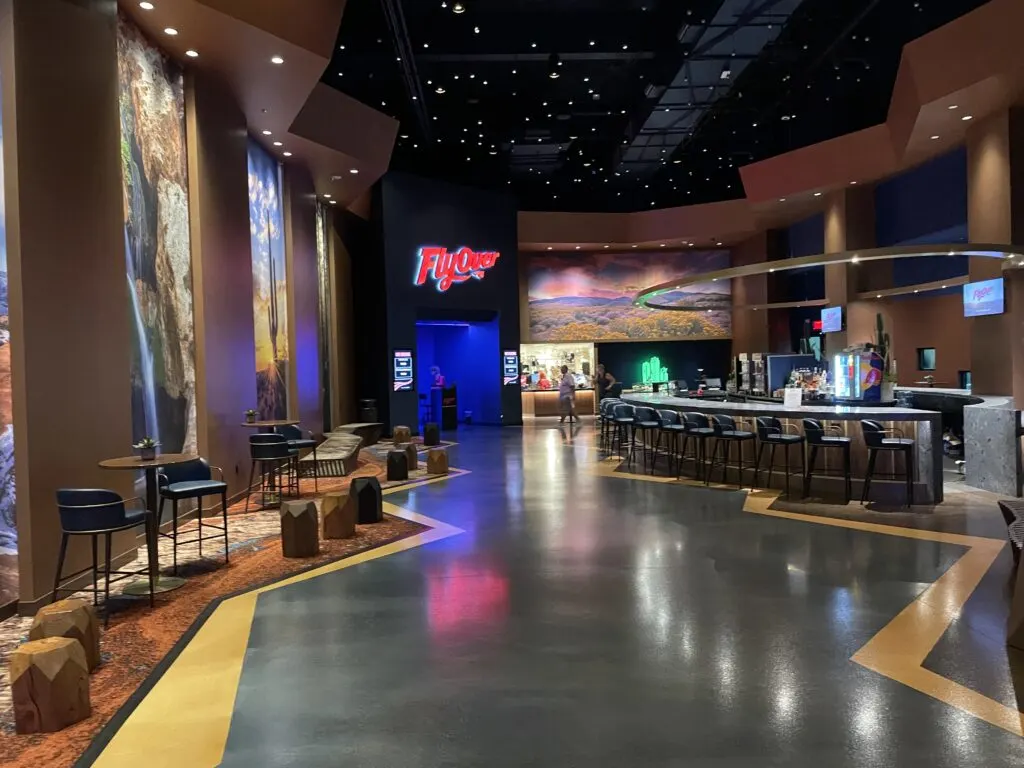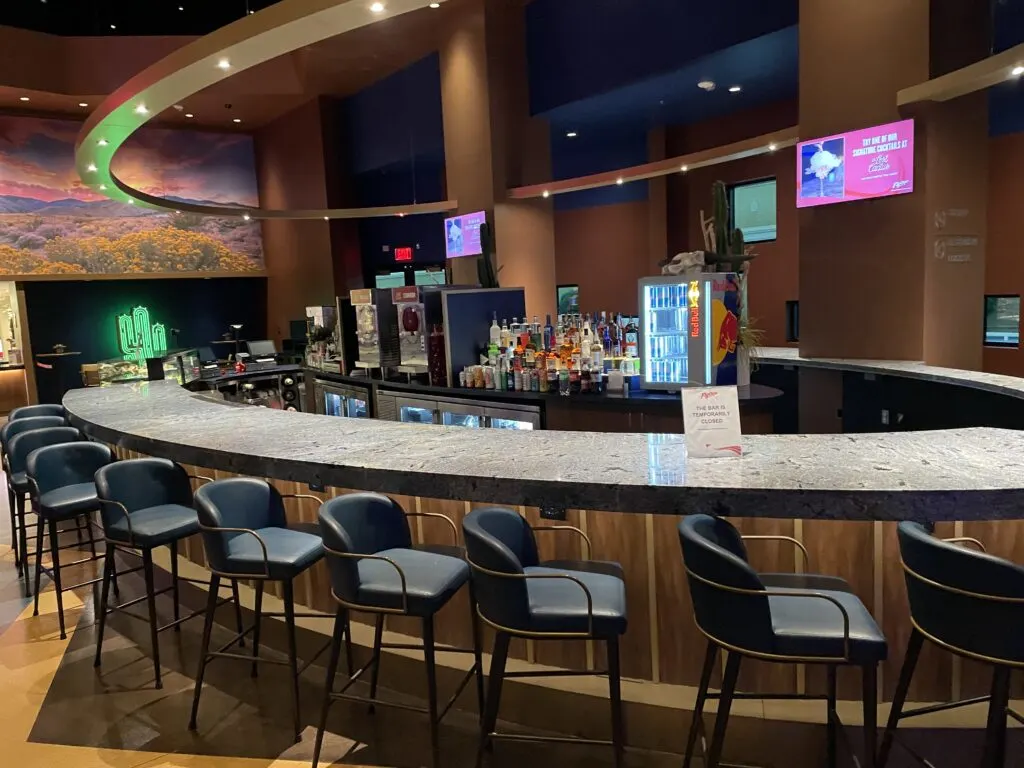 When it was showtime, my group and I were escorted into a green screen souvenir photo opportunity. I was solo, however, and thought a souvenir pic would be odd, so I skipped it.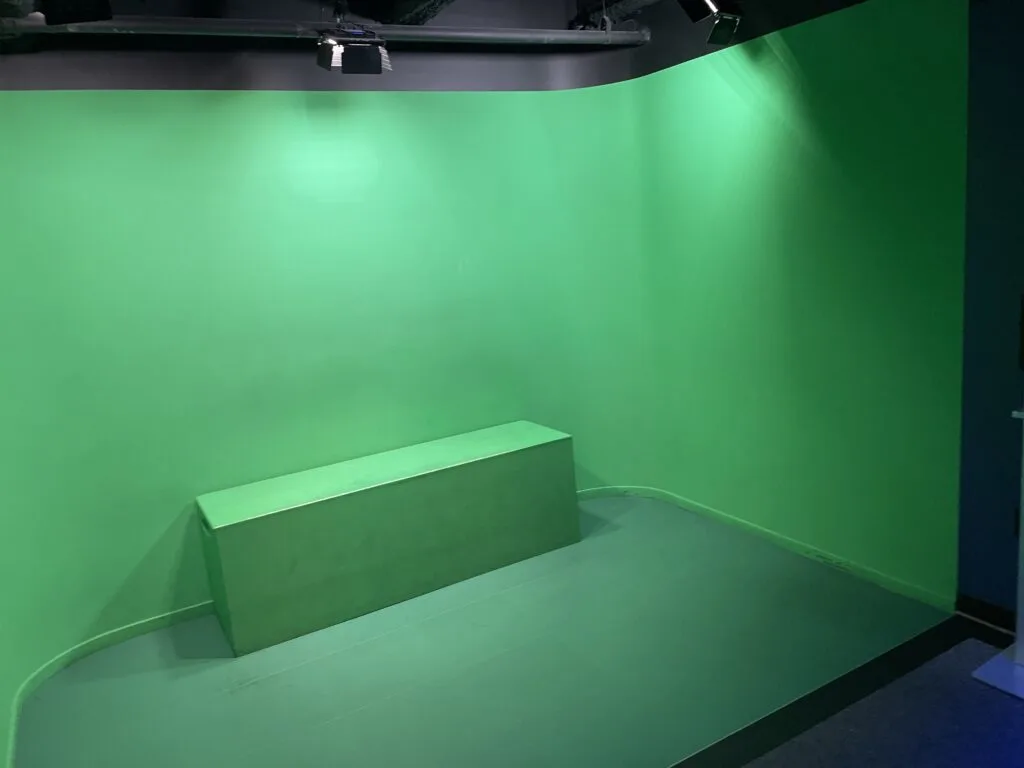 Once past the green screen, we were escorted into the theater-like room pictured below. The screen played scenes of a man at a fire, presumably in the Canadian Rockies, which set the tone as we waited for our entire group to trickle in.
My group was made up of 3 total people which made for a nice, uncrowded, experience. While it had me concerned about FlyOver's longevity, the early morning show time could have had more to do with the sparse crowd than the attraction's popularity.
When we had everyone, we made our way into a new circular room that had a 360-degree screen covering all walls in addition to a smaller circular screen in the center of the room. I'd share my own pictures, but at this point, they were expressly prohibited.
There, a video played that set the tone for the FlyOver experience we were about to have. Not only was the backstory engaging, but it was visually stunning theatrically.
While I wasn't able to snag a picture myself, here's an image they provided, which should help illustrate what I'm talking about.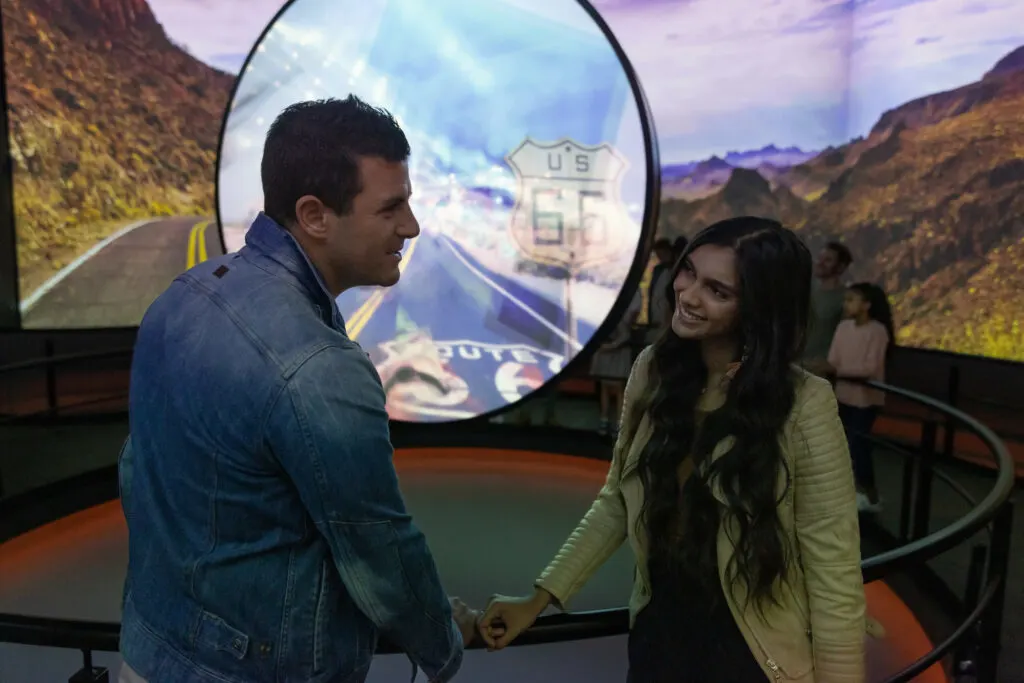 Next, was the main attraction. The flight.
For the flight, my group sat in the row of seats pictured below (yea, I snuck a pic. Don't rat me out!).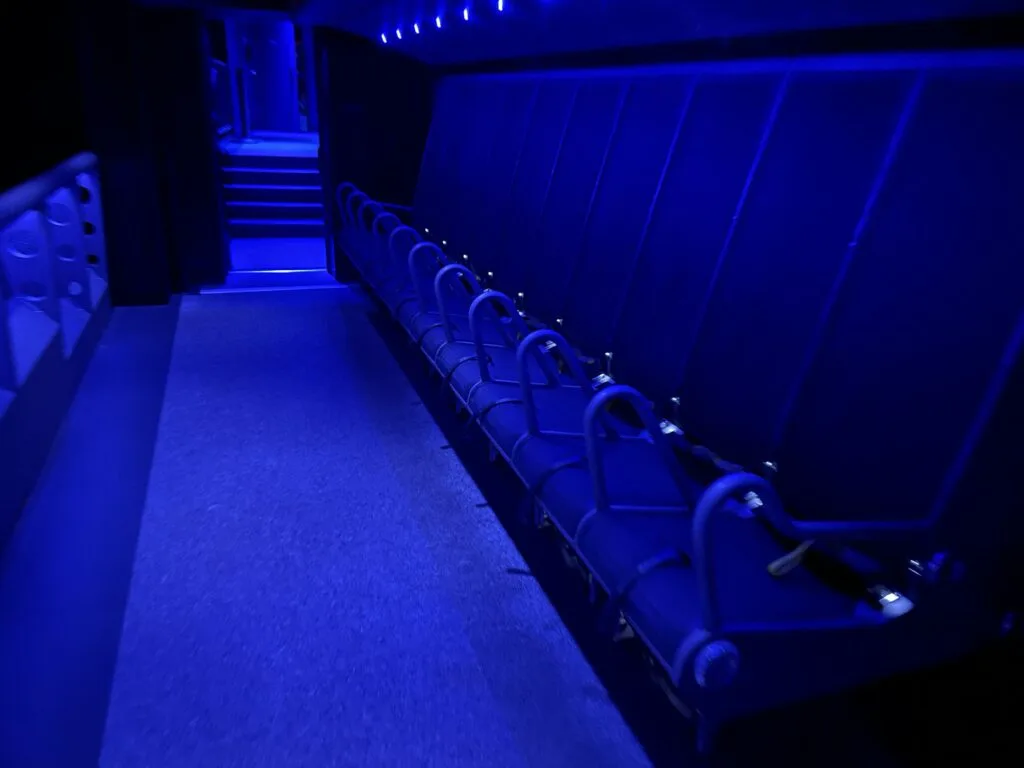 We were seated, fastened in, and instructed to place all loose items in a basket below the seat.
Then, in total darkness, the gate in front of our seats was lowered, and we were extended out over the spherical screen. At this point, we were suspended in the air about 20-30 feet above the screen below us.
The ride itself was pretty darn thrilling. I have a moderate "heights thing" and there were a few occasions where I had that heights-induced pit in my stomach. It's amazing how believable they can make a "change in altitude" feel, both going up and coming back down toward Earth.
In addition to the scenery, which was spectacular, most scenes also contained "Easter eggs" of people enjoying the outdoors in the form of biking, skiing, boating, climbing, etc. Some of the things happening below are obvious, while others are subtle and sure to be missed by some.
The wind effects made the flight feel authentic, and we were misted when passing through fog, or storms. Distinct scents also became noticeable at certain points of the ride.
I found the experience to be unique, enjoyable, and legitimately cool. There's nothing else like it in Las Vegas.
It's definitely more of a visual experience than a thrill ride. If you're worried about a rough or scary ride, you can put those fears to rest.
Below is another image provided by FlyOver to demonstrate the "in-flight" portion of the ride.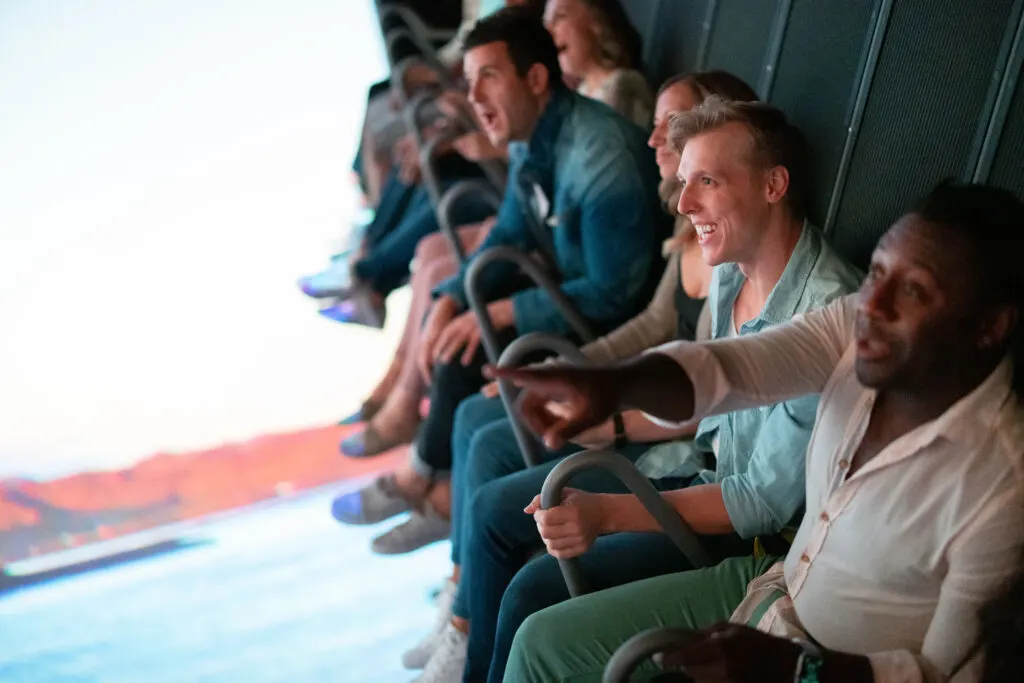 Is FlyOver Las Vegas Worth Visiting?
Like most things, it depends on what you're looking for.
I was somewhat skeptical that I'd find FlyOver to be worthwhile prior to my visit, as a crowded craps table tends to be my preferred habitat, but was really impressed with the production value, ride, and how believable the feeling of the flight was.
Additionally, the backstory provided via video before going into the ride was interesting and tied into what was experienced in flight. It's not just scenery that you're there to admire, there's a story behind it.
After taxes, an adult ticket to FlyOver Las Vegas costs just north of $40, and I feel like I got my money's worth. While FlyOver isn't likely to be something I make time for every time I'm on the Strip, it could make for a fun date night activity the next time I'm nearby with my wife.
If you're a family and looking for unique things to do with Kids in Las Vegas, FlyOver could be a GREAT candidate for your itinerary. Your kids will love it. Kids' tickets are also $10 cheaper than adults.
Ultimately, if you enjoy documentary-type shows like "Aerial America" on the Smithsonian Channel, have an interest in geography, or have a penchant for big cinematic productions, then you'll have a tough time going wrong at FlyOver Las Vegas.
See Also – See some other recent attraction reviews:
I'm a former software salesman turned Vegas aficionado. While the craps table is my preferred habitat, I pull myself away to explore new attractions, shows, restaurants, and outdoor activities around Las Vegas with the intent of sharing my experiences.
Ultimately, I just want to help folks plan a better trip and save a few bucks in the process.