STRAT's SkyPod observation deck and rides easily qualify as one of the most popular non-gambling attractions in Las Vegas, offering stunning views of both the Strip and Fremont Street from 1,149 feet in the air.
Although STRAT's location on the north end of the Strip isn't comfortably walkable from most resorts, the property can be reached via a cheap ($10-15) Uber/Lyft, or even via The Deuce bus route.
I thought it would be fun to swing by, take the elevator to the top of the tower, and share my experience along with photos of STRAT's SkyPod Experience to help you determine if it's worth a trip!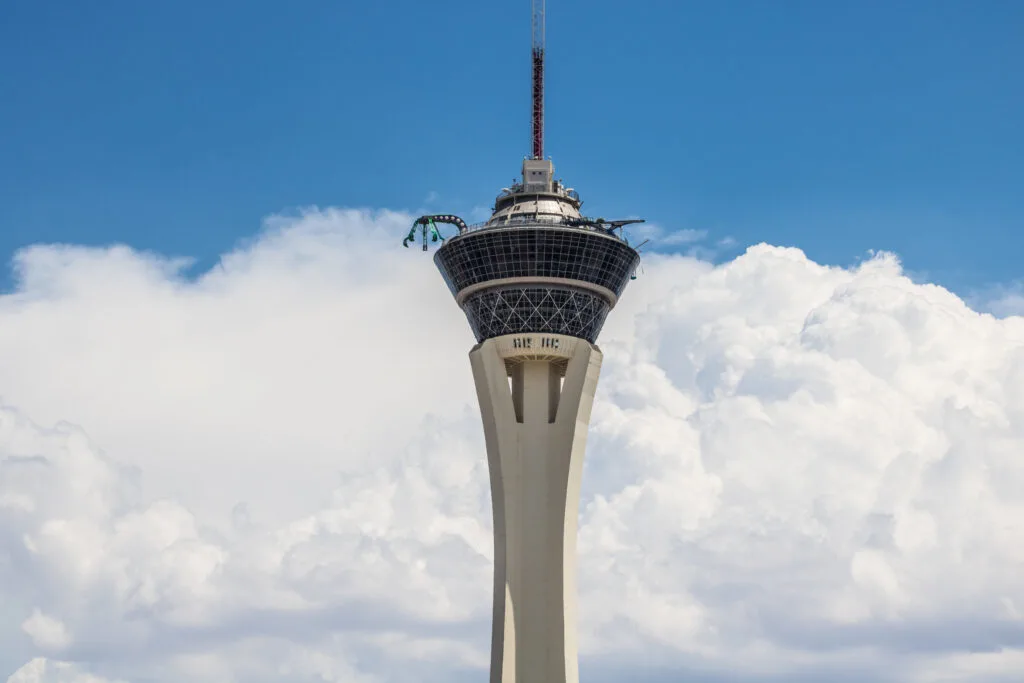 STRAT SkyPod Costs
Admission packages are offered in a few different flavors, depending on whether or not you want to partake in rides atop the tower.
Buying tickets online with STRAT, here will save you money vs. buying at the box office the day of – I learned this the hard way…
While ticket prices fluctuate throughout the year, packages start at around $20 for observation deck access.
From there they increase based on how many rides you want to add to your experience (1 ride, 2 rides, or unlimited rides).
What I love about this attraction is how inexpensive the rides are to add. They're certainly worth the few extra bucks.
DEAL: Note that you can often save a few bucks more by booking your experience on Vegas.com, here.
Price out your options to get the best deal!
STRAT Observation Deck
STRAT's observation deck on its own is spectacular, boasting 1,149 feet of elevation. Aside from a helicopter tour, there's no other comparable view of the Las Vegas Valley.
The observation deck is made up of both an indoor and outdoor portion.
The indoor portion of the observation deck allows guests to score views of Vegas in all directions and even offers interactive touchscreen map displays, which help you understand what landmarks are visible and where.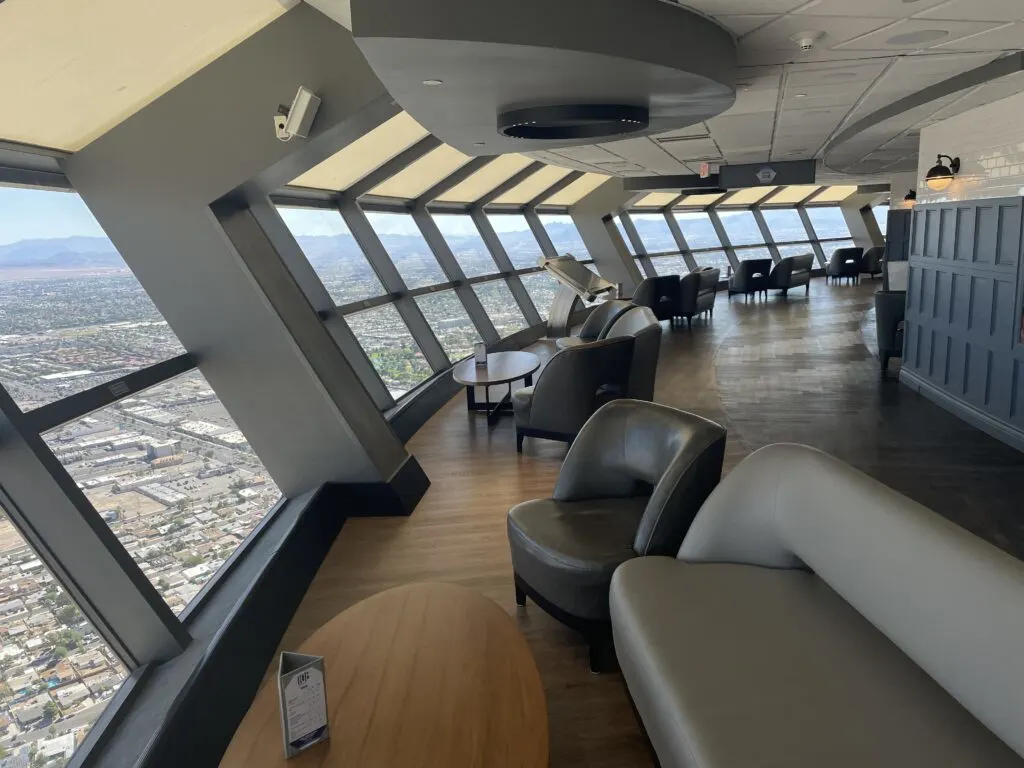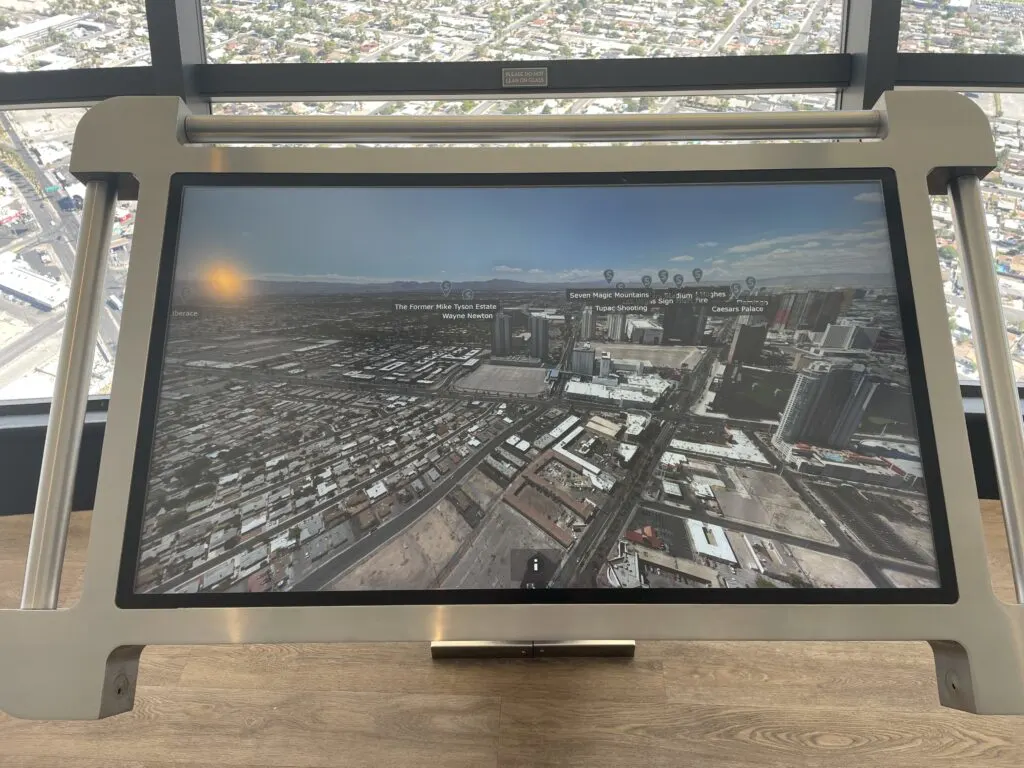 Calling the indoor portion of STRAT's observation deck home is 108 Drinks, a bar that serves frozen drinks, cocktails, beer, and wine with a view.
Typical drinks and wine by the glass cost just shy of $20 and draft beer hovers in the $10-$11 range.
Notably, happy hour runs from 3 – 7 pm Monday – Thursday and entitles guests to 2 – 1 beer, cocktails, and wine.
In addition to 108 Drinks is a small restaurant called… you guessed it… 108 Eats that serves an assortment of treats and sandwiches.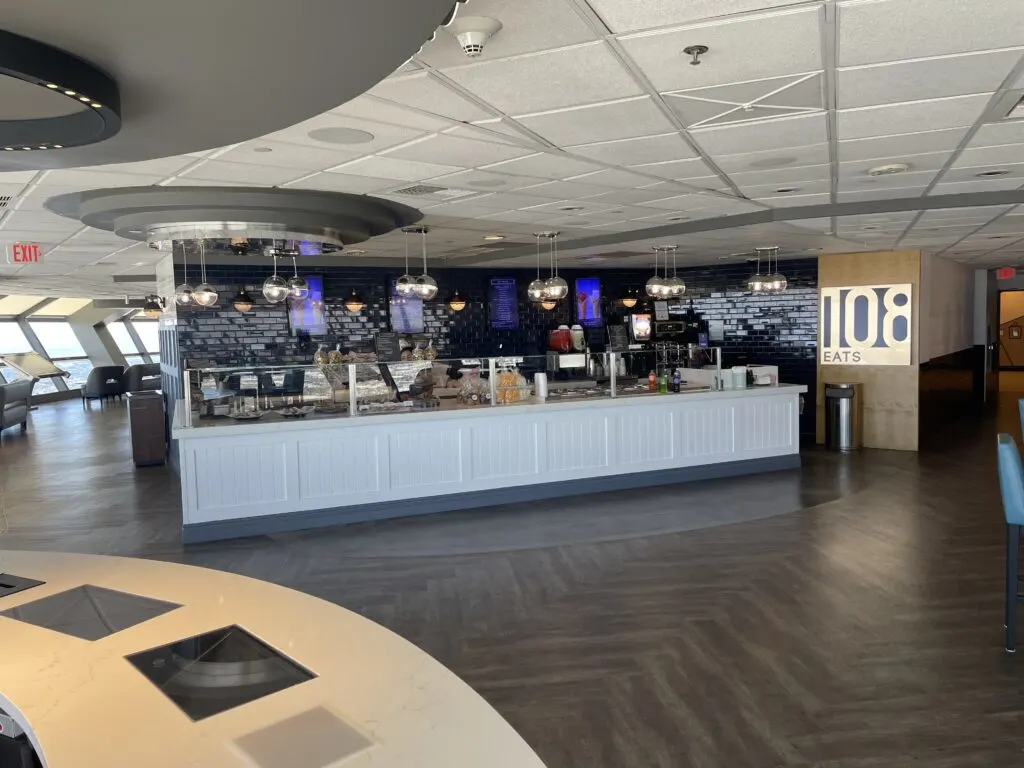 The outdoor observation deck offers views of the Strip to the south. While the areas east and west of the Strip are also visible, the side of the outdoor observation deck that would give you a view to the north is obstructed by rides.
Morbidly, the observation deck is lined with blue rollers that aim to prevent folks from jumping off the tower.
During my visit, it was pretty windy up there, but certainly scenic. Like my recent trip to the Eiffel Tower Experience at Paris, it's surreal to me how quiet it is at elevation compared to being on the street level, or in the casino.
Also amazing to me is the engineering that goes into creating a tower-like STRAT's SkyPod – How do they do it?! How doesn't it tip over? Humanity is amazing.
Surprisingly, there's even a designated smoking area cordoned off in the outdoor observation deck.
Here are a few more pictures I captured from the observation deck.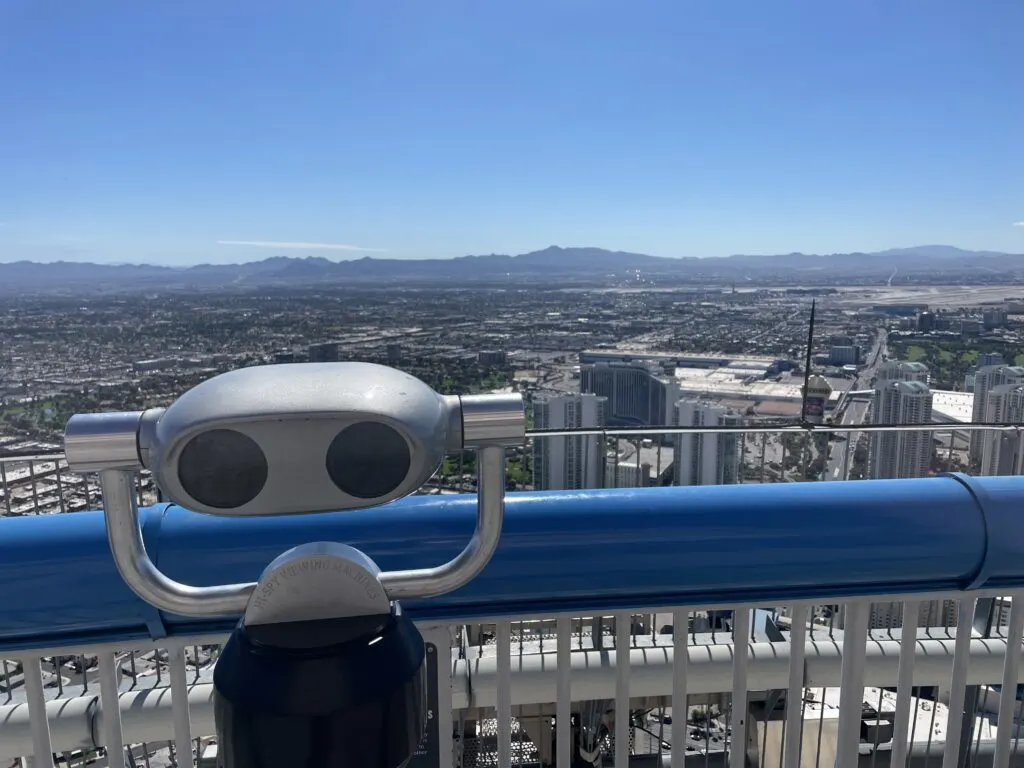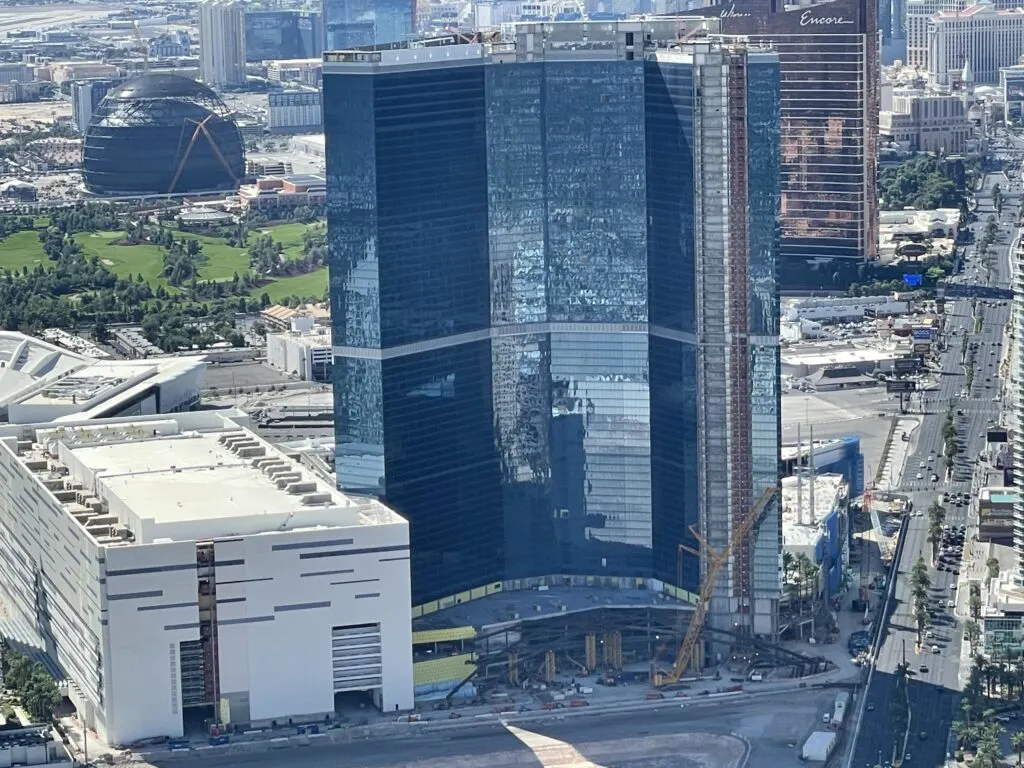 Rides Atop STRAT's SkyPod
Big Shot, Insanity, and X-Scream
One of my favorite aspects of STRAT are the thrill rides perched atop the tower that are both adrenaline inducing and reletively cheap. You're able to add all 3 rides to an observation deck ticket for just $19 more! An all you can ride pass is only an additional $29. That's value.
Here are your options:
Big Shot fires riders 160 feet straight up in the air at speeds of 45 mph. Not only will you feel your stomach drop, but you'll achieve an even more impressive view of Las Vegas at the rides apex.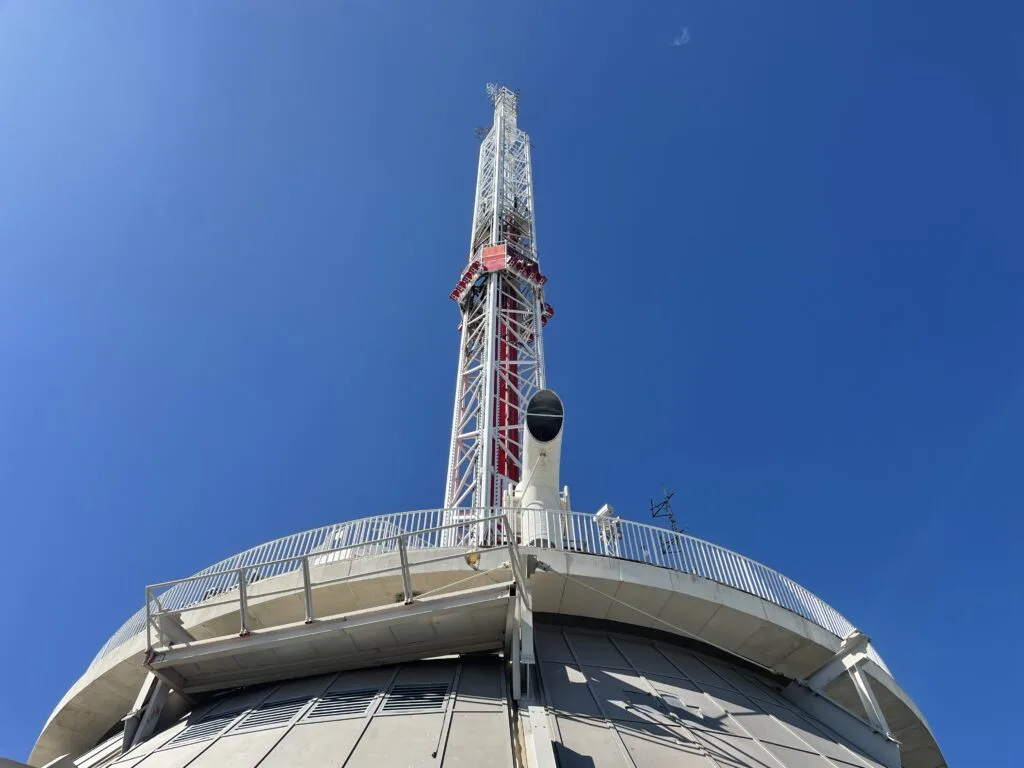 Insanity is like a hand with 5 "fingers". Two riders sit in each "finger" and then the hand is extended out over the edge of the tower. Once extended, the hand starts spinning, and the fingers are pushed backward, giving riders a direct view of the ground 900 feet below.
X-Scream is like a teeter totter with a little roller coaster car gliding back and forth as it tips one way or the other. Of course, X-Scream tips you off of the side of STRAT's tower, dangling riders precariously off of the edge before pulling them back over the tower and repeating the process.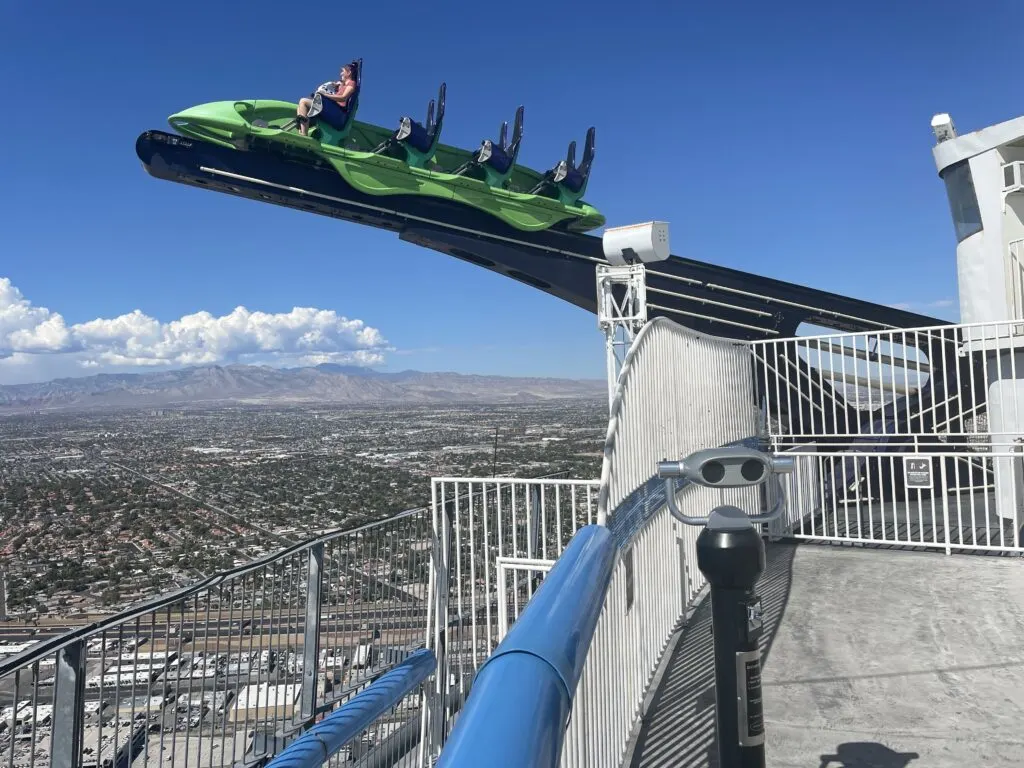 Check out the embedded video to see each ride in action!
The best part about the rides is that they're able to terrify/thrill you without being physically demading. While the Big Shot is does shoot you up reletively fast, both X-Scream and Insanity dangle you off the edge without straining your body like a wild rollercoaster would.
Z-Scream and Insanity are rides that anyone can handle, as long as you're OK with heights 🙂
SkyJump at STRAT
SkyJump, which is far too intense for me, is a popular option and commonly sells out days in advance – Book early.
Not included in the traditional ride packages, SkyJump pricing starts at $129.99.
Participants "have the opportunity" to leap off of the tower, 829 feet from the ground in a controlled free fall that reaches speeds up to 40mph.
Here's the plank you jump off of:
Is STRAT's SkyPod Worth a Visit?
I'm a fan.
At this point, I've traversed to the top of STRAT's SkyPod 4 times, and it always leaves me in awe. Whether or not you partake in the rides, $20 for this view is an unbelievable deal.
As for the rides, they're amazing for the price. Even if you just do one, I can assure you that you'll get your money's worth for the $9 more it costs. While my personal favorite is Insanity, all 3 are worthwhile.
Bottom line: STRAT's SkyPod observation deck and rides are an unheard of value in a city where bang for your buck is getting harder to find.
Especially if this is you're constructing an itinerary for your first Vegas trip, or are looking for Kid-Friendly Activities in Las Vegas, add STRAT. It's worthy.
Related: Get more itinerary inspiration!
I'm a former software salesman turned Vegas aficionado. While the craps table is my preferred habitat, I pull myself away to explore new attractions, shows, restaurants, and outdoor activities around Las Vegas with the intent of sharing my experiences.
Ultimately, I just want to help folks plan a better trip and save a few bucks in the process.