New things to do in Las Vegas pop-up, and sometimes fizzle out, with mind-numbing frequency.
Although it can be difficult to keep up with the pace of change, the constant churning of attractions means that there's always something new to do, even for the most seasoned Vegas veterans.
We thought it would be helpful to summarize the newest things to do in Las Vegas, both on the Strip and on Fremont Street.
New Things To Do on The Strip
Rouge: The Sexiest Show in Vegas at STRAT
A unique twist on Vegas burlesque, Rouge features both men and women in this topless revue. Furthering the differentiation, the production incorporates variety acts which include comedians, acrobats, contortionists, dancers, and more.
If you're looking to spice up date night, a bachelorette party, or girls' weekend, check it out! Shop around to find the best deal, below: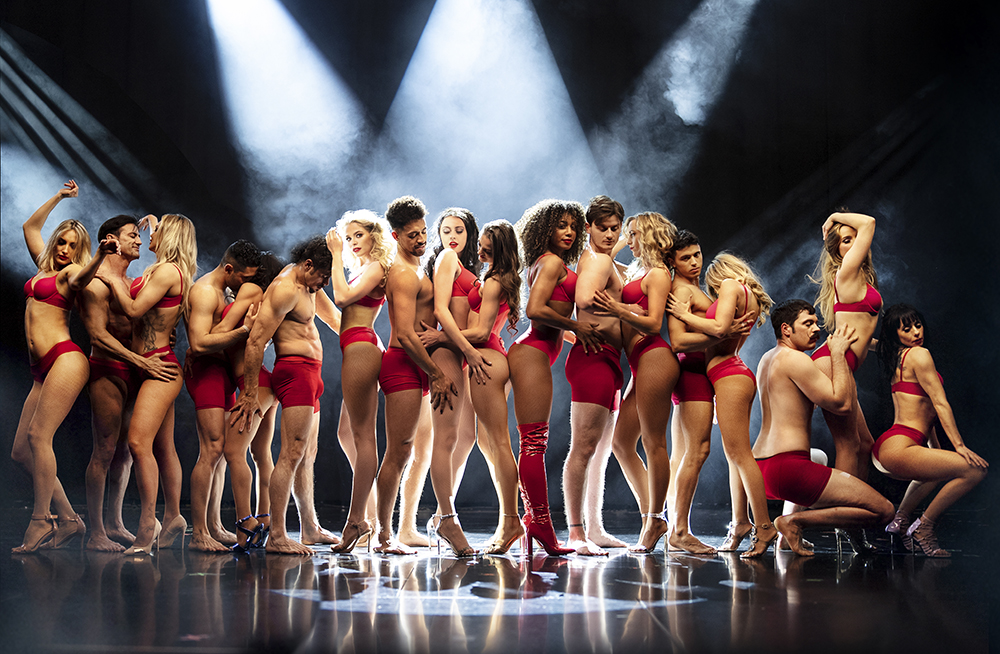 Princess Diana: A Tribute Exhibition at Crystals
This tribute to Princess Diana is located within the high-end Crystals Shopping mall in front of Aria. Inside, fans will discover 12 themed rooms and 700+ artifacts from Diana's life. Themes include "Wedding of the Century", "Fashion Icon", and "Gone Too Soon: A Memorial".
Learn more about the Princess Diana Exhibition, here.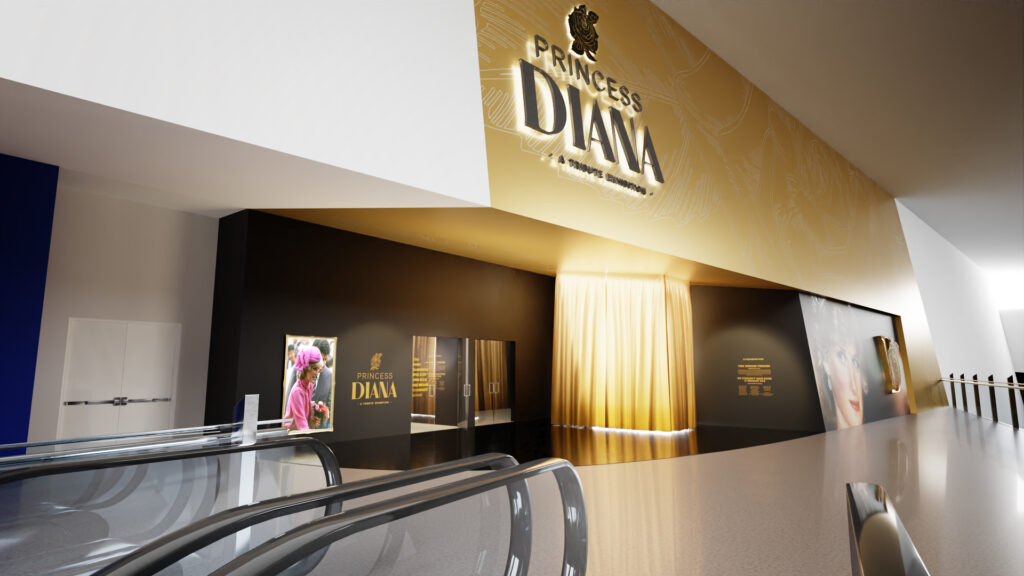 Delilah at Wynn
Supplying a seemingly non-stop stream of celebrity sightings, Delilah is a swanky new supper club that borrows inspiration from Vegas of the 1950s.
Delilah offers the unique opportunity to pair an upscale meal with entertainment in the form of live jazz music, DJs, and other performers.
As a popular spot, Delilah can be tough to get into. We'd recommend snagging reservations at Delilah in advance.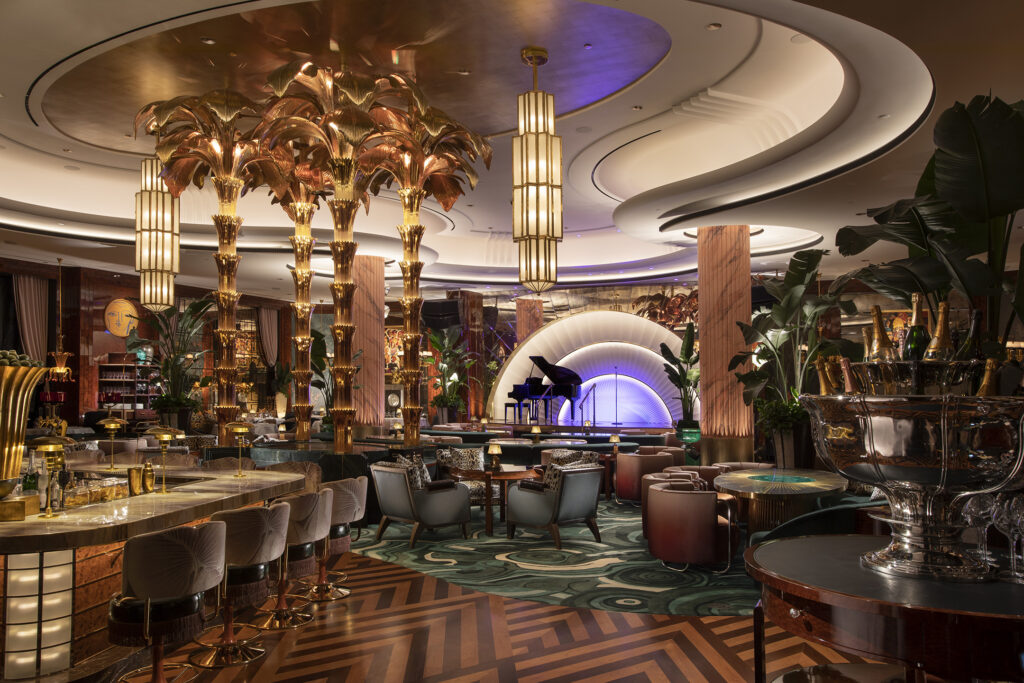 Superfrico at Cosmopolitan
Another dinner show concept, Superfrico is the creation of the folks at Spiegelworld, who are also behind the popular shows "Absinthe", "Atomic Saloon", and "Opium".
While Superfrico serves "Italian American Psychedelic" cuisine, the real draw is the acts, some on the raunchy side, that steal the show.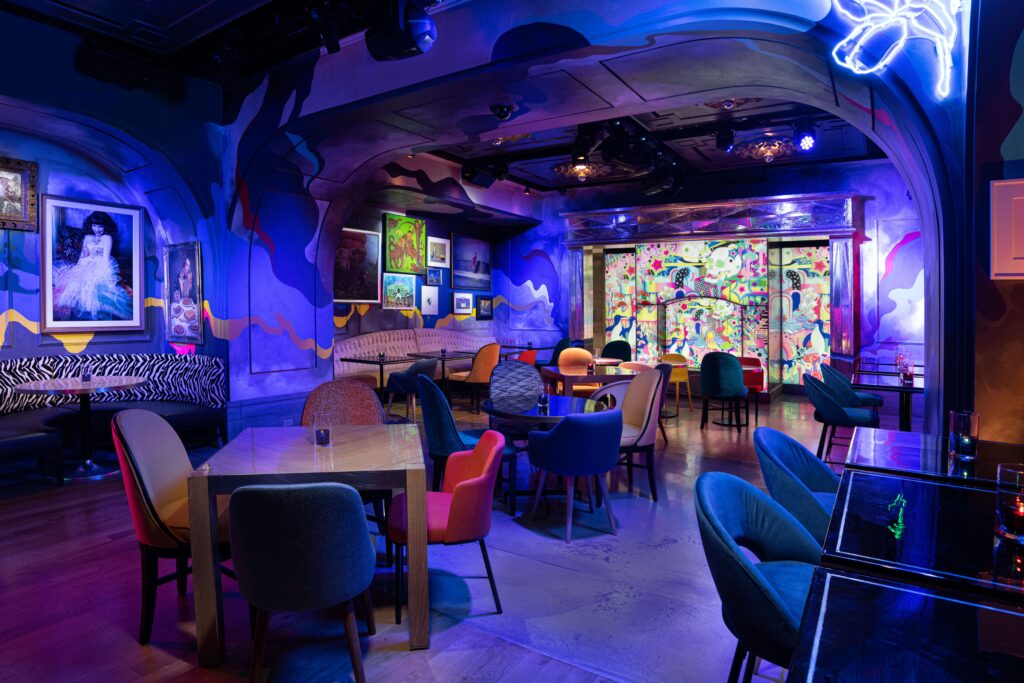 Las Vegas Movie Tours
Jump aboard a "Theater on Wheels" for a tour of Las Vegas film sets led by a local movie expert. Las Vegas Movie Tours takes you to the real-world locations where movies like "The Hangover", "Casino", and "Ocean's 11" were filmed.
Along the way, relevant movie clips play as you pass notable sets, and your tour guide will shower you with insider facts and insights.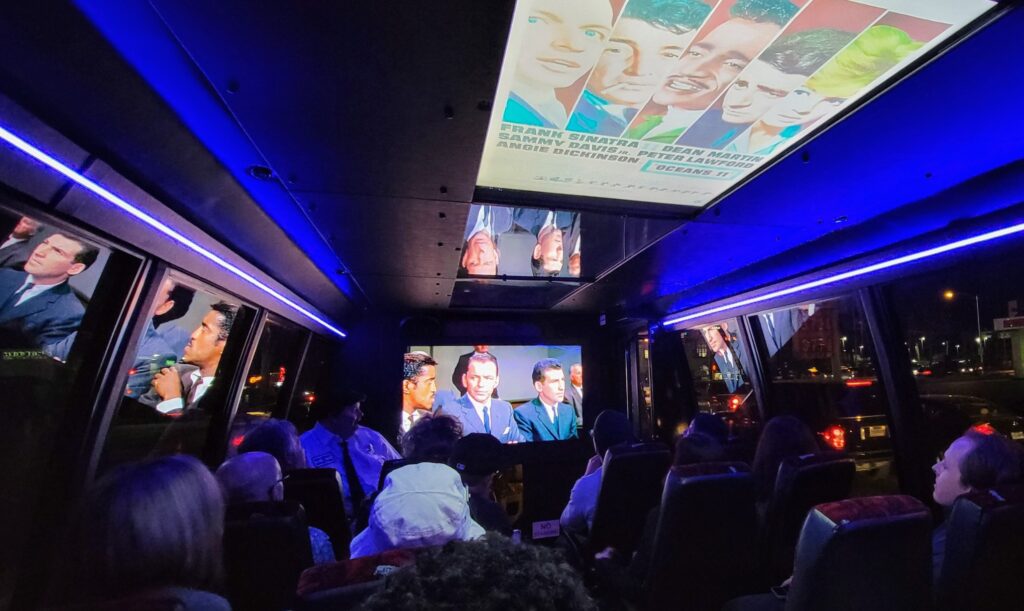 Visit Resorts World
If new is what you seek, then visiting the newest resort on the Strip should be on your itinerary.
Resorts World's hotel is comprised of over 3,500 hotel rooms, that are managed by Hilton under the Hilton, Conrad, and Crockfords brands.
The gaming floor is over 117,000 square feet and is the first in Vegas to go completely cashless. Of course, cash is still accepted if that's your preference.
While hitting the casino is a given, Resorts World also boasts a few unique non-gaming activities worth checking out.
I particularly enjoyed my meals at the Famous Foods Street Eats food hall, a collection of dining options spanning from Asian-inspired cuisine to Texas BBQ. The food is of better quality than your typical food court at a price that won't break the bank (under $20).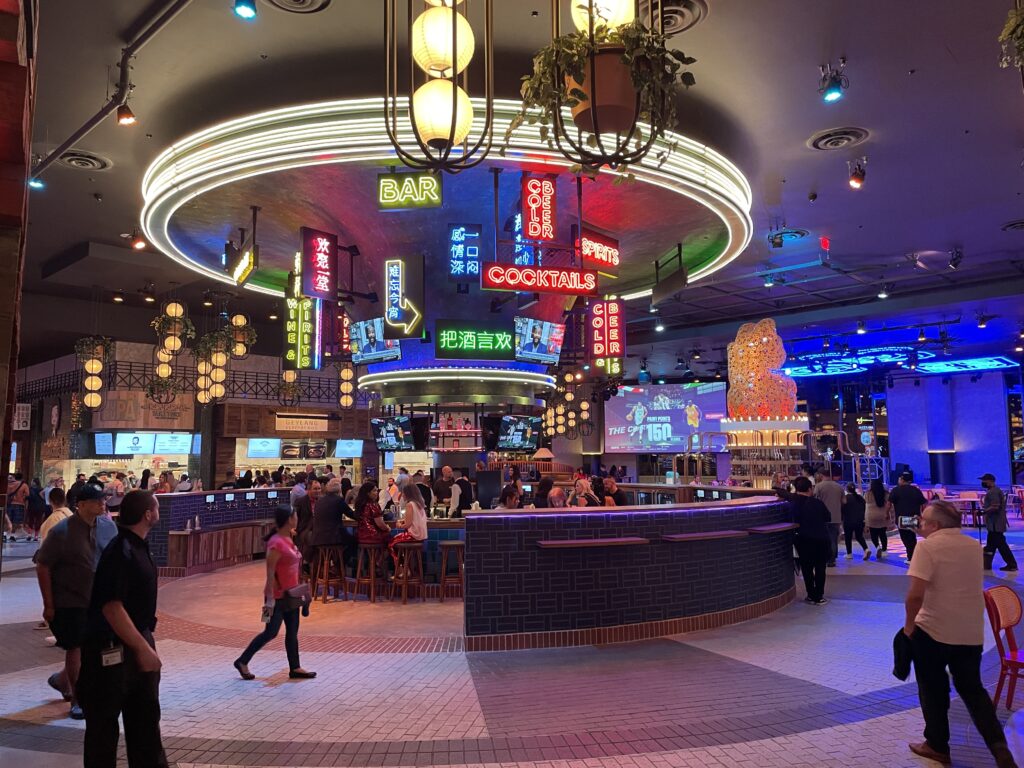 Within the food hall is the popular Here Kitty Kitty Vice Den speakeasy. The entrance is concealed behind a shelving unit within a restaurant called Fuhu Cha Chaan Teng.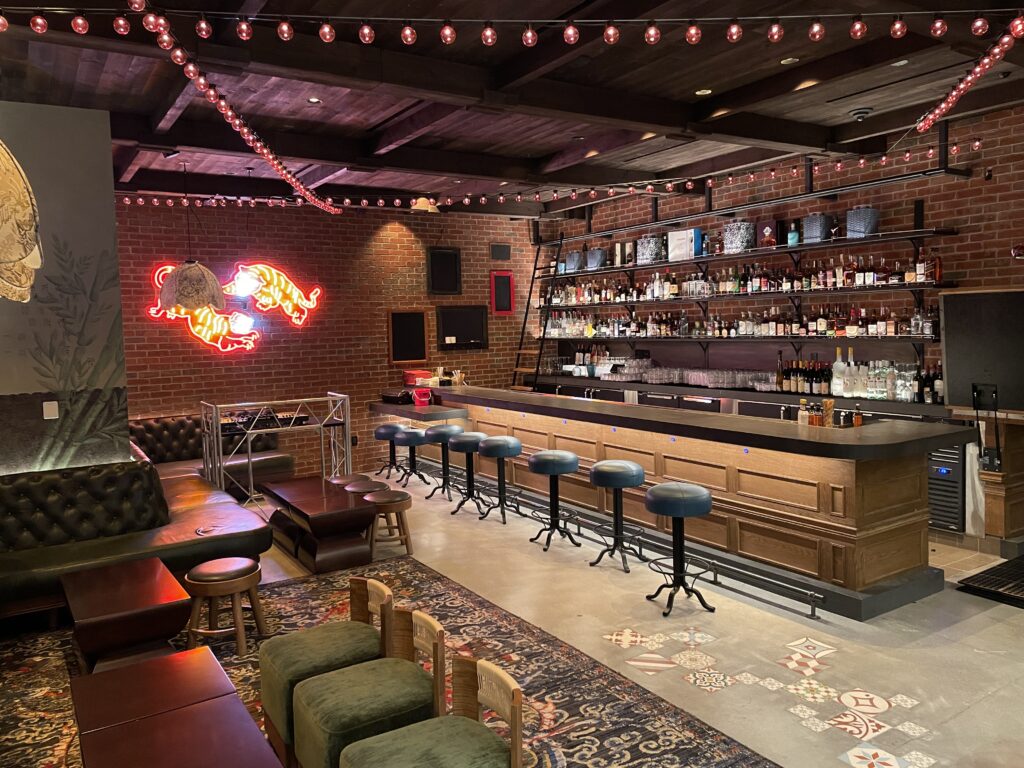 If you prefer a view to a clandestine bar, check out Alle Lounge on 66, a cocktail lounge with stunning views of the Las Vegas Strip.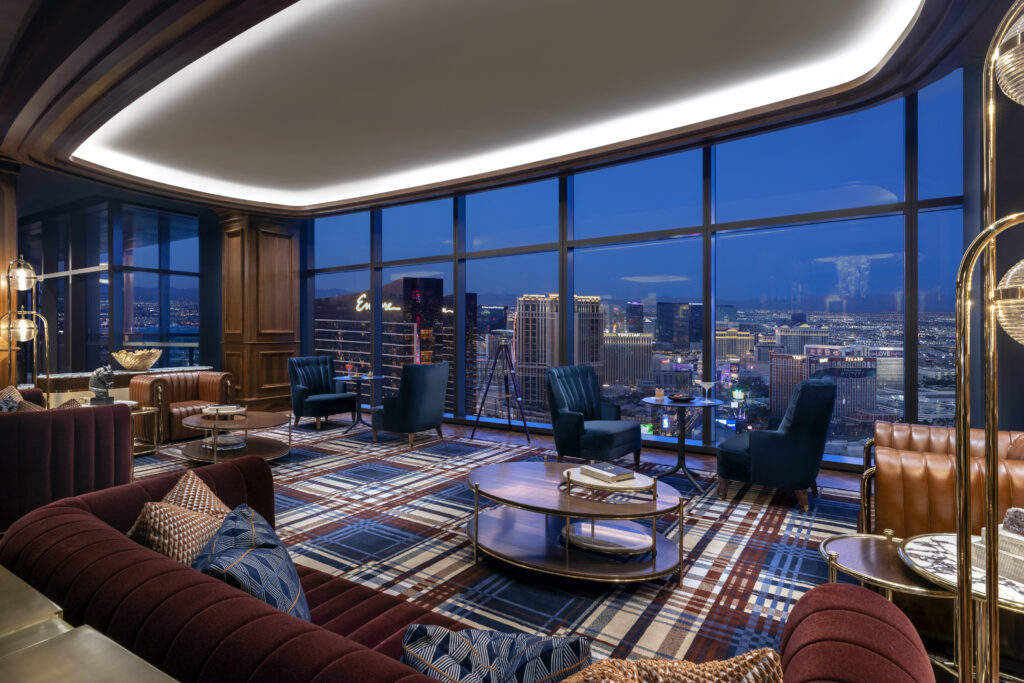 National Geographic – Rarely Seen Photograph Exhibition
Located at Bally's, this Nat Geo exhibit boasts 50 "once in a lifetime moments" captured on camera from around the world. Photo locations include New Zealand, Vatican City, Australia, and Thailand. Pricing lands in the $20-$25 range and tickets can be purchased with:
Pinball Hall of Fame
While the Pinball Hall of Fame isn't necessarily a new attraction, their new location on the Strip is, and it's glorious. Boasting 25,000 square feet of space, the new location is able to fit a wider selection of games than was possible in the museum's previous home.
This shrine to the game of pinball is located near Mandalay Bay and the "Welcome to Fabulous Las Vegas" sign on the south end of the Strip.
For those unfamiliar, the Pinball Hall of Fame is a non-profit museum that allows visitors to play pinball games that span decades, with some dating back to the 1950s. Playable with quarters, playing pinball is both an inexpensive and family-friendly thing to do in Vegas!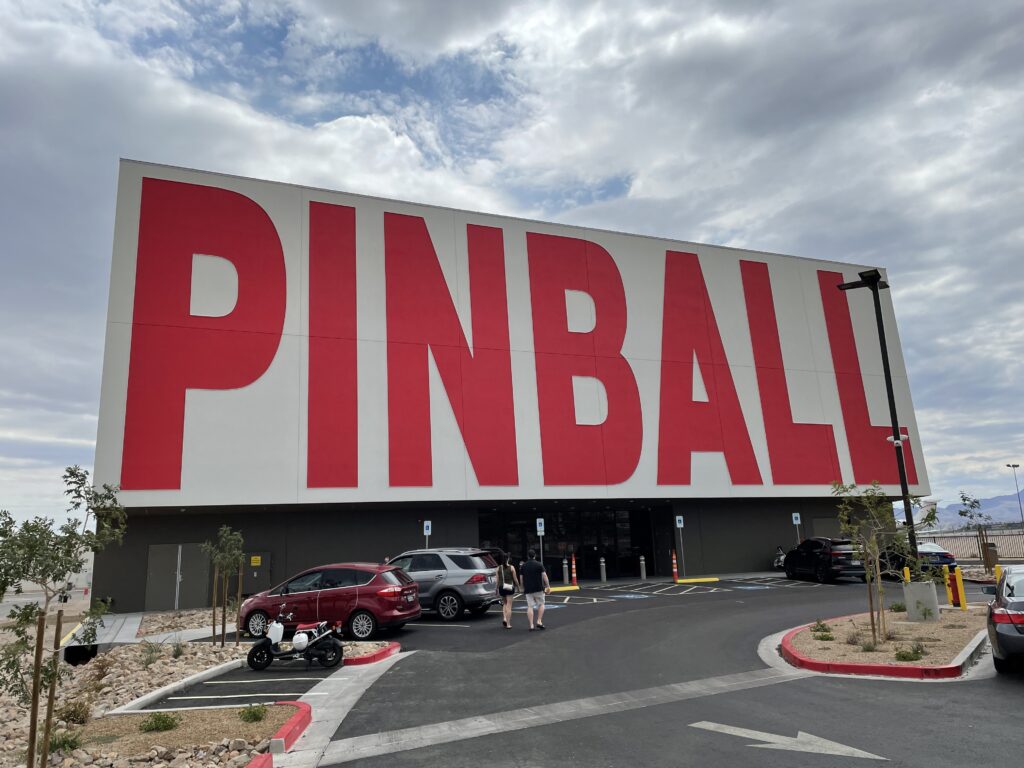 Mad Apple by Cirque du Soleil
Mad Apple, a new production from Cirque du Soleil, will call the former Zumanity Theater at New York New York home. The production, unlike other Cirque shows, will be a compilation of comedy, magic, music, street performers, and up-and-coming artists.
Of course, the acrobatics that Cirque du Soleil is known for will also make an appearance. Tickets start at $49 and can be bought in advance here: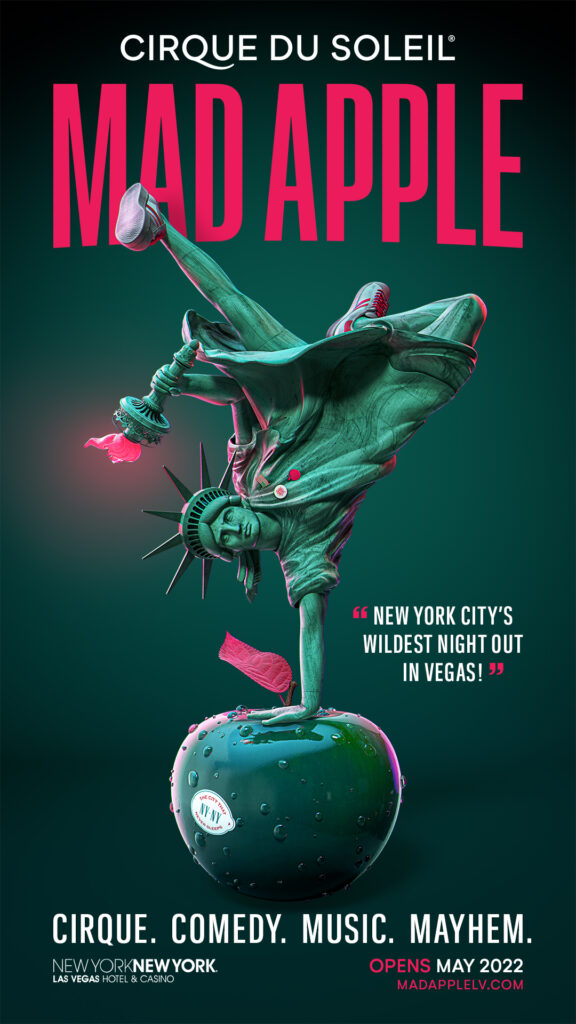 Coming Soon to The Strip
MSG Sphere
Coming in 2023, the $1.8 billion MSG Sphere is located behind Venetian and Palazzo and will be a theater unlike any other in Las Vegas.
The venue's LED screen, which is larger than 3 football fields, will not only sit in front of the audience but wrap around and above them. While we don't yet know who will be performing in the new attraction, we do know that it'll be epic.
Bally's Transitioning to Horseshoe Las Vegas
Beginning in the spring of 2022, Bally's will begin a metamorphosis, changing its identity to the iconic Horseshoe brand.
While we don't yet know exactly what changes are in store, it appears the gaming floor will get a refresh per a press release.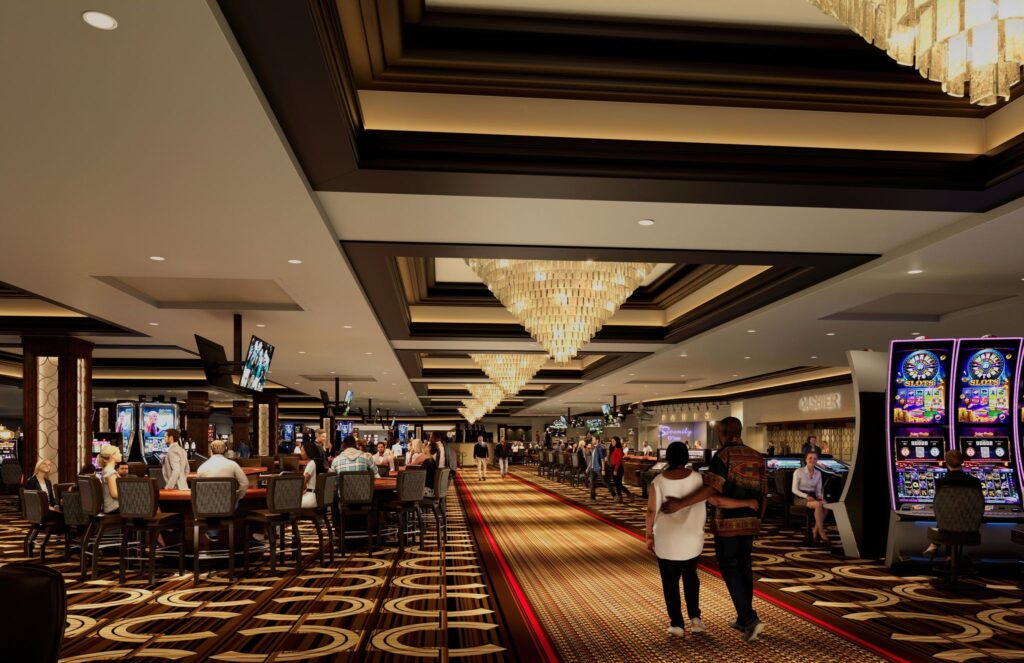 The press release also quoted an executive that said "At Horseshoe, it's all about the gambler. Since 1951 Horseshoe Casinos have been home to the best odds, highest limits, and biggest jackpots. So, it's fitting that we bring Horseshoe back to Las Vegas, and right on the Las Vegas Strip".
It'll be interesting to see what that means, as gaming odds on the Strip have been deteriorating for some time and Caesars is far from the only guilty party.
Recently, it was announced that Jack Binion's Steak House (Jack is Benny Binion's son) will be part of the culinary lineup at Horseshoe, and Blake Shelton will be opening a live country music venue called Ole Red, which will be located along the Strip in the Grand Bazaar Shops area.
Personally, I've always found Bally's to be a bit dull and can't wait to see what's to come.
Ole Red at Bally's (Soon to be Horseshoe)
Speaking of Ole Red, the venue will be situated directly on the Strip near the pedestrian walkways that lead from Bally's to both Caesars Palace and Cromwell.
The country music venue, co-owned by Blake Shelton, will offer a large indoor main stage and a rooftop venue with a view of the Strip.
The $30 million project is expected to be completed in 2023.
DiscoShow by Spiegelworld at Linq
Coming to Linq in 2022, DiscoShow will be the fourth show by Spiegelworld in Las Vegas, joining "Absinthe", "Opium", and "Atomic Saloon". The show will follow the characters "who were there at the birth of disco; into their lives; on the streets; at the club; encouraged at every moment to lose themselves in the music and on the dancefloor".
We're personally just excited for another dose of the raunchy comedy Spiegelworld is known for.
New Things To Do Downtown Las Vegas
While the pace of change tends to be slower on Fremont Street than on The Strip, there are a few new things to do of note.
The Sand Dollar Lounge at Plaza
Now officially open, The Sand Dollar Lounge is located off Plaza's casino floor and is the newest destination for those looking to enjoy live music.
Aiming to "Resurrect the energy of rock's golden era", The Sand Dollar should be a fun hangout. You can learn more about the vision on this episode of Plaza's "On The Corner of Main" podcast.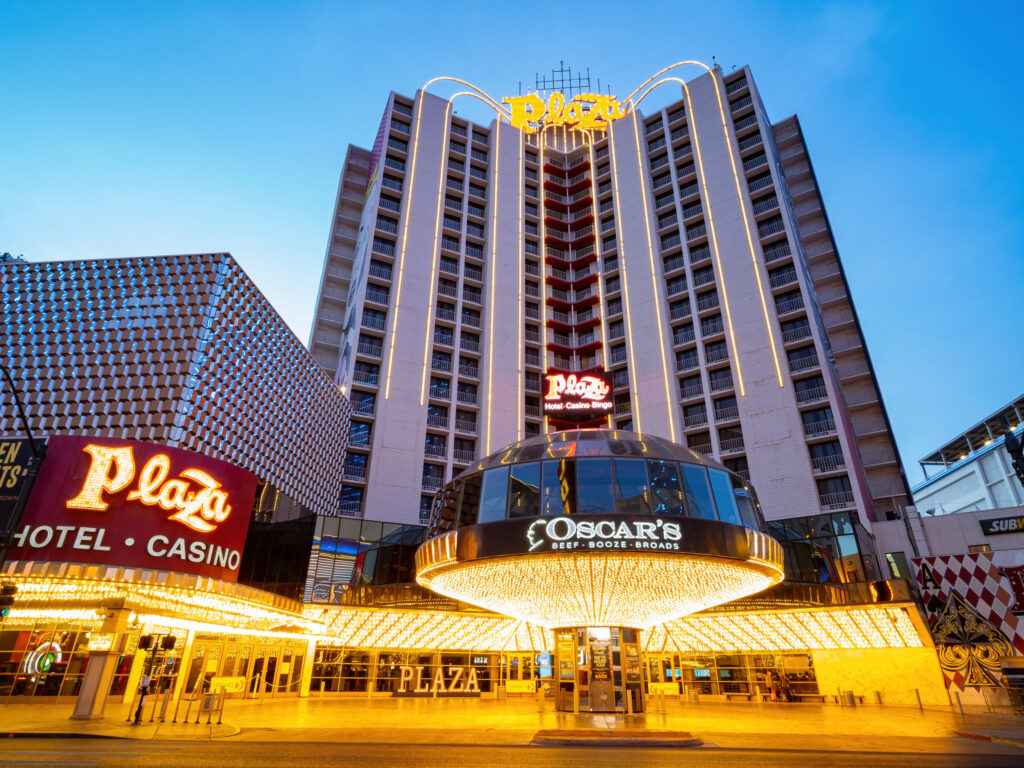 The Movie Prop Experience
Located in Neonopolis, The Movie Prop Experience is a museum dedicated to showcasing props used in hit TV shows and movies that span the genre spectrum. Items currently on display include Wolverine's claws, Han Solo encased in carbonite, Iron Man's hand, and so much more.
Visit Circa
The first new construction casino downtown in decades opened in October of 2020, and if you have yet to stop in, put it at the top of your list.
Among our favorite things about Circa include the massive sportsbook, the refurbished Vegas Vickie sign, and the Stadium Swim rooftop pool amphitheater. Seriously, check it out.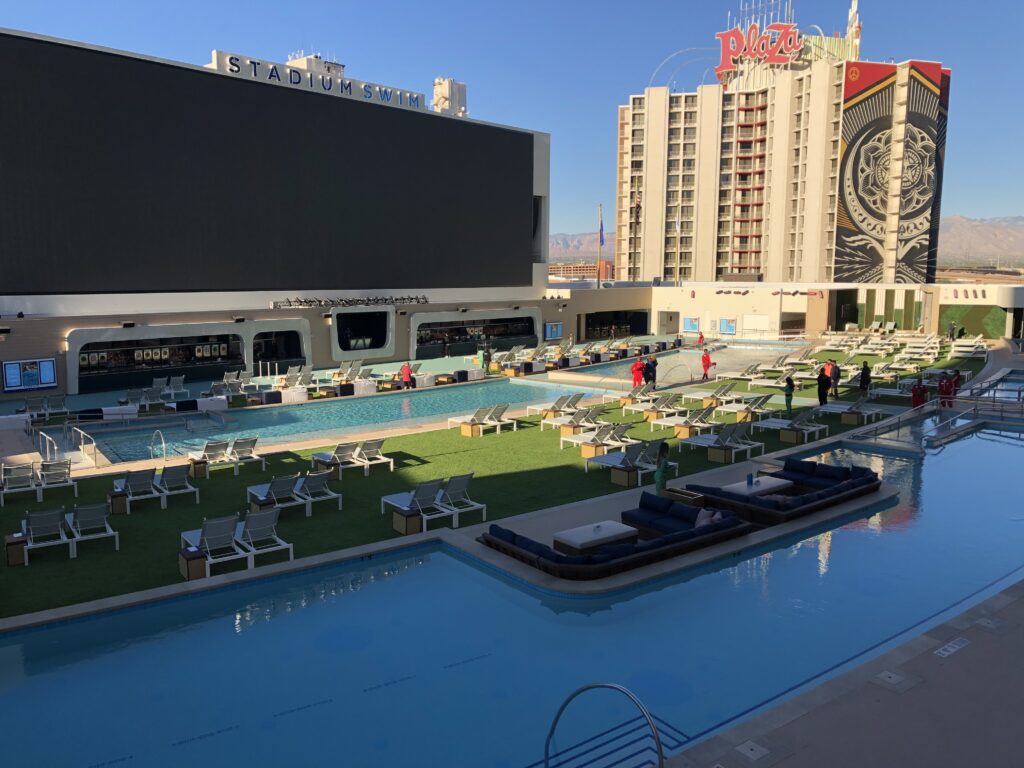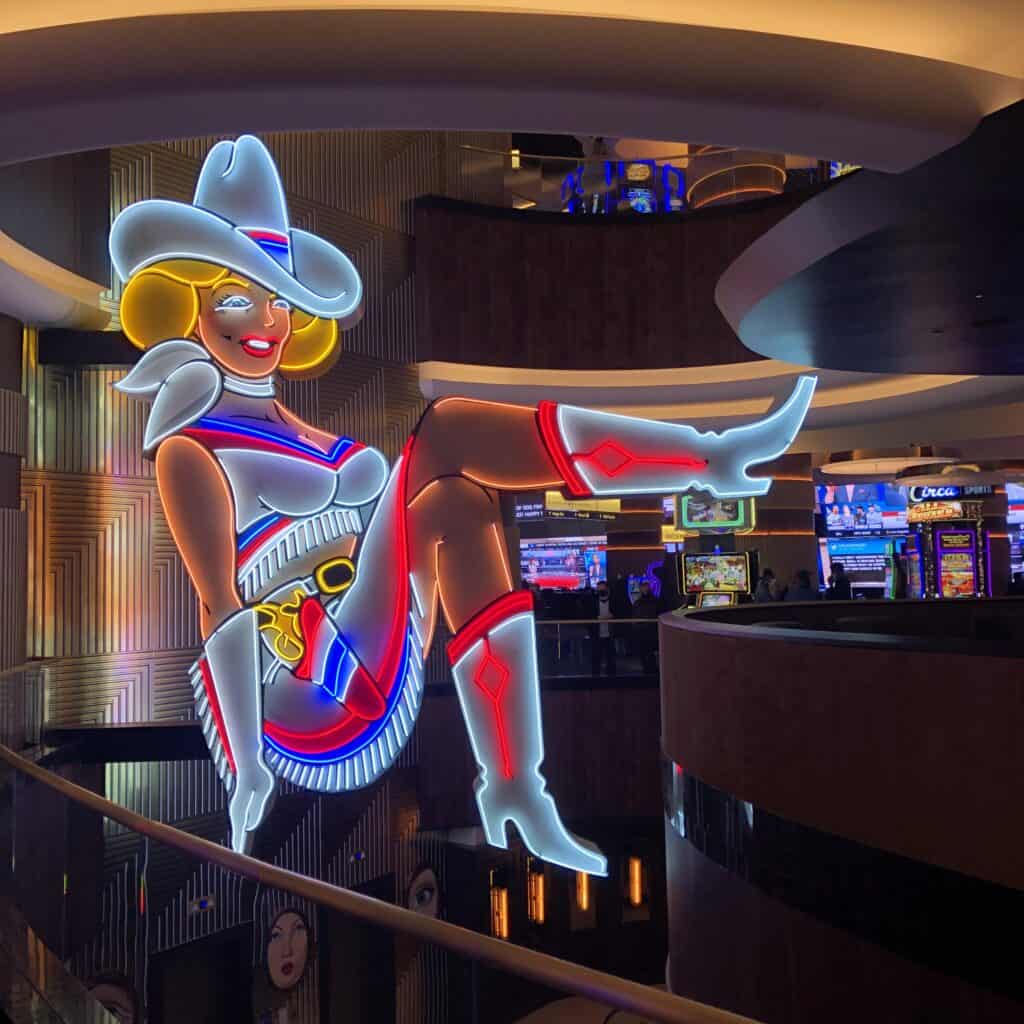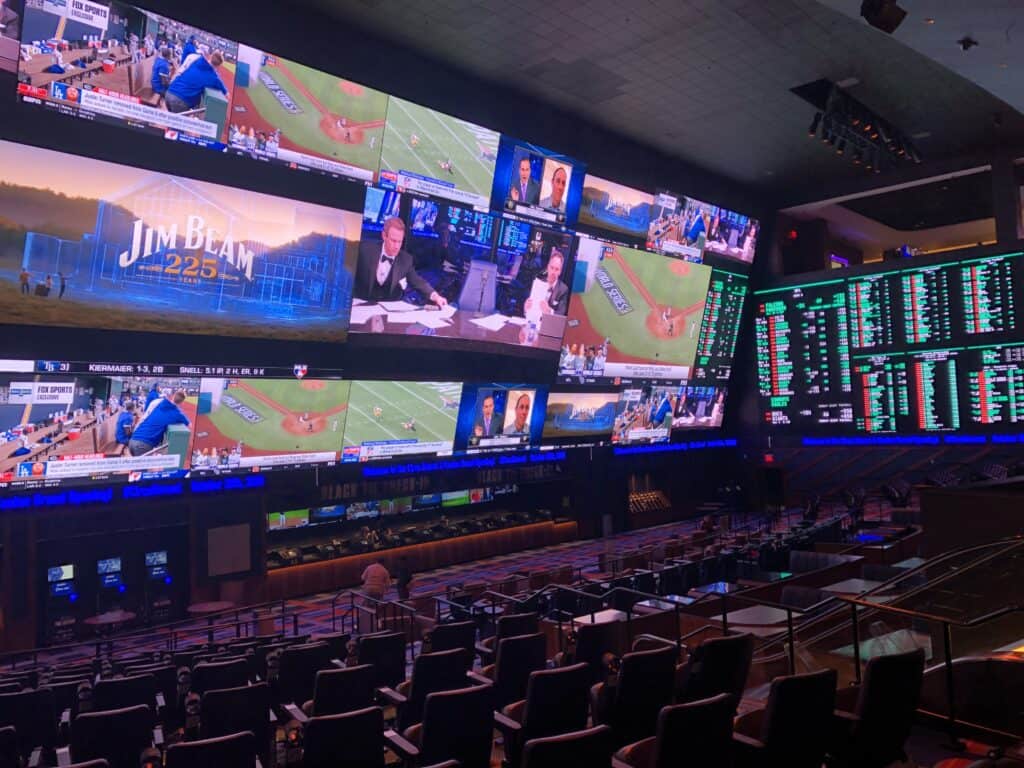 Coming Soon to Fremont Street
Plaza Renovations
An exciting development, Plaza has announced some changes that will be coming to the property in the near future.
First, they plan to expand their casino and make the expansion completely smoke-free. The new smokeless casino will be the first of its kind downtown and carry the Brian Christopher Slots name. Brian, if you're unfamiliar, is a popular YouTuber and champions the cause of casinos going smoke-free.
Secondly, the popular downtown steakhouse Oscar's will add patio seating able to accommodate up to 225 people.
A Pinkbox Doughnuts will also be added to the front of the property and add some unique flair to Plaza's exterior. The location will feature 70 doughnuts within a 16-foot-long display case.
What we're most excited about: Plaza's porte-cochere will be transformed into an outdoor carousel bar. I can think of few places I'd rather grab a cocktail than outdoors, beneath the twinkling lights of Plaza's dome.
Other New Things To Do in Vegas
Omega Mart at Area15
Among the newest things to do at Area15, an entertainment complex just off the Strip, is Omega Mart. Appearing to be a simple supermarket from the outside looking in, further investigation reveals that there's more to it than meets the eye. Much more.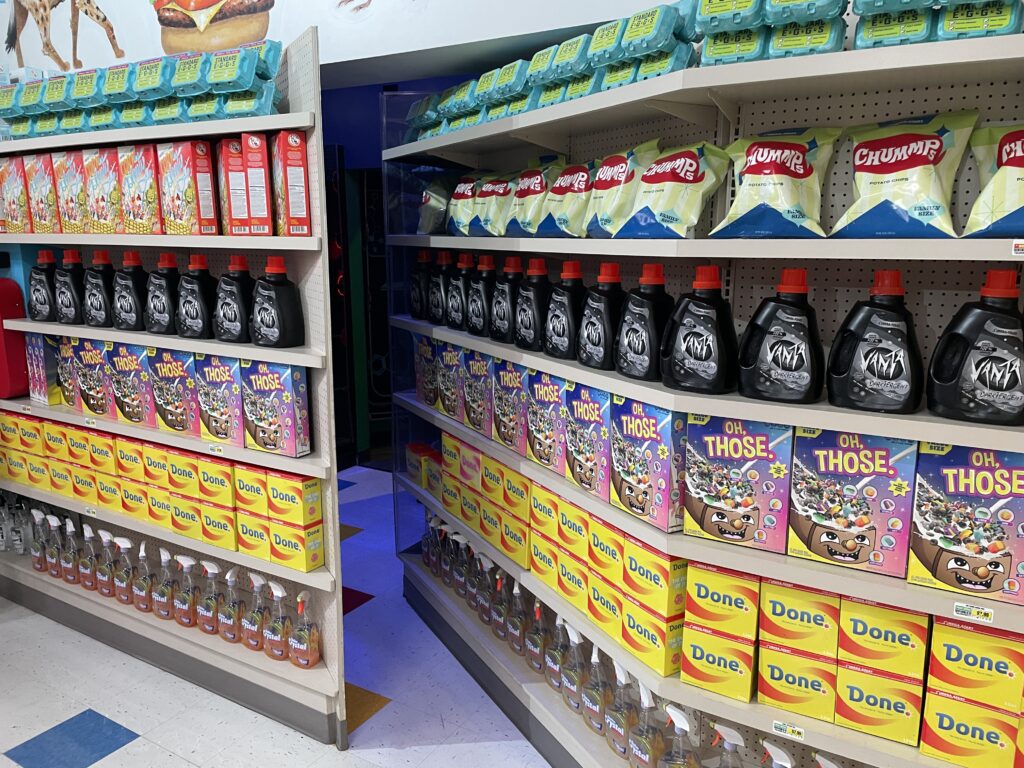 For one, the supermarket is stocked with… unique… items that are sure to earn a few chuckles as you browse.
Dig deeper and you'll uncover a number of "portals" that will transport you to a different world that serves as a feast for your senses.
While guests can attempt to solve the mystery behind Dramcorp, the secretive parent company of Omega Mart, I preferred to wander, explore, and enjoy the scenery.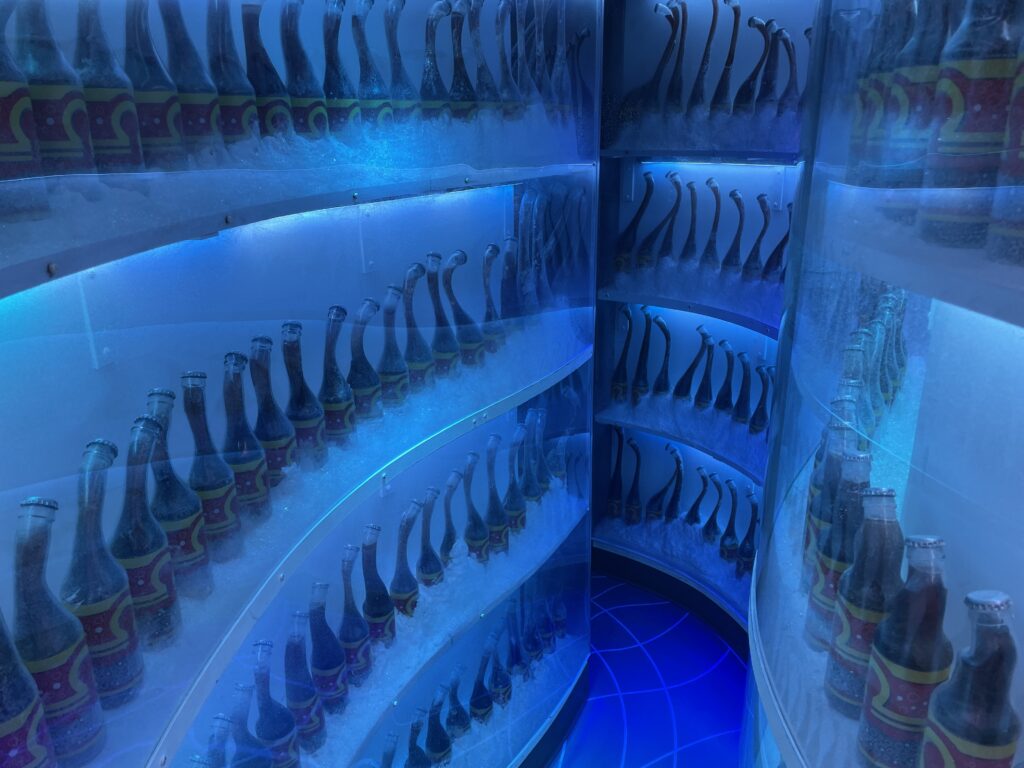 I'm not even an "art person" per se, and absolutely loved the time I spent at Omega Mart.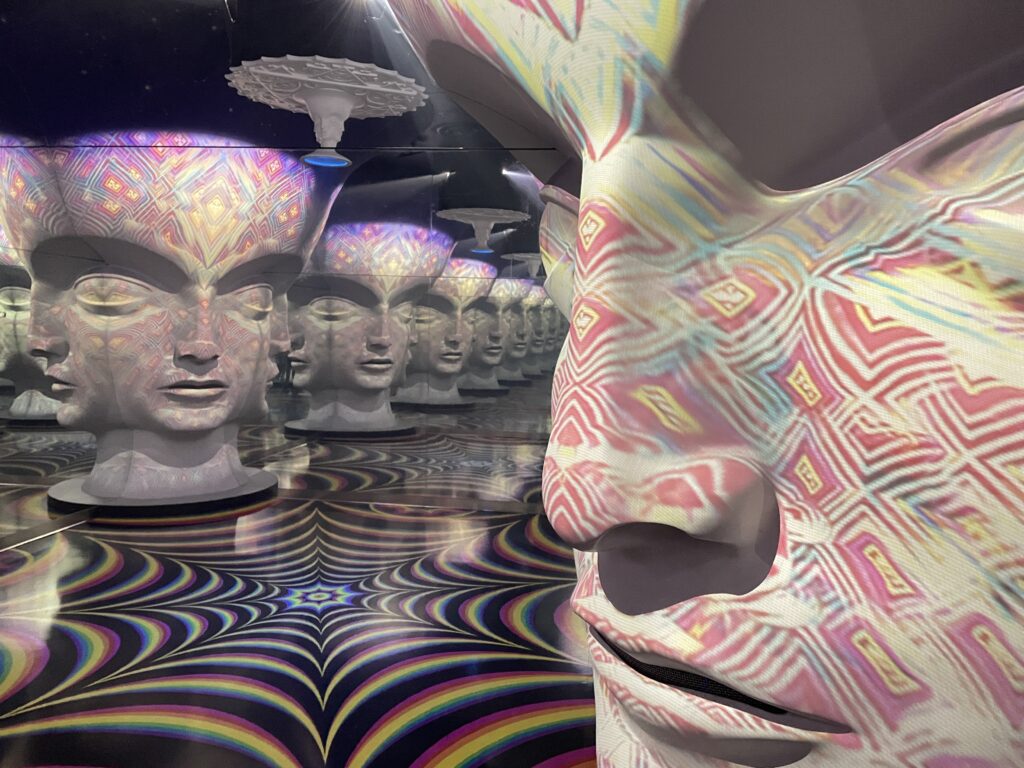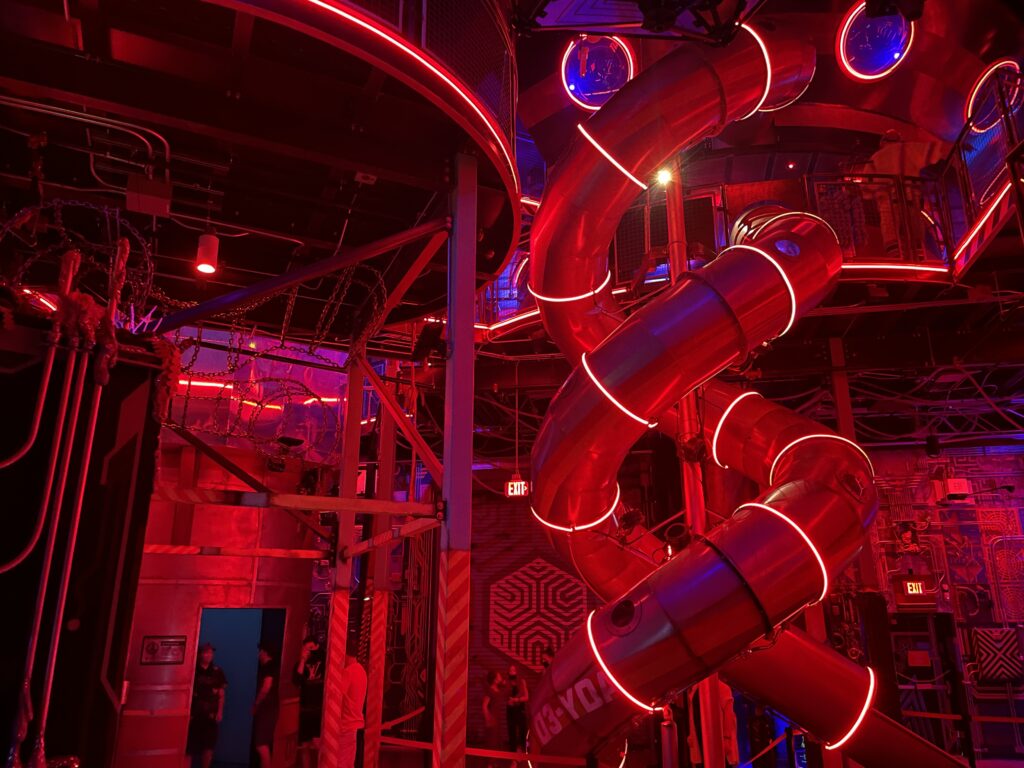 LIFTOFF at Area15
LIFTOFF is an outdoor attraction that looks and behaves like a mechanical hot air balloon. Before boarding, guests have the opportunity to purchase a cocktail at the bar in the attraction's base.
Once aboard, LIFTOFF climbs 130-feet, providing fantastic views of Las Vegas. While an adult ticket costs $18, a cocktail + ride ticket can be had for $26.
The Rest of the Area15 Complex
While Omega Mart is one of the newest things to do at Area15, it's just one of many things to do at the complex which is a relatively new attraction in itself and worth a visit.
You can see a full breakdown of things to do at Area15 here, but options range from rides that dangle you from the ceiling to ax throwing, virtual golf, virtual reality, and visual illusions.
Access to the complex is free, however, additional experiences typically have a cost associated with them.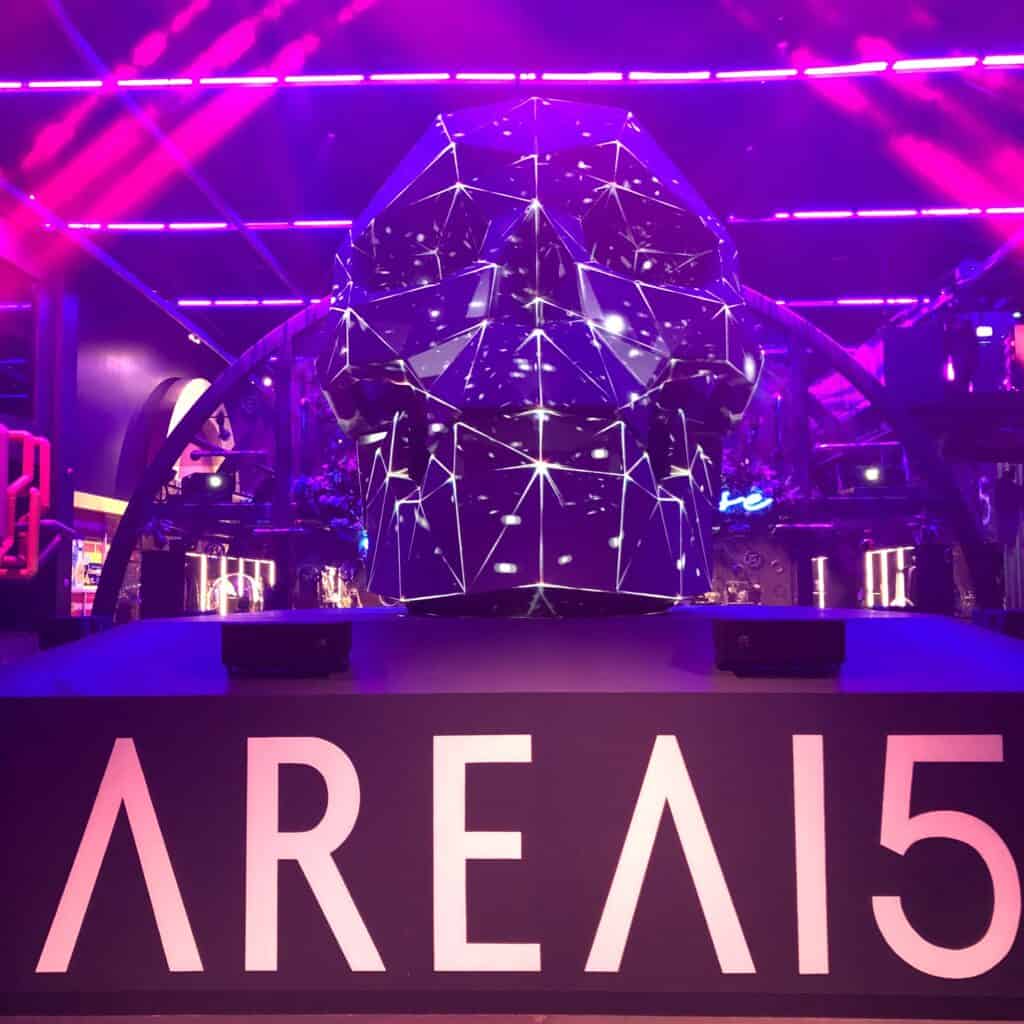 "Coming Soon" Off-Strip Attractions
Escape "IT"
Based on the Steven King franchise, Escape IT is a new escape room concept that will have 20+ interactive rooms that will include the Neibolt House, Derry Canal Days Festival, and the sewers below the town among others. Opening in the fall of 2022, the new attraction will be a short ride from resorts along the Strip.
Finding new things to do in Las Vegas is rarely difficult as the constant drumbeat of change marches on. Hopefully, we were able to point you in the direction of new activities in Vegas that you deem worthy of adding to your itinerary.
See Also: Need more itinerary inspiration? Check out these free things to do in Las Vegas!
I'm a former software salesman turned Vegas aficionado. While the craps table is my preferred habitat, I pull myself away to explore new attractions, shows, restaurants, and outdoor activities around Las Vegas with the intent of sharing my experiences.
Ultimately, I just want to help folks plan a better trip and save a few bucks in the process.