Key Points:
I was thrilled to see that the buffet serves Prime Rib, which has gone missing at other cheap buffets in Vegas.
This buffet offered some of the best variety I've seen in Vegas, with wide-ranging cuisine options and numerous live-action stations.
While food quality was "middle of the road", South Point's Garden Buffet is a great value and I'll be back.
I recently made it down to South Point and decided to swing by their dinner buffet, which is among the cheapest in Las Vegas and frequently celebrated as a good option by value seekers.
The fact South Point's buffet serves dinner daily is somewhat unique as a good chunk of the buffets that have reopened on the Strip only serve brunch. Sadly, many Strip buffets aren't even open 7 days per week yet.
As one of the few buffets left standing in Vegas, I thought it would be helpful to share my thoughts along with a bunch of photos so you can determine if it's a good fit for your budget and tastes.
South Point's Buffet Hours and Pricing
Garden Buffet at South Point is open for the following meals:
Breakfast is offered Monday – Friday from 7 am – 10 am and costs $17.95.
Lunch is offered Monday – Friday from 11 am – 3 pm and costs $20.95.
Brunch is offered on weekends from 8 am – 3 pm and costs $29.95.
Prime Rib Dinner is offered Saturday – Thursday from 4 pm – 9 pm for $29.95.
Seafood Night (with Prime Rib) is offered on Fridays from 4 pm – 10 pm for $49.95.
Players club members can save $2-$4 off of the prices listed above.
As hours & pricing can change often, I recommend checking South Point's website, here for the latest.
Dinner Menu at South Point's Garden Buffet
I visited South Point on a Tuesday night, so it was their normal Prime Rib dinner and not seafood night.
One thing I didn't expect was how wide-ranging the food options were, specifically as it relates to live-action stations. Among your live-action options are a:
Chicken wing bar – You choose the sauce.
Swiss steak with buttered noodles and brown sauce.
Monte Cristo Sandwich with ham, turkey, and swiss cheese dipped in egg batter and fried. There is also an option to top with fruit sauce and powdered sugar.
A Mongolian Grill with your choice of veggies and shrimp, chicken, or beef.
Carving station with prime rib, turkey breast, rotisserie chicken, rotisserie pork loin, pork ribs, and roasted prime rib of beef.
The carving station is what attracted me to begin with as many low to mid-tier buffets on the Strip have done away with prime rib altogether. At this point, if you want prime rib at a Strip buffet your only options are high-end experiences like the Buffet at Wynn, Bacchanal at Caesars, or Wicked Spoon, and they all cost upwards of $60. Meanwhile, South Point's buffet serves it at half the price.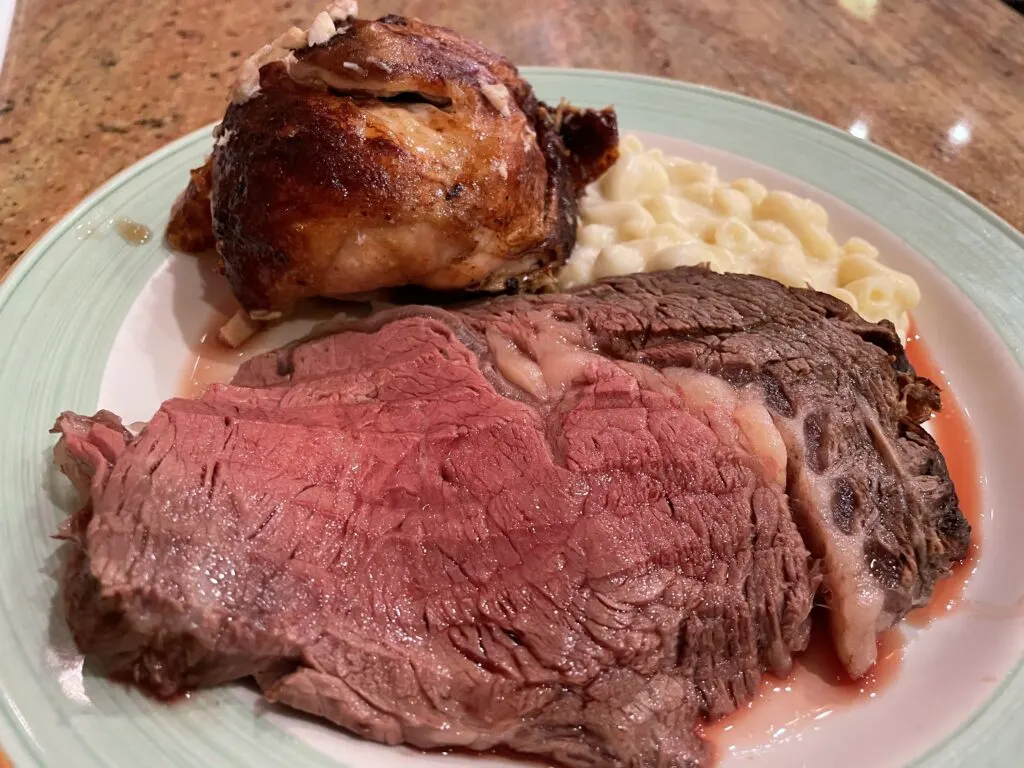 While the prime rib was awesome, the rotisserie chicken, pictured above, was dry as a bone. I've never experienced dry rotisserie chicken before, but it's not something I prefer to repeat.
Other items offered as part of South Point's dinner buffet included shrimp cocktails, BBQ pork, various fruit, liver bacon & onions, chicken in the pot, chicken Francaise, Italian sausage and peppers, pot roast, country mash, pasta salads, deep-fried trout, red pepper creme salmon, french fries, soups, and a number of pre-mixed salads.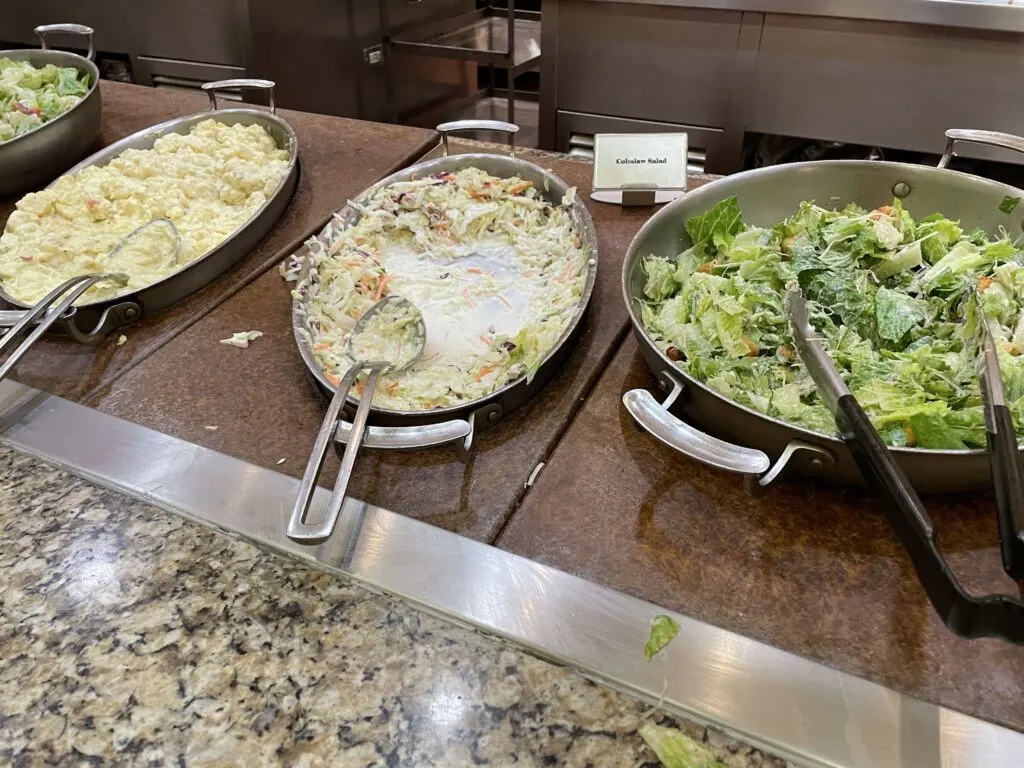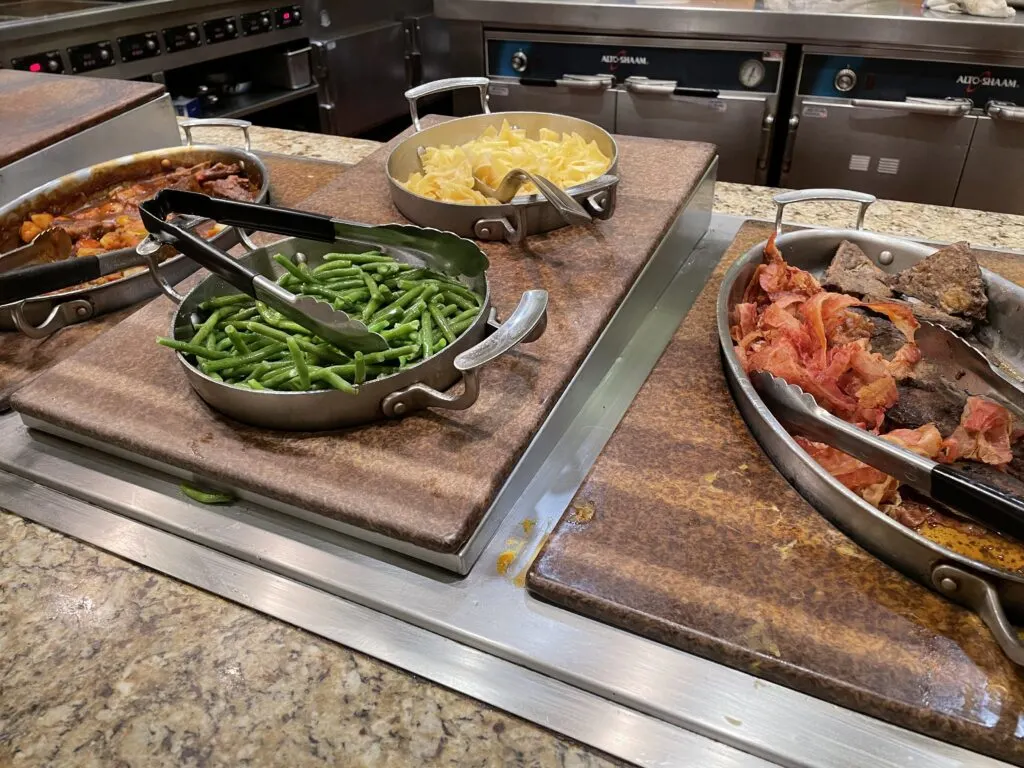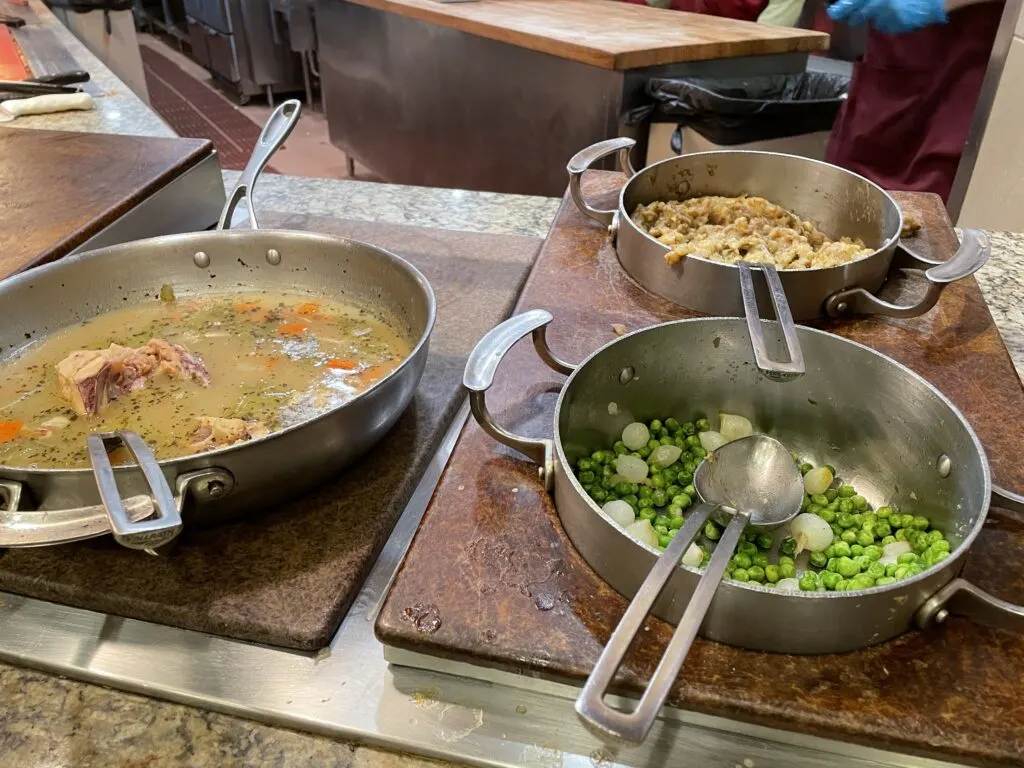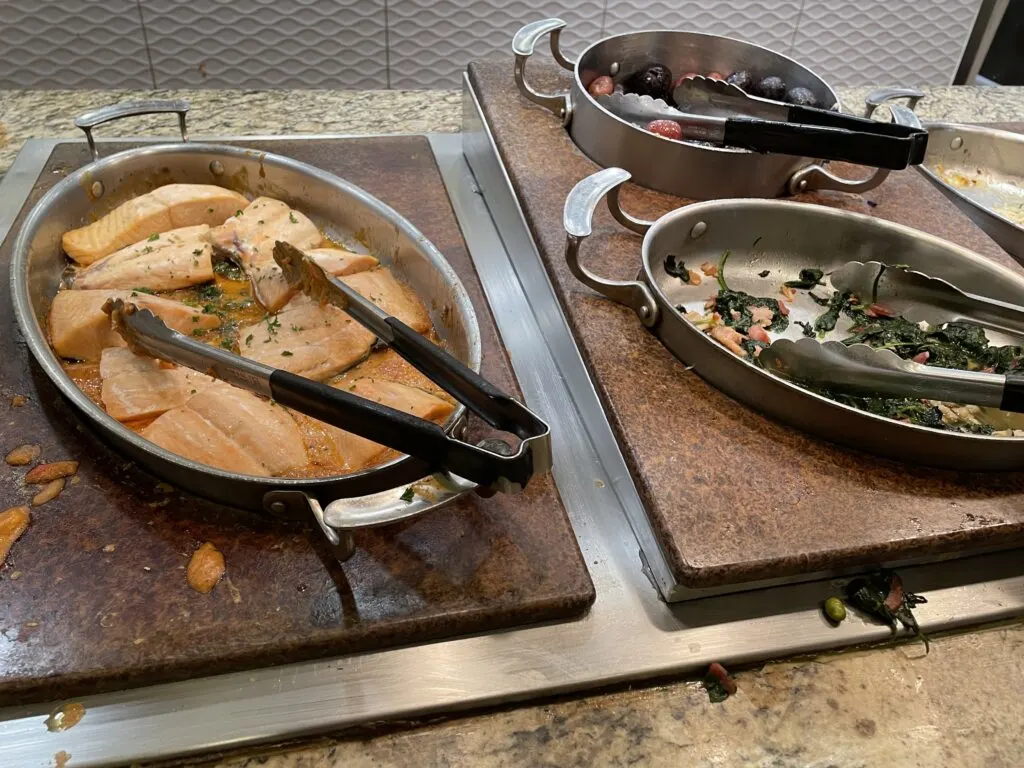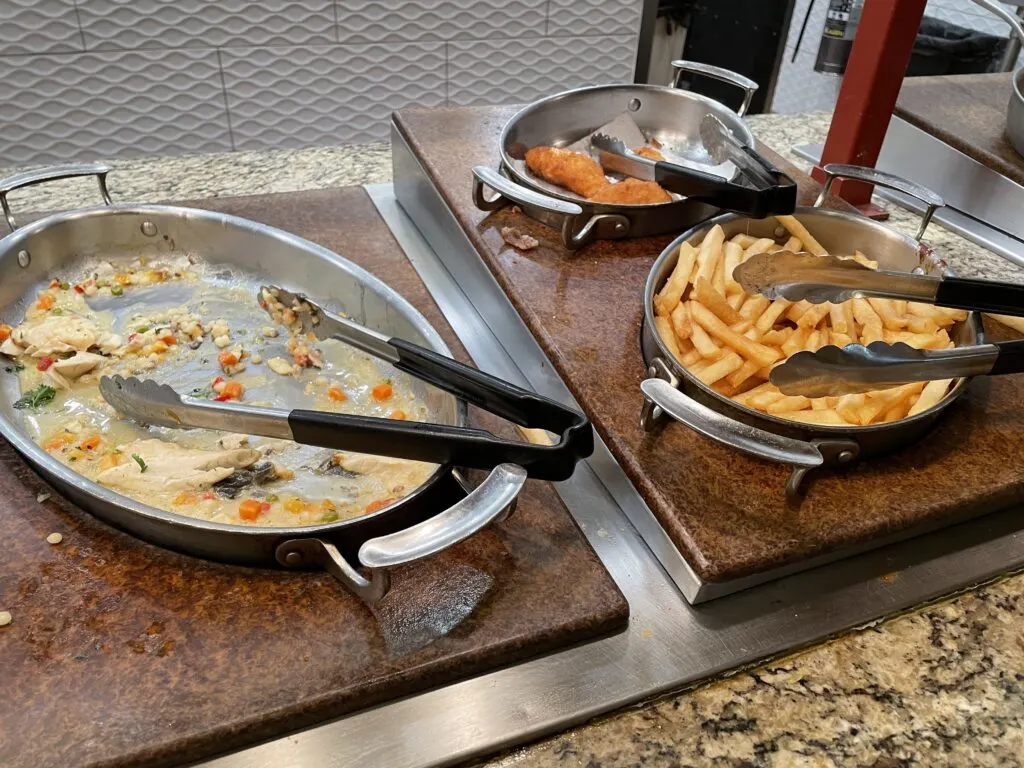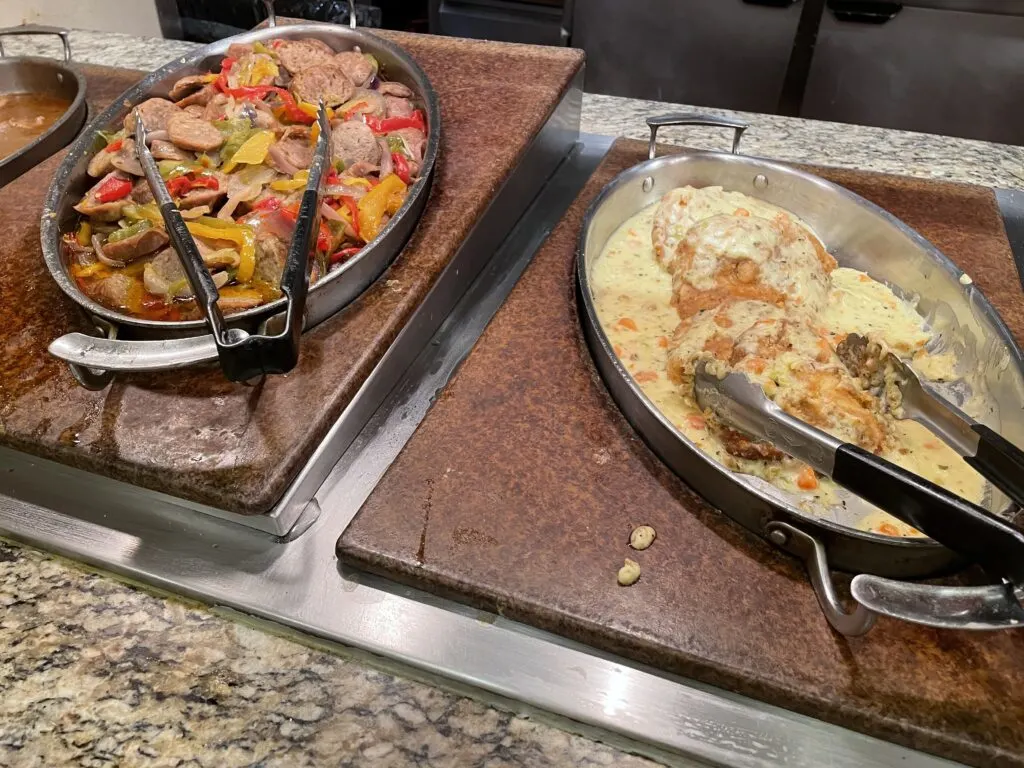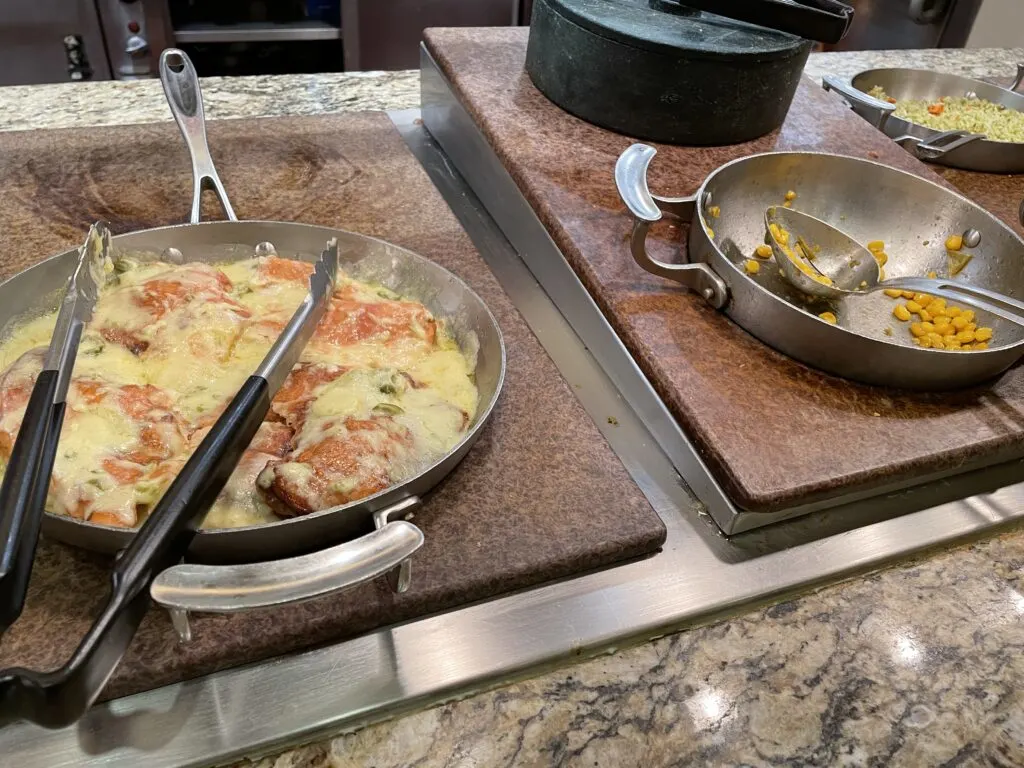 Mexican-inspired options included beef enchiladas and a taco/nacho bar with all the fixings.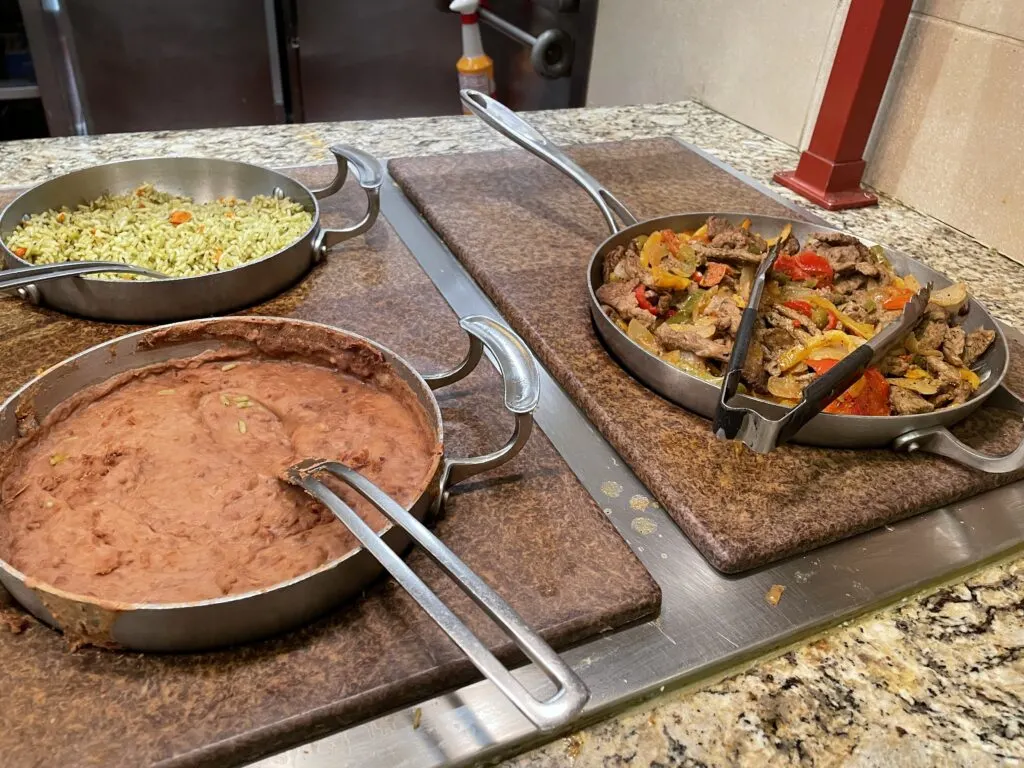 On the Italian side of things, the buffet at South Point offered a spaghetti bar with noodles and a number of different sauces. A variety of pizzas, garlic bread, and calzones were also available.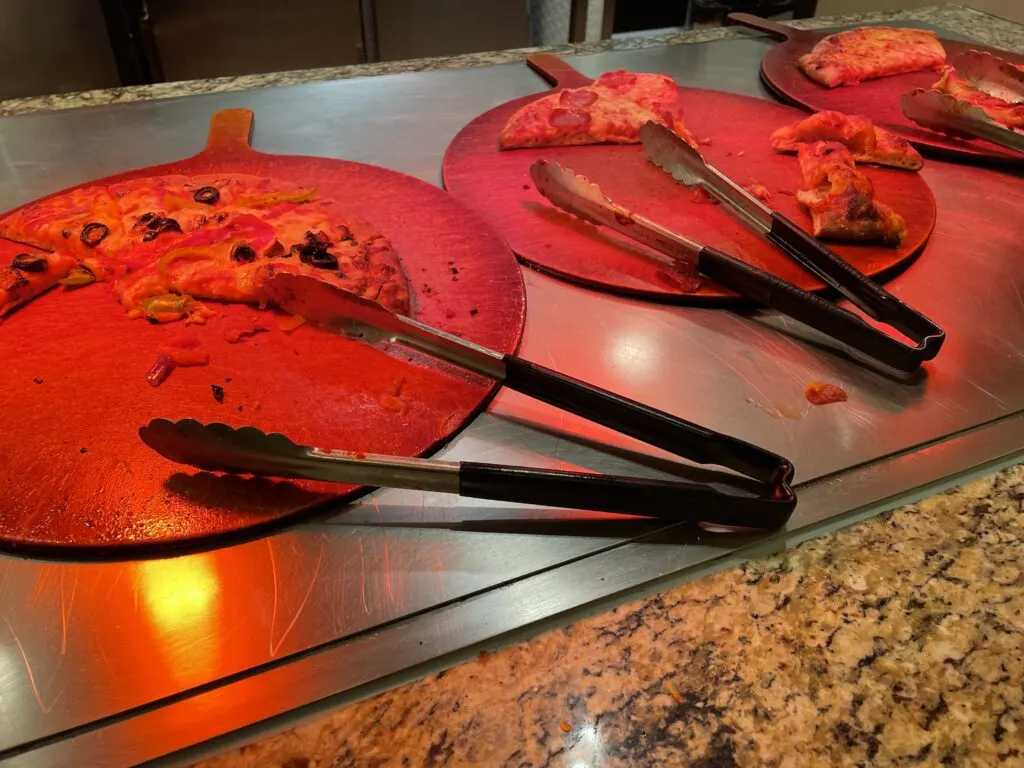 Asian-inspired selections included fried rice, pork pad Thai, spring rolls, Mongolian chicken, Chinese vegetables, and pork potstickers. There was also an impressive tray of assorted sushi.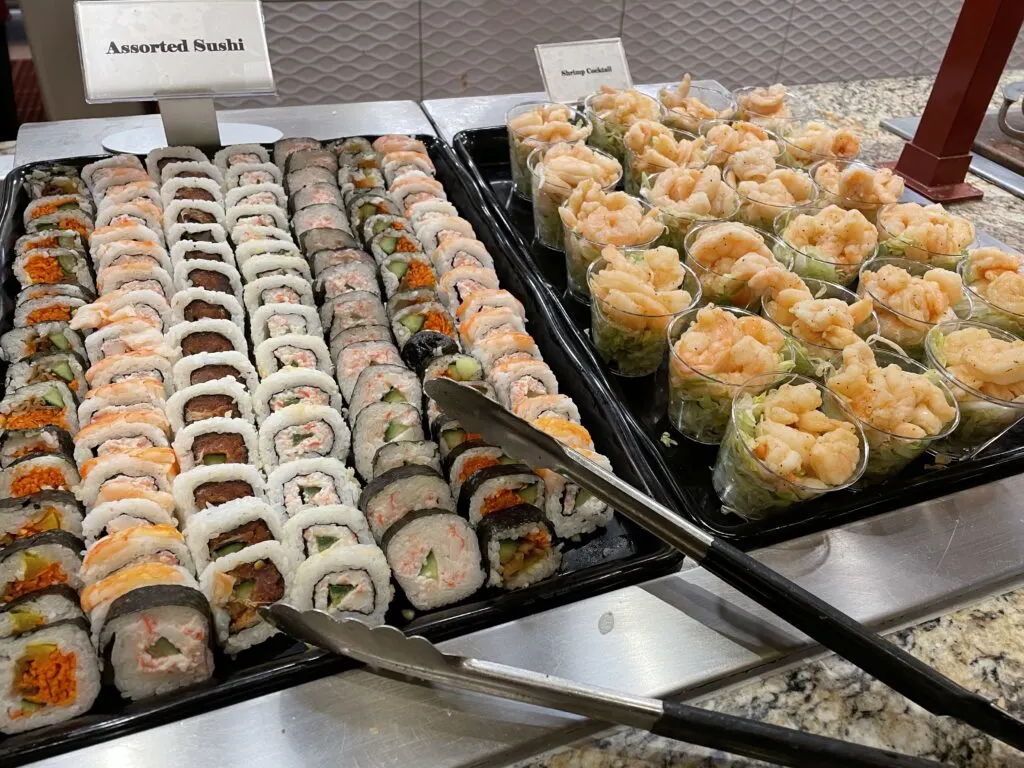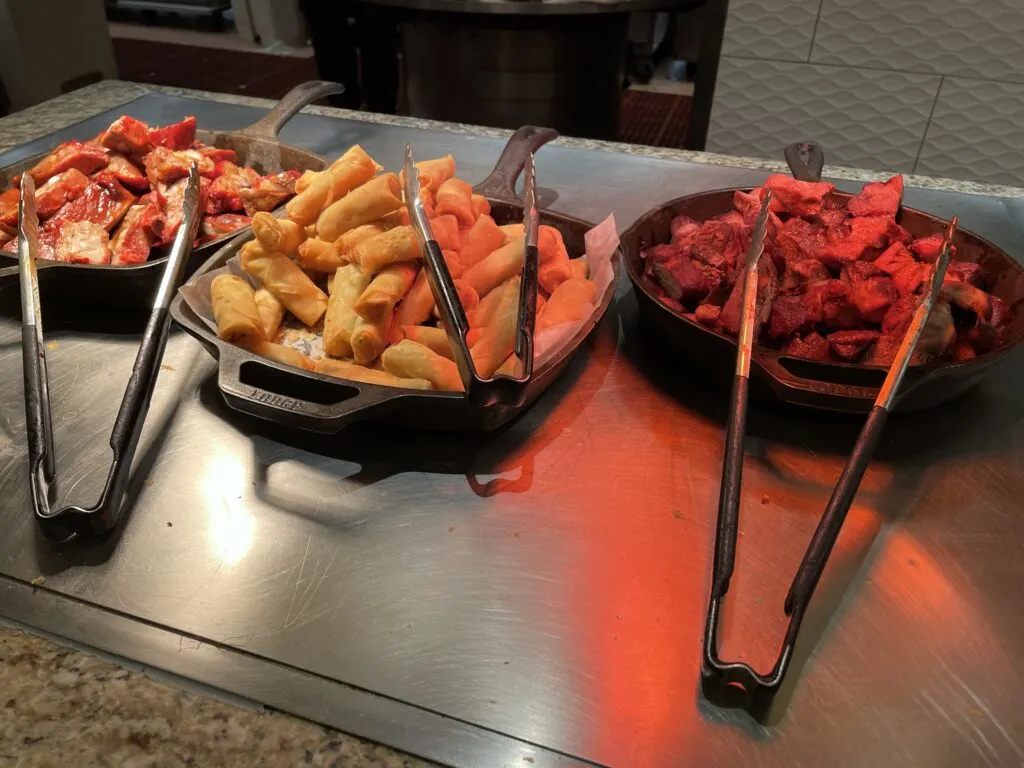 Of course, there was also a wide-ranging selection of desserts that were as visually appealing as they were delicious.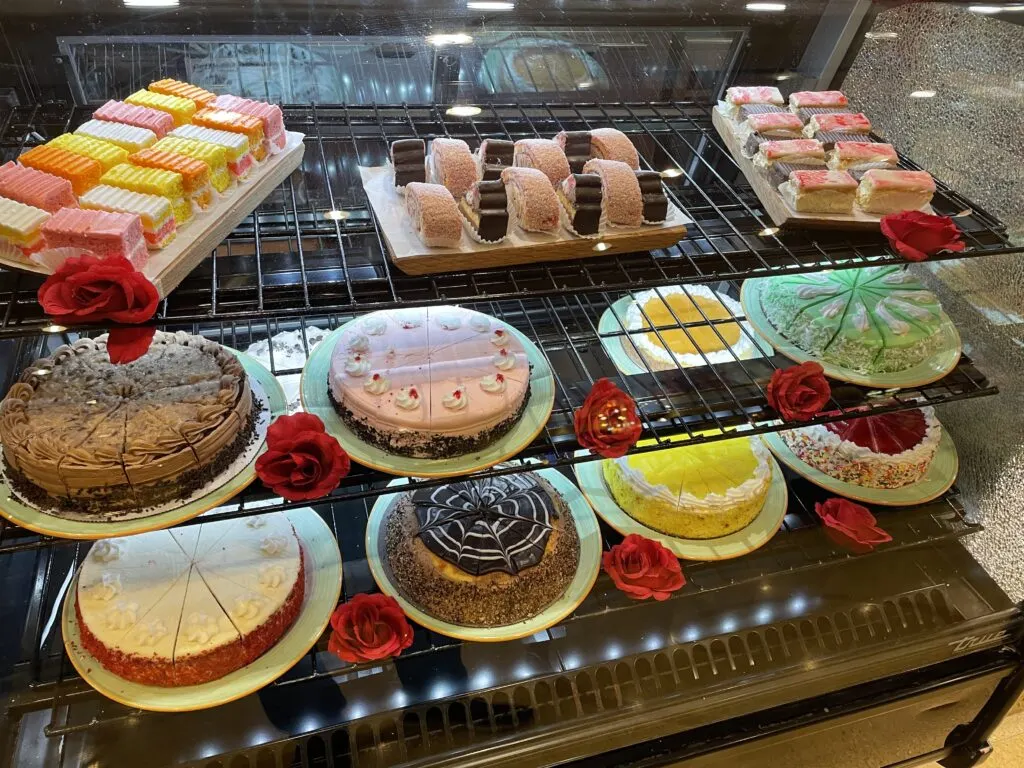 In my unimpeachable and expert opinion, the best items at the buffet included the prime rib, nacho bar, the Mongolian grill action station (with shrimp), and the sushi.
The Verdict – Is South Point's Buffet Worth a Trip?
It depends on what you're looking for, honestly. South Point's Garden Buffet is a budget option and your expectations should match the price point. Here were my personal likes and dislikes:
Why I'd Visit Again
Value: Point blank, the buffet is inexpensive. You can get a lot of calories, for a small amount of money.
Prime Rib: It's difficult, if not impossible, to find a budget-friendly buffet in Vegas that serves prime rib. South Point's Prime Rib was also legitimately outstanding. I'll almost certainly make a return trip to load up on this specific item.
Variety: I can't think of a buffet in Vegas with a more diverse and wide-ranging cuisine selection, and I've eaten at all of them. While a lot of the items I tasted were "just okay", I have a LOT more to try during future visits. People of all tastes and preferences will find something they're likely to enjoy.
Action Stations: There's such a diversity of live-action stations that everyone in your party is likely to find one that appeals to them. I personally found the Mongolian grill station to be a unique offering and quite good.
Cheap Drinks: Once you're seated, you can order $2 mimosas, bloody marys, or draft beer. Domestic bottled beer is $3, and imported bottled beer is $4.
What I Didn't Like
Food Quality: Outside of the Prime Rib, Mongolian grill, sushi, and desserts, there just weren't many items that blew me away. I think the best way to describe most of the self-serve food options is "pedestrian" or very average.
Picked Over Options: While the crew was prompt to replenish some items, others languished. I tried to hang around long enough to get photos of full troughs, trays, etc. because it makes for a more visually appealing picture, but it simply wasn't possible for all items as you likely noticed above.
Cleanliness: I didn't perceive this to be a staff or management issue necessarily, more so a disrespectful customer issue. Patrons weren't shy about making a mess, and it's pretty evident in the pictures above. People can be slobs.
Both the picked over nature of certain buffet items and the cleanliness of the buffet could also be a result of the current labor shortage. Who knows, it could have been a flukey day. Ultimately, none of the above ruined my experience but are worth mentioning.
So, Will I Go Back?
Yep. While the majority of the food options I tried were "just okay", I kind of expected it at the price point.
When it comes to buffets in Vegas, I either like spending more for the best of the best or finding value on the other end of the spectrum. While not a buffet that'll blow your socks off, I'll be back if only to abuse the Mongolian grill action station and load up on Prime Rib, sushi, and desserts. All of which exceeded my expectations.
As an added bonus, I can rip some comparatively cheap craps after my meal. Can't beat that.
If you aren't snobby about your buffet experience, I'd recommend giving Garden Buffet at South Point a shot, especially if you're on the hunt for cheap prime rib.
Of course, if you prefer a higher quality experience and don't mind paying up, check out The Buffet at Bellagio, Bacchanal at Caesars Palace, Wicked Spoon at Cosmopolitan, or The Buffet at Wynn.
Related: Buffets open in Las Vegas – A full breakdown of your options.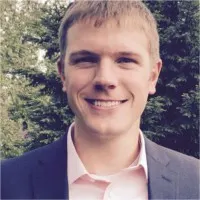 I'm a former software salesman turned Vegas aficionado. While the craps table is my preferred habitat, I pull myself away to explore new attractions, shows, restaurants, and outdoor activities around Las Vegas with the intent of sharing my experiences.
Ultimately, I just want to help folks plan a better trip and save a few bucks in the process.