Key Points:
Diana is an expertly presented museum with artifacts that include handwritten correspondence, dresses, and other "royal-used" items.
The exhibition does a meticulous job of detailing Diana's life and contributions in addition to telling the story of others in the royal family.
As a non-royal watcher myself, I found Diana to be both informative and interesting.
Although it's been over 25 years since Princess Diana passed away, she remains as popular and beloved as ever. In fact, recent polling from YouGov indicates that she has an absurdly high 72% favorability rating.
Las Vegas has a knack for creating popular niche attractions, and the Princess Diana Tribute Exhibition is just that.
Located within the upscale Crystals shopping center, Princess Diana Las Vegas aims to tell the story of Diana and others within the royal family with the aid of 700+ artifacts from her life.
I thought it would be fun to swing by and experience the new Princess Diana Exhibit at Crystals for myself, with the intent of sharing my experience.
Princess Diana Las Vegas Cost
Tickets to Diana: A Tribute Exhibition start at $31 (kids $23) if purchased directly with the attraction, here, and a small discount is offered to seniors, members of the military, families, and Nevada residents.
Refreshingly, fees are built into the price quoted above. No surprises here.
I was strolling through Crystals, walked up, bought a ticket, and was inside the attraction within 5 minutes. Pretty slick, and no huge crowd to battle.
If this is on your "must do" list, I'd recommend advance purchase just to be safe, however.
My Diana: A Tribute Exhibition Experience
After zipping through the ticketing process, I was in. The Princess Diana Exhibit starts by detailing the People's Princess's childhood and then moves chronologically forward from there.
Each room is packed with compelling visuals, informational placards, and artifacts and I figured it would be beneficial to share some of my personal favorites.
The portion of the attraction dedicated to Diana's childhood was especially enlightening for me, as it's the part of her life that's least documented and discussed here in the United States.
The most fascinating artifacts from her early days were examples of her actual schoolwork. Being able to see and read someone's actual handwriting is immensely personal, and a really interesting touch.
Her relationship with Prince Charles was obviously well-documented from start to finish.
As a history dweeb, I especially enjoyed reading the newspaper coverage of their marriage from various cities.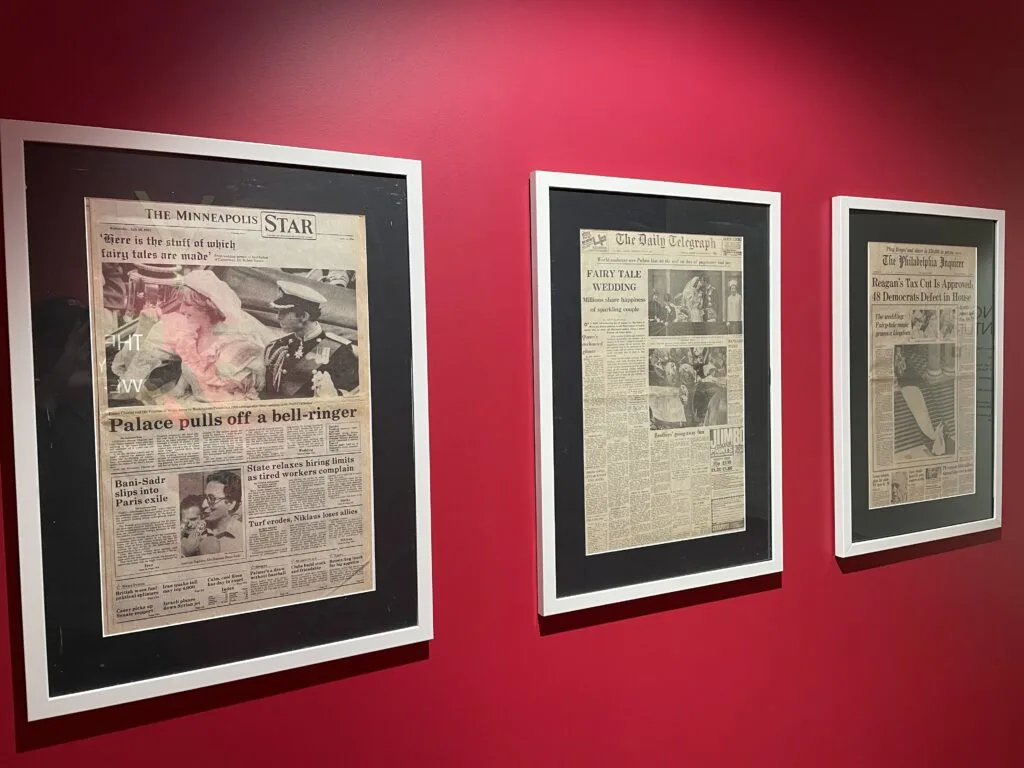 Of course, the most popular artifact on display from this portion of Diana's life was a replica wedding dress that provided guests with a unique photo opportunity.
While this dress (and one or two more) is a reproduction, there were numerous dresses on display that were actually worn by Diana.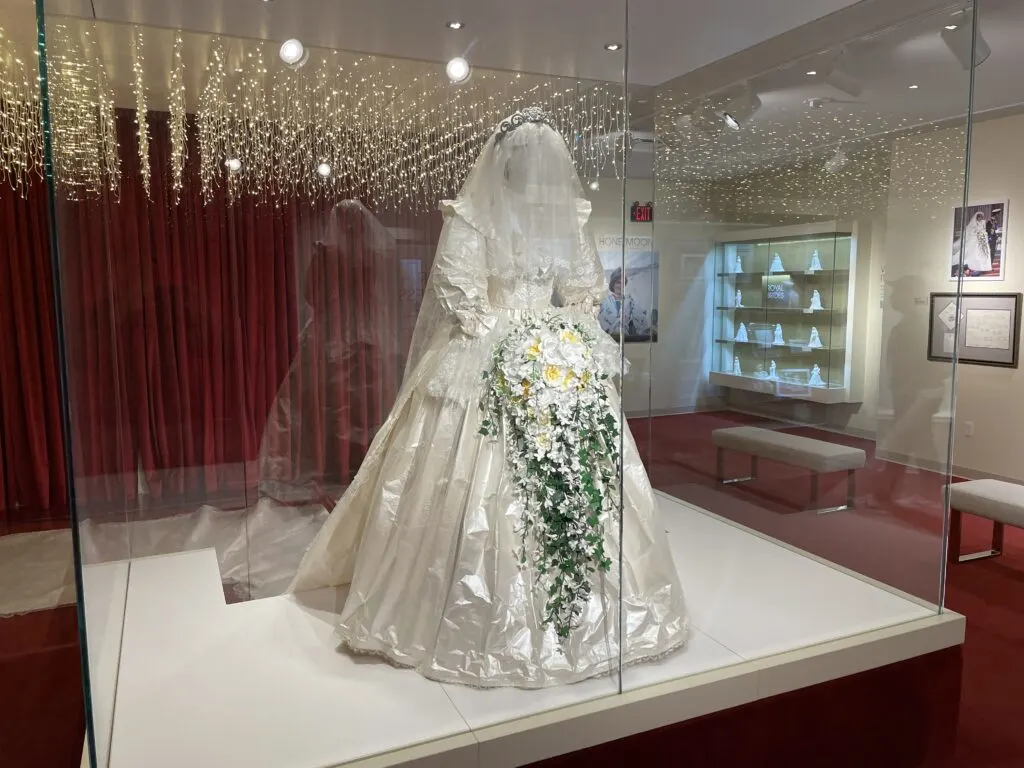 The life and works of Charles and Diana were well documented, which included the birth and childhood of their two boys, Harry and William.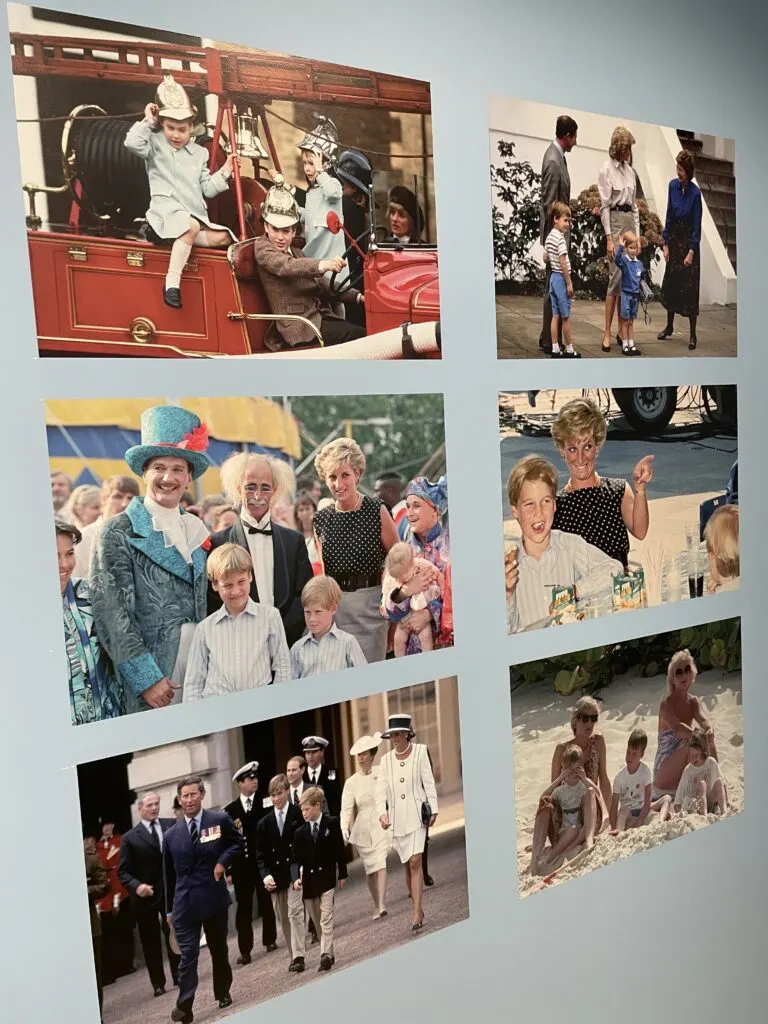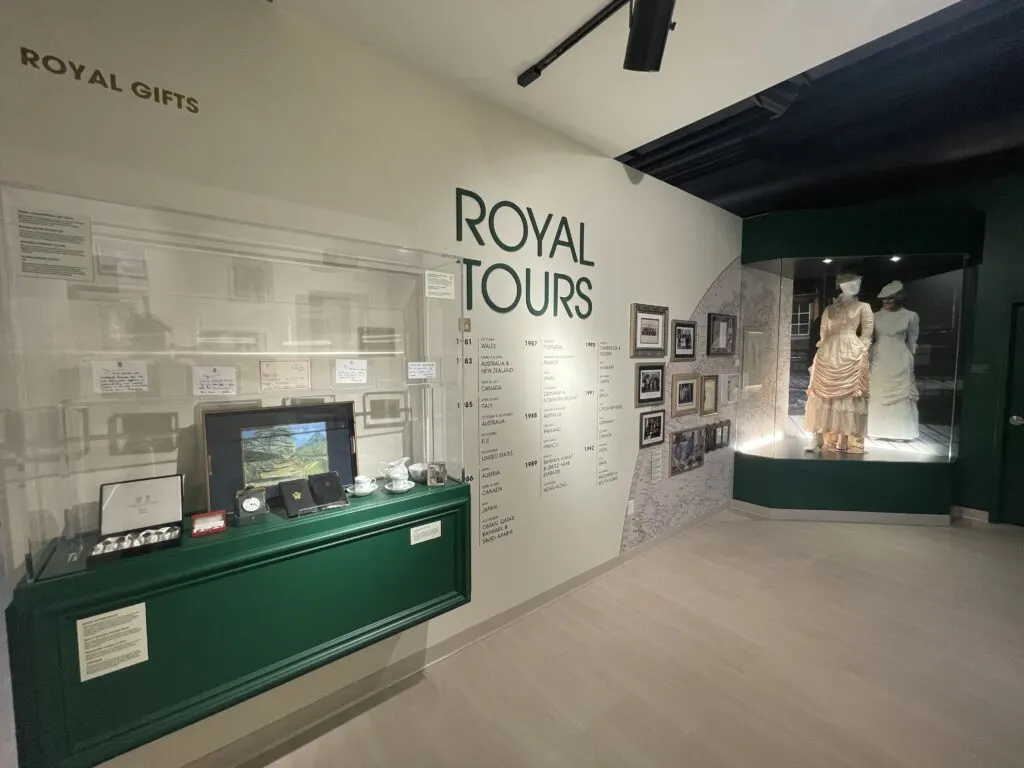 The exhibit did a fantastic job highlighting what Diana was like as a person, her charitable works, and why she was beloved. A few of her personal letters were on display, which provided a window into her thoughts, personality, and values.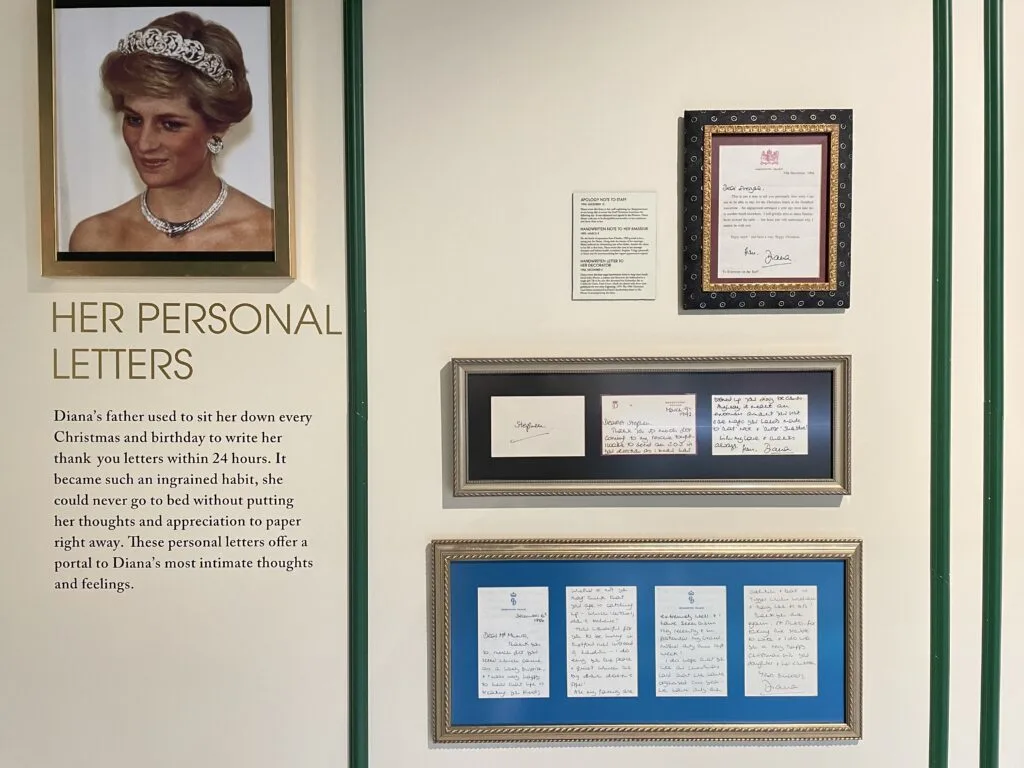 Extending beyond Diana, the exhibition also dives into Charles' history and marriage to Camilla.
Some of the more unique displays found in the Diana Exhibition were her dresses. In one room were a collection of authentic "human-sized" dresses actually worn by Diana.
In another were a large number of "Doll-sized" replicas of dresses she had worn.
Of course, Diana's untimely death and the funeral were also focal points of the exhibition.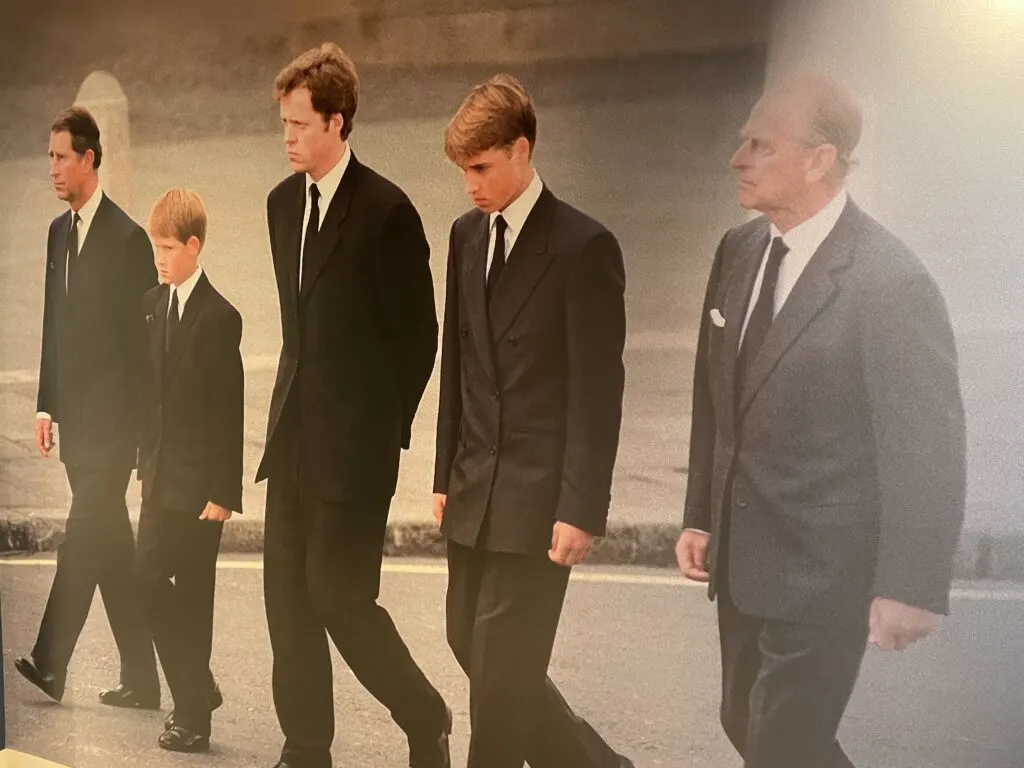 Lastly, the attraction ends on a positive note, focusing on Diana's "Legacy of Kindness", her sons, and their lives, marriages, and work.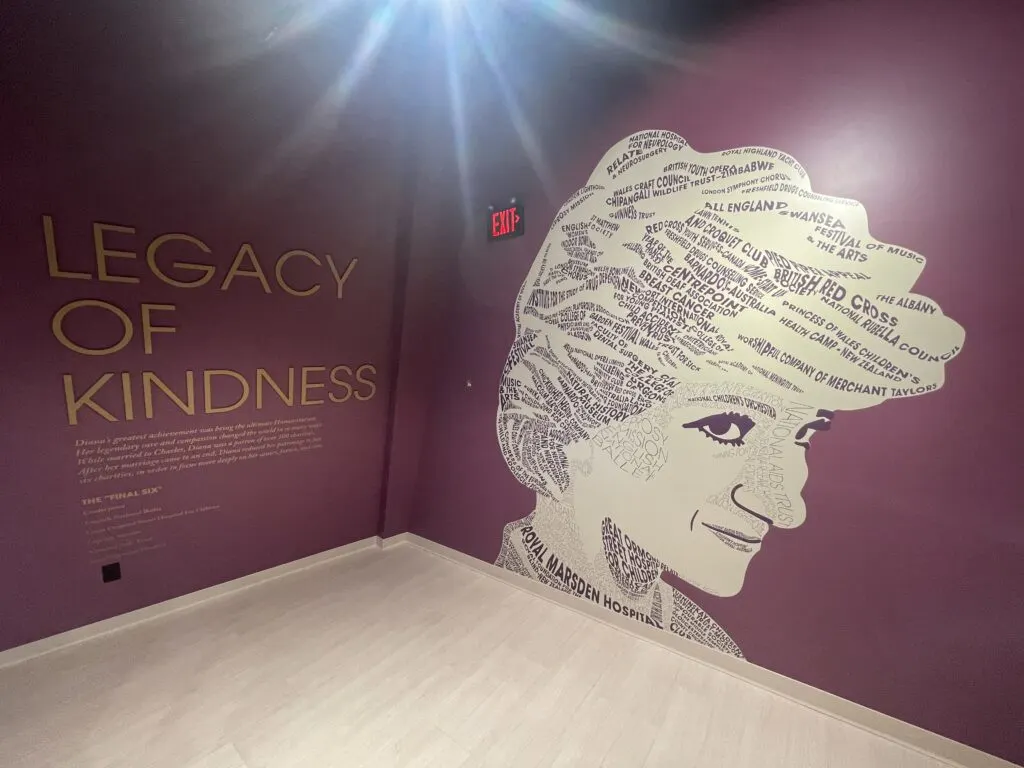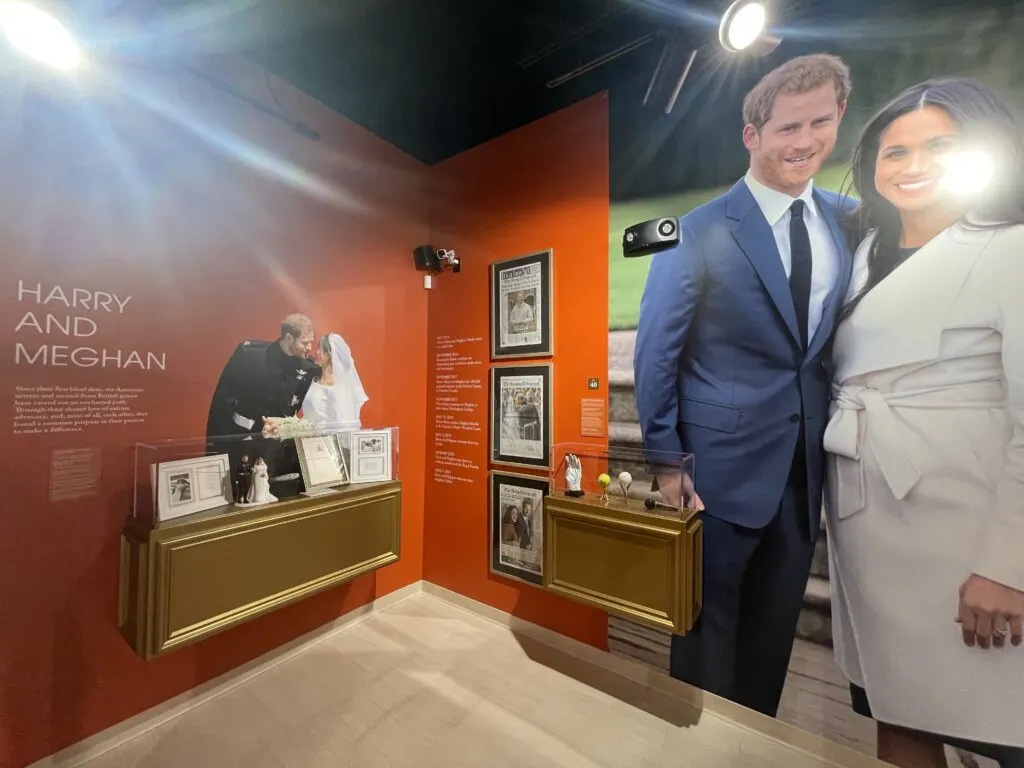 Is the Princess Diana Exhibit in Las Vegas Worth the Money?
While I'm not overly passionate about "all things royal", I found the Princess Diana Exhibit in Las Vegas to be a nice combination of information-rich and captivating. In fact, I feel as though I almost got more out of the experience because I was clueless going in. I learned a LOT.
What made this attraction unique and engaging was the way they told the story. As a kid that grew up watching the History Channel, I'm a sucker for artifacts and history, and Diana had plenty of interesting items to look at – Chief among them were the hand-written schoolwork and letters that were on display.
If a non-royal-watcher like myself found this interesting, I think this qualifies as a "must-do" for anyone passionate about Diana and the royal family in general.
In fact, I'd estimate about 50% of the people walking through the exhibits with me were from Britain, and I overheard a patron with (what I assume to be) a British accent glowing to an employee about "How well everything was put together".
British tested. Brtish approved.
If you're looking for a museum attraction in Las Vegas and are remotely interested in Princess Diana and the royal family, give this a shot – I doubt you'll regret it.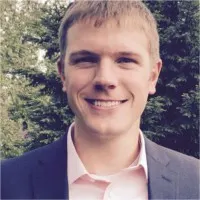 I'm a former software salesman turned Vegas aficionado. While the craps table is my preferred habitat, I pull myself away to explore new attractions, shows, restaurants, and outdoor activities around Las Vegas with the intent of sharing my experiences.
Ultimately, I just want to help folks plan a better trip and save a few bucks in the process.