Key Points:
Garden Court at Main Street Station is the only buffet left near Fremont Street and one of the cheapest in Las Vegas.
The buffet can hardly be described as "upscale", but is inexpensive and is a strong value for the price.
While none of the menu items "blew me a way" I found everything to be tasty, warm, and satisfying.
In an era of "blah", themeless resorts, Main Street Station sets itself apart with a refreshing dose of uniqueness that has become increasingly rare in Las Vegas.
Located a block away from the Fremont Street Experience, Main Street Station still wears its convincing Victorian theme with pride. The casino also offers cheaper than average gaming options, and a comparatively uncrowded environment.
Among the coolest aspects of the resort is the antique collection that's free to view and includes items like a fireplace from the Preswick Castle in Scottland, a bronze wild boar from Nice, France, and a chandelier from the Coca-Cola Building.
My favorite artifact is the portion of the Berlin Wall which can be found behind a row of urinals in the men's bathroom. I wanted to take a picture, but guys kept coming in to pee… I didn't want to look like a creeper.
Here's Main Street Station's full antique guide.
The Victorian them expertly spills into the Garden Court Buffet at Main Street Station, which ranks among the cheapest buffets in Vegas.
I recently stopped in for their brunch buffet and look forward to sharing my experience and what there is to eat!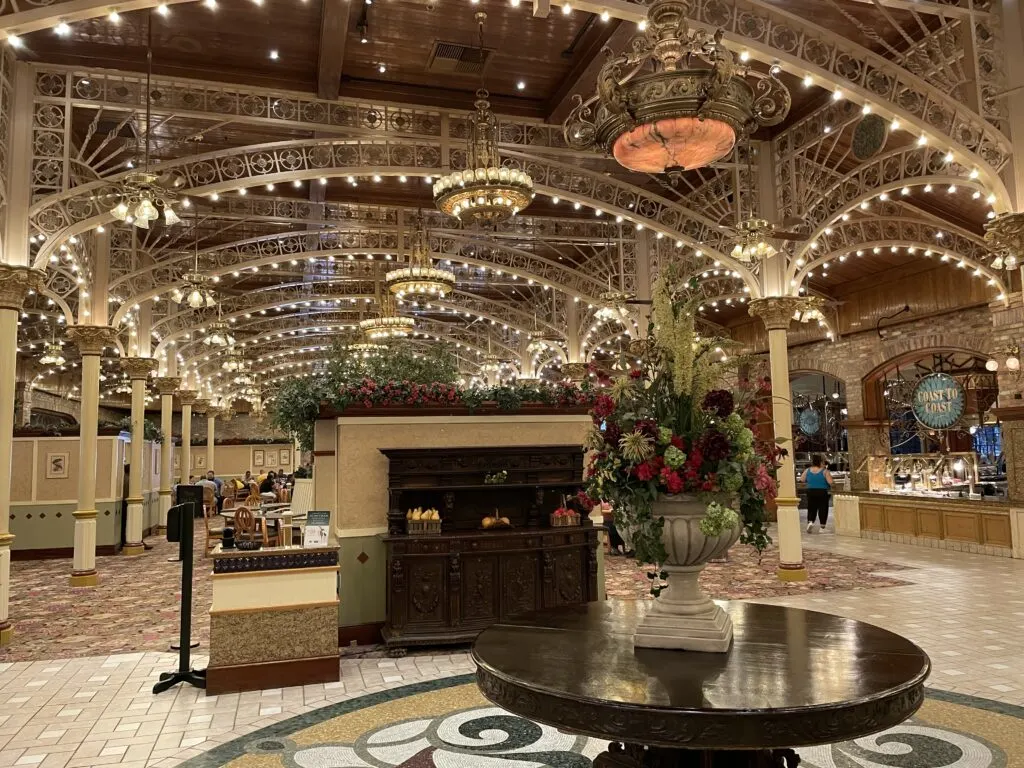 Garden Court Buffet Pricing and Hours
The Garden Court Buffet at Main Street Station is currently open daily for brunch from 8 am – 2 pm and costs $23.99 on weekdays, and $26.99 on weekends.
Dinner service is offered on Friday and Saturday only from 4 pm – 9 pm and costs $32.99.
Loyalty club members that have earned Emerald status or above receive a $3 discount.
Kids aged 4 -10 eat for half price, while kids under 3 years old eat free.
Related: Palms A.Y.C.E Buffet Review.
Garden Court Buffet Brunch Menu
In addition to being one of the cheapest buffets in town, Garden Court is the only buffet open for business on or near Fremont Street.
If I'm being honest, the price point had me somewhat concerned about the quality I'd receive. While I certainly wasn't expecting the type of experience offered at top-tier buffets like Bacchanal at Caesars, Wicked Spoon, or The Buffet at Wynn, I was hopeful that Garden Court would pan out to be a solid budget option.
As you would expect of a brunch buffet, both lunch and breakfast items made their way onto the menu.
Breakfast options at the Garden Court Buffet included waffles, pancakes, French toast scrambled eggs, bacon, sausage, hash browns, and fruit.
Lunch items included country fried steak and gravy, grilled fish, mashed potatoes & gravy, au gratin potatoes, fried chicken, shoyu chicken, roasted yams, mac & cheese, southern pork chops, pizza, pasta, smoked salmon, a salad bar, cooked vegetables, and an impressive number of desserts.
At the carving station was turkey, ham, kielbasa, and Italian sausage. There was no prime rib, unfortunately, but I didn't really expect it at the price point.
*Reader Note: Prime rib is apparently available at the buffet on weekend nights. Skip the early morning meal if that's important to you.
Here are some pictures I took of items available at the buffet: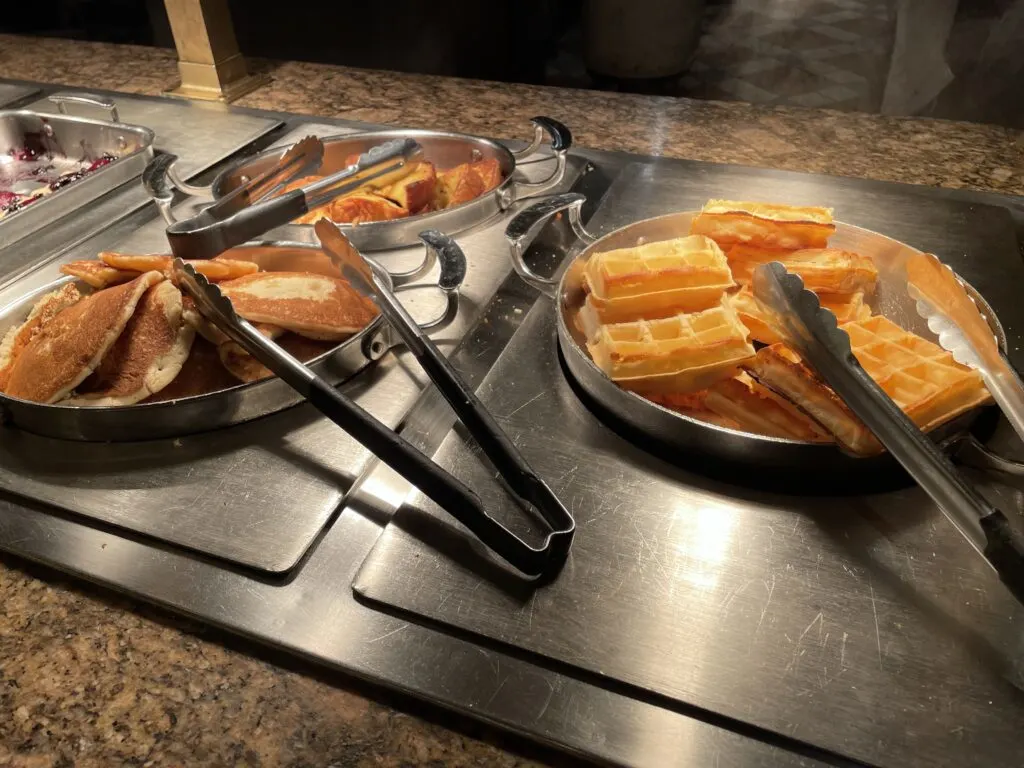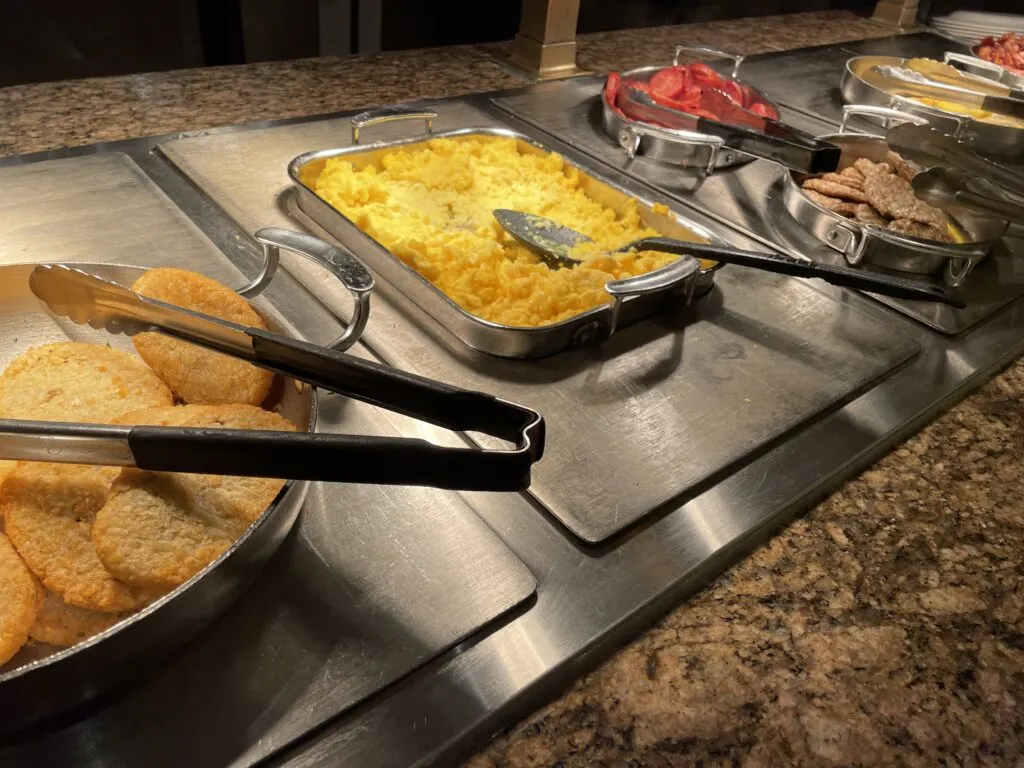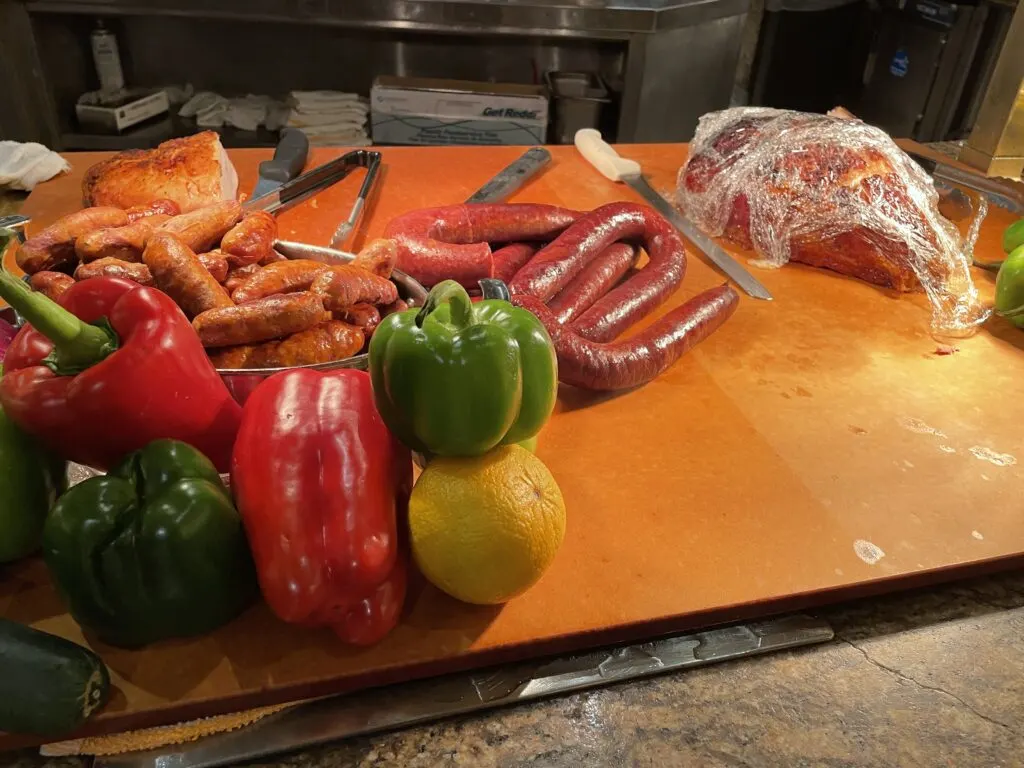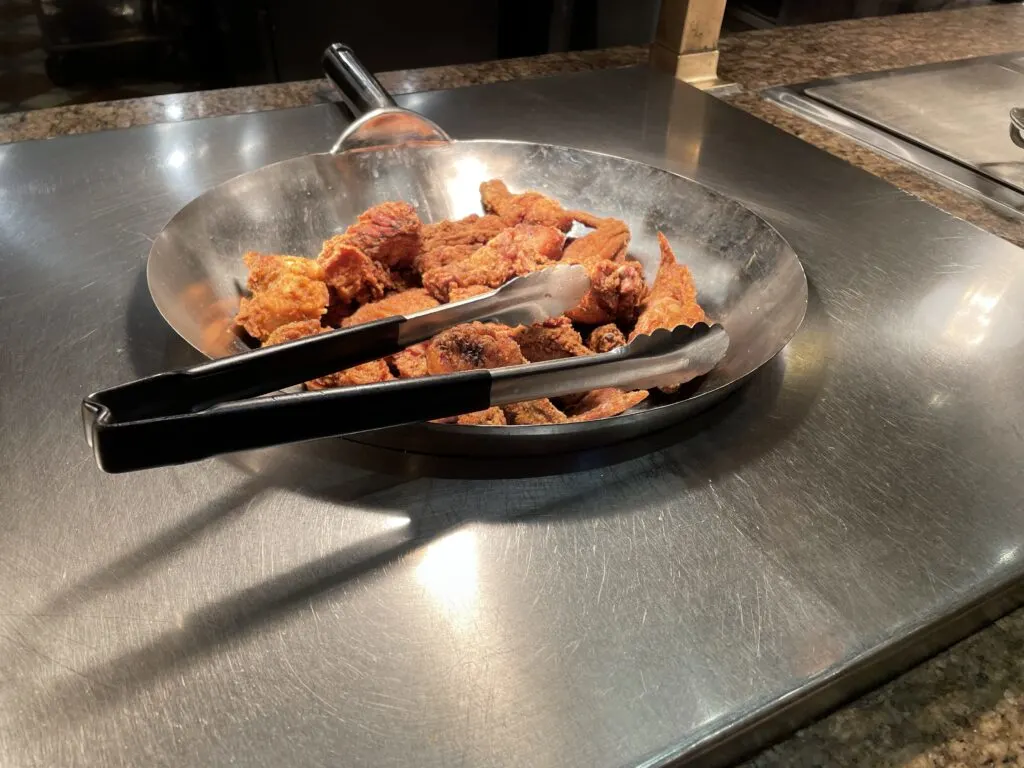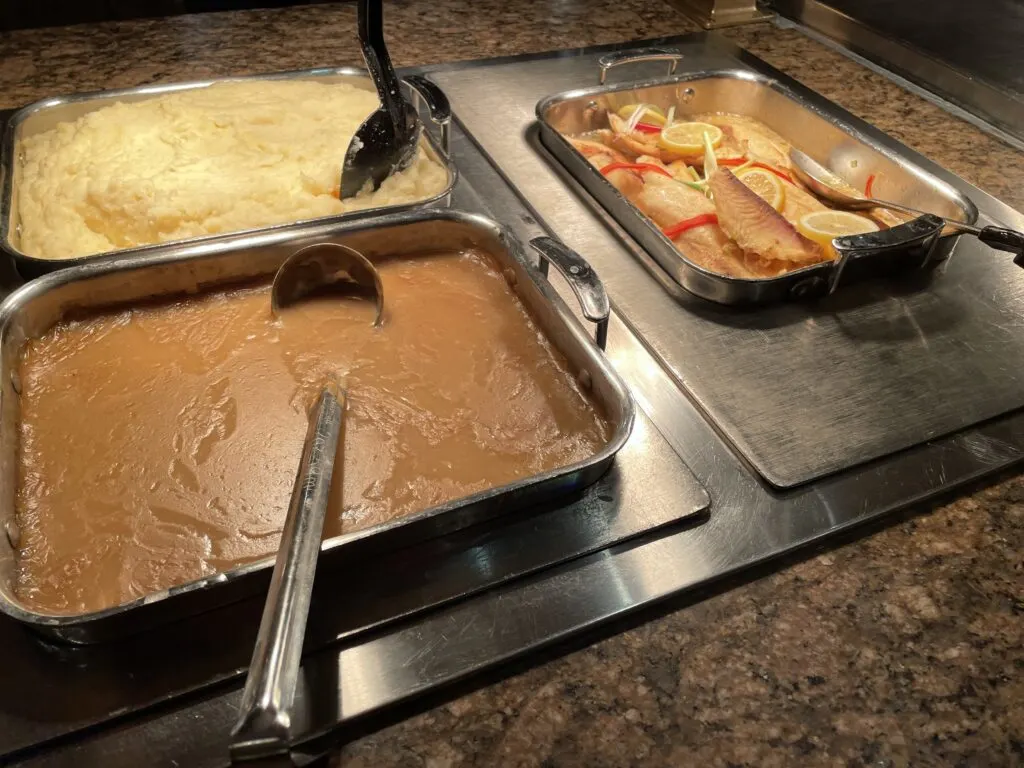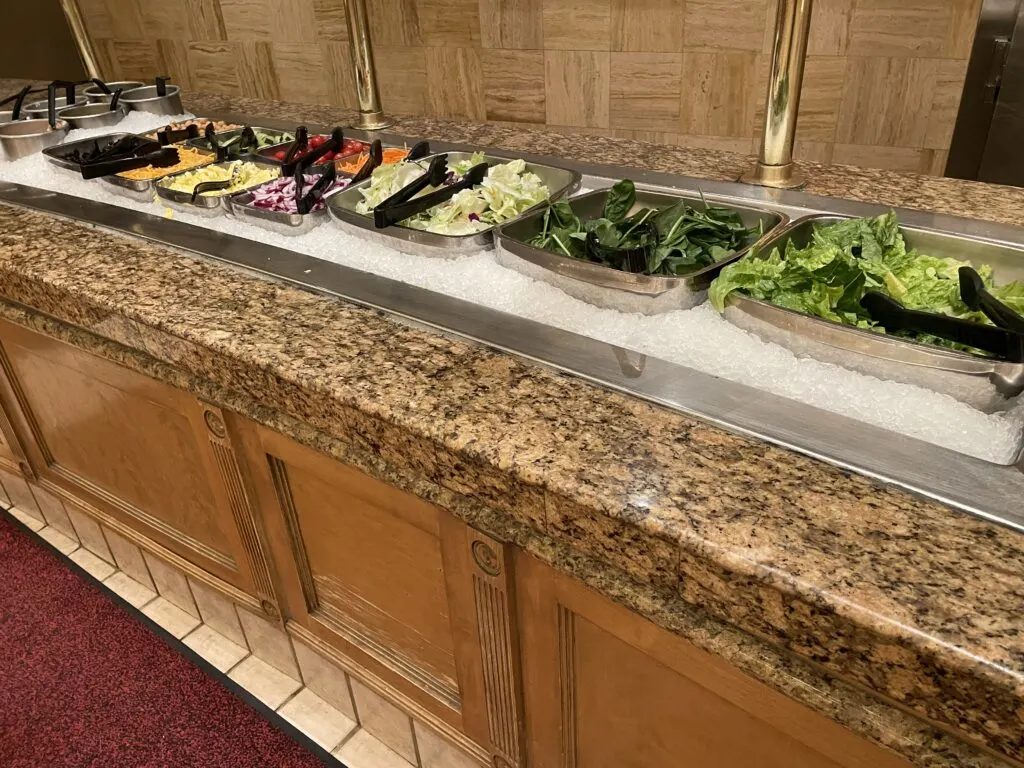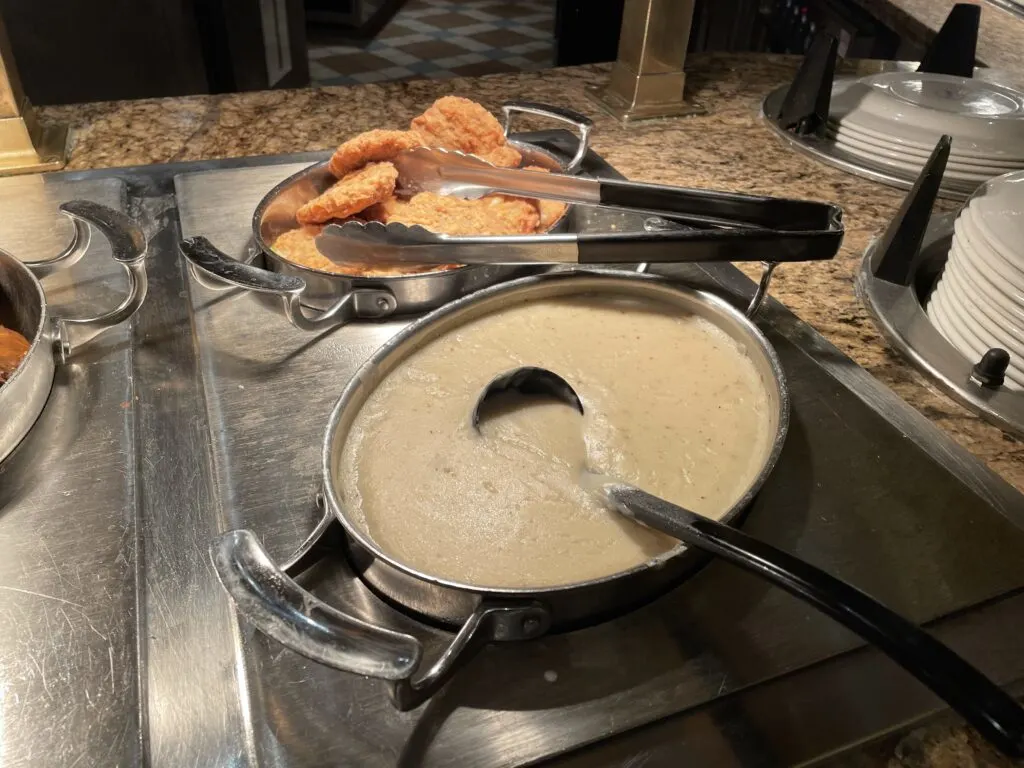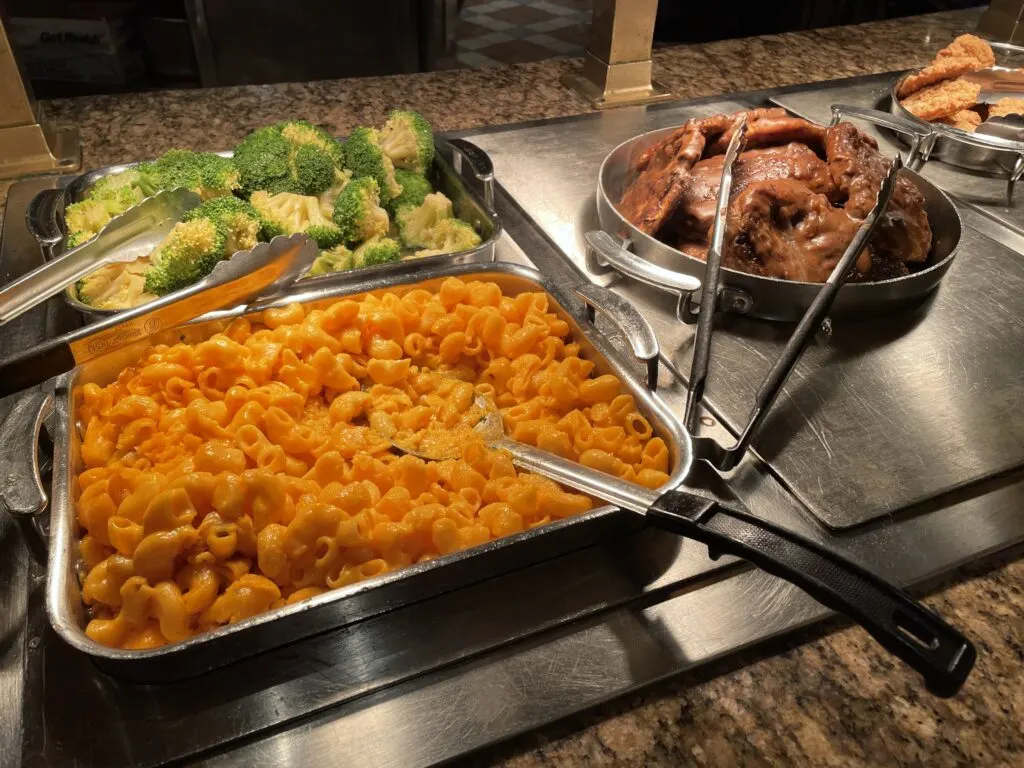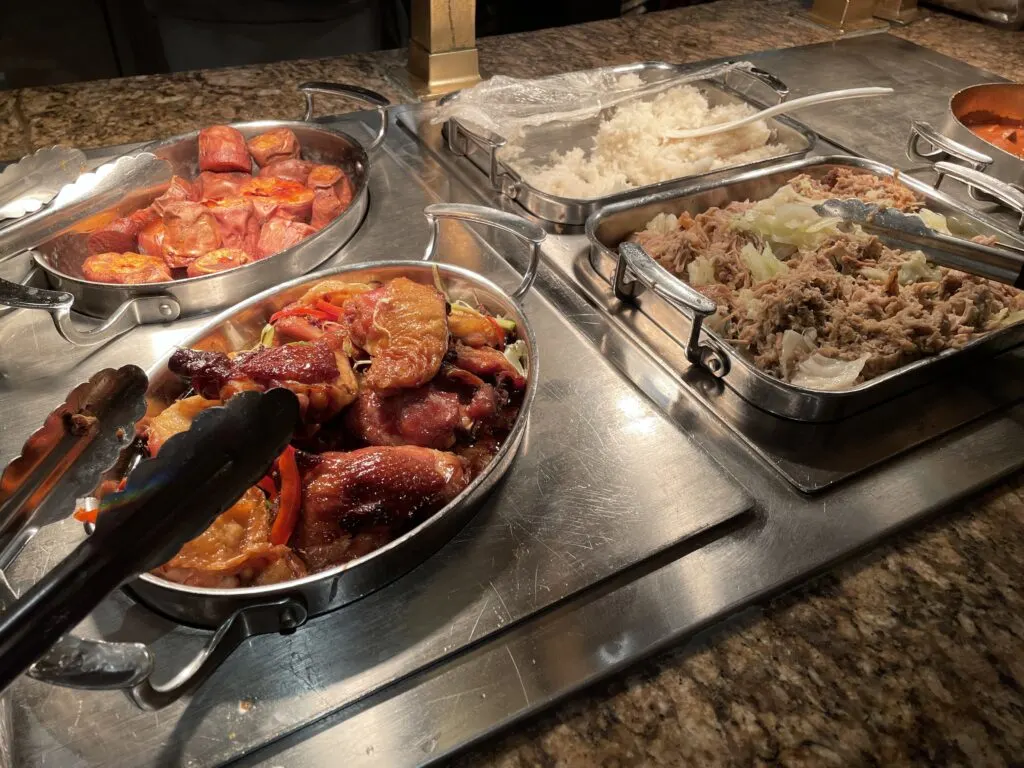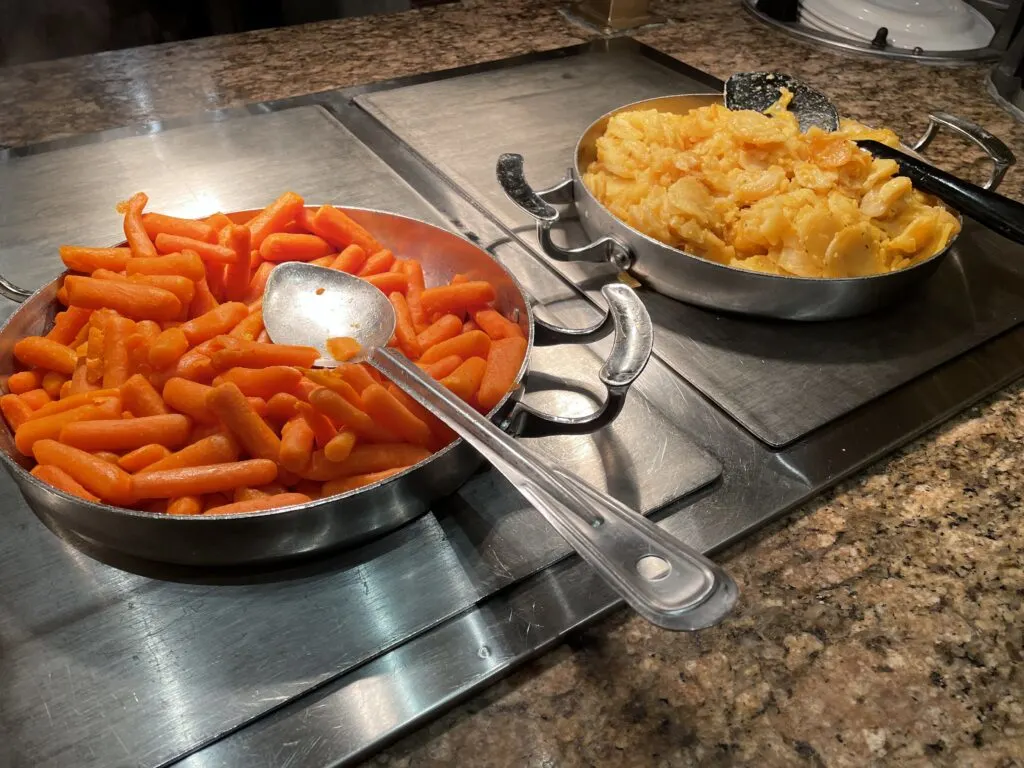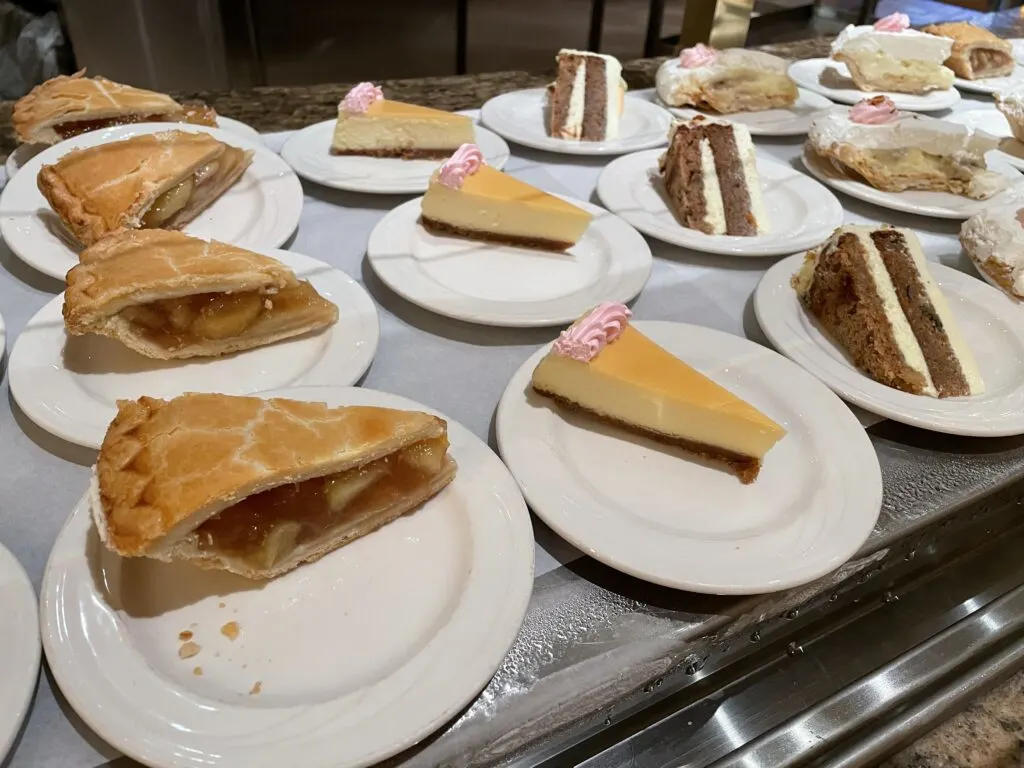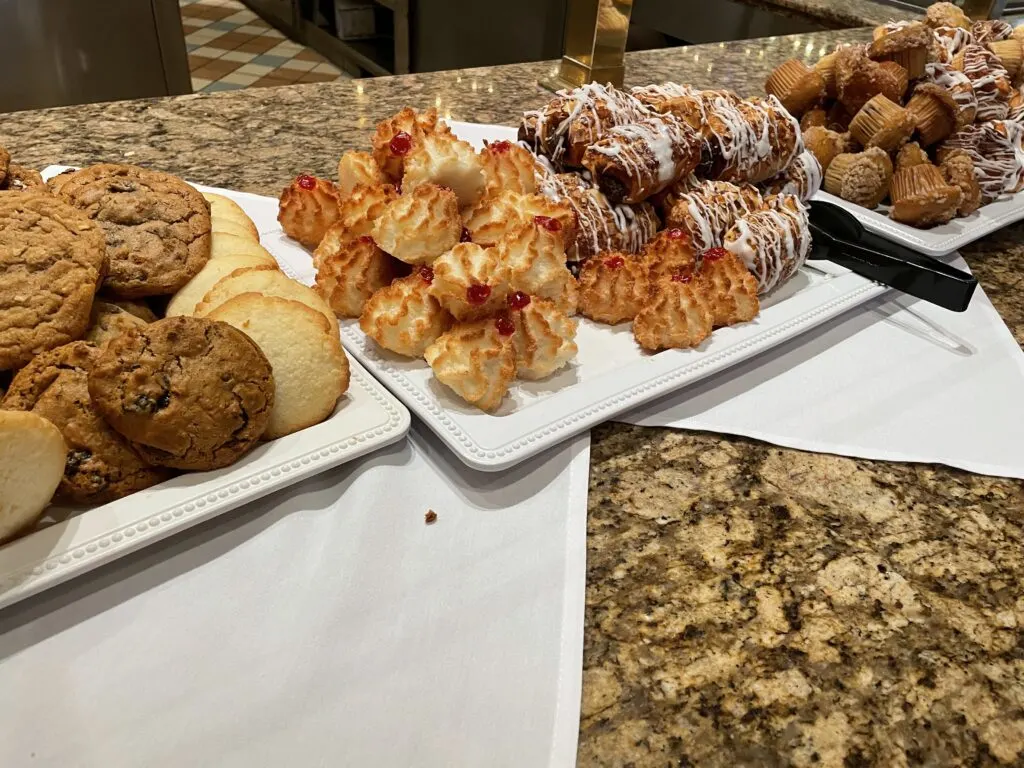 For my meal, I attempted to try as many items as possible. The first breakfast plate I constructed was comprised of scrambled eggs, sausage, hash browns, and bacon. It was rock solid.
Round two was a plate of pancakes, french toast, and waffles. Again, everything was satisfying. Warm. Fluffy. Sweet. Perfect.
On the lunch side, I skipped the carving station as the absence of prime rib made it less appealing.
The pizza, as it does at every buffet, looked as if it had been sitting out for a while but was pretty darn good. I chose a 3-meat option and ended up going back for more.
I also got into the country fried steak with gravy and found it to be a little tough, but still tasty.
For dessert, I grabbed both a slice of apple pie and cake. While the apple pie was great, I was surprised to discover the cake was made of shredded coconut. For some reason, I just can't handle the texture of coconut. Sorry to say, I wasted that slice of cake.
While the dessert selection isn't as expansive as other buffets, I think you'll find it to be adequate.
Is the Garden Court Buffet at Main Street Station Worth the Money?
Garden Court knows its identity and delivers ample value for the price charged.
I think it's important to note that this isn't the type of buffet you go to for "fancy" culinary options or items that will "blow your socks off". This is a blue-collar buffet that delivers a lot of quality food, at a competitive price.
Everything at the buffet was warm and tasted great. The variety offered ensures there will be something for all tastes.
I was also surprised at how clean and maintained everything was. Cleanliness can be touch and go at other similarly priced buffets, but Garden Court was on top of it.
I actually found Main Street Station's buffet to be very similar to MGM Grand's buffet on the Strip, only cheaper.
Ultimately, I left feeling like I got my money's worth and am excited to return.
Related: Buffets open in Las Vegas – On the Strip and Downtown.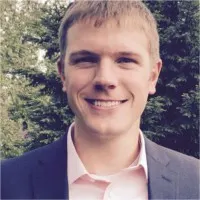 I'm a former software salesman turned Vegas aficionado. While the craps table is my preferred habitat, I pull myself away to explore new attractions, shows, restaurants, and outdoor activities around Las Vegas with the intent of sharing my experiences.
Ultimately, I just want to help folks plan a better trip and save a few bucks in the process.