Key Points:
Red Rock Canyon National Conservation Area is a mere 15 miles from the Las Vegas Strip.
Once inside the park, the 13-mile scenic drive offers stunning views and access to numerous hiking trails that range from easy to rigorous.
The views offered by the trails I personally hiked (Calico Tanks & Ice Box Canyon) were nothing short of spectacular.
Only 20-minutes by car from the Strip, Red Rock Canyon makes for the perfect day trip while in Las Vegas. Whether you're an avid hiker, want to breathe some fresh air, or have blown through your gambling budget, the conservation area could be an awesome distraction from the hustle and bustle nature of Sin City.
For those unfamiliar, Red Rock Canyon is a National Conservation Area that falls under the jurisdiction of the Bureau of Land Management (BLM). Within the conservation area is a 13-mile, 1-way scenic drive that has numerous hiking trails along the route, each with its own restrooms and parking lot.
I reserved my 8:00 am entry time on Red Rock Canyon's visitor website about a week in advance. The cost for a car is $15, which I prepaid. My receipt had a QR code which was scanned by an employee upon entering the park.
Wanting to beat the crowds, I arrived promptly at 8 am and was immediately taken aback by the size and expansiveness of the space. It's the kind of place that reminds you how small you are in the grand scheme of things.
The 13-Mile Scenic Drive
The first taste of Red Rock Canyon is experienced along the 13-mile scenic drive which takes you on a loop of the park. The road's direction of travel is 1-way, which is nice as the windy nature of the road would make 2-way traffic a nightmare.
Along the drive, there are numerous hiking trails that are well-marked and offer parking and an outhouse-style restroom.
Even if hiking isn't of interest, the drive itself is worth the cost of admission as the beauty you encounter is amazing.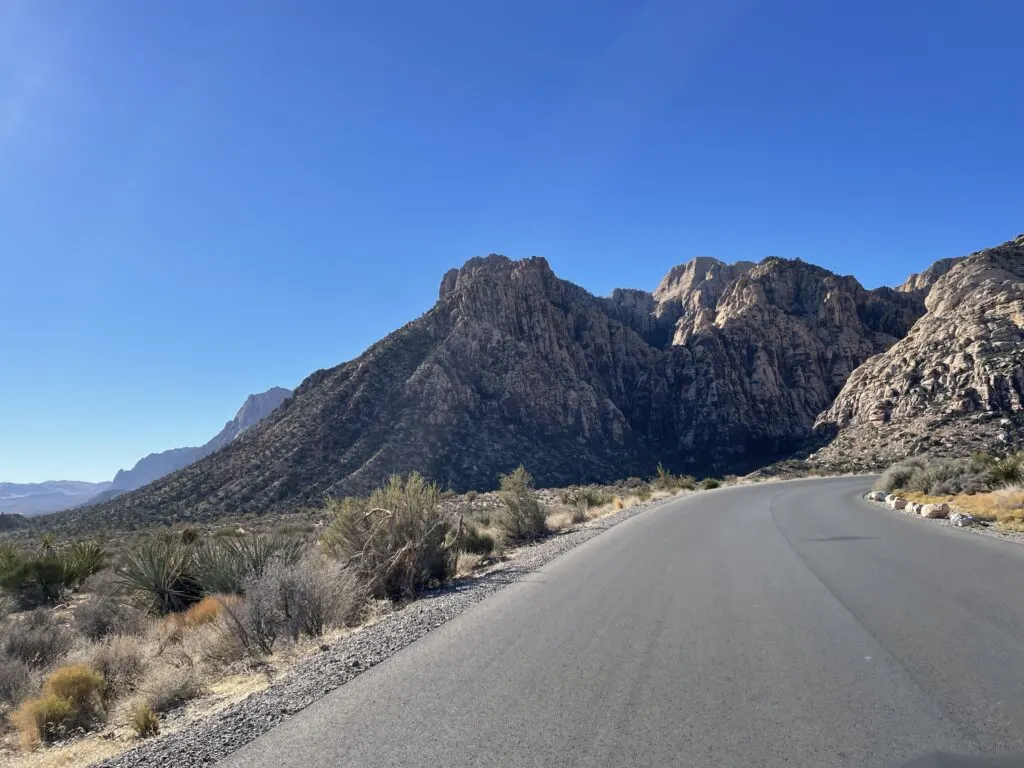 Below, is the map of the Scenic Drive that I received upon entering, which details landmarks and trails along the way.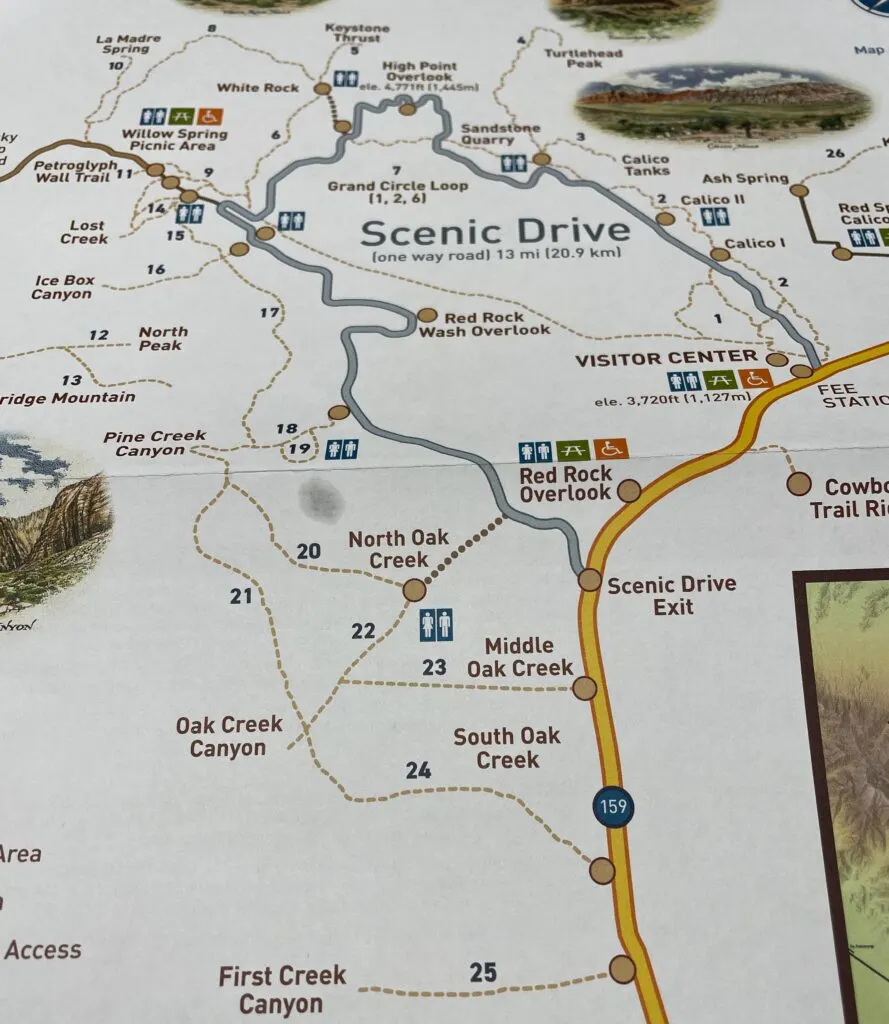 While the entire scenic drive is beautiful, the highlight was the High Point Overlook which offered a stunning panoramic of the conservation area from an elevation of 4,771 feet.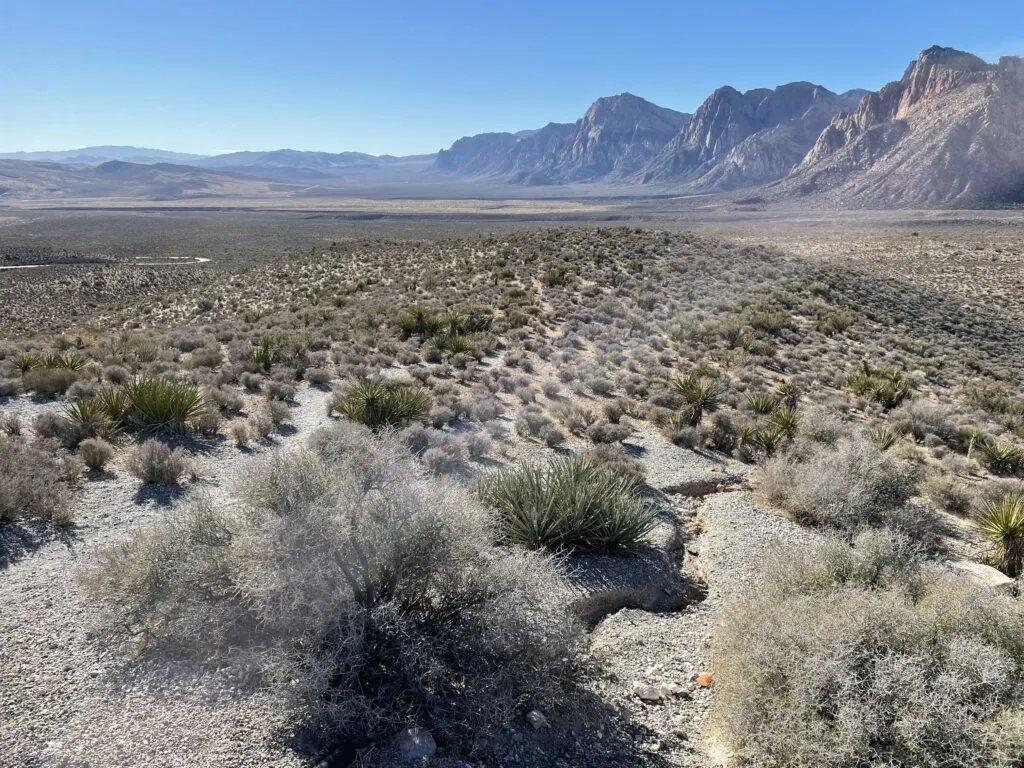 Hiking Trails at Red Rock Canyon That I Explored
Let me just say, in no world am I anything but an amateur hiker. I'm about as casual as they come, occasionally taking a fun nature walk with the pup or kids.
One thing I drastically underestimated about the trails I tackled at Red Rock Canyon was how challenging they could get. In the future, I'll come prepared with actual hiking shoes as opposed to the basic athletic shoes I had. Wearing jeans was also a significant miscalculation. I was dying, lol.
I also adorably brought along my gimbal (a device used to stabilize videos taken from your phone) but quickly stowed it in my pocket as all 4 appendages were frequently needed to clear obstacles.
Distances were also something I misjudged, thinking I would be able to cover a 2-mile trail in the same amount of time I do when walking my dog back home. Nope. The terrain makes it a much longer endeavor.
Another hot tip is to bring your own water and snacks. While I brought water, I underestimated how much I would go through. Have a cooler packed and come with gear that allows you to carry it on the trail with you.
While I deemed it unnecessary, many people utilized hiking poles.
Fortunately, I visited during the early winter months when temperatures were cooler. You definitely want to check the forecast and come prepared to deal with heat and the sun. Sunblock is a must regardless of the season.
Before making the drive out, I literally googled "The most scenic hiking trails at Red Rock National Park" and found this article on Planet Ware leading me to select the Calico Tanks and Ice Box Canyon trails. I'll share my thoughts and a ton of pictures of both!
Calico Tanks Hiking Trail
The Calico Tanks Trail is 2.2 miles and according to the trail's webpage is rated as being "moderate-strenuous". They also state the average completion time is around 2-hours.
The trek started on flat terrain composed of crushed rock but quickly transitioned to sand followed by sandstone. The trail is 1.10 miles out, and then you retrace your steps on the way back to the parking lot.
The outbound leg of the trail is uphill at times, gaining nearly 400 feet of elevation by the end. While you'll work up a sweat on the way out, the return trip is downhill.
The trail's scenery was nothing short of spectacular. I'd describe it with words, but I think the pictures below do a better job of articulating it.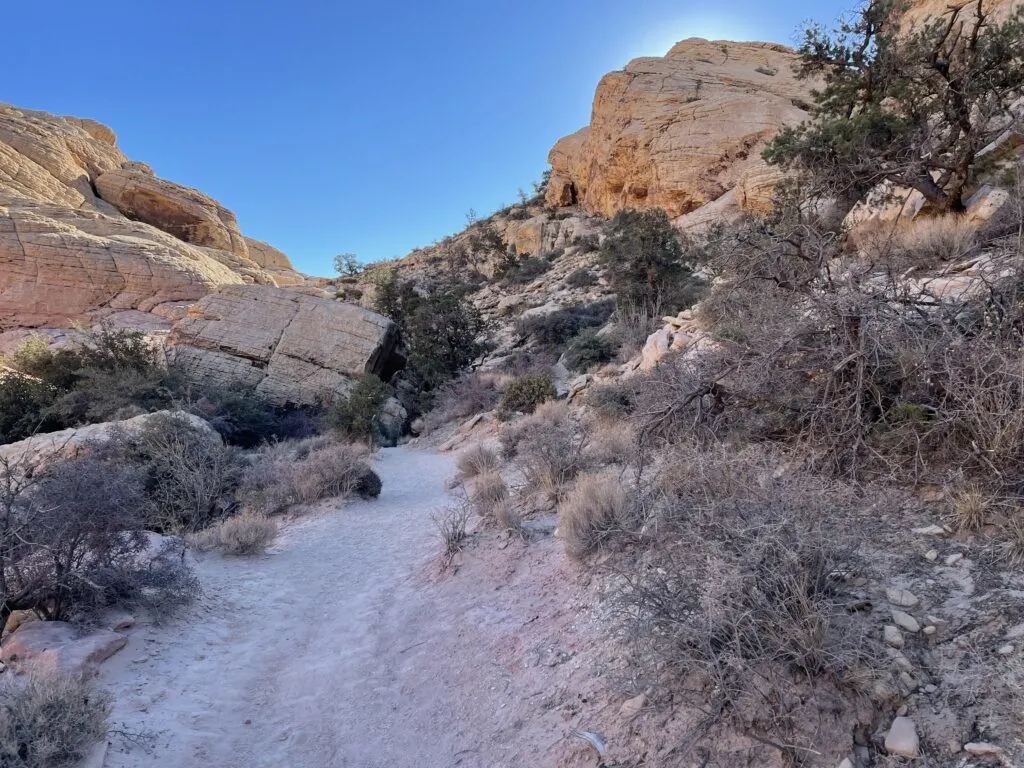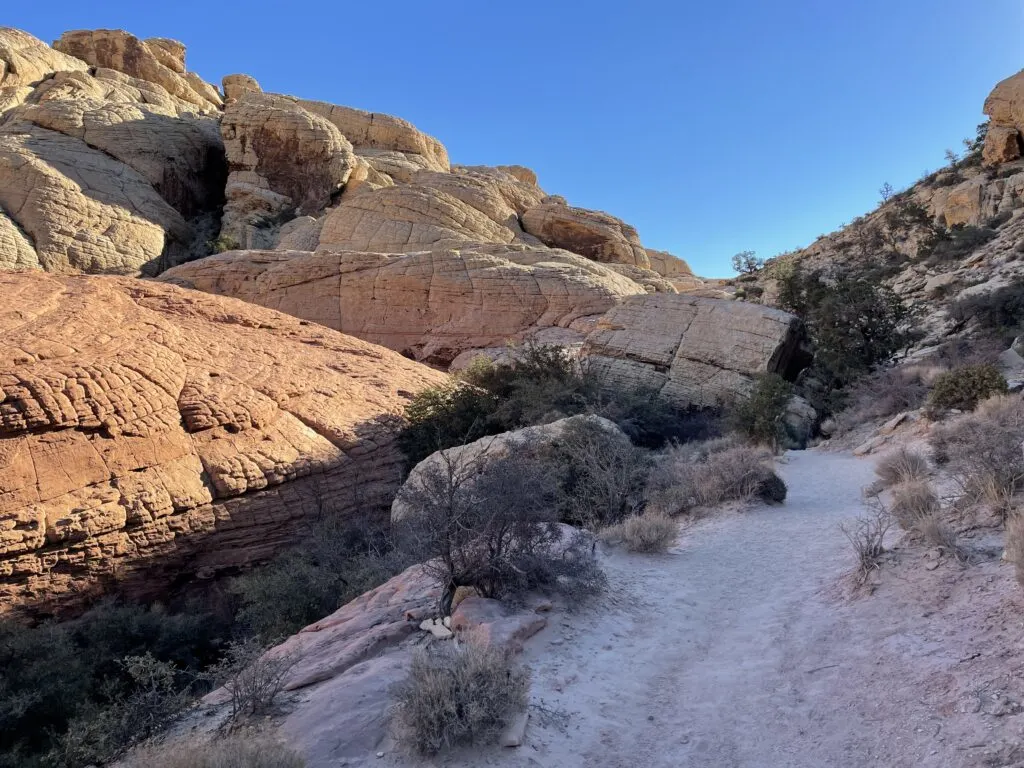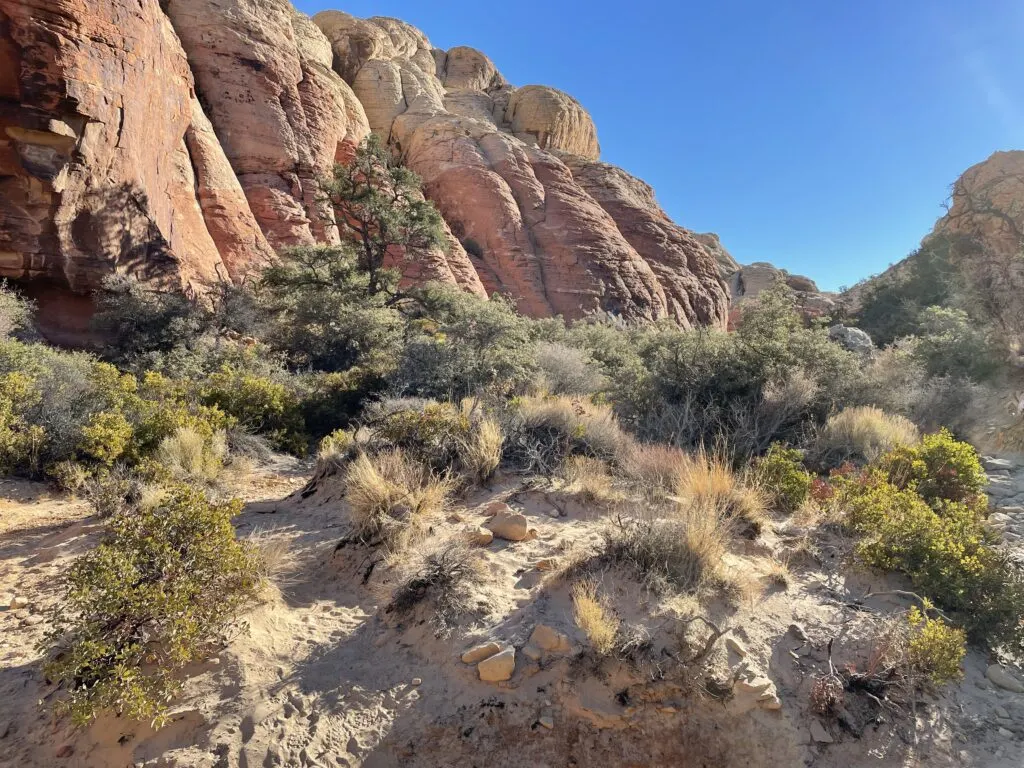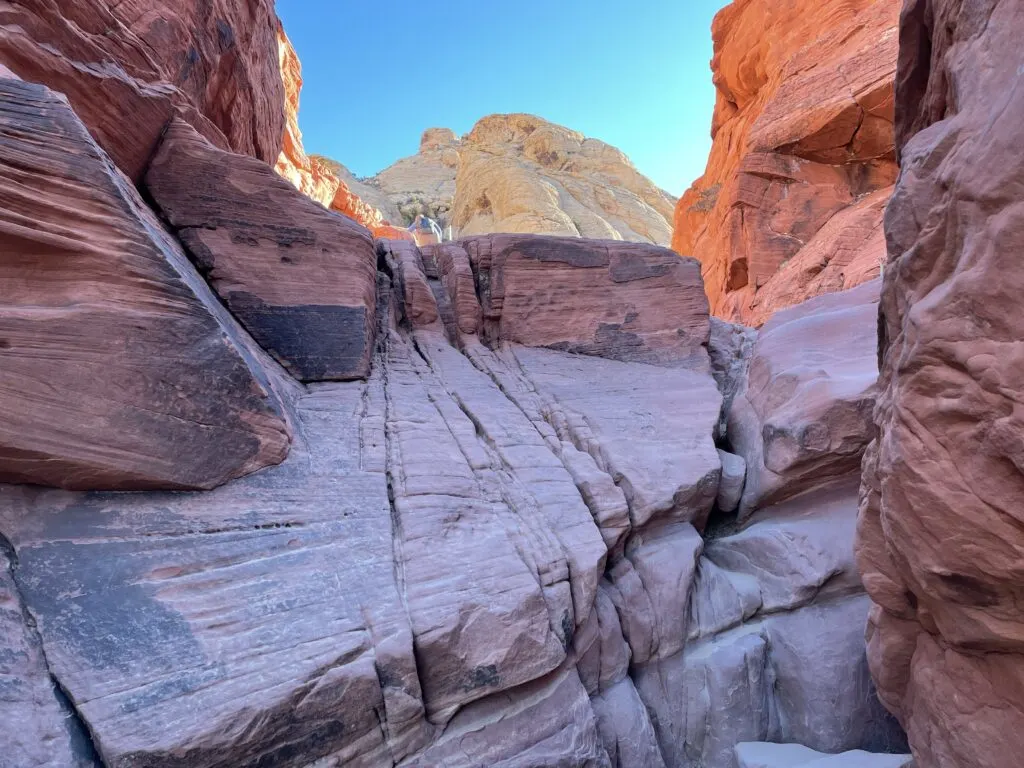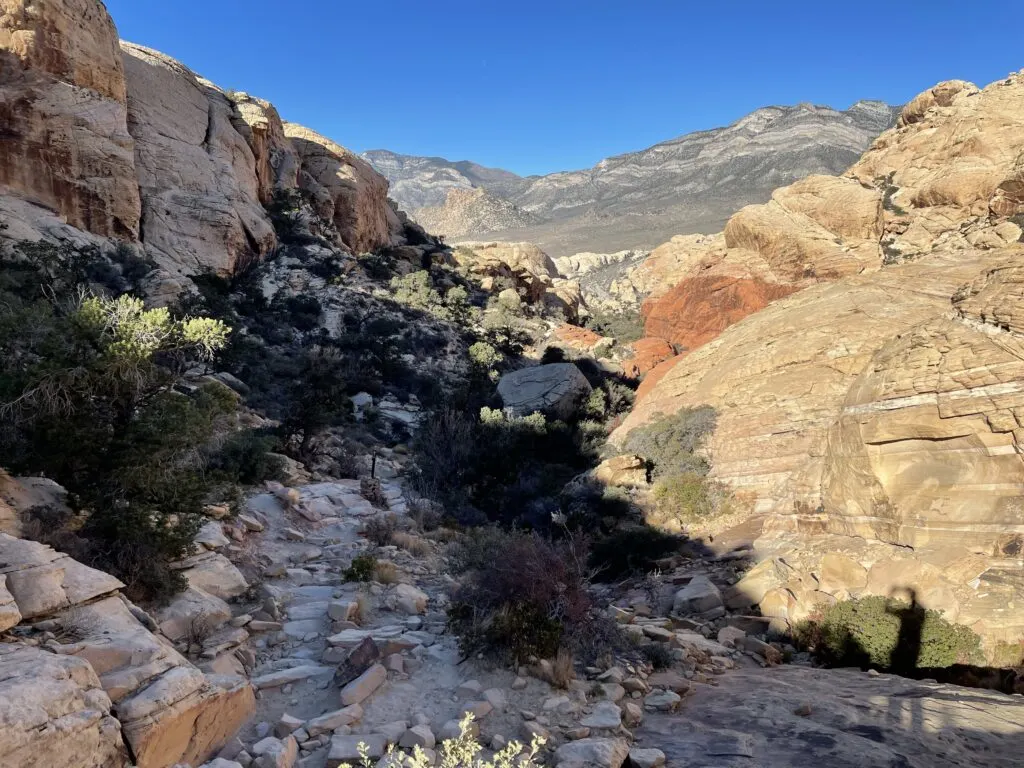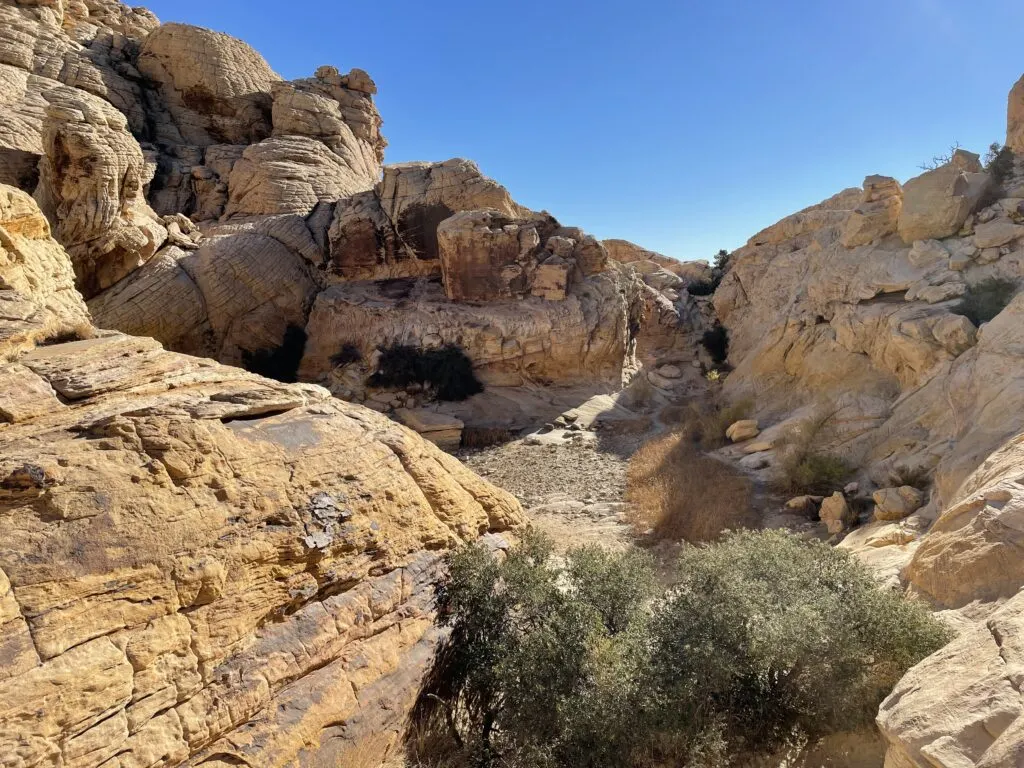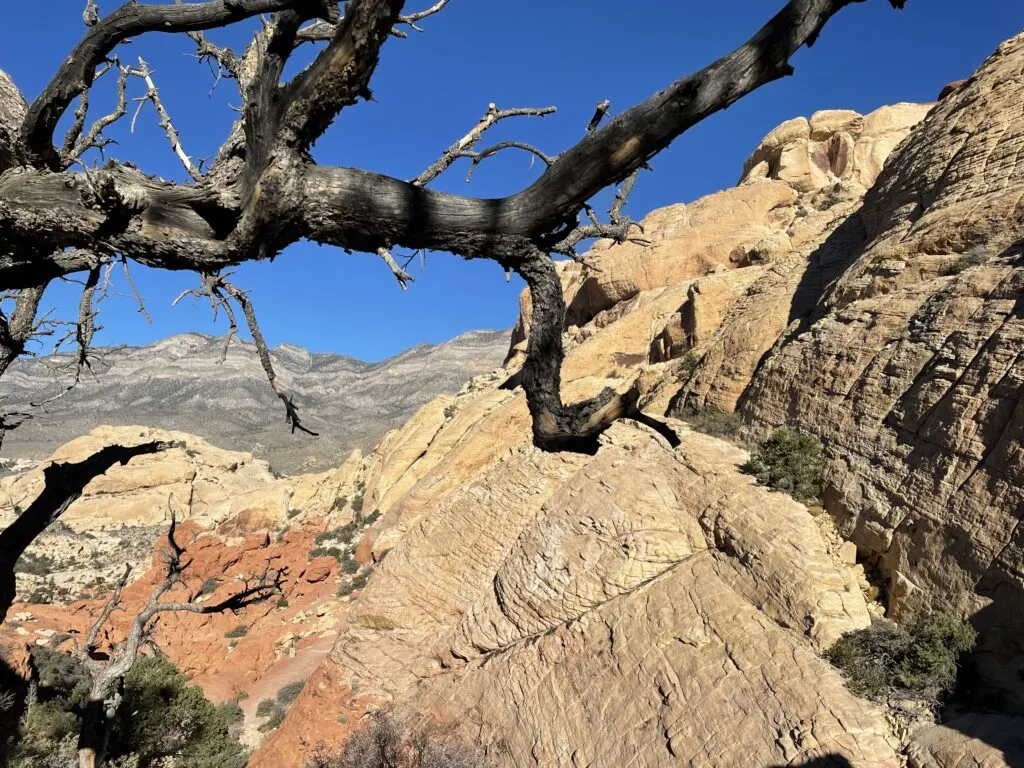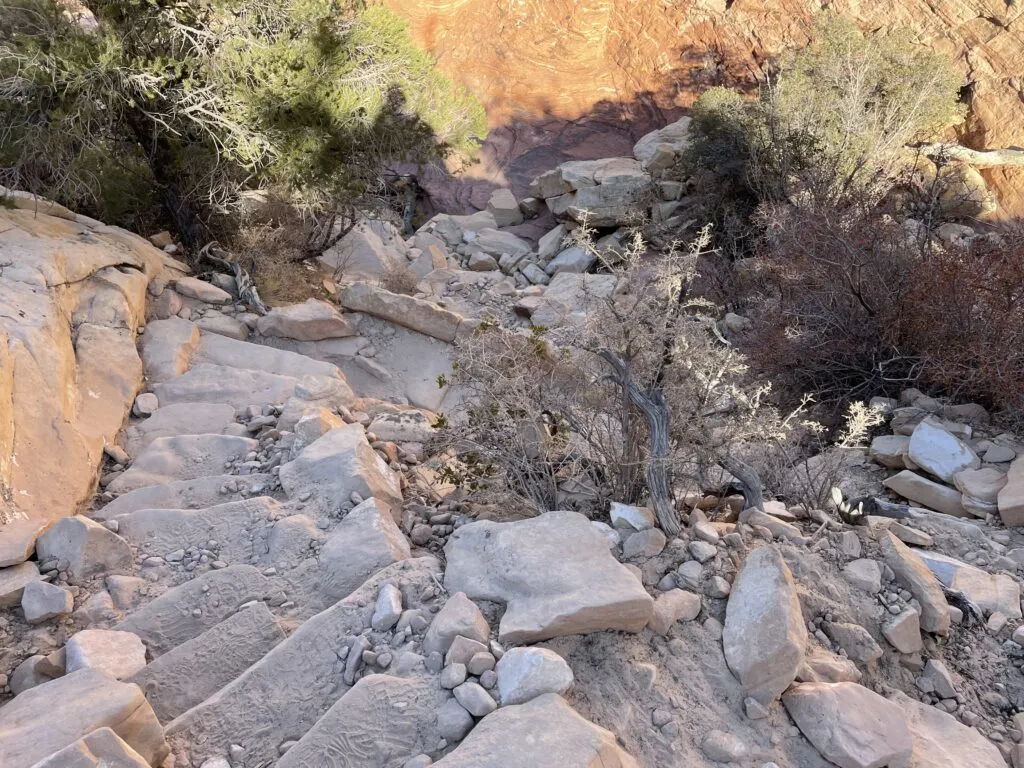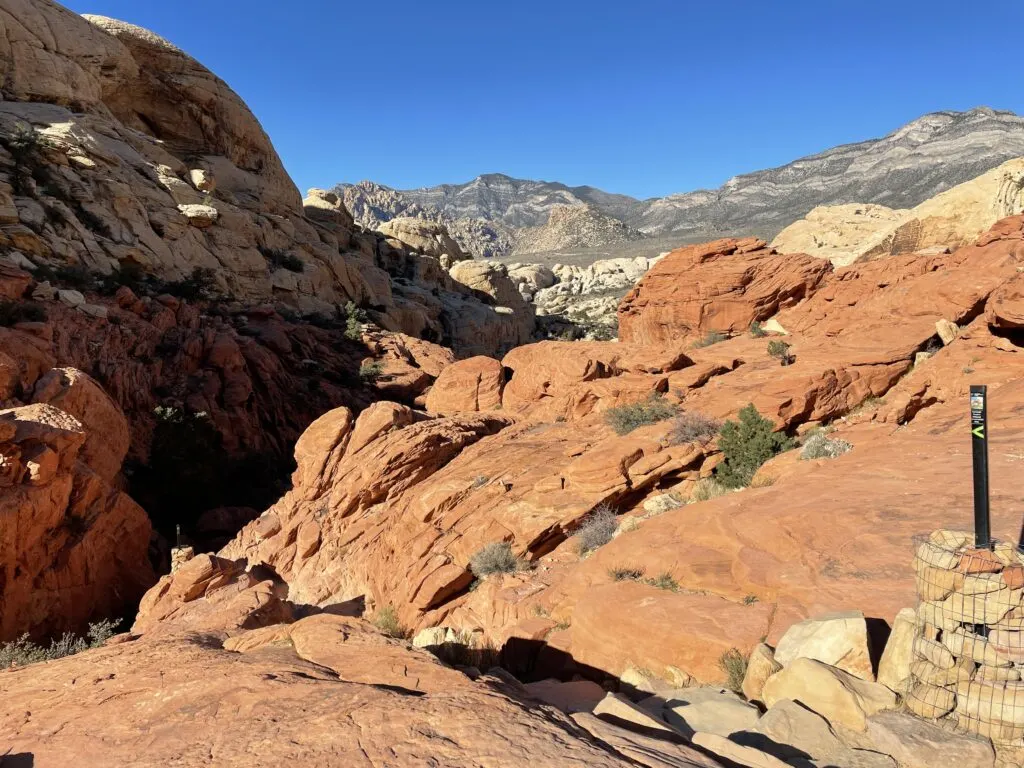 Ice Box Canyon Hiking Trail
The second hiking adventure I embarked on was the Ice Box Canyon Trail, which is also 2.2-miles, however, this one boasted a difficulty rating of "strenuous" per the trail's webpage.
Similar to my previous trail, Ice Box Canyon was a 1.1-mile hike to the end. You then need to retrace your steps to get back to the starting point. At the end of the trail, a seasonal waterfall can be found. It was dry when I hiked but according to the folks at Red Rock Canyon, it's more likely to be flowing from December – April.
The trail started in an unintimidating fashion, on relatively flat terrain slowly making progress towards the mouth of the canyon ahead. The further into the canyon I progressed, however, the more challenging things got as the flat terrain slowly transitioned to navigating enormous boulders by the end.
A nice feature of this specific trail is that it's shaded, offering a MUCH cooler experience than the sunny Calico Tanks Trail I previously hiked. It was legitimately refreshing.
One warning I wish I would have heeded was letting someone know where I was before entering the canyon, as cell phone service was non-existent and the threat of injury was real. This trail specifically is where I regretted not having hiking shoes.
There were countless times my running shoe slid off a rock face, ankle turned, etc. A bad sprain or break was closer to coming to fruition than I would prefer, especially as I fatigued and my footing deteriorated a bit.
Fortunately, the trail was well-trafficked on the day I was there, so help was near, but I would recommend shooting a text off to a family member or friend before entering the trail in case something happens.
From a scenery standpoint, this trail was next level. Unreal. No superlative words can really crack the code of describing it.
Once inside the canyon, you find yourself between two cliffs that slowly close in on you the further you venture. My favorite visual, which you'll see below, is how the canyon was shaded, but a peak in the distance was illuminated by the sun which made for a really neat photo.
While hiking, I could hear voices, but because of the echo caused by the rock surrounding me, the location they were originating from was difficult to pinpoint. I finally got to the bottom of it and it turned out to be a group of rock climbers, some of which were about 50-feet up the rock face. Pretty cool!
Here are a bunch of photos of the trail!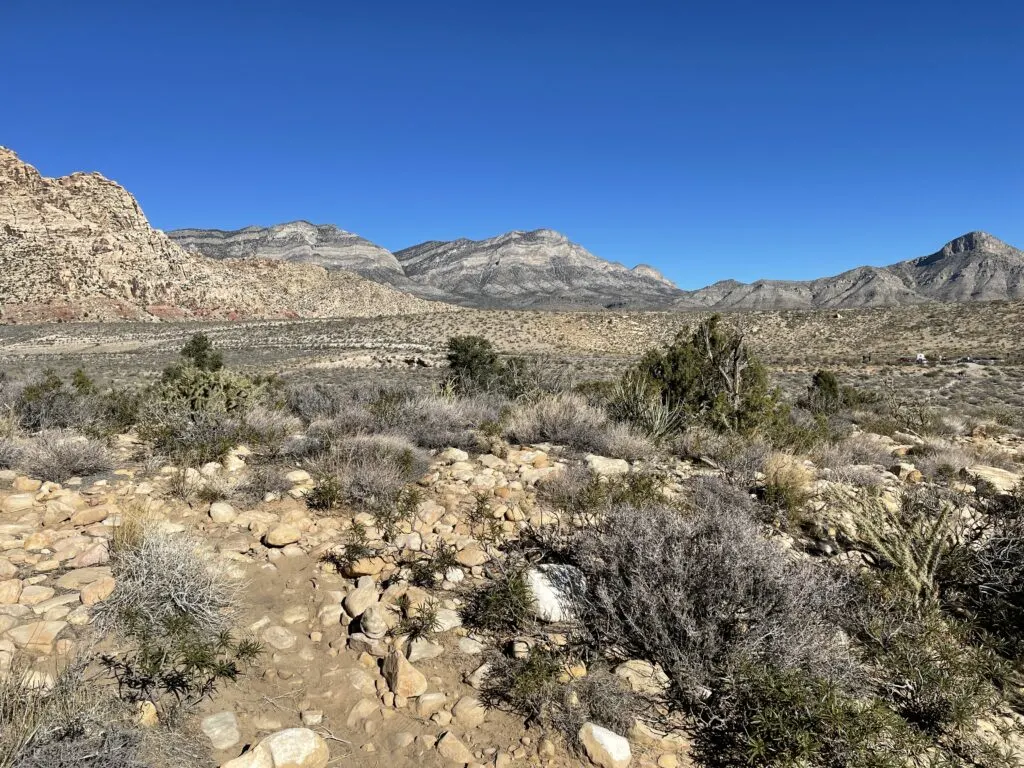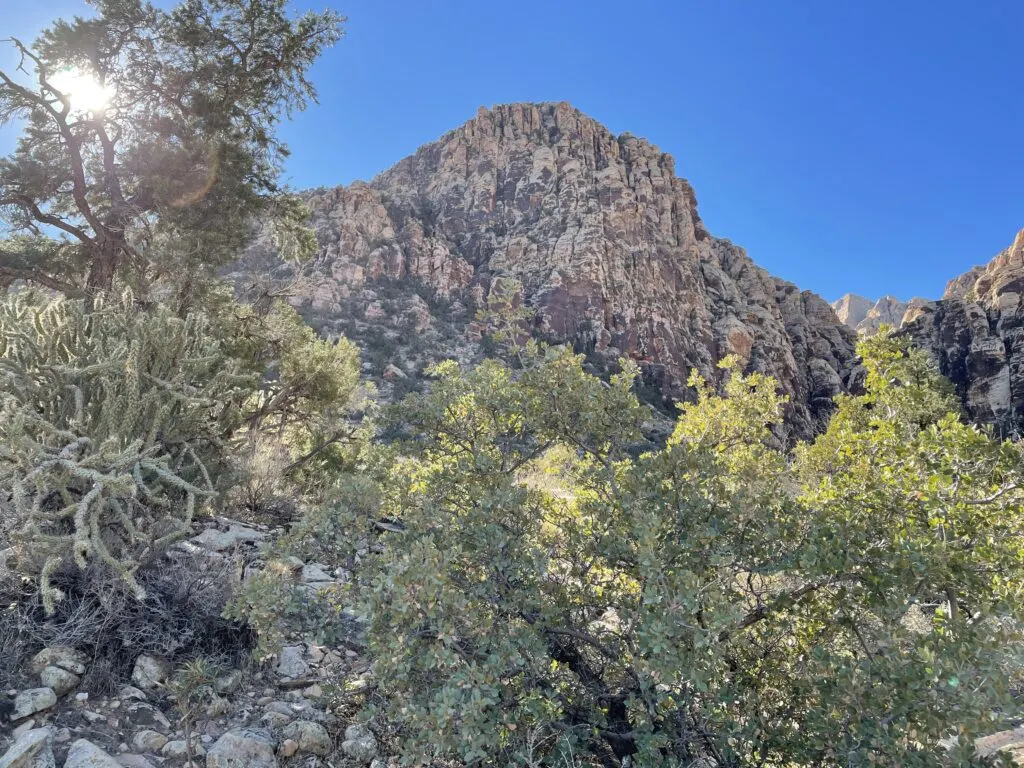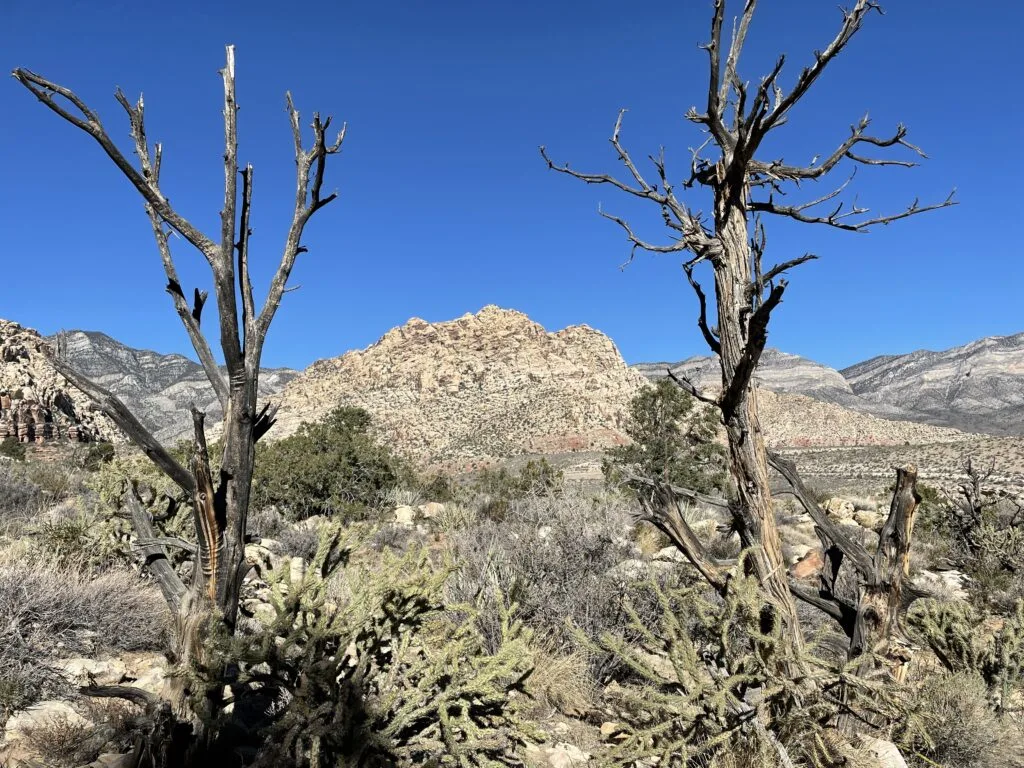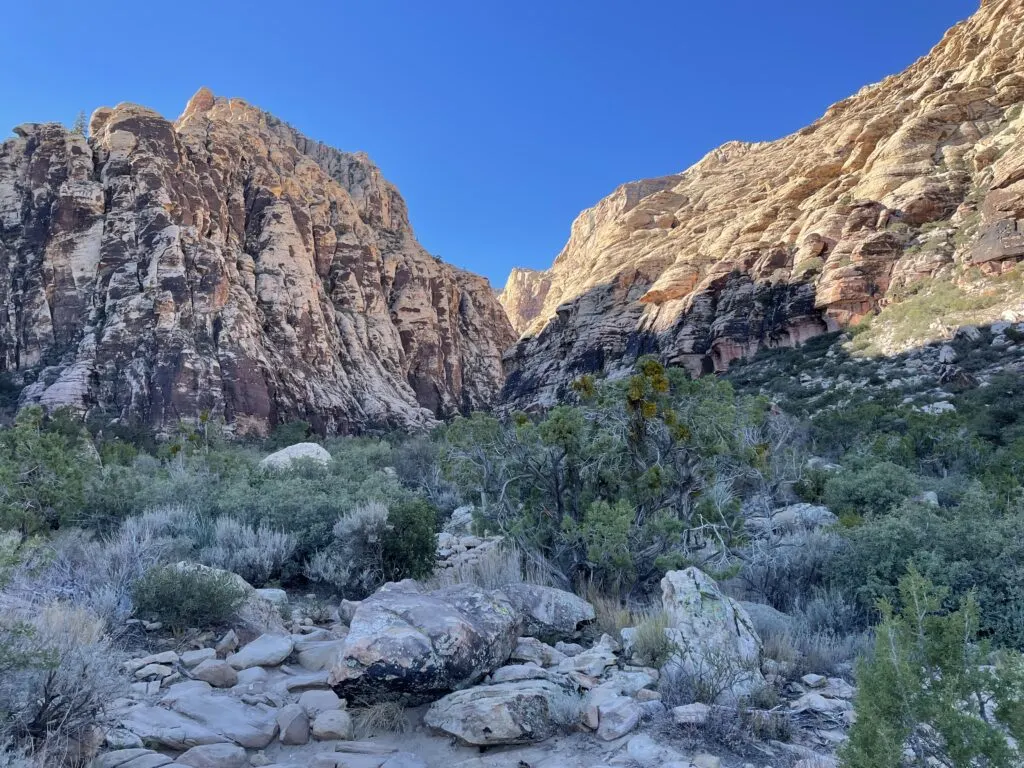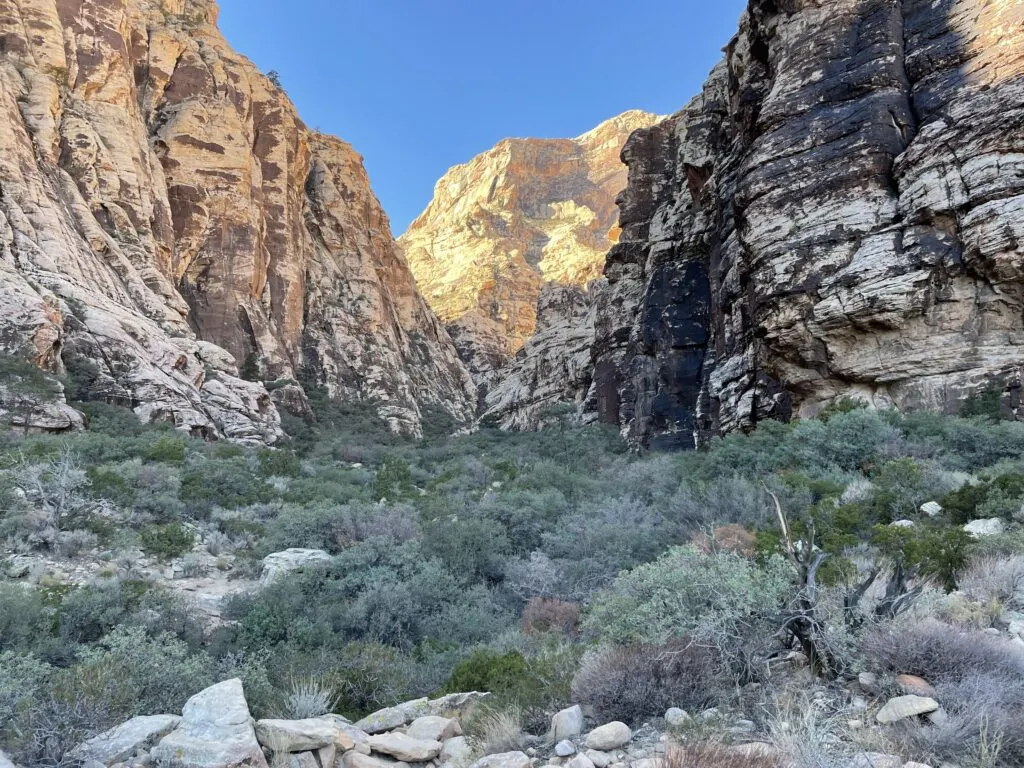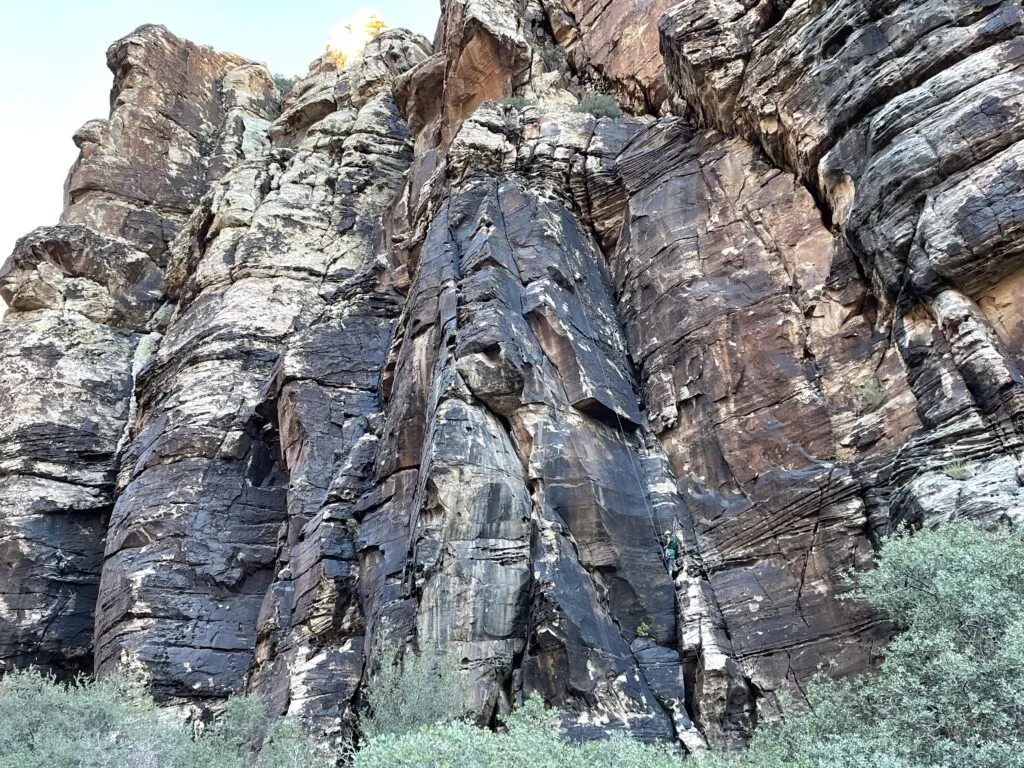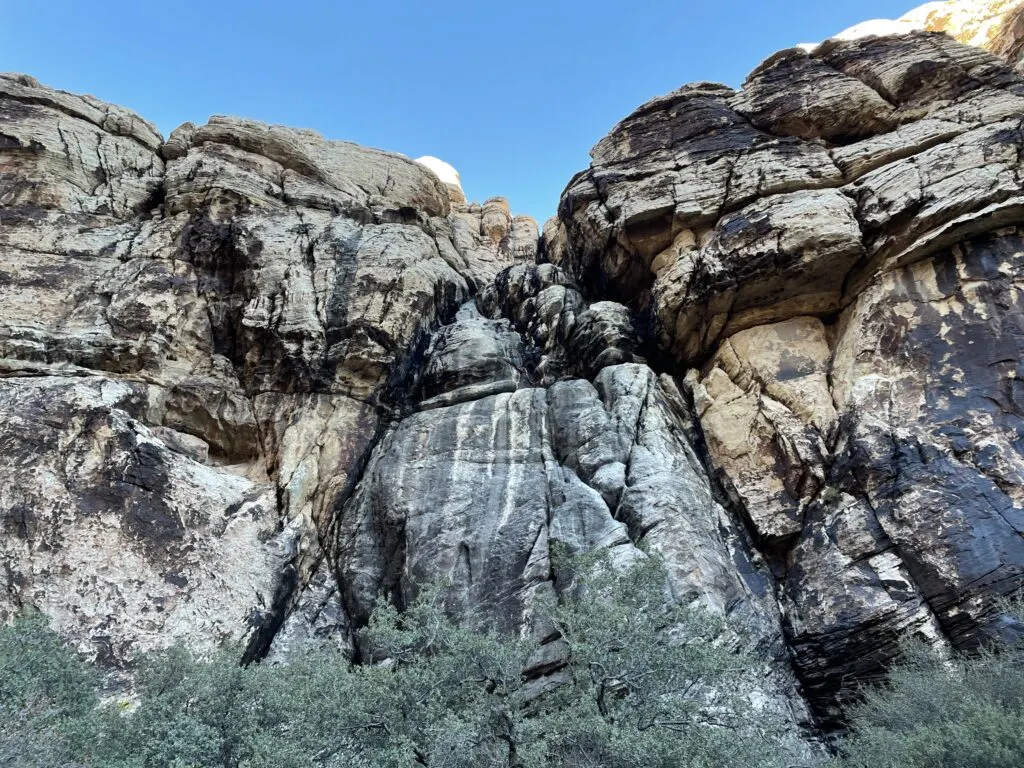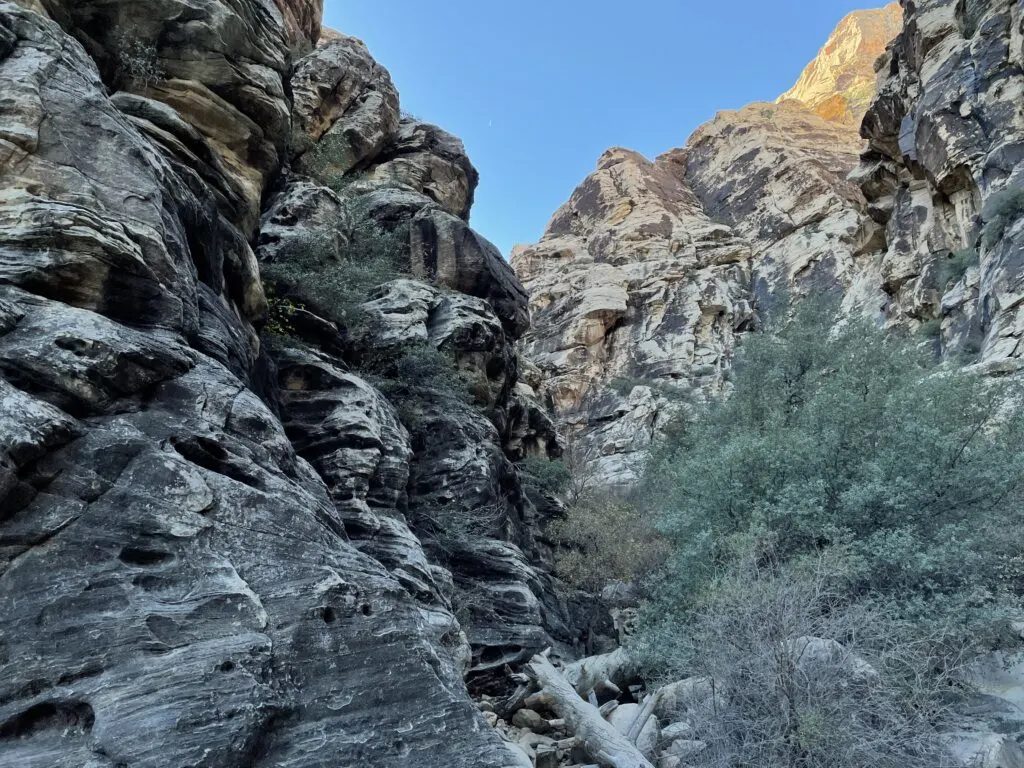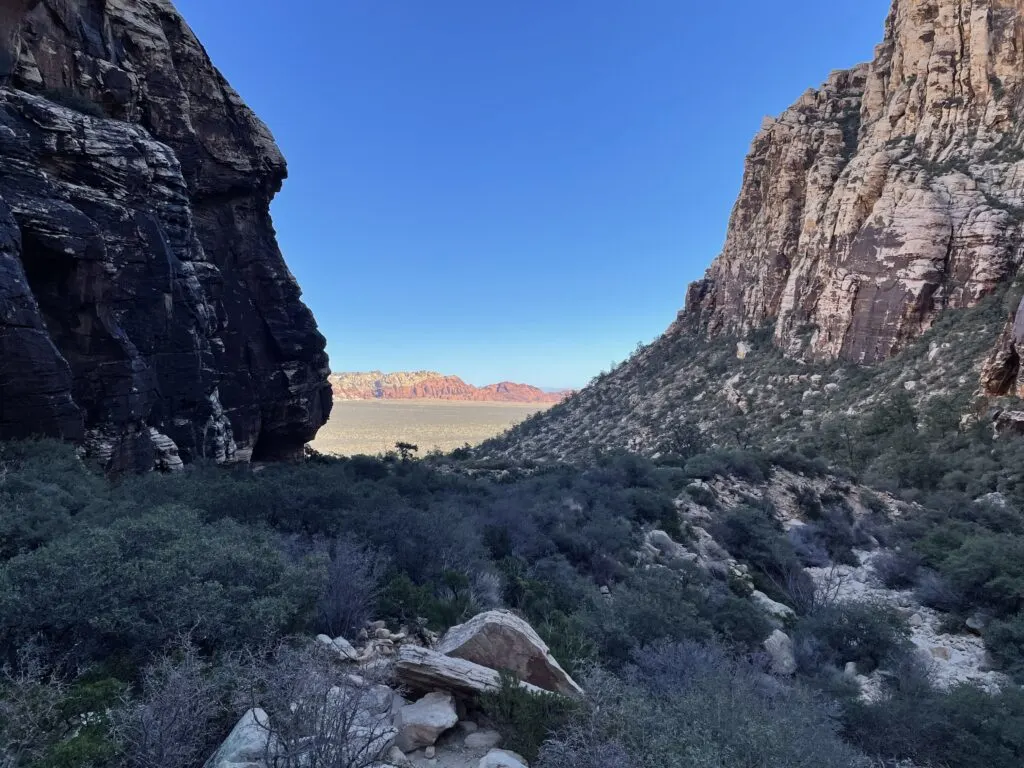 Is a Day Trip to Red Rock Canyon From Las Vegas Worth It?
While most people flock to Las Vegas to gamble, go to shows, eat, and drink, natural sites nearby like Red Rock Canyon shouldn't be overlooked.
Especially for those on a long trip to Vegas that have blown their bankroll or just need an escape from the constant dinging of machines, Red Rock Canyon is certainly worthy of a visit. For me, it was a great little half-day escape. I arrived at 8 am, tackled two trails, and was playing craps at Mandalay Bay by 2 pm (after a shower of course).
I personally found Red Rock Canyon to be more awe-inspiring than I had anticipated it would be before visiting. The sheer size and openness of the space were spectacular, and the hiking trails were the perfect combination of scenic and challenging. It was one hell of a workout.
While I was pretty unprepared from a gear perspective, keep in mind that there are less strenuous trails that are perfect for those traveling with kids or those that aren't avid hikers. All trails, along with their associated difficulty level can be found here.
Come prepared with ample hydration and a stash of snacks. If you'll be keeping liquids in your car, ensure you bring a cooler and have it on ice.
As for gear, I can't recommend a solid pair of hiking shoes enough. While my run-of-the-mill athletic shoes survived the trip, they were too flimsy at times and didn't provide adequate grip at others.
Sunblock is a must. Cover that exposed skin. Numerous hikers also were utilizing walking sticks.
Ultimately, Red Rock Canyon has trails and scenery for all ages, experiences, and fitness levels. With trail options ranging from easy to strenuous, there is something for everyone.
See Also: Things to do With Kids in Las Vegas – Ideas and Inspiration!
How to get from Red Rock Canyon from the Las Vegas Strip
The easiest way to get to Red Rock from touristy areas of Las Vegas is by navigating to Charleston Blvd. and then heading west. You'll run right into it.
Can you do both Red Rock Canyon and Valley of Fire in the same day?
Can you? Probably. Will you give yourself the best experience? Probably not.
This was actually my original plan the day I visited Red Rock and realized pretty quickly that it would be a stretch. For one, you'll be stretched for time. Secondly, you're going to be gassed after your first park.
Our advice would be to take your time at one park. Don't try to cram two into your day.
Can you Uber to Red Rock Canyon?
While you can get an Uber out to Red Rock Canyon, there are numerous warnings posted at the visitor center to have a return trip scheduled so that you aren't stranded.
I'd recommend just renting a car for the day.
Is There Cell Phone Service in the Park?
Service was extremely spotty, and non-existent in many spots. Prior to jumping on a trail, there are warnings posted to call/text a family member or friend to tell them where you'll be in case something goes wrong. Seriously, you should heed the warning as reception could disappear when you need it most.
Related: Things to do Outside of Las Vegas – More natural sites to explore: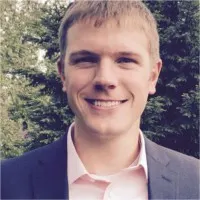 I'm a former software salesman turned Vegas aficionado. While the craps table is my preferred habitat, I pull myself away to explore new attractions, shows, restaurants, and outdoor activities around Las Vegas with the intent of sharing my experiences.
Ultimately, I just want to help folks plan a better trip and save a few bucks in the process.