Key Points:
Valley of Fire is a worthwhile day trip from Vegas, offering stunning visuals and opportunities to hike an hour from the Strip.
I found the hiking at Valley of Fire to be absurdly scenic, offering varying degrees of challenge.
In addition to hiking, Valley of Fire offers some cool "one-off" sights like Elephant Rock, Seven Sisters, and the Historic Cabins among others.
A newer priority of mine has been to escape Las Vegas and "the usual" activities to explore, and share, some of the natural beauty that surrounds the city.
Located just an hour from resorts on the Strip, Valley of Fire State Park is one of the more popular day trip options from Las Vegas and is open from sunrise to sunset daily.
The park spans 40,000+ acres and is known for scenic hiking trails and the stunning red sandstone formations it's comprised of (hence the name Valley of Fire).
With infrastructure constructed by the Civilian Conservation Corps (CCC) during the depths of the great depression, Valley of Fire was Nevada's first state park, opening in 1935.
In addition to natural beauty, the park still shows evidence of early human habitation, with ancient artwork still visible in places.
Below, I'll share more about my visit, including plenty of photos of the trails I hiked.
Valley of Fire Cost
Upon entering the park, you'll be prompted to pay $15 per vehicle ($10 for Nevada residents). Both cash and major credit cards are accepted.
Camping costs $25 per vehicle, per night ($20 for NV residents) and utility hookups are available for an additional $10.
For up-to-date information on cost, hours of operation, etc. I'd recommend scoping out Valley of Fire's official website, here.
Surprisingly, the show started a few miles before I even got into the park, as I encountered a number of bighorn sheep just strutting down the road. Off to a great start!
Hiking Trails at Valley of Fire That I Trekked
I arrived at the entry gate to Valley of Fire at about 7:30 am to avoid both the heat and crowds. I was the 17th vehicle to enter the state park that day and enjoyed my first hour or two in relative solitude.
My plan of attack was to head to the end of White Domes Road (pictured on the map below) and work my way back towards the visitor center, hiking trails of interest on the way including the White Domes Loop, Fire Wave, and Rainbow Vista.
I was also hoping to hit Mouses Tank, but by the time I got there, the parking lot was packed, so I passed.
In addition to trails, I wanted to ensure I visited the "quick hitter" items like Elephant Rock, the Historic Cabins, and Arch Rock which don't require many steps or effort.
Even before I stepped foot onto a hiking trail, I could tell I was in for a treat.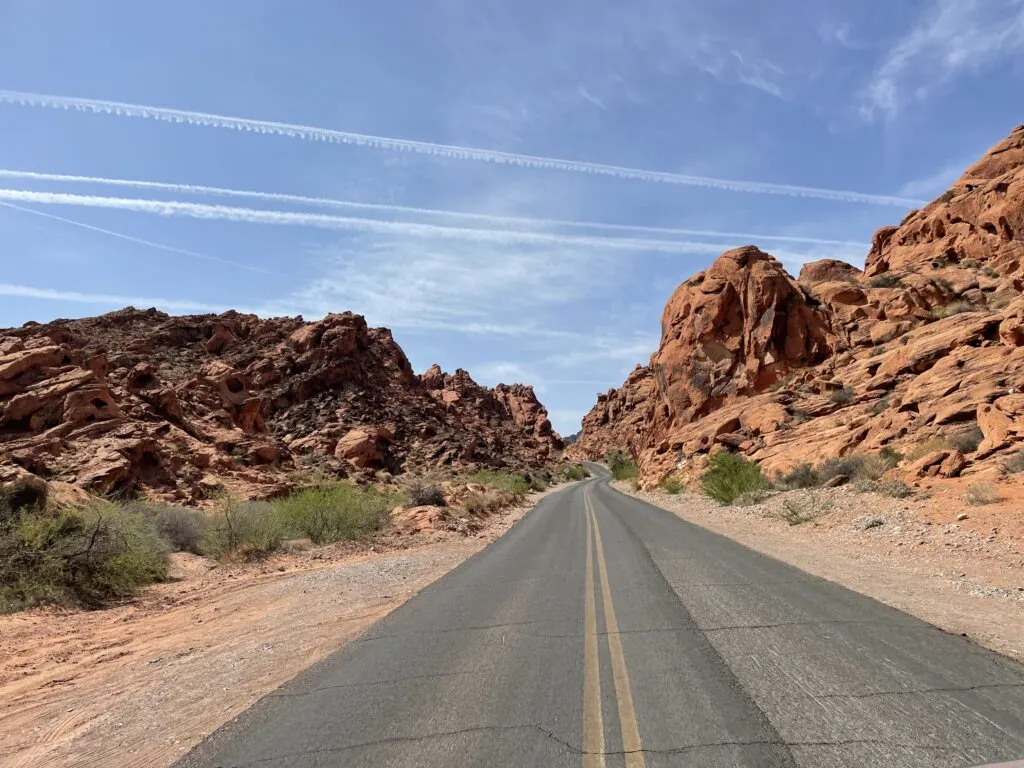 White Domes Loop
A 1.1-mile loop, White Domes Loop easily qualified as my favorite trail hiked at Valley of Fire.
The trail starts on loose sand, which is a challenge to trudge through, and brings you past ruins that look like the remnants of an ancient structure.
Interestingly though, I learned the ruins were actually part of a movie set for "The Professionals" which was filmed on this site in the 1960s. I didn't realize this coming in, so it was a fun factoid to take home with me, and I'm excited to watch the film.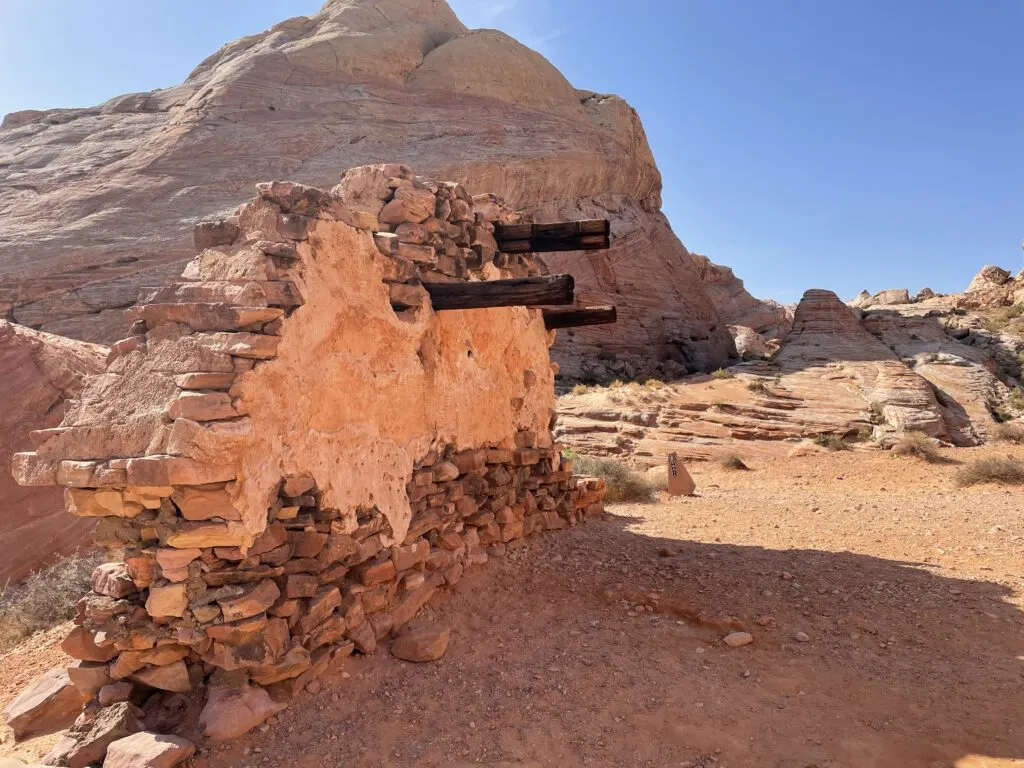 After passing the ruins, the trail takes you through the narrows, which is essentially a skinny canyon that proved to be quite scenic.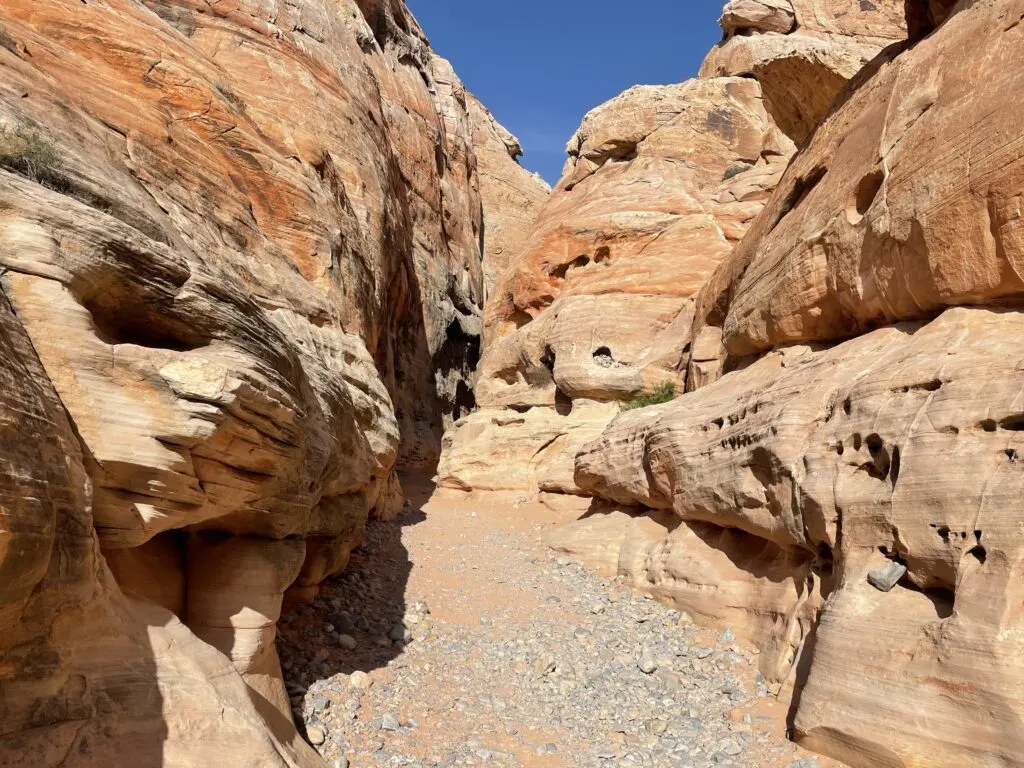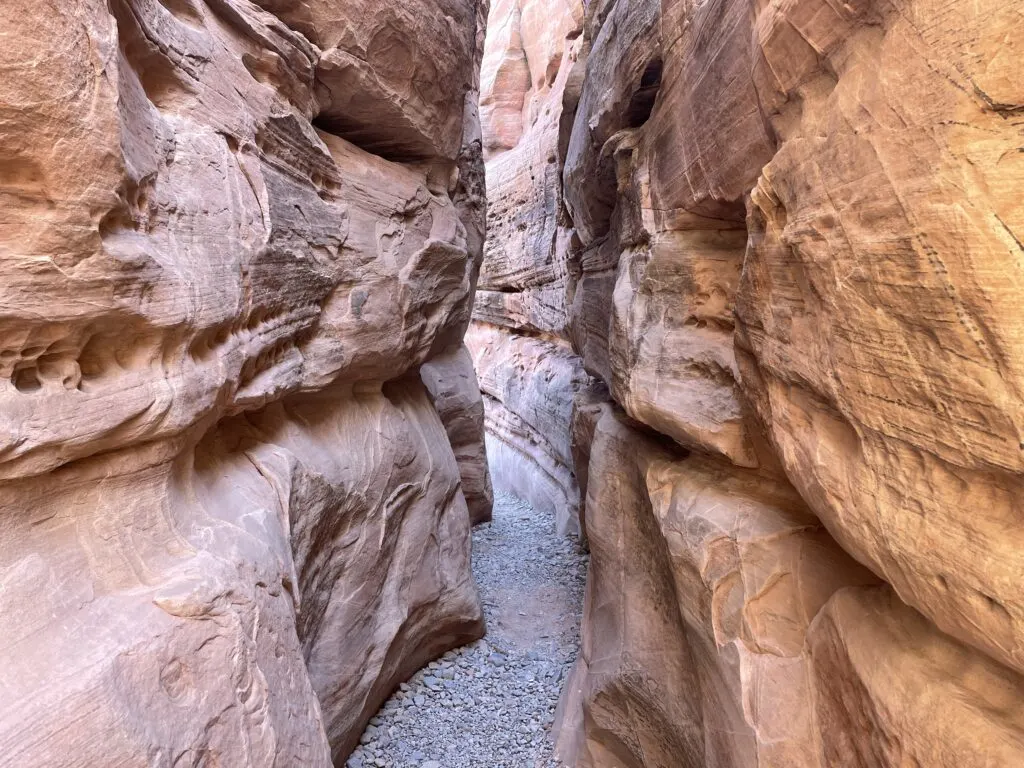 After navigating the narrows, the trail loops you back to the parking lot through a somewhat unexciting patch of desert.
The lack of excitement on the back half of the trail was interrupted by a group of bighorn sheep lounging approximately 20-feet away from me.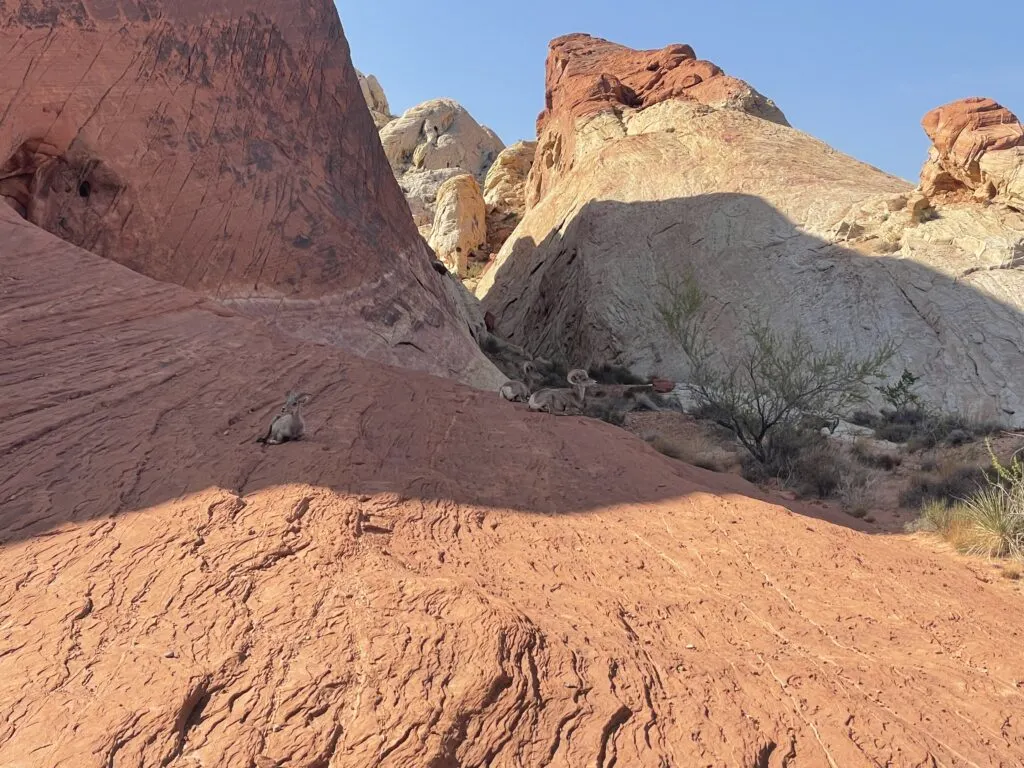 It was honestly a bit unsettling to come face to face with wildlife like that while by myself in the middle of the desert, but they seemed unphased by my presence.
Fire Wave Trail
The next trail I hit was the Fire Wave Trailhead which is .75 miles out and .75 miles back, making it a 1.5-mile round trip. According to the informational placard, "The fire wave is an impressive display of striated sandstone that has eroded over time to create a beautiful wave effect".
I agree.
The trail started out by wrapping around a large rock formation downhill until leveling off on a flat rock surface that grew more and more scenic by the step.
NOTE: This trail is closed from June 1st to September 30th annually due to high heat.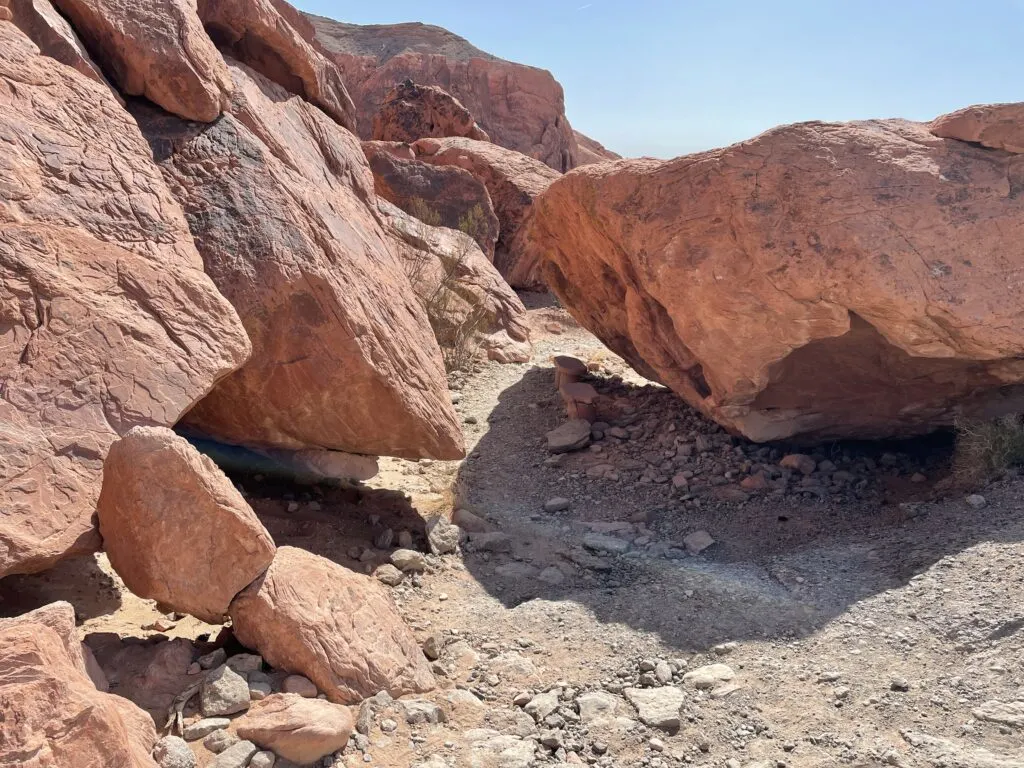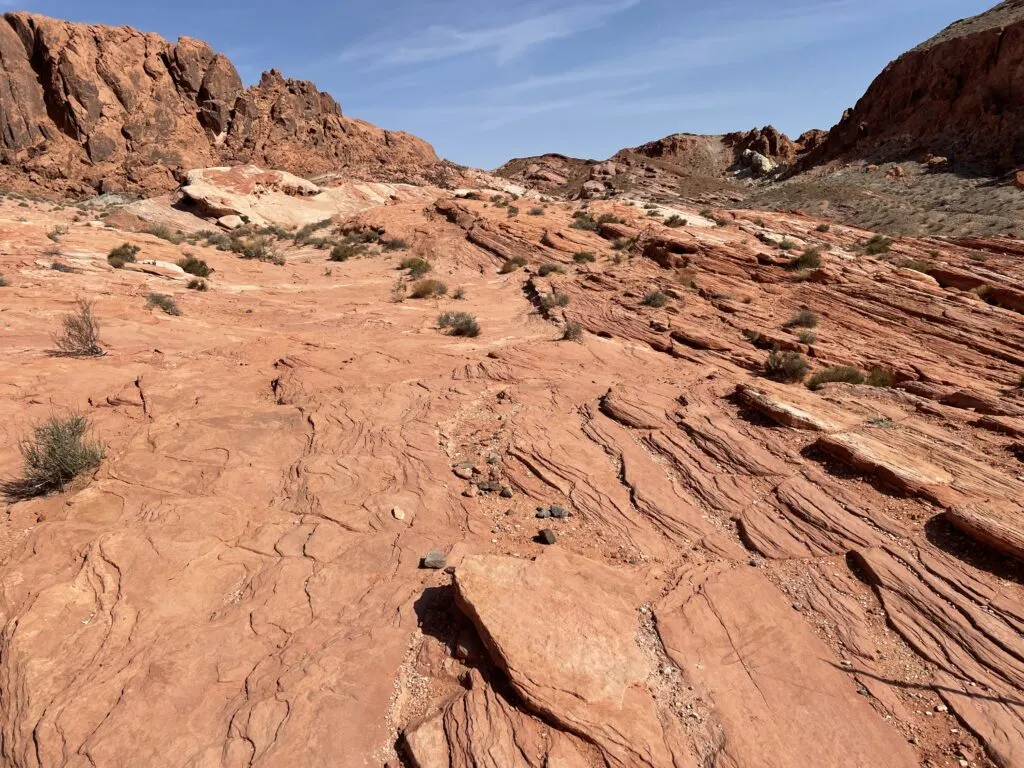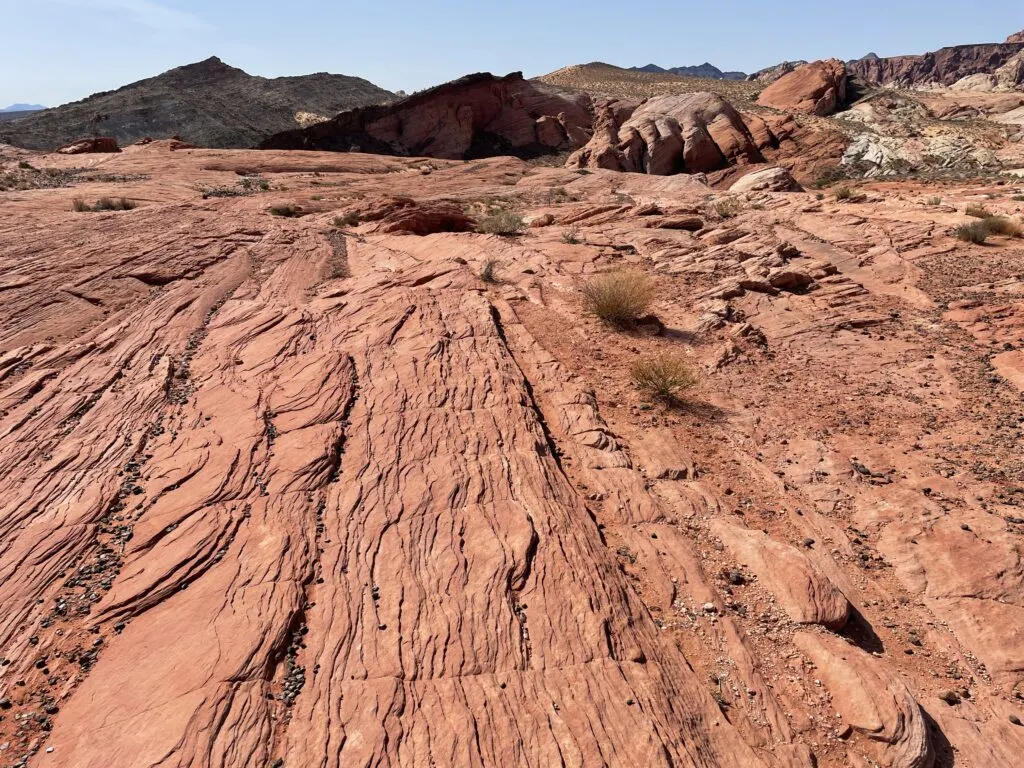 To be honest, I didn't really know what the Fire Wave was… until I saw it.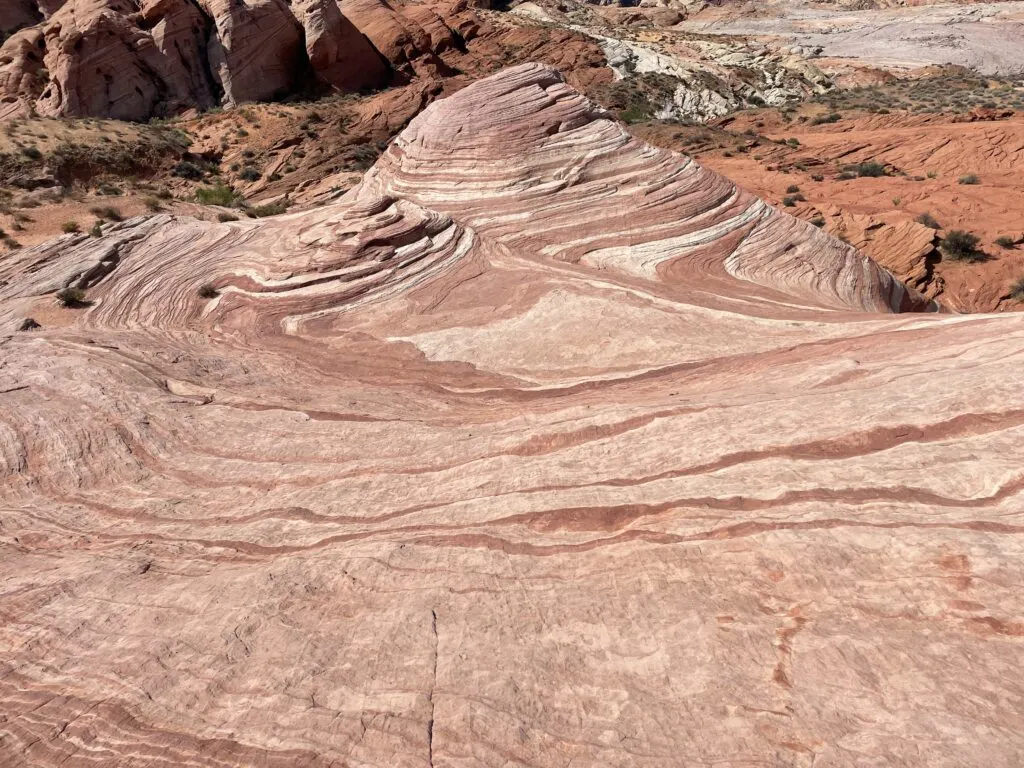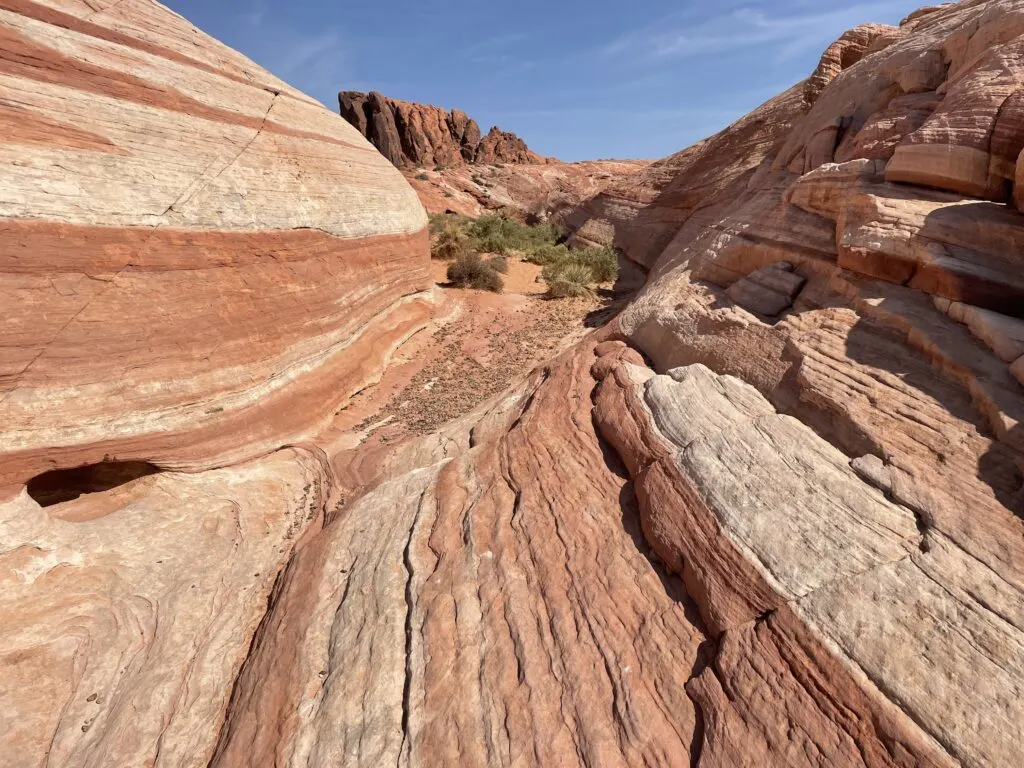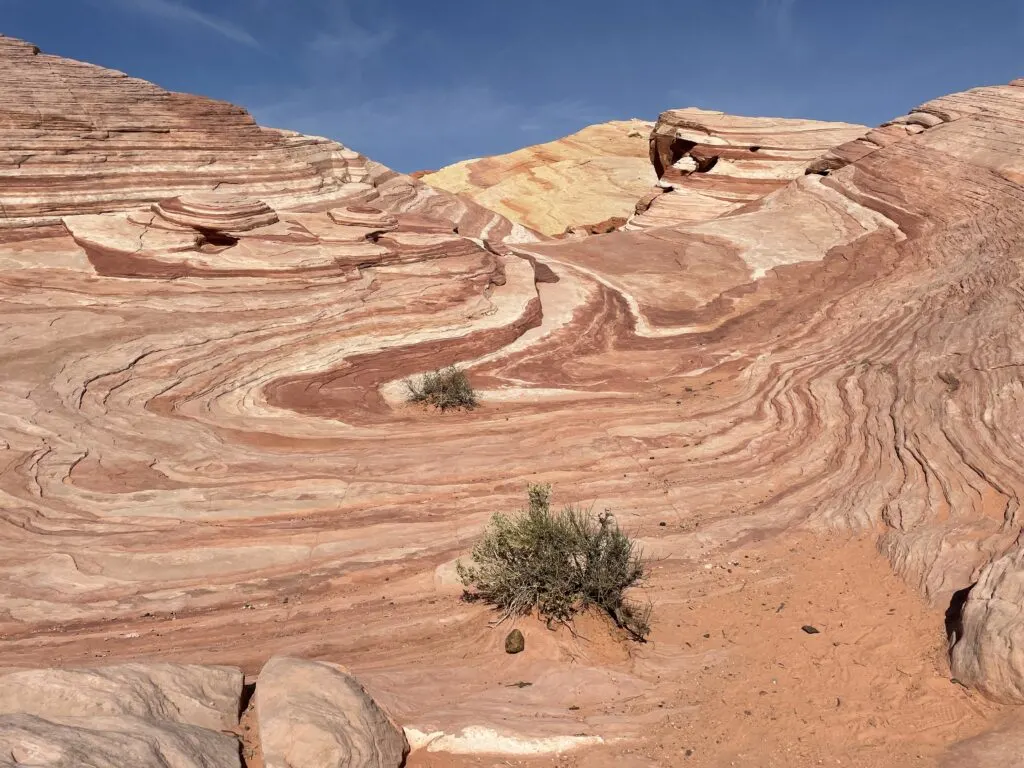 Once the fire wave was thoroughly explored, I completed the hike by retracing my steps back to the parking lot.
While I didn't see any bighorn sheep on this trail, I did encounter numerous lizards that darted from bush to bush along the way. Almost every time, they scared the heck out of me, and I was grateful to be alone as nobody was there to hear my startled shrieks.
Rainbow Vista Trail
The final trail I hit was Rainbow Vista, which is a 1-Mile roundtrip (.5-miles out and .5-miles back in). At the end of the trail, you'll enjoy the Fire Canyon overlook, which is pretty darn scenic.
Here are some photos I snapped along the way.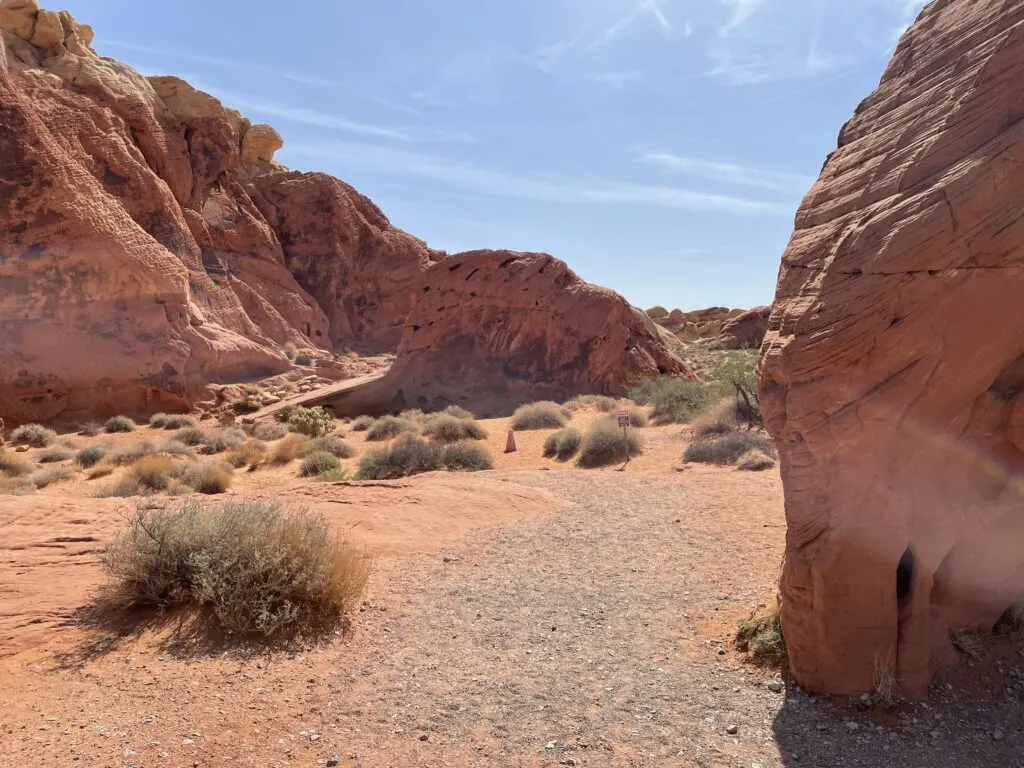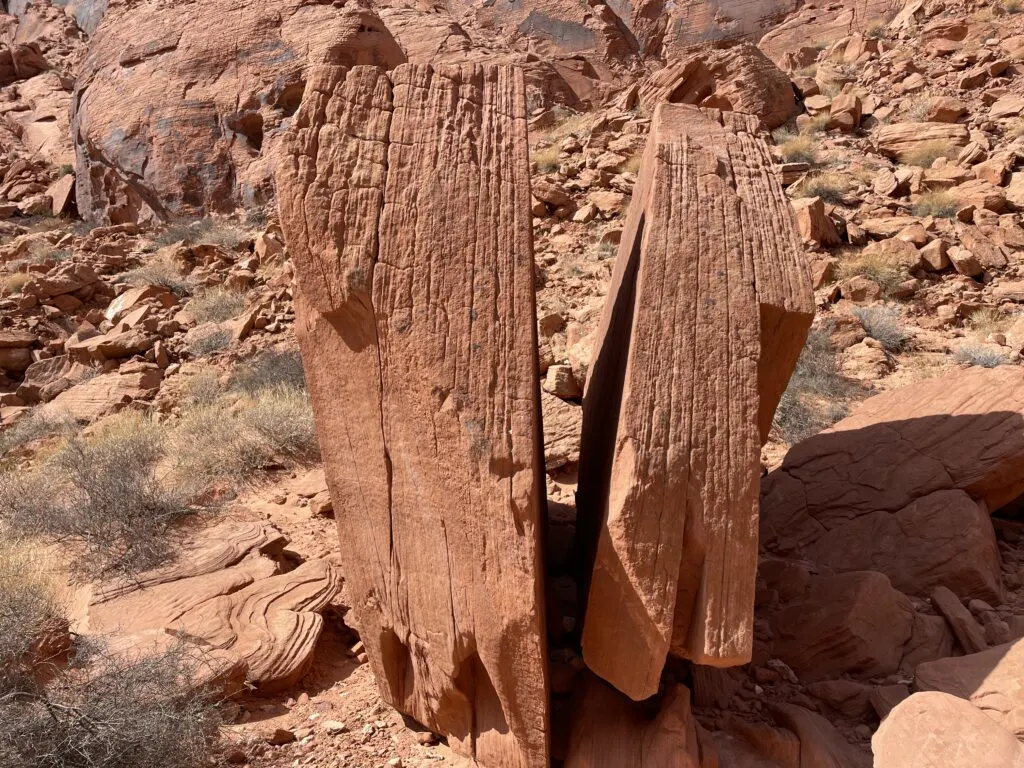 The coolest, and initially scariest, part of this hike was turning a corner and seeing the 3 bighorn sheep pictured below staring right at me from a distance of about 15 feet.
I was startled, they were startled, and I didn't really know how to react… so I stood there.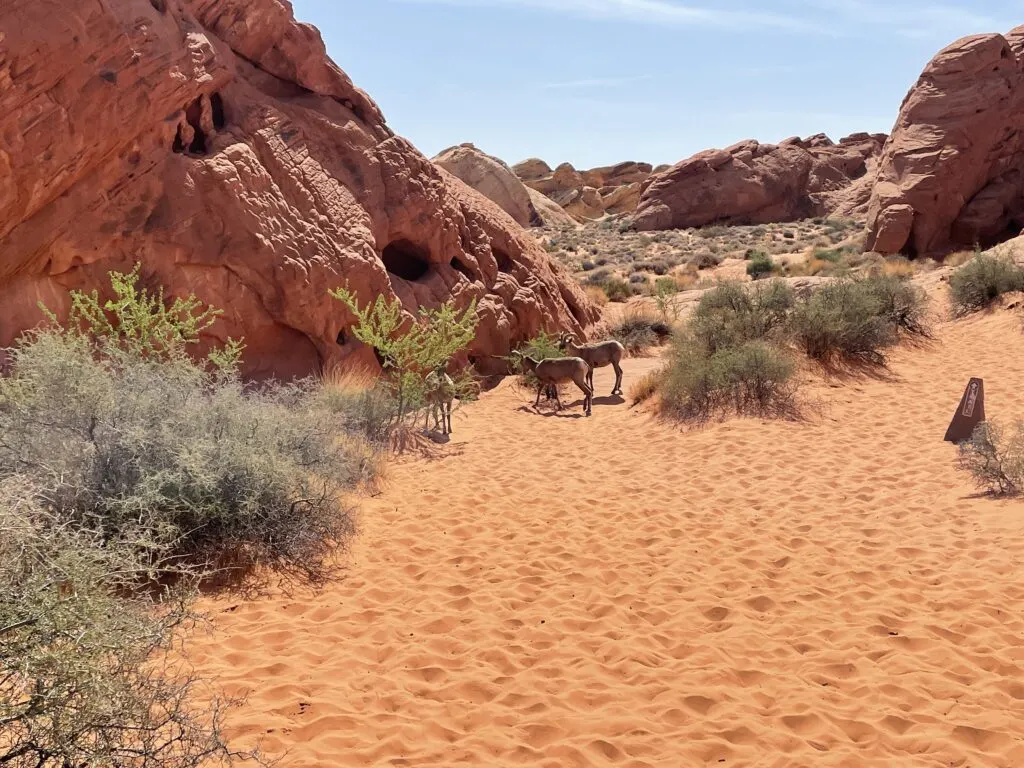 They eventually started munching on the bushes again, and so I gingerly walked past them, coming within about 10 feet of them. While it's unnerving to run into wildlife while alone, it proved to be a memorable experience.
As I passed them, I noticed some of their friends in the distance, keeping tabs on my movements from atop a rock formation.
Quick Hitter Things to See at Valley of Fire
In addition to longer trails, there are a few quick sights you can see without taking many steps or venturing out into the heat.
Elephant Rock: Located just off one of the park's main drags, Elephant Rock looks like… an elephant, and is steps away from the parking lot.
Arch Rock: Located right off of the road, Arch Rock is just that, a uniquely arched rock shaped over time by natural forces.
Balancing Rock: Found steps away from the visitor center parking lot, balancing rock appears to defy the laws of physics.
Historic Cabins: Also built by the CCC in the 1930s, The Cabins are constructed of rock and were initially used as shelter by visitors to the park. How cool would it have been to stay in one of these?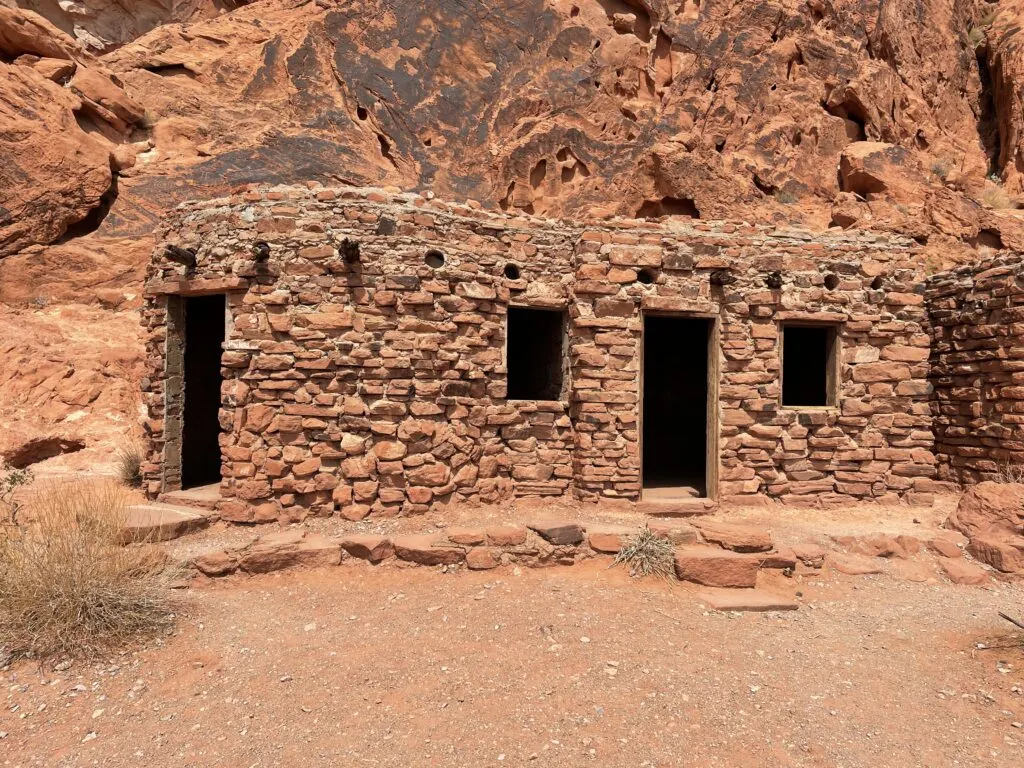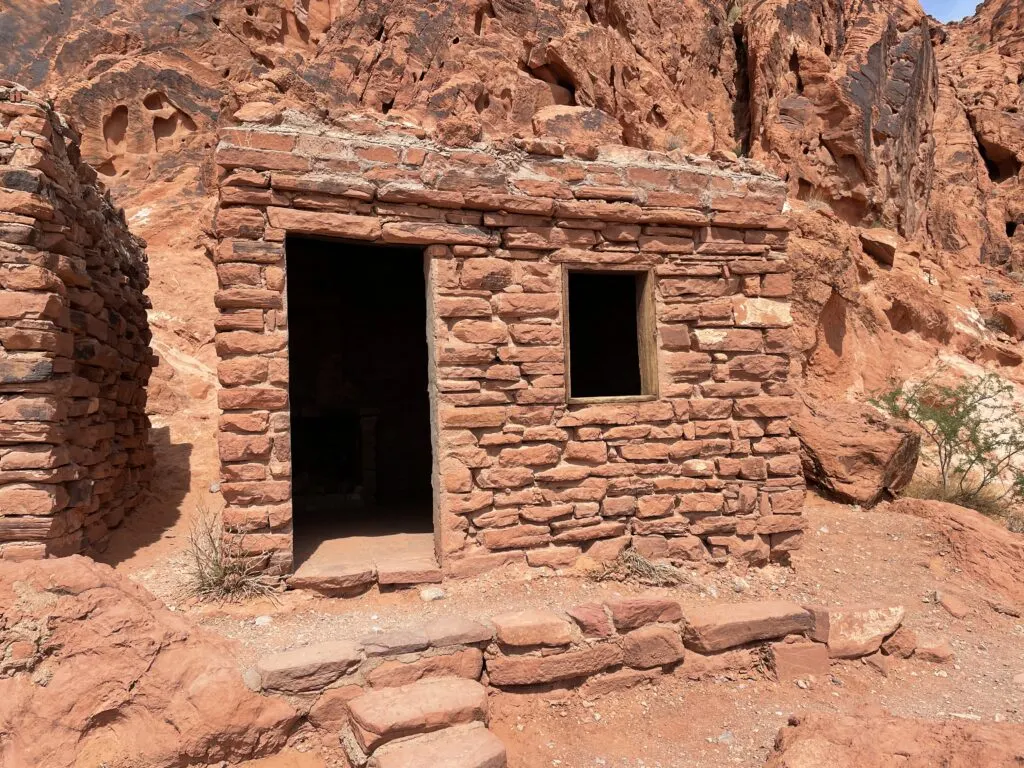 Atlatl Rock: While you'll have to climb some stairs, Atlatl Rock isn't far from the parking lot and provides you the opportunity to see ancient petroglyphs created by native inhabitants. While I didn't stop because I was short on time, I drove by Atlatl Rock, and it looked worthy of a visit.
Seven Sisters: Also found along the main road, Seven Sisters is a group of seven tall, red rock formations. The area is outfitted with picnic tables and could be a nice spot to enjoy lunch or to take a quick break.
Clark Memorial: While not initially on my radar, I couldn't resist stopping when I saw a bright white cross with flowers in the desert accompanied by an informational placard nearby. Morbidly, the white cross marks the approximate place where a Civil War veteran ran out of water and "presumably died of thirst" while emigrating west. Tragically, he was found just days later.
Petrified Logs: Valley of Fire hasn't always been a desert, and that is evidenced by the remains of trees that have been petrified, or turned to stone over time, which are still visible today.
Visitor Center: On your way in or out of the park, stop at the visitor center where you'll have the opportunity to learn more about the park itself and the wildlife that inhabits it. There's also a gift shop that sells various souvenirs and collectibles.
Is a Day Trip to Valley of Fire From Las Vegas Worth It?
If you're even remotely interested in outdoor activities around Las Vegas, hiking, or exploring the desert, then the Valley of Fire State Park should be near the top of your list.
As a novice hiker myself, I appreciated how well trails were marked, and the fact that no trail was overwhelmingly long. You don't have to walk far for great scenery.
There really aren't words to describe the scenery. Breathtaking, immersive, otherworldly, and stunning all come to mind, but don't seem to do the experience justice on their own.
The abundance of wildlife was exhilarating as well. While I didn't know what to expect, seeing bighorn sheep up close several times was a combination of unexpected, unnerving, and amazing.
Every time I venture out into the desert from Las Vegas, I'm amazed at the sheer size and scope of the landscape. It serves as a good reminder of how small we are in the whole scheme of things.
In summation, yes, pull yourself away from the slots for the morning and make the drive out to Valley of Fire State Park.
Related: Check out similar day trip recaps:
Frequently Asked Questions about Valley of Fire
How to get to Valley of Fire from Las Vegas?
Valley of Fire State Park is about an hour away from mid-Strip resorts and can be reached by taking I-15 north for nearly 40 miles and taking exit 75 onto Valley of Fire Highway.
Once you get onto Valley of Fire Highway, things are pretty remote, so ensure you're stocked up on supplies at that point.
Is there cell service at Valley of Fire?
Cell reception is spotty at best. I'd commonly lose service for extended periods, then get a dump of text messages when I stumbled into a spot with reception. Don't count on being able to use your phone.
Are there restrooms in the park?
Yes, there are outhouse-style bathrooms near the parking lot at the starting point of each hiking trail.
Will there be an opportunity to purchase water?
Yes. Just stop at the visitor center on your way into the park to purchase any supplies you may need.
See Also: Things to do with Kids in Vegas and Free Activities in Las Vegas for additional inspiration!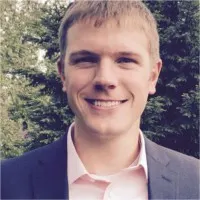 I'm a former software salesman turned Vegas aficionado. While the craps table is my preferred habitat, I pull myself away to explore new attractions, shows, restaurants, and outdoor activities around Las Vegas with the intent of sharing my experiences.
Ultimately, I just want to help folks plan a better trip and save a few bucks in the process.