Themed around the hit Marvel Avengers franchise, Marvel Avengers STATION at Treasure Island gives visitors the chance to "Delve into the history, science, engineering, genetics, technology, and profiles" of their favorite characters like Iron Man, The Hulk, Thor, and Captain America.
On display throughout the STATION are equipment, costumes, suits, and weapons used by the characters in the movies.
There are also interactive stations and plenty of informational placards that educate guests on their favorite superheroes.
I thought it would be fun to swing into Marvel Avengers STATION at TI with the intent of sharing my experience with you, including what I liked and what was lacking.
Of course, I'll also share a bunch of images to help you determine if the attraction is worthy of making it onto your Las Vegas itinerary!
I personally bought a ticket at the door for $49.95, which was somehow cheaper than STATION's own online price. I'll take it!
My Experience at Marvel Avengers STATION
I booked my ticket for 2 pm, and was instructed to stand in line in front of a green screen souvenir photo opportunity.
Since I was visiting solo, I opted out of the souvenir photo and was told to wait in front of a set of elevators that lead to the attraction until the rest of the 2 pm visitors finished their photos, one group at a time.
Annoyingly, each of the 7 groups took multiple photos, requested multiple poses, etc., leaving me twiddling my thumbs by the elevator waiting to get into the attraction for about 20 minutes.
I understand the need to drive ancillary photo sales, but this process should be expedited.
What I Liked
Stunning Visuals: In my opinion, this is why you visit if you plan to do so.
Marvel Avengers STATION is essentially a museum attraction, displaying movie props, suits, weapons, etc., accompanied by information about that specific item or character.
Where the Avengers STATION excels, however, is HOW those items are displayed. Everything has a theatric, high-tech look that's sincerely impressive.
Everything is a photo op.
Just take a look: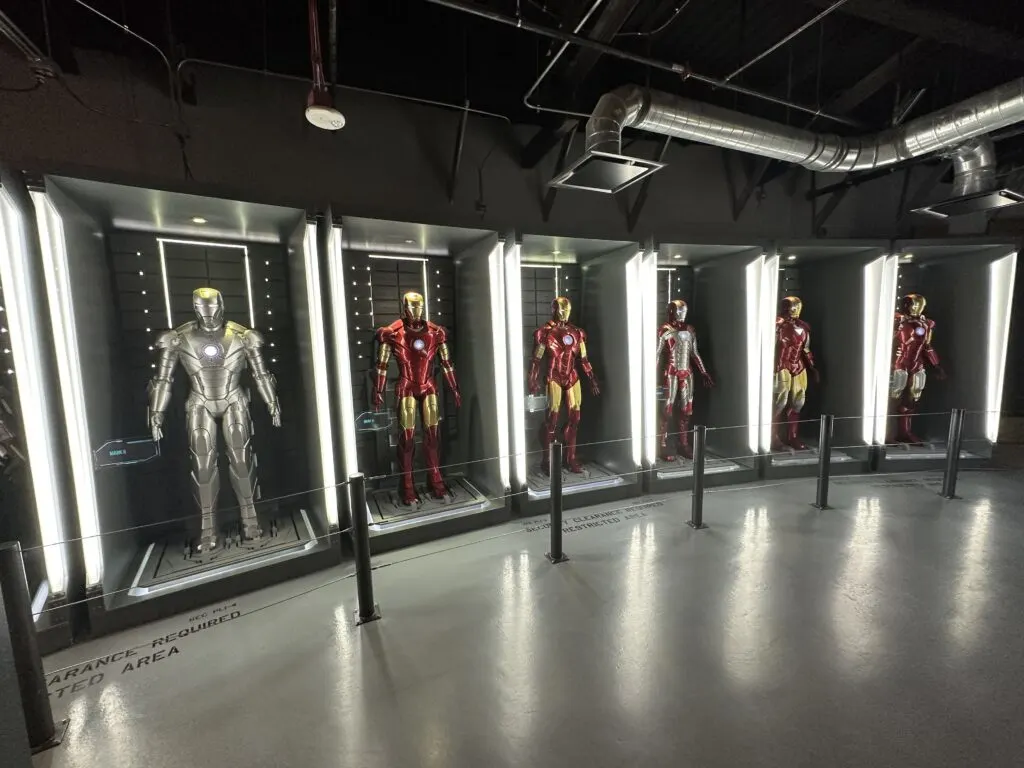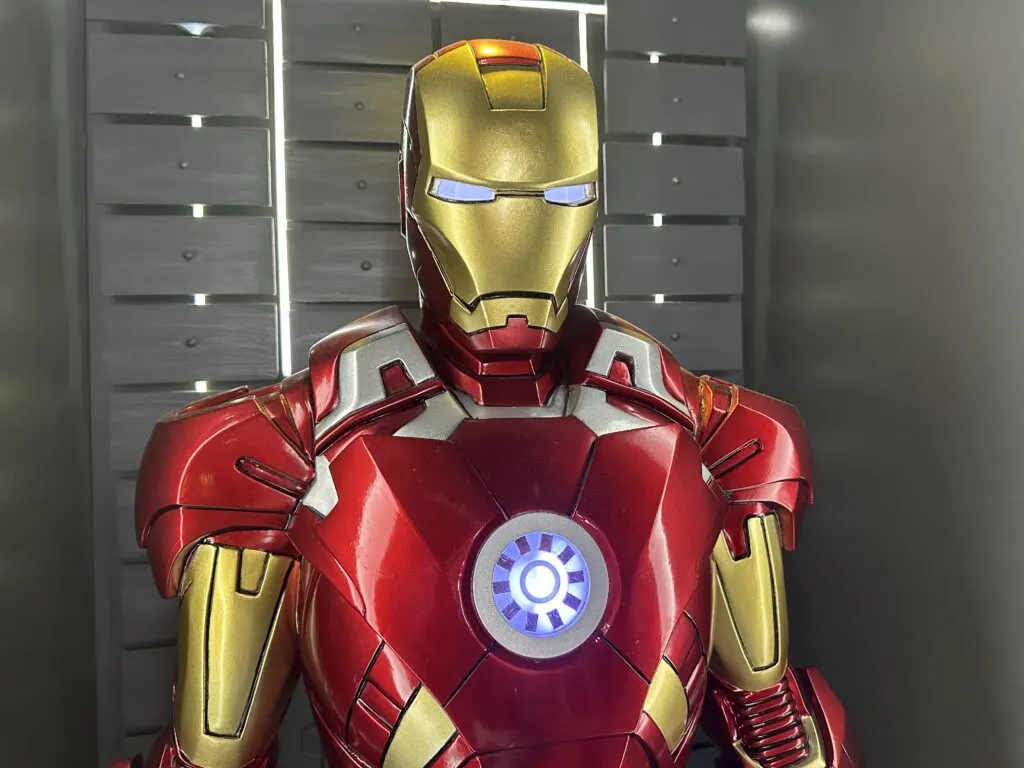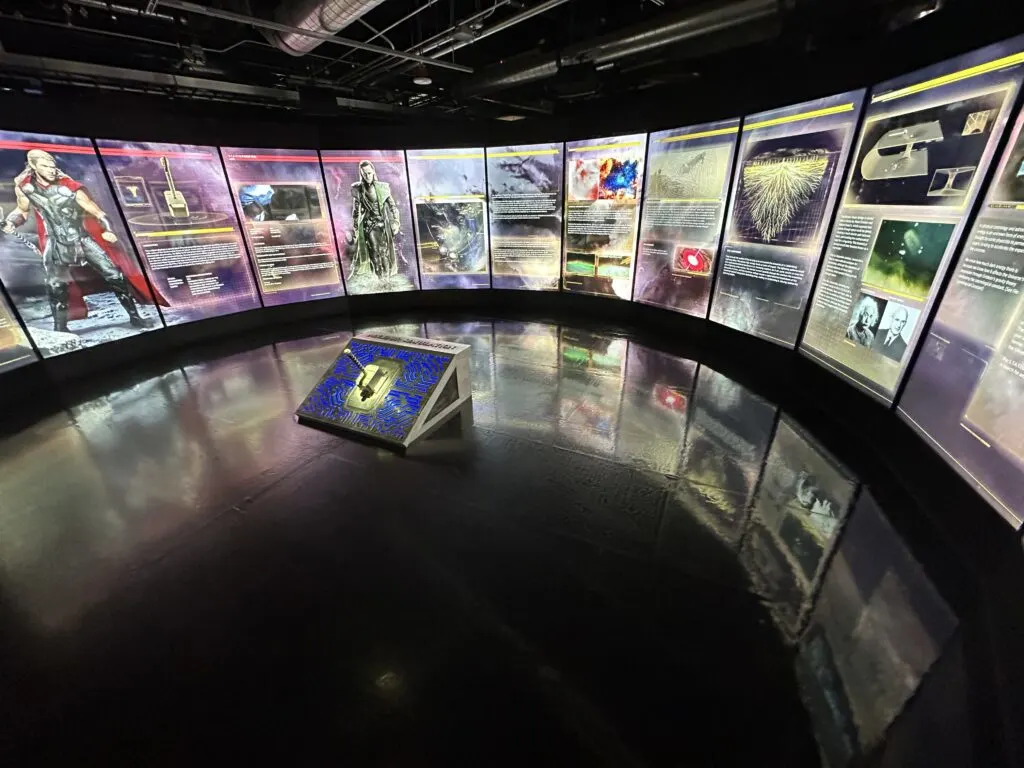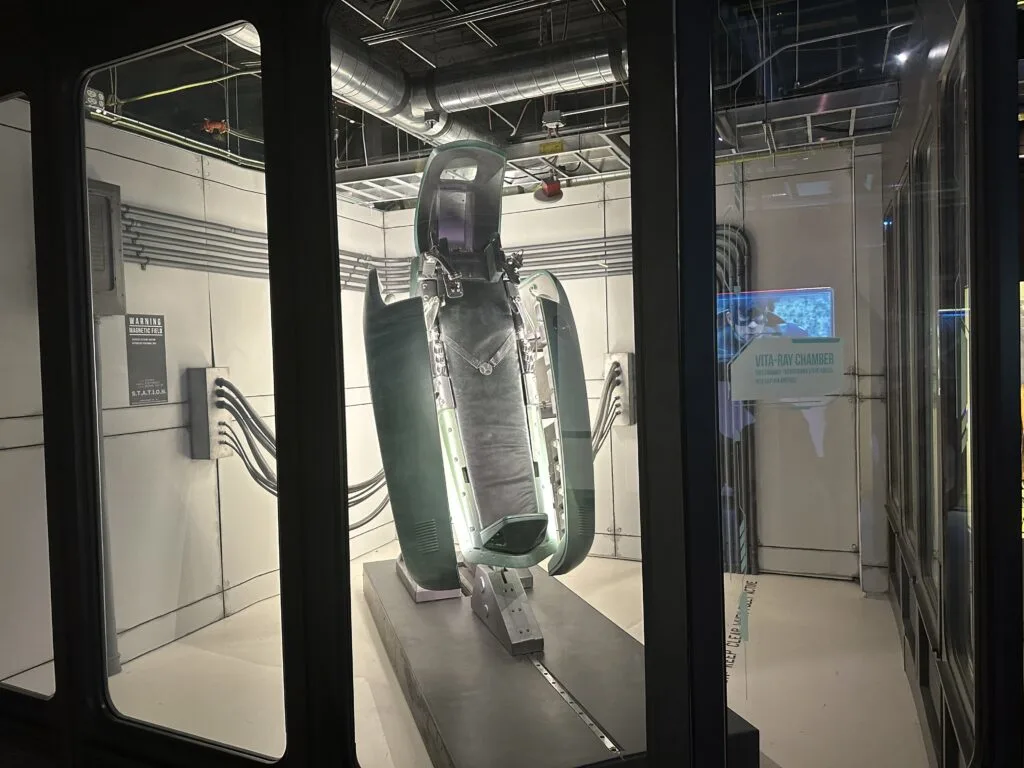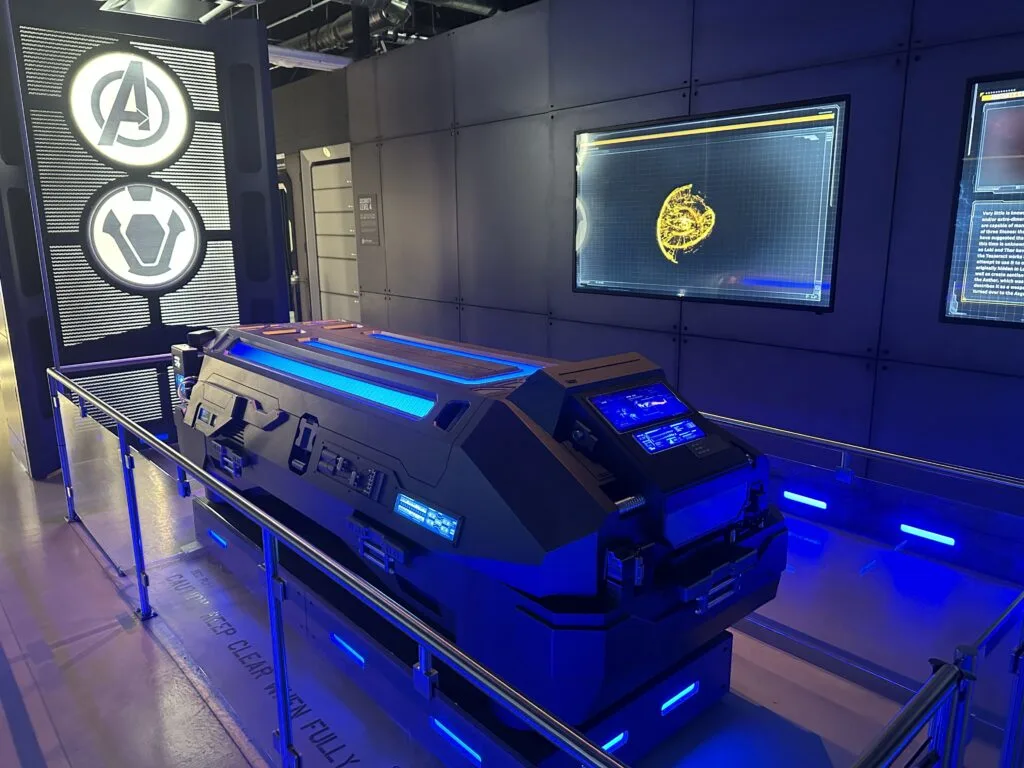 Information Abundance: Admittedly, I'm not a Marvel "die-hard" per se, so this was helpful.
Marvel Avengers STATION did a nice job of offering an abundance of information on characters and their backstory both in the form of static placards and on interactive stations.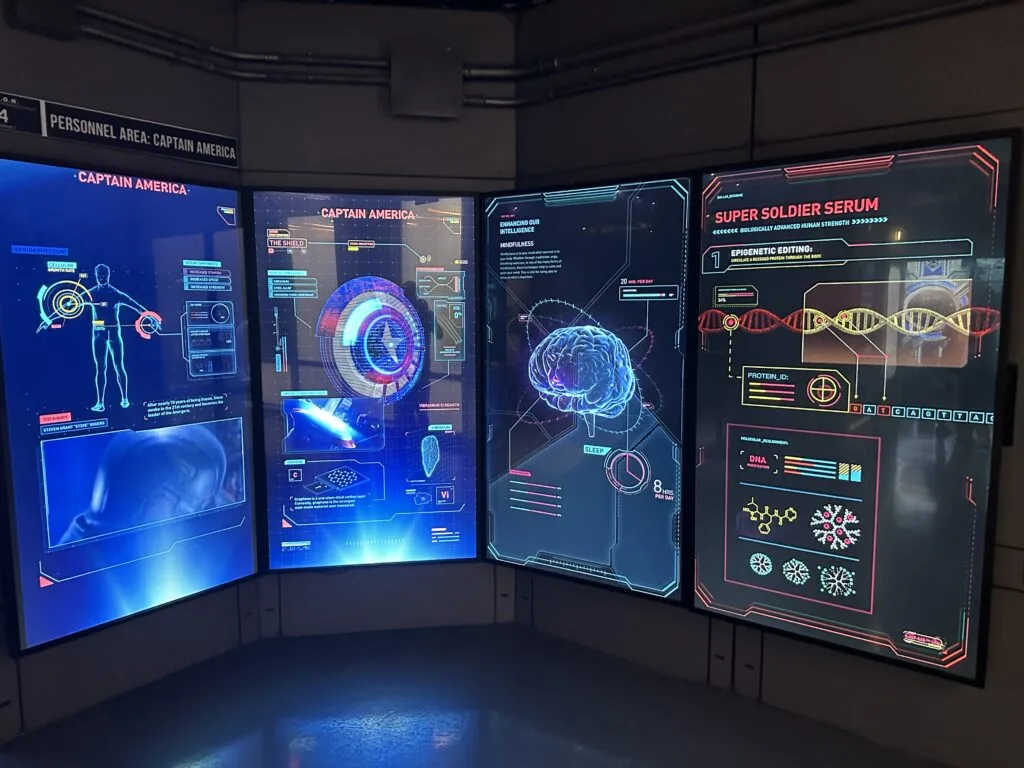 What's Not To Like?
Interactive Activities: The interactive activities scattered about the attraction were a miss in my opinion. They were basic, unengaging, and got boring very quickly. There just wasn't much substance to them.
Examples of this were computer terminals that were found in a few exhibits. They look really cool and high-tech, but I was disappointed to discover that the game, information, etc. was extremely bland and quick to digest.
I, and most people visiting, spent minimal time interacting with them.
Another is this opportunity to control The Hulk. Visitors could use the small terminal to make The large Hulk do one of 3 motions. It served as a fun picture for a few groups but was just… kind of boring.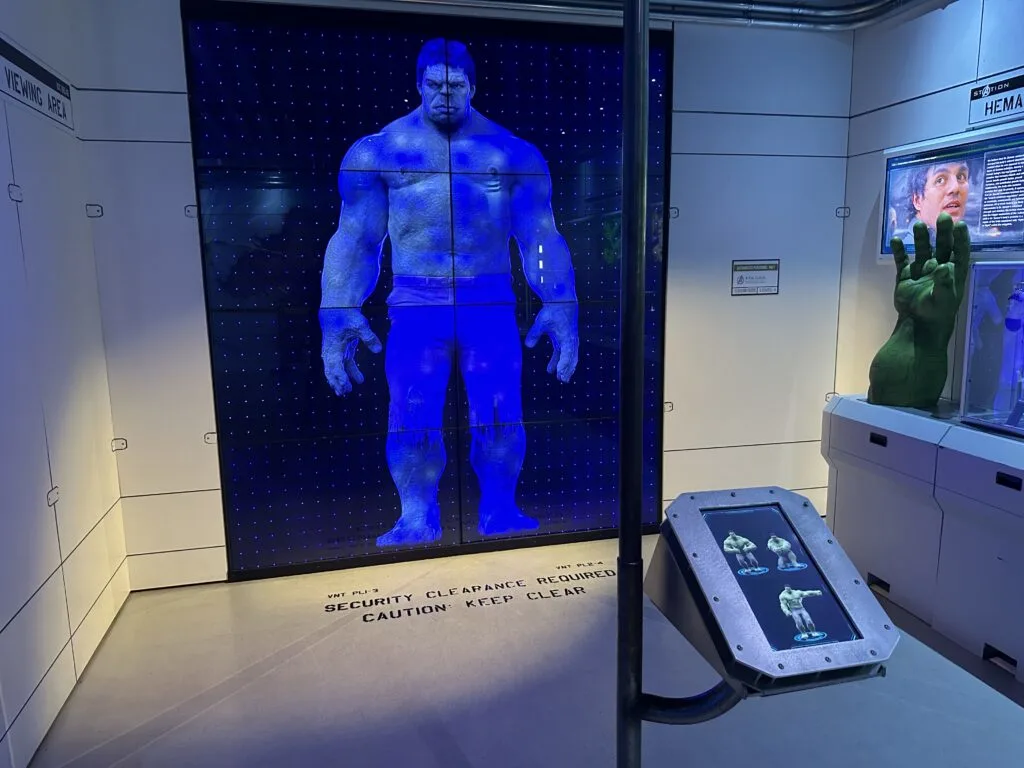 It's also totally possible that these stations were just designed for kids, and I wasn't exactly the target market.
Lastly, the "game" at the end of the attraction was almost embarrassingly basic/silly/a waste of time.
Essentially, visitors are positioned in front of a big screen and given a remote with a single button that acts as a gun.
"Bad guys" then show up on the screen and the participants aim and shoot their little remote at them.
There seemed to be no skill involved, and the game was so basic that instruction wasn't needed beyond "point and shoot".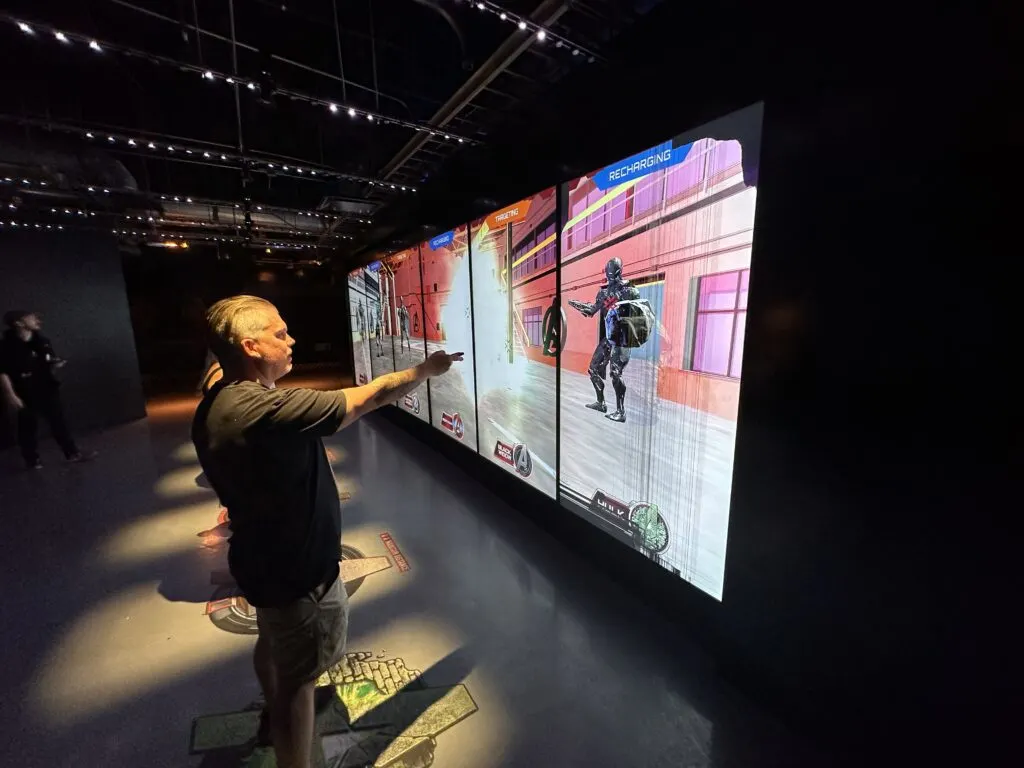 The shooting game at the end was especially disappointing to me because I genuinely enjoyed the Archery Experience at the end of the Hunger Games Exhibition at MGM Grand, which is the product of the same company – Victory Hill Exhibitions.
The interactive experience at the end should act as a fun "Grand Finale", but Marvel's ended with an underwhelming whimper.
Short Experience: Simply put, I thought it would be longer for $50. I was actually a bit surprised when I made it to the end.
In all, I think I spent about 30 minutes at Marvel Avengers STATION.
Is Marvel Avengers STATION Worth the Money?
I think it can be under certain circumstances and for specific audiences.
If you're a Marvel superfan and are looking for a museum attraction that showcases movie costumes and props, then this could be for you. The visuals were my favorite aspect of the attraction, and there was plenty to gawk at and snap photos of.
If, however, you're looking for a more interactive experience, or are only a casual fan of the Marvel franchise, I'd skip it.
The interactive elements throughout the STATION were basic, not overly engaging, and are more likely to appeal to really young kids.
In my opinion, Marvel Avengers STATION could appeal to a broader audience at a lower price point, as the $50-$55 range per adult is high, even by Vegas standards, and prices out "casuals".
For what it cost, I left feeling underwhelmed.
That being said, I'm just one person, and others disagree with my assessment – In fact, there are plenty of 4 and 5-star reviews on the review site TripAdvisor, although the attraction carries a mediocre 3.5-star rating overall after 2,390+ reviews.
If you feel like this could be a good fit for your itinerary, remember to check Vegas.com for tickets as they were much cheaper than they were directly with the attraction.
I'm a former software salesman turned Vegas aficionado. While the craps table is my preferred habitat, I pull myself away to explore new attractions, shows, restaurants, and outdoor activities around Las Vegas with the intent of sharing my experiences.
Ultimately, I just want to help folks plan a better trip and save a few bucks in the process.