I'm a sucker for new attractions in Las Vegas and The Punk Rock Museum has been on my list of things to check out ever since I heard rumblings of its soon-to-be existence.
Admittedly, I'm not someone who gravitated to the punk genre growing up, but this interview from Entertainment Weekly with Fat Mike from NOFX had me all charged up to check the museum out.
In that interview, Mike discusses how the Punk Rock Museum idea came to be, how artifacts were obtained, and the idea of inclusivity.
"That's what punk rock has always been: We'll let anybody into our world unless you're really annoying. Or a rock star. You can't act like a rock star, because then you get kicked out."

Fat Mike – EW.com Interview
With my interest piqued, I decided to venture away from the Strip to check out The Punk Rock Museum, reminding myself not to be annoying.
A tough task.
Punk Rock Museum Pricing & Options
Tickets to The Punk Rock Museum come in two distinct flavors and can be purchased with the venue, here:
General Admission ($30): A self-guided exploration of the exhibits at The Punk Rock Museum.
Guided Tour ($100): A next-level experience, guided tours are led by actual musicians like Smelly from NOFX, Warren Fitzgerald from The Vandals, Monkey from The Adicts, and Fat Mike from NOFX among others.
Customers select their preferred tour guide at the time of booking, and options are laid out clearly in a calendar format.
My Punk Rock Museum Experience
Ticketing & Admission
I opted for the baseline general admission ticket, which I purchased at the door.
The gentleman I bought the ticket from looked the part, with a mohawk, plenty of tats, and a leather vest.
In addition to exuding an authentic aura, he was also one of the nicest, most helpful, individuals that I've ever interacted with in Las Vegas. As a bit of an outsider to the world of punk, I certainly felt welcome.
Before entering the museum, he advised me to scan a QR code, which brought me to a webpage that detailed the audio playlist on a room-by-room basis.
It was also mentioned that there's been an abundance of celebrity sightings at the museum since it opened and that Flea from the Red Hot Chili Peppers was just there a few days prior.
Note on parking: The lot is small and challenging to get in and out of. I'd recommend just taking Uber/Lyft if you don't need to drive.
Inside The Museum
In my opinion, there are a few hallmark traits that great museums demonstrate:
They display real and interesting artifacts.
They stimulate more than one of your senses.
They offer interactive elements.
They tell a compelling and easy-to-understand story.
I'll get down to brass tacks early: The Punk Rock Museum checked every one of those boxes, and checked them definitively.
On the artifact front, the museum is divided up into sections that are broken down by geographic influence, style, and/or timeframe.
Artifacts that you can expect to find as you move from room to room include instruments, photographs, video, clothing, posters, flyers, publications, musician quotes, and even handwritten correspondence.
Here are a few images that demonstrate what I experienced inside the museum: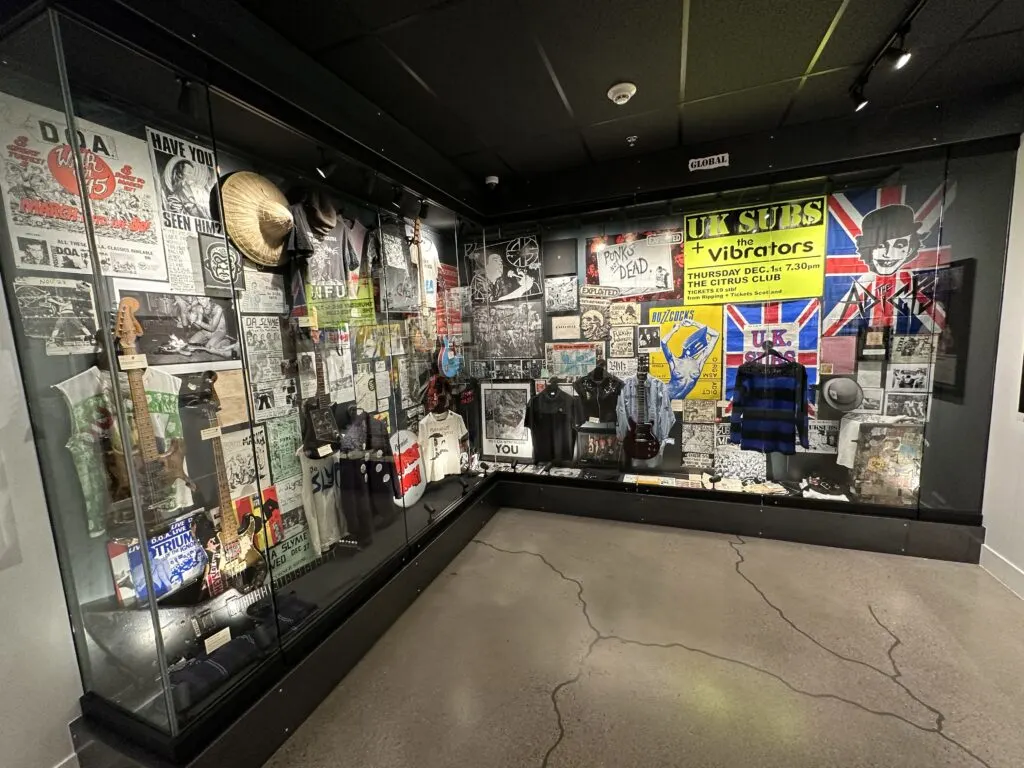 In the room of quotes pictured below, I particularly appreciated a quote from Stza Crack that ties the museum to Vegas:
"I like to pass out on Fremont Street, just so people know that we're still bums."

Stza Crack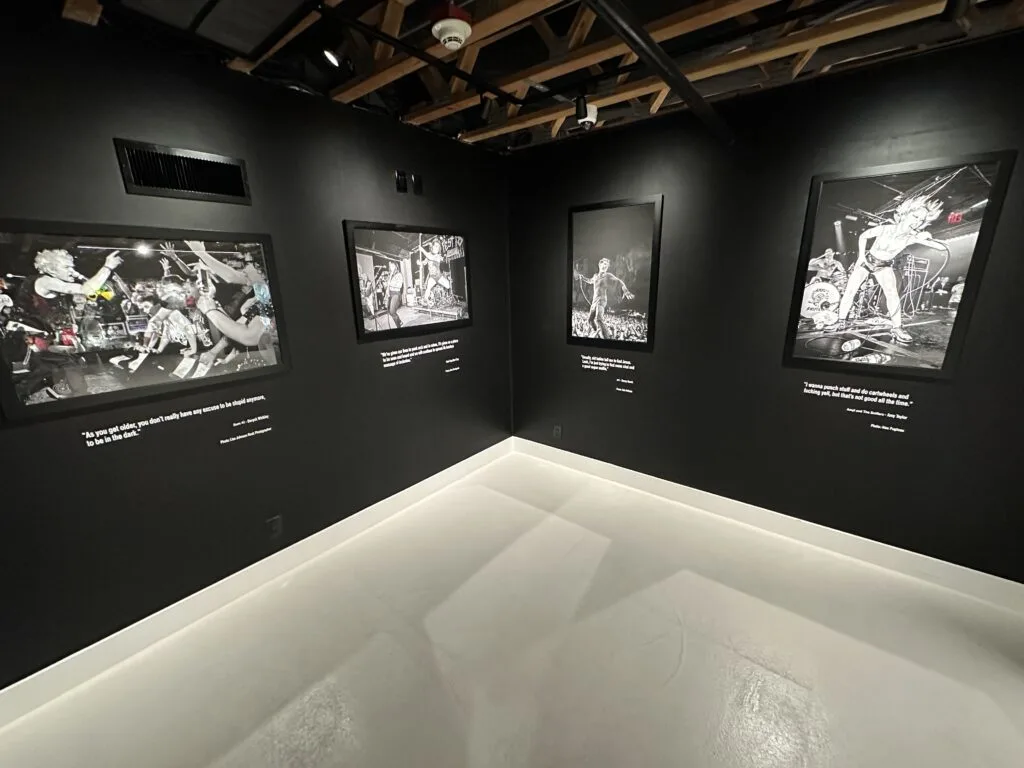 They even re-created Pennywise's garage setup with original equipment, posters, walls, and carpet that was salvaged from a dumpster by the band. A placard next to the display claimed that even the smells are authentic.
As you move from room to room in the museum, music from bands featured in the exhibit you're standing is played, which enhances the experience. As I mentioned earlier, that playlist can be further explored by scanning the QR code at the entrance of the museum.
One of the most unique elements of The Punk Rock Museum is the Jam Room, which gives anyone the opportunity to walk in and play guitars and basses that were once played by bands like Pennywise, Rise Against, Strung Out, Sick of it All, and more.
Even the amps in the Jam Room are band-used.
A one-of-a-kind experience, I can't think of any other museums that allow guests to interact with the items on display like this.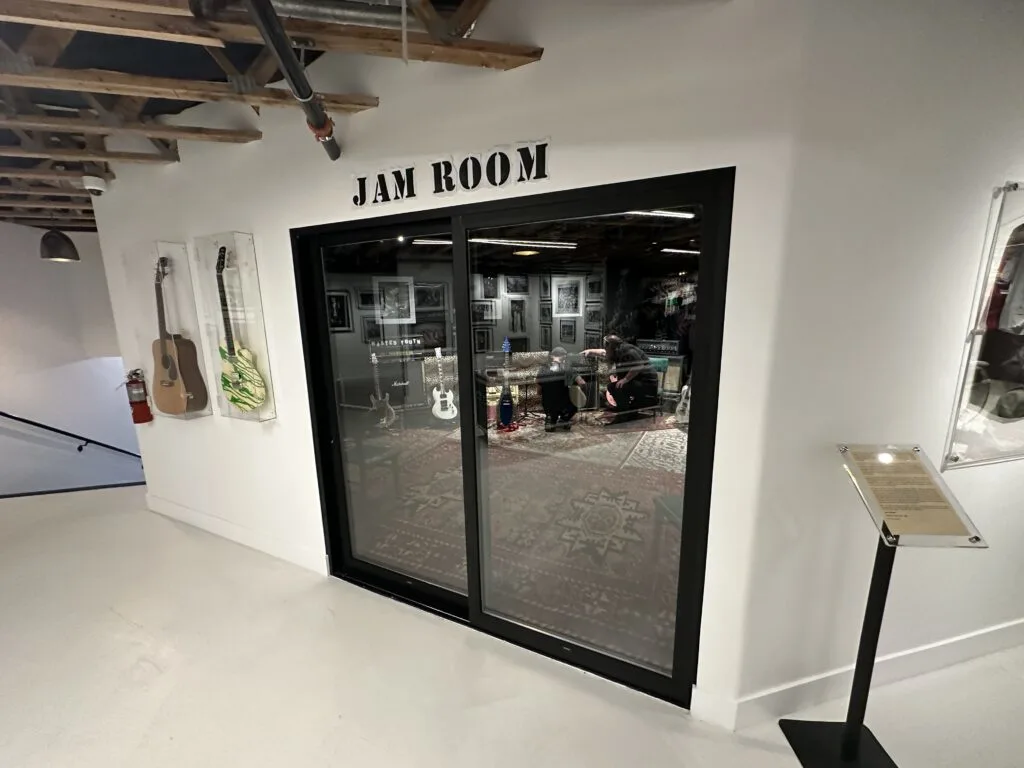 Throughout the museum, a general theme of inclusivity and everyone being welcome (provided you don't suck) was also present, which is a welcome message given the polarized times we find ourselves in.
Tattoos, Weddings, and Drinks
It isn't all educational at the Punk Rock Museum. Nope. Ancillary, and some would argue necessary, services are also provided.
Perched on the museum's second floor is a tattoo shop that had yet to open during my visit. I'm genuinely curious how many folks will be down to get some ink mid-tour.
At the end of the museum experience, visitors wind up in a bar called The Triple Down that offers both indoor and outdoor seating. The bar's most notable drink is the "Fletcher", which is a rum and Coke served in an empty Pringles can. The chips are poured out and served on the side.
Of course, The Triple Down also serves the typical assortment of canned beer and cocktails.
The last stop on the tour is the gift shop, which offers a wide variety of Punk Rock Museum merchandise.
The Verdict: Is the Punk Rock Museum Worth Visiting?
Although I'm not the target audience (didn't grow up on punk), this is without a doubt one of the most authentic, and well-put-together museum attractions in Las Vegas, and I've been to them all.
The museum hits it out of the park with a vast assortment of artifacts, sounds, video, and interactive experiences that expertly tells the story of punk rock in the United States and around the world.
I walked in not being intimately familiar with the punk rock genre, and not knowing what to expect. I left thinking "I get it".
I'm usually able to accurately predict whether or not an attraction in Las Vegas will survive long term or be forced to shutter – The Punk Rock Museum is built to last.
You also don't have to take my word for it. Early reviews on sites like TripAdvisor have been absurdly positive.
Simply put, The Punk Rock Museum should be atop the list of things to do in Las Vegas for anyone that's a fan of the genre. It's easily worth the price of admission.
I'm a former software salesman turned Vegas aficionado. While the craps table is my preferred habitat, I pull myself away to explore new attractions, shows, restaurants, and outdoor activities around Las Vegas with the intent of sharing my experiences.
Ultimately, I just want to help folks plan a better trip and save a few bucks in the process.