Key Points:
The reason you visit is the visuals, which are sincerely stunning under blacklights.
Course complexity left something to be desired, lacking elevation changes or challenging obstacles.
For the price, I thought Twilight Zone by Monster was a solid value – Especially if you're a fan of the show.
When it comes to hunting down mini golf in Las Vegas, there are surprisingly few options. Fortunately, the ones that do exist bring some serious "wow factor".
Enter Twilight Zone by Monster Mini Golf at Horseshoe (formerly Bally's).
As you likely deduced from the name, the course boasts a unique Twilight Zone theme and offers a never-ending string of unique visuals and photo opportunities.
I had some spare time and thought it would be fun to swing by and check the attraction out.
Of course, I'll include plenty of images, and whether or not I feel the course is worth visiting during your next trip to Las Vegas.
Twilight Zone Mini Golf Location & Cost
Twilight Zone by Monster Mini Golf can be found by navigating to the back of Horseshoe's casino floor. Take the escalator down when you reach the Indigo Lounge and Jack Binion's Steakhouse.
Once you reach the bottom of the escalator, continue down the hallway and the mini golf course will be on your left, right across the hallway from the Cabinet of Curiosities and The Lock Speakeasy.
The cost to play a round of mini golf is $11.95.
While I recommend booking your preferred time in advance on Monster Mini Golf's website, I was able to walk right up, pay, and jump on the course.
Twilight Zone Mini Golf Experience
I think it would be helpful to clearly separate the pros and cons of Horseshoe's Twilight Zone Mini Golf course, starting with the good.
What I Liked About the Mini Golf Course
Visual Appeal: It's what likely piqued your interest to visit, and the visuals didn't disappoint. The course is illuminated with black lights, so anything white pops.
Stationed around the mini golf course are Twilight Zone characters and scenes that make for a really unique experience.
In my opinion, this is the reason to visit.
Here are some pictures I snapped: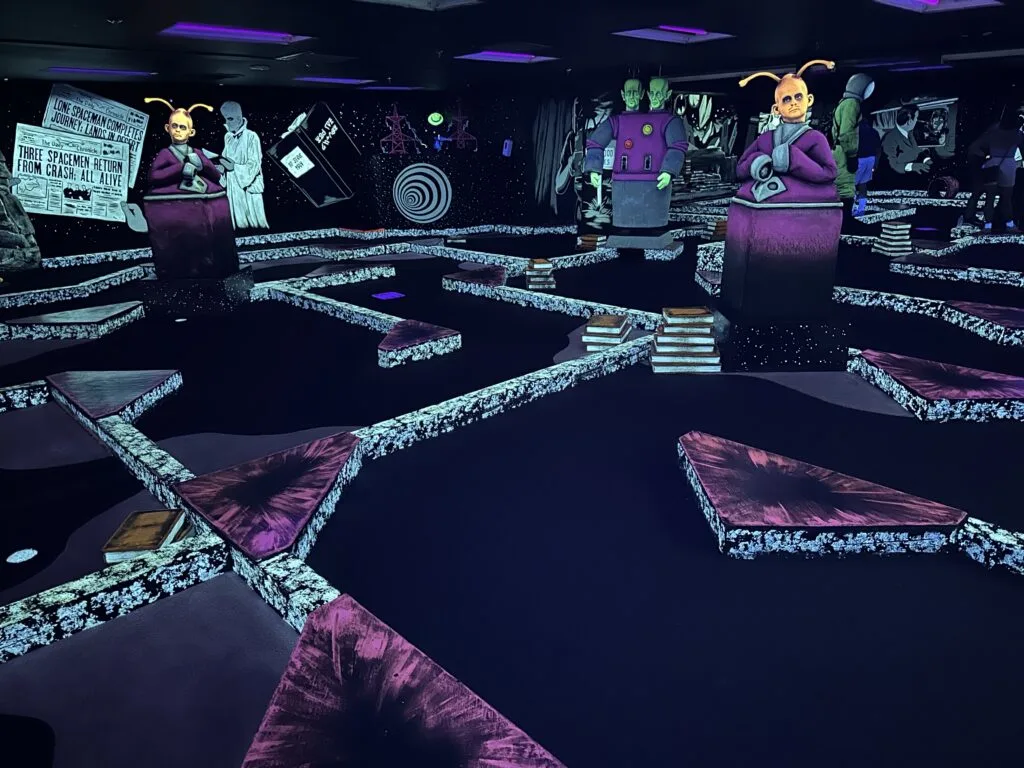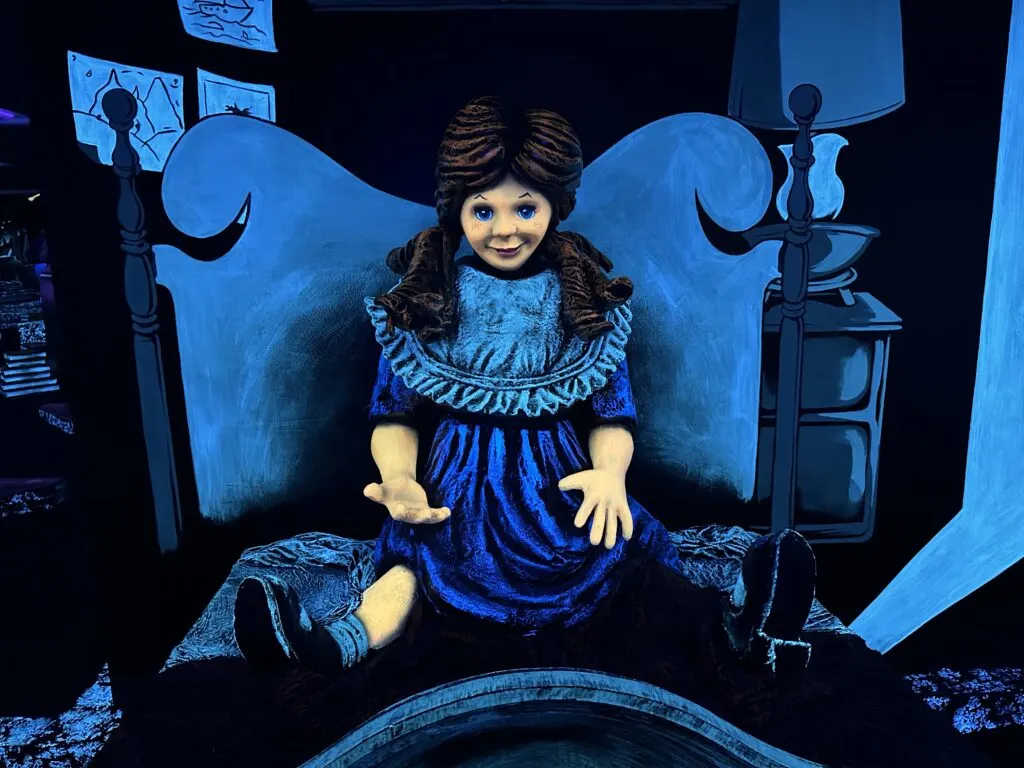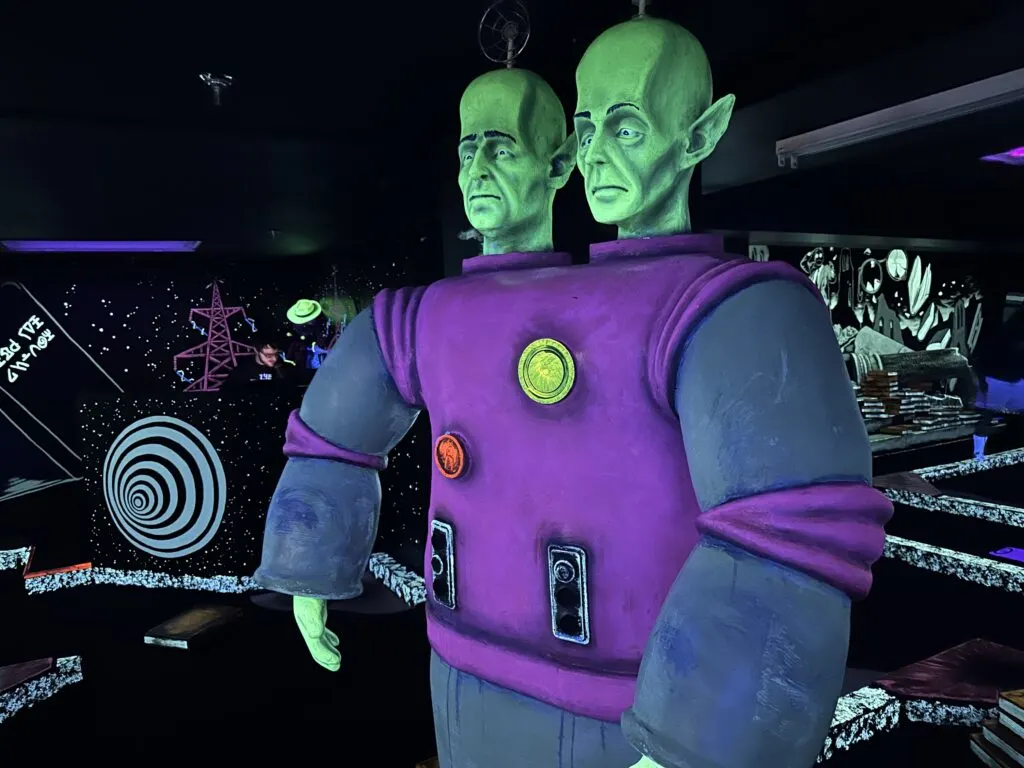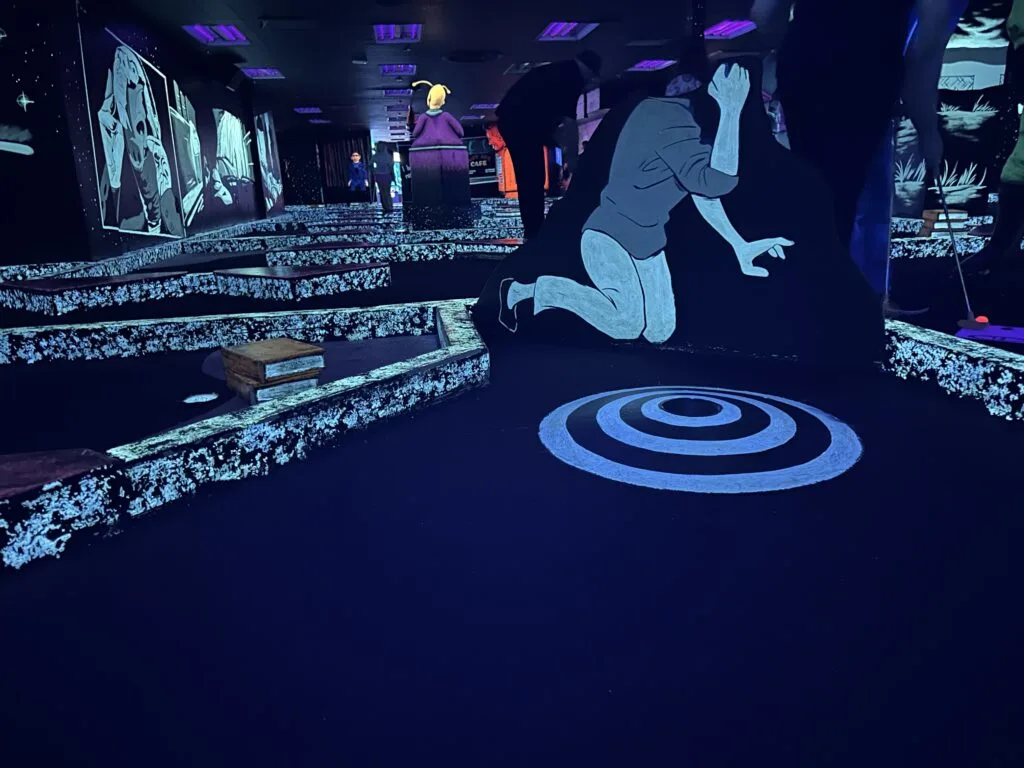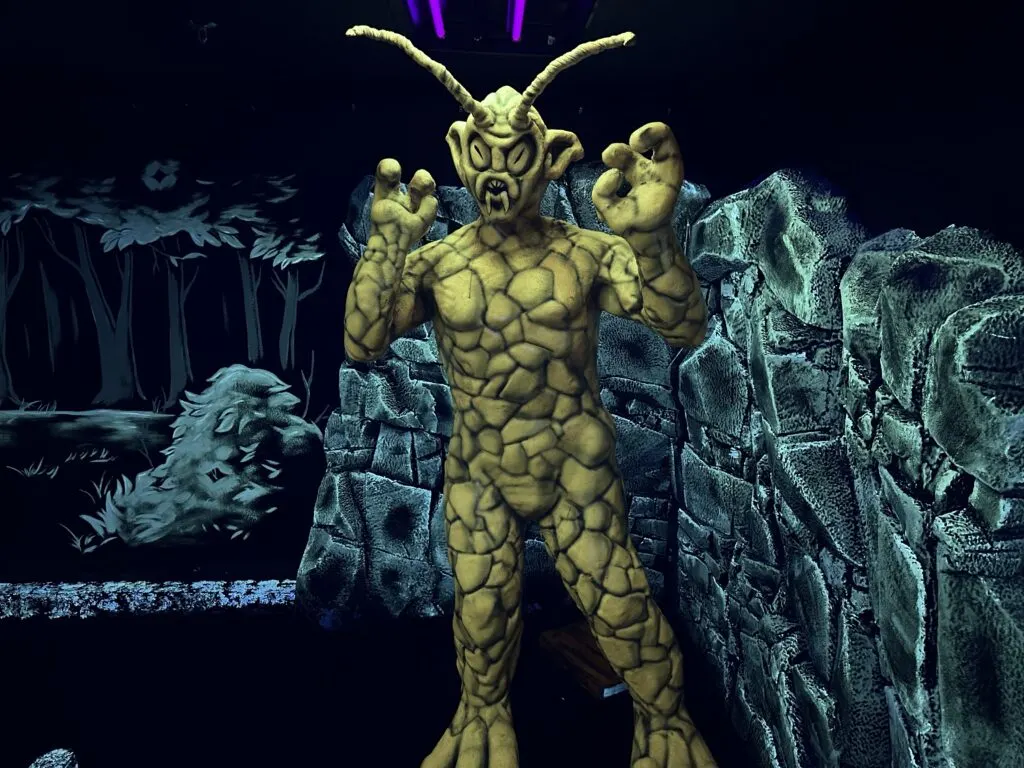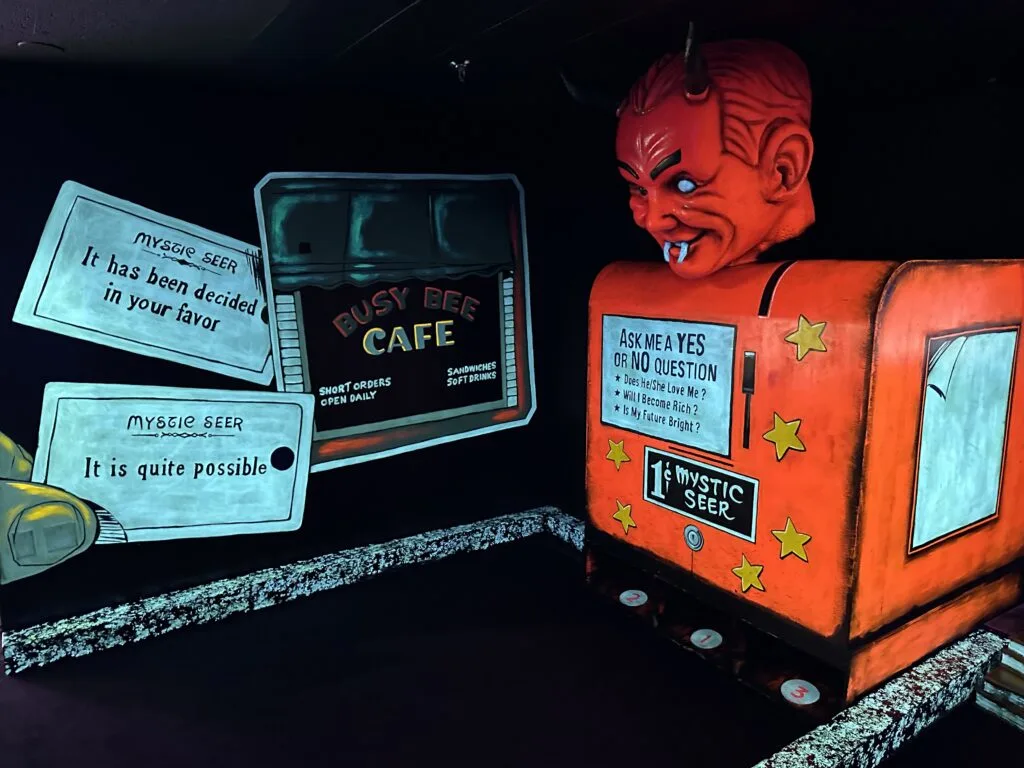 Arcade & Bowling: In addition to a mini golf course, the attraction offers a small arcade and a few bowling alleys that a number of families seemed to be enjoying.
Unless you plan to bowl, there likely isn't enough in the arcade area to justify a trip on its own, but it could be a fun time killer before or after your round.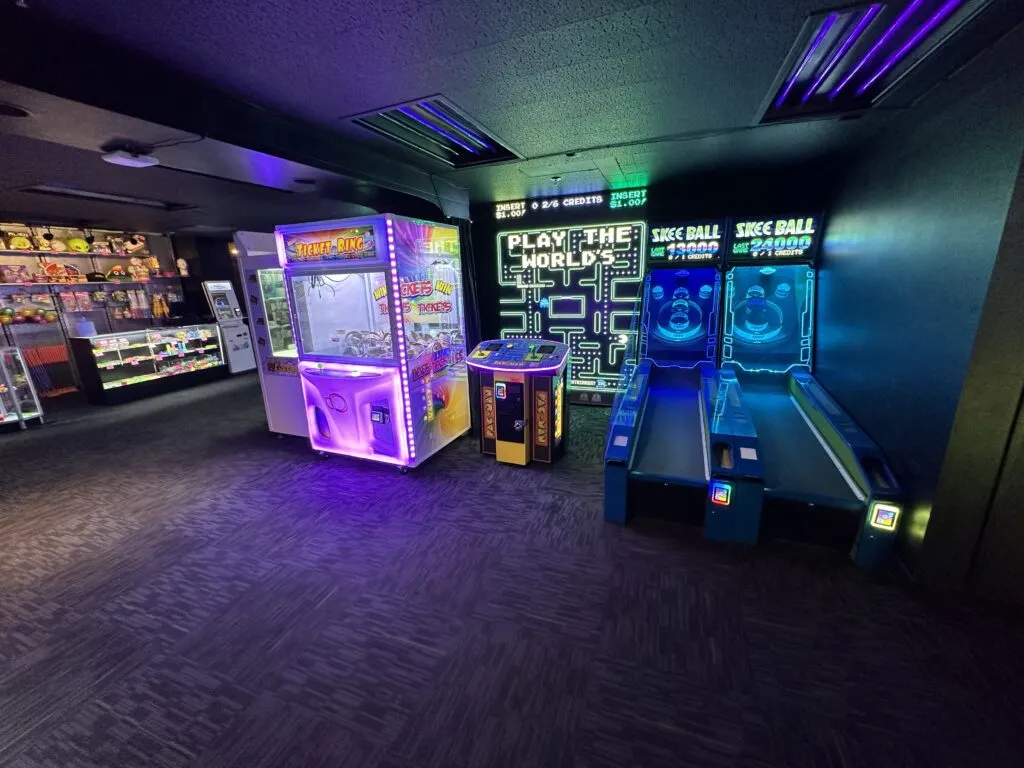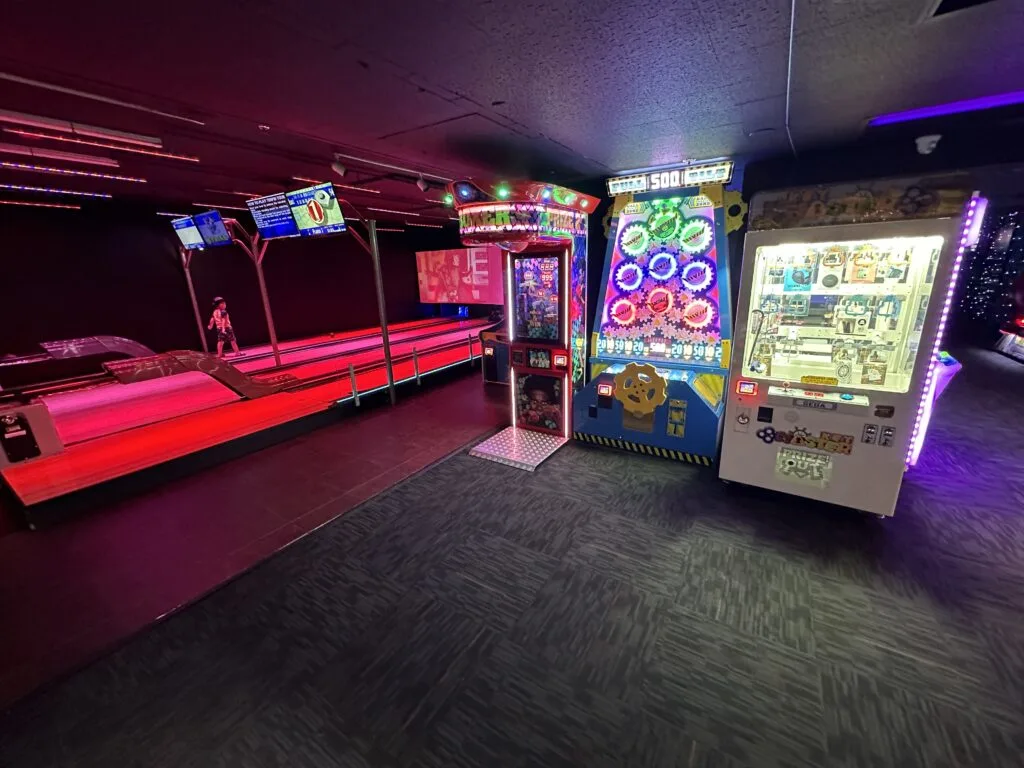 Of course, Horseshoe has a much larger arcade just down the hall where their former sportsbook used to be located.
Engaged Staff: The folks working at the Twilight Zone Mini Golf course were awesome. They were not only friendly but did a nice job building excitement both before I teed off, and during the round.
They were charged with "DJ-ing" the eerie music that pulsated through the space and would throw out fun rule changes, or challenges, that all players needed to abide by for their next shot.
Examples of little wrinkles they'd throw out would be taking your next shot standing on one foot, etc. It was a nice touch. The kids near me on the course really seemed to enjoy the challenges.
Value: I felt like this was a great deal for the price paid. Good, cheap, fun.
What Was Lacking
Course Complexity: While the mini golf course offered some really cool visuals, the actual course was decidedly mediocre.
In my opinion, the best mini golf experiences feature changes in elevation and an array of unique obstacles. While there were certainly a few neat obstacles to hit through, I'd describe most holes as very basic, flat, and not overly complex.
For the price, it was fine, I just didn't find the actual mini golf experience to be anything to write home about.
Pack Your Patience: Although I had the place to myself for about half my round, a few families with rowdy kids eventually showed up to play. They were pretty obnoxious, running across my hole a couple of times, and I saw a few errant balls escape the hole they were playing.
I get it. It's an attraction for kids. Just know that some deep breaths may be needed.
Additionally, I assume the course gets pretty congested during peak times, and things could end up moving slowly.
The Verdict: Is Twilight Zone Mini Golf by Monster Worth Doing?
It's a fun diversion! Especially if you're looking for things to do with Kids on the Strip, Monster's Twilight Zone Mini Golf course at Horseshoe is tough to beat.
Cheap activities in Las Vegas are becoming more and more challenging to come by, and this attraction should be a consideration for anyone trying to do Vegas on a budget.
As mentioned, the course itself wasn't all that challenging or unique, but here, the visuals are intended to steal the show. And they're awesome.
Keep in mind too, a middle-aged man's idea of what a challenging mini golf course should be will likely differ from your kid's. They're going to love it.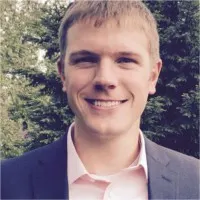 I'm a former software salesman turned Vegas aficionado. While the craps table is my preferred habitat, I pull myself away to explore new attractions, shows, restaurants, and outdoor activities around Las Vegas with the intent of sharing my experiences.
Ultimately, I just want to help folks plan a better trip and save a few bucks in the process.