First off, props to you for researching running while in Las Vegas. Most of Las Vegas' 42 million annual visitors are too busy delving into their vices to give jogging a second thought. You're obviously a different breed, and I salute you.
Running the Las Vegas Strip isn't the easiest or most convenient route, but if you like jogging with a view, it can't be beaten.
Yes, it would be simpler to run a different Las Vegas neighborhood, or the side roads surrounding the Strip, but that doesn't have the same allure. You want to run the Strip.
Below, I'll cover some tips, tricks, and suggestions for running on the Las Vegas Strip to make it a better experience.
See Also: Health Conscious? Discover what makes Stay Well rooms in Vegas unique.
Tips For Running On The Strip
Run in the Morning
Running the Las Vegas Strip early makes sense for a couple of reasons.
First, Vegas can get HOT, and hitting the sidewalk before the heat takes hold makes sense.
More importantly, you'll be able to avoid the crowds. Getting out to run the Strip at 5 or 6 am is prime time as there won't be groups to slow you down, just a few stragglers making the walk of shame.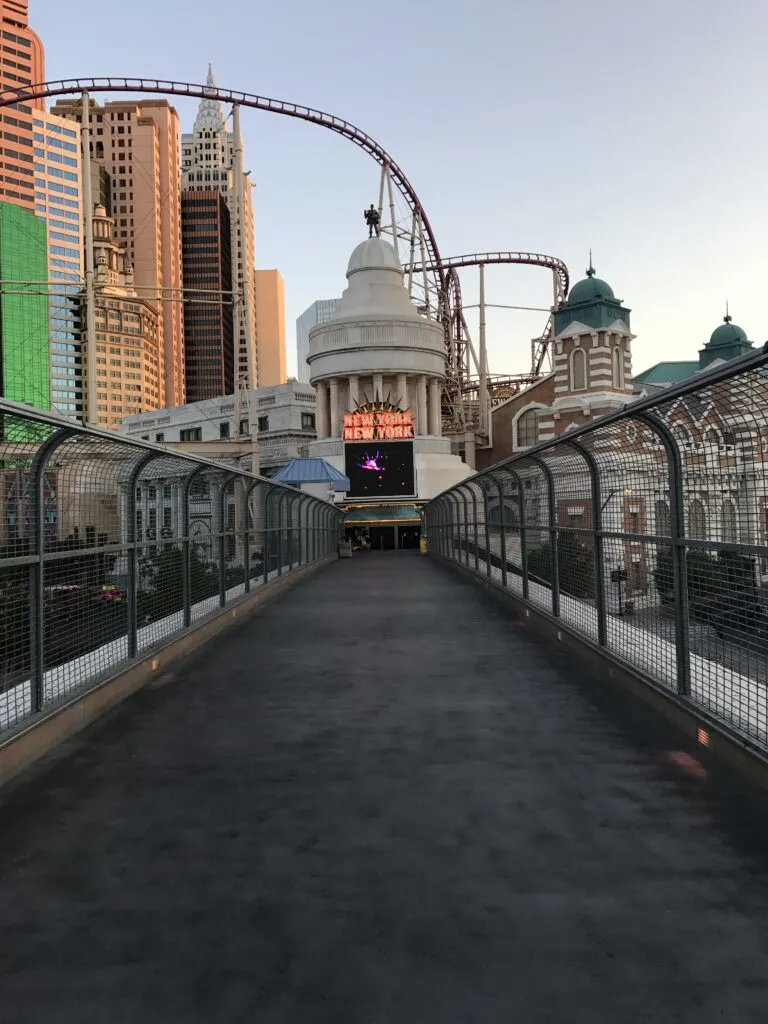 Avoid Pedestrian Crossings
Especially in the middle of the Strip, pedestrian crossings are common, forcing you to frequently change directions, climb stairs, and even enter casino properties.
The crossings are narrow, and slow-moving groups can hold you up. Frequent pedestrian crossings start on the south end of the Strip at Excalibur/Tropicana and can be found as far north as Venetian/TI. They can be avoided, however, and I'll dive into that next.
Leverage Long Uninterrupted Running Routes
I personally like running the following routes on the Strip:
Caesars Palace, up to Strat which is 2.4 miles one way, or just shy of 5 round trip. Note that once you get north of Wynn and Encore, the crowd can get a bit dicey, but we've never been bothered or had a problem. Just avoid eye contact with any sketchy characters.
A recent discovery of mine while staying at Mandalay Bay is a largely deserted sidewalk alongside Frank Sinatra Dr., which runs behind the resort parking garages on the west side of the Strip from Mandalay to The Mirage. While there are stoplights and intersections, the route is largely uninterrupted. I also found the running route to be clear of panhandlers, people sleeping on the ground, etc.
Skip Convenience and Go for the Scenic Route
If you don't mind navigating multiple pedestrian walkways and running through a couple of casinos (for a very brief moment), the most scenic run is from Mandalay Bay to Encore, through the heart of the Strip.
That route is about 3.1 miles one way and over 6 if you make it a round trip. Honestly, if you run at 5 or 6 am, the walkways and resorts will be so deserted that the hassle is minimal.
Running Off the Strip is OK too, Honestly
If you decide that running along the Las Vegas Strip is just too inconvenient, I won't blame you if you hit a side street to avoid the crowds and other obstacles.
My go-to running route near the Strip has been along Koval Lane, starting at the intersection of E. Tropicana and Koval and running north to the Sands Expo Center which is the intersection of Sands Ave. and Koval.
That route is relatively straight, and 1.5 miles one way, or 3 miles round trip. A straight shot that still offers views of the Strip is still pretty darn cool when compared to running back home.
Tips for Running Downtown Las Vegas
Running downtown can be a challenge for the same reasons jogging on the Strip is difficult. There are crowds and plenty of tight places where you can get held up by a group of walkers.
Again, aim for an early run, preferably just before the sun rises. This will ensure cooler temperatures, thin crowds, and illuminated neon casino exteriors (which is needed for inspiration).
My downtown Las Vegas running route starts at Plaza, and goes down Fremont Street to the Container Park and back.
The distance from Plaza to the fire-breathing praying mantis at the Container Park is about a half-mile, or a mile round trip. Just repeat as many times as you need to hit your target distance.
Las Vegas Running Events
If planning your Las Vegas trip around an organized race is appealing, check out Rock 'n' Roll Las Vegas, which takes place annually in February and offers distances of 5k, 10k, and a half marathon.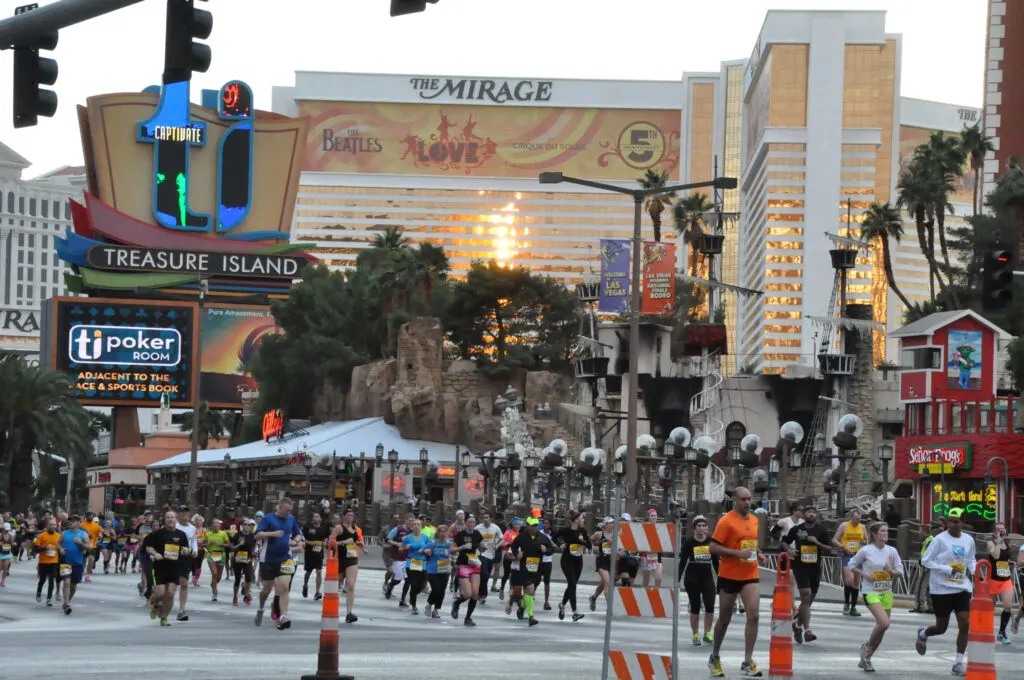 Another unique annual race is the Red Rock Canyon Marathon which takes place in one of the more scenic locations around Las Vegas in January.
The course takes place on the National Conservation Area's 13-mile Scenic Loop, a roadway that provides plenty of stunning visuals.
In addition to the marathon, there are also options to do a half-marathon or 5k.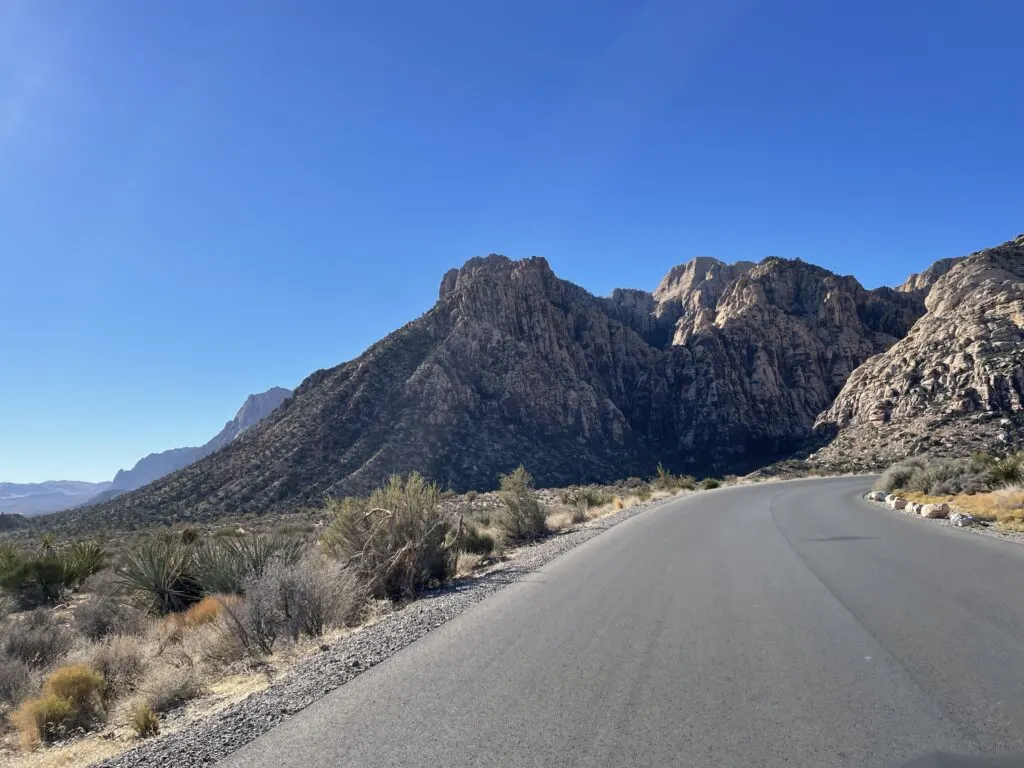 Another good resource to view upcoming races in Las Vegas can be found here at Running in the USA.
Hopefully, my advice for running in Las Vegas is helpful in making your Strip or Fremont Street workout a successful one. My suggestion is to worry less about split times and just enjoy the scenery while elevating your heart rate for a while.
See Also: Las Vegas is surrounded by challenging, and absurdly scenic hiking trails. Check out my experience at both the Valley of Fire State Park and Red Rock National Conservation Area.
Feature Image: ©lzflzf/123RF.COM
I'm a former software salesman turned Vegas aficionado. While the craps table is my preferred habitat, I pull myself away to explore new attractions, shows, restaurants, and outdoor activities around Las Vegas with the intent of sharing my experiences.
Ultimately, I just want to help folks plan a better trip and save a few bucks in the process.