Visitors to Las Vegas have strong opinions about Circus Circus. While some celebrate the resort's kid-friendly nature and focus on value, others point to the property's relative state of disrepair.
Notable attractions at Circus Circus include free circus acts daily, the Adventuredome theme park, arcade & midway, real coin slot machines, a popular steakhouse, and their buffet.
While I've eaten at every other buffet on the Strip, the Buffet at Circus Circus has been on the ole "to-do" list for some time. With that in mind, I finally carved out some time to stop by and experience one of the most polarizing buffets on the Strip.
Below, I'll detail my experience and the menu with plenty of pictures!
Related: See my Circus Circus West Tower Room Review!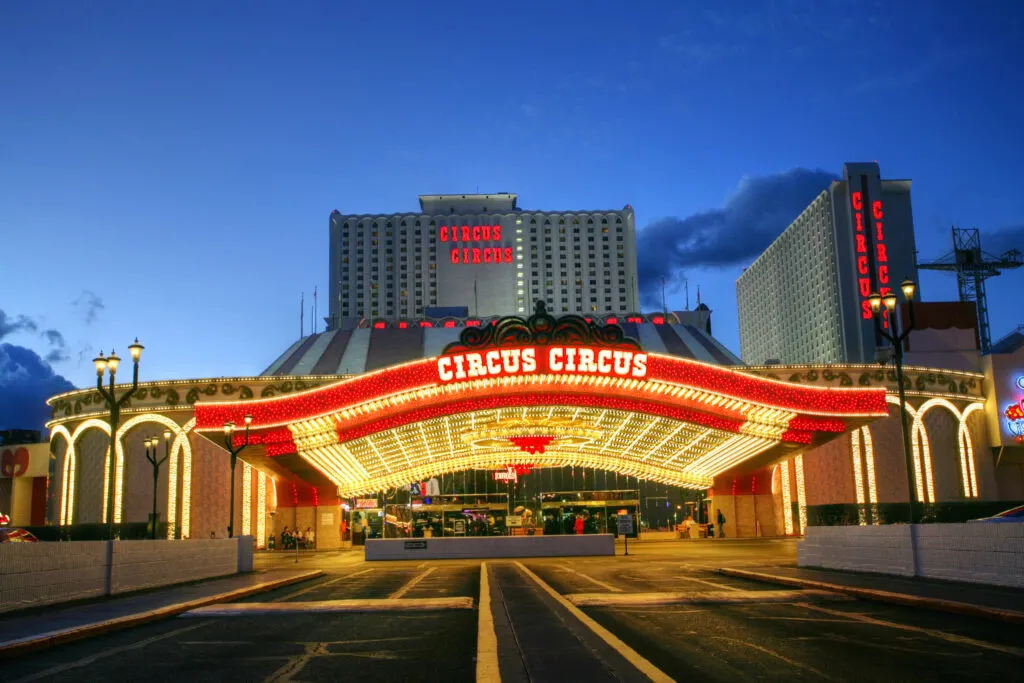 Circus Circus Buffet Pricing and Hours
The Buffet at Circus Circus ranks as one of the cheapest buffets on the Strip, costing about $30 less than upscale buffet options like The Buffet at Wynn, Bacchanal at Caesars, and Wicked Spoon at Cosmopolitan.
Current buffet pricing and hours are as follows:
Dinner is offered on Friday and Saturday from 4:30 – 10 pm for $32.99.
Brunch is offered on Friday, Saturday, and Sunday from 7 am – 2 pm for $30.99.
It's important to note that the Buffet hours and dates of operation have been fluctuating quite a bit since re-opening. I'll certainly keep this post updated, but it wouldn't hurt to call to verify they'll be open before making the trip.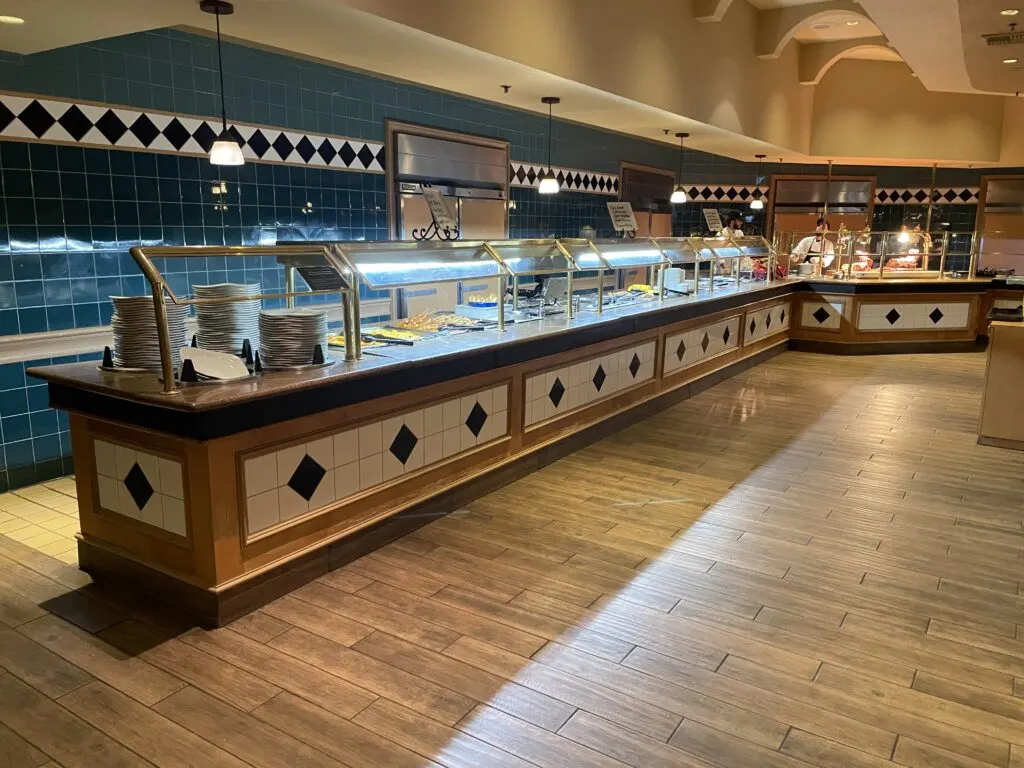 Circus Circus Buffet Menu
The dinner menu at Circus Circus' buffet included a mix of adult and kid-focused cuisine, which makes sense as the resort caters to families.
I stopped by at 8 pm on a Sunday and was surprised, but happy, to find the buffet to be sparsely populated.
Items I'd classify as more kid-friendly include mac & cheese, chicken tenders, and even corn dogs.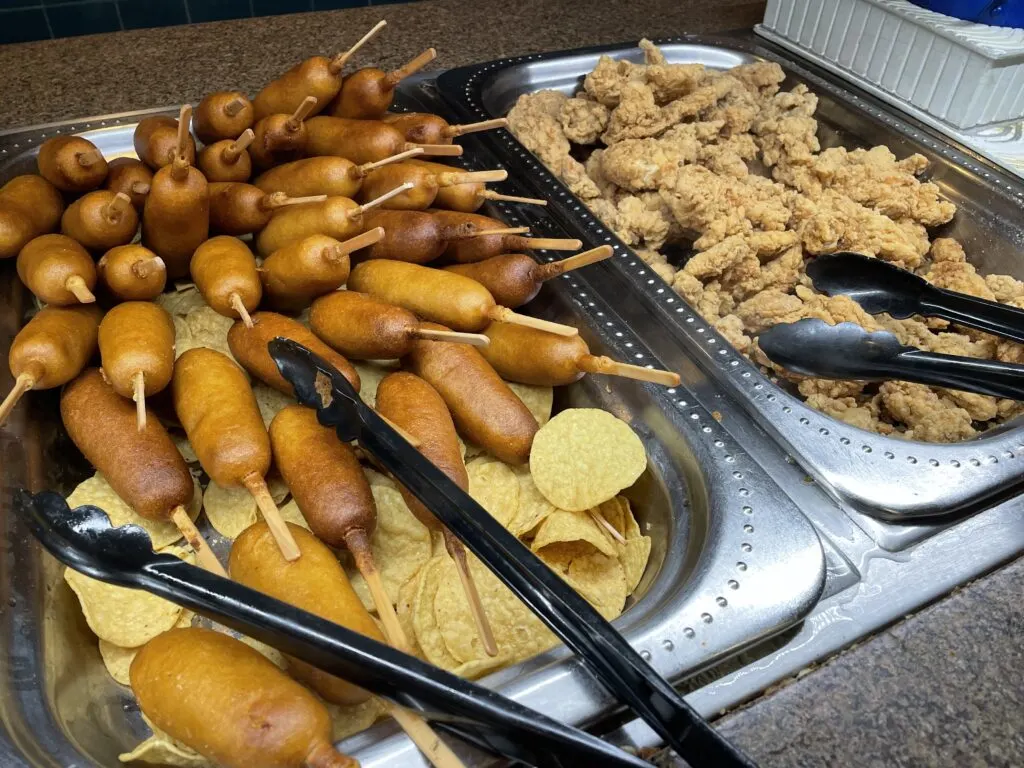 Italian-influenced items included chicken parmesan, Italian sausage, spaghetti & meatballs, stuffed shells, and penne pasta with your choice of sauce.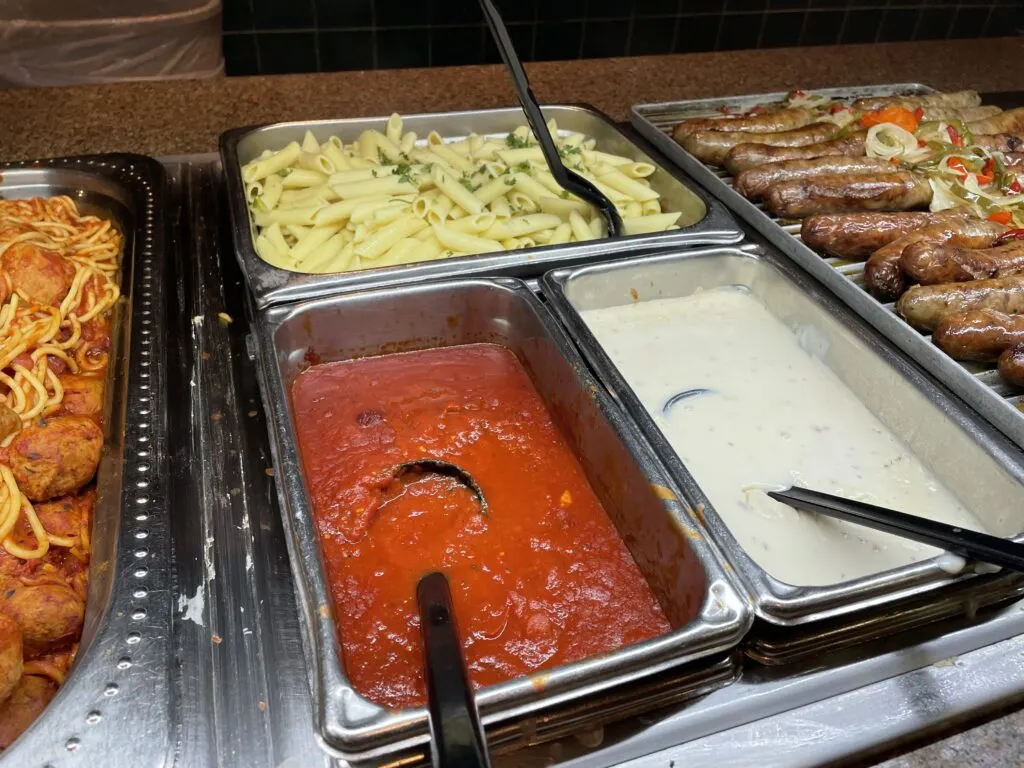 Fish and seafood items included mussels, clams, fried shrimp, shrimp scampi, deep-fried fish & waffle fries, and baked salmon.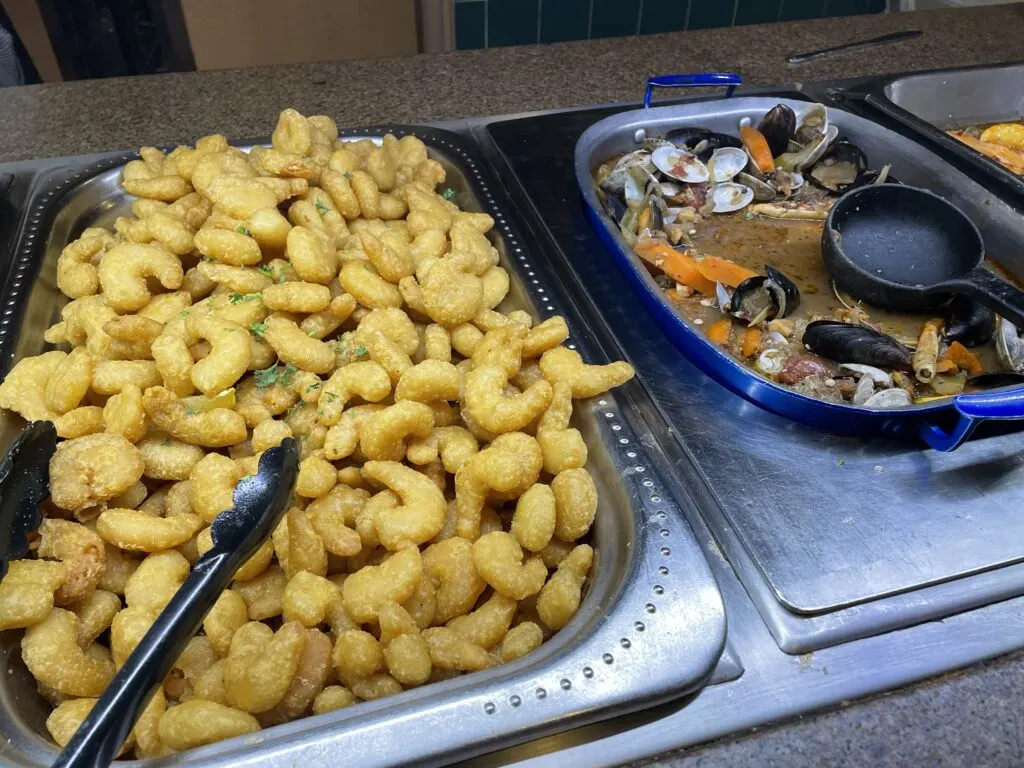 Mexican-inspired options included a taco bar, chimichangas, and fried tacos.
American fare offered included baked chicken, fried chicken, au gratin potatoes, mashed potatoes, and beef stew.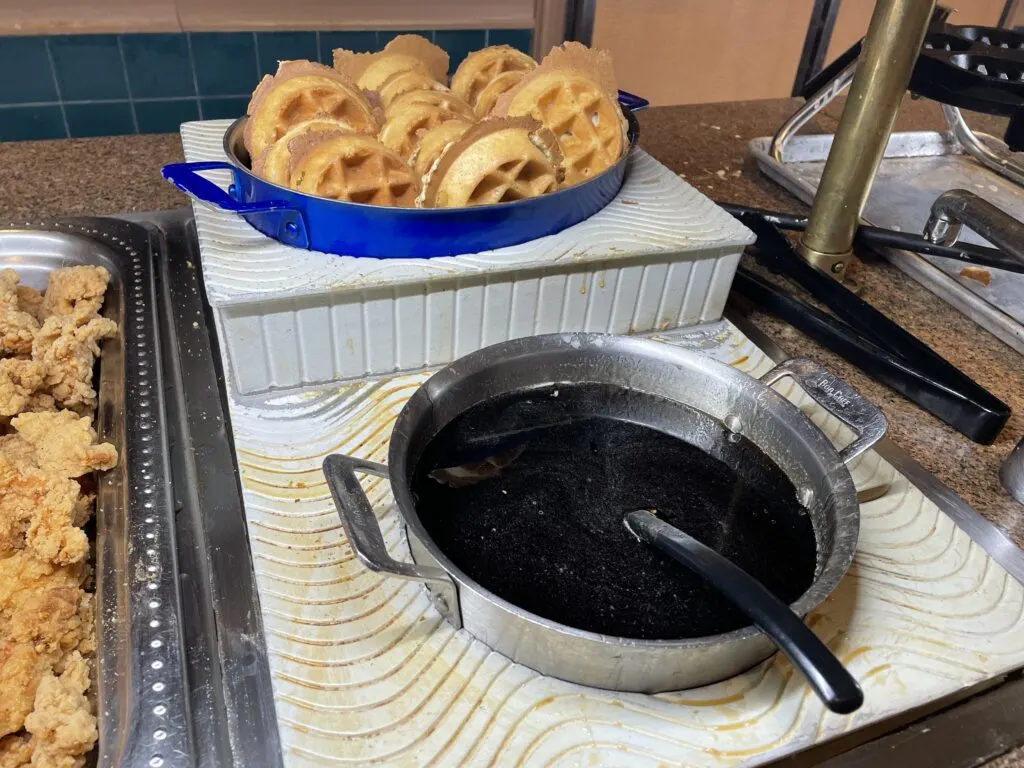 At the carving station, I found BBQ ribs, roast beef, turkey, and ham. Unfortunately, prime rib wasn't an option.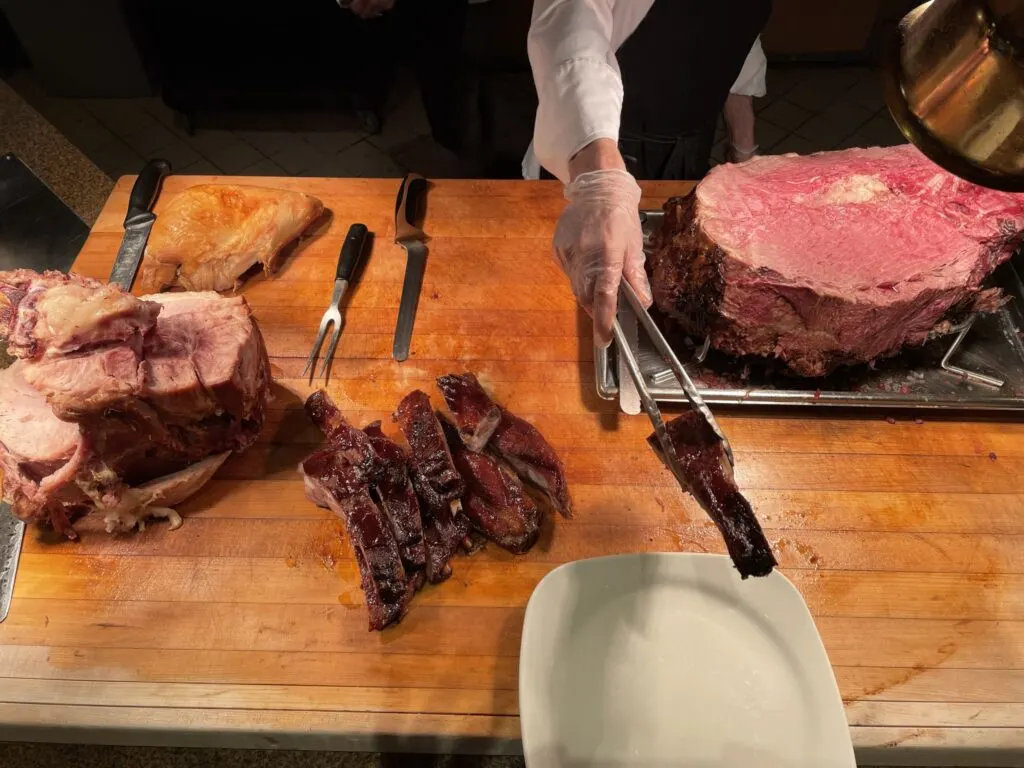 The dessert table, although unimpressive in appearance when compared to other buffets in Las Vegas, offered a number of cakes, pies, and sugar-free options. A soft-serve ice cream machine was also available.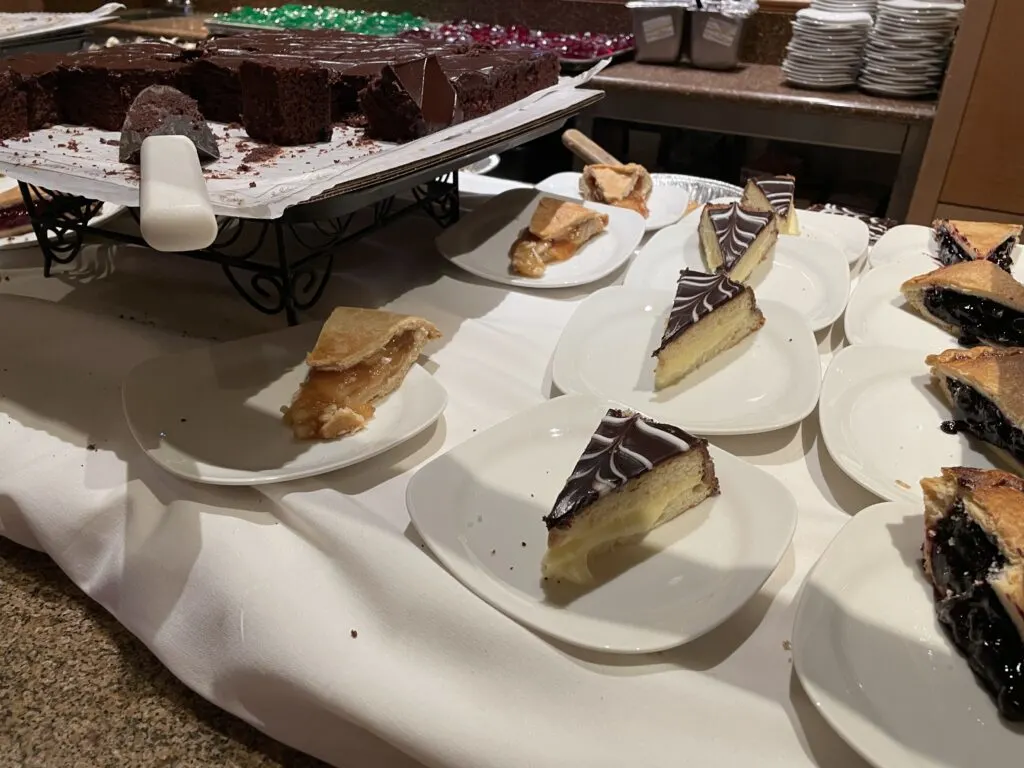 On the beverage front, both milk and Pepsi products were served.
While I wasn't there for brunch, there was a build your own omelet & eggs your way live-action station which would likely be the star of the show.
What I Thought of The Buffet at Circus Circus
First, the Good
Coming in, I had low expectations around cleanliness but was pleasantly surprised with how spotless the buffet was. While buffets with lower price points tend to take a bit more abuse from their customers, the Buffet at Circus Circus was impressively clean.
In addition to being clean, the buffet's initial presentation was also better than I expected. Trays of food were full and generally visually appealing. Nothing really had that "picked over" look which is a huge turn-off.
Unique food options like corn dogs, chicken tenders, etc. were fun. As a corn dog connoisseur myself, I liked the fact they were there, although paying up for a buffet only to eat breaded hot dogs may not be the best use of hard-earned money.
Overall, I found the food to be OK. Items I most enjoyed included the shrimp scampi, fried shrimp, baked chicken (rotisserie chicken), and au gratin potatoes. Ultimately, I left satisfied although nothing stood out as being a "signature" type item.
The Not So Good
On that same note, the lack of a "signature" type item was disappointing, but not unexpected at the price point. I would have loved to see prime rib, crab legs, or another "higher value" type item at the buffet.
Although the presentation was on point, there were items that didn't live up to their pleasing looks. Specifically, the BBQ rib I was jacked to dig into was a disappointing combination of cold/lukewarm and tough as leather.
I know this could come across as snooty, but I don't care. It needs to be said as it will likely affect your experience. The clientele is rougher than you'd expect to find at other buffets in Vegas. Examples of how this manifested itself during my visit include the following:

I watched a gentleman at the table next to me eat a couple of ribs and a piece of fried chicken, excessively suck his fingers clean, and then head right back up to the buffet to touch the communal serving spoons. I found this to be disgusting.

I was waiting for another gentleman to finish scooping himself some shrimp scampi (which was pretty darn good) and realized it was taking FOREVER. I peeked around him to learn that he wasn't scooping the pasta, rather, picking out a mountain of shrimp from the pasta. C'mon man.
Lastly, some kids were running rampant, playing some sort of tag around the tables. Now, I'm not a germaphobe or anything, but one of the kids was coughing incessantly as he circled my, and other patrons' tables. Not only gross, but annoying.
On the topic of clientele, parking at Circus Circus was an adventure. While free, the lot was packed with an odd combination of families with small children, and groups of adults hanging out around their car, blasting music, and having a great time as if the Circus Circus parking ramp were the new hot nightclub. Booze was flowing in the parking ramp and the smell of weed was thick. It didn't have the safest vibe, and I was relieved to get the heck out of there after my meal.
Is the Circus Circus Buffet Worth the Money?
While a case could be made for those that are big eaters that are looking to ingest a large number of calories for a set price, I don't think I'll be visiting the buffet at Circus Circus again. While there are aspects of the experience that I enjoyed, it isn't worth the price tag.
Instead, I'd rather pay another $30-ish dollars to eat at a top-tier buffet with crab legs, prime rib, and high-quality items, or eat at a traditional restaurant where the price of entry will buy a rock-solid meal.
Another alternative I'd prefer over the buffet at Circus Circus is South Point's Garden Buffet. While the casino is a short Uber/Lyft from Strip resorts, the dinner buffet is a few bucks cheaper and offers a more expansive selection of food, live-action stations, and even prime rib.
South Point's buffet isn't luxurious, but it's better than Circus Circus at a lesser price point.
While I don't feel there's strong value in Circus Circus' buffet, I have to give them props for both the cleanliness of the buffet and the presentation of their food choices. Both of which were much better than I expected.
Have you dined at the Buffet at Circus Circus? Sound off with your experience in the comments!
Related: Buffets that are Currently Open in Las Vegas, to include the popular A.Y.C.E Buffet at Palms!
I'm a former software salesman turned Vegas aficionado. While the craps table is my preferred habitat, I pull myself away to explore new attractions, shows, restaurants, and outdoor activities around Las Vegas with the intent of sharing my experiences.
Ultimately, I just want to help folks plan a better trip and save a few bucks in the process.