High-end dining options and celebrity chef restaurants seem to get all the love in Las Vegas. Social media is constantly abuzz with images of fancy meals, and gourmet steaks. While steaks at top-tier restaurants are assuredly fantastic, they are out of the preferred price range of many budget travelers to Vegas. Lost in the fawning over expensive dinners is the common man or woman looking for a steak that'll do the trick without breaking the bank.
We thought it would be fun to compile a list of mediocrity. A list of cheap steaks that won't break the bank both on the Strip and downtown. To qualify as "cheap", steaks needed to be at a $25 price point or below. As you would expect, steak deals are a touch better in downtown Las Vegas than those found on the Strip.
If you have a favorite spot to grab a steak on a budget, ensure to leave it in the comments!
See Also: Best Steakhouses on the Las Vegas Strip – Not the cheapest, the BEST.
Where to Find a Cheap Steak on the Strip
Ocean One: Likely qualifying as the cheapest steak on the Las Vegas Strip, Ocean One offers a Marinated Skirt Steak with Cabernet Sauce, served with mashed potatoes and veggies as part of their $5.99 lunch menu. Additionally, a 12 oz. Ribeye Steak is offered with mashed potatoes and veggies for $24.99 as part of their dinner menu.
Pampas at Planet Hollywood: An all-you-can-eat Brazilian Steakhouse, Pampas can be found in the Miracle Mile Shops at Planet Hollywood. A great value for those that come hungry, their lunch menu will allow you to eat all the steak you can handle for $29.99, and dinner is $56.99. If interested, ensure you save some money by leveraging this specific deal on Groupon deal.
Cheesecake Factory at Caesars Palace: Although the Cheesecake Factory doesn't likely come to mind when you are on the hunt for a cheap steak, they do have a Chargrilled New York Steak served with mashed potatoes and green beans for $26.95.
Dick's Last Resort at Excalibur: Although guests will also need to put up with an onslaught of insults from the staff, Dick's offers a relatively cheap sirloin steak on the Strip for $25.99. That price includes both green beans and mashed potatoes.
Prime Burger at Venetian: Although specializing in gourmet burgers, Prime Burger offers a NY Strip Steak Dinner served with a salad, french fries, onion straws, and sauteed mushrooms for $29.95.
Blondies at Planet Hollywood: Located in the Miracle Mile Shops, Blondies offers a Ribeye Steak with two sides for $29.99.
Related: Blondies also offers one of our favorite bottomless drink deals in Vegas.
America at New York New York: If you're on the hunt for cheap steak and eggs, America at NYNY could be a great option as they offer a grilled New York Steak and 2 Eggs for $16.50.
Pyramid Cafe at Luxor: While there isn't a steak on their lunch or dinner menu, a cheap Steak and Hashbrowns meal could be yours for around $20. Included are an 8 oz. New York steak and hashbrowns. 2 Eggs can be added for an additional $5.
La Salsa Cantina at Planet Hollywood: La Salsa Cantina offers a cheap steak and eggs meal for around $16 and can be found in the Miracle Mile Shops. Included are two eggs and steak served alongside southwest potatoes.
Denny's: While not unique to Las Vegas, Denny's offers locations both at Casino Royale and next door to MGM Grand. Cheap steaks on the menu include a sirloin steak entree for under $15 and a T-bone steak meal for under $20.
Ellis Island: One last suggestion for finding a cheap steak on the Las Vegas Strip is Ellis Island which is located a short walk behind Bally's. Ellis' Villiage Pub & Cafe offers a number of inexpensive steak options. The last time we were in, we got the NY Steak & Fried Shrimp which amounted to $16.99.
If stopping in for breakfast give their $6.99 Steak and Eggs Special (which you won't find on the menu) a shot.
For our money, there is no value better than the affordable steaks at Ellis Island. Do they stack up to high-end restaurant options? Absolutely not. But they are tough to beat for the price.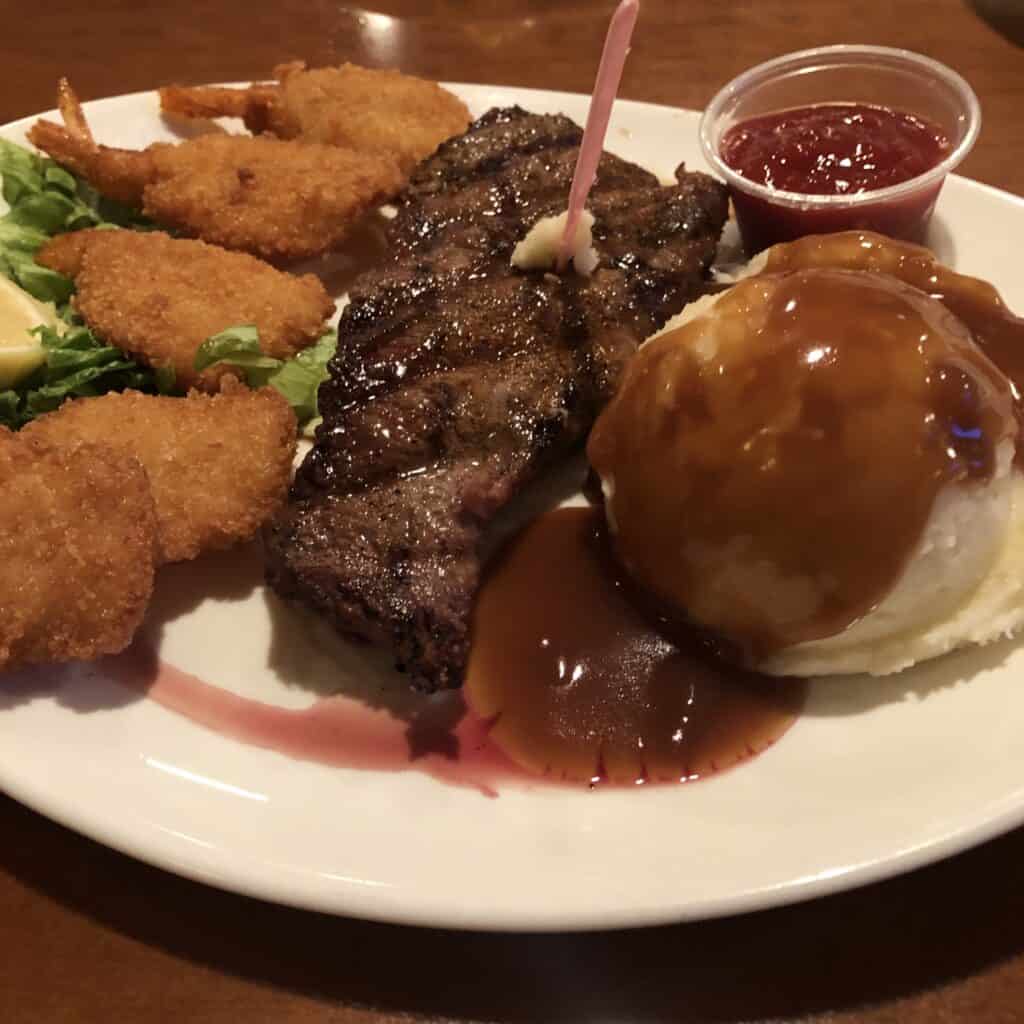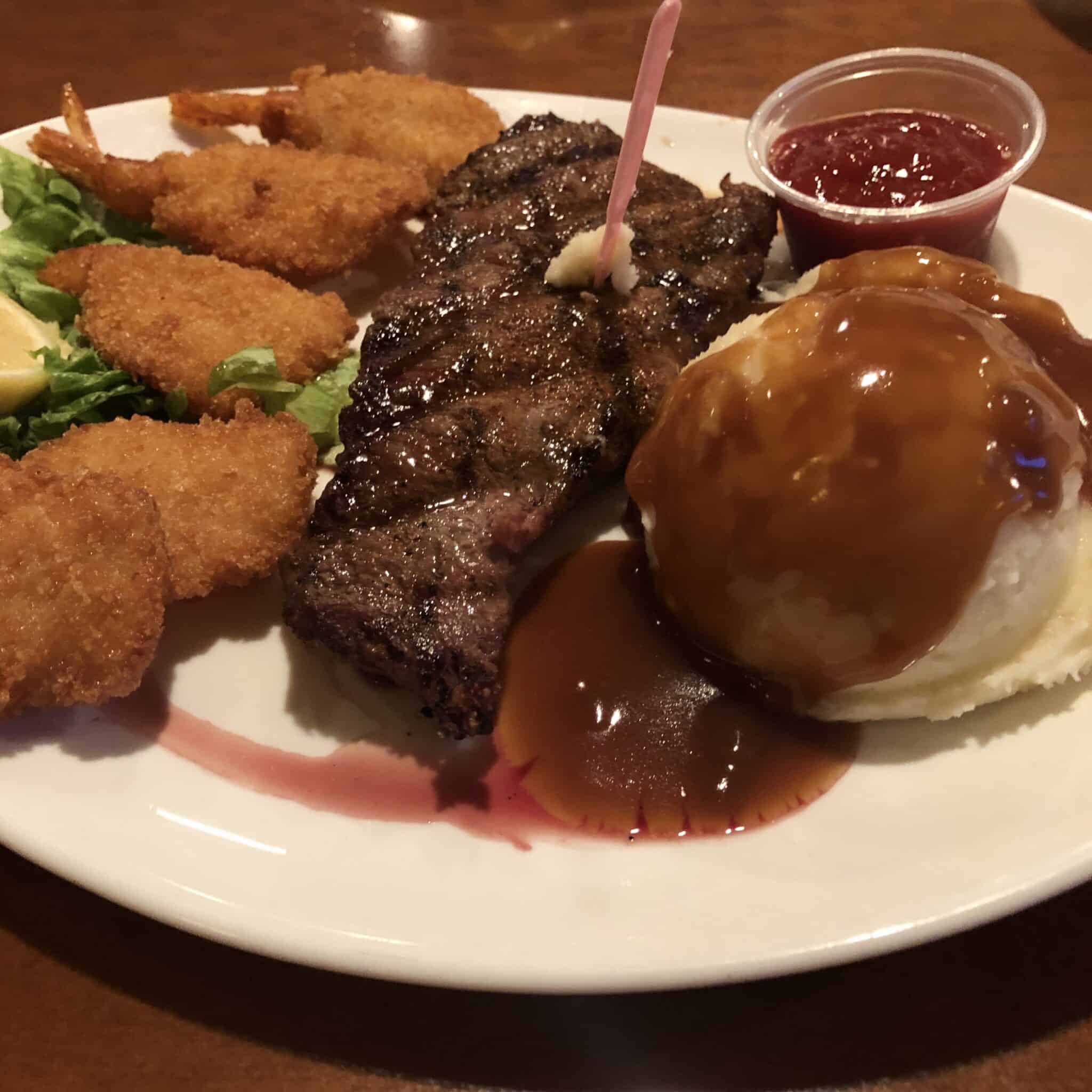 Related: Looking for cheap prime rib in Vegas? Check out these deals and specials.
Where to Find a Cheap Steak Downtown Las Vegas
Binion's Cafe: If stopping in for breakfast, Binion's Cafe offers a 6 oz. New York Steak and Eggs meal for $15.99, as well as a 10 oz. Rib Eye Steak and Eggs meal for $21.99.
Magnolia's at 4 Queens: Magnolia's Veranda has you covered all day. For breakfast, they serve both a $15.99 6 oz. New York Strip Steak and Eggs meal as well as a $21.99 10 oz. Rib Eye Steak and Eggs meal. For lunch and dinner, both a 10 oz. Rib Eye and 10 oz. New York Sirloin meal are offered at a $21.99 price point and include a salad, vegetable, and choice of potato.
Tony Roma's at Fremont: Keeping with the trend of cheap steaks on Fremont Street, Tony Roma's offers an 8 oz Top Sirloin for $21, a 12 oz. New York Strip Steak for $27, and a 12 oz. Rib Eye for $27. If you're looking for a late bite, Tony Roma's also offers a Steak and Lobster special for $11.99 from 9 pm – 11 pm daily. All steaks are served with a choice of 2 sides.
While not one of the best steakhouses in Downtown Las Vegas, Tony Romas is among the least expensive.
Freedom Beat at Downtown Grand: Offering a New York Steak with vegetables and garlic potatoes for $23, Freedom Beat offers a cheap steak downtown Las Vegas, steps away from the Fremont Street Experience.
Market Street Cafe at The Cal: Another solid breakfast deal, Market Cafe offers a sirloin Steak and Eggs meal for $14.99.
Denny's in Neonopolis: Serving both a Sirloin and T-Bone steak meal for under $20, Denny's qualifies for our rundown of cheap steaks, albeit an unexciting option.
Hopefully, we were able to help you on your quest to find a cheap steak in Las Vegas! While celebrity chefs get all the headlines, quality mid-range options exist both on the Strip and downtown Las Vegas.
See also: Check out other cheap places to eat on the Strip, and our rundown of cheap eats downtown. Buffets can also be a great source of value. Here are the cheapest buffets in Vegas on the Strip & downtown.
Feature Image: ©foodandmore/123RF.COM
I'm a former software salesman turned Vegas aficionado. While the craps table is my preferred habitat, I pull myself away to explore new attractions, shows, restaurants, and outdoor activities around Las Vegas with the intent of sharing my experiences.
Ultimately, I just want to help folks plan a better trip and save a few bucks in the process.