Downtown's Container Park is a collection of retail shops, restaurants, and bars right on Fremont Street kiddie corner from El Cortez.
A concept dreamed up by The Downtown Project, the Container Park opened in 2013 and is comprised of repurposed shipping containers that serve as a home to resident businesses.
In addition to the unique assortment of retail and dining options, the Container Park is also home to a large "treehouse" playground with an impressive 33-foot slide and giant foam blocks to engage your kid's imagination.
A stage near the back of the park provides live entertainment including karaoke and even yoga weekly.
The main attraction, however, is the fire-shooting praying mantis near the front of the Container Park. When show time arrives, the enormous animatronic praying mantis moves and shoots fire out of its antennae. Using liquid propane as its fuel, the show is powerful… and hotter than Hades.
Like other free Las Vegas shows, the fire shooting performance is choreographed to music. As one of the better free shows in Vegas, I recommend making the trip to check it out!
Related: $20 sandwich trick – Should you try it in Las Vegas?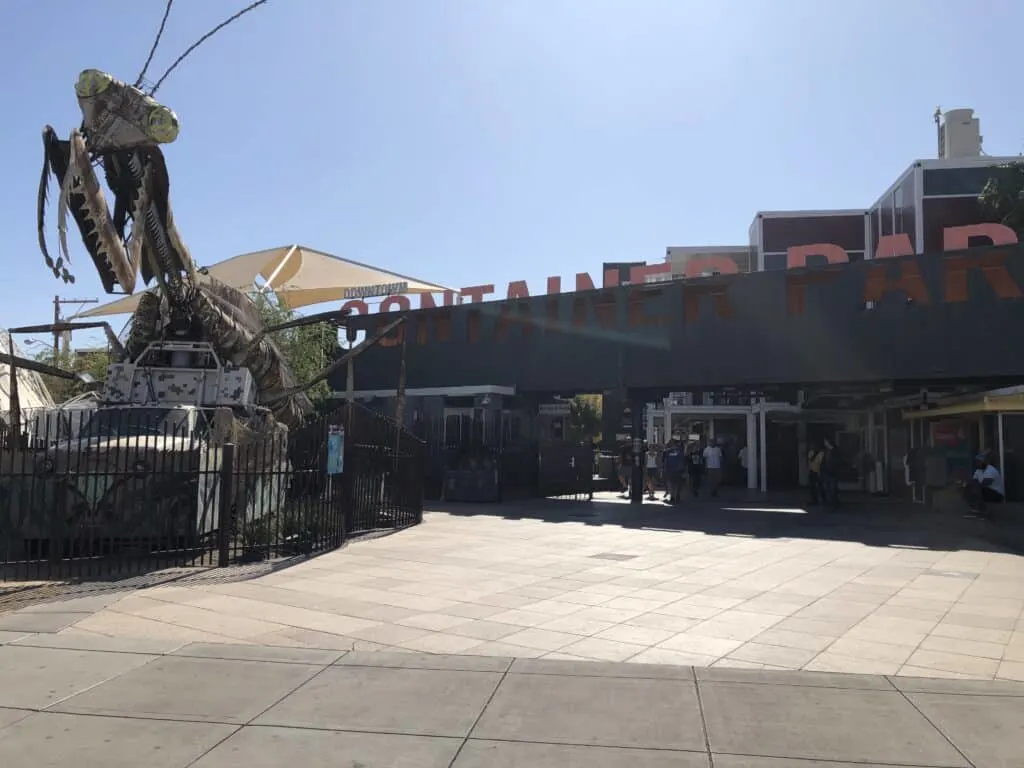 What time does the Container Park's Praying Mantis Shoot Fire?
Currently, the fire show is only running on Wednesday through Sunday and is dark on Monday and Tuesday.
The first show of the night takes place at sunset and is initiated with a drum circle. Keep in mind, the timing of sunset changes seasonally and is earlier in the winter and later in the summer.
After the initial performance, shows occur randomly but occur relatively frequently until:
10 pm on Wednesday, Thursday, and Sunday.
1 am on Friday and Saturday.
My advice? Grab a couple of drinks, settle in, and wait for the fire to start.
Other Tips, Tricks, and Things to do at the Container Park
Coming with your significant other? Bring an old lock from home and add it to the "love lock" collection. If you aren't able to find space on the heart out front, there is an overflow love lock wall in the back corner of the Container Park near the live event stage.
See Also: 90+ Free things to do in Las Vegas after checking out the Downtown Container Park.
I'm a former software salesman turned Vegas aficionado. While the craps table is my preferred habitat, I pull myself away to explore new attractions, shows, restaurants, and outdoor activities around Las Vegas with the intent of sharing my experiences.
Ultimately, I just want to help folks plan a better trip and save a few bucks in the process.