Despite its somewhat isolated location on the north end of the Strip, I remain drawn to Resorts World.
I was there on opening night and subsequently enjoyed a stay in one of their Conrad branded rooms (mid-tier option).
Even when I'm not staying in the hotel, I usually end up making my way to Resorts World to gamble and eat at least once during my time in Vegas.
I just like it.
I recently received an email offering me a complimentary stay in one of their Hilton Deluxe rooms due to my gambling activity in the Genting Rewards loyalty program. The resort fee was also waived, but I still had to pay taxes, meaning my one-night stay would cost a whopping $8.70.
For those unfamiliar, Resorts World offers 3 distinct hotel brands within their tower – Hilton is their baseline option, Conrad is their mid-tier brand, and Crockfords is their upscale offering.
Since I had yet to experience their baseline Hilton accommodations, I thought it would be fun to take advantage of the comp offer with the intent of sharing my experience with you!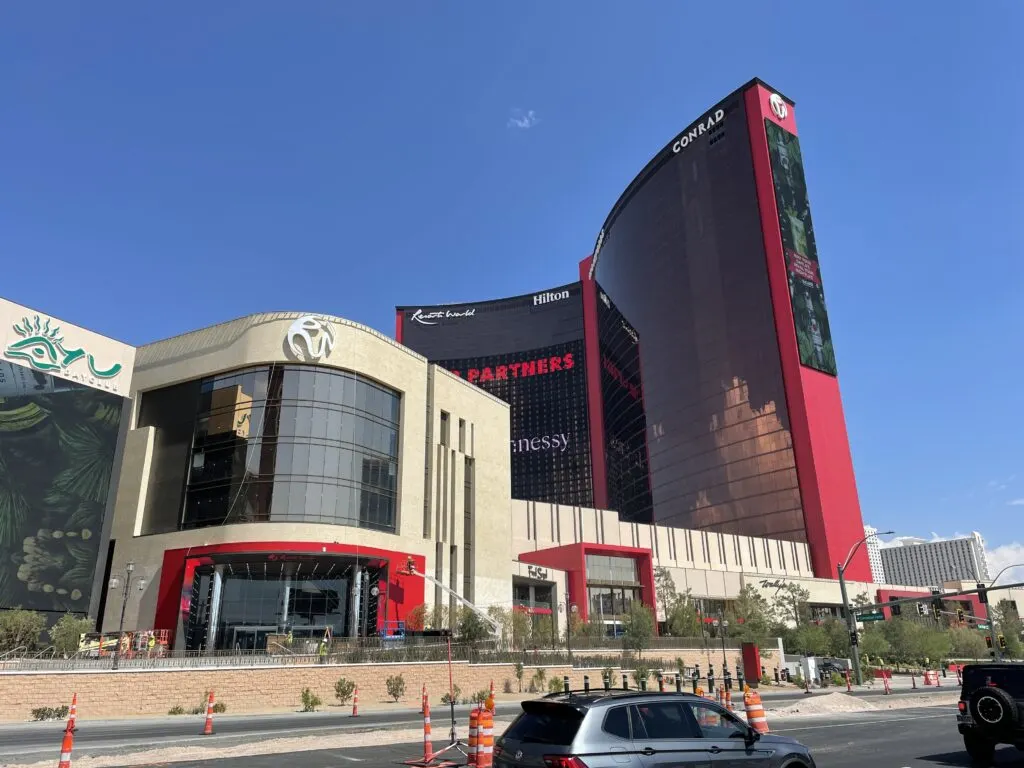 Resorts World Hilton Check-In & Parking
Resorts World offers a seamless and convenient check-in process via the Hilton phone app.
With the app, I was able to check in two nights before my stay. That process even allowed me to pick my preferred floor and the exact room (and desired view) available on that floor – A pretty unique touch!
Obviously, I snagged a room on the highest floor available.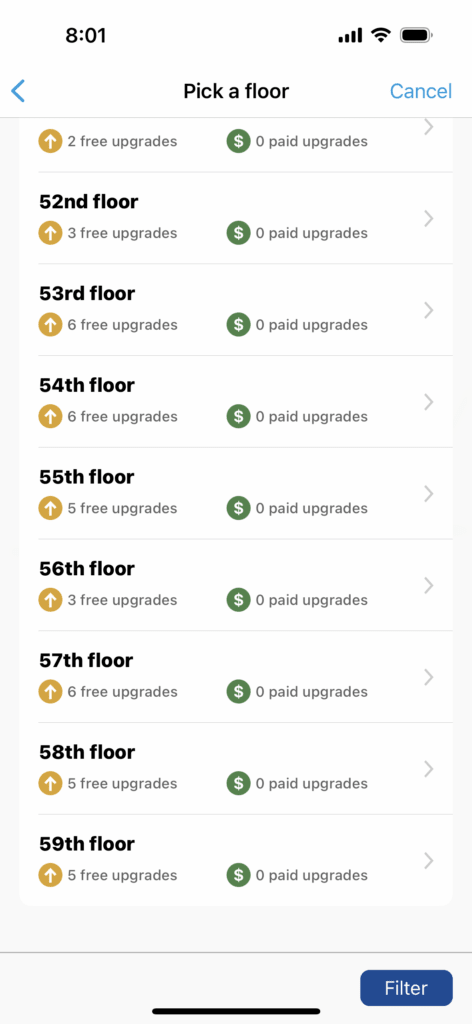 On the day of my stay, I was alerted when my room was ready. At that point, a room key was populated within the Hilton phone app and I was able to walk right up to my room.
No waiting in line. No talking to a person. No kiosks that sporadically work. Just convenience.
Parking Tips: Resorts World offers free parking to members of their Genting Rewards Program. If you're not a member, simply sign up from home and download the loyalty program phone app. There, you'll have a QR code that you can scan to get in and out of the ramp.
Also, ensure you park in the hotel parking ramp specifically. It is much closer than the other ramp, which is a hike.
Inside My Hilton Deluxe Room at Resorts World
I love checking out common areas on the way up to my room, as they typically are indicative of what to expect inside.
As a newer resort, I wasn't surprised to find the hallways and lobbies at Resorts World to be in great shape.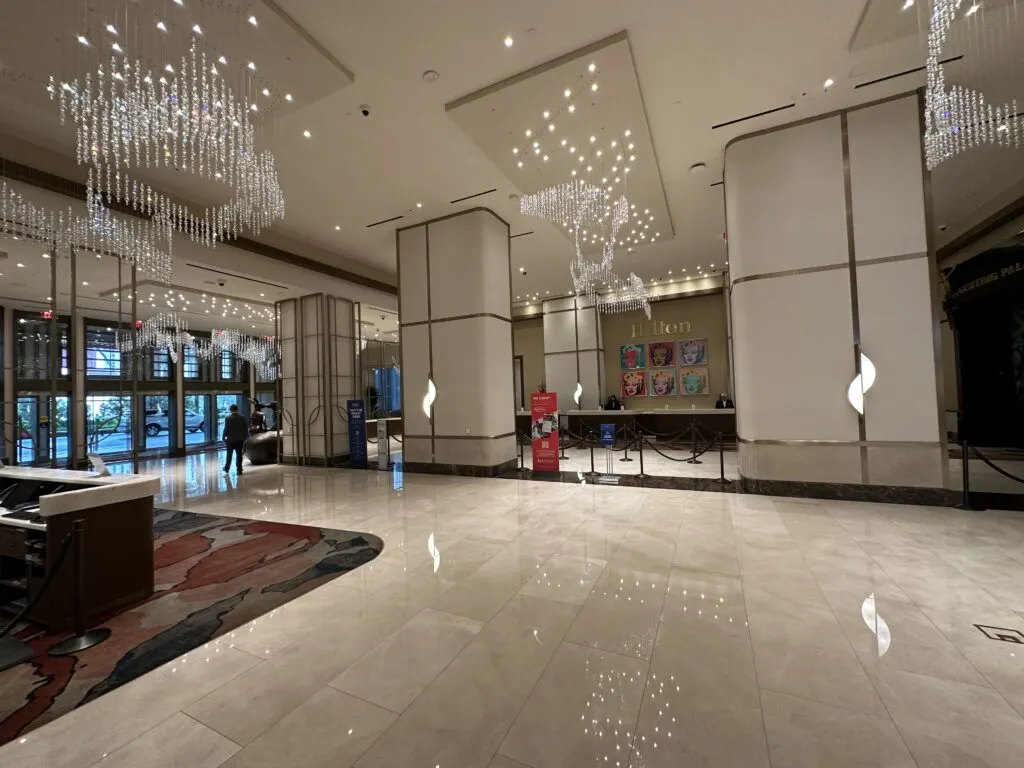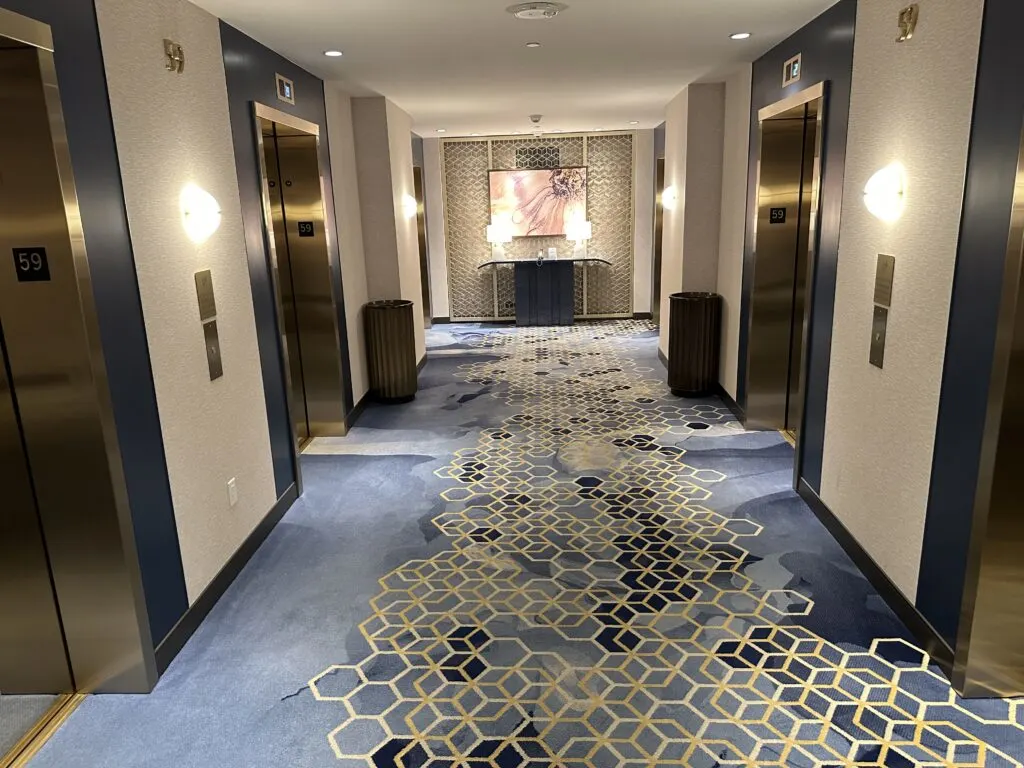 The room itself was impeccably clean and in great condition. Not a scuff or speck of dust to be seen, which is rare in a Las Vegas hotel. I was impressed from the moment that I flicked on the lights.
At 400 square feet, the Hilton Deluxe room is pretty average from a size perspective but well equipped.
Aesthetically, I thought the room was really sharp… minus the carpeting which I detest… It's just too busy for me… I'll get over it though.
Overall, I felt that the room felt luxurious for a baseline accommodation.
Take a look: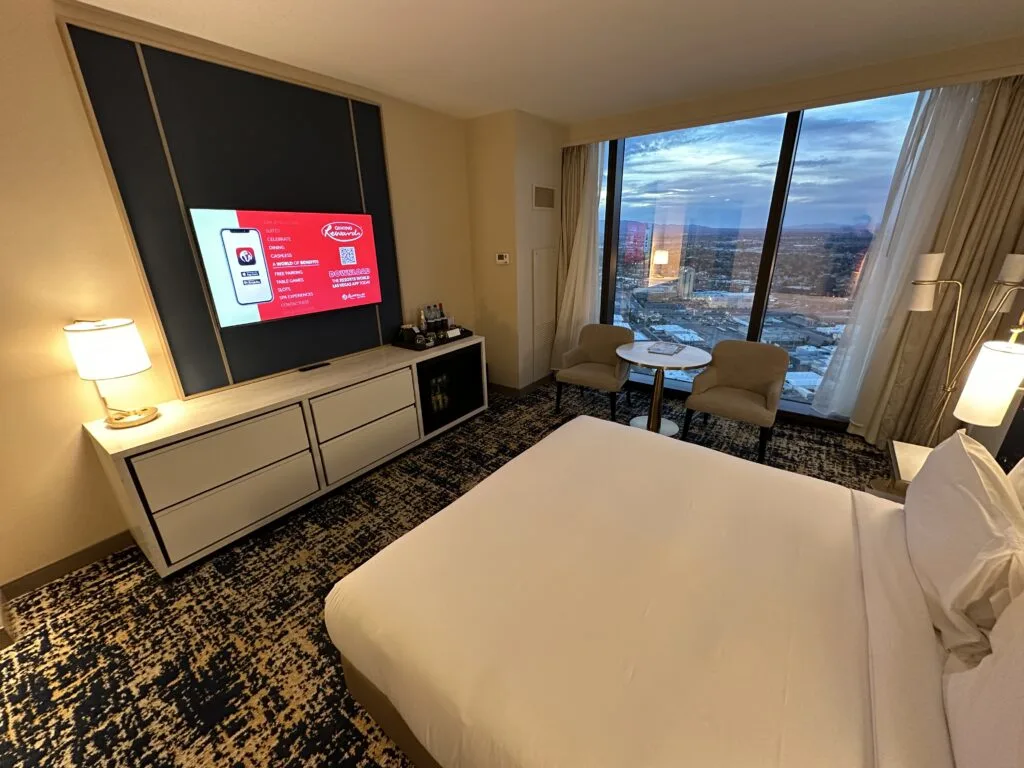 While a minibar was present both on the countertop and in the mini-fridge below, there was still an empty section of the fridge available for personal use – One of my favorite hotel amenities.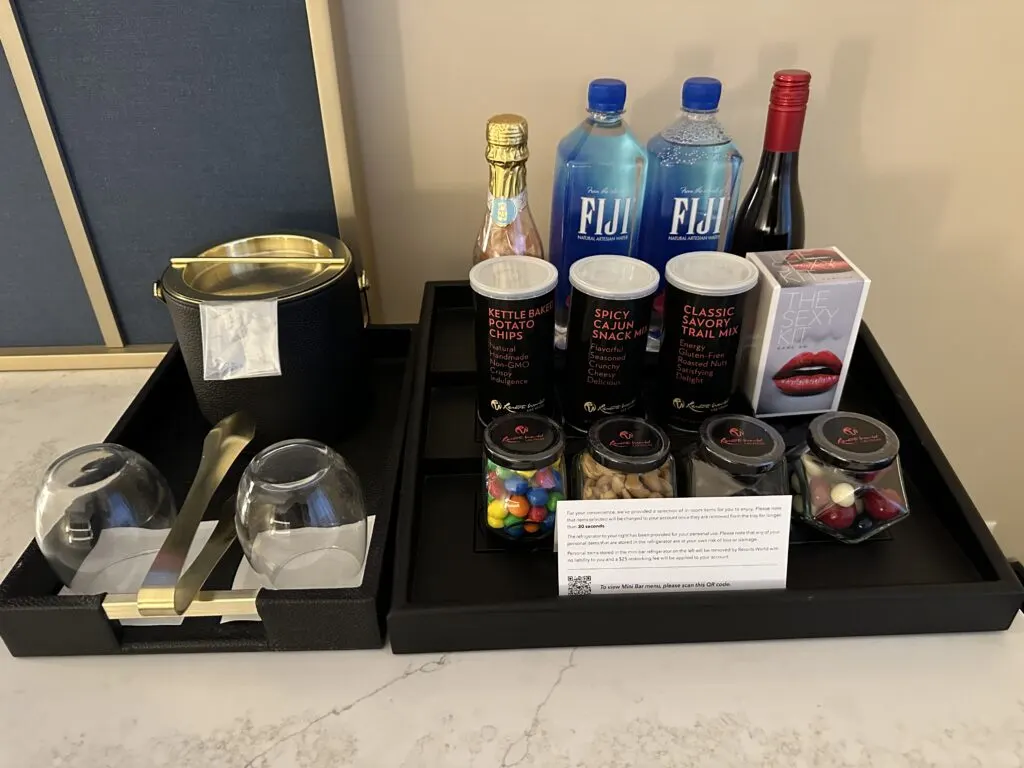 End tables flanked the bed, offering both USB and traditional outlets nearby. Notably, there was an iHome alarm clock on one of the end tables that offered additional USB ports in addition to a wireless charging pad on top.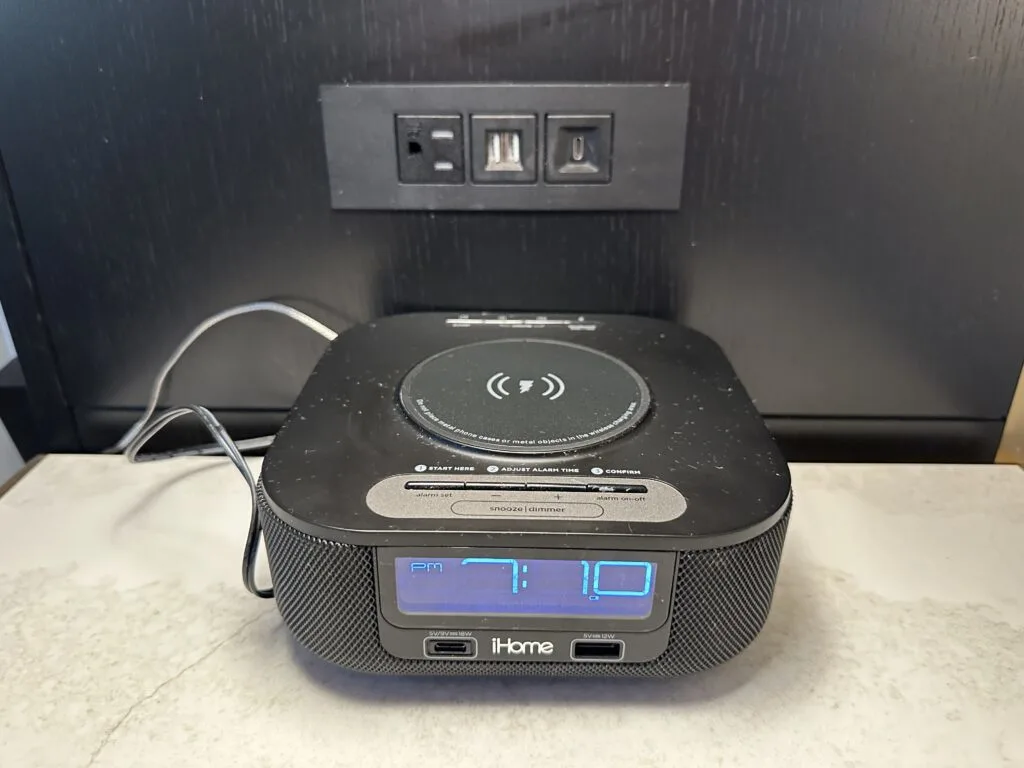 The bathroom, although basic, also had a modern and classy vibe.
The single-sink marble vanity was topped by an illuminated mirror, and the shower was equipped with a bench and both a hand-held sprayer and overhead shower head.
Bath products by Mojave Ghost were supplied on the countertop and in the shower.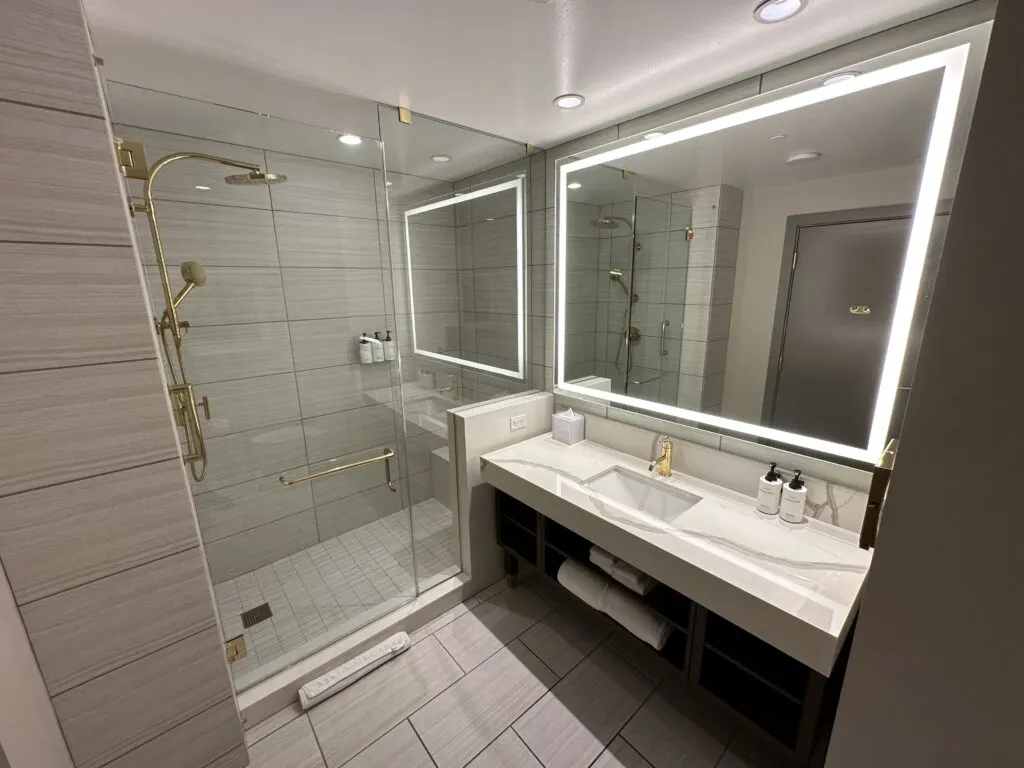 What's Not To Like?
This is the portion of the hotel review where I like to point out scuffs, scratches, dirt, grime, and wear. There was none of that in this room – It was in great shape.
There was one thing though…
Mysterious Boots: Although the room was impeccably clean, I found a rogue pair of boots in the corner of the closet that were tiny and certainly not mine.
Humorously, they reminded me of the scene in "The Hangover" when the boys found one of Mr. Chow's tiny boots in the car (which also had a "snakeskin" in it).
Location: The other main knock against Resorts World as a whole is the location of the Resort, which is on a bit of an island away from the action on the north end of the Strip.
If this is your first time visiting Vegas, you may prefer staying mid-Strip, but after countless visits to Vegas, I'm thrilled to be away from the madness and happy to take an Uber to the hot spots.
Resort Highlights
Diverse Dining Options: Resorts World makes up for its challenging location by offering a wide variety of dining options on-site that span the culinary and cost spectrum.
My personal go-to has been their Famous Food Street Eats Food Hall, which is home to 16 outlets that serve everything from fried chicken and burgers to Asian-inspired cuisine and Texas BBQ.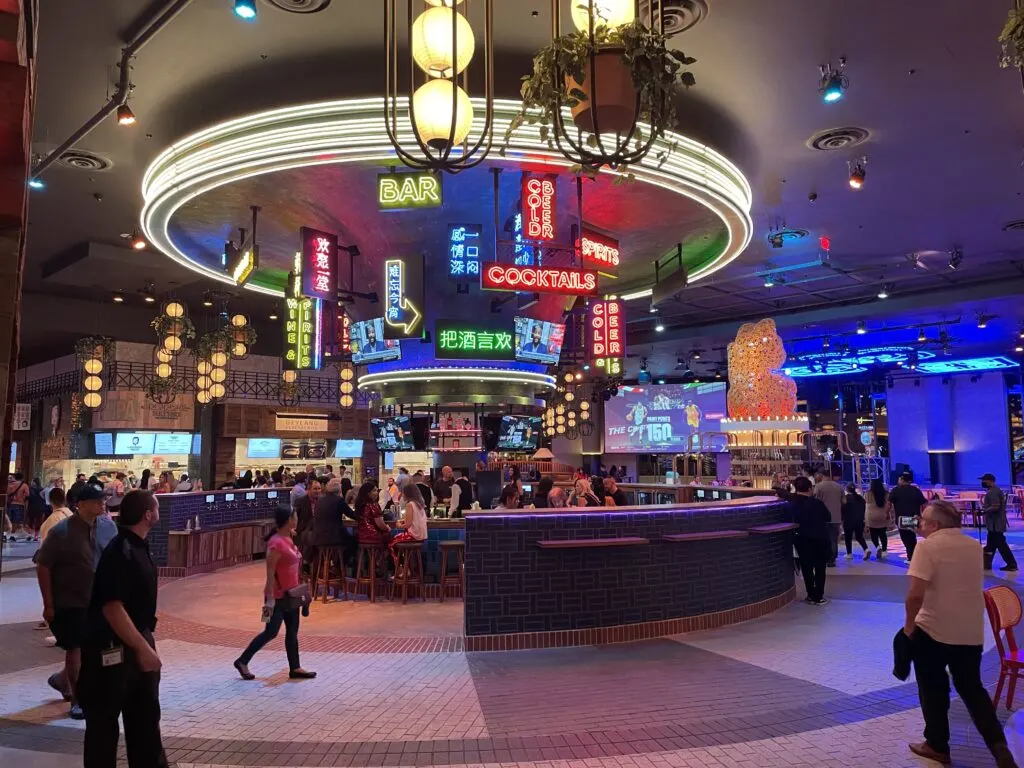 Best yet, most meals are going to set you back less than $20.
Here are a couple of items I've recently enjoyed.
A Hidden Speakeasy: Nestled within the Famous Foods Street Eats is the Here Kitty Kitty Vice Den Speakeasy, which is concealed behind the restaurant pictured below.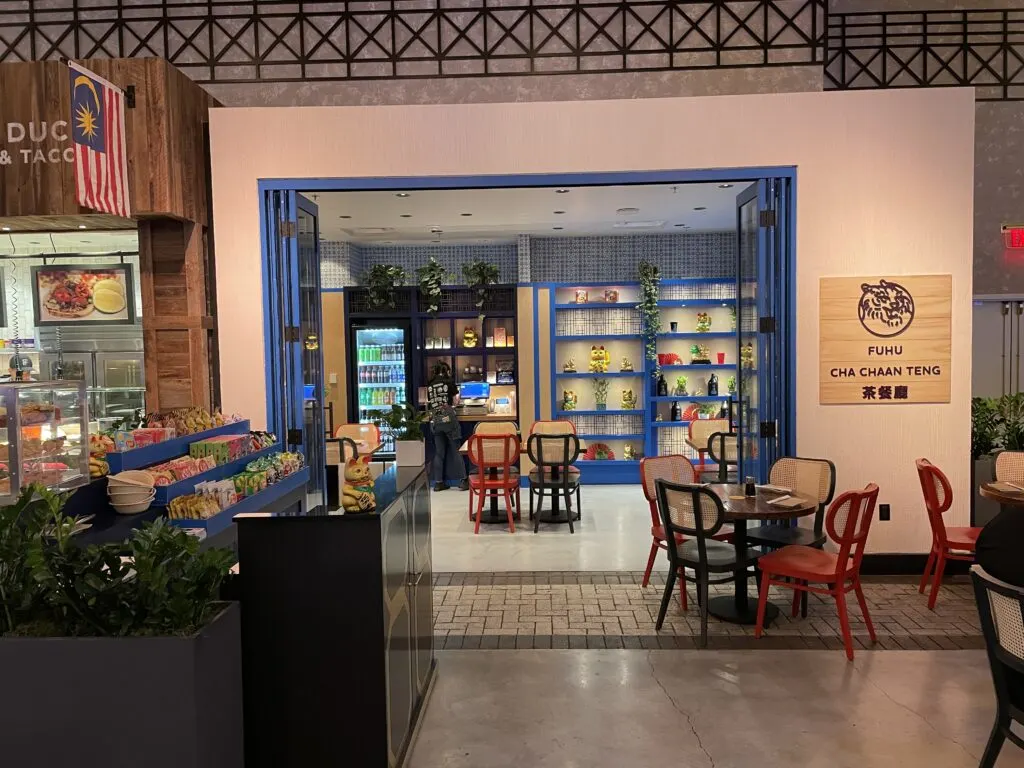 Tacos El Gordo Steps Away: One of my favorite spots to eat cheap on the Strip, Tacos El Gordo, is located across the street.
Although the place is absurdly popular and the ordering process is a bit chaotic, I feel it's worth the wait.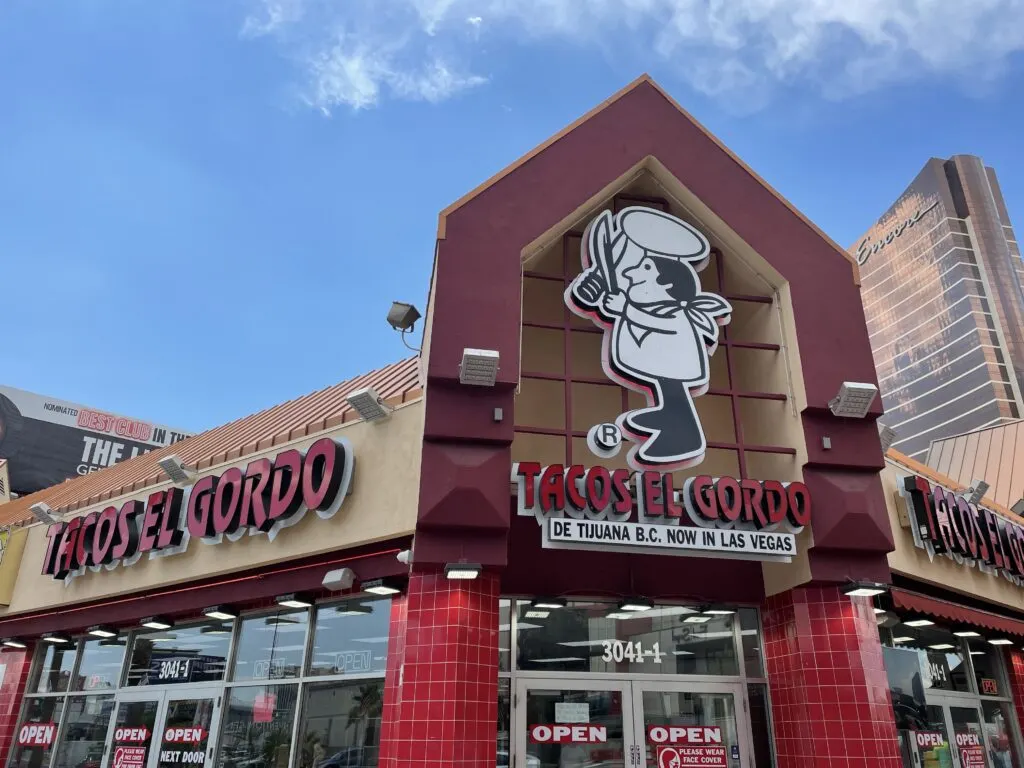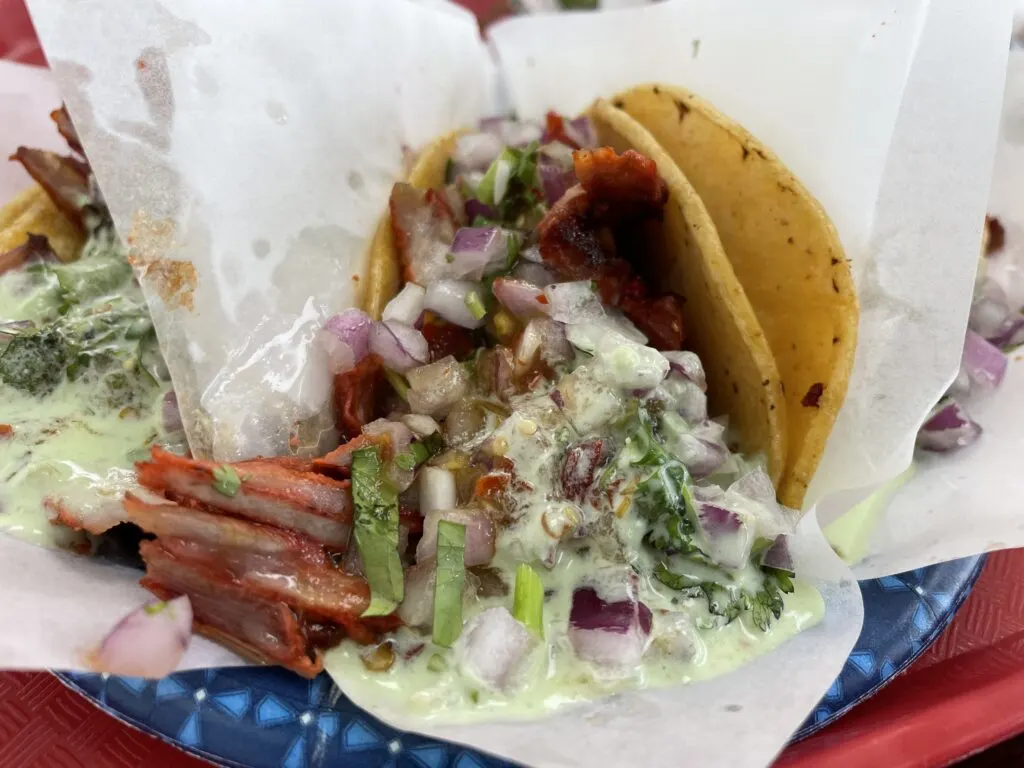 A Stunning Pool Deck: Resorts World's rooftop pool complex easily ranks among the best pools in Las Vegas.
The 5.5-acre pool deck is comprised of 9 different pools that include an infinity pool with a view of the Strip and a kiddie pool among other unique experiences.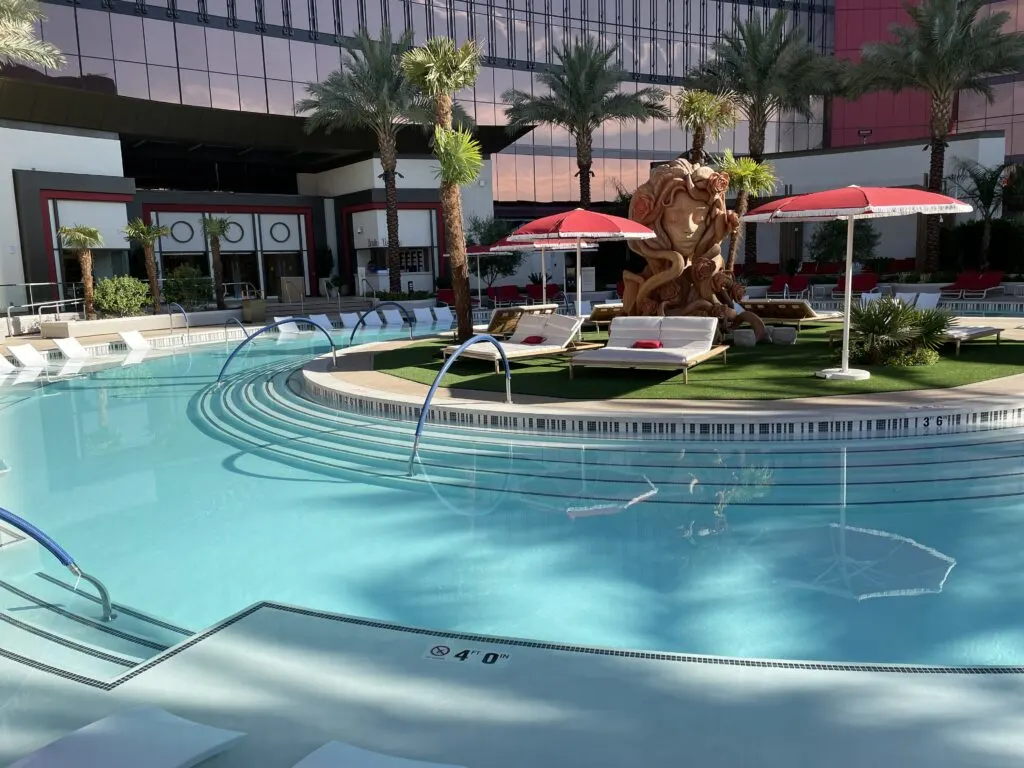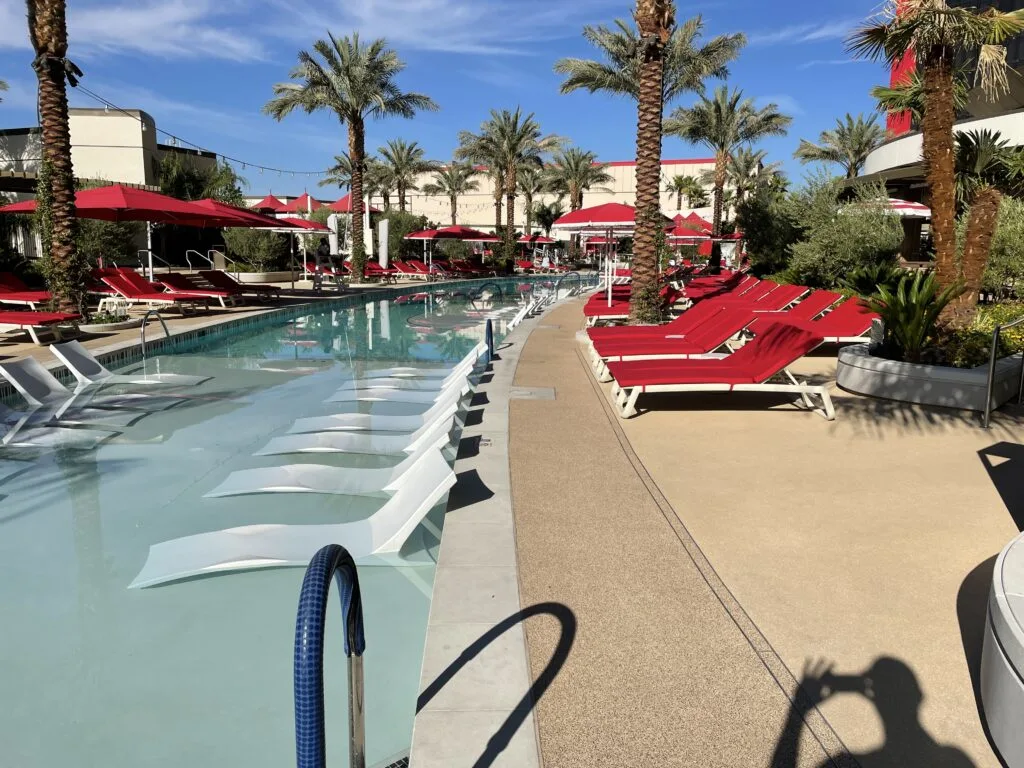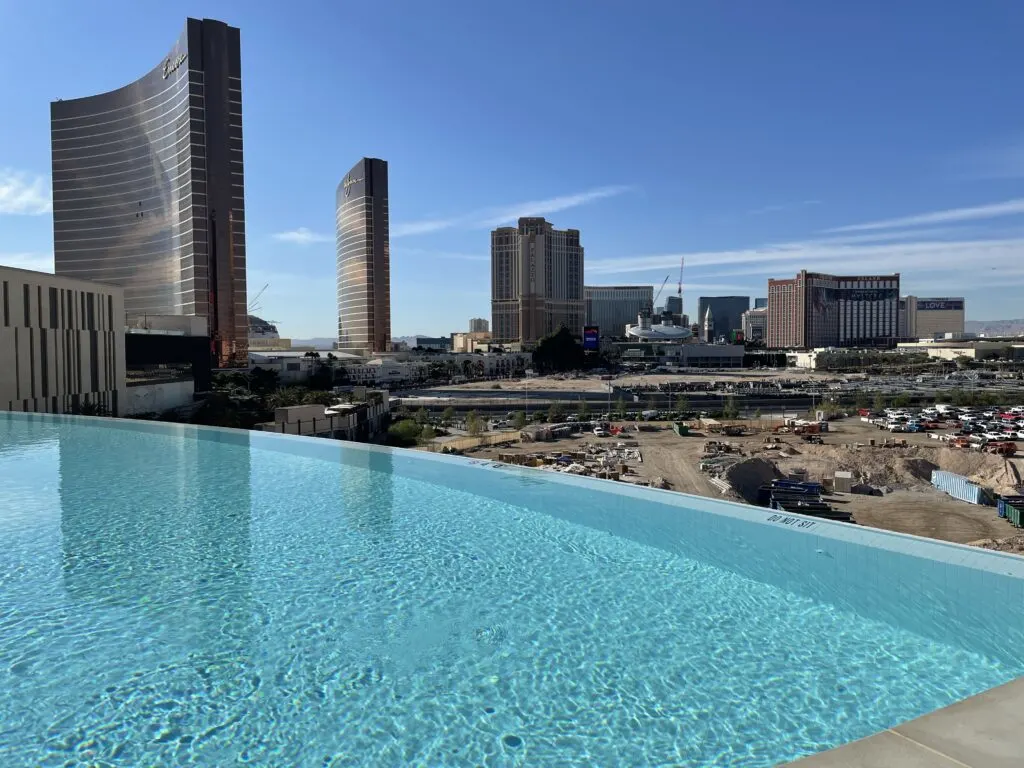 The Verdict: Is Resorts World's Hilton Deluxe Room Worth Reserving?
As long as you're ok being separated from the action in the heart of the Strip, Resorts World offers a tremendous resort experience that I cannot recommend enough.
The sprawling gaming floor, diverse restaurant options, on-site shopping, and unique lounges make Resorts World a one-stop shop – Everything you need is right there.
I found my Hilton Deluxe Room to be well-appointed, stylish (minus the carpet, ha), clean, and more luxurious feeling than the average baseline accommodation in town. Mine even came with a free pair of boots! (I kid).
While my stay was complimentary due to my prior gambling activity, the Hilton Deluxe Room can commonly be reserved for around $100 or less mid-week + resort fees which I feel is a tremendous value.
Book with confidence.
One suggestion: Before booking, take a peek at rates for Resorts World's mid-tier Conrad Rooms. That room type is frequently priced only modestly higher than the Hilton rooms and may be worth the upcharge as they offer an additional 50 square feet of space, a dual vanity sink, and a separate room in the bathroom for the toilet.
They're also just sharp.
I recently stayed in a Conrad branded room at Resorts World and am likely to upgrade to that accommodation again in the future.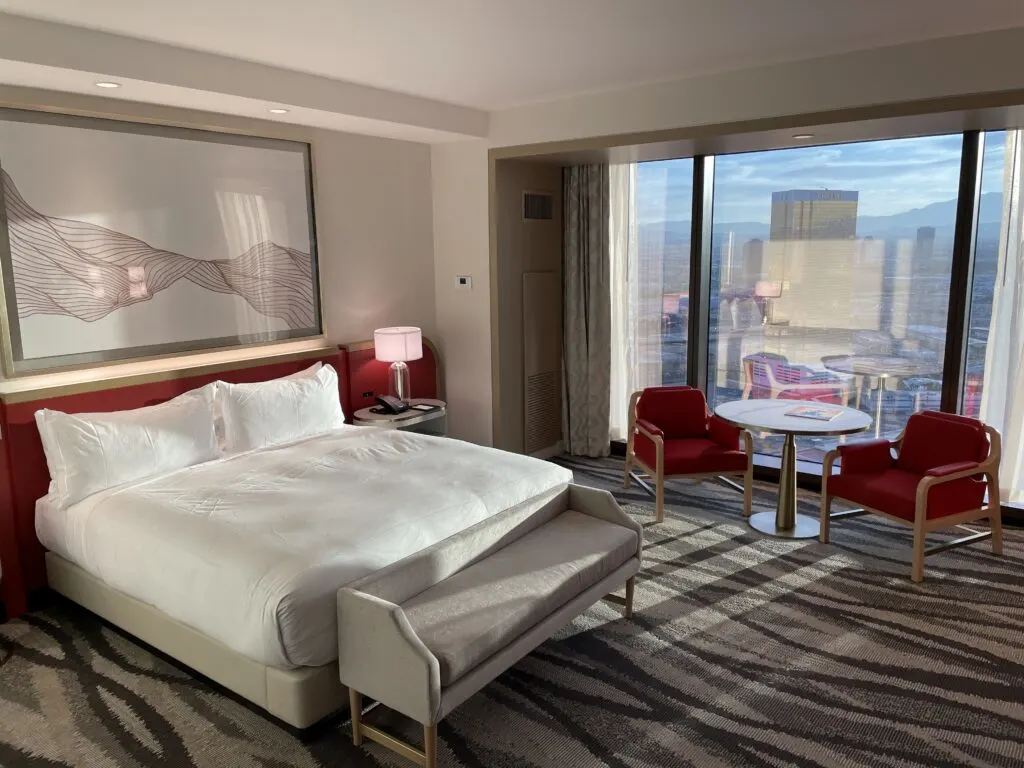 I'm a former software salesman turned Vegas aficionado. While the craps table is my preferred habitat, I pull myself away to explore new attractions, shows, restaurants, and outdoor activities around Las Vegas with the intent of sharing my experiences.
Ultimately, I just want to help folks plan a better trip and save a few bucks in the process.