The Downtown Container Park opened in 2013 as part of a $350 million redevelopment project spearheaded by the late Tony Hsieh, injecting life into a stretch of Fremont Street that had been "down on its luck" for some time.
Located at an intersection kiddy corner from El Cortez, the 3-level shopping, dining, and entertainment complex was constructed using 40+ shipping containers and 40+ cubes.
While the unique architecture is worth a stop in its own right, there are also numerous things to do inside that often go overlooked by tourists.
I was in the area recently and thought it would be fun to swing by to detail what there is to do at the Container Park and give you a look inside!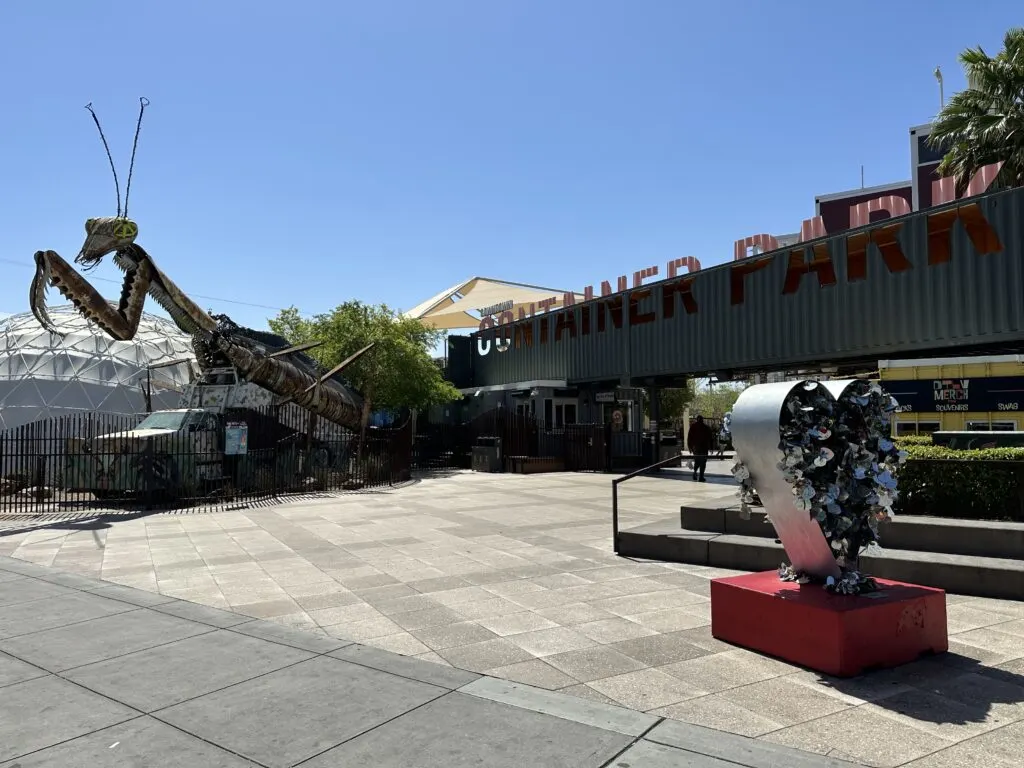 Things To Do Inside the Container Park in Las Vegas
See a Firey Show: Stop by after dark to see "The Mantis", a 40-foot-tall praying mantis that shoots fire from its antennae.
The Container Park's praying mantis fire show kicks off at sunset with a drum circle and ignites at random intervals throughout the evening.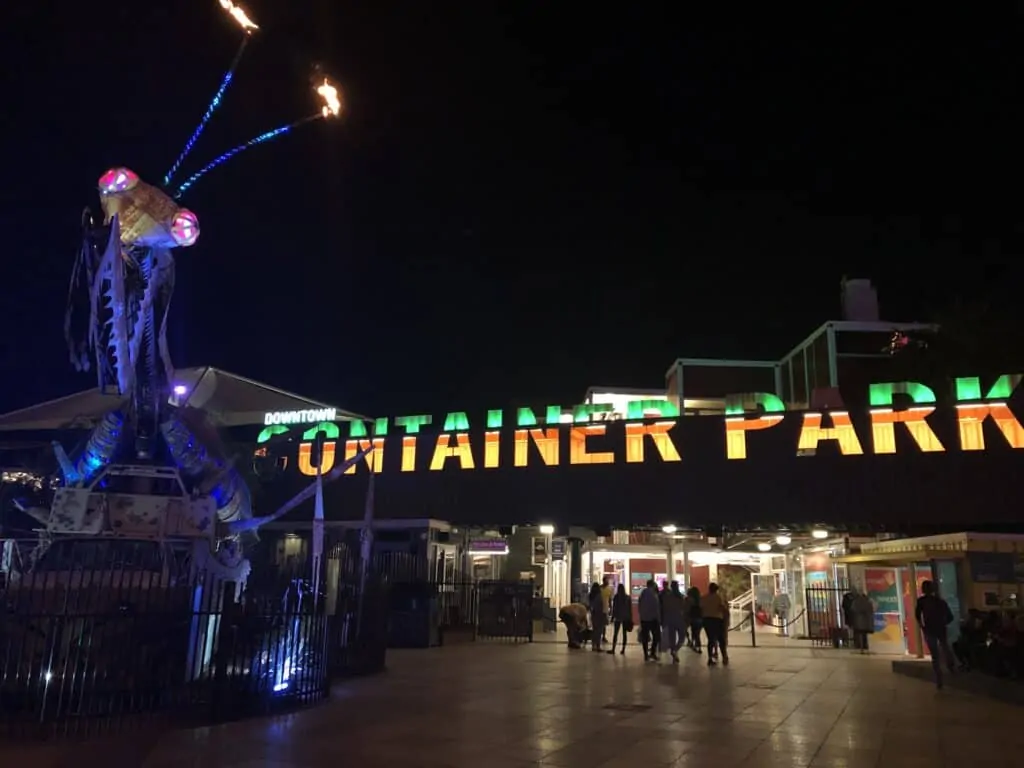 Treehouse Playground: Kid Friendly Activities on Fremont Street are few and far between. The Downtown Container Park bucks that trend, however, by offering an expansive 3-story playground that boasts spiraling slides, opportunities to climb, and plenty of shade.
Yard Games: Scattered throughout the play area and yard in front of the stage are a number of "jumbo-sized" games and toys that both kids and playful adults can enjoy.
Options available during my last visit included huge checkers, massive Legos, and 3-foot-tall Connect 4.
While they weren't there the day I visited, I previously have seen giant foam building blocks that kids seemed to be enjoying.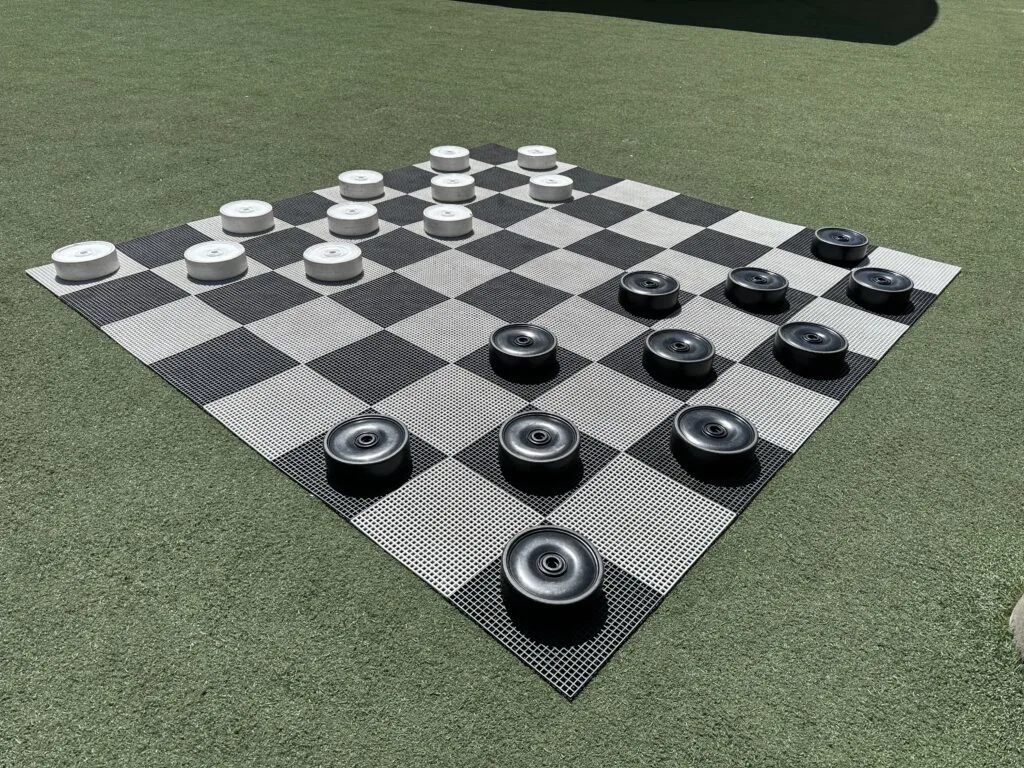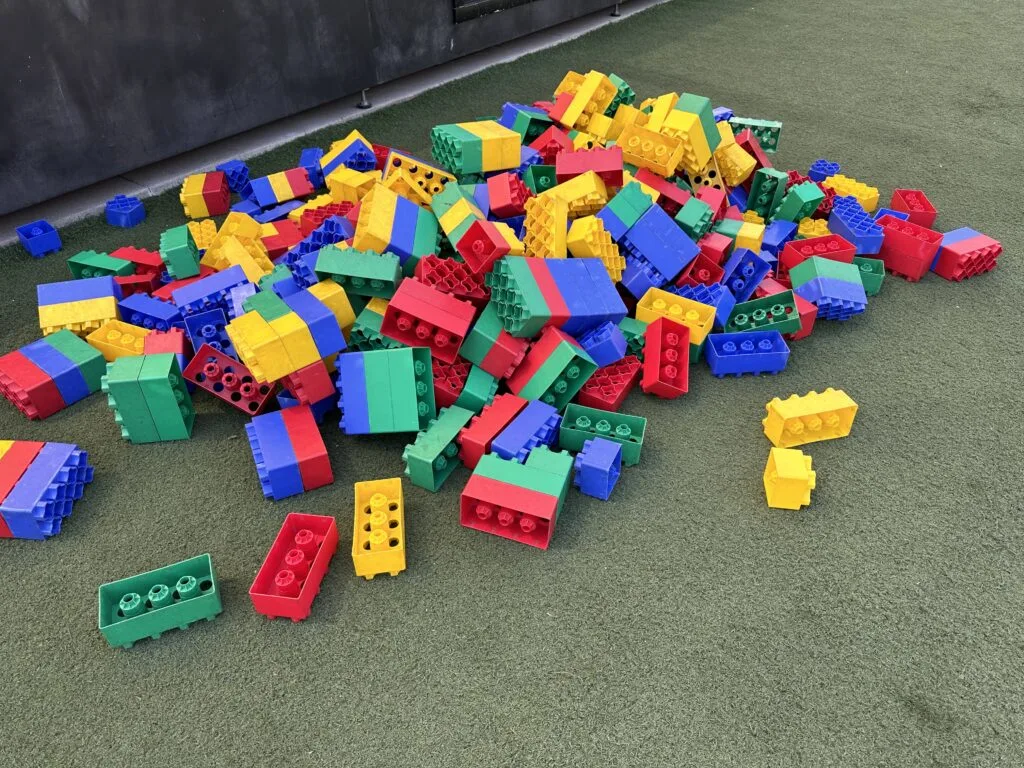 Live Entertainment & Activities: The Downtown Container Park has a stage near the back of the complex and boasts an impressive entertainment calendar.
Programming includes yoga classes, a monthly block party, karaoke, concerts, and more.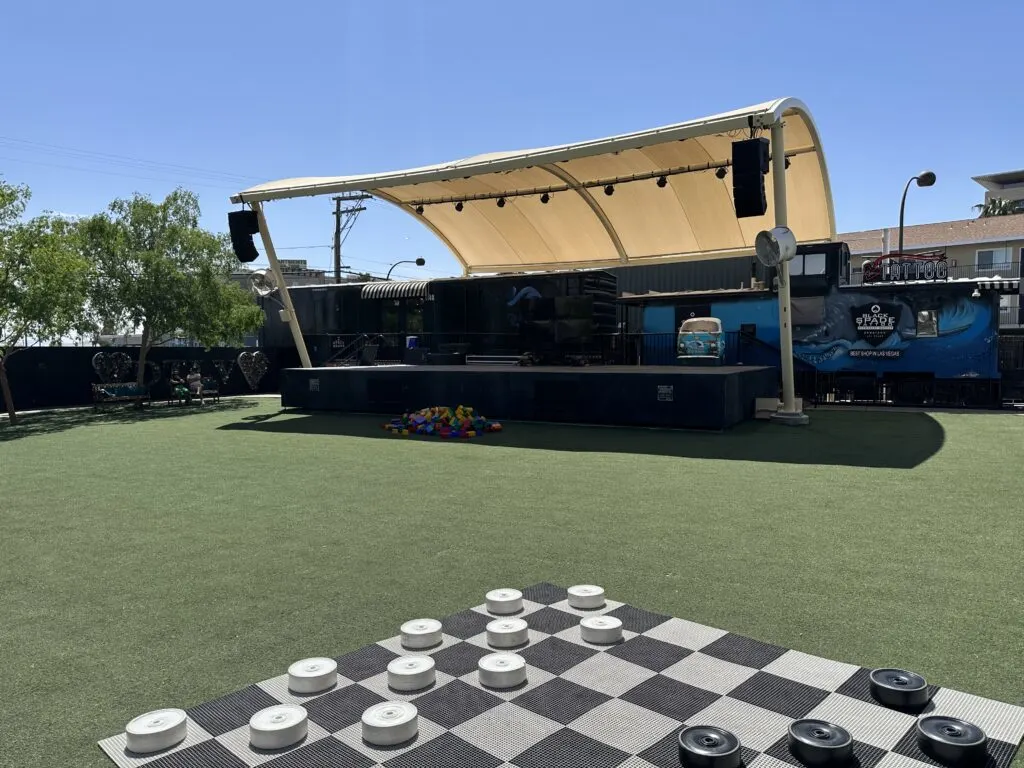 Eat & Drink: I personally visit the Downtown Container Park for the assortment of food and drink options found within.
On the drink front, Oak & Ivy is an "American craft whiskey cocktail bar" that serves a diverse assortment of rare beers (you ever have a "Beer Zombies Duck Hunter IPA?), barrel-aged whiskey, and other craft cocktails.
Bin 702 offers one of the more unique happy hours in downtown Las Vegas daily from 3 – 6 pm that includes discounts on local craft beer (Tenaya, Mojave Brewing, and Crafthaus among others), well drinks, wine by the glass, and even full bottles of wine.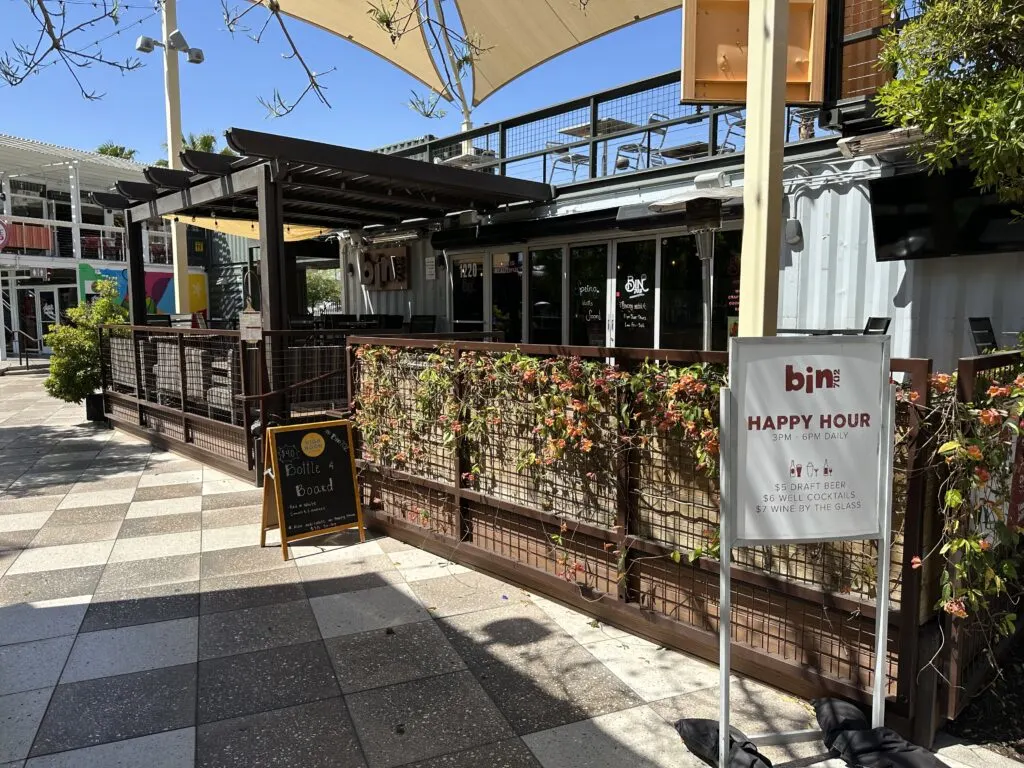 Food options at the Downtown Container Park range from quick and cheap meals at Pinches Tacos and Mob Pie to sit-down options at Bin 702 and Downtown Terrace which serves burgers, sandwiches, and a brunch menu that boasts bottomless mimosas & bloodies.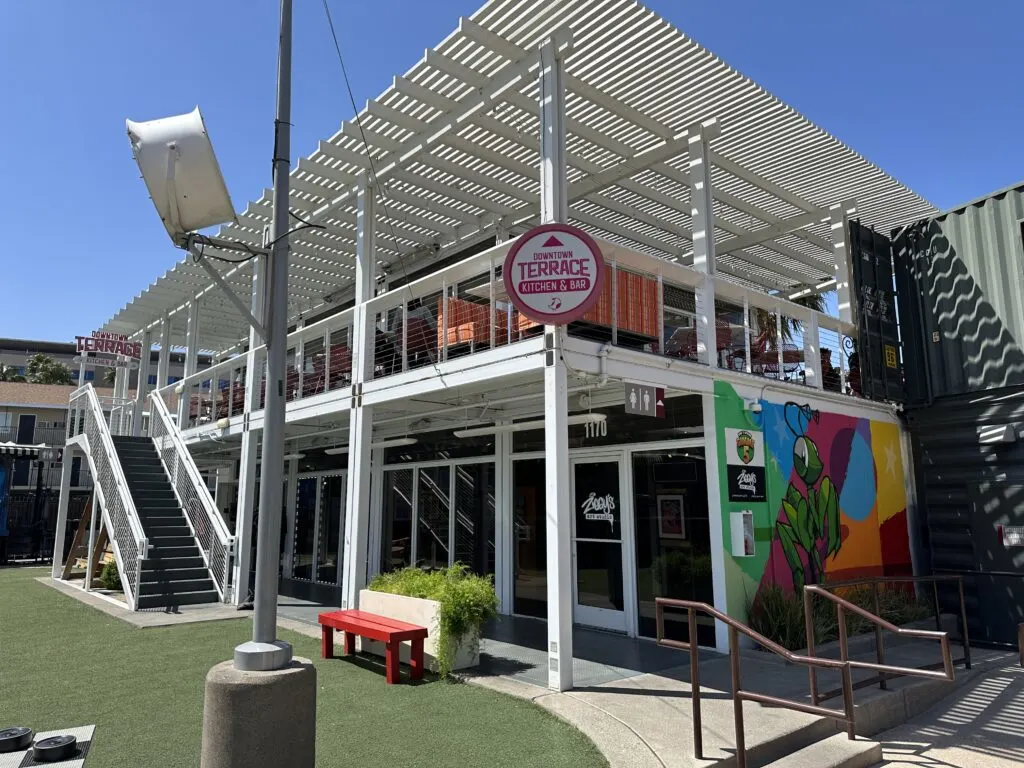 Unique Shopping: While there's no shortage of gift shops across Las Vegas, they all seem to carry the same cheap trinkets, magnets, and keychains.
The Container Park is home to some giftables (for yourself or others) found nowhere else.
Specifically, I was drawn to the House of 1000 pins, which had a diverse assortment of lapels, and the Art Box, which had artwork depicting current and former landmarks in Las Vegas among other creations.
Other notable shopping options include Gift Envy (exotic gifts), KRB Boutique, Lovo Cigars, Sugar Shop Candy & Gifts, and Ziggy's Art Studio among others.
If you're looking for a souvenir for yourself or something that isn't "run of the mill" for someone back home, give the Downtown Container Park a shot!
Cement Your Relationship: Two separate love lock racks are found at the Container park. The first is a heart outside the front entrance, and the other is located behind the entertainment stage inside.
Just bring a lock, add it to the collection, and you're (almost) guaranteed to be together forever.
Related: Take a look inside the Biggest Gift Shop in Vegas – Bonanza!
Is The Container Park Worth Visiting?
I think there are a few "use cases" that make the Downtown Container Park a worthwhile itinerary item:
Looking to Drink Well and/or Cheap: The main reasons I've visited the Container Park in the past include drinking at Bin 702 (which offers local beer and a great happy hour), and Oak & Ivy, an American whiskey bar.
Looking to Eat: When it comes to bottomless brunch options on Fremont Street, Downtown Terrace is one of the few options available. Additionally, both Pinches Tacos and Mob Pie make for a solid, inexpensive, and quick bite.
Looking to Shop: There are a few shopping outlets within the Container Park that are unlike anything else in Las Vegas. Stop in if you're in the area and on the hunt for differentiated souvenirs.
You Have Restless Kids: The Downtown Container Park is one of the best places to visit with kids on Fremont Street. In addition to a towering playground structure, there is an assortment of yard games to play, and the Praying Mantis fire show is sure to impress.
Ultimately, the Downtown Container Park is a really nice contrast to the smokey, somewhat grimy (I say that lovingly) environment that surrounds it on Fremont Street. It's a literal breath of fresh air, with plenty of things to eat, drink, shop for, and play with.
While the Container Park certainly isn't for everyone, it's a worthwhile diversion for anyone that can relate to the "use cases" I mentioned above.
I'm a former software salesman turned Vegas aficionado. While the craps table is my preferred habitat, I pull myself away to explore new attractions, shows, restaurants, and outdoor activities around Las Vegas with the intent of sharing my experiences.
Ultimately, I just want to help folks plan a better trip and save a few bucks in the process.