Found along New York New York's Strip facing facade is Hershey's World, a two-level, 13,000-square-foot store dedicated to all things chocolate.
Inside, guests are able to peruse sweet treats, decadent desserts, and even non-food merchandise depicting the logo of their favorite candies like Reese's, Hershey's, Kit Kat, and more.
While products inside carry a cost, Hershey's World itself is completely free, and should likely be slotted into the itinerary of those that have a sweet tooth.
I thought it would be fun to swing into Hershey's World with the intent of giving you a look inside!
See Also: 90+ More Free Things To Do in Las Vegas!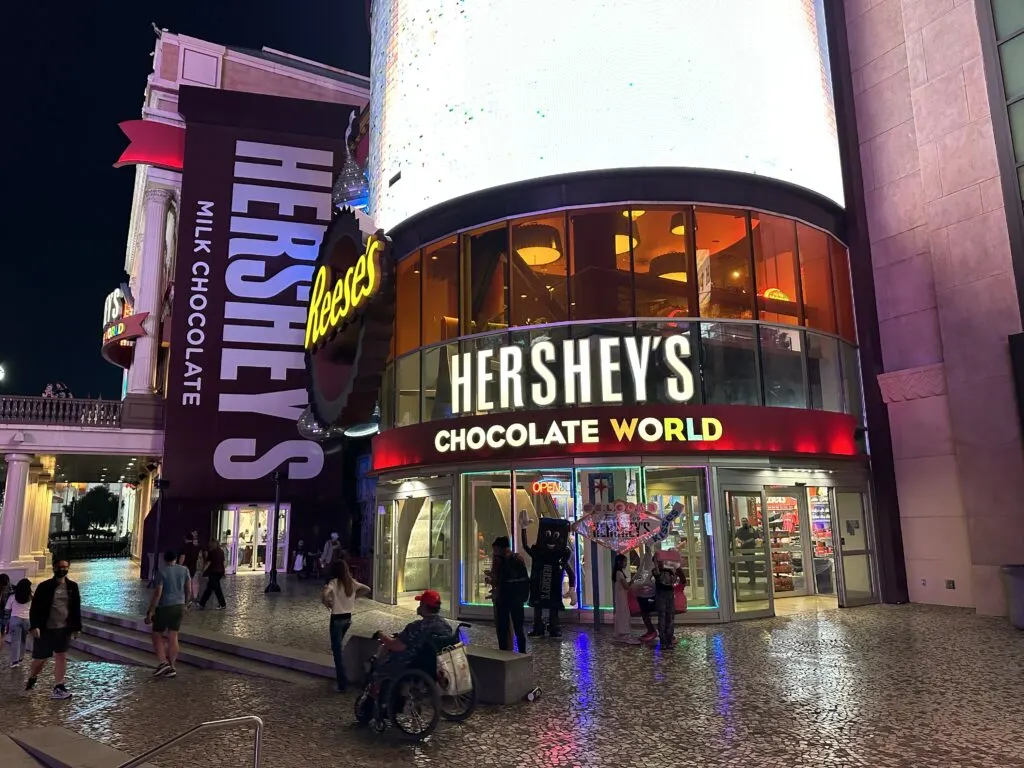 Highlights of Hershey's World Las Vegas
Stepping inside from New York New York's gaming floor, Hershey's World was a bit of a chaotic scene as there were kids everywhere, running with reckless abandon, seemingly unsupervised.
Of course, I stopped to snap a picture of the 800-pound chocolate Statue of Liberty on the way in. According to an informational sign posted next to it, the statue contains the equivalent of 8,258 chocolate bars.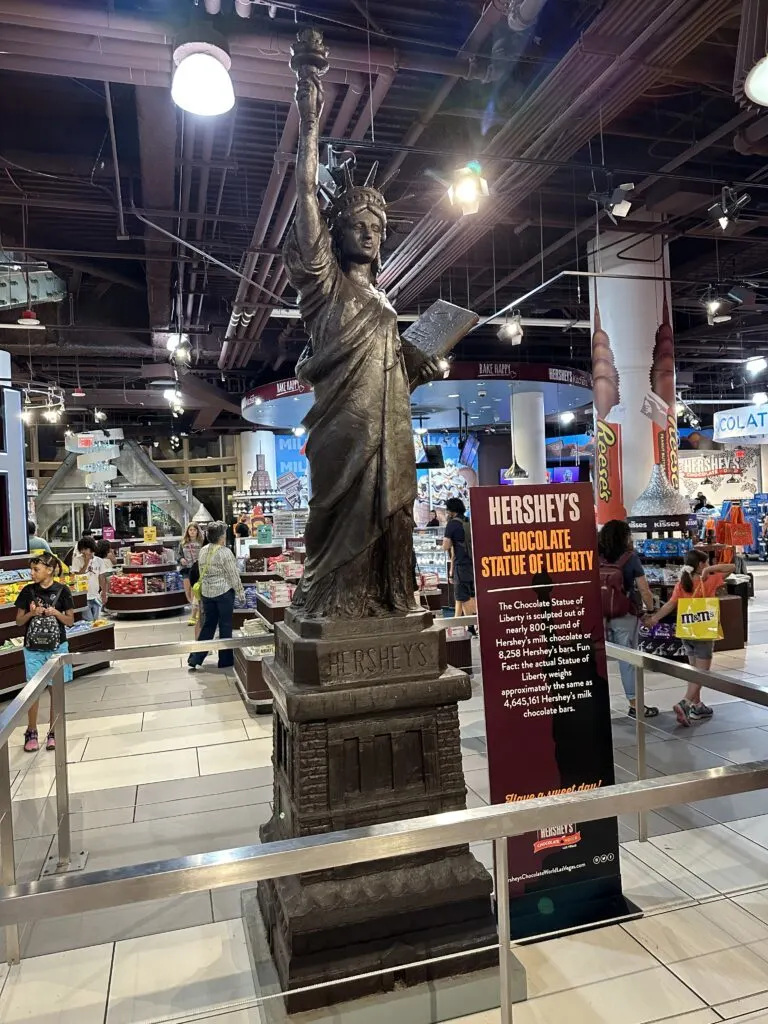 Once past the statue… and a rowdy group of kids, I found myself pretty impressed with how aesthetically pleasing the store was.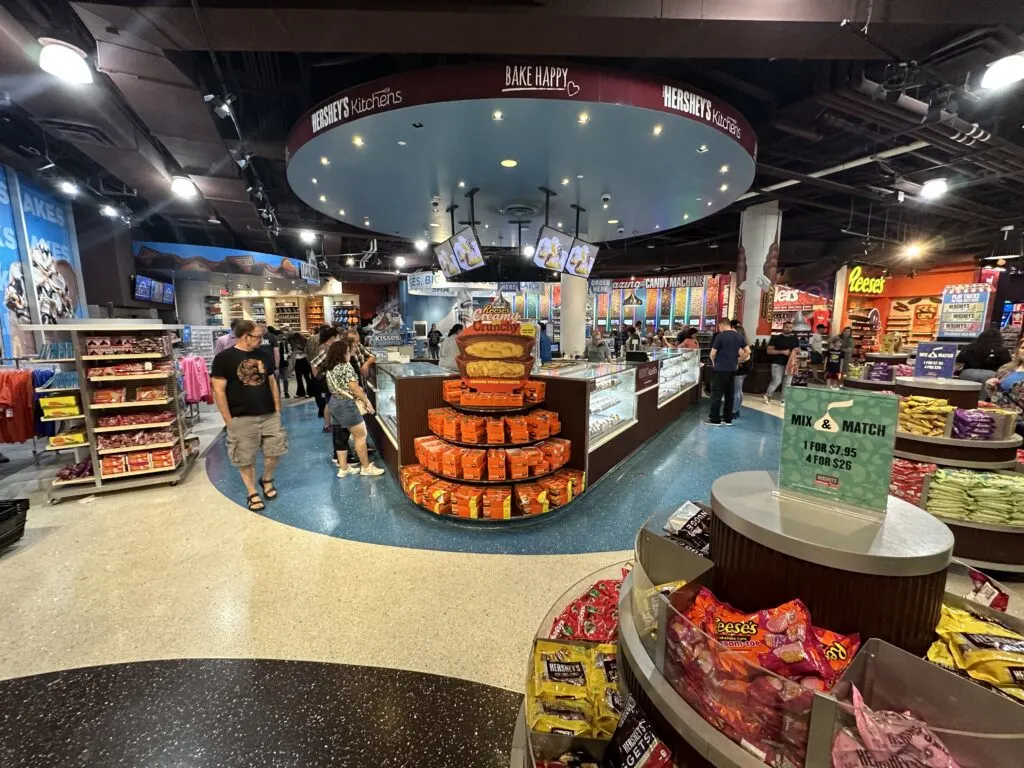 One of the most unique visuals within Hershey's World was the wall of self-service chocolates that were billed by the 1/4 pound.
Customers are able to mix & match flavors, and the self-service dispensers easily qualified as one of the more popular stops within the attraction.
While Hershey's World was expectedly stocked with the standard Hershey's candy available in your local supermarket, I was drawn to some of the more "exotic" products not found elsewhere.
Giant candy options were scattered about and included a gargantuan $30 Hershey's Kiss and an assortment of candy bars that were measured in pounds as opposed to ounces.
These giant chocolates could make the perfect gift or souvenir for the candy lover on your gift list.
Candy-branded apparel options were abundant and ranged from shirts to hats and even oven mitts emblazoned with your preferred treat's logo.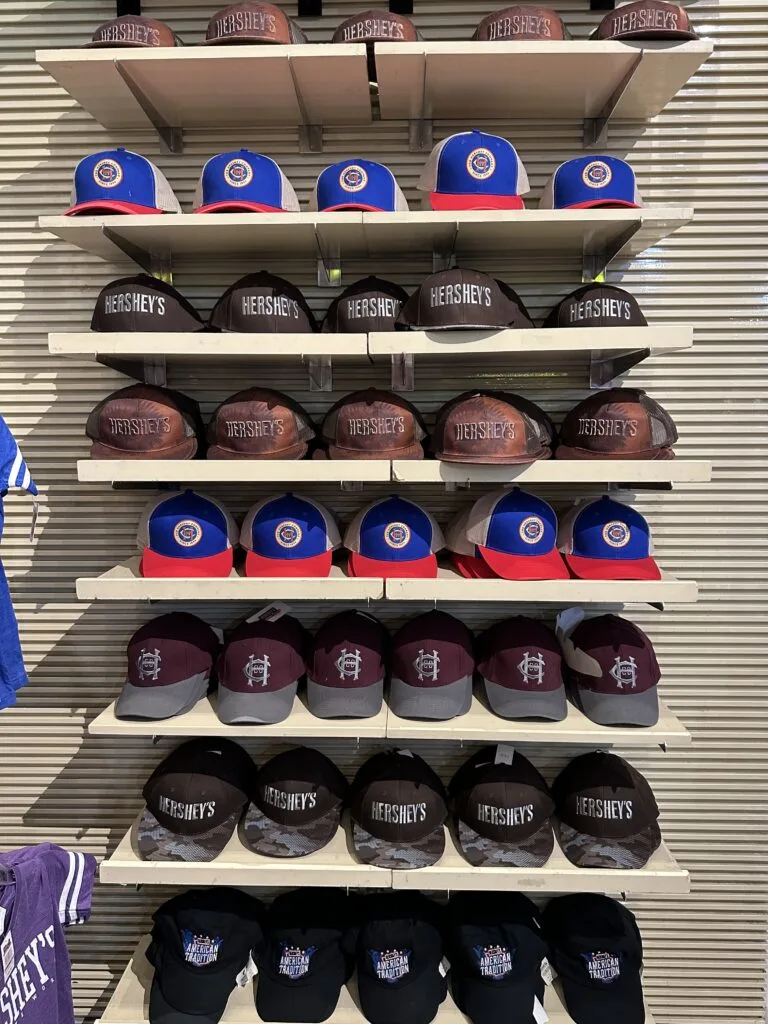 My favorite physical products, however, were the candles that smelled like a number of Jolly Rancher flavors, York Peppermint Patties, Reese's Peanut Butter Cups, and Hershey's Kisses.
If I wouldn't have had to lug them home in my carry-on luggage, I would have bought a few.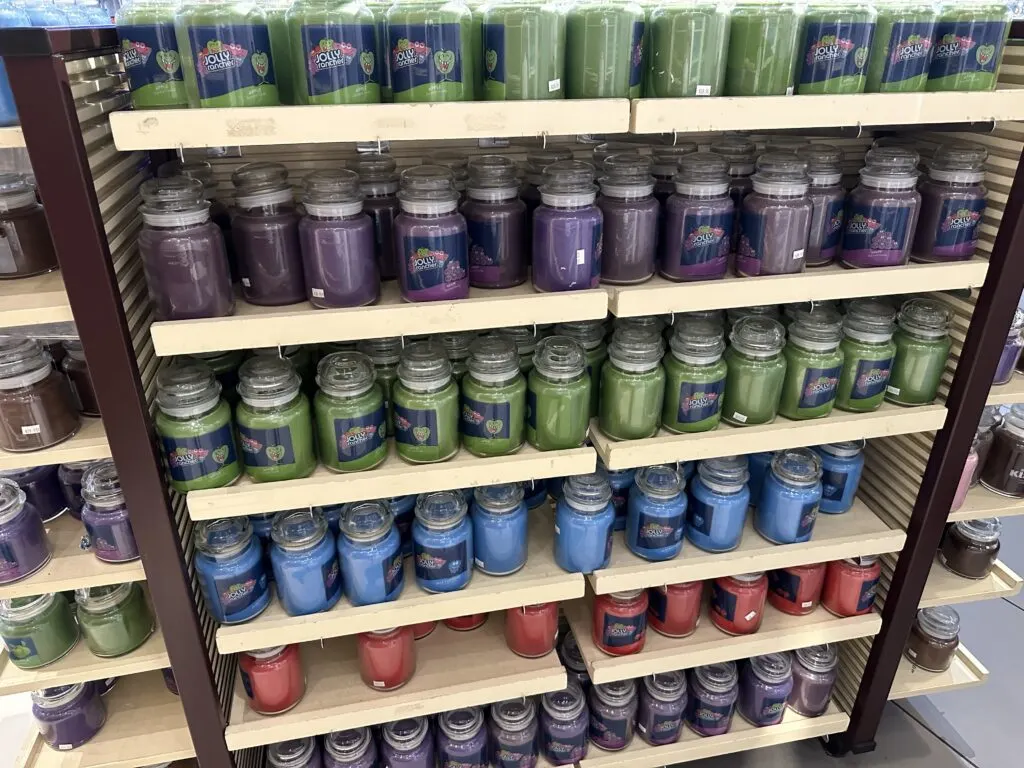 Hershey's World also serves a collection of amazing-looking desserts constructed with their own signature chocolates.
I was going to buy one or two, but the line just wasn't moving quickly enough, and I had a reservation at BrewDog across the street to make.
Just take a look at these masterpieces – Most of which cost less than $7.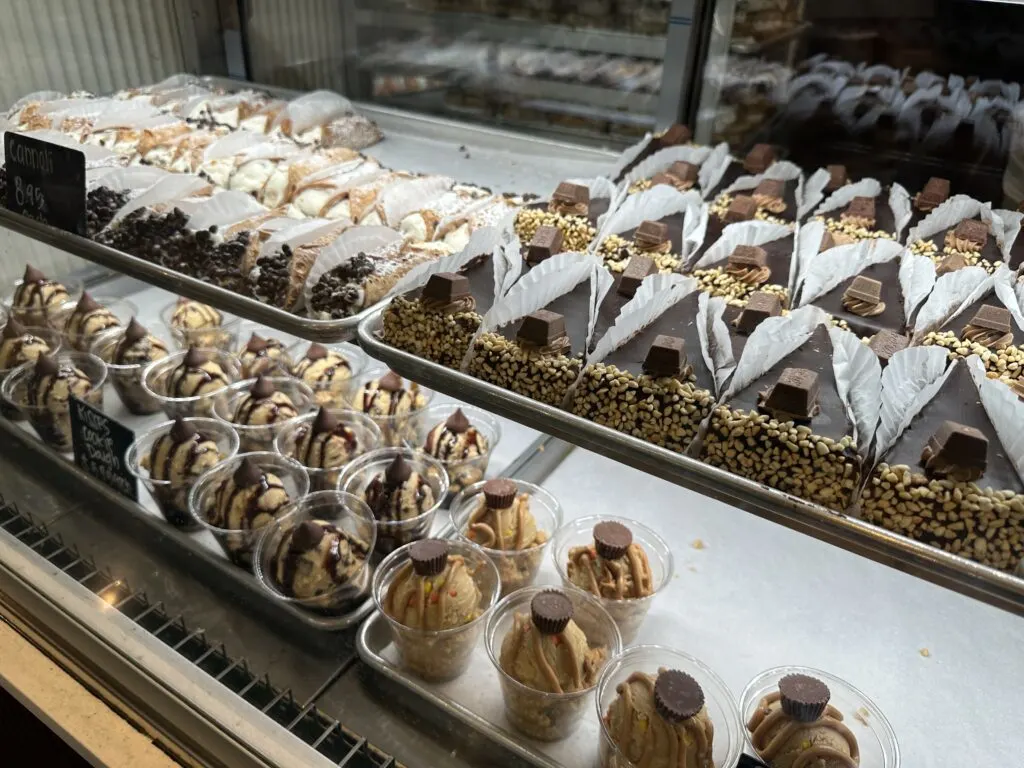 In addition to bites, Hershey's World also had a milkshake counter that uses real ice cream and Hershey's chocolate candies.
Unfortunately, the line was too long for me to snag one, but the end product looked pretty darn appealing and would pair nicely with a hot Las Vegas day.
Ensure you also step outside to snap a commemorative photo with these two jovial characters!
What's Not To Like
It's completely possible that the items mentioned below were "flukey" aspects of my visit, however, I imagine they're pretty common.
It was a bit messy: Granted, I visited at the end of the night, but there was candy all over the floor – Especially by the self-serve Kiss dispensing wall. Grossly, some of the spillage had been crushed by foot traffic, creating a sticky situation.
Unruly Kids: While this is obviously one of the more kid-friendly things to do in Las Vegas, many parents neglected to do the whole "parenting thing" inside the store. There were some wild kids roaming… screaming… and running around.
Is Hershey's World Las Vegas Worth a Stop?
My guess is that you already know whether or not this is something that you're personally interested in.
In my opinion, Hershey's World at New York New York is worth visiting if you're hunting for a unique gift/souvenir, want a sweet bite from the dessert counter, or need a milkshake to aid in beating the desert heat.
Even if you don't have intentions of buying something, it's a unique store to duck into and explore if you happen to be in the area.
I found it to be a differentiated attraction and look forward to stopping back in to buy one of those delectable-looking cupcakes.
I'm a former software salesman turned Vegas aficionado. While the craps table is my preferred habitat, I pull myself away to explore new attractions, shows, restaurants, and outdoor activities around Las Vegas with the intent of sharing my experiences.
Ultimately, I just want to help folks plan a better trip and save a few bucks in the process.