Very few things in Las Vegas are free, but the Downtown Loop shuttle is a welcome exception. Moving visitors from site to site downtown, the Loop doubles as an efficient and cheap way to get from place to place.
Running from the Mob Museum all the way down to Strat on the north end of the Las Vegas Strip, the Downtown Loop shuttle hits numerous points of interest in between.
I'll cover everything you need to know below and detail my personal experience!
Related: Where to find the loosest slots in Vegas – And yes, slots downtown are usually a tad looser than those on the Strip.
How to Ride the Free Downtown Loop Shuttle
It couldn't be easier.
Simply stand by the Downtown Loop sign that marks a designated stop (listed below). When you board, simply tell the driver where you are looking to visit.
They will then remind you when they reach the stop you desire to get off at. No ticket, phone app, or reservation is needed.
Downtown Loop Shuttle Hours of Operation
The Downtown Loop Shuttle runs:
11 am to 6 pm Sunday through Thursday
3 pm to 10 pm Friday and Saturday
There are no set times or schedules that the shuttle adheres to beyond that. The bus simply runs continuously around the loop.
In my personal experience, you'll never have to wait long for a ride as there is more than one bus in circulation.
Downtown Loop Shuttle Cost
Riding the Downtown Loop shuttle is completely FREE. Even better, tipping isn't an expectation as it tends to be on other Las Vegas shuttles.
I learned that drivers aren't even allowed to accept tips when my attempt was rejected. Completely free, which is rare for Las Vegas.
Downtown Loop Free Shuttle Stops
Note that Downtown Loop stops are clearly marked by a sign on the sidewalk. Simply stand by the sign and wait for the next shuttle to scoop you up.
Although the Downtown Loop shuttle doesn't run on a set schedule, you can track the shuttle in real-time here.
City Hall
Mob Museum
Circa Hotel and Casino
Fremont Street Experience – Main Street
Fremont East on Sixth Street
Symphony Park
Pawn Plaza
Arts District
Brewery Row in the Arts District
Strat Hotel and Casino
Las Vegas North Premium Outlets
Bonneville Transit Center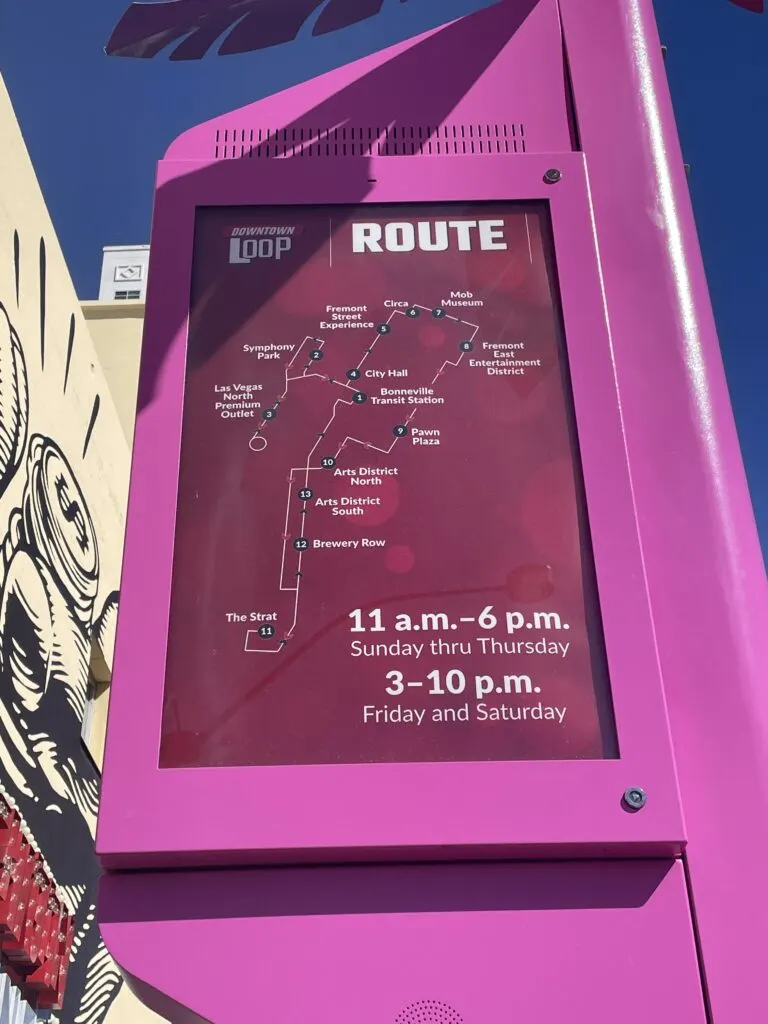 Downtown Loop Tips and Suggestions
Looking to get back to your Strip hotel after spending a day on Fremont Street? Hop on the shuttle and get off at STRAT. Once there, enjoy their observation deck and cheap table games when compared to other Strip resorts. Afterward, hop on The Deuce bus for a cheap ride south to resorts on the Strip. If you desire a quicker ride, just snag an Uber/Lyft to your Strip hotel, which will be slightly cheaper than if you had grabbed one from Fremont Street.
Visit the Arts District. Seriously. While many visitors overlook the 18-block Arts District, it's home to numerous art galleries, antique stores, bars, restaurants, and breweries. It's a different world than the "touristy" parts of Vegas. Stop in for drinks and dinner. You won't regret it.
I was impressed with the ease with which the Downtown Loop shuttle was to use. The driver was knowledgeable, gave tips on what to visit, and was friendly.
For those looking to visit destinations on the Loop's route, the system is a valuable amenity.
Related: More Free Things to do in Vegas!
I'm a former software salesman turned Vegas aficionado. While the craps table is my preferred habitat, I pull myself away to explore new attractions, shows, restaurants, and outdoor activities around Las Vegas with the intent of sharing my experiences.
Ultimately, I just want to help folks plan a better trip and save a few bucks in the process.