Key Points:
MGM Grand's buffet isn't one that'll blow you away with luxury or exotic menu items – It's a "working class buffet".
With that being said, I found the food to be spectacularly tasty, especially the breakfast potatoes. Holy.
In my opinion, MGM's buffet is one of the better "mid-tier" options in town, edging out similarly priced offerings at Luxor and Excalibur.
MGM Grand is among the most imposing resorts on the Strip, boasting a whopping 5,000+ hotel rooms, an enormous casino, and a sprawling pool complex.
While MGM Grand is a frequent stop of mine, the buffet is something I had yet to experience. With that in mind, I stopped in for brunch recently and look forward to sharing what I found.
Now, I feel it's important to get this out of the way up front. MGM Grand's buffet isn't one that I would rank in the upper echelon of Las Vegas buffets that includes Wicked Spoon at Cosmo, Bacchanal at Caesars, The Buffet at Wynn, and The Buffet at Bellagio.
Instead, The Buffet at MGM Grand sits in a unique position on the spectrum of buffets – Smack dab in the middle when it comes to both price and quality. More on that below, with plenty of pictures!
MGM Grand Buffet Pricing and Hours
The MGM Grand Buffet is open daily for brunch from 8 am – 3 pm.
Weekday pricing is $27.99, and the cost increases to $36.99 on the weekend. Children under the age of 5 always eat free.
All-you-can-drink adult beverages can be added for $21.99 (beer, wine, and mimosas), or $25.99 if you want well-drinks included.
Up-to-the-minute pricing and hours can be found on MGM Grand's website, here.
MGM Grand Buffet Menu Items
As a brunch buffet, both breakfast and lunch options were available.
On the breakfast side of things was the typical collection of scrambled eggs, bacon, sausage, french toast, waffles, and pancakes. Biscuits and gravy as well as breakfast flautas were also available.
I kicked off my consumption with a mountain of scrambled eggs, sausage, bacon, and "loaded" breakfast potatoes. I'm not exaggerating when I say that the potatoes were among the tastiest I've ever had.
Next, I dove into the baked items, piling up a stack of pancakes, french toast, and waffles. Again, I was impressed with the quality.
Among the more popular breakfast options was the live-action omelet station that allowed you to select which meats and vegetables to include in your creation.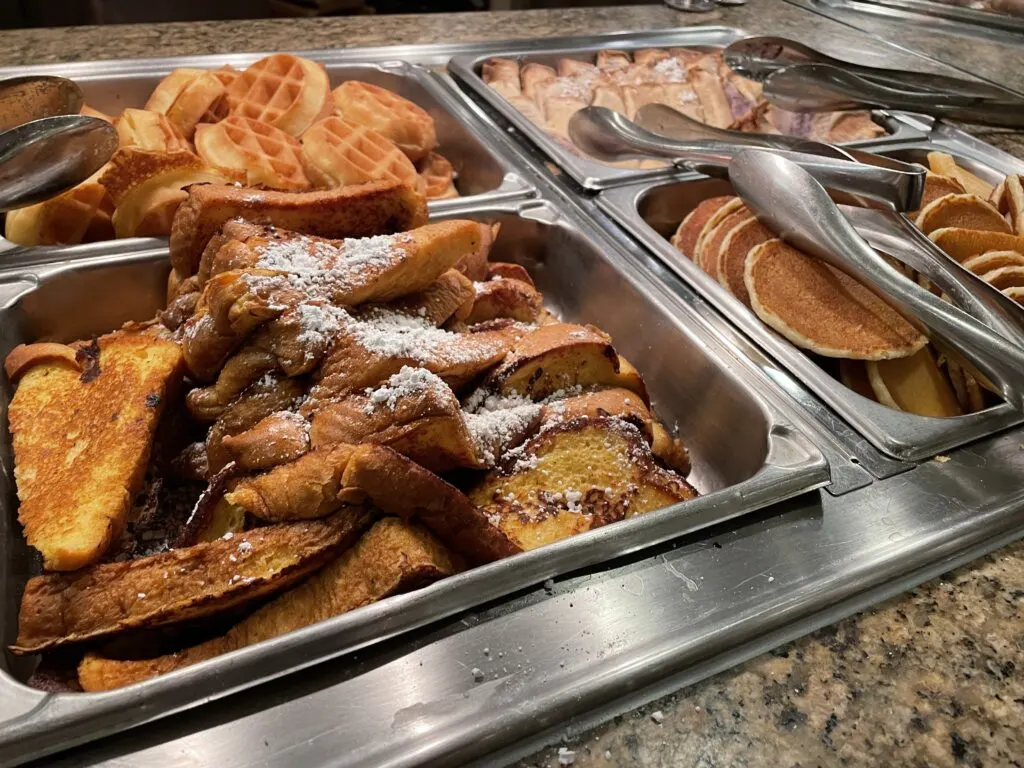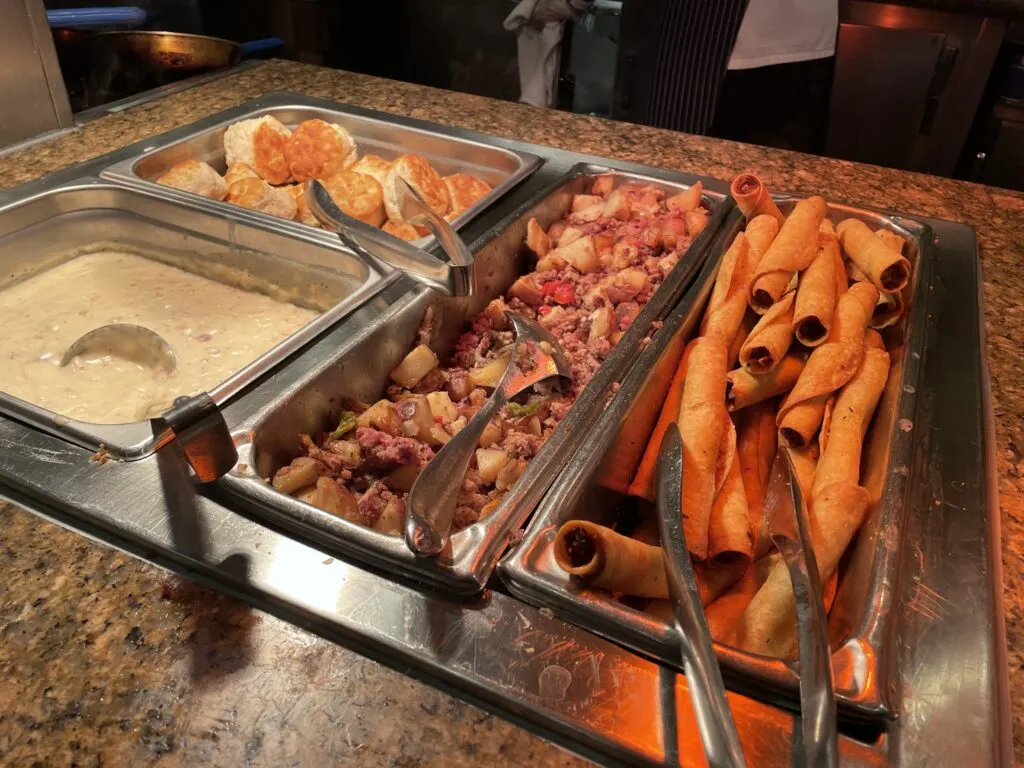 One of the few disappointments I had in the Buffet at MGM Grand was the absence of prime rib from the carving station. While there were meat options, they were limited to roasted turkey, ham, and top round steak. If you must have prime rib, this buffet may not be for you.
Other lunch-focused items included crawfish, mussels, shrimp, stuffed peppers, BBQ chicken, mashed potatoes, soup, and an expansive salad bar.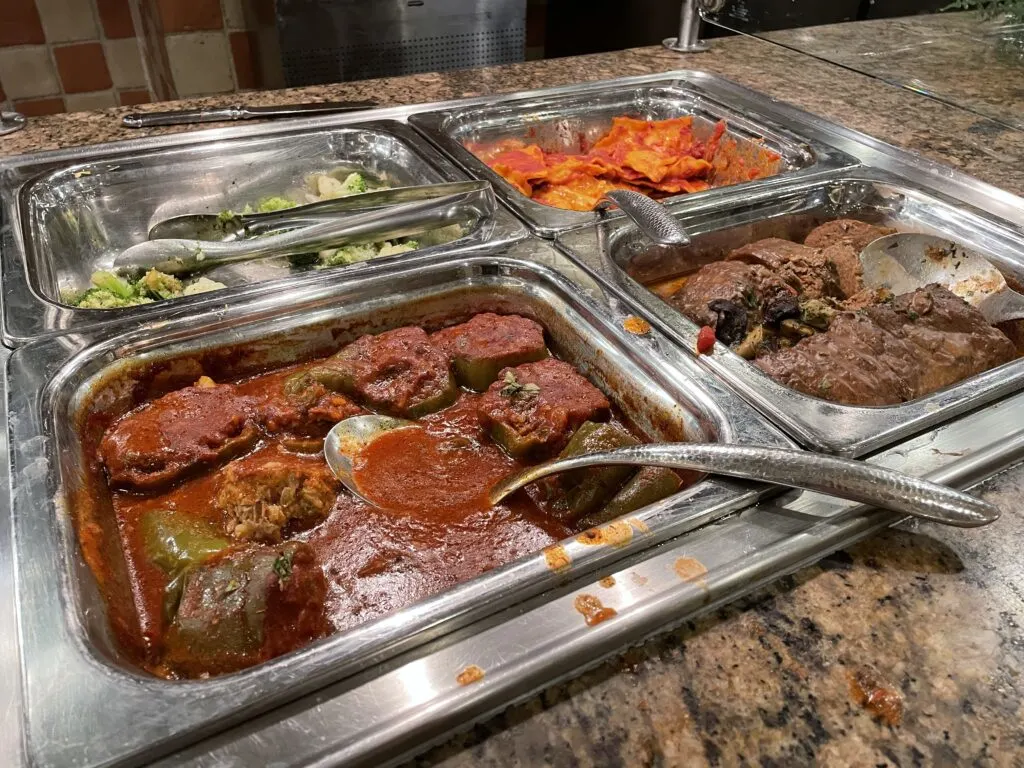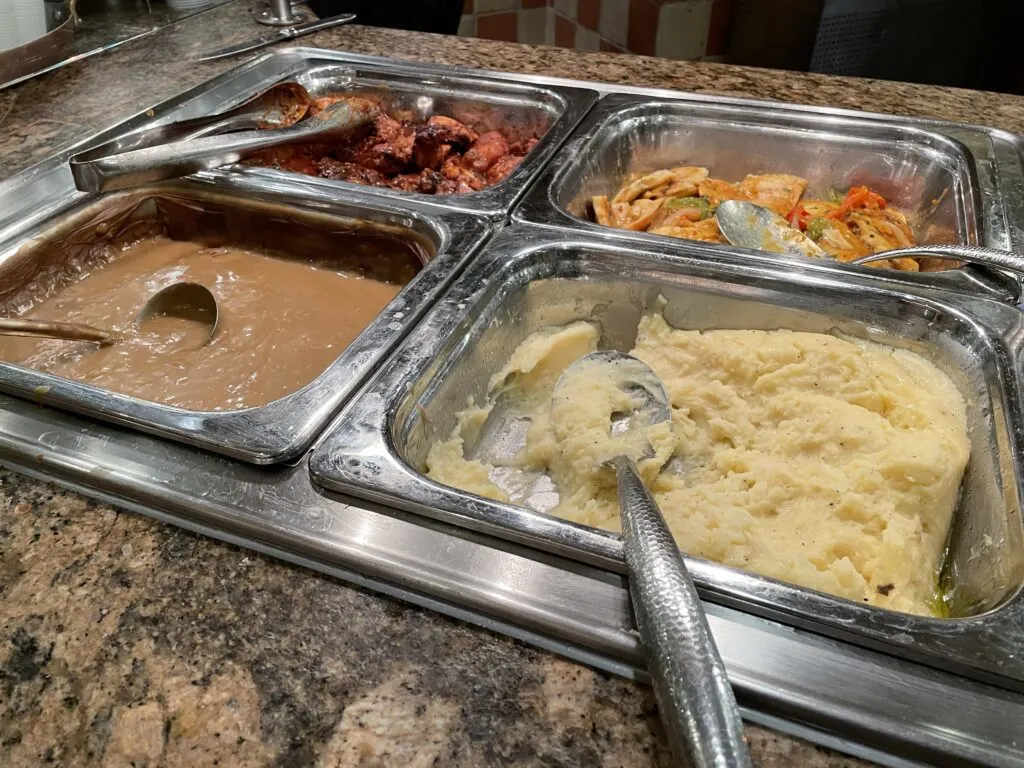 Lastly, I'd be remiss if I didn't share a few pictures of the dessert counter.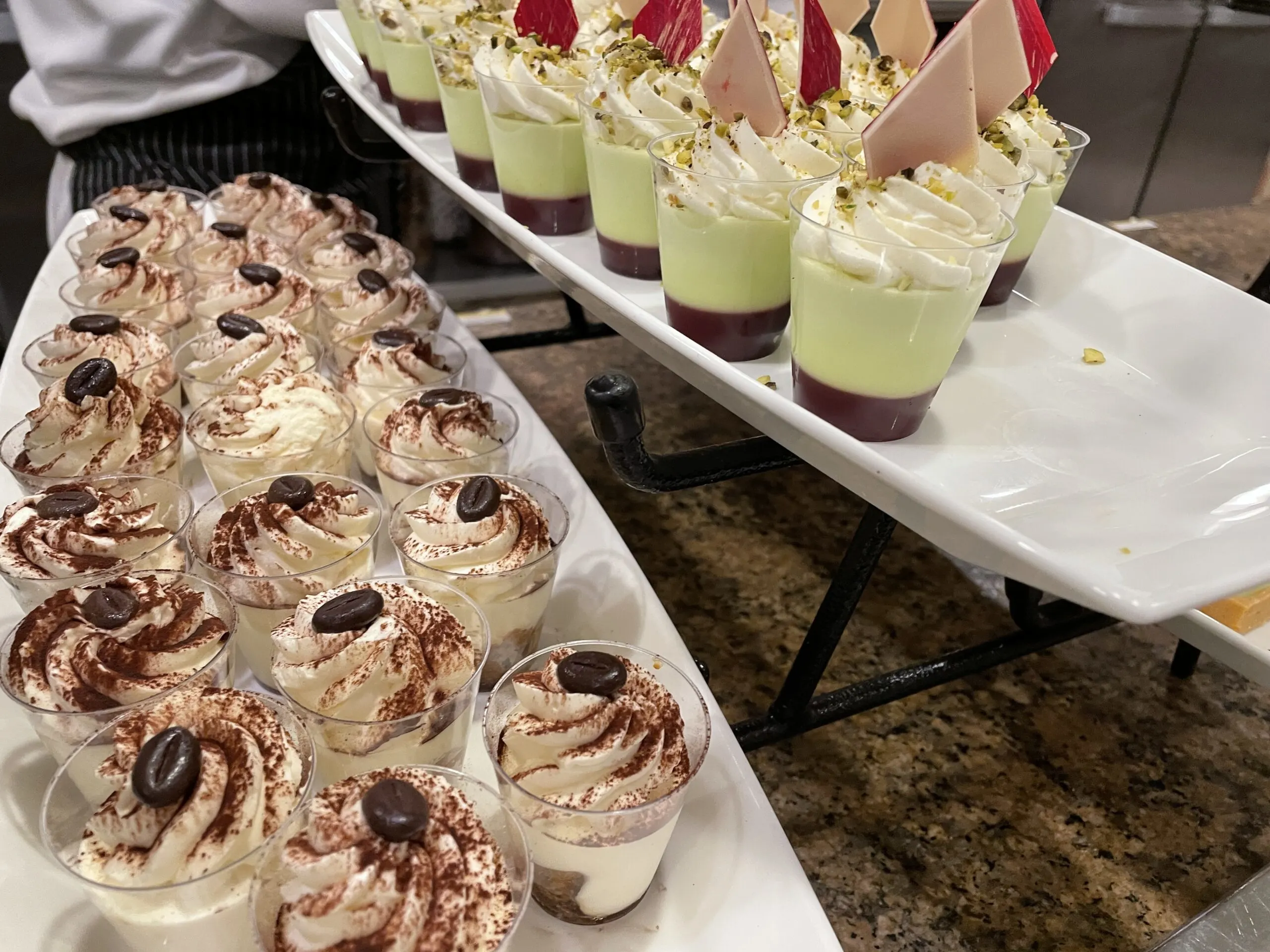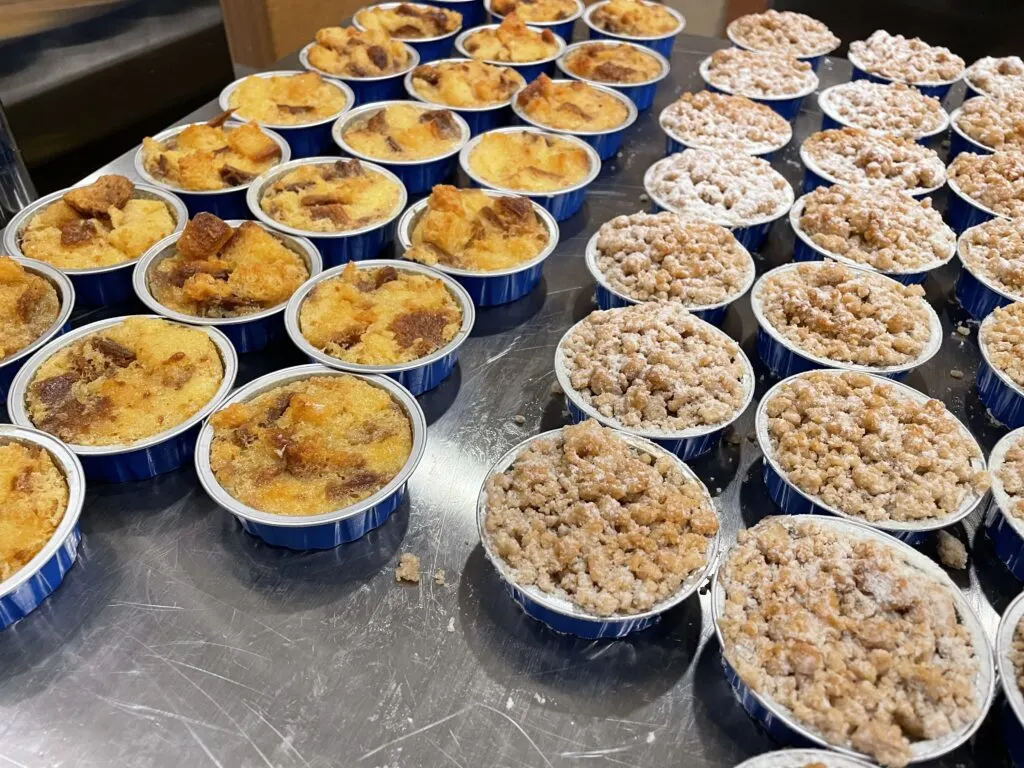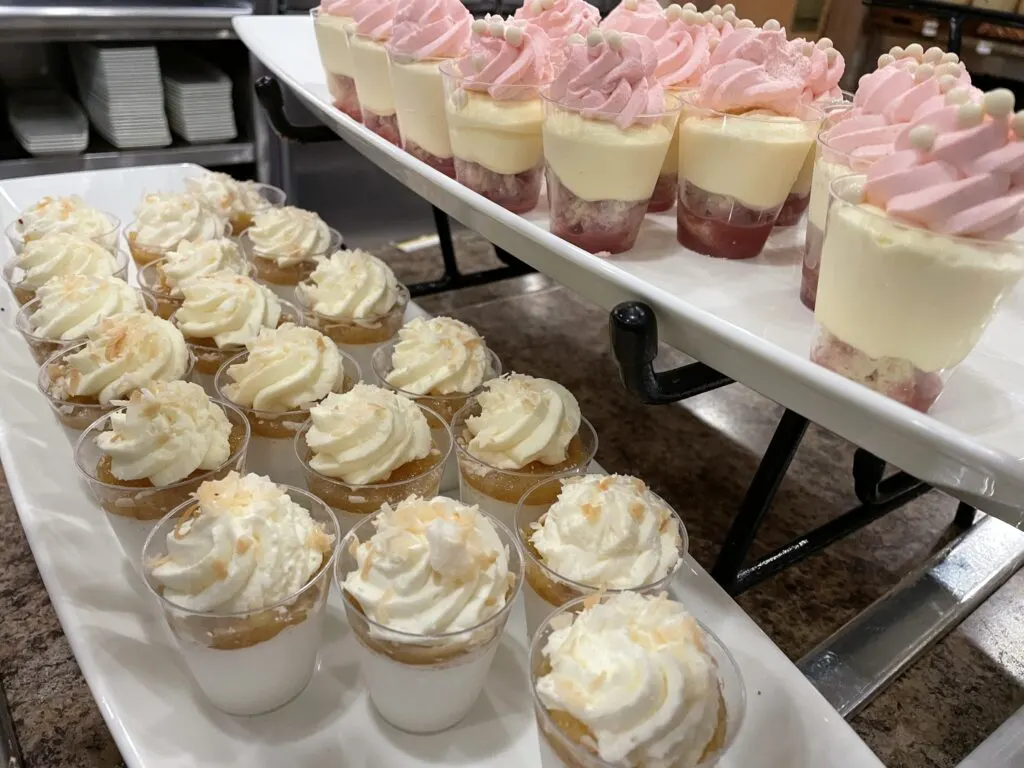 Is the MGM Grand Buffet Worth the Money?
Usually, I'm drawn to buffets at either end of the price/quality spectrum and am rarely excited by ones in the middle. I like to either spend up for something upscale or save a few bucks by finding value at an inexpensive buffet. MGM Grand's Buffet is an exception. I liked it.
While lacking the unique and "fancy" food options found at more expensive buffets, The Buffet at MGM Grand delivered a rock-solid experience at a price point that won't destroy your bankroll. Offering a steep discount when compared to top-tier options, the buffet allows you to save money while not having to endure the questionable cuisine served at bargain bin buffets.
This is a blue-collar buffet that knows its identity. The menu is unsurprising but I found it to be legitimately good – Especially the loaded breakfast potatoes.
While both The Buffet at Luxor and The Buffet at Excalibur offer similarly priced buffets nearby, I found this one to be the best of the 3.
If saving a few bucks is more important than having access to menu items like "Squid Ink Pasta", "Bone Marrow with Mustard Creme" or "Wild Boar" then MGM Grand's buffet could be for you. The food was good, the buffet was clean, and I left satisfied.
See Also: The Cheapest Buffets in Vegas and a full breakdown of buffets that are open on the Strip and Fremont Street.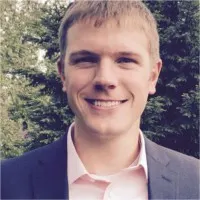 I'm a former software salesman turned Vegas aficionado. While the craps table is my preferred habitat, I pull myself away to explore new attractions, shows, restaurants, and outdoor activities around Las Vegas with the intent of sharing my experiences.
Ultimately, I just want to help folks plan a better trip and save a few bucks in the process.