Historic landmarks in Las Vegas tend to disappear into a pile of rubble the moment their useful life comes to an end. Although shuttered since 2009, Hotel Apache has lived on among us for decades albeit hidden behind Binion's vibrant blue neon that lines the facade of the resort.
Recently, Binion's owner, TLC Casino Enterprises, announced plans to refurbish the hotel and reopen it as an 81 room boutique hotel, complete with vintage 1930's decor paired with modern amenities.
The revival of Hotel Apache is just one of several exciting projects downtown to include the construction of Circa Hotel and Casino, hotel expansion at Downtown Grand, and renovations of select rooms at Plaza that are reinvigorating Downtown Las Vegas.
As a person that celebrates anything and everything historic about Vegas, a stay at Binion's Hotel Apache was a no brainer.
Hotel Apache originally opened for business in 1932. To put that in perspective, that's the same year Amelia Earhart flew solo across the Atlantic, the Dow Jones industrial average hit its lowest mark of the great depression, and FDR was elected president.
A lot of "firsts" were marked by the property over time. The property was the first to air-condition its hotel lobby, employ an electric elevator, and carpet the casino floor. Notable celebrities such as Clark Gable, Humphrey Bogart, and Lucille Ball all stayed the night. Many claim the hotel is haunted and the property was even featured on an episode of TLC's (the channel) Ghost Adventures.
TLC Casino Enterprises purchased the hotel and casino from Harrah's in 2008 and shuttered the hotel in early 2009 in response to the great recession and the plummeting room rates that resulted. Fast forward 10 years and the business climate on Fremont Street has improved to the extent that bringing 81 rooms back online made sense.
To be clear, Hotel Apache's rooms are housed in the historic brick building that hides behind Binion's neon facade. The 26 story, 300+ rooms hotel tower that used to belong to The Mint is still vacant minus the rooftop pool and Top of Binion's Steakhouse.
Related: Staying downtown Las Vegas vs. the Strip – A comparison.
Before I dive into my thoughts on the hotel, I should admit my initial skepticism around the project when announced. I recall thinking this was a reach, a cash grab, or a move out of desperation. I was uninspired by what appeared to be a "Little House on the Prairie" theme I was seeing all over social media.
Fast forward to today, after my stay, and I am man enough to admit I was wrong.
Check-in Experience
Typically, I stay at Strip mega-resorts that have thousands of rooms and a line to check in that takes an hour to negotiate. A boutique hotel like Binion's Hotel Apache allows you to step right up and take care of your business.
Free parking vouchers are offered at check-in, and no resort fee is charged. Service quality was through the roof. Sleep was somewhat important as I was in Vegas for a conference and I requested a quieter room if available. The employee working at the reception desk pulled out a floor map explaining the acoustics of each available room and essentially let me pick from available options. Very much appreciated.
The Room and Amenities
The moment you step out of the elevator into the hotel hall, you can sense the history. It feels and smells historic (in a good way) and that feeling only amplifies when you step into your guestroom.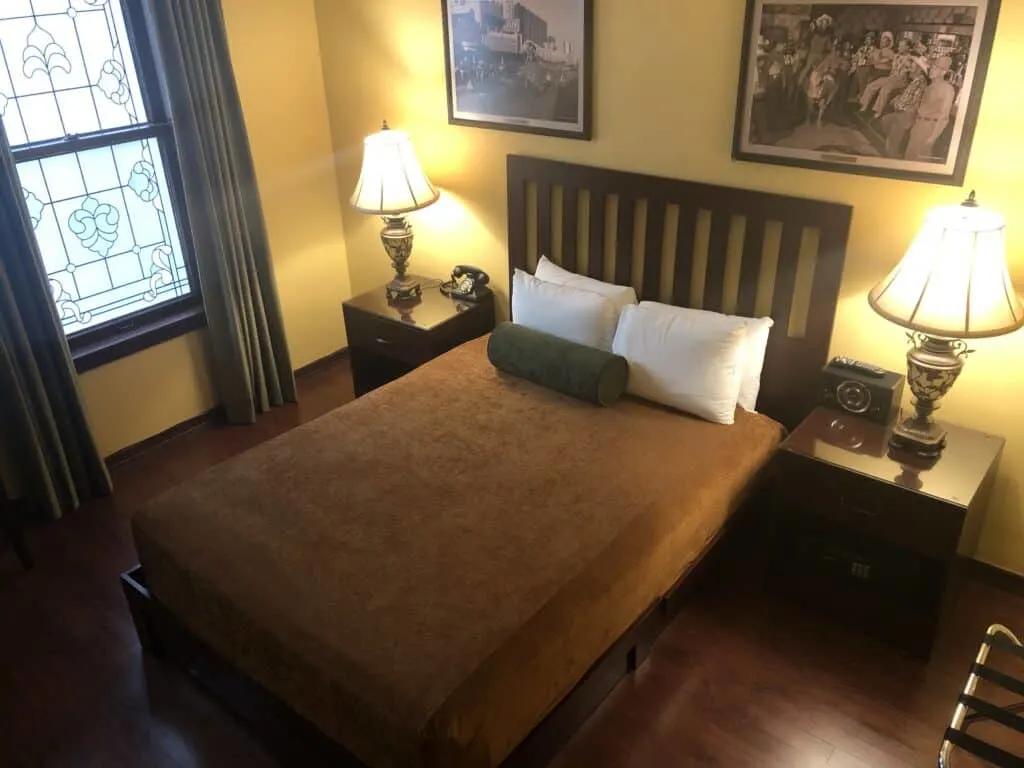 Binion's did a fantastic job resurrecting these rooms and polishing them up to resemble what travelers must have encountered in the early 1900s while providing what they expect nowadays. The bathroom features a beautifully tiled floor, shower with tub, and sink. It's a tight squeeze in there, but do you really need room for activities in the bathroom?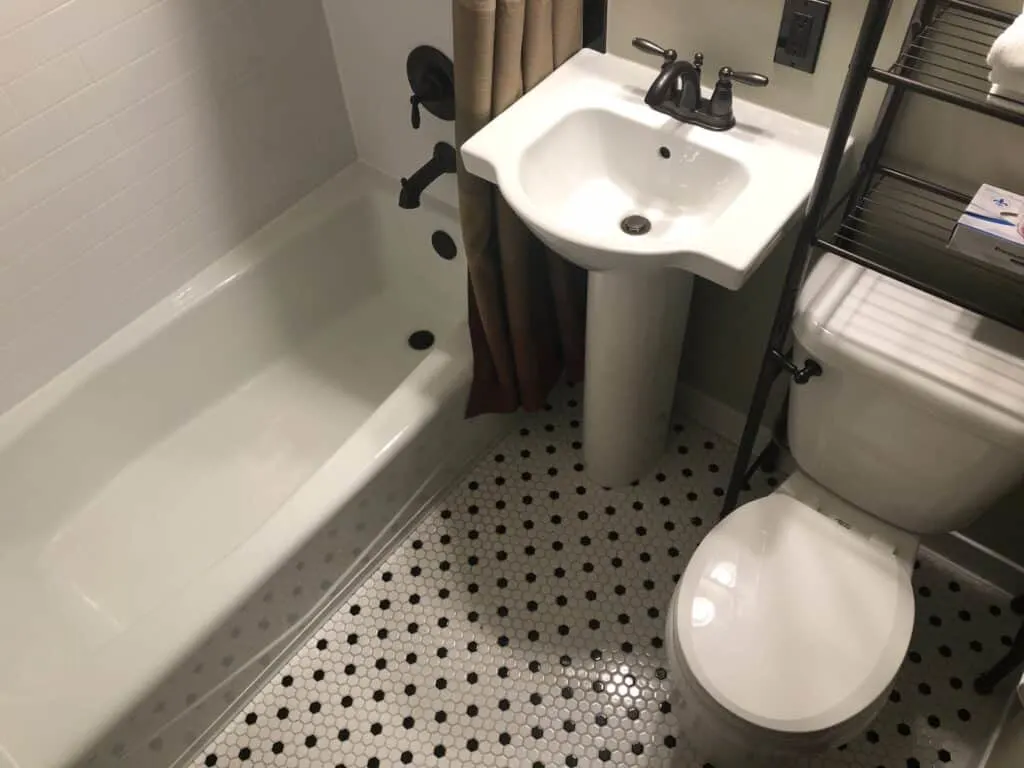 Hardwood floors cover the rest of the guest room that looks historic but also offers modern conveniences such as USB ports, a flat-screen TV, and a very comfortable bed. There is no closet or dresser, however, two drawers (pictured below) open up from under the bed and there is a bar with hangers available on the wall.
From a decor perspective, a rotary phone adorned one end table and a replica antique radio on the other. Both worked, although, it took a minute to recall how to actually operate a rotary phone.
Although I would have LOVED to crack open a window to stick my head out and see the old Hotel Apache brick exterior, the stained glass windows are screwed shut. Makes sense as guests would only have a view of the inside wall of Binion's classic neon facade anyway.
Adding to the vintage vibe, artwork in the room depicts a long-gone era on Fremont Street.
Disappointingly, the room didn't come equipped with an iron or ironing board which wasn't realized until the next morning when it was desperately needed. I called the front desk and was transferred to housekeeping who informed me there wasn't an iron in the entire hotel. Another agent told me they did have irons, however, they couldn't access them until 9 am. Dress pants and shirts look terrible un-ironed after being crammed into a carry-on. A small inconvenience that I'm sure Hotel Apache will iron out as they mature (pun intended – and it was a good one).
Ladies (and select guys), there is also no hairdryer provided. You'll want to bring one or be prepared to air dry.
June 2021 Update: Binion's has confirmed that all guestrooms now come equipped with a hairdryer, iron, and ironing board.
The Pool at Binion's
At 8 feet in depth, Binion's has one of the only deep pools in Las Vegas. Binion's pool sits atop the old Mint hotel tower overlooking Fremont Street and is shared with guests at sister property 4 Queens, however, the deck was deserted the couple of times I ran up there. Plenty of sun and one hell of a view of downtown.
Food and Drink Options On-Site
For a relatively small boutique hotel and casino, Binion's does a nice job of accommodating all price points from a dining perspective. At the lower end, Binion's Deli serves up hearty sandwiches at a $10 price point.
Binion's Cafe and Benny's Smoking BBQ and brews offer a high-quality sit-down experience at middle of the road price point. At the higher end, Top of Binion's Steakhouse, which is perched on the 24th floor of the vacant hotel tower, delivers a high quality experience at a $40-$60 price point.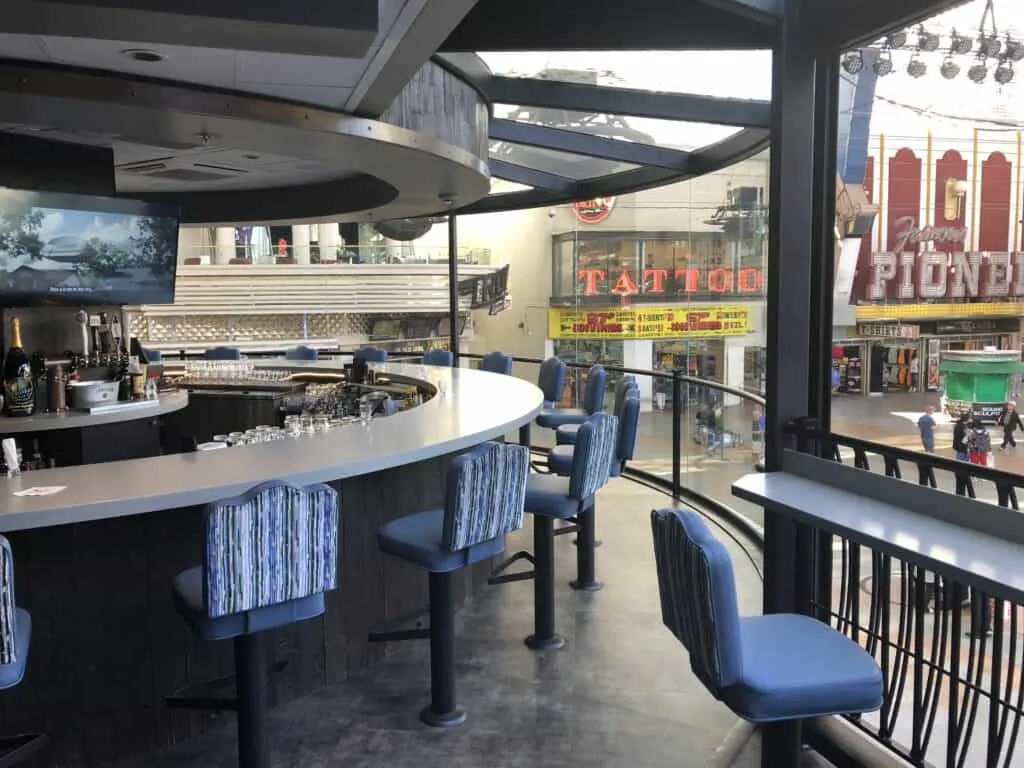 Looking for beers with a view? Whiskey Licker Up, which recently opened, features a rotating bar overlooking the Fremont Street Experience. I paid $6.50 plus tip for a Coors Light and it was worth every penny. Vegas history dweebs, like myself, will appreciate how the original petrified wood Mint exterior wall has been incorporated into the new space.
In addition to the rotating bar, Whiskey Licker has seating along the open air windows overlooking Golden Nugget and the Fremont Street pedestrian walkway.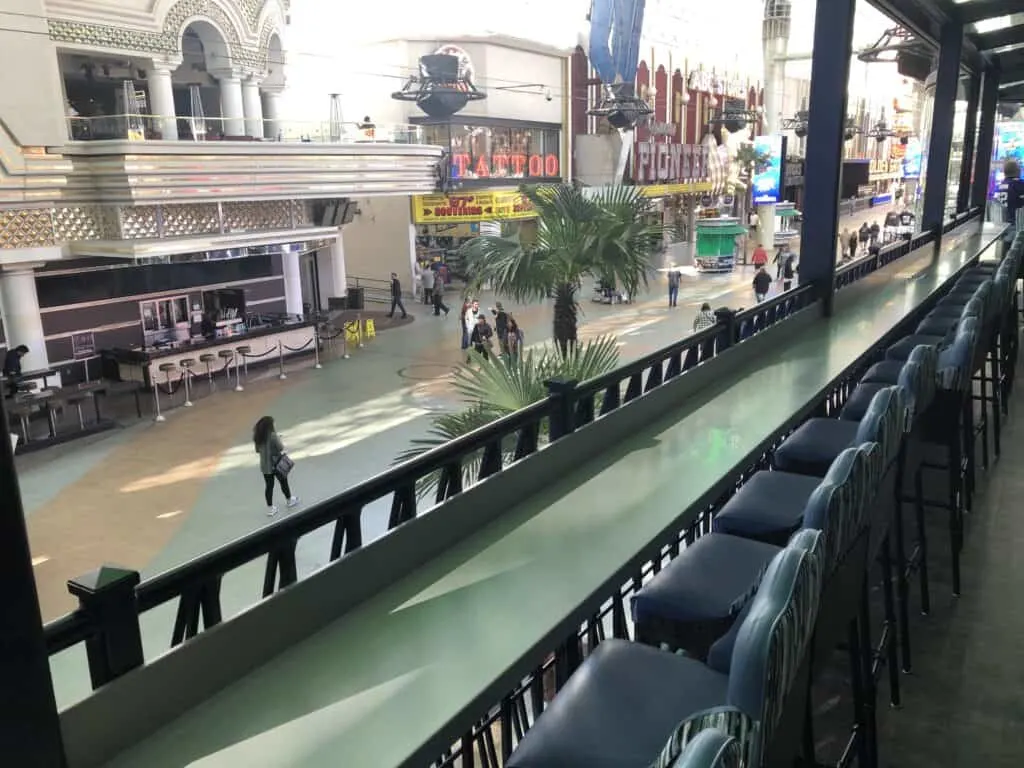 See Also: A list of Happy Hour and cheap drink deals on Fremont Street.
Could You Hear Fremont Street Noise from your room?
I was tucked back a ways and yes, noise from the street below was audible but not terrible. Hotel Apache provides earplugs upon request, and the air conditioning unit does a great job of masking noise from the outside. I was prepared for much worse. If noise is a concern, I would recommend checking in early and voicing your concerns. The staff will work to accommodate you if possible – They were fantastic. But honestly, if noise is a deal breaker I would recommend staying elsewhere.
If you need some sleep, check out our breakdown of quiet hotel rooms on Fremont Street. They're tough to find!
The Verdict: Is Binion's Apache Hotel Worth a Stay?
Binion's is a budget hotel but positions itself at the higher end of that category. Compared to other base room offerings downtown, Hotel Apache is a compelling value that is near the front of the pack.
While it isn't Wynn, guests opting for Binion's don't expect it to be. Rooms are recently renovated, clean, well-appointed, inexpensive, and there isn't a resort fee charged at check-out. If I had to describe my room in one word it would be "Cozy". There's no real "wow-factor", but it's a solid hotel for those that don't expect bells and whistles.
Location-wise, it doesn't get better. Take an elevator down 3 floors and you are in the middle of the Fremont Street Experience. What most guests that choose Binion's will appreciate is the historic significance of the property. In a city where buildings are imploded every 50 years, this gem has stood the test of time and is worth a visit.
See Also: Check out our perfect 3-day Las Vegas itinerary.
I'm a former software salesman turned Vegas aficionado. While the craps table is my preferred habitat, I pull myself away to explore new attractions, shows, restaurants, and outdoor activities around Las Vegas with the intent of sharing my experiences.
Ultimately, I just want to help folks plan a better trip and save a few bucks in the process.