Transportation options in Las Vegas are wide-ranging and include taxis, limos, rideshare apps, buses, the Monorail, shuttles, and free trams.
I figured it would be helpful to put together an all-inclusive list of transportation options in Las Vegas spanning all budgets and luxury preferences to help you plan for your trip.
As you'll see, there are plenty of ways to get around Vegas without a car.
Uber/Lyft
Among the most convenient and cost-effective Vegas transportation options are rideshare apps.
All Vegas casino properties now have Uber/Lyft pick-up locations that are clearly labeled. This method of transportation has become popular because it's cheaper than using cabs and you are less likely to get "long hauled" as Uber and Lyft drivers just follow the directions provided by the app.
If you ever do have concerns that a rideshare driver took the "scenic route" you can easily ask Uber or Lyft to review the ride to see if a refund is in order.
Rideshare apps are our go-to preference for getting around in Vegas.
Cost examples:
Bellagio to Fremont Street: $15 using UberX

TI to Mandalay Bay: $11 using UberX

Flamingo to Circus Circus: $10 using UberX
Remember to shop around for the best fare, as there are frequently differences in prices between Uber and Lyft, sometimes significant.
See Also: Las Vegas Airport Transportation – The best options!
Taxis
Pickup locations for taxis at resorts are usually in a more convenient spot than their rideshare peers, and cabs are lined up ready to go at all times meaning there is not usually a wait for your ride.
Although cabs are among the quickest Las Vegas transportation options, that convenience comes with a price. Fares are generally 20%-30% more expensive than rideshare apps but if you are looking to take off quickly or don't have a smartphone then cabs can be a good option.
Adding to the expense, cabs charge an extra fee to use a credit card so bring cash or prepare for an even more expensive ride.
Related: Current taxi flat rates from the airport to Strip hotels.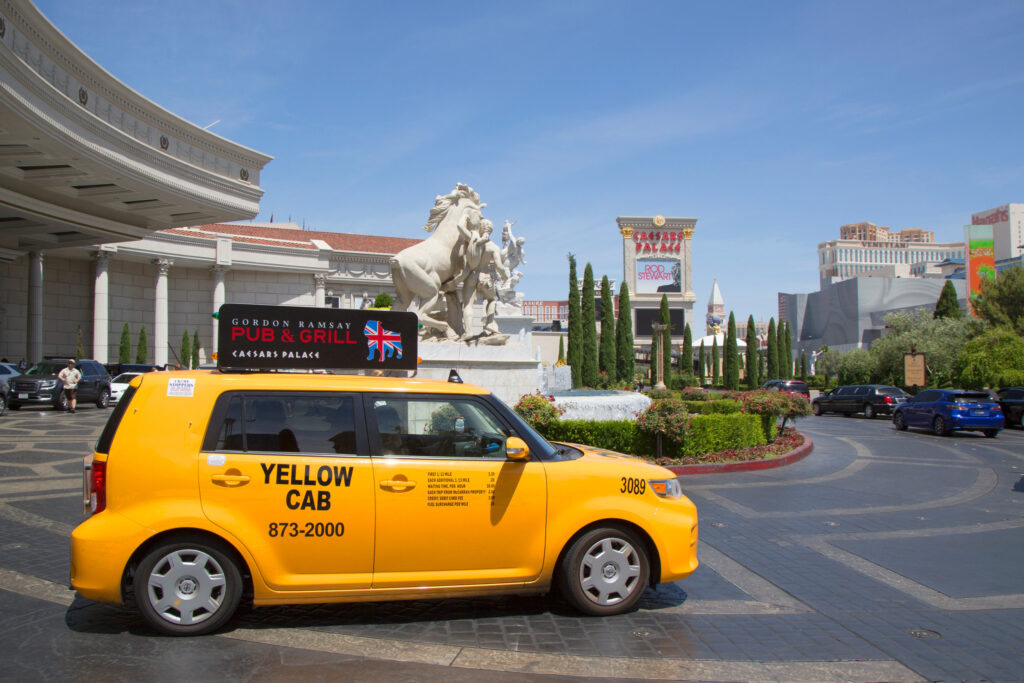 Limos
The most expensive and luxurious transportation option in Vegas are limos. Limousine services from companies like Presidential, Bell, and Omni are typically billed by the hour and you can expect to pay around $60/hr for a stretch option.
Las Vegas Monorail
The Monorail can be an inexpensive way to get up and down the east side of the Strip, running north from MGM Grand all the way to Sahara and Westgate. In between, there are stops at Harrah's, Flamingo, and the Las Vegas Convention Center as well.
The Monorail does not connect to the airport or downtown.
Here's a breakdown of Monorail costs:
Single Ride: $5

24 Hour Pass: $13

2 Day Pass: : $23

3 Day Pass: $29
4 Day Pass: $36
5 Day Pass: $43
7 Day Pass: $56
Lack of convenience is the main knock against the Monorail as a form of transportation as stations tend to be a significant walk behind resorts. If you're OK with covering some ground on foot though, the Monorail can be a great way to get up and down the east side of the strip and north to Sahara or Westgate. Day passes for the Monorail can be purchased in advance here.
Related: Everything you need to know about the Las Vegas Monorail.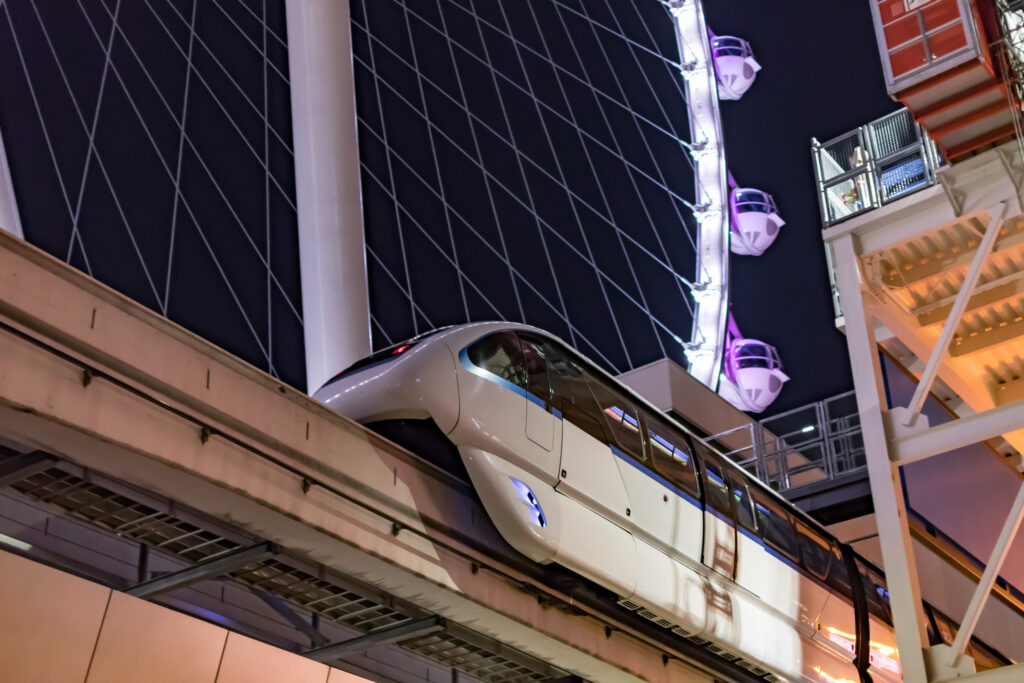 The Deuce Bus
The Deuce bus route runs up and down the Strip and connects to the Fremont Street Experience downtown. Stops are numerous, clearly marked, and located in front of nearly every Strip casino. Just start walking in either direction on the Strip and you'll hit one.
While riders can use the self-service kiosk to buy a single ride, 2-Hr or 24-Hr passes at most stops, I'd recommend downloading and buying on the rideRTC phone app, which is more convenient.
Buses run every 15 – 20 minutes during the day and the route is in operation around the clock.
Deuce Bus Fares:
2-HR Pass: $6

24-HR Pass: $8

3-Day Pass $20
While the bus is among the cheapest transportation options in Las Vegas, it's often not the fastest due to how many stops it makes. If you're in a hurry, employ another mode of transport.
I actually weighed the Pros & Cons of a Bus Pass in Las Vegas to help you decide if a purchase is worthwhile.
Related: Everything you need to know about the Deuce Bus in Las Vegas including a list of stops.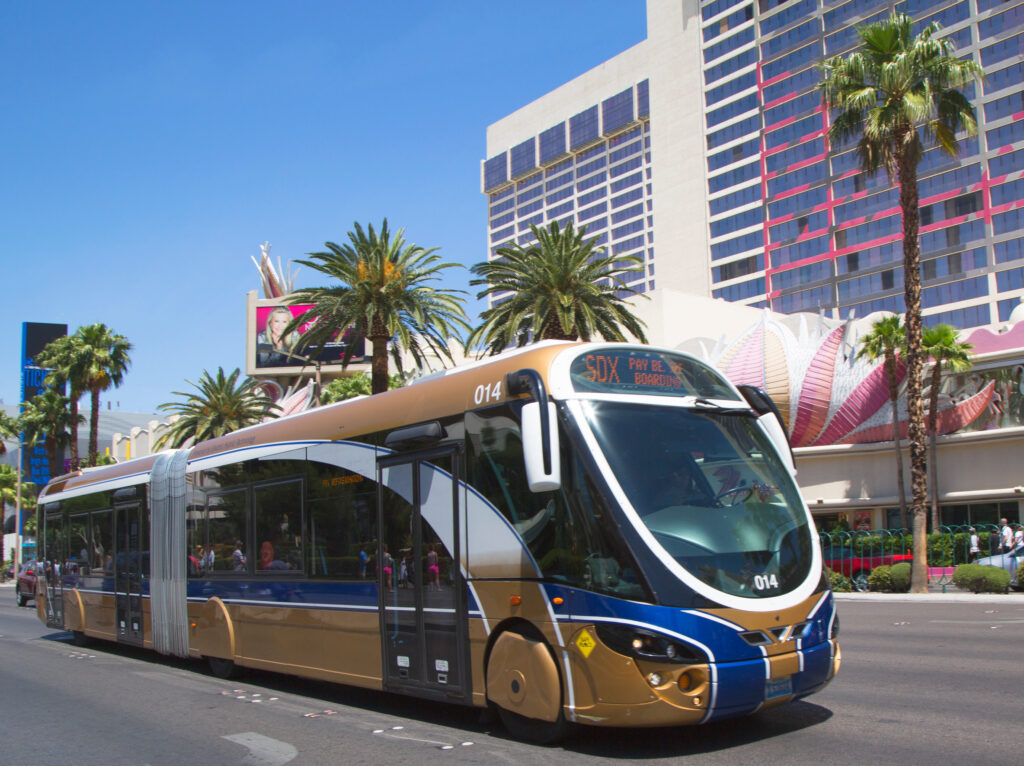 Free Transportation on the Strip
There are a few free trams in Vegas that can save you some steps and are detailed below:
The first is a tram that runs from Excalibur to Luxor to Mandalay Bay at the south end of the strip on an elevated track.
There is also a tram that connects Mirage and TI on the north end of the Strip.
A free tram also connects Bellagio, Crystals, and Park MGM/Aria.
Several hotels downtown and off the beaten path offer free shuttle service to the Strip. Check out our full list of hotels that offer Strip shuttle service here.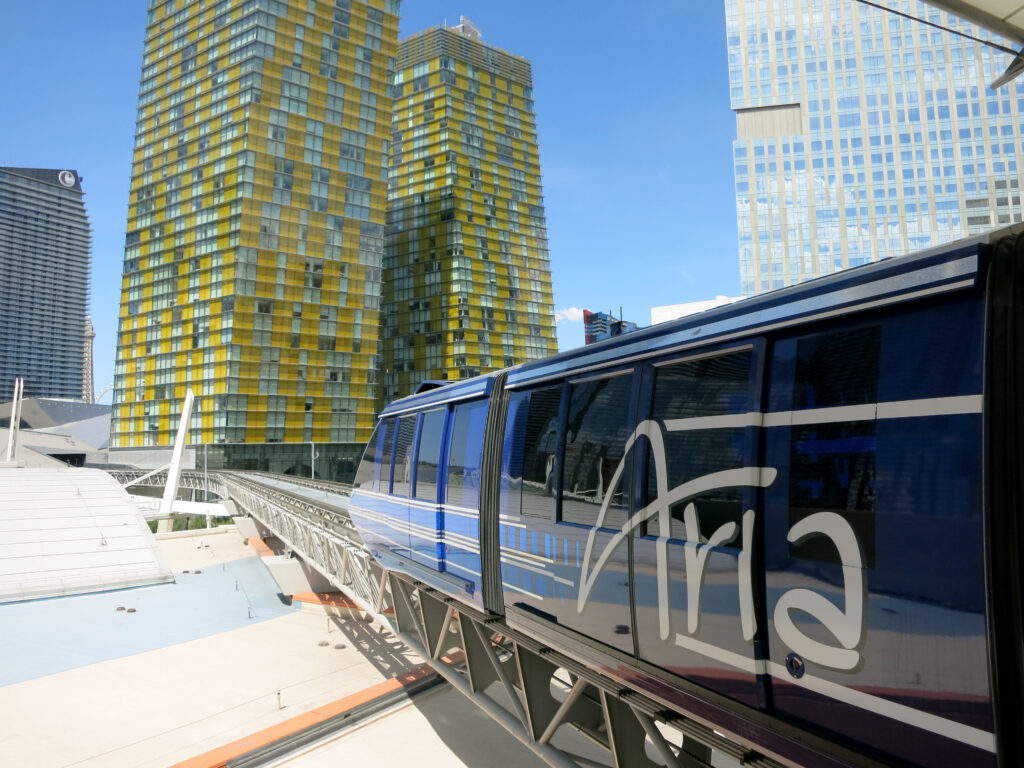 Renting a Car
If you plan to rent a car to get around Vegas, ensure you book your reservation in advance as it will be significantly cheaper. If you go with a second-rate (meaning cheap) rental company, you can reserve a car for as little as $20 plus fees and tax (which will drive the cost up to about $45 per day).
If you wait until you get to your hotel, there will still be opportunities to rent, but it will be more expensive.
Paid parking at many Las Vegas resorts is making renting a car a more spendy proposition, although there are still places to find free parking on the Strip. Ultimately, there are numerous ways of getting around Las Vegas without renting a car. In our opinion, a rental isn't necessary. More on the pros and cons of renting a car in Vegas here.
If you do decide a rental is necessary, check out our guide to finding the cheapest car rental in Las Vegas.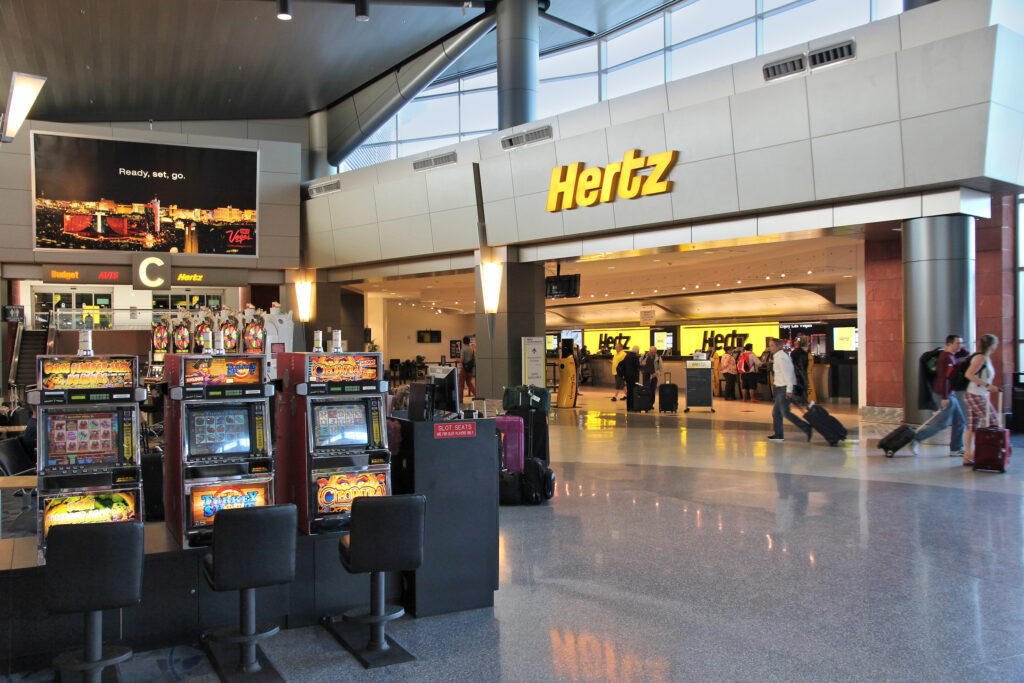 Getting around Vegas on Foot
The most common way to get around Las Vegas is on foot. There is no better mode of transportation to view all the properties and people-watch along the way.
Be warned, resorts appear closer than they are in reality. Wear comfortable shoes and don't be afraid to catch a ride if you get tired!
Underground Loop Transportation System
A new addition to the Las Vegas transportation landscape, the Boring Company's Loop underground tunnel system is growing its footprint by the day.
At this point, the Resorts World Loop Station is open and connects the property to the Las Vegas Convention Center, which also has 3 separate stops that conventioneers can leverage to move across the sprawling campus.
Encore and Westgate will both soon also have a station connecting to the Convention Center in the near future.
A plan to expand the system city-wide was recently approved by both the Clark County Commissioners and the City of Las Vegas.
Under the plan, The Boring Company will pay for the tunnel system, and resorts will cover the cost of their own station if they want to opt in.
The plan (shown below) is to expand this system to include additional resorts, the airport, and downtown Las Vegas.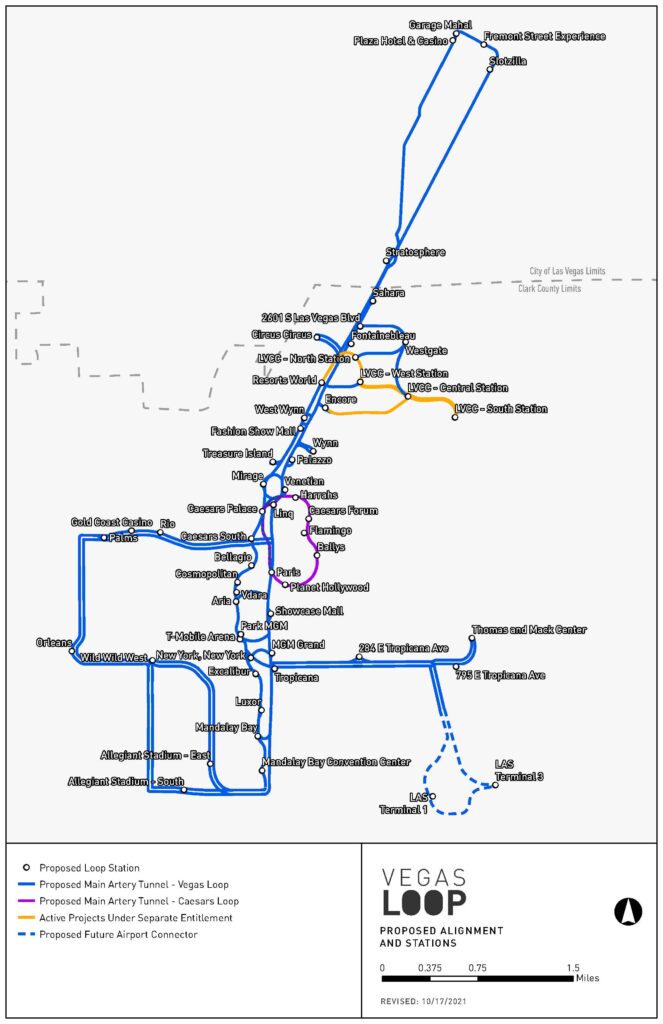 Hopefully, my rundown of Vegas transportation options was helpful! With options spanning the price, convenience, and luxury spectrums, there's something for all tastes and budgets.
Feature Image: ©4kclips/123RF.COM
I'm a former software salesman turned Vegas aficionado. While the craps table is my preferred habitat, I pull myself away to explore new attractions, shows, restaurants, and outdoor activities around Las Vegas with the intent of sharing my experiences.
Ultimately, I just want to help folks plan a better trip and save a few bucks in the process.