We just wrapped up our post on Overrated Aspects of Las Vegas, and although the list is short, taking a negative tone about Las Vegas had us feeling down. Not typically our style when discussing Vegas. With that in mind, we aimed to create a list of things to do, eat, and drink that we find to be underrated or completely overlooked by Vegas visitors.
Do you have a secret hole-in-the-wall restaurant or activity you never miss when in town? Leave it in the comments! Here are some of the underrated things to do in Las Vegas that we suggest checking out!
Underrated Things To Do In Las Vegas
NYNY Big Apple Coaster: There's a reason 1.4 million people pile onto this rollercoaster annually which provides great views and an exhilarating ride. At $19 – $23 for a ride ($10 for re-rides) is a great value. What makes this underrated Vegas attraction better is the lack of a line. Jump right on!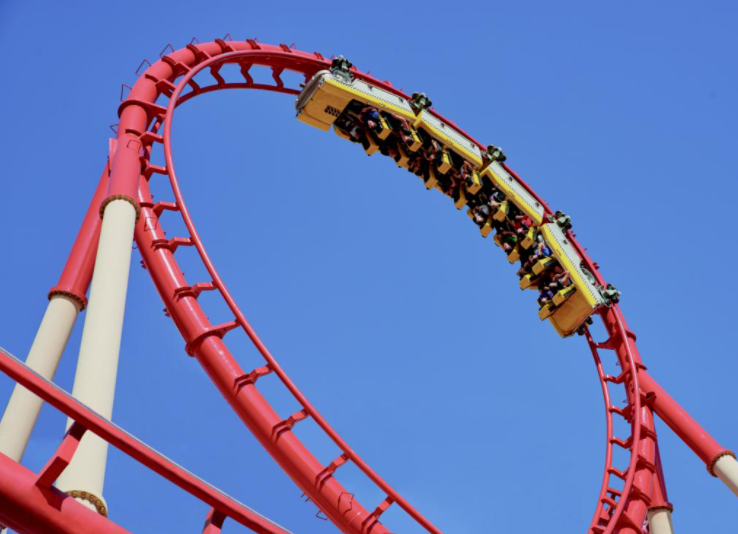 Ellis Island Casino Dining Options/Craft Beer: The Gambling is good, but the food and craft beer options are the more alluring draw. Our favorite meal at Ellis is their $6.99 steak and eggs breakfast deal that isn't even listed on the menu. The menus at Ellis Island are packed full of solid deals. It isn't fancy, but if a solid meal at a good price is what you seek, then Ellis is tough to beat.
Add a 20oz. craft beer for only $2.50. Ellis island is a short walk from Bally's – and worth it. If you are a value seeker, put this "underrated thing to do in Vegas" at the top of your list.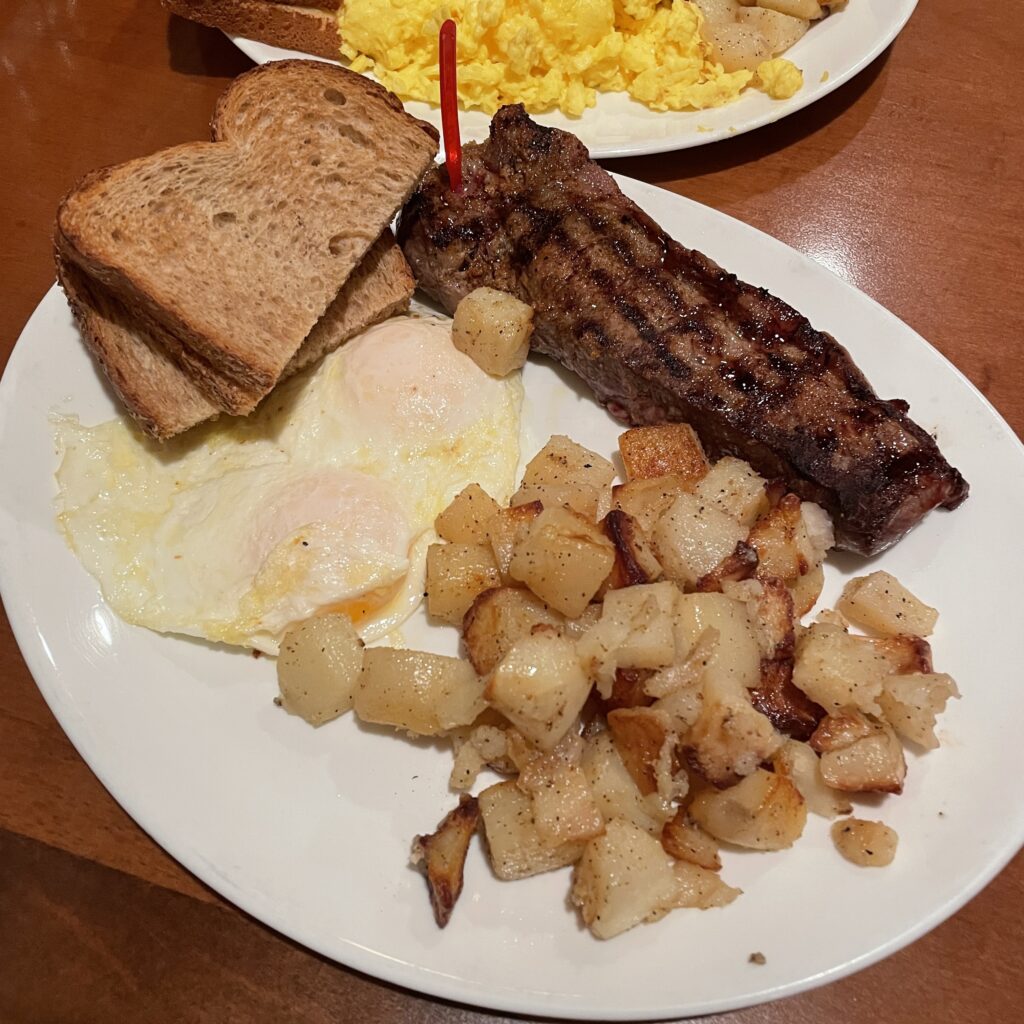 CX (Centennial Express) Bus to Fremont Street from Harry Reid Intl. Airport: While we think the Deuce, which goes up and down the Strip to Fremont Street is terribly overrated due to overcrowding and frequent stops, the CX is the exact opposite.

If you need to get to your Fremont Street hotel from the airport, the CX is your best bet for only $2 one way. Underrated and largely unutilized by most tourists.
Happy Half Hour on High Roller: The High Roller itself isn't underrated. Everyone has heard of it and you can see it from pretty much anywhere on the Strip.
What's underestimated, however, is the open bar option. For $35 (just $12 more than a ride without booze) the happy half-hour package provides access to an open bar in your cabin. Depending on how many rum and cokes you can throwback, it's an underrated value. Read more about our happy half-hour experiences here!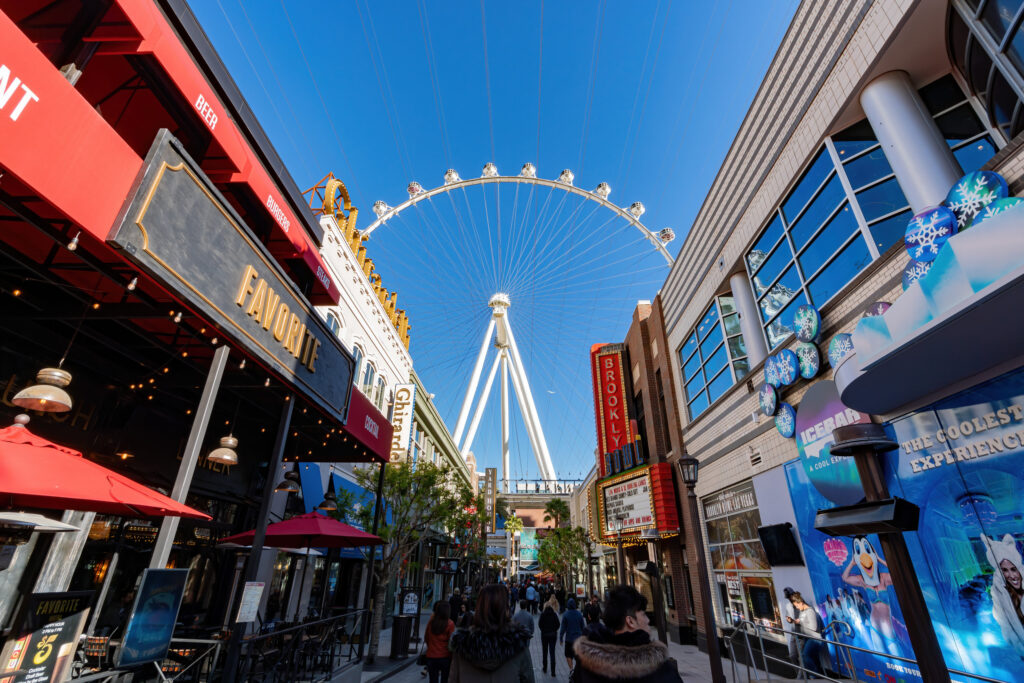 Vintage Slot Games: Most Las Vegas casinos only offer slot games with modern TITO (ticket in ticket out) technology eliminating the need for coins or tokens, however, some still offer machines that splash coins into a metal tray. If you are looking for that familiar ting, ting, ting, then check out our list of casinos that still quietly offer real token/coin-operated games to include the impossible-to-find original Sigma Derby horse racing game.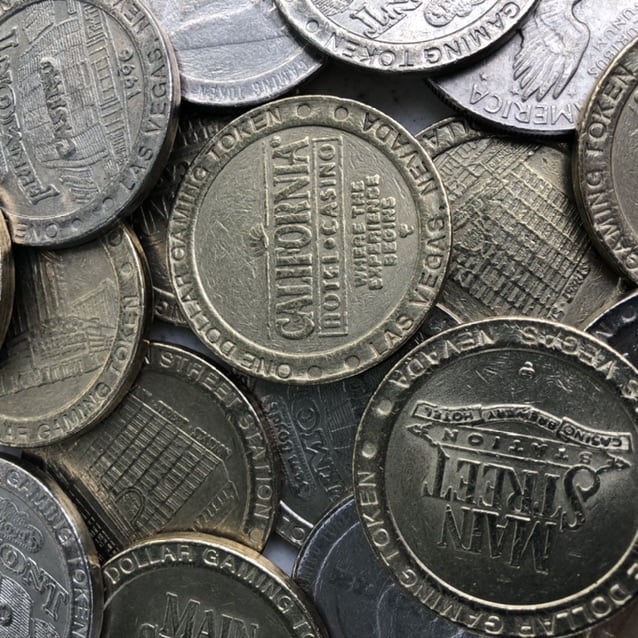 Miracle Mile Shops: While most shopping centers are not, the Miracle Mile Shops at Planet Hollywood are among our favorite underrated things to do in Vegas for the multitude of cheap food and drink deals offered. Hit up flights for 3 for $12 cocktails, or Ocean One for 3 for 1 drinks, in addition to their popular $5.99 lunch menu.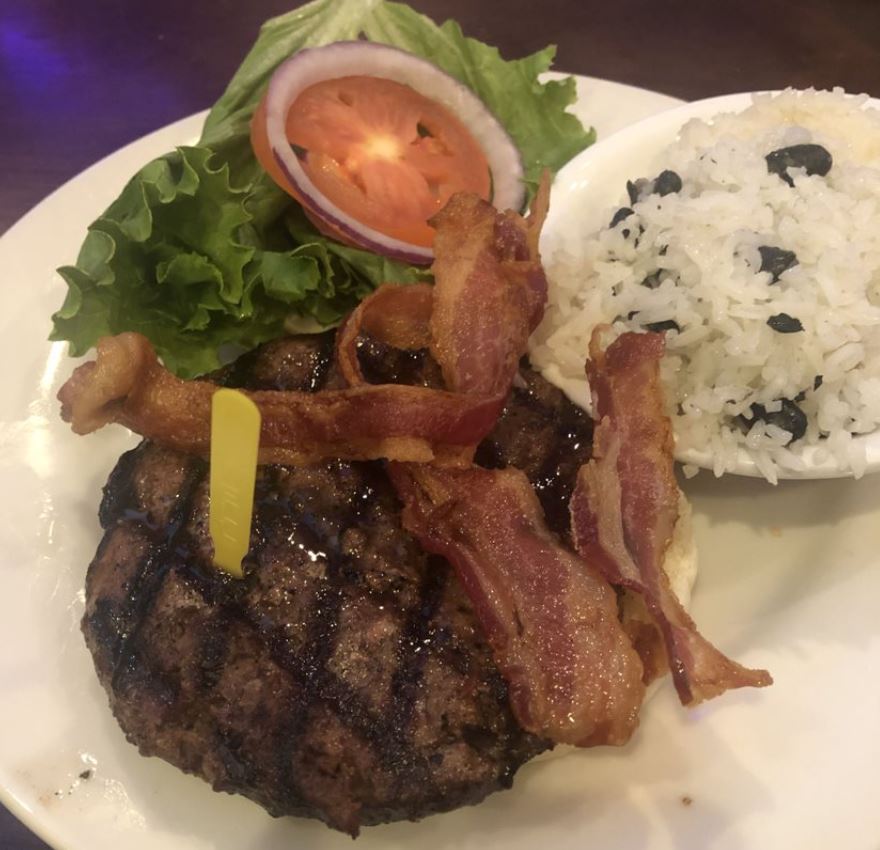 The Las Vegas Arts District: Typically overlooked and completely underrated by most visitors to Las Vegas, the Arts District is situated just blocks from the Fremont Street Experience and can be reached via the free Downtown Loop shuttle.
What you'll find in the 18 blocks that comprise the district is a completely different feel than the more touristy parts of Vegas. Scattered about are unique, and fantastic dining options (check out Esther's Kitchen), a number of bars/breweries, and an assortment of shops that sell art and antiques. As a non-shopper, I can attest to the shops being legitimately cool, many offering man-cave items, or vintage casino memorabilia. More on our visit to the Las Vegas Arts District here!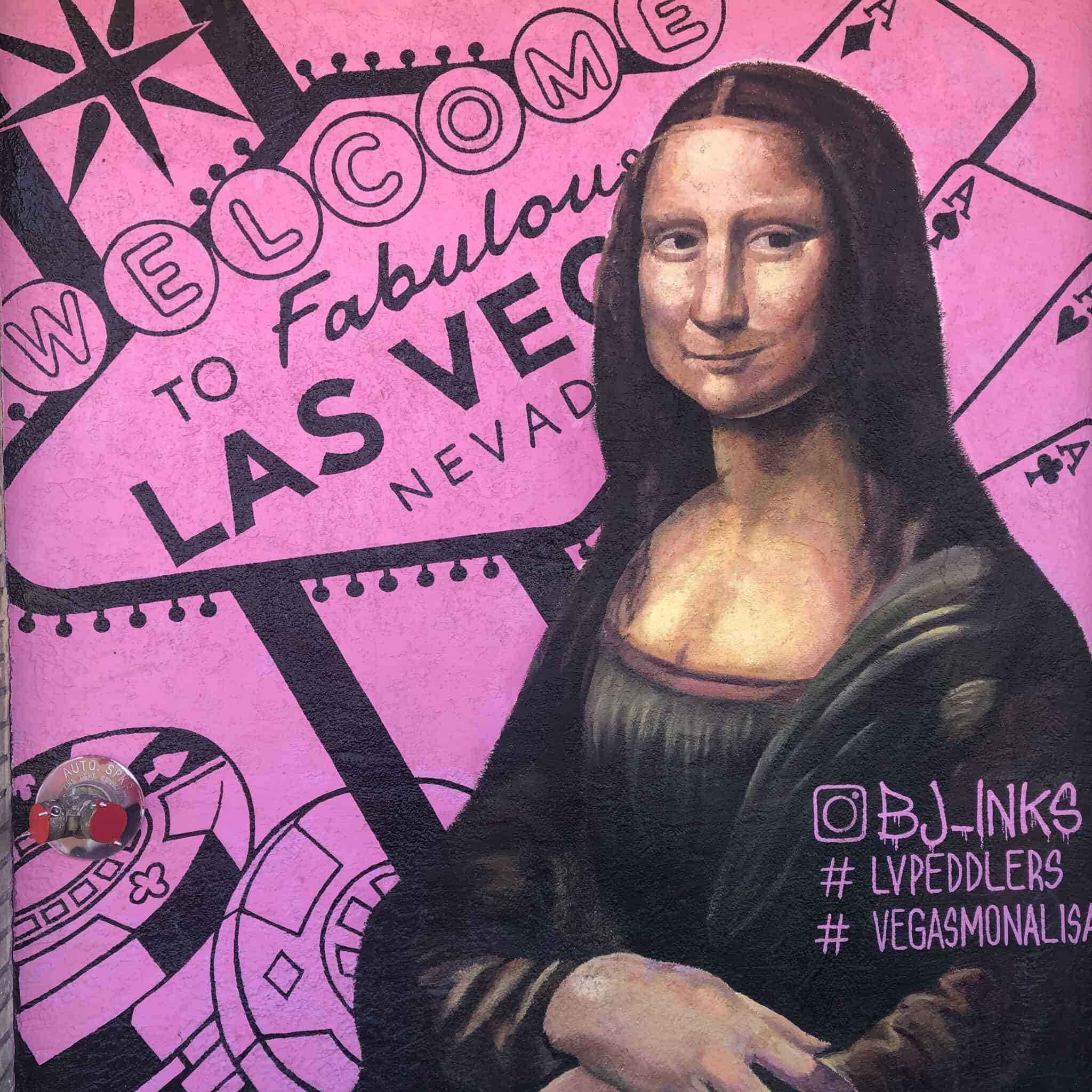 The Strat and SkyPod Observation Deck: Strat remains under-visited by tourists, mostly due to the resort's location on the north end of the Strip. There are numerous reasons to visit, however, including cheap table games, stunning views from the SkyPod Observation Deck, and dining/drinking options with a view.
If you're an adrenaline junkie, you should check out the 3 rides atop the observation deck. Observation deck access costs $20 and rides can be added for under $10 each – A strong value for a thrilling attraction with minimal wait times.
See my recent SkyPod Observation Deck Review!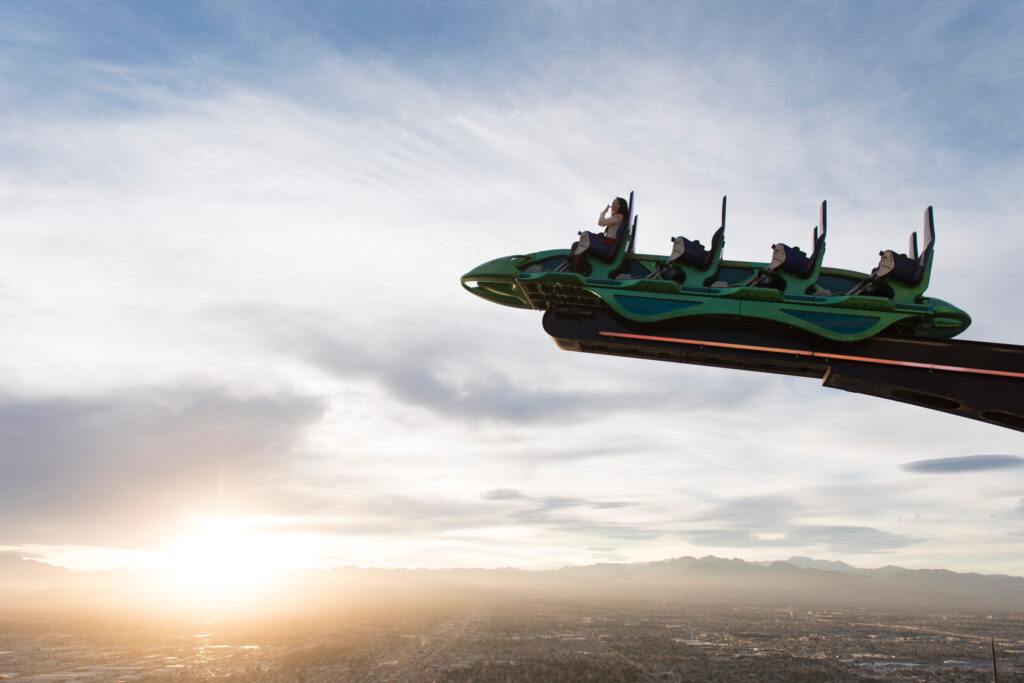 Main Street Station Downtown Las Vegas: Set a couple of blocks away from the street performers and concerts, Main Street is an absolute gem downtown. With an impressive array of antiques on display including part of the Berlin Wall, Doors from the Kuwaiti Royal Bank, Chandelier from the Figaro Opera House in Paris, Main Street is much more than a casino – It's a Museum.
Check out the Triple 7 Brewery at Main Street Station as well. Quality beer options at a good price won't disappoint – $6 for a 16oz / $7.5 for a 23oz. See Triple 7's full menu.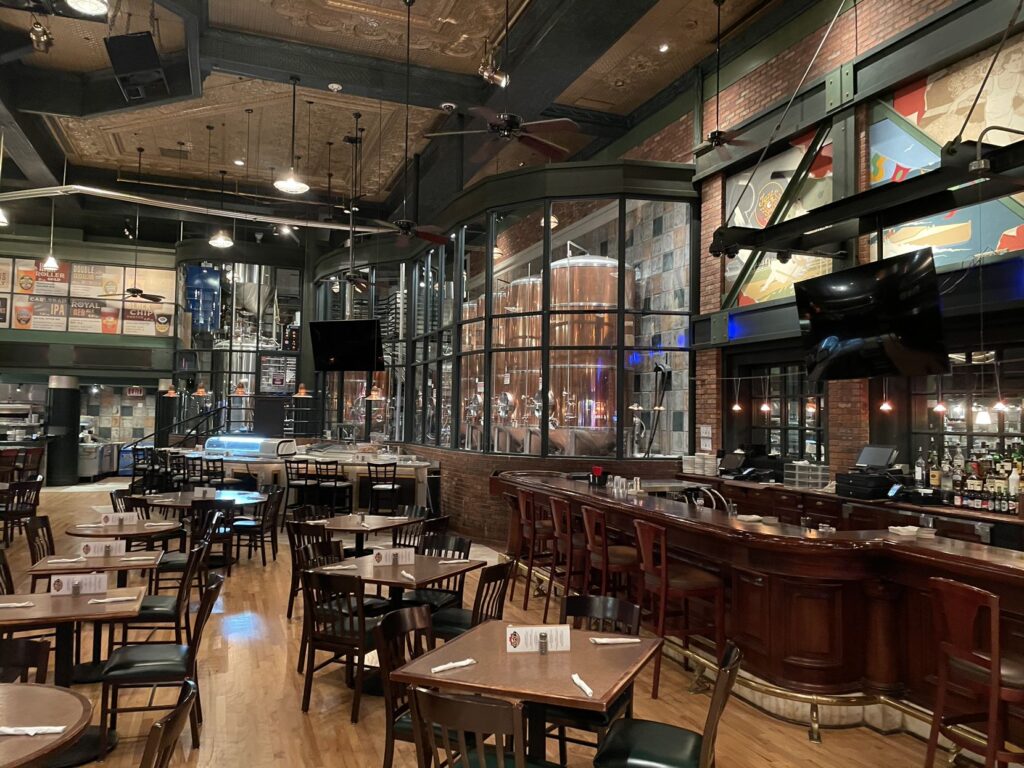 Escaping the City: According to the Las Vegas Convention and Visitors Authority, only 19% of visitors said they visited or planned to visit natural attractions outside of Vegas such as the Hoover Dam, Grand Canyon, Zion National Park, or Bryce Canyon. If you are in town long enough, take a day, rent a car, and see some natural beauty. A personal favorite is driving out to Lake Mead and abusing a rental JetSki.
See Also: These were the most popular day trips taken from Las Vegas by visitors!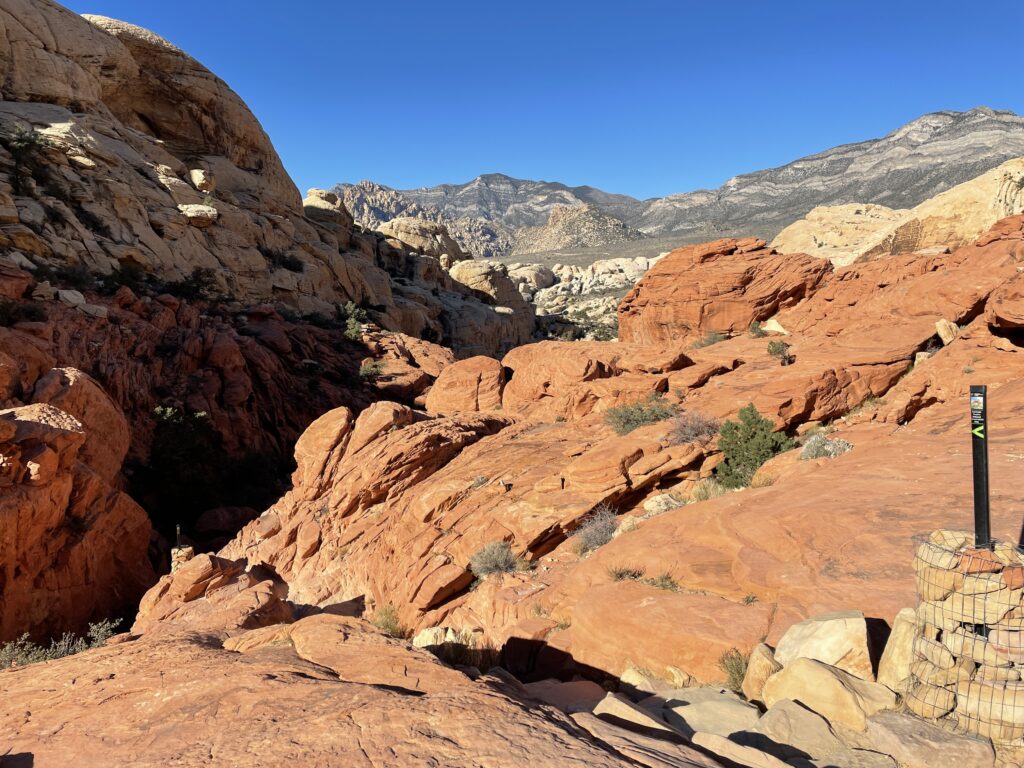 Frozen Baileys at O'Sheas: The best drink in Vegas to start your day after a night of insanity. Nothing soothes your throat like the ice-cold, malty consistency of the Frozen Baileys offered only at O'Sheas inside LINQ.
Topgolf Las Vegas: You may have a Topgolf in your hometown, but it's not on Vegas' level. The Vegas incarnation of Topgolf has all the aspects of the traditional experience but also includes a 2 level pool (free access!), 5 unique bars, video poker, TVs of all sizes scattered about, and great food. With 4 large screens at the end of the driving range, Topgolf is the perfect place to sweat out a sports bet.
Related: Learn more about Topgolf Las Vegas, here.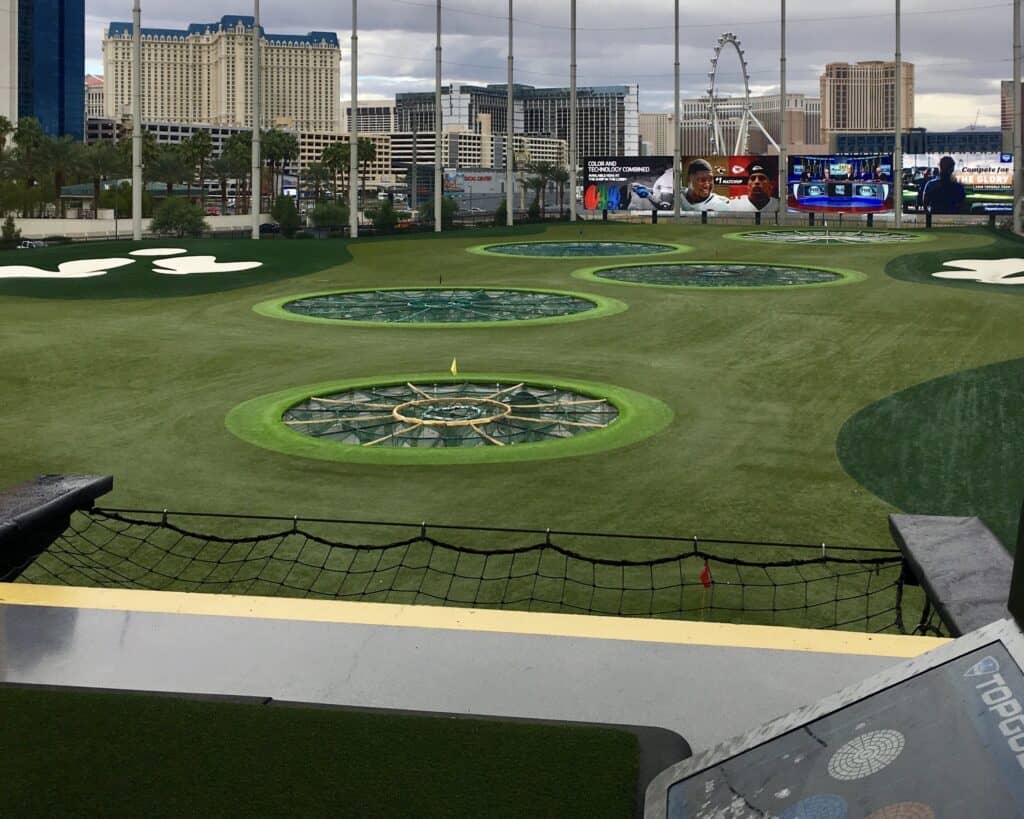 CVS/Walgreen's on the Strip: All I hear is the outcry. How dare the Strip further commercialize! The underrated reality is that the stores popping up left and right deliver a hell of a lot of value. Stock up your room cheap and grab a 3 pack of tall boys for the road. I know I'll never spend $19.99 on a small bottle of sunscreen at the hotel gift shop again!
Titanic the Exhibit at Luxor: If you are a history buff like myself, this attraction will blow you away. Contained within the 25,000 sq. ft. exhibit space are a large number of items recovered from the wreck to include luggage, dining utensils, and even a massive piece of the ship's hull. Additionally, the exhibit has built replicas of 1st and 3rd classrooms as well as the grand staircase. You'll certainly feel an eerie connection to the passengers on the ill-fated ship. Titanic is unsung, and worth the trip.
Hopefully, we were able to help you identify one or two underrated things to do in Las Vegas on your next trip! Do you have a favorite underrated, or under-the-radar thing to do while in Las Vegas? Leave it in the comments!
Related: Things to do with Kids in Vegas.
I'm a former software salesman turned Vegas aficionado. While the craps table is my preferred habitat, I pull myself away to explore new attractions, shows, restaurants, and outdoor activities around Las Vegas with the intent of sharing my experiences.
Ultimately, I just want to help folks plan a better trip and save a few bucks in the process.