With big-name, expensive residencies getting all the headlines, many don't realize that there are a good number of bars that offer free live music in Las Vegas.
I thought it would be helpful to compile a list of bars with live music in Las Vegas so that you can both stretch your budget while having a great time.
Keep in mind that live music schedules can change frequently. I linked to each bar's calendar of events when possible so you can double-check that day's events prior to making the trip!
Bars With Live Music On The Strip
Piano Bar at Harrah's: A bastion for free live music on the Strip, Piano Bar offers a number of attractive free lounge acts.
Dueling pianos take the spotlight nightly from 9 pm to late.
Another free, and extremely popular, lounge act that calls the Piano Bar home is Big Elvis who performs from 2 pm – 6 pm on Monday, Wednesday, and Friday.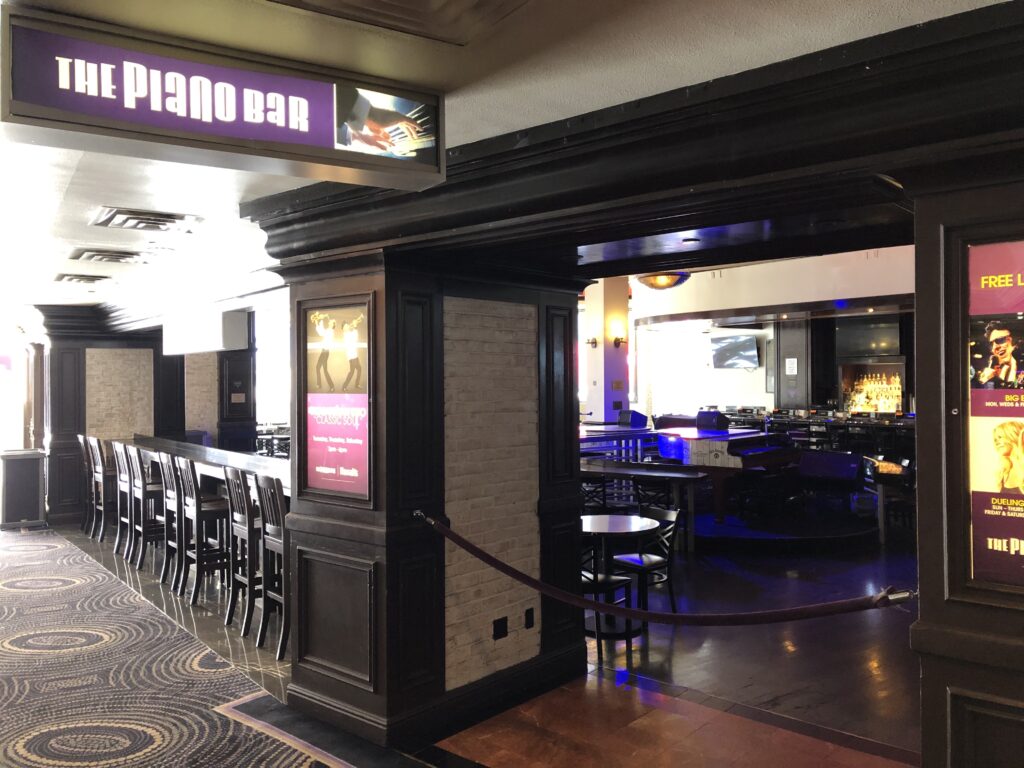 Carnival Court at Harrah's: The lively outdoor bar is wedged between Harrah's and LINQ and offers some of the best free live music on the Strip (in our opinion). Popular bands that perform at Carnival Court regularly include the District, Whip Its, and The Droids, among others.
Check out Carnival Court's live music schedule.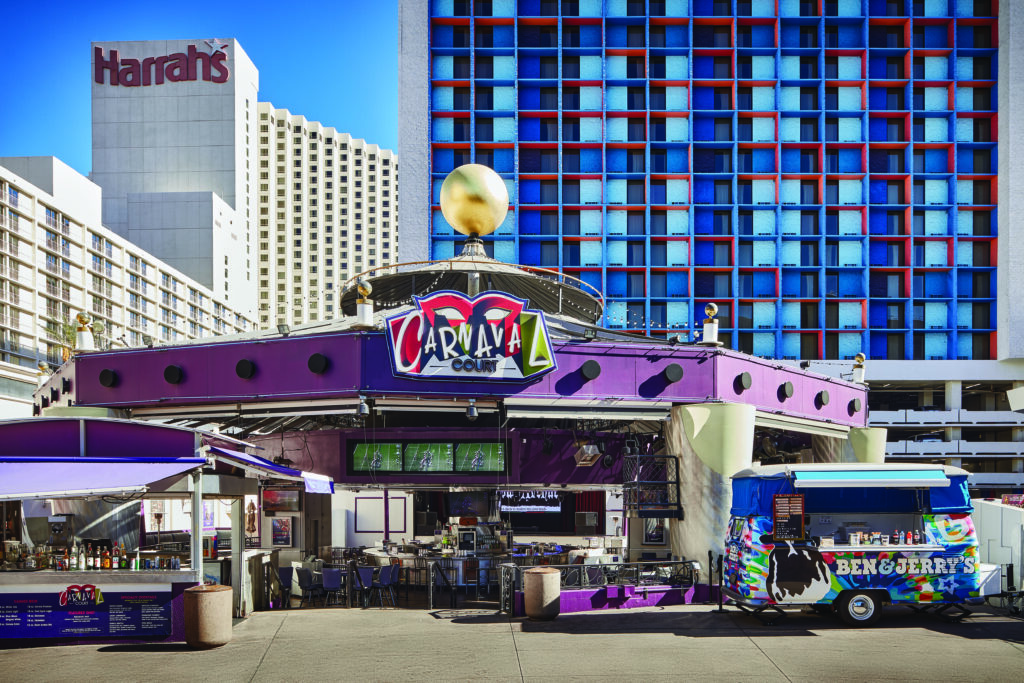 Le Cabaret at Paris: Offering a rotating assortment of cover bands, Le Cabaret is a great lounge to catch free live music on the Strip.
Gilley's at TI: A western-themed bar complete with a mechanical bull, Gilley's offers free live music nightly including line dancing lessons during the week and Bluegrass on the weekends.
The Barbershop at Cosmopolitan: One of the more unique speakeasies in Las Vegas, The Barbershop appears to be a simple barbershop, but there's a hidden cocktail lounge hidden behind the facade. Live bands perform nightly.
Related: How to find the Barbershop speakeasy at Cosmopolitan.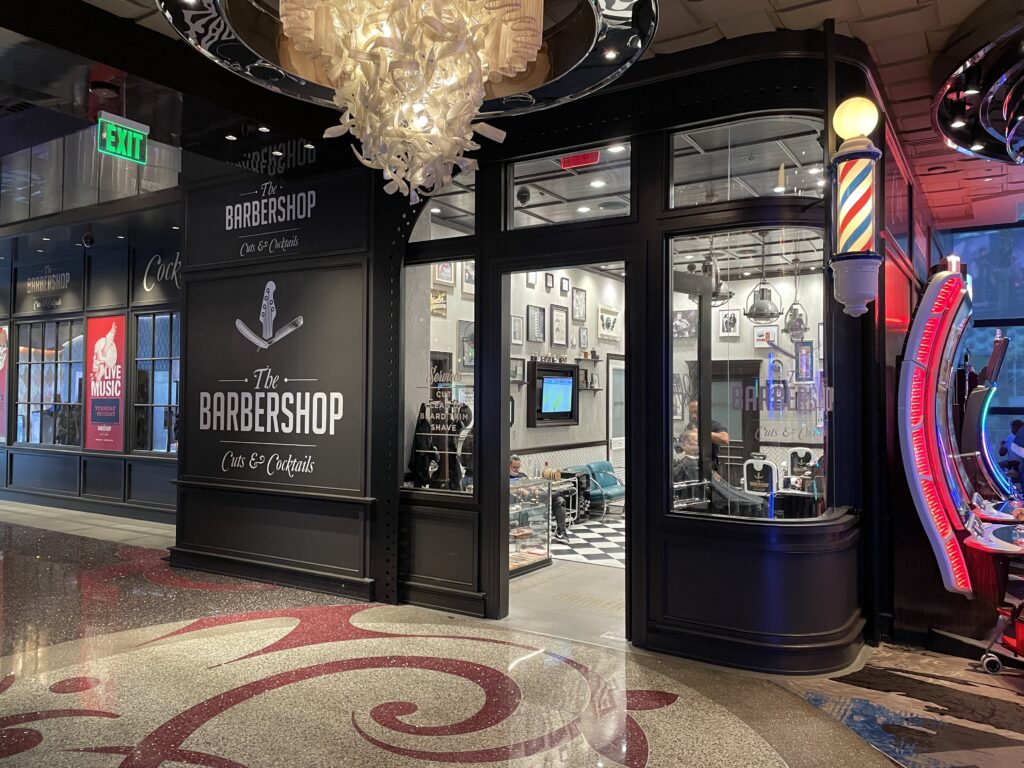 Losers Bar at MGM Grand: A "no-frills" bar experience, Losers Bar offers free live music daily from 9 pm – 1am.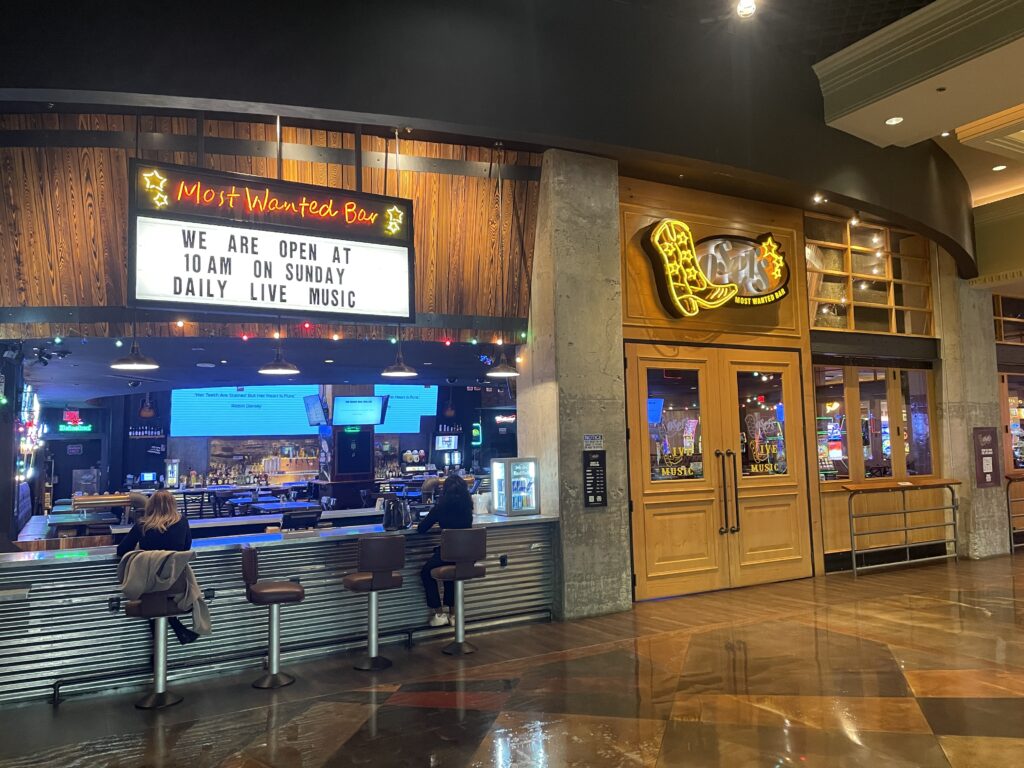 Level Up at MGM Grand: Designed to attract a younger crowd, Level Up at MGM Grand is jam-packed with arcade & bar games like pool and shuffleboard. They also offer live music nightly that ranges from DJs to country. Ensure to check their events calendar (linked above) for details.
Hard Rock Cafe: Located near MGM Grand, Hard Rock Cafe offers an 8 am "Acoustic Breakfast" performance daily. They also commonly host evening acts as well. Ensure you click the link to see their full entertainment calendar.
NoMad Bar at Park MGM: Sitting decisively on the upscale side of the spectrum, NoMad Bar at Park MGM plays live music Thursday – Saturday from 8 pm – midnight, on Sunday from 6 pm – midnight, and before Golden Knight games.
They also offer a food menu with "Drinking Food" items that include green curry mussels, fried chicken, and lobster bites (which have me intrigued).
Brooklyn Bowl: Found along the Linq Promenade, Brooklyn Bowl is much more than a bowling ally. Brooklyn Bowl offers a robust live music calendar in addition to 32 lanes, a wide-ranging menu, and multiple bars scattered about the venue.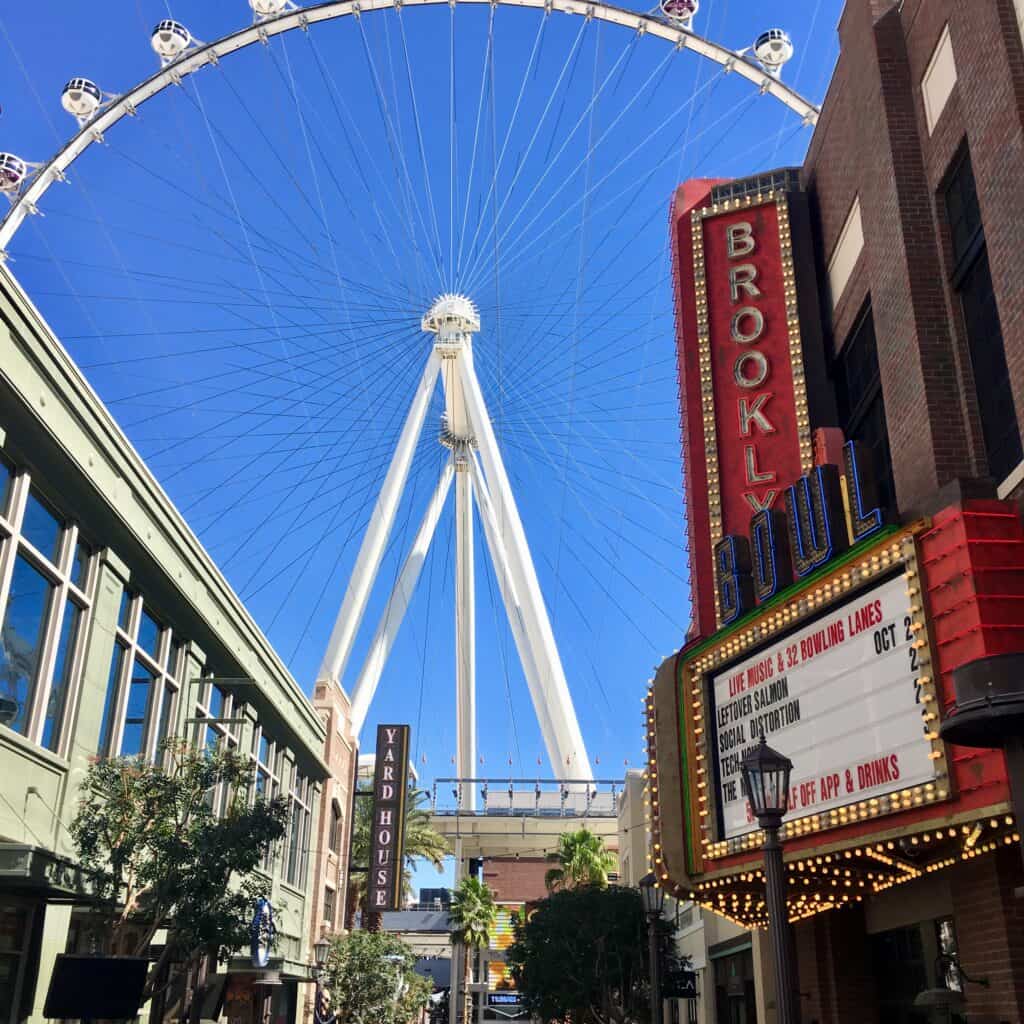 Nine Fine Irishmen at NYNY: Live entertainment is offered at NFI outside on their Brooklyn Bridge patio Friday – Sunday from 4 pm – 8 pm. The Ri Ra full band performs live music indoors Monday – Thursday from 9 pm – 1 am and on Friday and Saturday from 9 pm – 2 am.
Rhythm & Riffs at Mandalay Bay: Located on the casino floor, Rhythm & Riffs is open 24-hours per day and offers free live music Thursday – Monday from 10 pm – 2 am.
House of Blues at Mandalay Bay: Offering live music from genres that span the spectrum from DJs to Hip Hop, Jazz, Country, and Rock, House of Blues is sure to have something that tickles your fancy.
Ri Ra at Mandalay Bay: Found in the shops in the hallway that connects Mandalay Bay to Luxor, Ri Ra is an Irish pub that offers live music nearly every night.
The Lounge at Excalibur: Live music is offered at The Lounge Tuesday – Sunday from 9 pm – 1 am. No cover charge is required.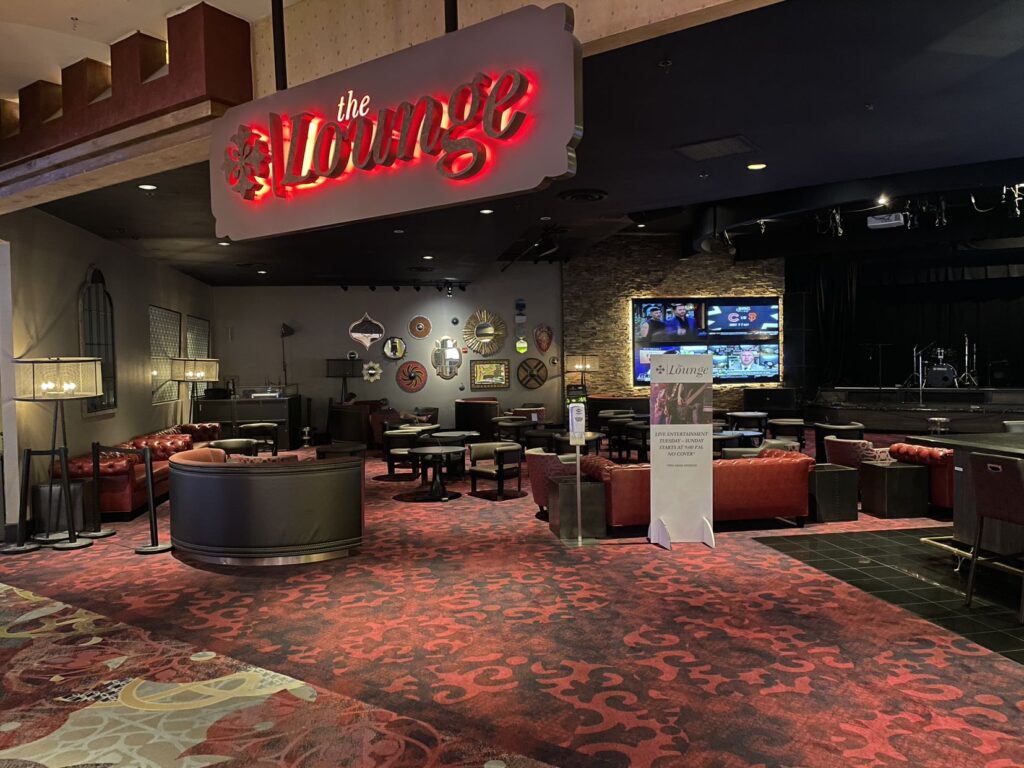 Dawg House Saloon and Sportsbook at Resorts World: A 15,000 square foot sports bar found at Resorts World, the Dawg House Saloon has a stage and frequently hosts live music shows.
In addition to a stage, the venue has multiple bars, a full sportsbook, a cookie shop, a gourmet grilled cheese food truck, and a full food menu.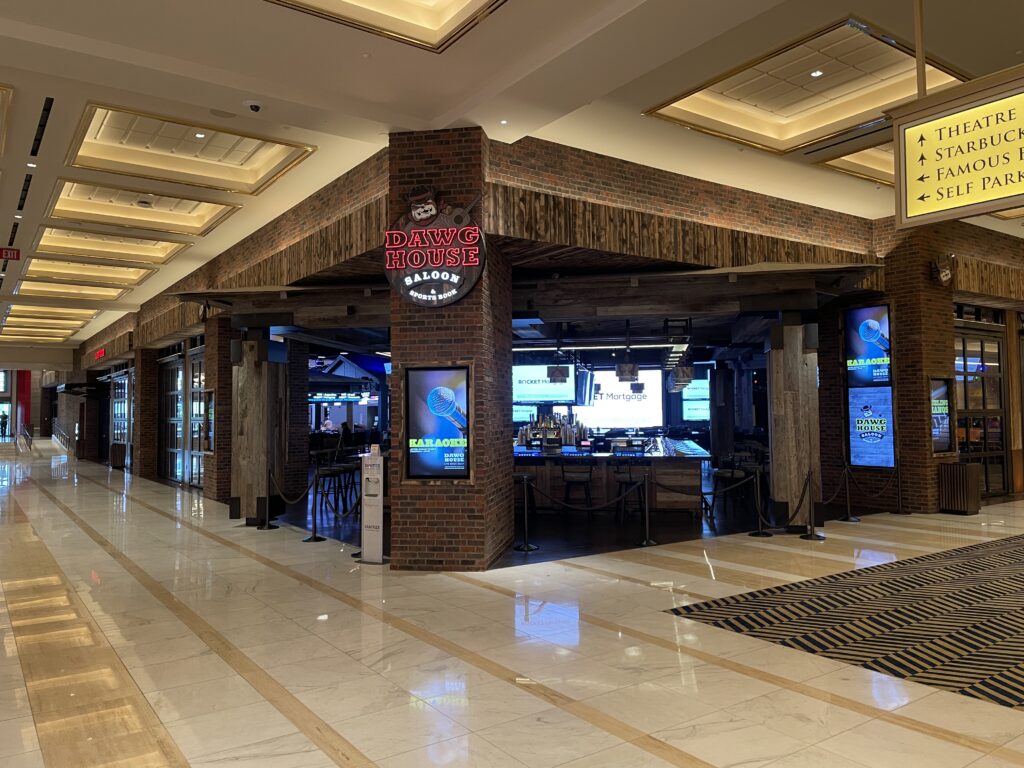 Related: Bars with a mechanical bull in Las Vegas.
Headliners: I also compile and maintain a breakdown of Las Vegas residencies that are currently performing or have shows scheduled in the future. In Las Vegas, there are plenty of big names performing on any given night. Check it out to gauge if anyone of interest matches up with your dates of travel!
Coming Soon – Ole Red: Ole Red will be positioned along the Strip in Bally's Grand Bazaar Shops and boasts country music star Blake Shelton as a co-owner.
The $30 million venue, which will obviously feature country music, will offer both a rooftop and indoor main stage and plans to open in 2023.
Bars With Live Music on Fremont Street
Fremont Street Experience: Arguably, the best place to see free live music in Las Vegas is on one of the 3 stages along the Fremont Street Experience.
While performers are scheduled nightly, Fremont Street also hosts bigger names as part of their summer concert series. Artists that have previously played under the canopy for free include Nelly, Good Charlotte, Sugar Ray, Fuel, and more.
The Sand Dollar Lounge at Plaza: The Sand Dollar is the newest spot to catch live music on Fremont Street, offering performances nightly. In addition to great music, they also have both a beer and champagne vending machine – A fun touch!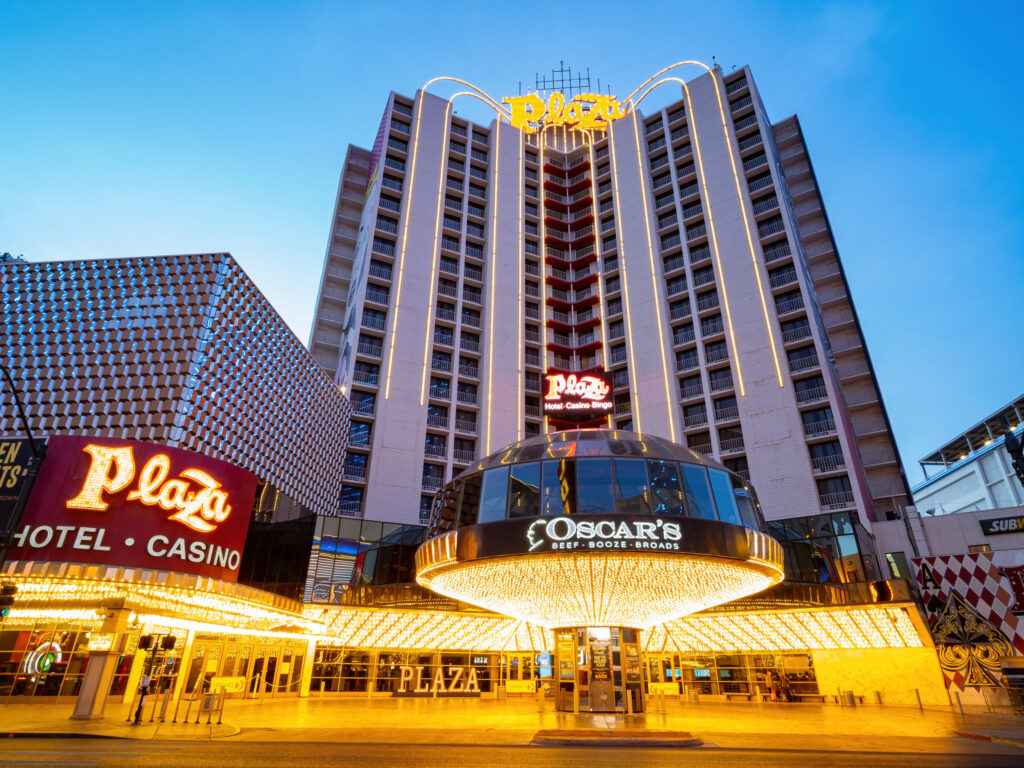 Backstage Bar & Billiards: In addition to pool tables, Backstage Bar & Billiards hosts a wide variety of live music acts on Fremont East, across the street from El Cortez.
Freedom Beat at Downtown Grand: Located steps away from Fremont Street, Freedom Beat at Downtown Grand schedules free live music on Saturdays & Sundays from 11 am – 2 pm.
Hennessey's Tavern: You can't miss it, just look for the giant pint (pictured below). Live music is frequently offered at Hennessey's and the schedule includes a diverse collection of musicians. On nights live music is offered, the show typically starts at around 9 pm.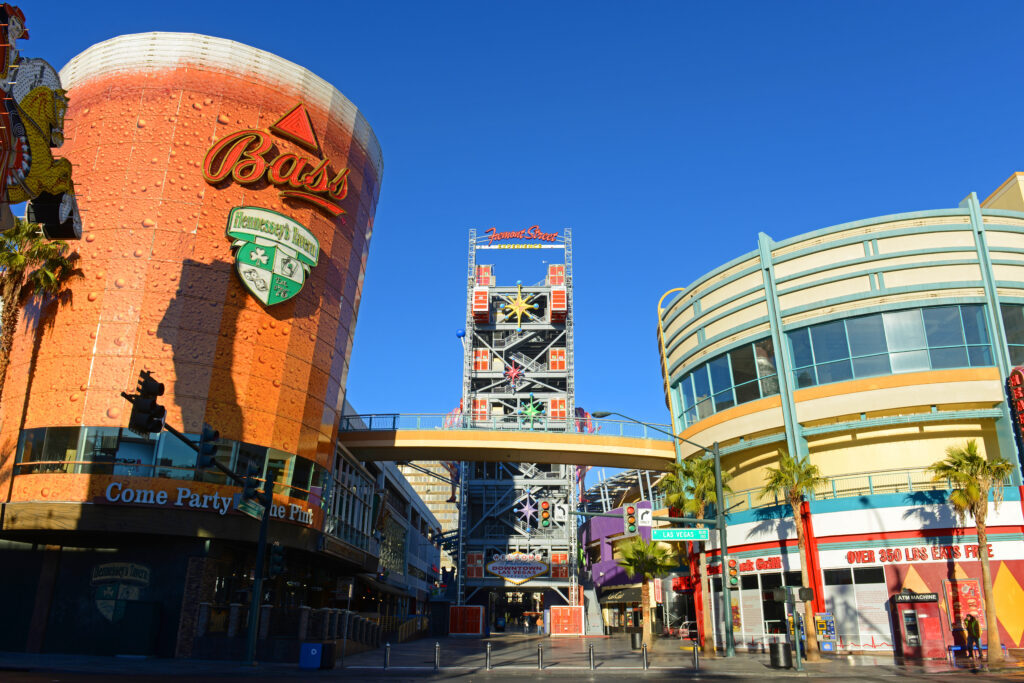 Mickie Finnz: The Fremont Street bar frequently offers free live music which starts at either 7 pm or 9 pm and runs late. Check the entertainment calendar linked to gauge if there's a show during your dates of travel.
Parlour Bar at El Cortez: Enjoy live music every Friday and Saturday night at El Cortez's Parlour Bar from 4 pm – 9 pm. Concurrently, you will be able to enjoy a $6 Modelo Especial draft beer.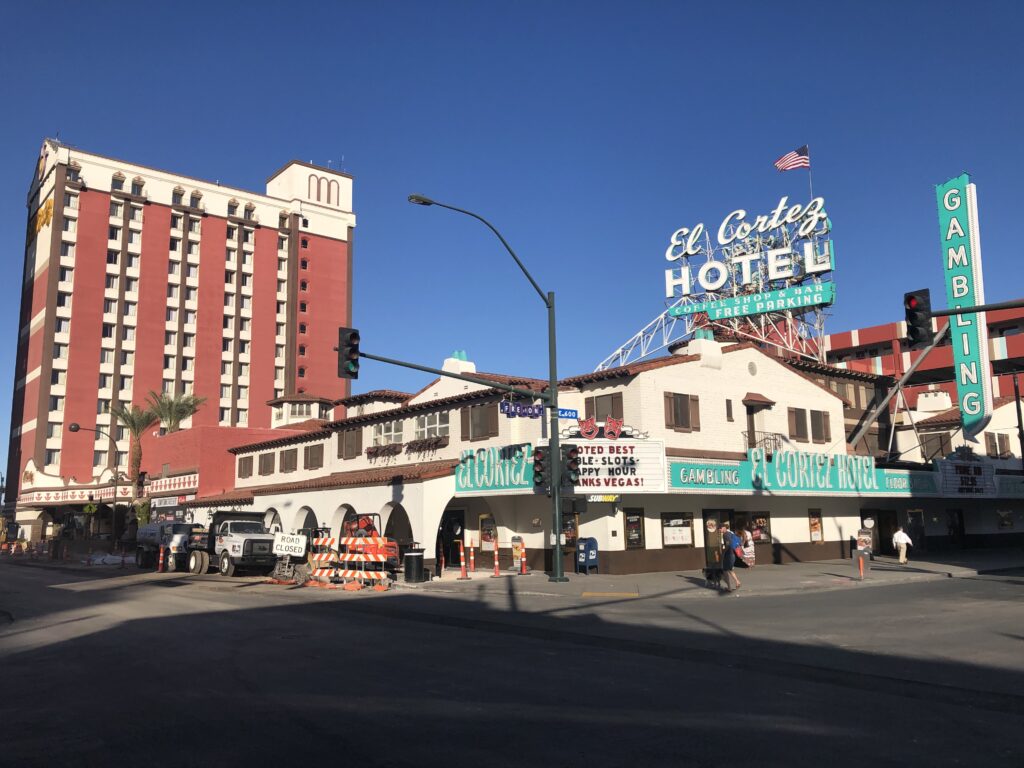 Whiskey Licker Up at Binion's: While not offering a free live music show themselves, Whiskey Licker Up is perched just steps away from Fremont Street's 1st Avenue Stage, and thus the bar is a great spot to catch that live performance.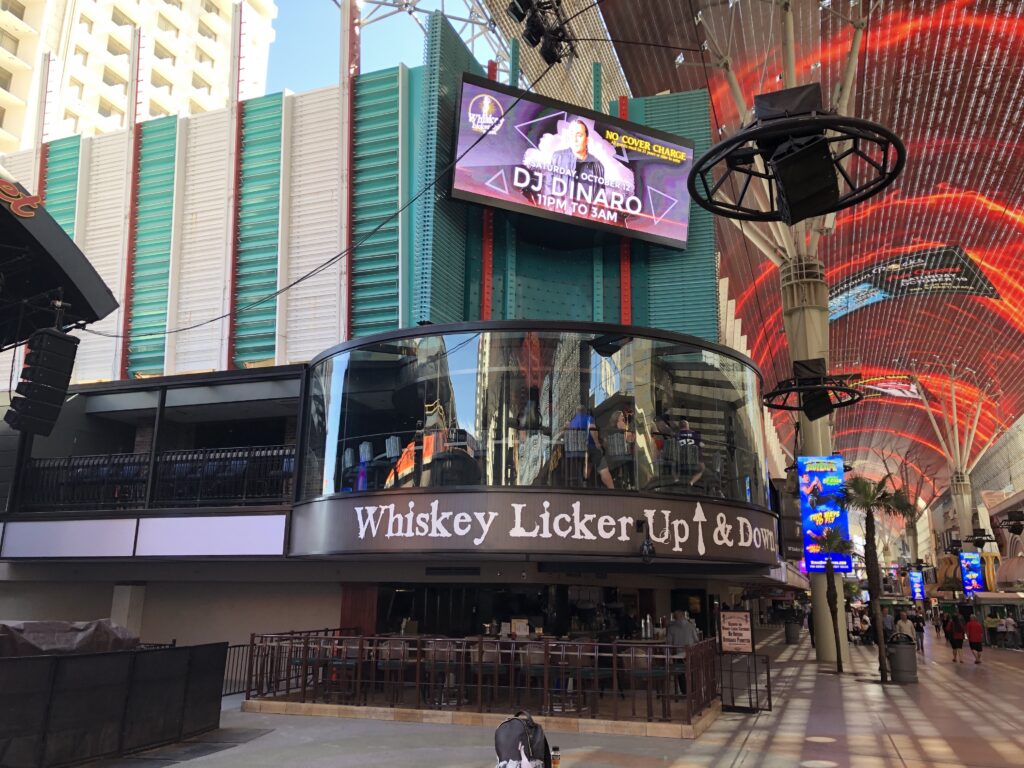 Rush Lounge at Golden Nugget: Free live music is performed nightly from 8 pm to midnight or 1 am, depending on the act.
Downtown Container Park: Although not a bar per se, the Downtown Container park does frequently offer free live music on their events stage.
Check The Container Park's calendar of events here before you make the trip to see who will be performing.
There are also numerous bars sprinkled about the Container Park which will allow you to get your booze fix.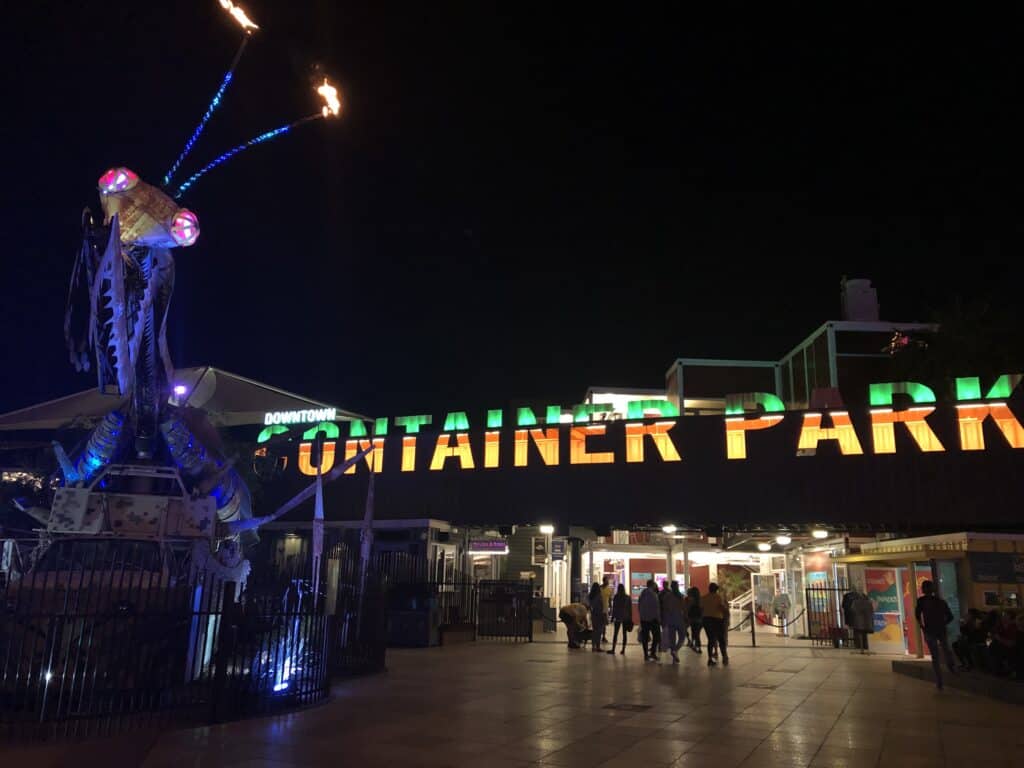 Other Free Live Music Options in Las Vegas
Stoney's Rockin' Country Bar: Although located south of the Strip, Stoney's offers live music, a dance floor, and even a mechanical bull. Stoney's is a cheap Uber or Lyft from resorts on the Strip.
Mermaid Lounge at Silverton: Ranking among the more unique bars with live music in Vegas, Mermaid Lounge is situated next to Silverton's 117,000-gallon aquarium stocked with 4,000 fish. Divers dressed as mermaids also make appearances throughout the day. The lounge offers free live music every Friday and Saturday from 8 pm – 11 pm.
While not bands per se, Las Vegas is home to a number of free dueling piano shows and karaoke bars. Both can be great options for free entertainment both on the Strip and Downtown.
With an abundance of free live music in Las Vegas, there is so much more to the entertainment scene than expensive residencies and headliners. Hopefully, I was able to help you find a bar with free live music in Las Vegas that works for you and your group!
Related: Check out my guide to finding Happy Hours on the Strip and Cheap Drinks on Fremont Street!
Feature Image: ©kesu87/123RF.COM
I'm a former software salesman turned Vegas aficionado. While the craps table is my preferred habitat, I pull myself away to explore new attractions, shows, restaurants, and outdoor activities around Las Vegas with the intent of sharing my experiences.
Ultimately, I just want to help folks plan a better trip and save a few bucks in the process.