Opening in 2010 at a cost of $3.9 billion, Cosmopolitan finds itself ranked among the most luxurious resorts in Las Vegas.
Emerging as a refreshing "Island of uniqueness" in a sea of corporate blandness, Cosmopolitan offers a diverse array of differentiated experiences and things to do.
Below, are some commonly sought-out things to do at and near Cosmopolitan besides gambling. As a theme, you'll notice that many things to do at Cosmo are hidden in plain sight.
Related: My ideal 3-day Las Vegas itinerary!
Things To Do at Cosmopolitan Las Vegas
Hidden speakeasies: Among my favorite things to do at Cosmopolitan in Vegas is stopping by the speakeasy bars that other guests don't even realize exist.
The first, Ghost Donkey, is located in the back of the Block 16 Urban Food Hall and is marked by a nondescript door with a white donkey pictured.
A small New York City-inspired bar with under 20 seats, Ghost Donkey serves Mezcal and Tequila cocktails.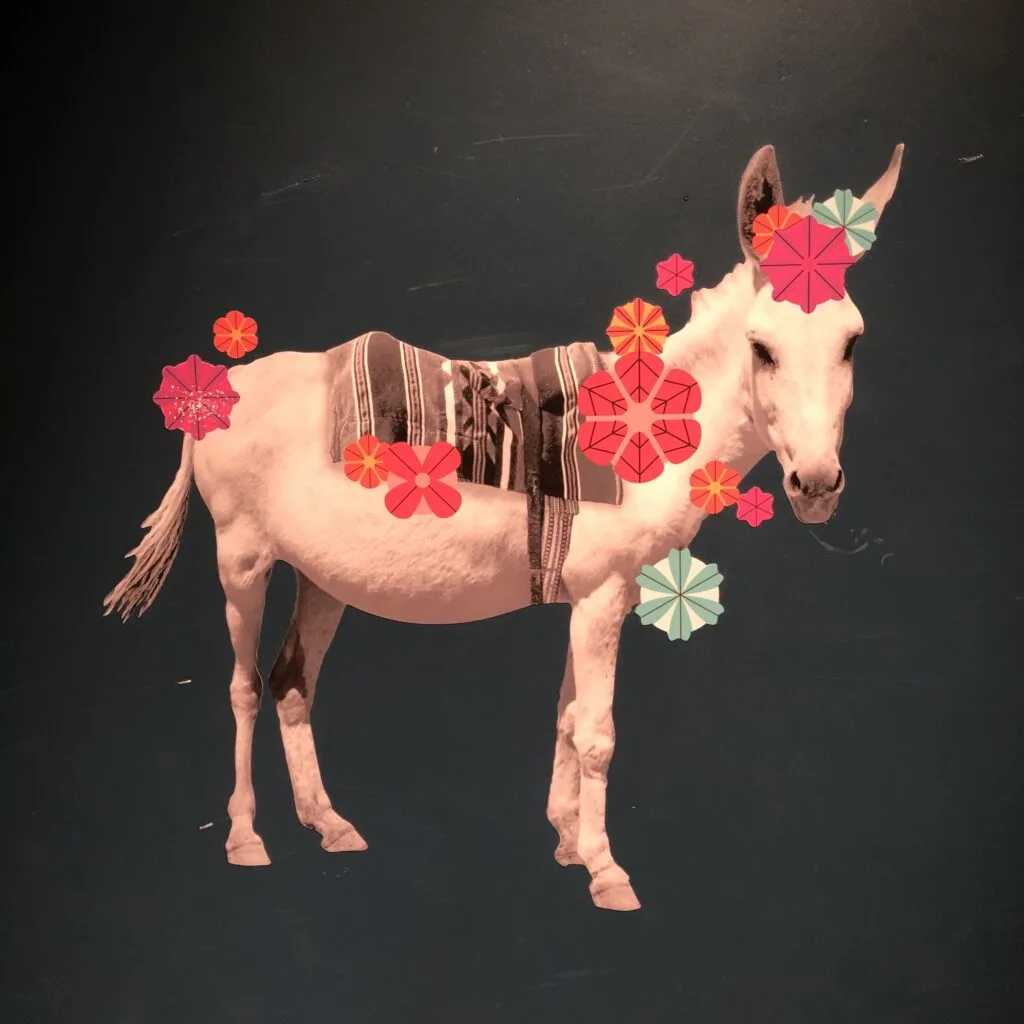 After Ghost Donkey, head to Cosmopolitan's other speakeasy experience, The Barbershop Cuts & Cocktails.
While The Barbershop is an actual barbershop, there's also a clandestine cocktail lounge hiding behind the front business.
To access the bar, find the white "Janitor" door and enter. Once in, you'll be transported to a luxurious feeling prohibition-era bar that offers a wide selection of whiskeys.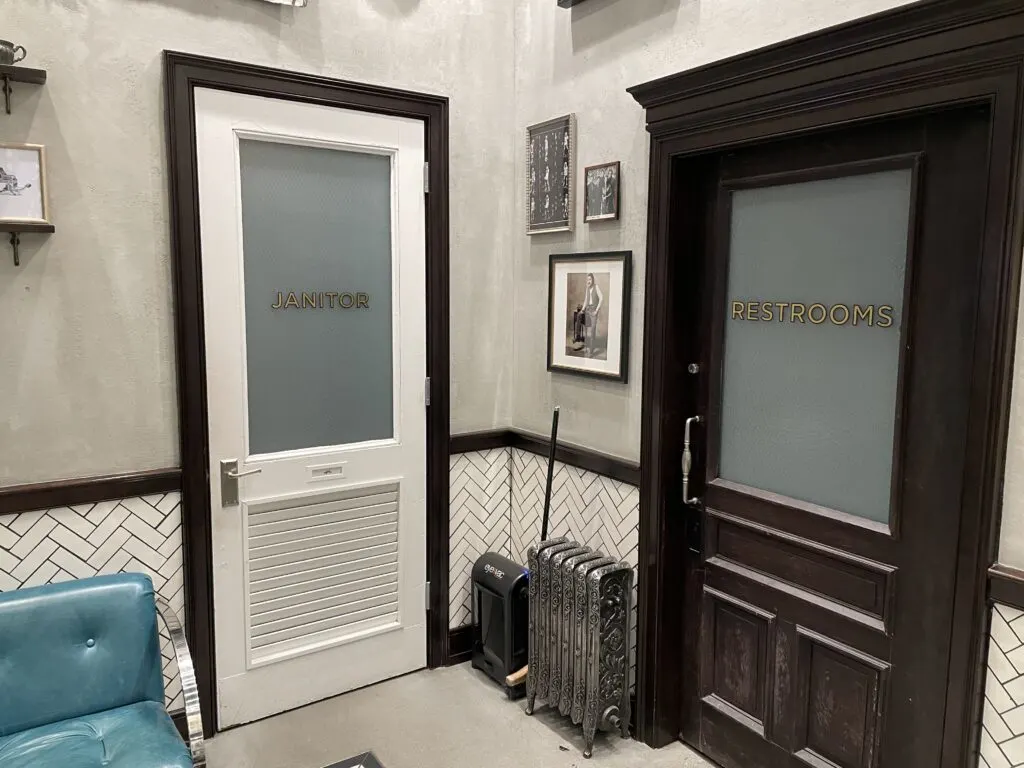 Lastly, stop by The Ski Lodge, which is found on the second floor of the Chelsea Tower next to Superfrico. To get into the speakeasy, find the nondescript door with a metallic skier on it.
Inside, you'll be instantly transported to a snowy mountain retreat.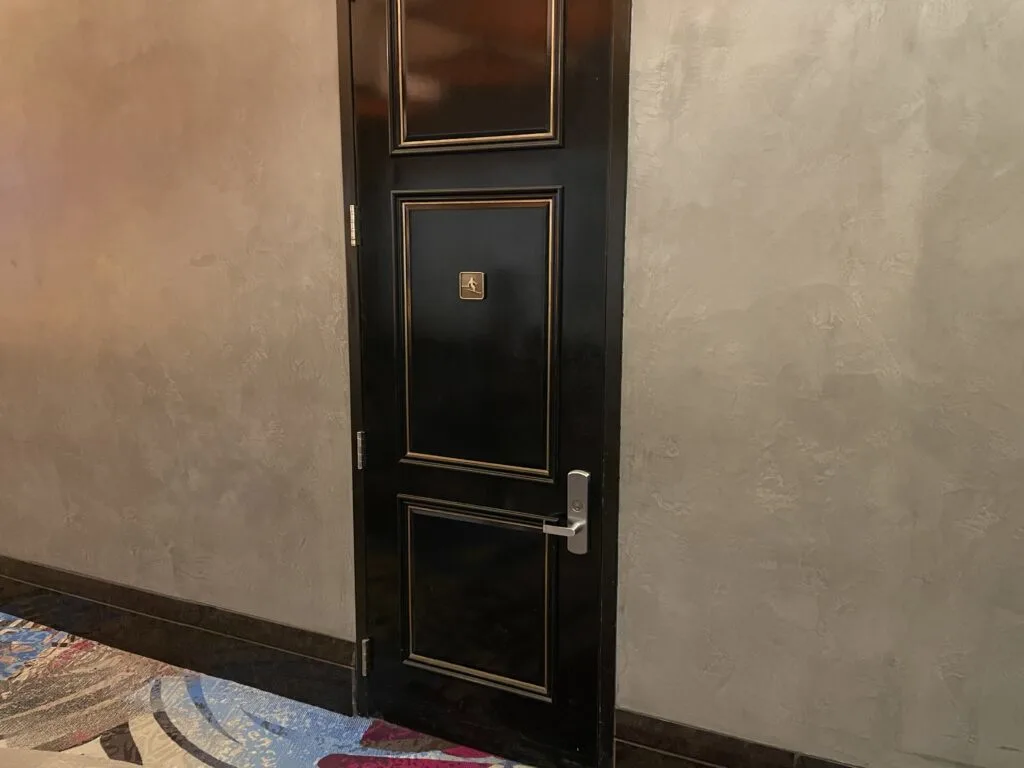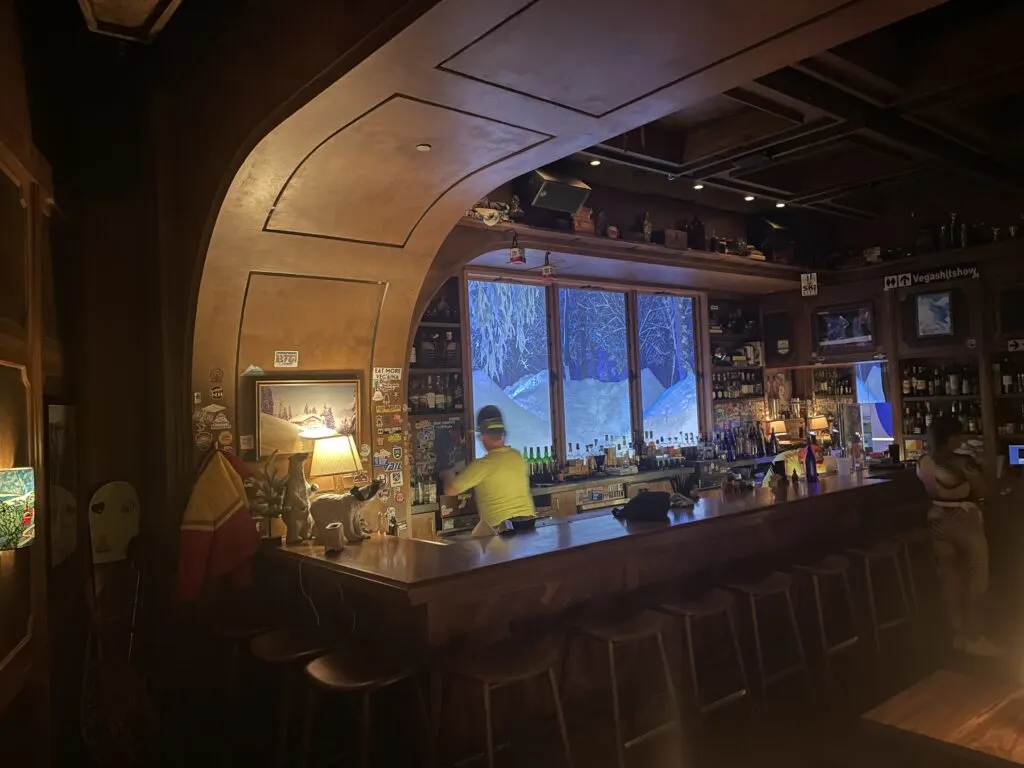 A hidden slice of pizza: After the cocktails, you'll likely have a hankering for a late-night slice of pizza. Fortunately, "Secret Pizza" offers quality pizza by the slice at a reasonable price point. The problem is, like the speakeasies above, there is no sign to indicate its presence.
To Find Secret Pizza, take the escalator near the Chandelier Bar to Level 3, then find a hallway lined with records and walk down it.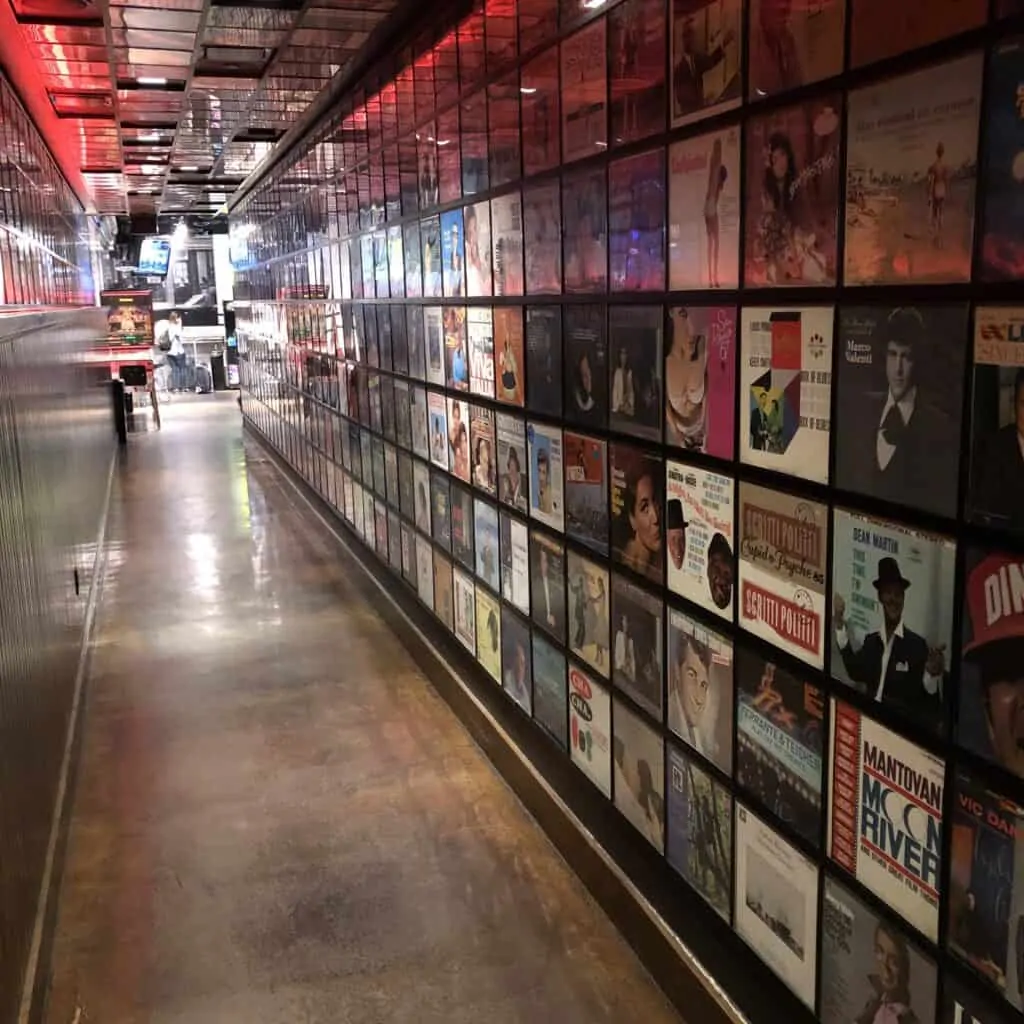 Check out OPM: A raunchy comedy and variety show, OPM's theatre doubles as a spaceship known as OPN 73 which is the setting of the show. The ship is en route from Uranus to Las Vegas, and you're on board.
Produced by Spiegelworld, who are also the folks "Absinthe" (my favorite show in town), OPM will be right up anyone's alley that has a sense of humor and wants to get the night off on a hilarious footing.
Tickets to OPM can be purchased in advance with the venue here or via a 3rd party like Vegas.com which is sometimes slightly less expensive.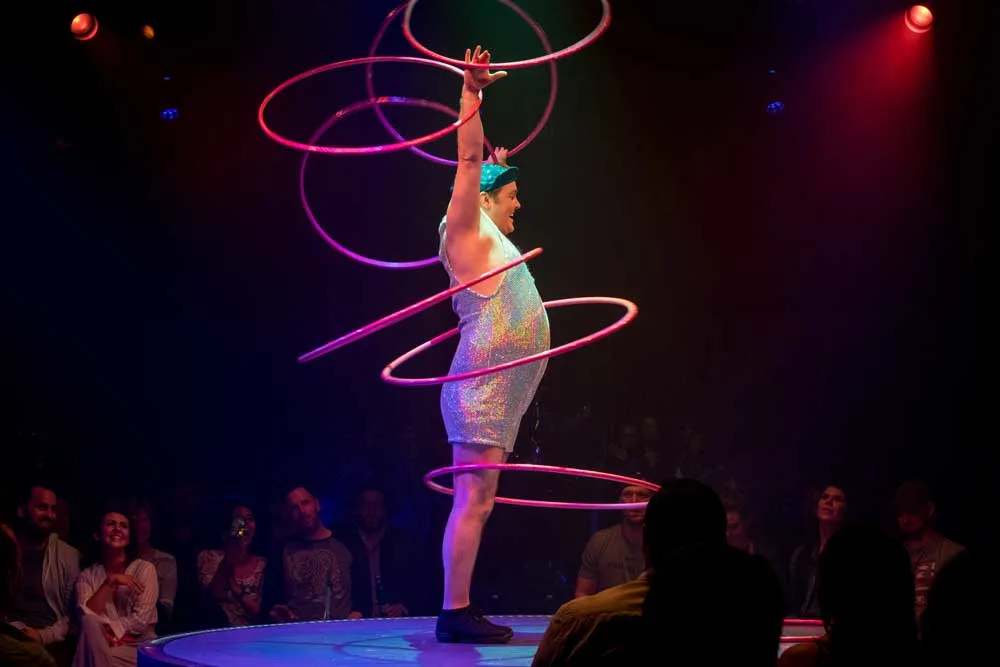 Get entertained over dinner at Superfico: Cosmopolitan is home to one of the more unique dinner shows on the Strip.
Superfrico, like OPM, is a creation of the folks at Spiegelworld.
The food is described as "Italian American Psychedelic" and is served alongside a helping of outrageous acts.
Full disclosure: The entertainment isn't exactly light jazz playing in the background. Be prepared for some raunchy. See the menu at Superfrico, here.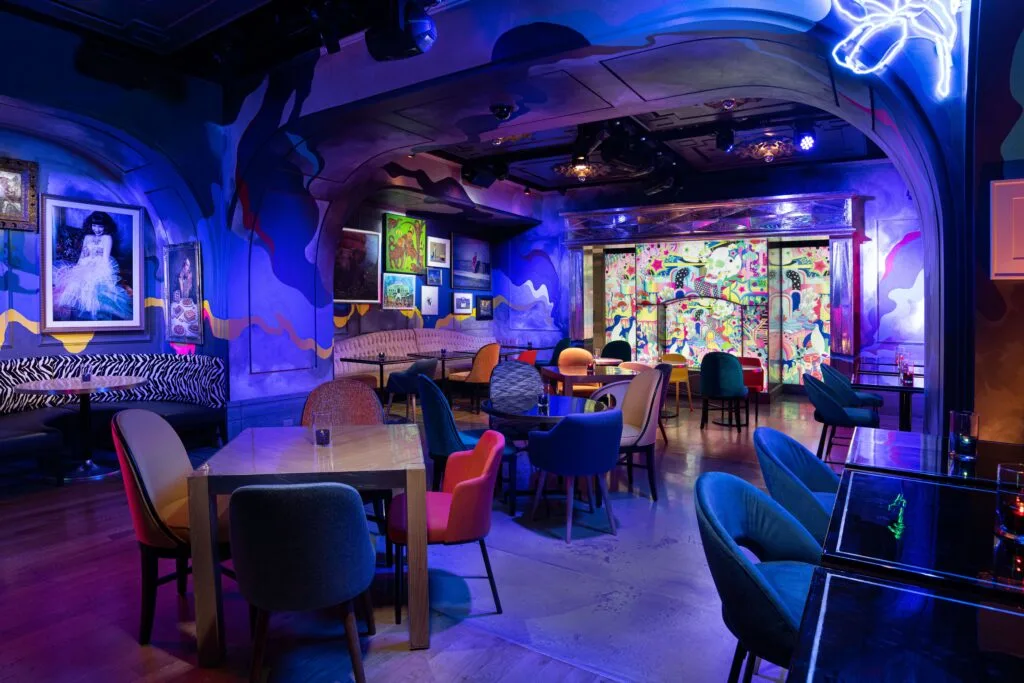 A disguised restaurant: Keeping with Cosmopolitan's theme of disguising food and drink offerings, Beauty and Essex appears to be a simple pawn shop storefront to oblivious passers-by.
Behind that false front though, is a restaurant specializing in dishes like Grilled Cheese Dumplings, Tuna Poke Wonton Tacos, and Thai Style Deep Fried Shimp.
View the full menu at Beauty and Essex, here.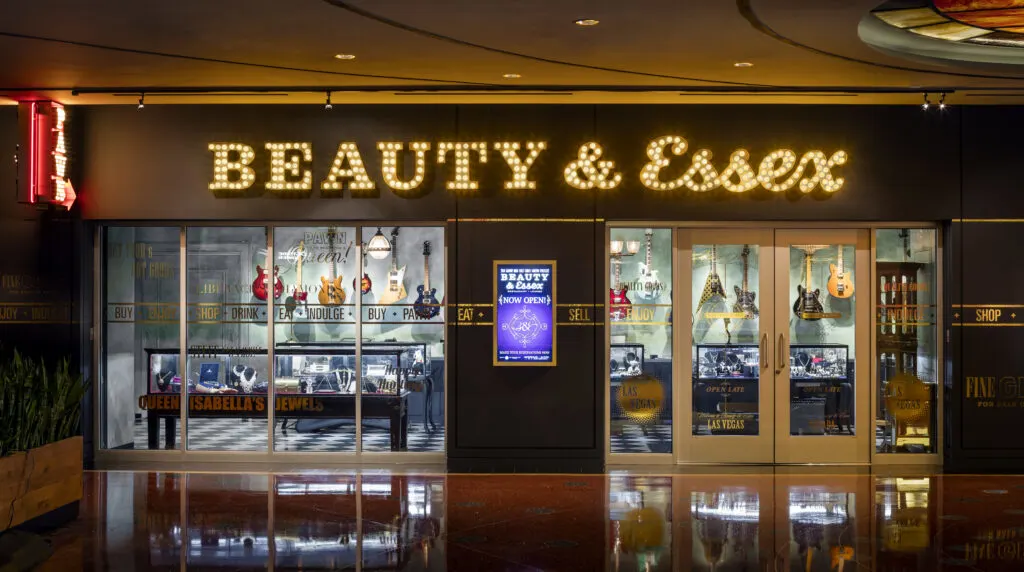 A cocktail with buzz: Experiencing the Verbena cocktail is a commonly sought-out thing to do at Cosmopolitan.
Garnished with a Sichuan flower that enhances your ability to taste while providing a numbing sensation, the citrus Tequilla Verbena cocktail is akin to a fireworks show in your mouth.
Although you won't find the Verbena Cocktail on the menu, it remains popular among guests is available to be ordered.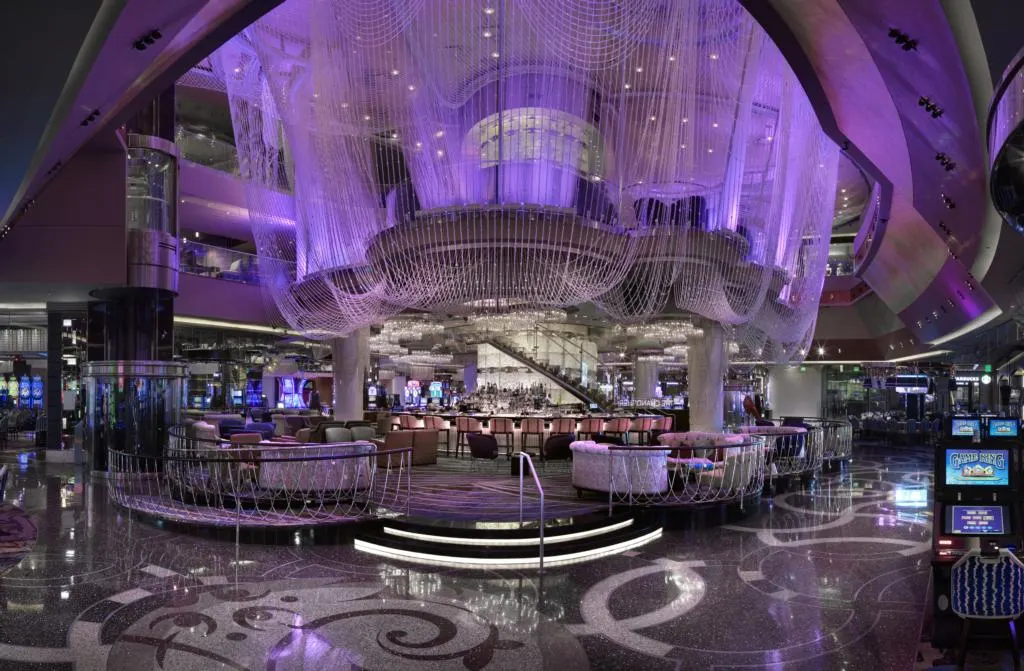 Wicked Spoon: Commonly viewed as being among the best buffets on the Las Vegas Strip, Wicked Spoon is nothing like the second-rate buffets you gorge on back home.
Instead of troughs of food, Wicked Spoon serves every dish in single-serve bowls.
The culinary options offered are also unique and spectacular. In addition to the traditional prime rib, and meat options, Wicked also offers items like "Shrimp Grits with Bacon, Chives, and Beer Blanc", "Crispy Pork Poutine with Cheese Sauce", "Four Cheese Truffle Mac", "Wild Boar", and "Bone Marrow with Mustard Cream".
Wicked Spoon is a delicious option, even if you aren't traditionally a "buffet person".
See Also: Review of Wicked Spoon at Cosmopolitan.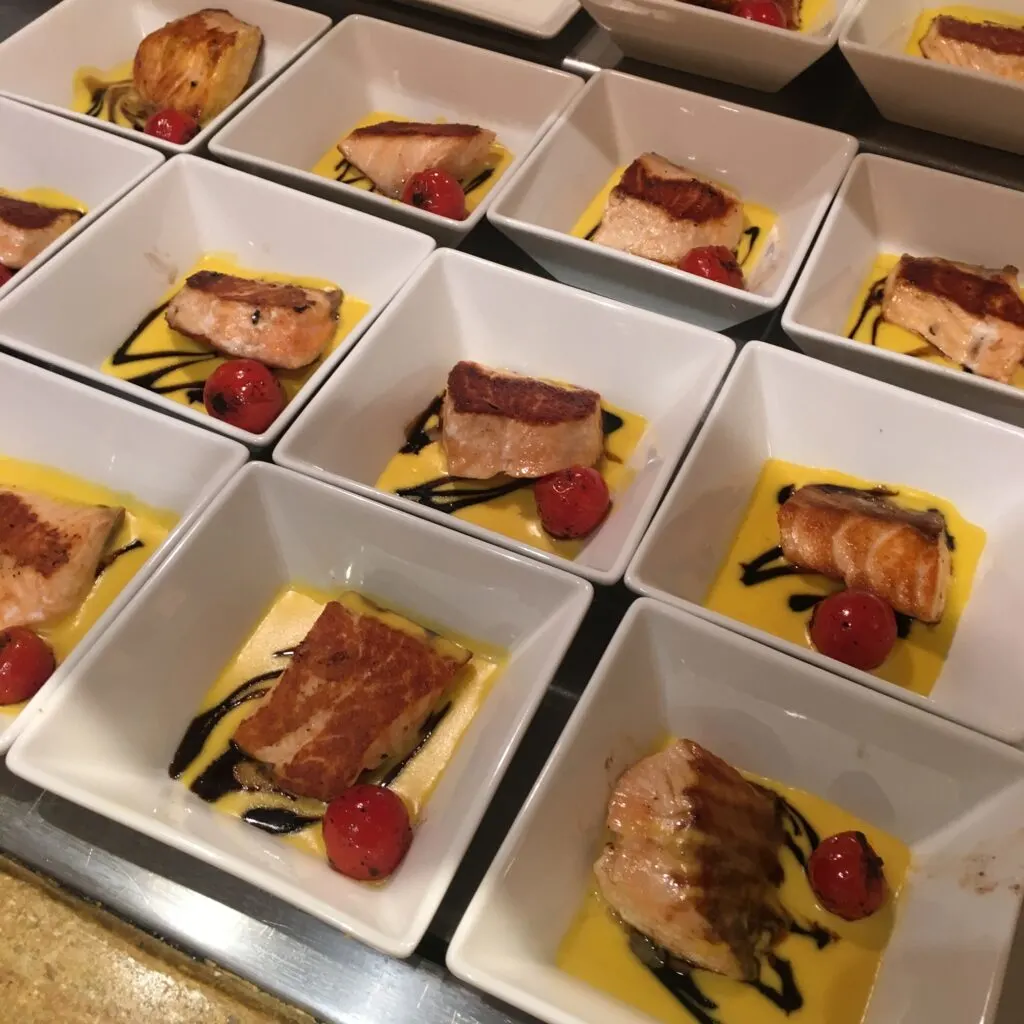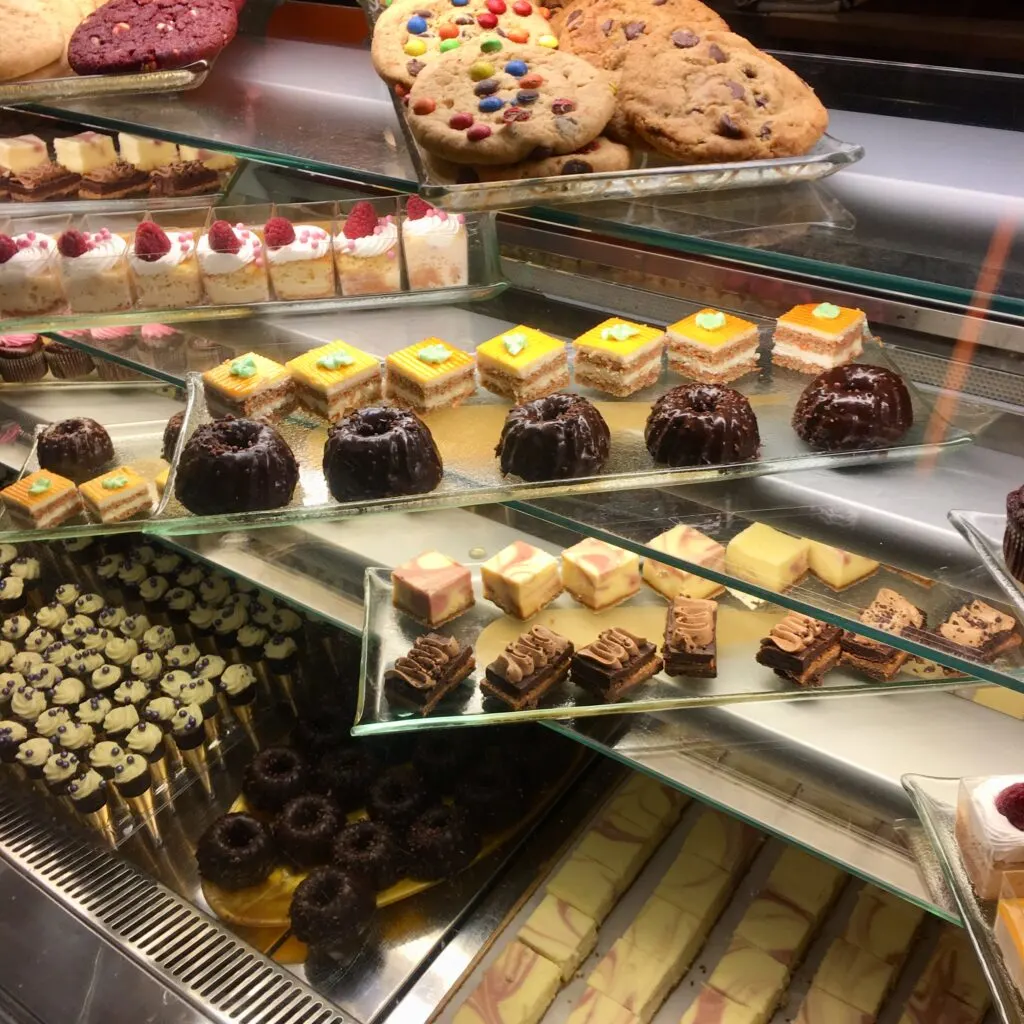 Poolside movies: During the summer months, Cosmo plays movies on their marquee along the Strip overlooking the Boulevard Pool as part of their "Dive-in Movie" series.
Hotel guests at Cosmopolitan can attend for free, while non-guests can attend for a small fee of around $15 per person ($10 for locals with NV ID).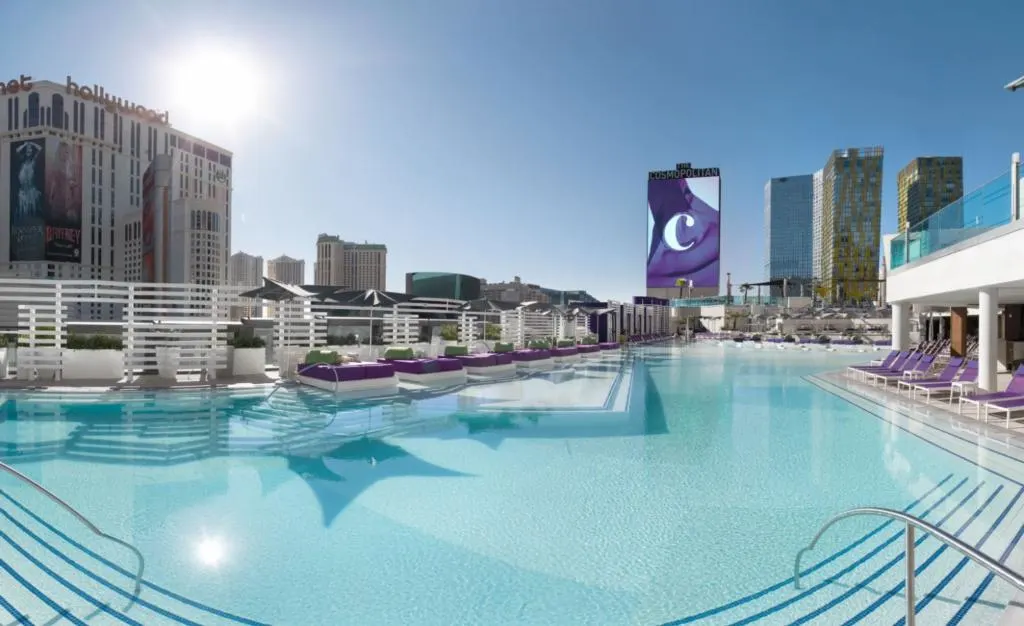 Skating in the desert: In the winter months, Cosmopolitan transforms their Boulevard Pool, which overlooks the Strip on the front end of the property, into an ice rink. Whether staying at the resort or not, guests can rent skates to glide across 4,200 square feet of real ice in the middle of the Nevada desert.
Enhancing the experience is the availability of cocktails, s'mores, and fire pits. The perfect thing to do at Cosmopolitan for northerners looking for a slice of home.
Grab a cheap breakfast: A substantial breakfast is a must in Las Vegas to aid in recovering from the previous night's poor decisions, and fuel the day ahead.
For those that don't want the hassle or expense of sitting down for breakfast, Eggslut is a great option, with breakfast sandwiches landing in the $9 – $12 price range.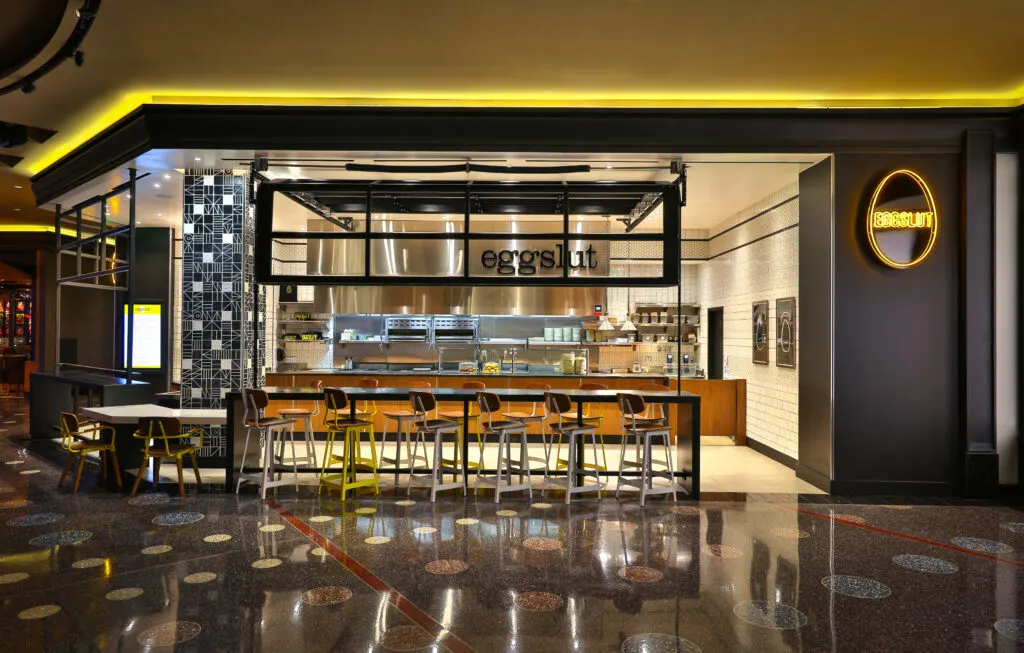 Explore the arts: Cosmopolitan scatters notable works of art from well-known, and emerging artists across the resort including works by Rosemarie Fiore, Marilyn Minter, Sylvia Hommert, and Nicola Lopez, among others.
The hotel lobby is a work of art in and of itself.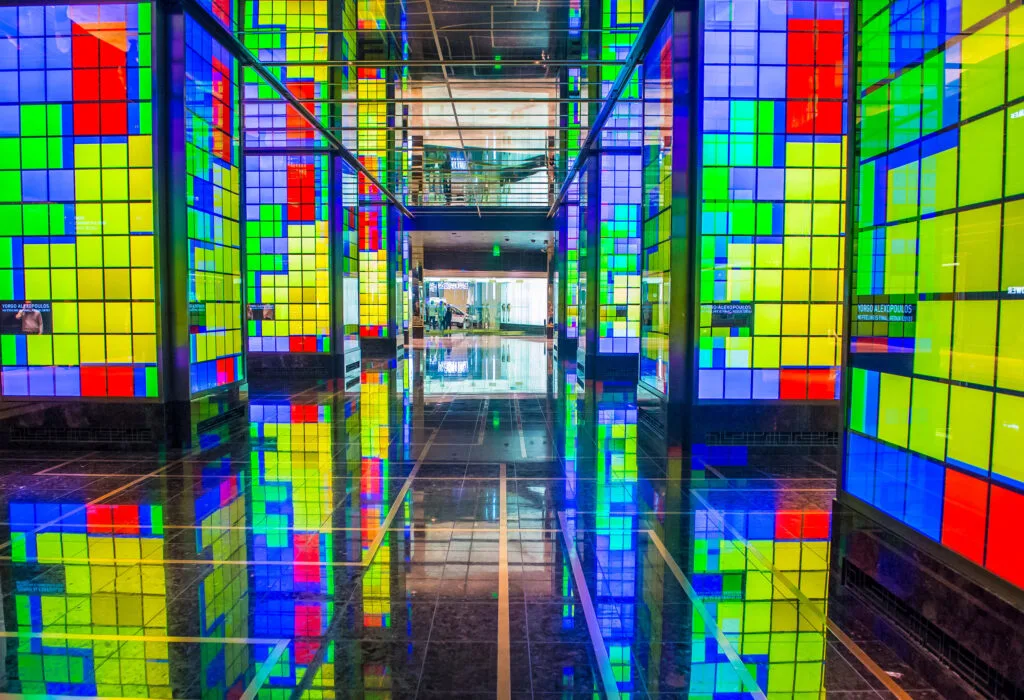 Marquee day/night club: Cosmopolitan's Pool Marquee serves as a day and nightclub environment for those looking for a more raucous atmosphere.
View Marquee's event calendar, here.
Things To Do Near Cosmopolitan Las Vegas
Located in the middle of the Las Vegas Strip, Cosmopolitan is surrounded by resorts that offer guests an abundance of things to do.
I suggest checking out the free attractions next door at Bellagio including the conservatory and the iconic Fountains of Bellagio.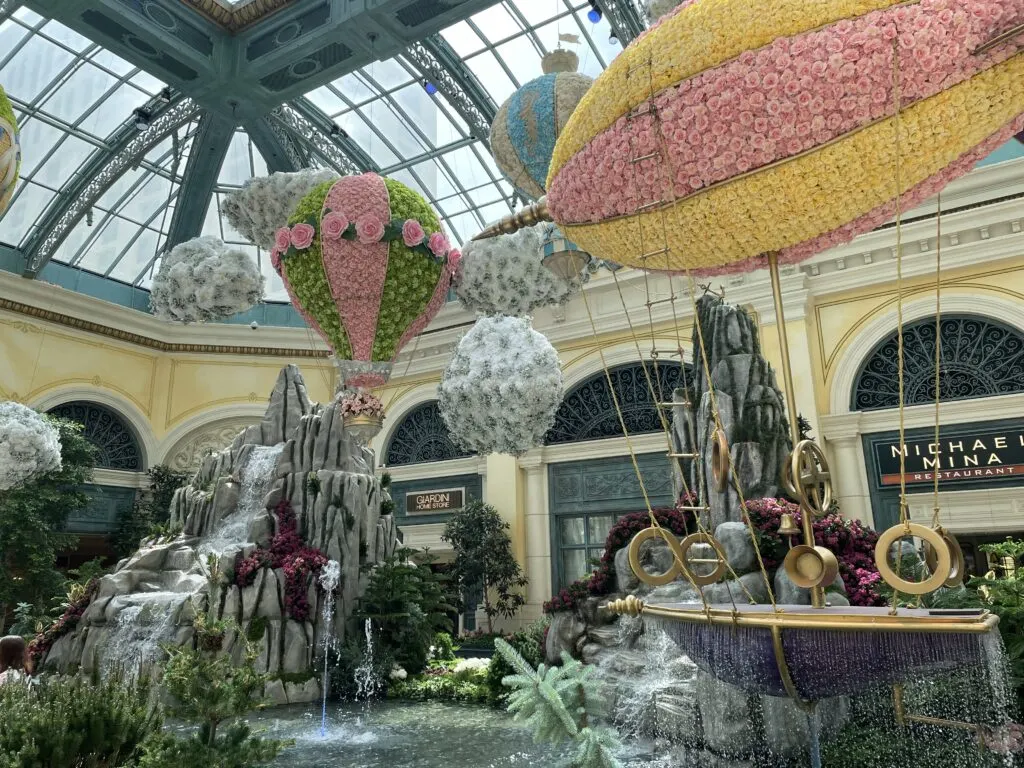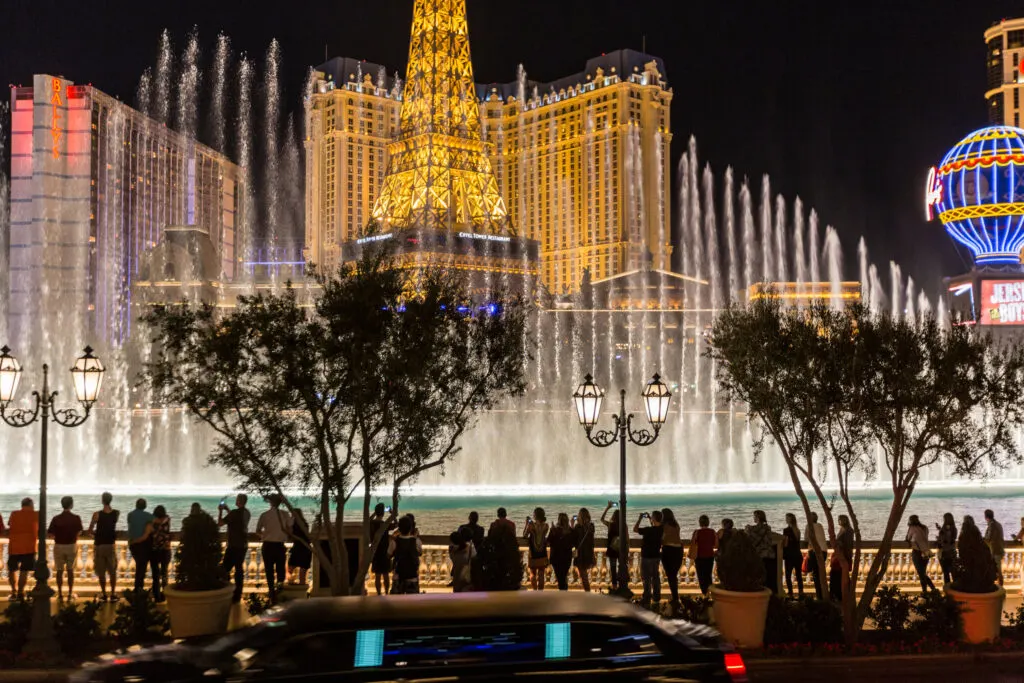 Mirage's Volcano also erupts nightly and is completely free. This is an attraction you'll want to experience soon, as it will be permanently removed as The Mirage transitions to Hard Rock.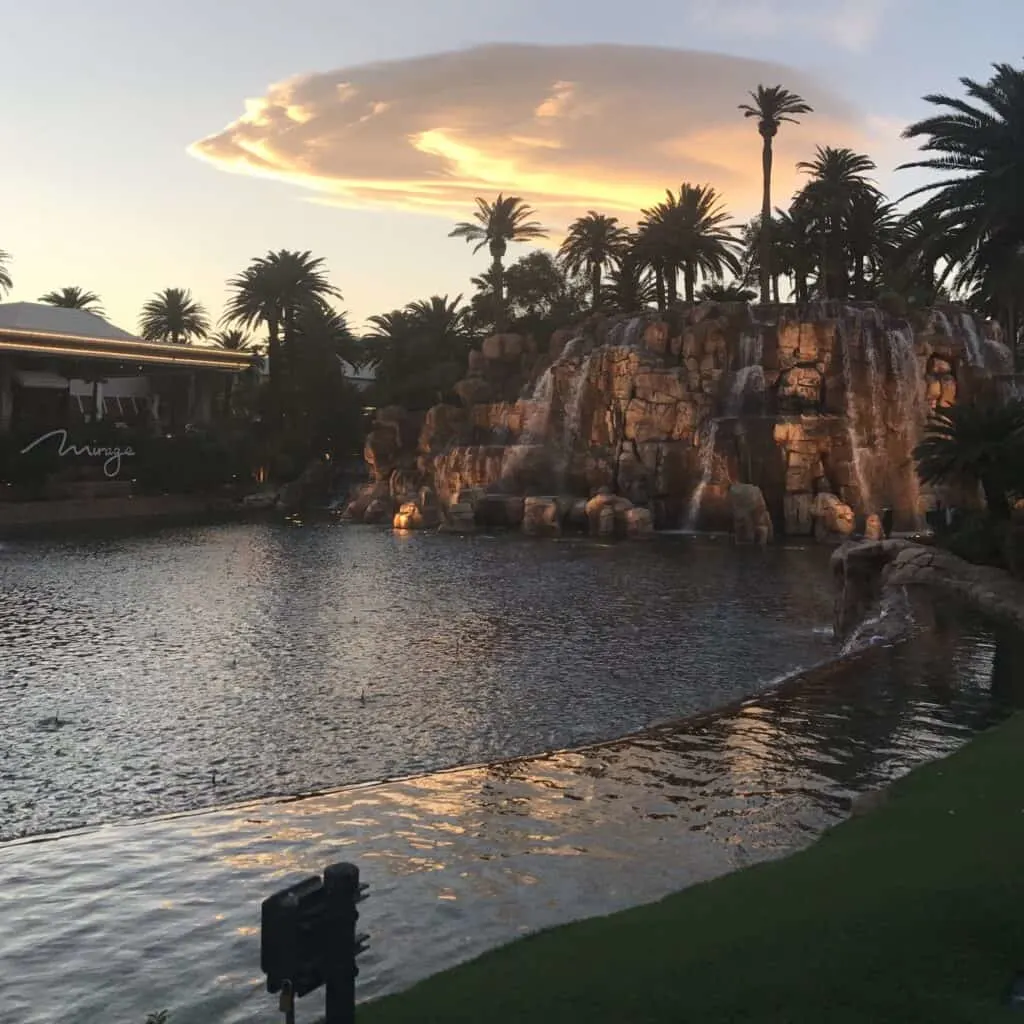 I suggest walking the LINQ Promenade and taking an all-you-can drink spin on the High Roller Observation Wheel.
Also at LINQ is one of the better magic shows on the Strip, Mat Franco.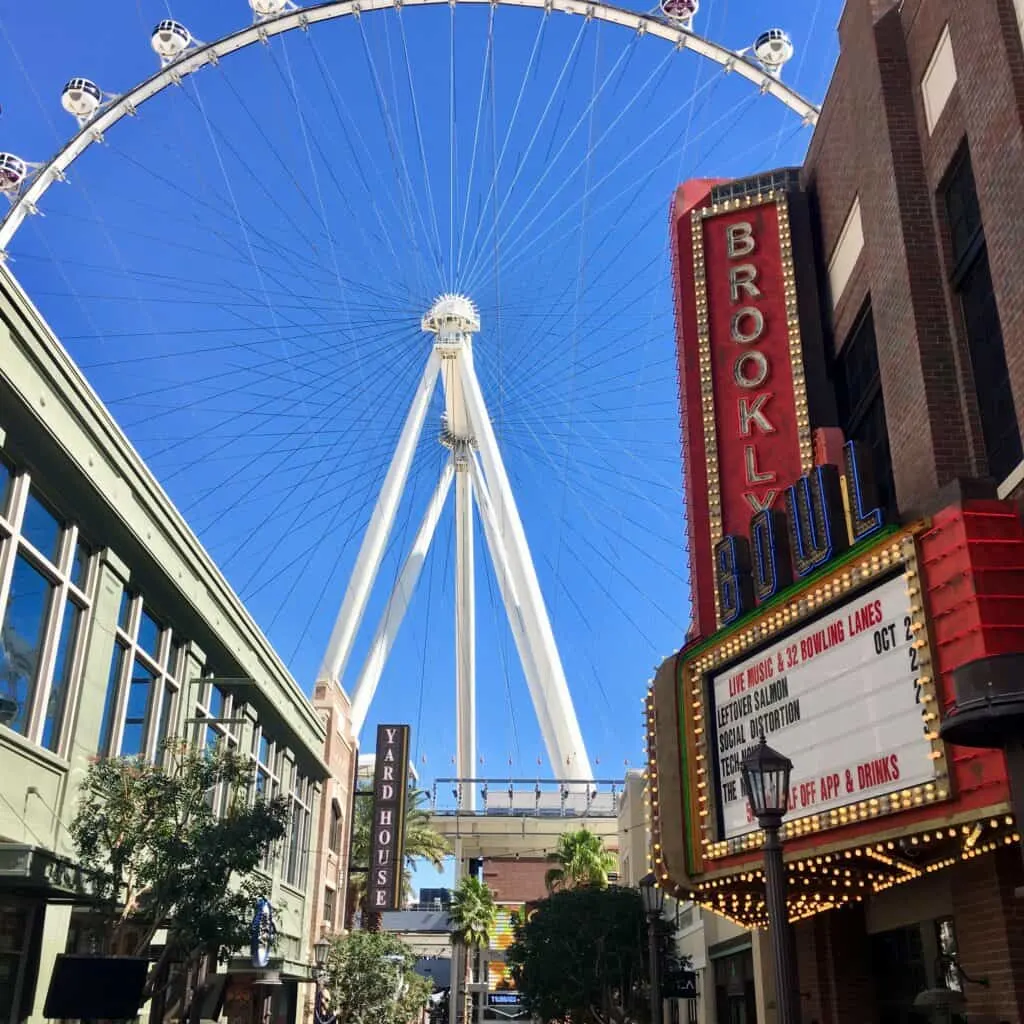 Across the street at Planet Hollywood, some of my favorite cheap food and happy hour deals can be found in the Miracle Mile Shops.
On the food side, check out Ocean One's lunch menu ranks among my favorite spots to eat cheap on the Strip, with everything priced at $5.99.
Drink-wise, check out the all-you-can-drink deal at Blondies which is offered from 3 pm – 6 pm on weekdays for $20.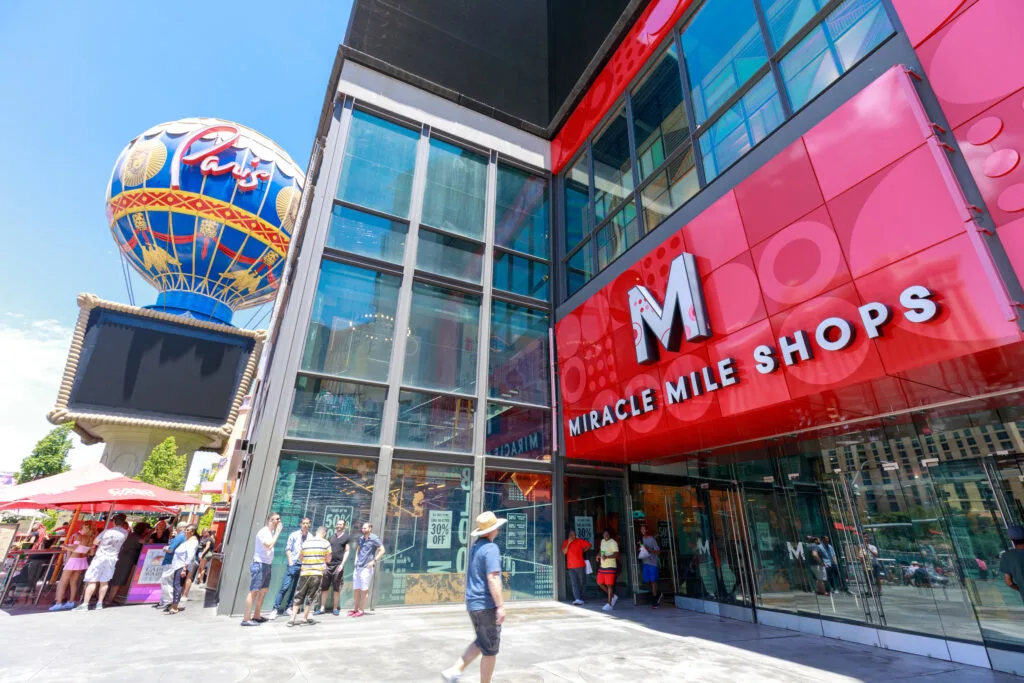 At Aria, explore the Fine Art Collection which is sprinkled about the property. A helpful brochure detailing the art on display can be found, here.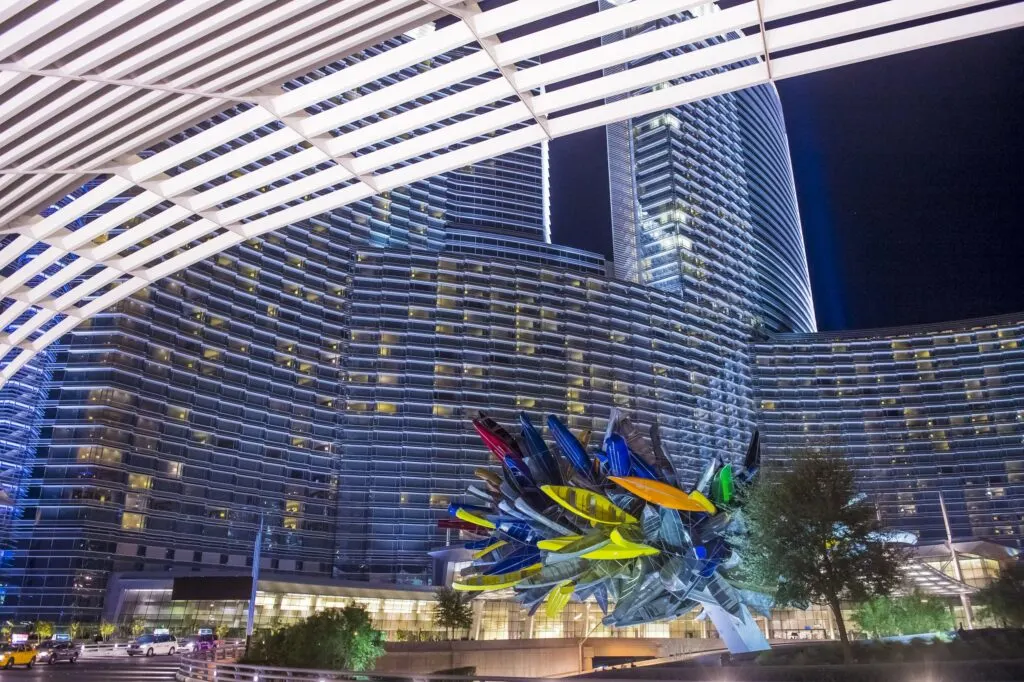 As you can see, finding things to do at Cosmopolitan in Las Vegas won't be a challenge! There is truly an activity for everyone.
Whether you're into clandestine cocktails, raunchy comedy, or fine dining, Cosmo could be the perfect place to find it! For additional ideas, check out my property-by-property rundown of things to do on the Strip.
Related: Restaurants with a Bellagio Fountain View.
Feature Image: ©wirepec/123RF.COM
I'm a former software salesman turned Vegas aficionado. While the craps table is my preferred habitat, I pull myself away to explore new attractions, shows, restaurants, and outdoor activities around Las Vegas with the intent of sharing my experiences.
Ultimately, I just want to help folks plan a better trip and save a few bucks in the process.