Key Points:
The entire experience, from parking and arrival to check-in and boarding was smooth and easy – A well-oiled machine.
The tour takes you up the east side of the Strip, around STRAT, and then down the west side back to the airport.
At $114, I found my Strip helicopter tour to be a great value, and highly recommend it (except, do it at night!).
Maverick Helicopters operates tours out of a dedicated terminal on the south end of the Las Vegas Strip.
Destinations that can be explored from their glass-enclosed helicopters include the Grand Canyon, Red Rock National Conservation Area, and the Las Vegas Strip.
Considering how many times I've visited Las Vegas in my lifetime, it's amazing that I had yet to take to the skies to explore resorts on the Strip from a new vantage point.
I finally overcame my fear of heights to book a Strip tour, and look forward to sharing my experience below, complete with plenty of pictures and video.
Of course, I'll also weigh in on whether or not I feel the attraction is worth your time and money.
Let's get on with it, shall we?
Booking My Maverick Strip Tour
Maverick offers helicopter tours of the Strip both during the day and at night. For a small upcharge, they give you the option to add round-trip ground transportation from your resort to their terminal.
I personally opted for a daytime tour and chose self-transportation as I had a rental car.
At the time of booking, I pre-paid $114, which covered all expenses, and was sent an email detailing where to park, what to bring, and when to show up.
In addition to tours of the Las Vegas Strip, Maverick Helicopters also offers tours of the Grand Canyon and other unique options.
You can shop your options, price out your tour, and book directly with Maverick here.
Maverick Customer Service Shout Out
Before diving into my Maverick Helicopter experience review, I want to call out how amazing their customer service was leading up.
This was actually my 3rd attempt at flying with them as my previous two attempts were interrupted by both a flooded basement and a canceled flight to Las Vegas respectively.
On both occasions, they happily refunded my money even though I was canceling within their published 48-hour cancellation window.
I wouldn't have blamed them if they kept my money, but they were more interested in maintaining a good relationship than grabbing a quick buck. Much appreciated.
Check-In Process & Parking
Maverick gave instructions for parking at a lot adjacent to their building, which was easy to find although there wasn't exactly an abundance of spots available.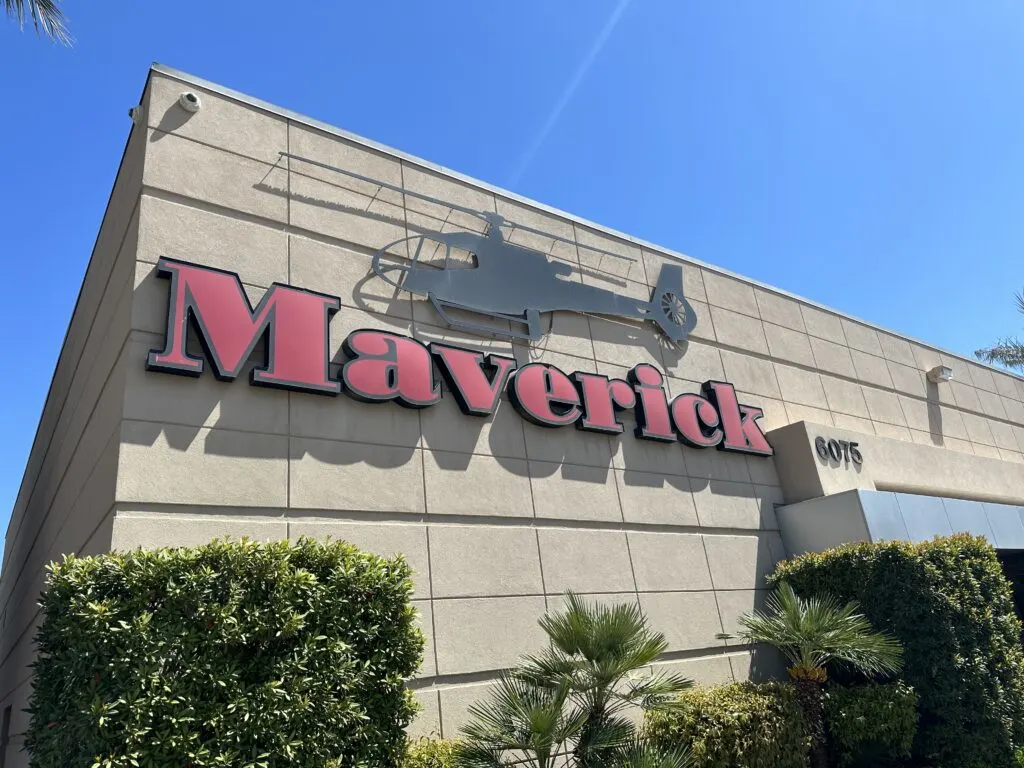 If you opt for self-transportation, taking an Uber/Lyft may be the better option to avoid potential headaches.
Upon entering their terminal, I was greeted by a cavernous lobby with plenty of seating, a snack bar, and even a gift shop.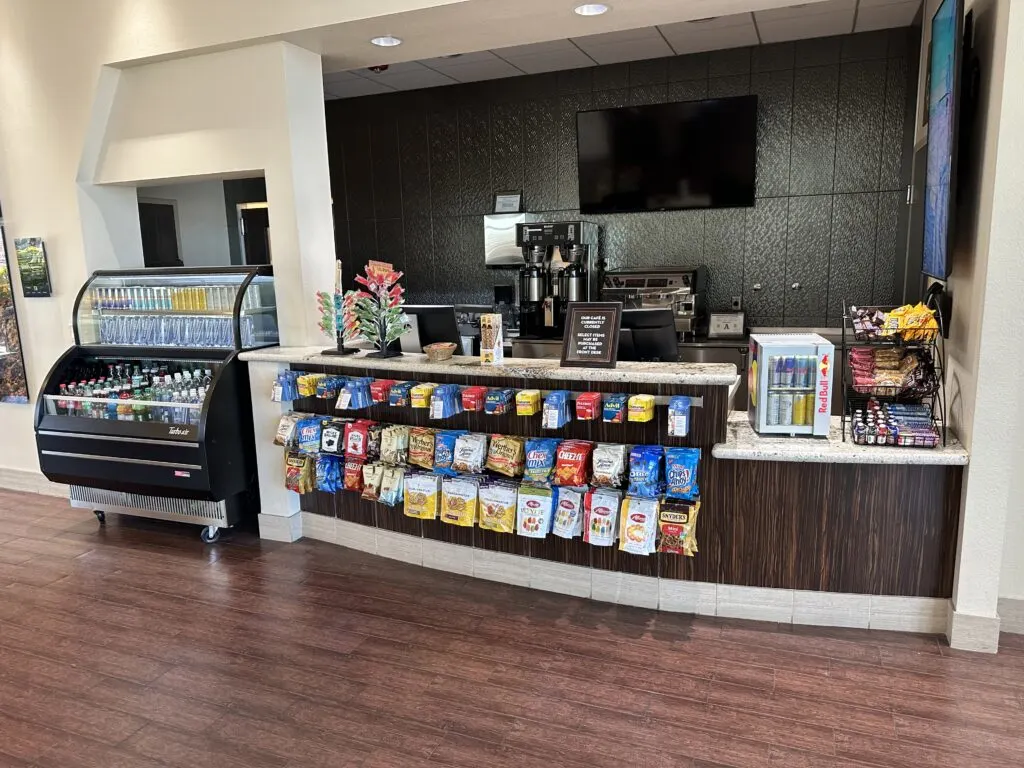 There was no wait to check-in, and I was handed a "'Group A" boarding card after information and pleasantries were exchanged. From there, I simply needed to kick back and relax and wait for a pilot to summon my group.
The entire process ran like a well-oiled machine. Very organized, and efficient.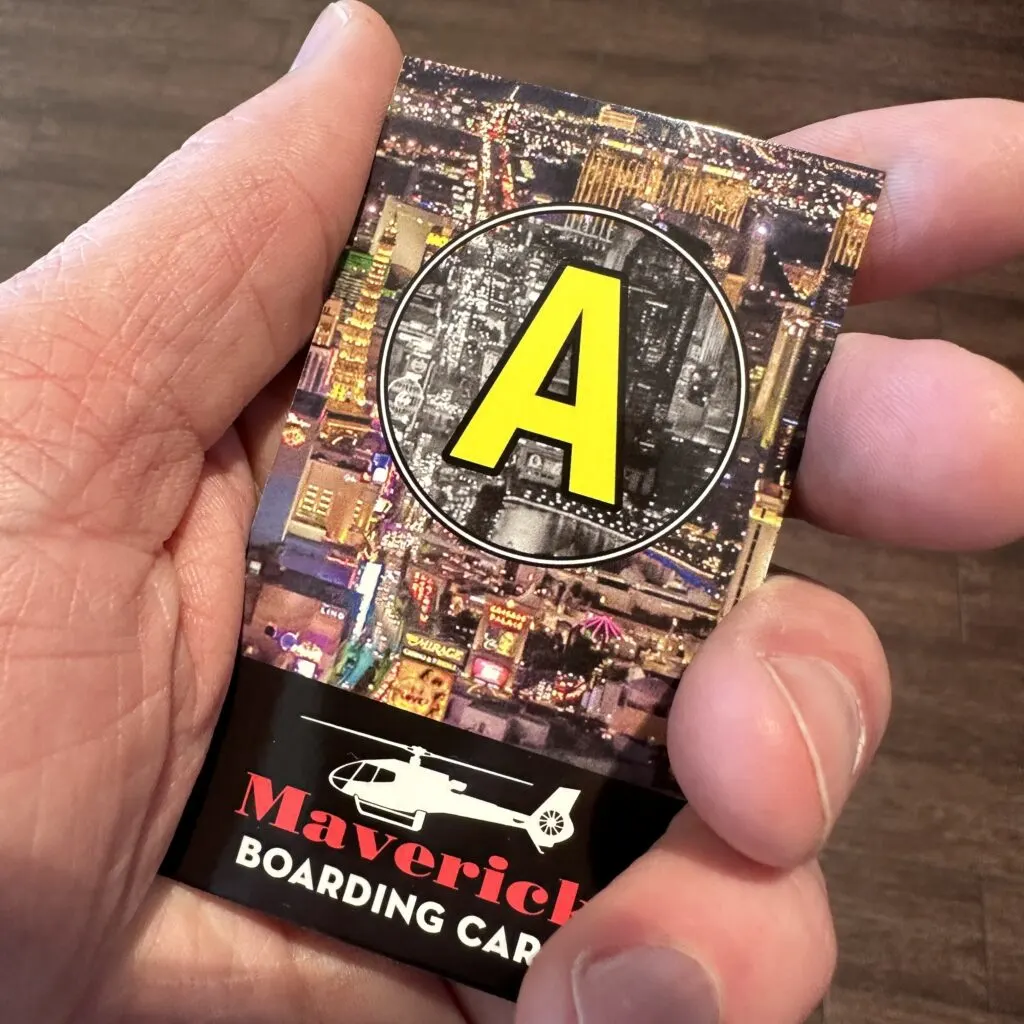 Oddly, there was no security check of any kind.
I expected to be frisked or run through a metal detector prior to boarding, but none of that happened.
My group was reminded that flammables, etc. were not allowed on board, however.
I have to admit, the whole "honor system" thing gave me a moment of trepidation, but the folks I was riding with looked harmless so I trooped on.
The Helicopter Tour of the Strip
Boarding & Safety Brief
Our pilot called for Group A and we received a safety briefing that included how to use the 4-point seatbelt and a warning that pictures on the tarmac are prohibited.
He also warned us not to open the helicopter doors during the flight which was a bit concerning, ha. They wouldn't tell you not to do something if someone hadn't done it in the past, right?
The pilot assigned seats based on weight, and we boarded.
The helicopter had been sitting in the sun for about 10 minutes between flights, and the interior was hotter than the outer circles of Hell thanks to the blazing desert sun.
While temperatures eventually eased a bit, it was a toasty ride.
The helicopter had two rows of seats – 4 in the back, and 4 in the front (which included the pilot's spot).
As a single rider, I was assigned the front right seat, with two other passengers in the middle, separating me from the pilot.
The chopper was built for visibility, with windows extending from below my feet to the ceiling and I could tell that I was in for one heck of a view.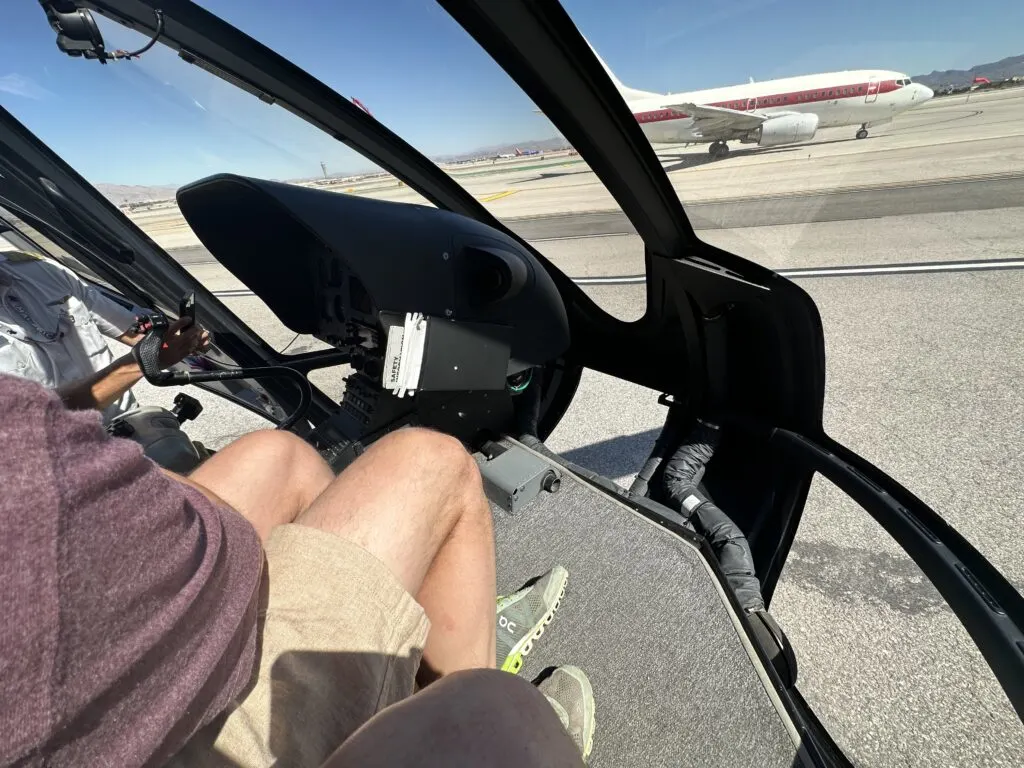 The Ride & The Route
Once we were loaded, the pilot fired up the blades, and off we went.
The ride started with a low-elevation trip down a runway of sorts, about 3 feet off the ground. Once we made it down that runway, we ripped up into the sky. It was pretty damn exhilarating.
While the majority of the flight was smooth, there were several moments when the wind must have caught the small helicopter just right, creating a bit of turbulence.
Now, I have a bit of an aversion to heights, and I was able to squash any feelings of panic by glancing over at the pilot and noting that there were no signs of concern visible in his facial expression.
On that topic, my pilot was clearly a professional and almost certainly ex-miliary judging from his overall demeanor and apparel choices, which included a healthy dose of 5.11 Tactical gear.
The dude was no-nonsense and was quick to abrasively correct a passenger aboard our flight that broke the rules a few times (likely due to a language barrier).
Needless to say, I felt comfortable with him at the helm.
The flight started at the south end of the Strip and flew north toward STRAT and Downtown, offering great views of resorts like Tropicana, MGM Grand, Paris, Planet Hollywood, Venetian, and Wynn among others.
In addition to resorts on the Strip, the northbound leg of the helicopter tour offered views of Westgate, Ellis Island, the new F1 Paddock, Wynn's Golf Club, The Las Vegas Country Club, and the new MSG Sphere.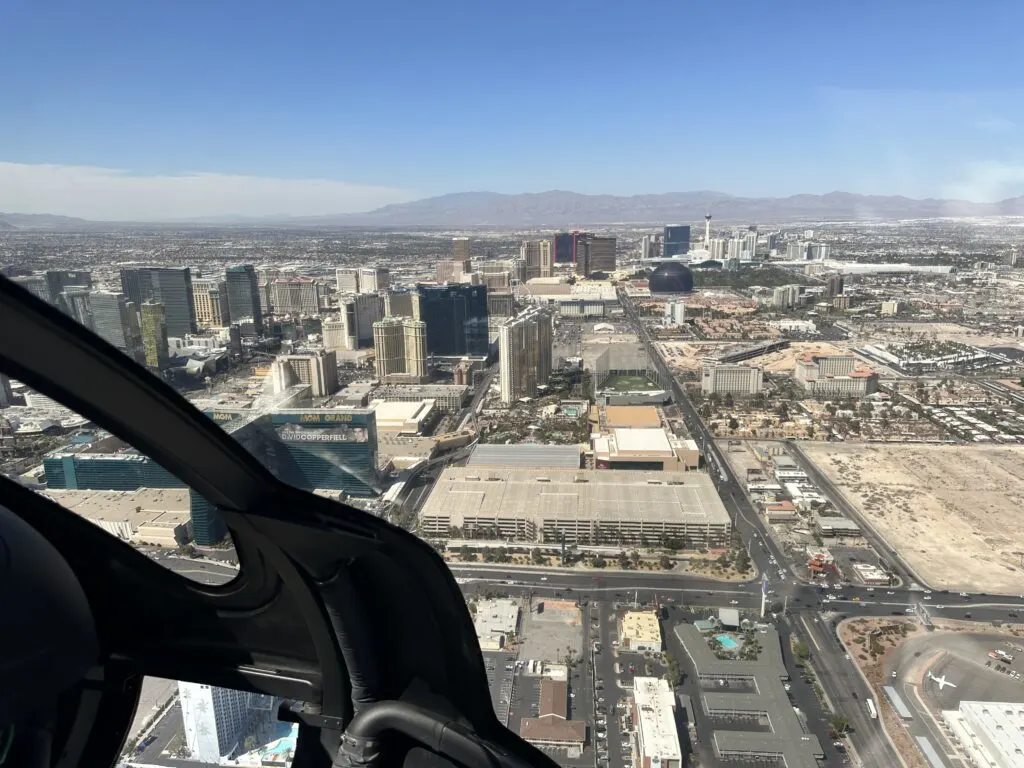 The helicopter essentially used STRAT's SkyPod as a turnaround point to head south behind resorts on the west side of the Strip, following Interstate 15 for much of that leg.
As we wrapped around, I was treated to a great view of Fremont Street resorts and downtown Las Vegas.
I'll be honest, banking around STRAT's tower to turn south was a "high pucker factor" moment for me, as the helicopter felt as though it was turned on its side during the maneuver.
As we headed down I-15 to the south, passengers on the left side of the helicopter had a great view of resorts like Trump Las Vegas, TI, The Mirage, Caesars Palace, Bellagio, Aria, Cosmopolitan, NYNY, Excalibur, etc.
While I could certainly see the resorts from my side, I had a better view of Rio, Palms, and Allegiant Stadium.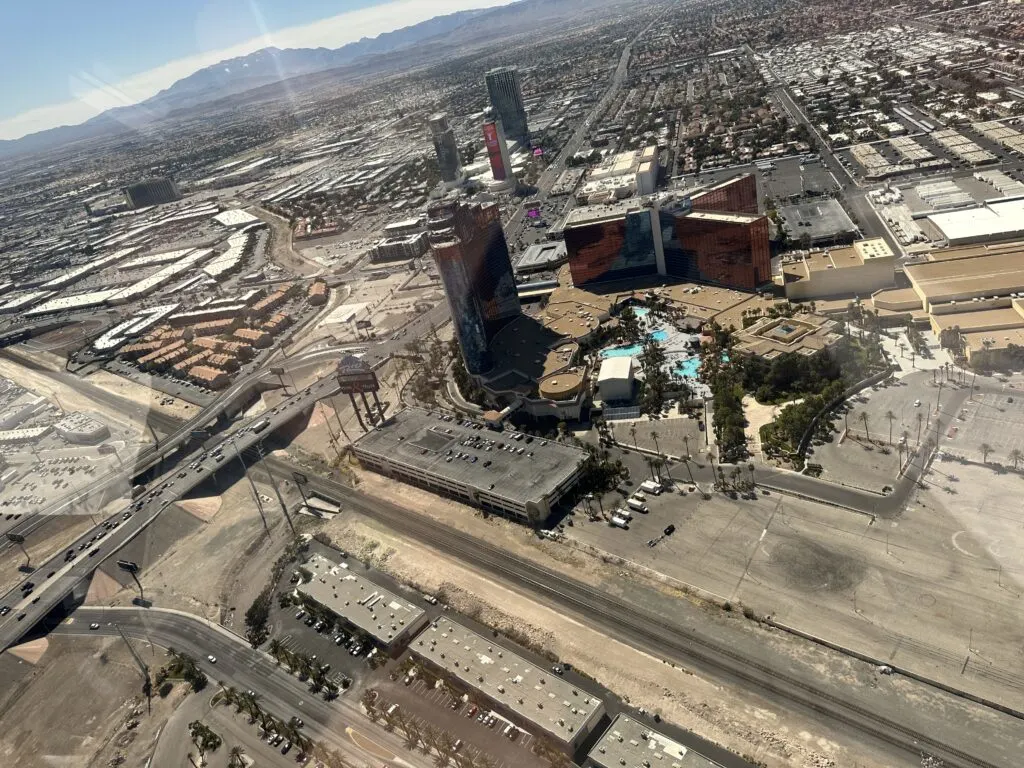 Once we reached Mandalay Bay, we turned towards the airport and started our descent.
All in all, the flight was about 13 minutes, and I was thrilled to be back on solid ground due to my slight "heights thing".
Due to the flight path, seats on the left side of the helicopter are the best for views of resorts on the Strip. While I was stuck on the right side, I was fortunate to have the large front window.
The back-right seat would certainly be the least desirable aboard the helicopter.
Even from the less desirable right side of the chopper, the views I was treated to throughout the tour were sensational.
The experience was comparable to being atop STRAT's SkyPod Observation Deck, only, it wasn't stationary but moving up and down the Strip.
I've been to Las Vegas countless times, and this was a new perspective that I found to be awe-inspiring.
I stitched together a few videos I shot during the ride and embedded that video into this post – Check it out!
The Verdict: Is Maverick's Strip Helicopter Tour Worth Doing?
I was impressed with the operation from check-in to landing, and regret not doing a helicopter tour of Las Vegas earlier.
I think you'll agree that the views are unmatched. Even as a seasoned Las Vegas veteran, I was both blown away and reminded why I love this city so much.
Where the tour really shines, however, is in the value department. This was an experience that was absurdly affordable at $114 per person.
It's wild to consider that for a price comparable to a great meal out, or a show ticket, you can have a professional pilot give you an aerial tour of the Las Vegas Strip.
Whether you're looking to impress on a date night in Las Vegas, are planning a fun bachelorette party excursion, or looking for something to do with the kids, don't sleep on a helicopter tour of the Strip with Maverick.
It's a winner.
Don't forget that Maverick also offers tours of the Grand Canyon which could save you a ton of time vs. driving and provide a unique perspective that few experience.
Related: Speaking of natural areas around Vegas, check out these things to do outdoors which include Red Rock Canyon and Valley of Fire State Park!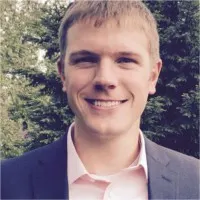 I'm a former software salesman turned Vegas aficionado. While the craps table is my preferred habitat, I pull myself away to explore new attractions, shows, restaurants, and outdoor activities around Las Vegas with the intent of sharing my experiences.
Ultimately, I just want to help folks plan a better trip and save a few bucks in the process.