Key Points:
1923 Prohibition Bar isn't exactly hidden and can be found along the walkway from Mandalay Bay to Luxor.
I was impressed by the 1920s decor inside aside from the fake fireplaces which struck me as a "miss".
That being said, I found 1923 to be charming with a unique craft cocktail menu – I'll be back.
Speakeasies in Las Vegas are popping up left and right and transport guests to unique locations and/or timeframes.
Want to escape to a hidden ski resort bar? There's a speakeasy for that.
Want to duck into a secretive NYC mezcal bar? There's a speakeasy for that.
Want to slink into a concealed lounge with a Southeast Asian twist? There's a speakeasy for that.
You get the idea.
My favorite brand of clandestine cocktail lounge, however, whisks patrons back to the days of prohibition.
1923 Prohibition Bar at Mandalay Bay is a speakeasy that does just that, sporting decor and a vibe that could only be found during the roaring '20s.
I thought it would be helpful to create a guide to help you find, get into, and determine if the speakeasy at Mandalay Bay could be a good fit for your group.
Where is 1923 Prohibition Bar at Mandalay Bay
The speakeasy can be found along the indoor walkway that connects Mandalay Bay to Luxor.
As you navigate the hallway in the direction of Luxor from Mandalay, 1923 Prohibition Bar's entrance will be on your right, next door to Minus5 Ice Bar.
The door is disguised as a bookshelf when closed, however, I've only seen it open during business hours.
Here's what you're looking for: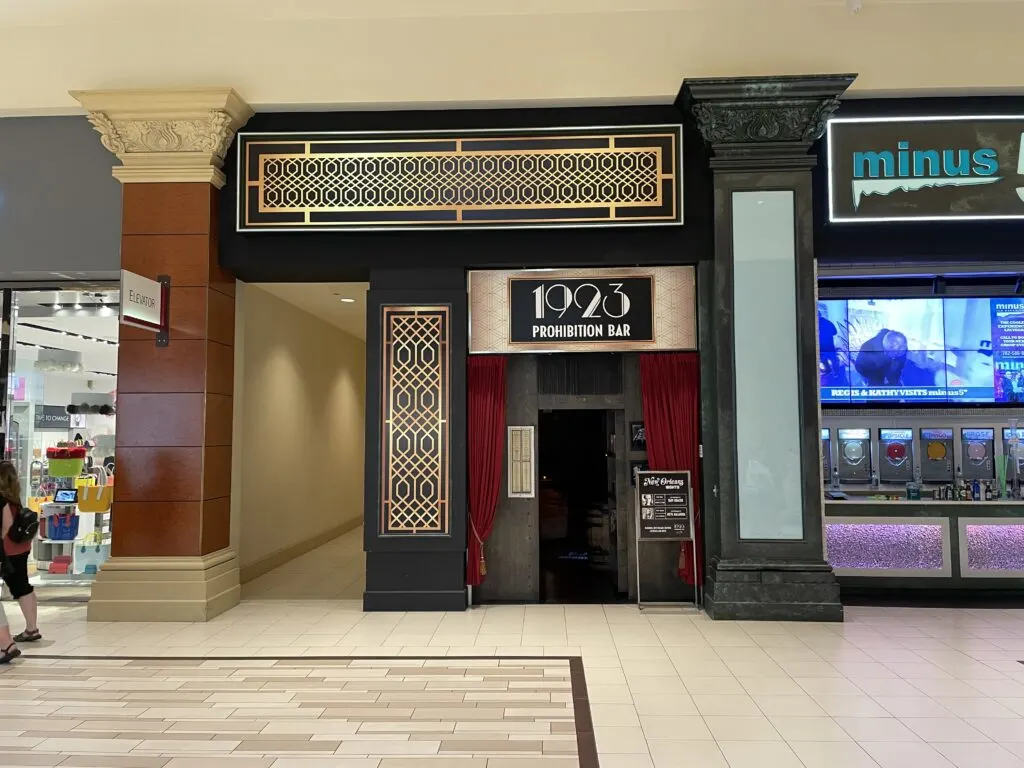 How to Get into 1923 Prohibition Bar at Mandalay Bay
In my opinion, this is where the speakeasy lacks some charm – Not only is the entrance easy to find, but there's no trick to getting in.
No passwords, no gimmicks, no puzzles to solve. Just walk right in.
Call me old-fashioned, but I prefer my speakeasies to be a challenge to find or access. After all, if it's out there in the open, is it actually a speakeasy?
Anyway, I digress.
A Look Inside 1923 Prohibition Bar at Mandalay Bay
Once inside, I found the setting to be elegant and true to the time period.
Lining the walls are photographs and artwork depicting life in the early 1900s. The furniture is decorative in and of itself and certainly looks authentic to the prohibition era. Candles are scattered about the dimly lit space, providing a nice aura.
In addition to artwork from the 20s, the decor is enhanced by intricate wallpaper, richly-colored drapes, and decorative chandeliers that made the setting feel realistic.
I was impressed.
One singular aspect of the decor that I felt was a miss were the faux fireplaces that played a video of flames on a flat-screen TV. It just felt fake-ish, cheap, and phony in an otherwise authentic feeling 1920s cocktail lounge.
Nitpicking. I get it. But replacing the TVs with gas fireplaces would make a huge difference.
Overall, however, I was impressed with 1923's aesthetics and decor strategy. It certainly qualifies as a cozy spot to grab a cocktail, and will be on my short list of date night destinations going forward.
Check it out: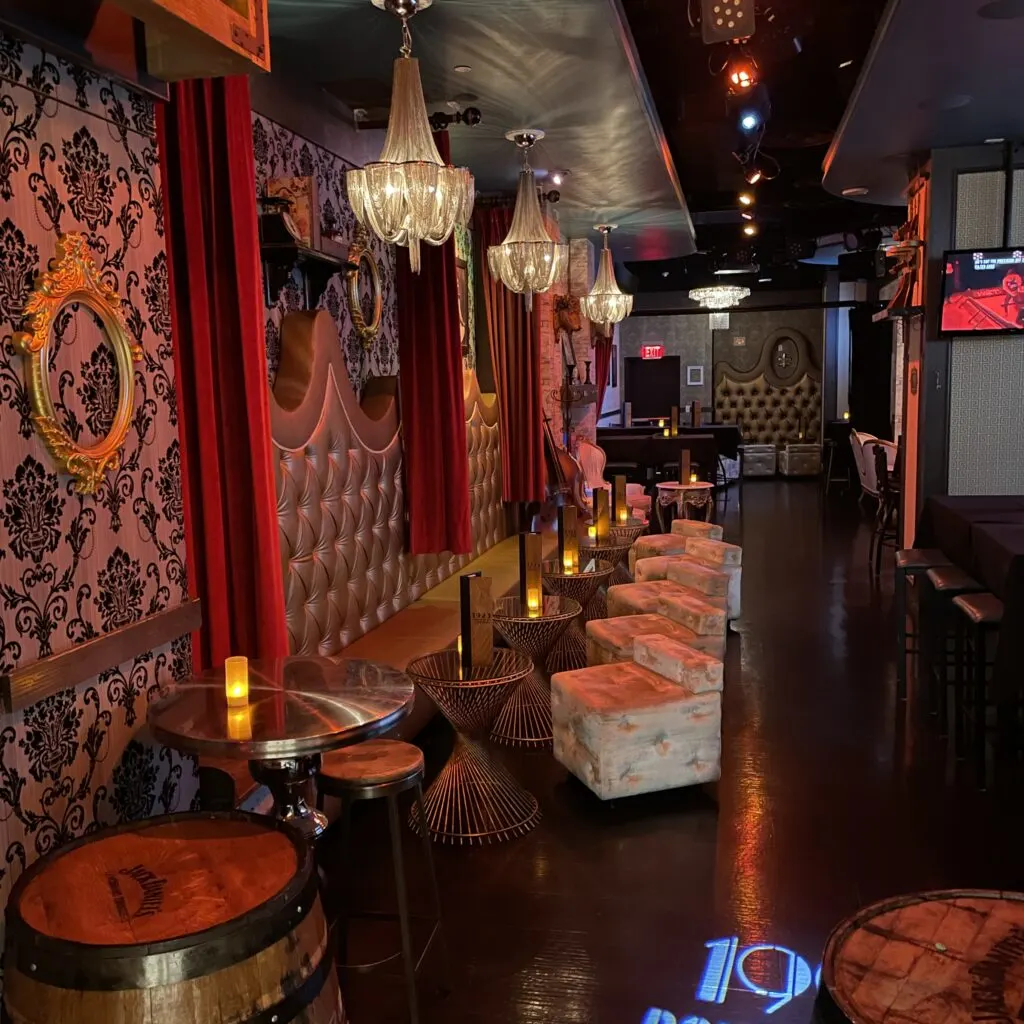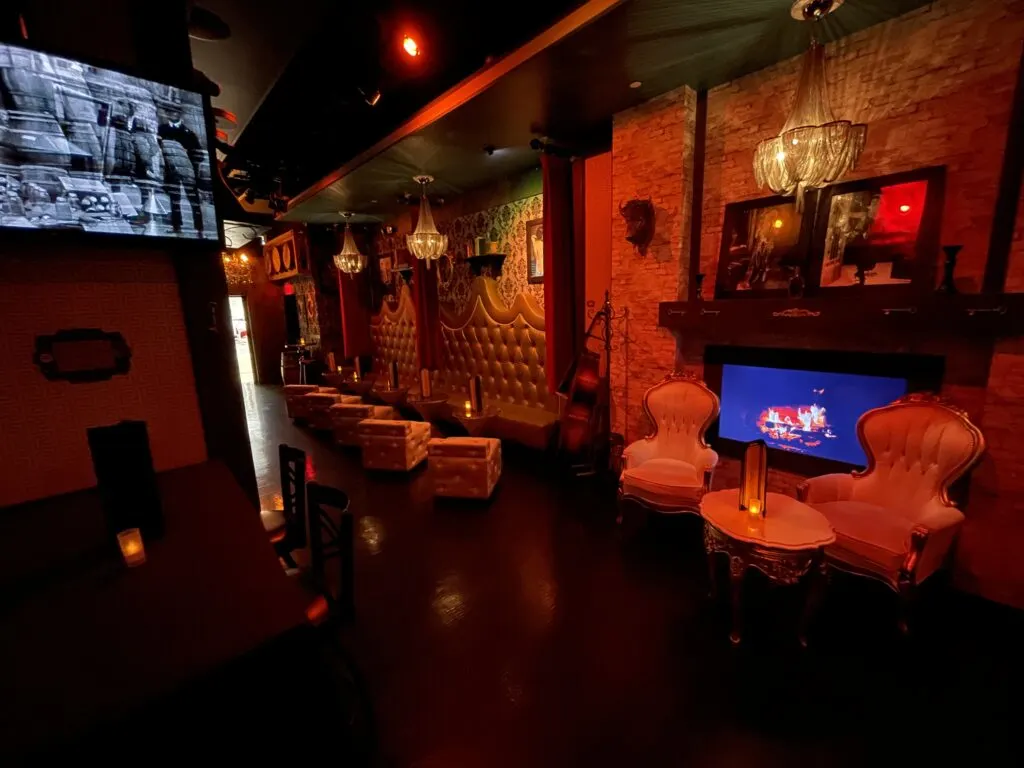 On the entertainment front, the speakeasy offers live music on both Friday & Saturday nights from 9 pm-midnight.
Uniquely, a small magic show called "Magic & Wonder" is also hosted on both Friday and Saturday nights at 7 pm. Also set in the prohibition era, the magic show incorporates humor, "wizardry, and mind-bending illusions".
"Magic & Wonder" is hosted in a small, intimate setting and tickets sell fast – Grab them here in advance, here.
On the menu are an impressive selection of 30+ Bourbon, Rye, and Whiskey options and a variety of specialty cocktails that include a whiskey sour, chocolate martini, mint julep, and a daiquiri among others.
The speakeasy's old-fashioned lineup tends to be popular as well and includes:
1923 Barrel-Aged Old-Fashioned – Using Smoke Wagon Straight Bourbon distilled in Nevada.
Butter Pecan Old-Fashioned – That uses pecan-infused syrup.
PB&J Old-Fashioned – Leveraging Skrewball peanut butter whiskey and seasonal preserves.
Maple-Bacon Old-Fashioned – Which is made with bacon-flavored bourbon and Maple Syrup.
A number of bourbon flights are also available.
See 1923 Prohibition Bar's full drink menu, here.
Although this speakeasy isn't especially hard to find or difficult to get into, I found the atmosphere and aesthetics to be enjoyable and true to the time period.
The space does a great job of transporting guests back to the 1920s (minus the TV screen fireplaces – Rig those bad boys up to gas!), providing a cozy environment for drinks and conversation.
The lounge is a great candidate for a pre-dinner cocktail, date night destination, or a nightcap.
Visit with confidence.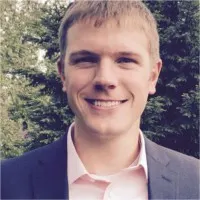 I'm a former software salesman turned Vegas aficionado. While the craps table is my preferred habitat, I pull myself away to explore new attractions, shows, restaurants, and outdoor activities around Las Vegas with the intent of sharing my experiences.
Ultimately, I just want to help folks plan a better trip and save a few bucks in the process.