Visitors still feel rage about paying resort fees, and while booking websites have done a better job of communicating them, they're still detested.
Resort fees in Las Vegas range from $0 at a few select hotels all the way up to the mid $40s at high-end properties like Wynn, Venetian, Aria, Bellagio, Caesars Palace, and Waldorf Astoria.
Whether you've come to terms with their existence or not, resort fees give you the feeling of being in the hole within the first minutes of your vacation.
While it's a common question posed on social media, yes, you (almost) always need to pay resort fees at hotels that charge them.
It's important to note that resort fees are also taxable which makes the hit to your wallet a bit more painful. While some visitors simply accept resort fees as a fact of life, others have pledged to never pay them.
With that in mind, I wanted to start, and maintain, an updated list of Las Vegas hotels without resort fees so you can plan accordingly. I can only hope the list grows with time as resort operators respond to public disdain.
Related: Incidental Holds by Resort – How much should you expect?
Las Vegas Strip Hotels Without a Resort Fee
Best Western at Casino Royale:
A budget option, this small, center Strip hotel doesn't charge resort fees or parking.
The value doesn't stop with the advantageous fee structure, however, as the hotel is part of Casino Royale, which caters to low rollers. The gaming floor has a vintage Vegas vibe and offers $3 bottled beer around the clock.
Casino Royale's location is the real win, however, as the hotel is smack dab in the middle of the Strip surrounded by a plethora of entertainment and cheap dining options.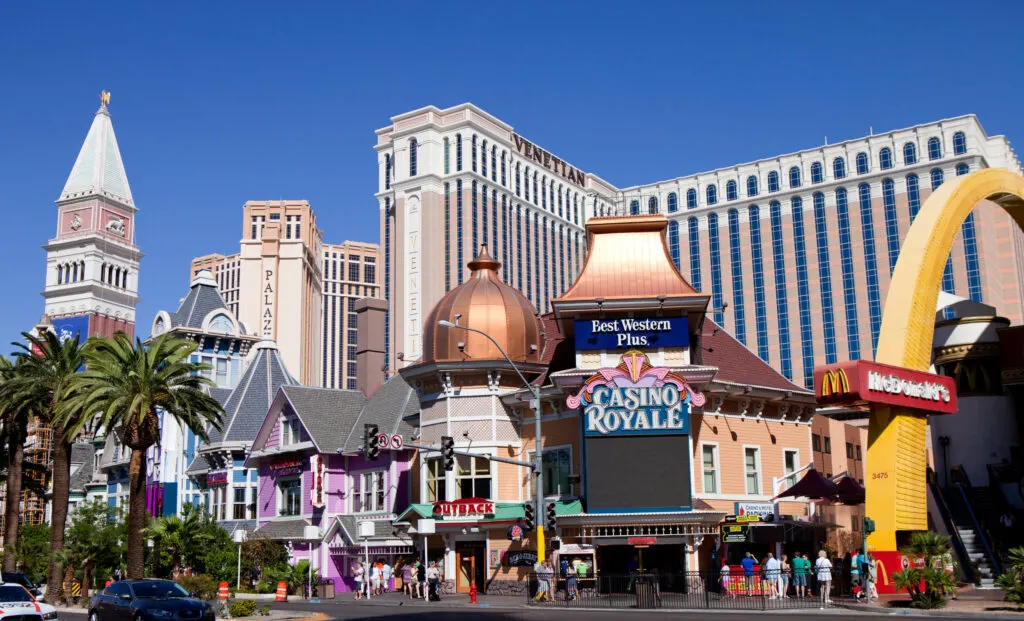 Treasure Island
While TI does typically charge a resort fee, guests who book online via their "TV Ad Special" can opt not to pay it.
TI's strategy appears to be a response to guest complaints about paying for services they don't intend to use like WiFi, fitness center access, and the business center, TI's TV Ad Special allows you to opt out of the fee in exchange for not using those services.
Note that you need to book the TV Ad Special specifically online and the deal cannot be added retroactively if you've already booked.
More on the optional resort fee deal at TI here.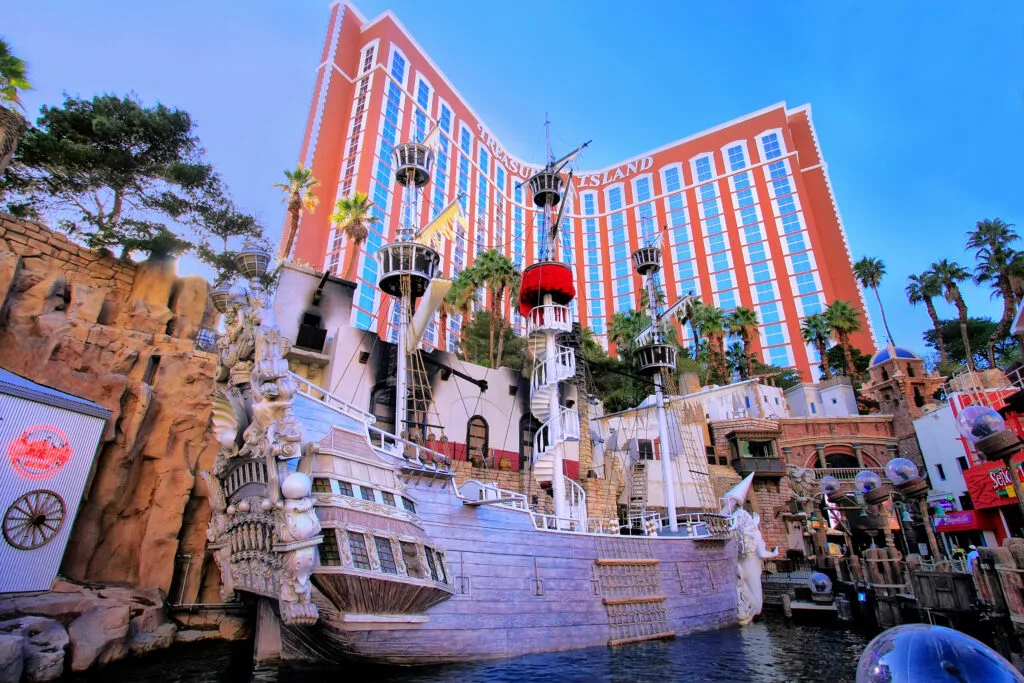 Fremont Street Hotels Without Resort Fees
4 Queens
Opening in 1966 in the middle of what is now the Fremont Street Experience in downtown Las Vegas, 4 Queens has never charged a resort fee to hotel guests.
Like Casino Royale, 4 Queens extends its value proposition to the gaming floor where low rollers are welcomed with open arms.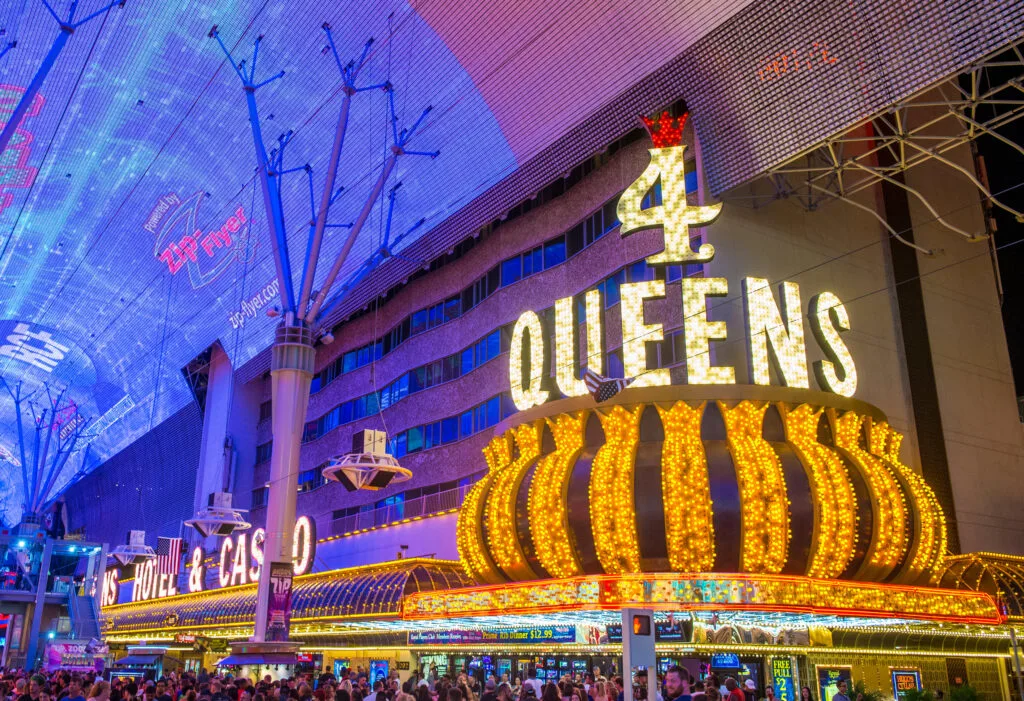 Binion's Hotel Apache
Recently remodeled and re-opened after being shuttered for years, Binion's Hotel Apache doesn't charge a resort fee.
The boutique hotel's 81 rooms hide behind the blue neon facade that wraps around the casino property, so there isn't much of a view. In fact, most rooms have stained glass windows that don't allow you to see through them at all.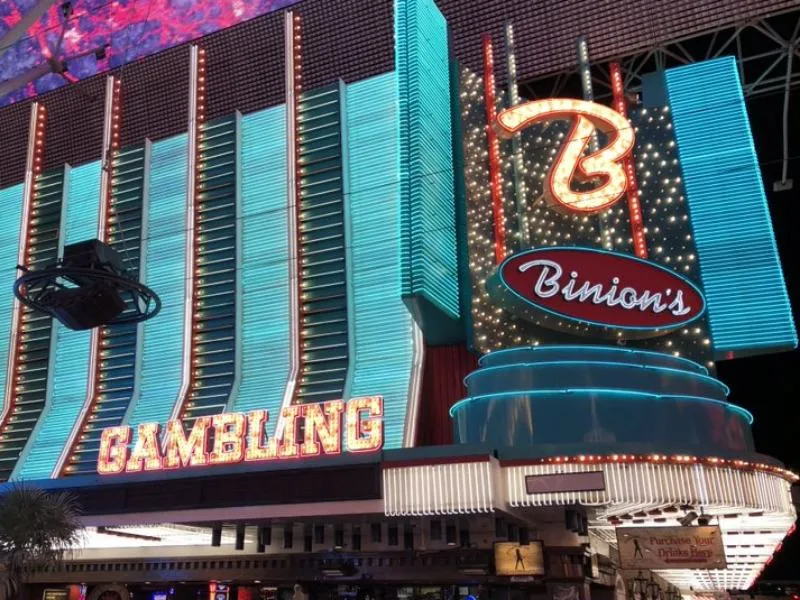 Uniquely, guests at both Binion's and 4 Queens have access to the rooftop pool that sits atop the old Mint hotel tower, providing great views of downtown Las Vegas.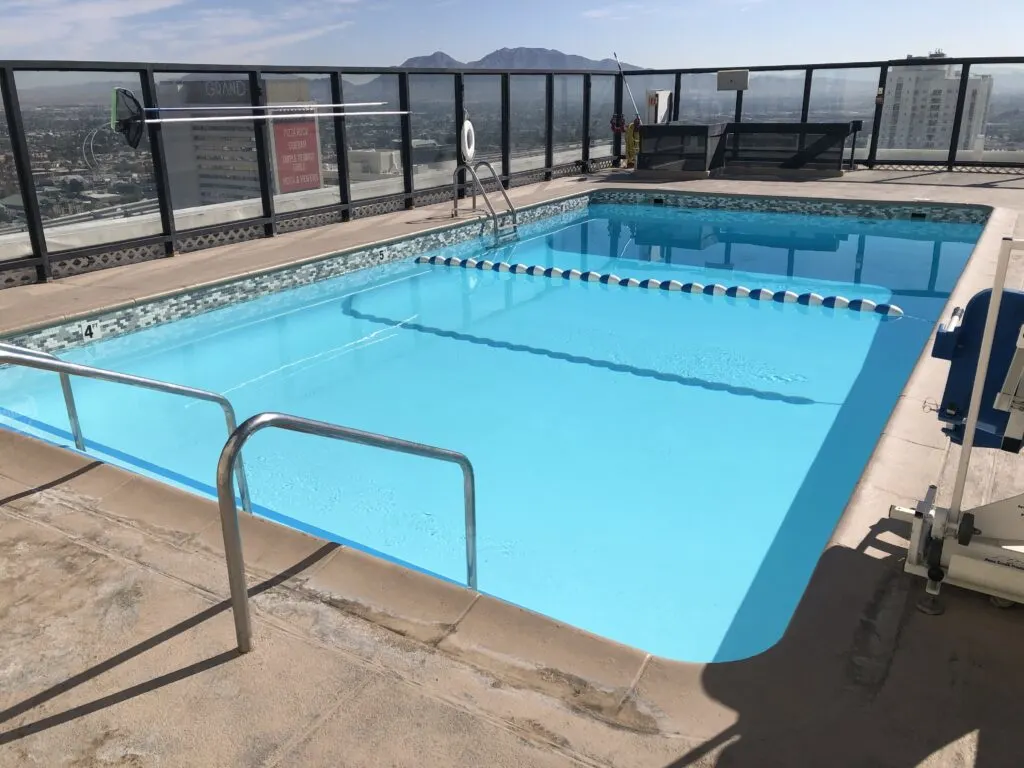 Related: Binion's Hotel Apache Room Review – Check out my recent experience!
Condo Properties are an Option
Renting an owner-operated condo will oftentimes allow you to skip resort fees without forcing you to sacrifice the resort experience. As an added bonus, these types of rentals commonly offer enhanced amenities within the room that can include full kitchens, balconies, etc.
Ensure you read the listing carefully to ensure the option allows you to forego resort fees, as not all do. They'll mention it in the description if so, as it's a coveted perk.
You can see a full breakdown of condos available for your dates, here, at TripAdvisor.
I remain hopeful that more and more resorts in Las Vegas eliminate resort fees and simply charge a flat rate for rooms.
Without legislation outlawing this type of fee, however, I'm doubtful that many will as resort fees allow hotels to offer lower rates on 3rd party booking websites allowing their offering to rise to the top when sorted by price.
Additionally, hotels pay a commission to 3rd party booking websites on the room rate booked. Charging less upfront, and utilizing the resort fee which is paid directly to the resort by the customer helps to lower their commission burden.
See Also: Las Vegas Resort Fees – What each hotel charges.
I'm a former software salesman turned Vegas aficionado. While the craps table is my preferred habitat, I pull myself away to explore new attractions, shows, restaurants, and outdoor activities around Las Vegas with the intent of sharing my experiences.
Ultimately, I just want to help folks plan a better trip and save a few bucks in the process.