Key Points:
Illuminarium is an immersive video experience that's part of the Area15 complex.
The visuals inside the theater were flat-out impressive and even interactive (leave footprints on the Moon as you walk, etc.).
While the visuals were cool, I found the storyline to be slow-moving and a bit boring.
Illuminarium is an immersive experience at Area15 that plays documentary-like content about both space and the African Safari on 4k on floor-to-ceiling screens that surround the room.
The projection content even covers the floor in a way that makes you feel "there".
In addition to stunning visuals, Illuminarium aims to stimulate your other senses with scents, vibrations, and other fun surprises.
An added bonus, Illuminarium also has a snack bar and indoor/outdoor bar steps away from the showroom.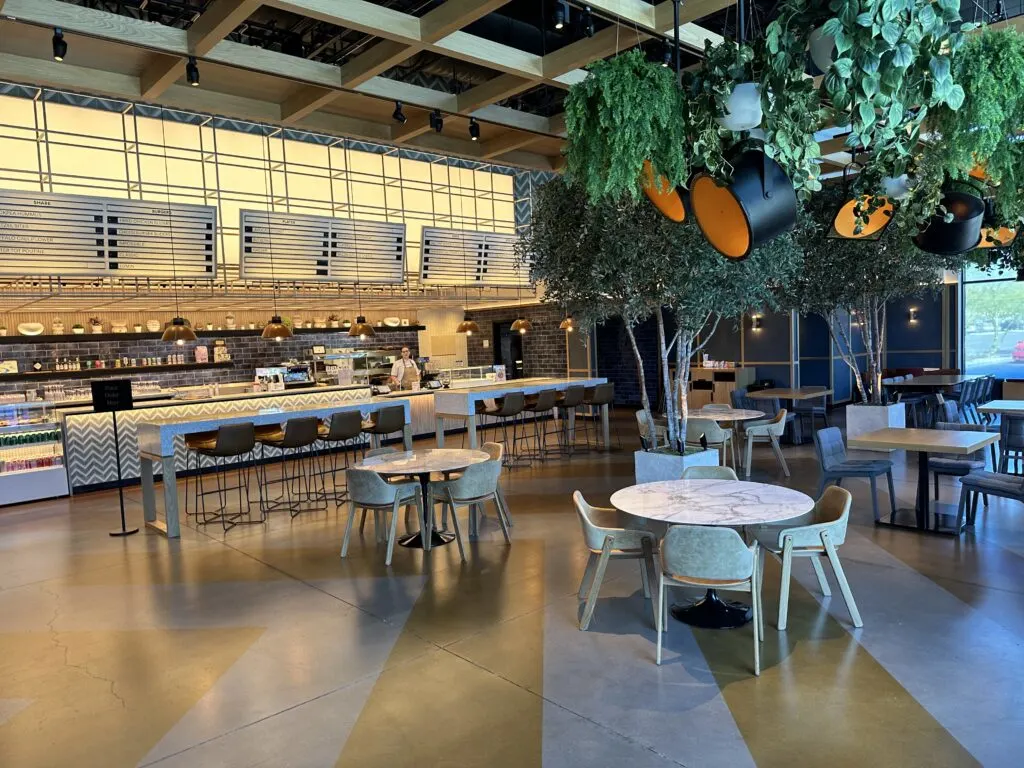 While Illuminarium is a kid-friendly attraction during the day, the venue shifts to an adult focus at night as a cocktail lounge environment accessible only to those that are 21+.
I thought it would be fun to stop by and check out their "SPACE: An Experience Beyond Earth" offering with the intent of sharing the experience with you.
Of course, my review will include plenty of pictures, an embedded video, and opinions to help you gauge if this could be a good fit for your itinerary.
Illuminarium Las Vegas Cost
Tickets can be purchased directly with Illuminarium, or with Vegas.com – Price it out to get the best deal!
Standard tickets cost $35.
Combination Experience tickets cost $40 and include entry, a souvenir poster, and your choice of a beverage or snack to go after your show.
All-Inclusive tickets cost $50 and allow you a wider entry window vs. a specific time in addition to a souvenir poster and $10 to spend in the gift shop.
Parking is available in the Area15 lot.
As a simple man with simple tastes, I purchased the standard $35 ticket to Illuminarium and showed up at my prescribed time.
My Illuminarium Las Vegas Experience
When it was showtime, an employee in a space suit checked my ticket and ferried me into a room surrounded by video projection screens.
He instructed us to take a seat but not to "get too comfortable" as this was just the introductory room before the main show.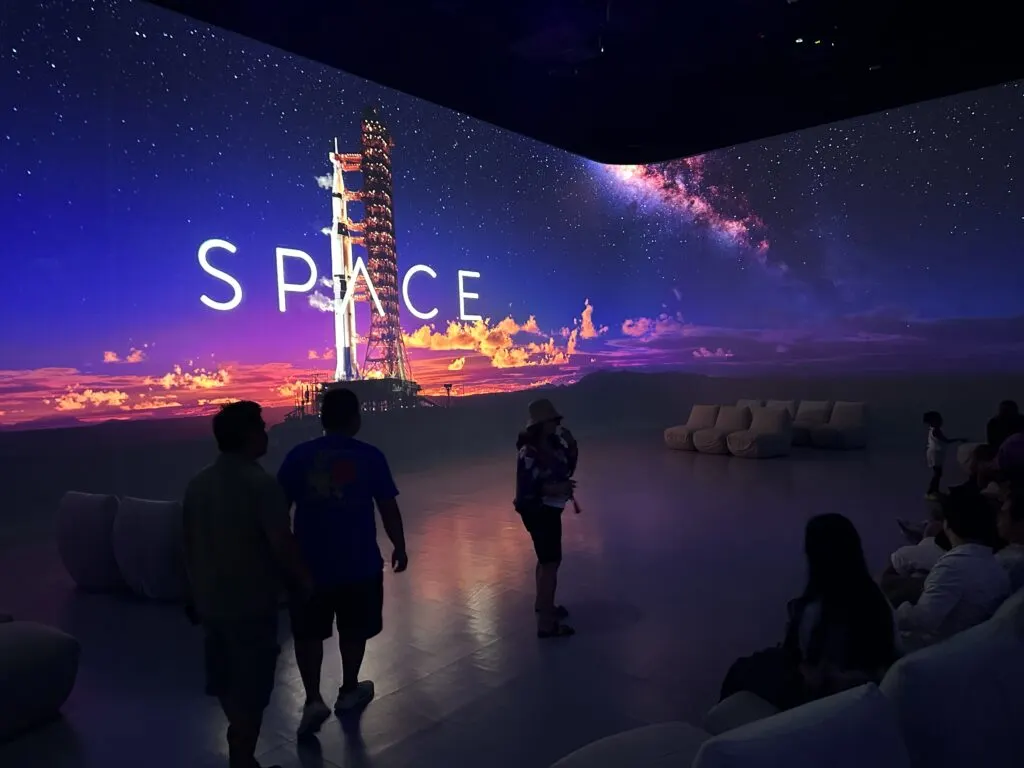 The employee spoke to us about what we were about to see, and he did a great job of playing the part and building excitement for what was to come.
In this initial room, the screens around us made it appear as though we were aboard a space shuttle that was taking off into space. A really neat touch, fog filled the room as the shuttle's thrusters fired, creating a more realistic vibe.
Once our spacecraft reached space, we were released into the main showroom, which used projection technology to illuminate the walls and floor with space content.
As there were some pretty definitive pros & cons, it's likely best to split up my review into what I liked, vs. what I thought was lacking.
What I Liked about Illuminarium
Let's start with the good, shall we?
Visuals: There is definitely a "wow-factor" to the theater experience at Illuminarium. The imagery spills off the walls onto the floor, essentially placing guests right on the moon's surface, etc.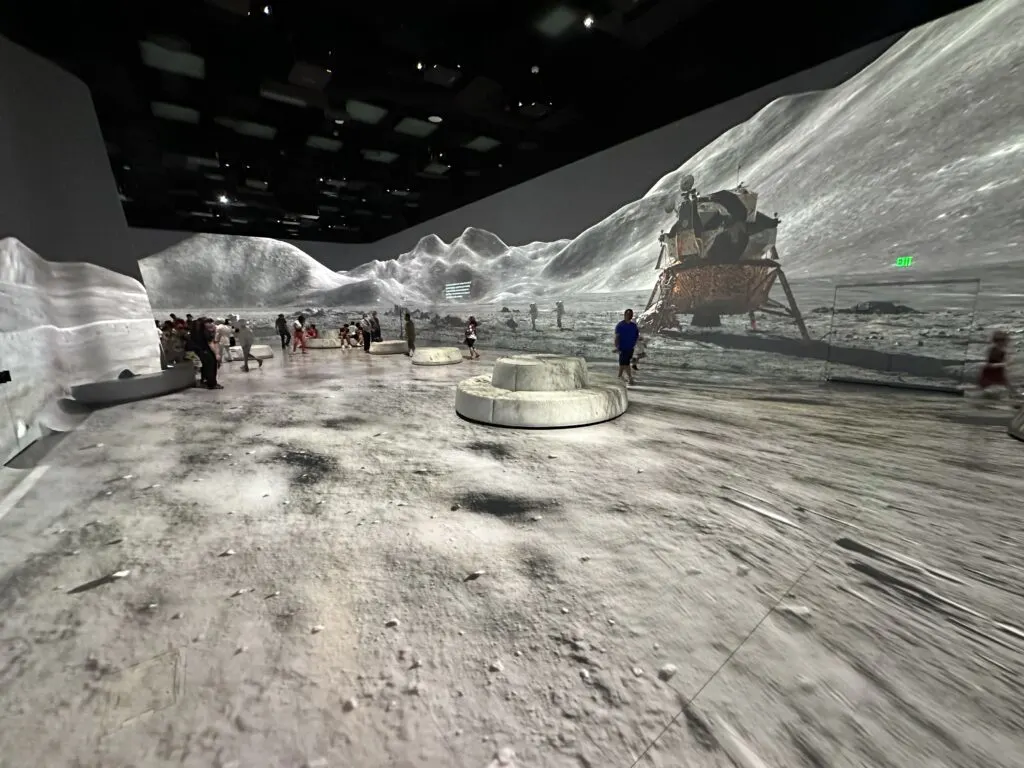 I've been to similar attractions like Immersive van Gogh at Crystals, but Illuminarium takes the cake as the most impressive video attraction in town (until the MSG Sphere opens at least).
Surprisingly, the visuals were also interactive.
As you took steps across the room, you would leave footprints on the moon, break up asteroids, and even kick up space dust. A pretty engaging feature that a lot of people (mostly kids) enjoyed quite a bit.
The Room: You really need to move around the uniquely shaped room to see the entire show, as small details will be missed if you just stand stationary. This isn't a cookie-cutter show that shows everyone across the room the exact same content – You need to explore to see it all.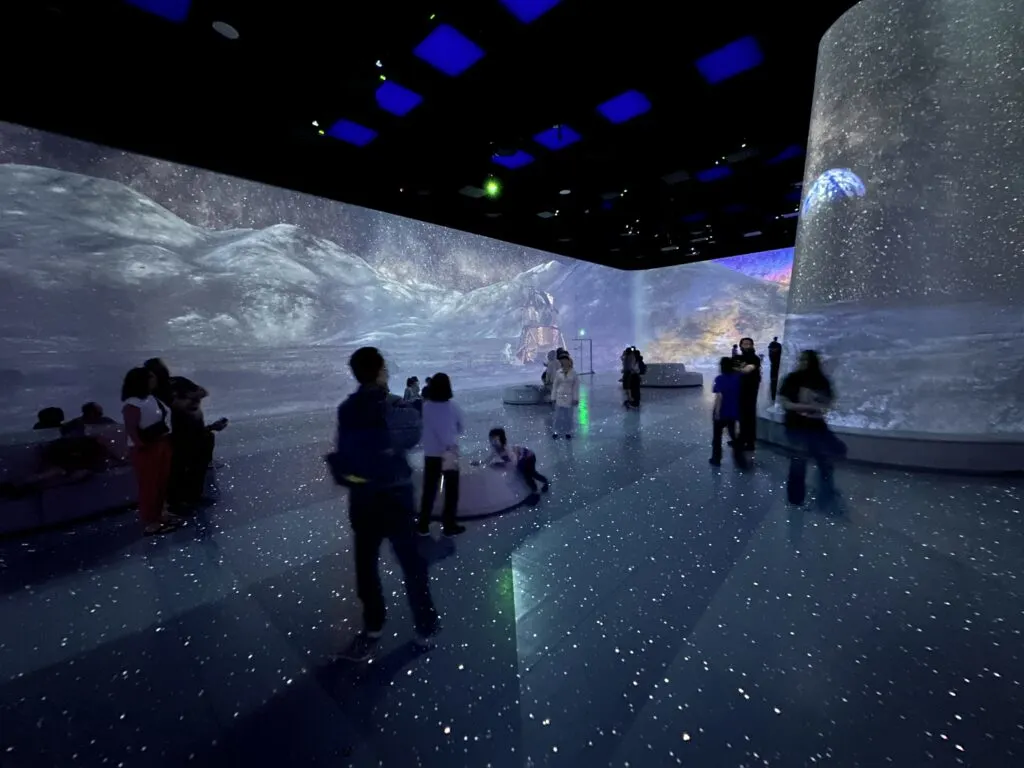 Stay as Long as You Want: We were told upon entering that we could stay as long as we wanted, which allows folks to really get their money's worth.
Here are some additional pictures I snapped inside Illuminarium: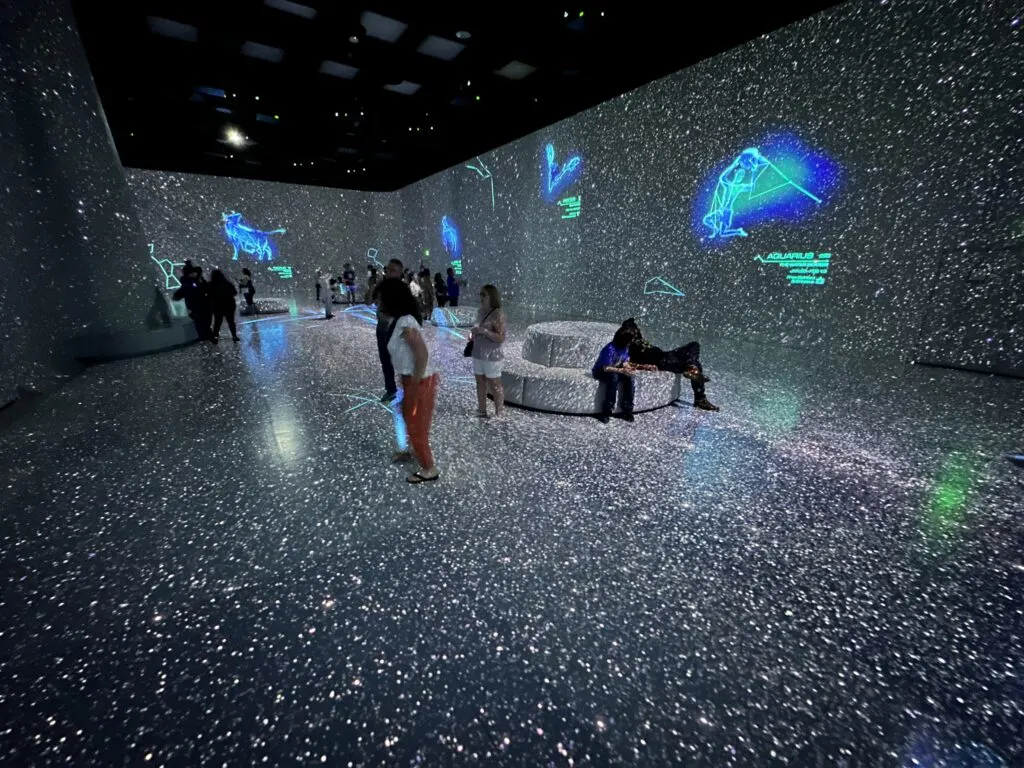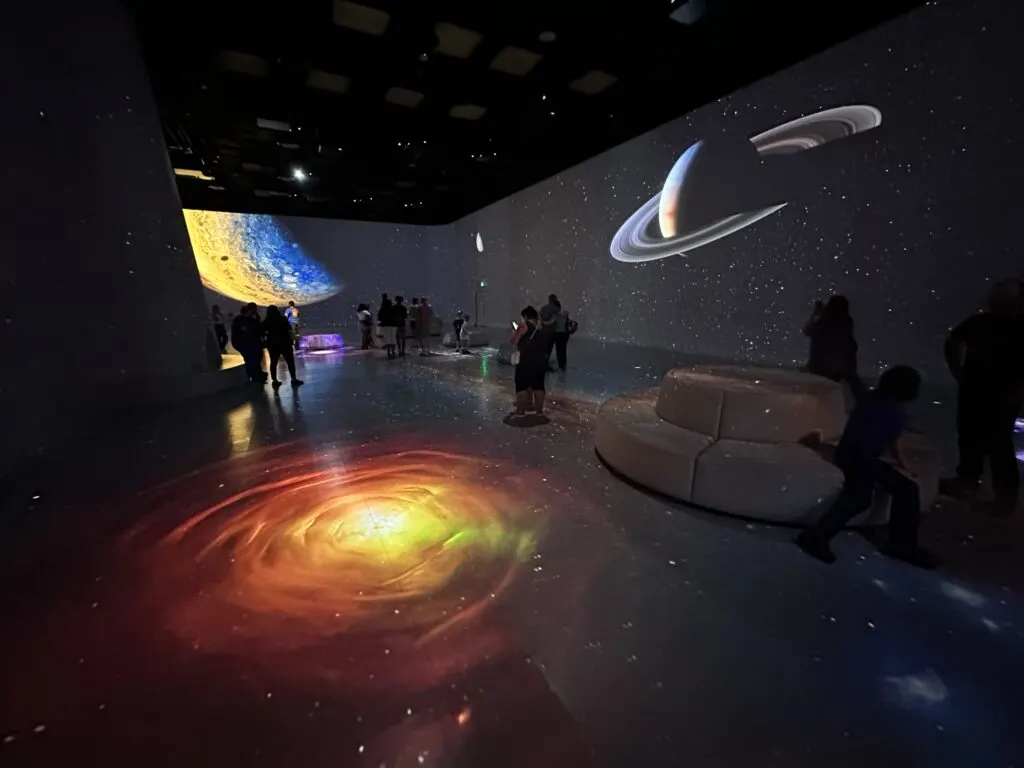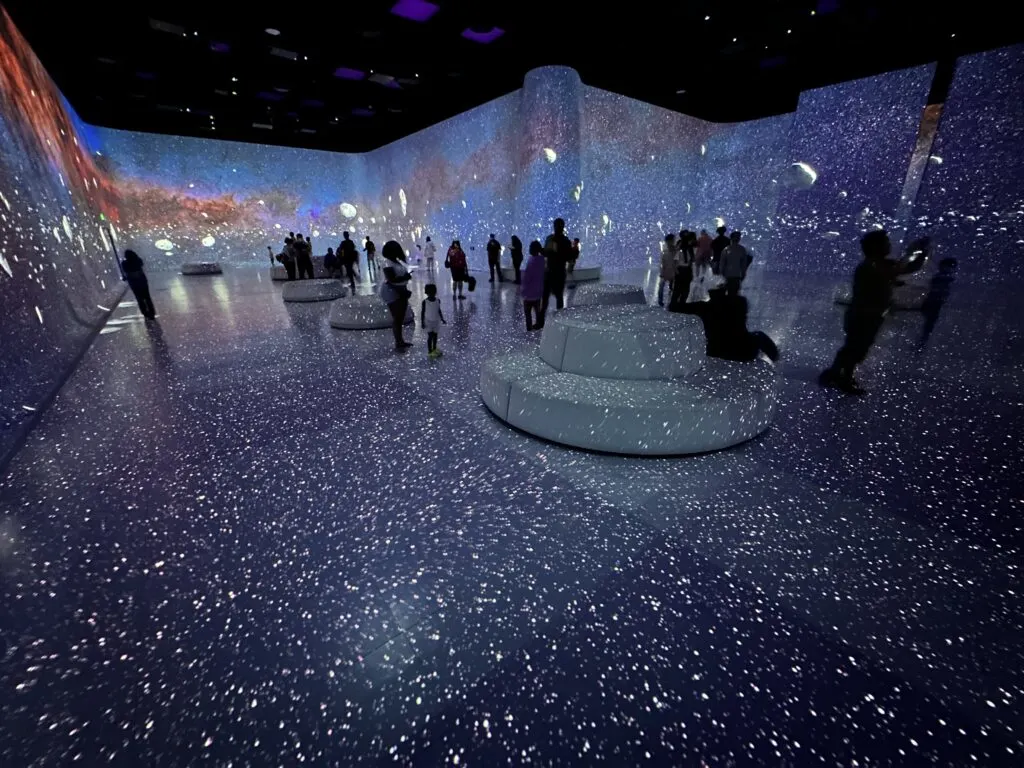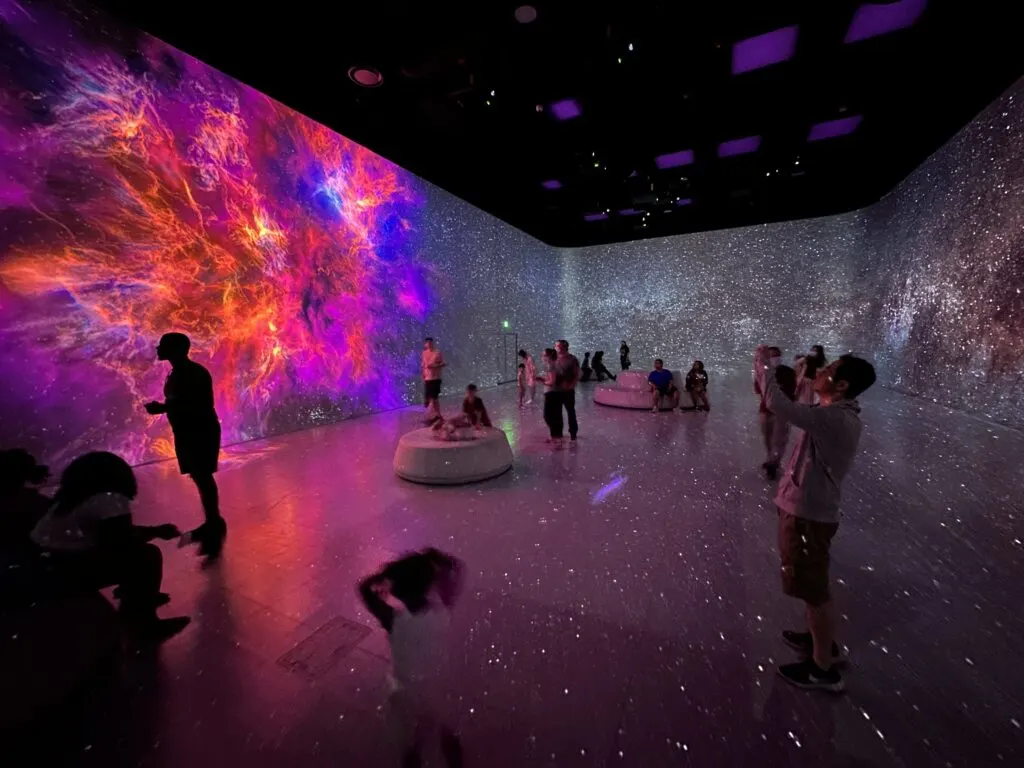 What's Not To Like?
Obnoxious Kids: Remember how I mentioned that the floor is responsive during parts of the show? Well, that awoke a sleeping giant within the children that was terribly annoying.
I was almost taken out at the knees on a couple of occasions by kids moving at a high rate of speed, more focused on the footprints they were creating and the astroids they were destroying than where they were going.
The herd of rambunxious children was also incredibly loud, which got old.
Granted, I may have gotten unlucky and attended a one-off show with rowdy kids and parents that don't care, but the presence of unruly kids was obnoxious.
Slow Programming: I may get raked over the coals for this opinion… but I found the programming to be boring and slow to develop.
Yes, the visuals were spectacular… But the pace of the show was painfully slow. It just stayed stuck on scenes for far too long.
While it was cute to see a moon rover slowly driving on the moon, it felt like it went on forever.
It was also fun to watch spacecraft land and depart from a moon base, but again, it was on the screen for far too long.
You get the idea – It was a recurring theme. There just wasn't much action.
Is Illuminarium at Area15 Worth Doing?
In my opinion, "Space: An Experience Beyond Earth" at Illuminarium was both a visual marvel and a bit of a snooze fest.
Once the novelty of the visuals wore off, I struggled to get over how slow the show moved… and how annoying the unruly hoard of kids was.
There just wasn't enough activity on the screen to keep me entertained and engaged.
Although I thought it was an enjoyable experience overall, I'm not sure I'd spend another $35 to see their African Safari production.
In fairness, maybe I just didn't get it, as there are plenty of positive reviews on sites like TripAdvisor that sing the praises of Illuminarium.
If you still think this could be a good fit after seeing my pictures and checking out the embedded video, then give it a shot! You'll likely enjoy it more than I did.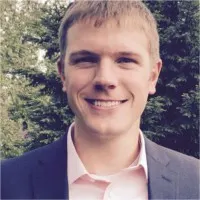 I'm a former software salesman turned Vegas aficionado. While the craps table is my preferred habitat, I pull myself away to explore new attractions, shows, restaurants, and outdoor activities around Las Vegas with the intent of sharing my experiences.
Ultimately, I just want to help folks plan a better trip and save a few bucks in the process.