When I personally think of Las Vegas, I envision a place where vice reigns supreme and social norms are non-existent.
Sure, there are nice hotels, swanky clubs, and celebrity chef restaurants, but this is a "grimy" place where mischief and debauchery take priority.
Fortunately, there are people among us who are more cultured than I.
These people have the unique ability to eschew the draw of the craps table, have the willpower to walk past that cocktail lounge, and can see through the clouds of secondhand smoke to identify an opportunity to better their understanding of the world.
If you're reading this, I assume that you're one of those people – Props to you!
With you in mind, I figured it would be fun to stop into the Bellagio Gallery of Fine Art to give you an idea of what to expect, with plenty of pictures.
The Bellagio Gallery of Fine Art offers a rotating collection of items from artists around the world. Because exhibits are swapped out every 6 months or so, visitors can come back during their next visit to Las Vegas and see something completely new.
During my visit, "In Bloom" was the current exhibition, which displayed paintings, sculptures, and photographs that focused on blossoming flowers, renewal, and growth.
My Experience at The Bellagio Gallery of Fine Art
I bought my ticket to the Bellagio Gallery of Fine Art on Vegas.com and was provided a QR code via email that acted as my ticket.
Upon arrival, I presented that eTicket to an employee, it was scanned, and I was handed some literature on their current exhibit "In Bloom".
A unique touch, they even provided a free postcard… like, the kind you mail to someone.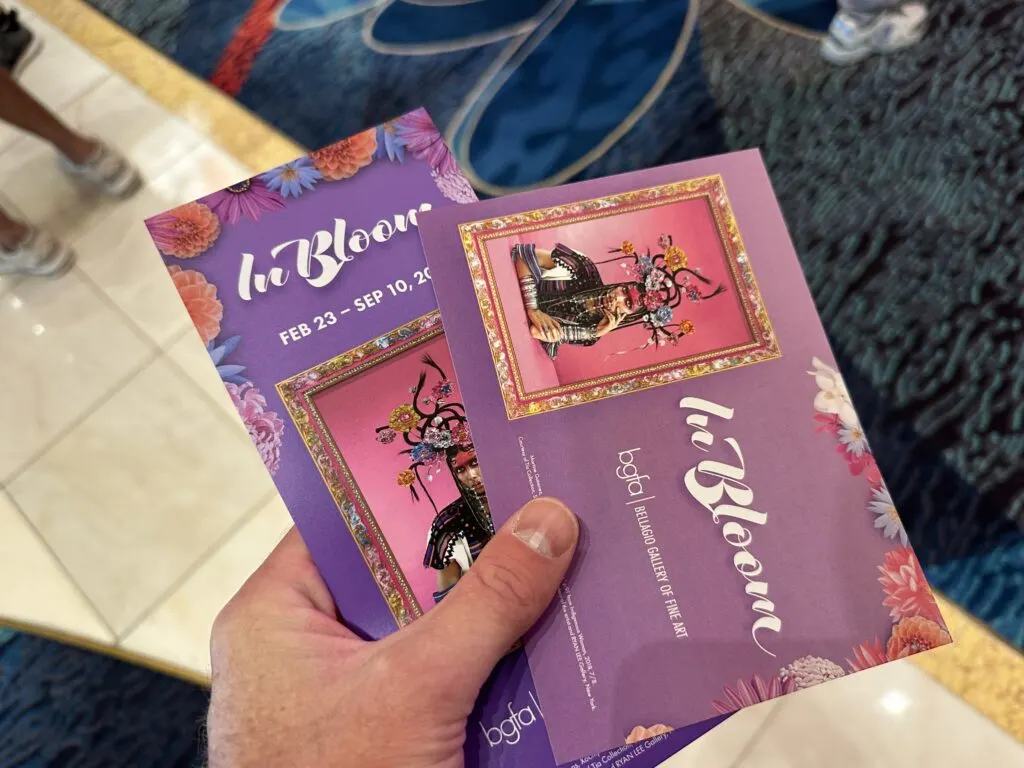 Notably, the Gallery of Fine Art offers a free audio guide which is accessible by scanning a QR code near the entrance.
I didn't have headphones, so I opted to read placards instead, but bring your AirPods if that's of interest!
I thought Bellagio's gallery did a spectacular job of creating some excitement on the way in with floral decor and even a photo opportunity.
Once inside, I was greeted by an introduction to the current "In Bloom" exhibit, which focused on "blossoming flowers, brightening colors, and new growth".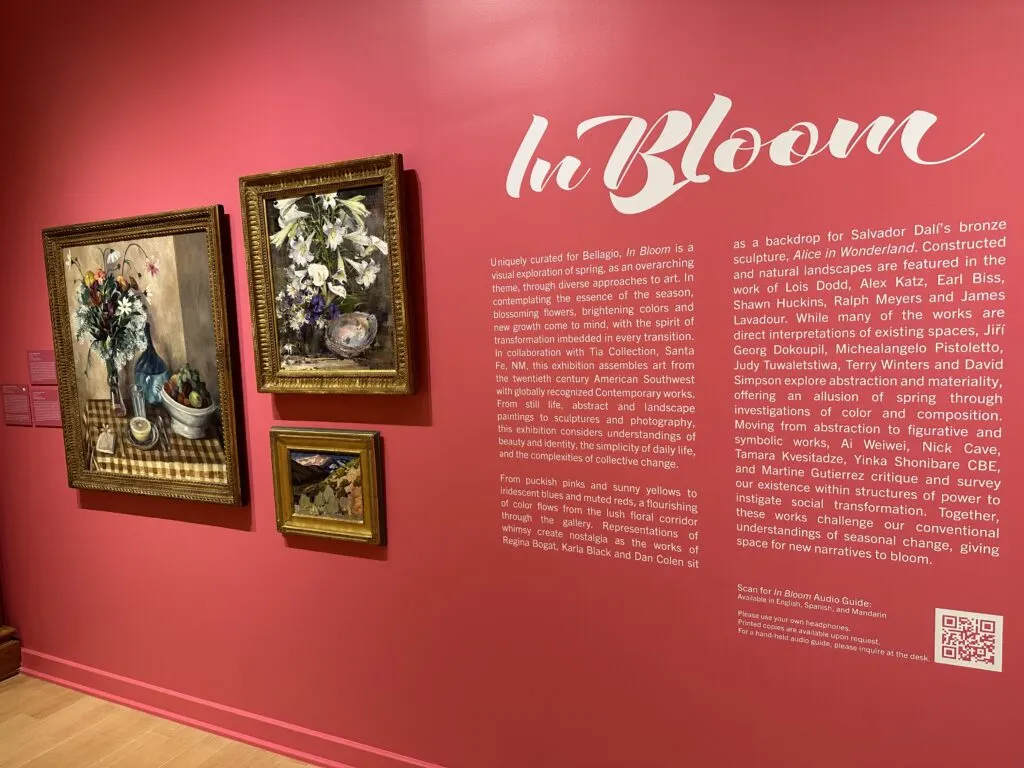 The gallery was smaller than I had anticipated and was split up into 4 sections, each of which being home to a sculpture as a "centerpiece" which was surrounded by works of art on the walls.
As I alluded to earlier, I'm hardly an art connoisseur, however, I found the look of the gallery to be clean and aesthetically pleasing.
Here are some first impression images from inside: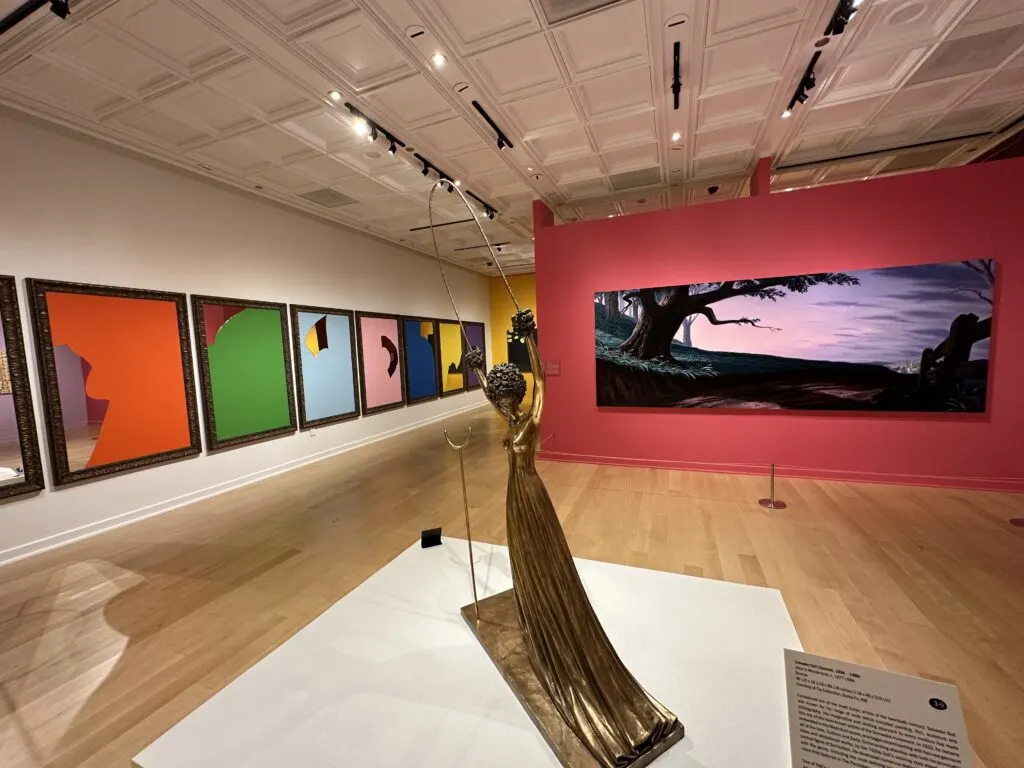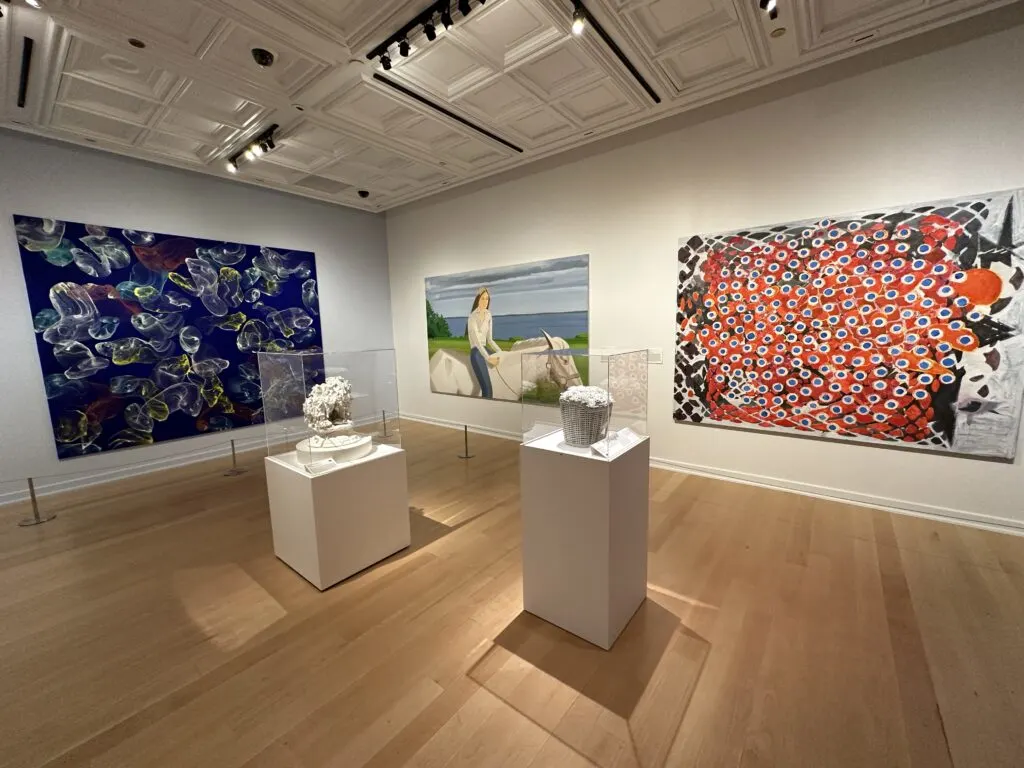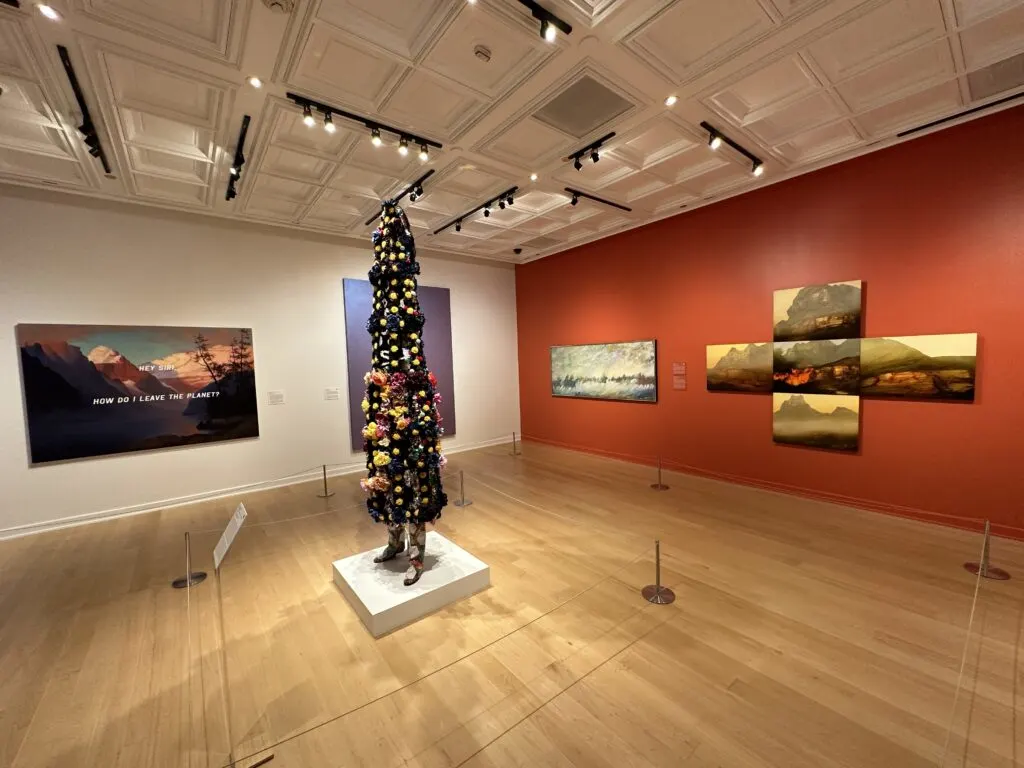 And here are a few closer looks at some specific works that drew me in.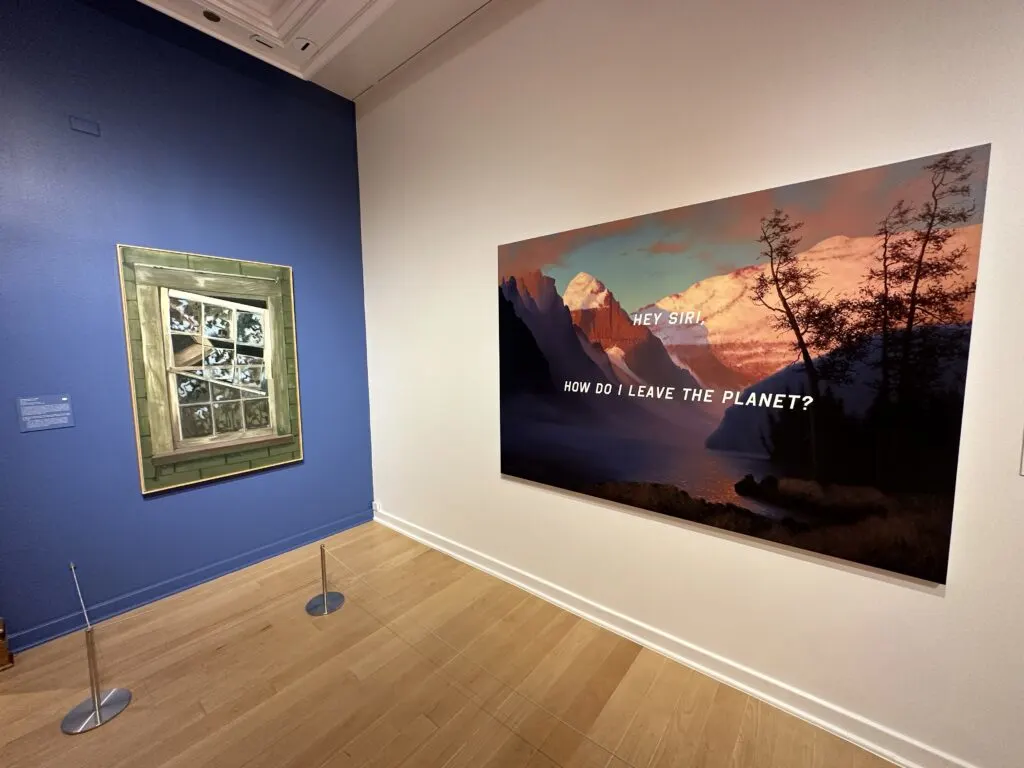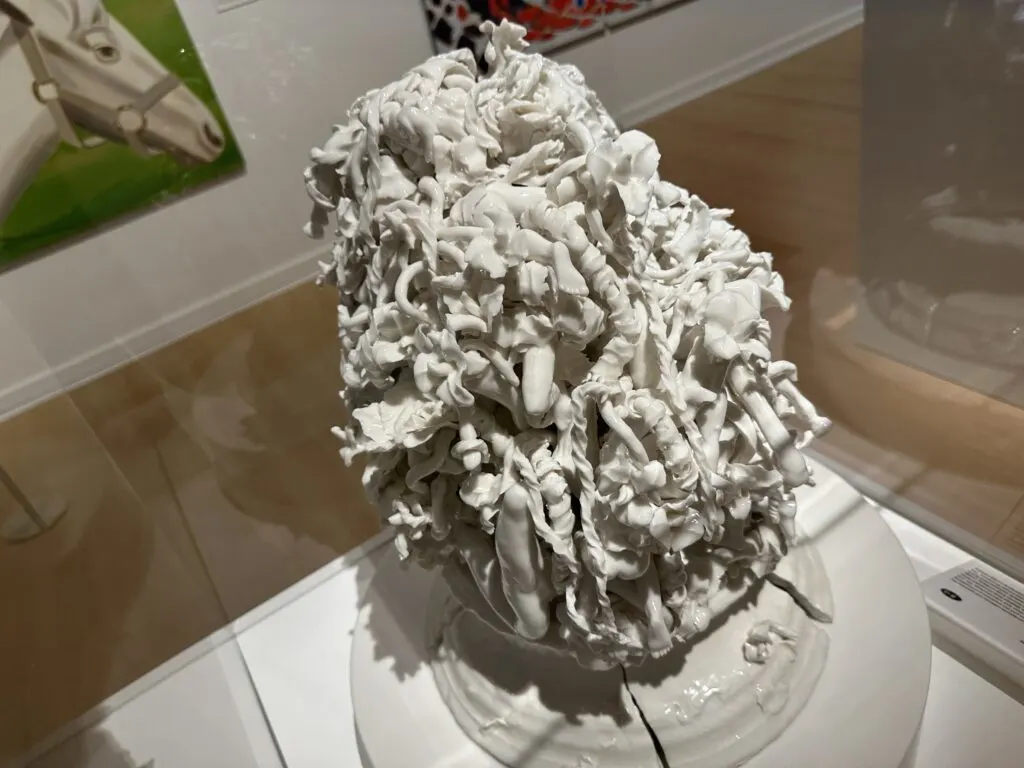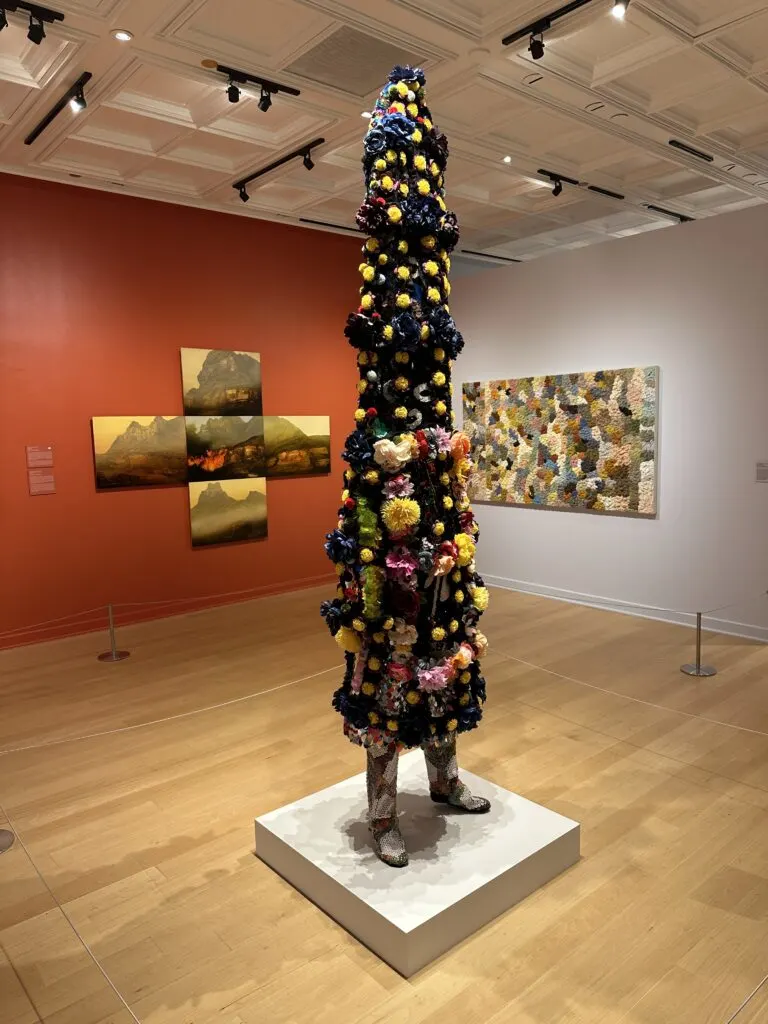 What I particularly appreciated about the art on display were the small details observable only when you got up close. Many of these works weren't able to be "skimmed over", rather, time was needed to fully absorb and appreciate the symbolism behind the details, and the level of work that went into completing them.
Notable artists with works on display currently included Salvador Dali, Karla Black, Dan Colen, Regina Bogat, Lois Dodd, Shawn Huckins, James Lavadour, Georg Dokoupil, Judy Tuwaletstiwa, and Terry Winters among others.
The placards next to each work did a fantastic job of sharing facts about the artist, their background, information about the piece, and its inspiration & meaning.
In all, it took me about an hour to work my way through the exhibit.
After my time in the gallery, I stopped into the attached Perrotin Store which is packed full of contemporary art and unique items that include wall art, T-shirts, books, and more.
If I'm being honest, I found the gift shop to be just as interesting as the actual art gallery – Just look at that "toad sandwich" below.
Is the Bellagio Gallery of Fine Art Worth Visiting?
At a mere $20, Bellagio's Gallery of Fine Art is one of the better values on the Strip, assuming this type of attraction is up your alley (I think you likely know whether or not that's the case).
Even as a "non-artsy" person, I found the works of art to be genuinely interesting and found myself reading up on each.
I really try to view an attraction through the eyes of its target market, which admittedly, I am not in this case. As I surveyed the room, my fellow guests appeared to be very much engaged with the content, taking their time as they navigated from piece to piece, confirming my own positive impressions and assessment.
The masses also tend to agree with my thoughts, awarding the Bellagio Gallery of Fine Art 4 out of 5 stars on the popular travel website TripAdvisor after 500+ reviews.
If you're even remotely interested in the arts – Slot this into your Las Vegas itinerary.
I'm a former software salesman turned Vegas aficionado. While the craps table is my preferred habitat, I pull myself away to explore new attractions, shows, restaurants, and outdoor activities around Las Vegas with the intent of sharing my experiences.
Ultimately, I just want to help folks plan a better trip and save a few bucks in the process.